Archive for the 'fiber' Category
This new piece has had an interesting origin…..we were in Cornville , AZ visiting friends, and our driver wanted to stop in the high desert and see about getting some yucca stalks for walking sticks. If you look at the picture, the stalks are what's left after the gorgeous blooms are done. They are evidently extremely strong and hold a lot of weight. So we have two collected stalks in the car, and I'm thinking, hmmmmm – these could make interesting wall hanging "hangers." Turns out we got as a gift two really strong, perfect-height-for-hiking sticks from another friend we were off to visit, so I decided to keep these two, one as a walking stick for me (I just need it for balance) and one for a potential hanger for a wall piece.
I was looking at it today, as I was kicking around another weaving piece. It would make a good "topper" for a new piece. I had in mind a set of seasons pieces, and then suddenly I got the thought to create the fabric and weave them all together for a year of seasons.
Here are two samples of some of the weavings I have done with marbled fabrics. The first is my very beginning one, Gaia 1: Interdependence. The second is  Gaia 3: Autumn.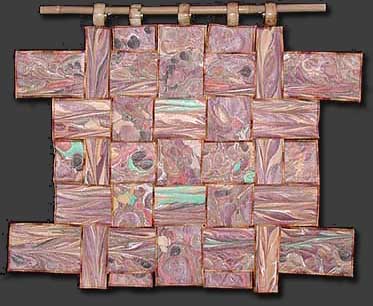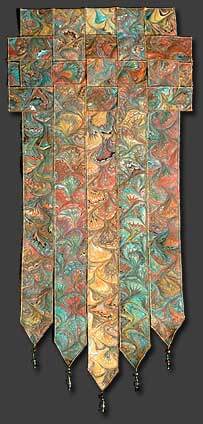 All of a sudden the design was in my head, and I sketched it out, something I don't normally do. Here it is: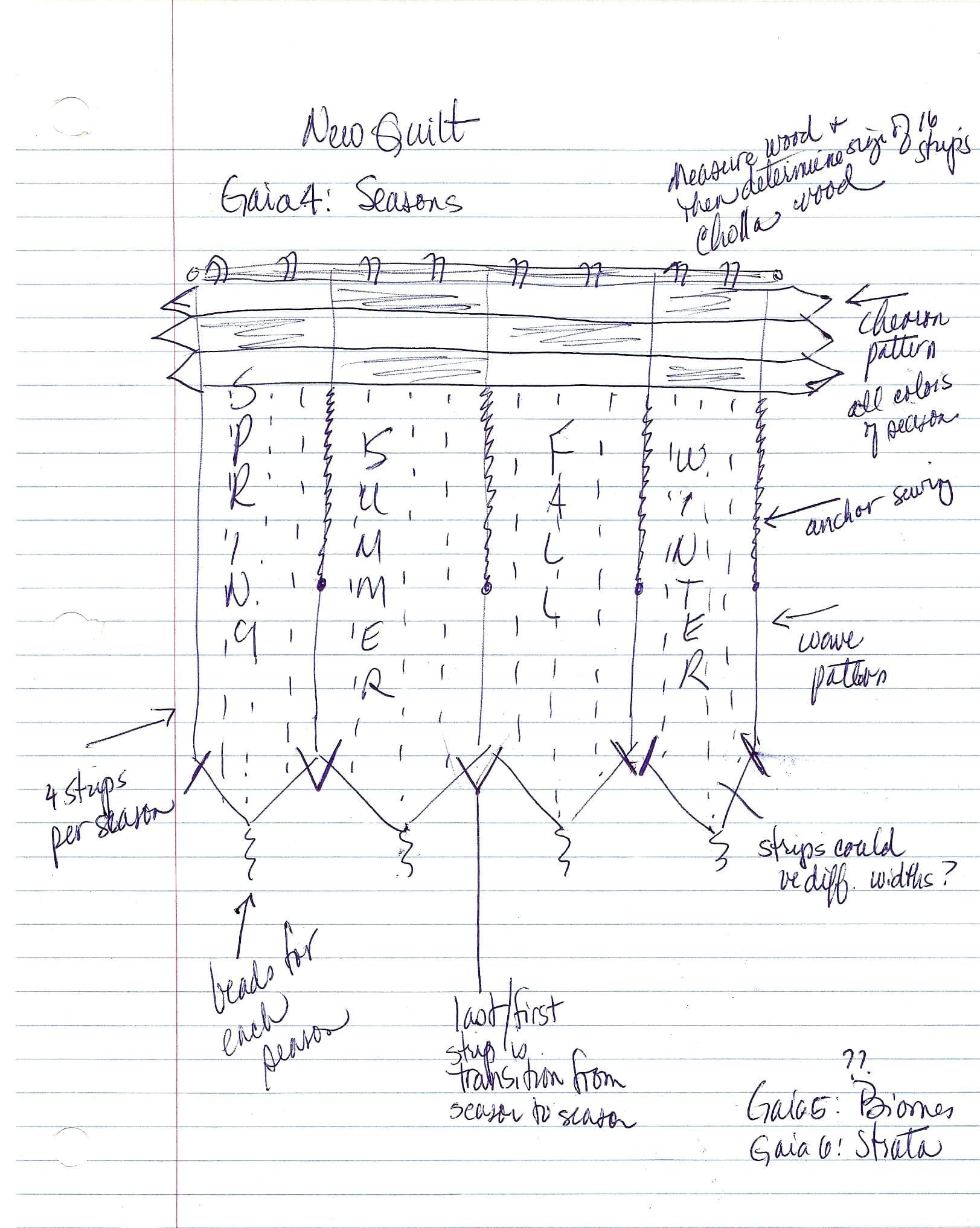 Creating the fabric will take some time, and I know with other projects in the pipeline, I won't get to this until mid-September. Hubby is the main marbler, so he will have his work cut out for him. I will need to also watch the proportions in this piece – ever mindful of Michael Kors and Nina Garcia from Project Runway…..
Stay tuned for progress. In the meantime, here's a few stories for past weavings in the Gaia series.

I've been practicing a lot of techniques with free motion quilting. With marbled fabrics, it's almost like your pattern is decided for you – and I love being able to work with that. I discovered a few new things with this piece of green silk. I knew I wanted to see if I could accent the movement that already existed with the marbled pattern, and I wanted to accent the water effect in the piece.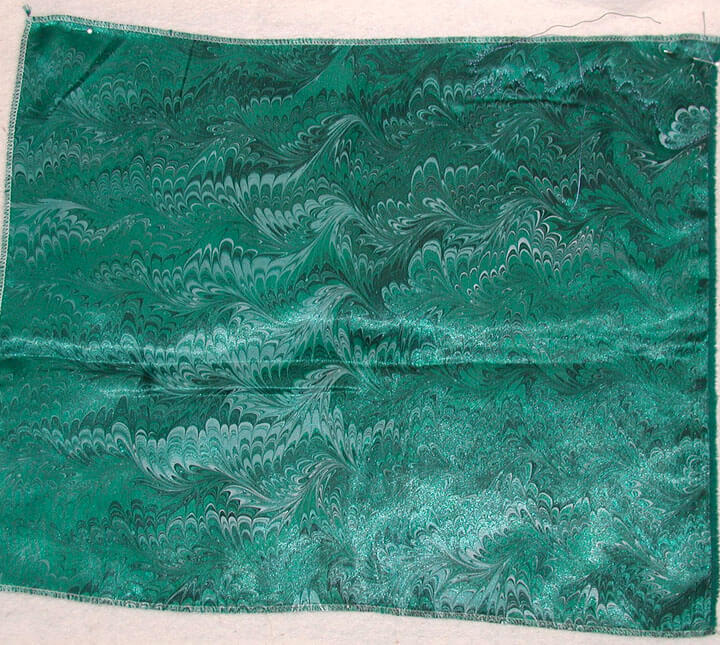 Here's the piece without anything done to it. I decided to flip the design, so the wave effect would be more prominent. Then it was a case of deciding threads. There are some very light areas in the pattern that I wanted to emphasize, so I figured a lighter thread. I pulled four threads (Superior, of course) and started with the lightest one – and I thought it was jarring – too bright.
I ended up going with a Rainbow multi-colored green thread that I think worked very well. I used that in the very light areas, and then I turned to a dark green silk for the background. The thought here was to heavily quilt the darker background to make the lighter areas come forward even more. So here's the piece…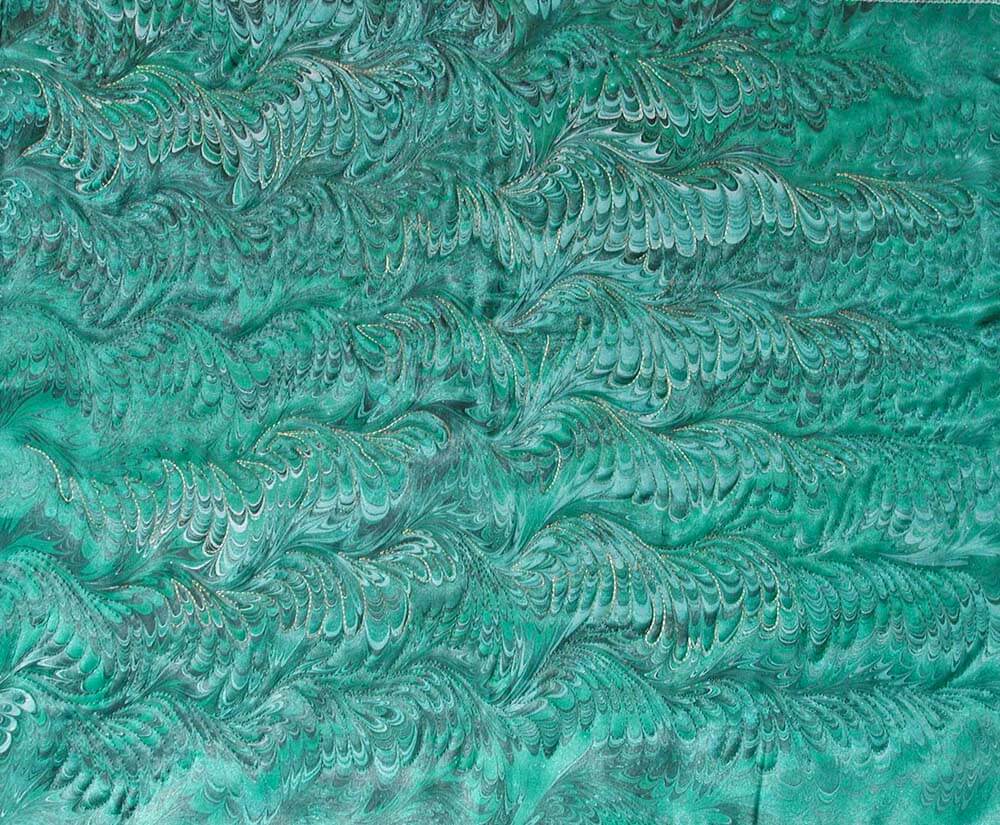 I do think the wave motion is more prominent. This was also a departure for me, in that normally I have quilted this pattern a great deal, but this time I didn't do every single swirl. I think you get more drawn into the pattern that way.
I am contemplating some beads, but that's just in the thinking stage at this point. I am open to suggestions, so please leave me a comment with what else I could do with the piece. The biggest success in this piece is a definite improvement in the machine quilting – the stitches are far more consistent, so that's a great goal for me.
Leave me some comments – what would you do with this piece if it were yours……
Since I updated my profile on Linked In, I have joined a couple of discussion groups through Linked In and have made some interesting contacts and done some very good networking.  As a result, here is a call for work that looks very intriguing, as well as meaningful. I'm planning to do a piece that looks at oil spills. Join in and become part of the group. Feel free to share this post – let's see if we can get a lot of artists involved. Let's get the fiber into this show.
TIKKUN OLAM: A Restoration Project
 Artists Respond to Earth's Crises Past & Present
Presented by Alta Contemporary Art, Tubac AZ in alliance with Industria Studios in Tucson.
The Jewish Community Center Tucson, Arizona
September 15 thru October 25, 2011
Opening Reception: Sunday, September 18th 1-4 PM
In the wake of recent natural and human-made crises artists often feel compelled to respond in a tangible and productive way. Here's your chance to be part of a group project raising money to replenish the earth. Alta Contemporary Art invites you to submit a 12 x 12 inch work of art for a collaborative grid presentation. All media welcome. Work must be exactly 12 x 12 inches, appropriate for the JCC venue and ready to hang on the wall.  Work must be received no later than September 10, 2011 (see art delivery details below). Participation is free, but artists must willingly donate 30% of sales to the non-profit charitable organization selected by the group as a whole.
TIKKUN OLAM Collaborative Grid Presentation
Entry Form
Name:
Address:
E-Mail:                                    Website:
Phone:
Title:                                       Price:
Media:
Artist's reflection on their submission and earth's crises past & present (250 words or less):
Nominate 1- 3 non-profit charitable organizations you would like TIKKUN OLAM to support.
E-mail completed entry form and a JPG of your work (1MB large) to mickeybond505@aol.com
Hand Deliver Your Work:
Tucson Artists: Deliver work to Marc Leviton at Industria Studios, Saturday, September 10, 2011 between 10 AM – 3 PM or contact Marc to make other arrangements 520- 235- 0797. INDUSTRIA STUDIOS, 1441 E. 17th Street Tucson, AZ 85719 industriastudios.org
Santa Fe Artists: Deliver work to Mickey Bond by Friday September 9, 2011.E-mail:
mickeybond505 or call 505-660-4085 to schedule delivery.
All Other Artists: Deliver  work to Rebecca O'Day at Alta Contemporary Art, Friday, September 9th between 3-8 PM  or contact Rebecca to make other arrangements 520-869-8626. Alta Contemporary Art, 8 Calle Inglesia (across from St. Anne's Church), Tubac, AZ.
Mail Your Work:
Mail work to Rebecca O'Day, PO Box 252, Tumacacori, AZ 85640
Work must arrive no later than September 10, 2011 to be included in the show.
Artwork shipped via mail carrier must be accompanied with a pre-paid return.
Unsold work will be available for pick up on October 29th &  30th.  in the location it was hand- delivered from 10 AM – 3 PM.  Shipped artwork will be returned if accompanied by a pre-paid return label.
Agreement of Entry & Liability:
Great care and respect will be given to all artwork submitted. The Tucson JCC, Alta Contemporary Art & Industria Studios and its agents do not assume liability for any loss or damage of any artwork submitted while in its possession. Your entry constitutes acceptance of all conditions and terms in this prospectus. Artists desiring coverage can do so privately through their agent or one offering short-term "show"  coverage such as Artists, Craftsman and Tradesmen Insurance Program: http://www.actinspro.com.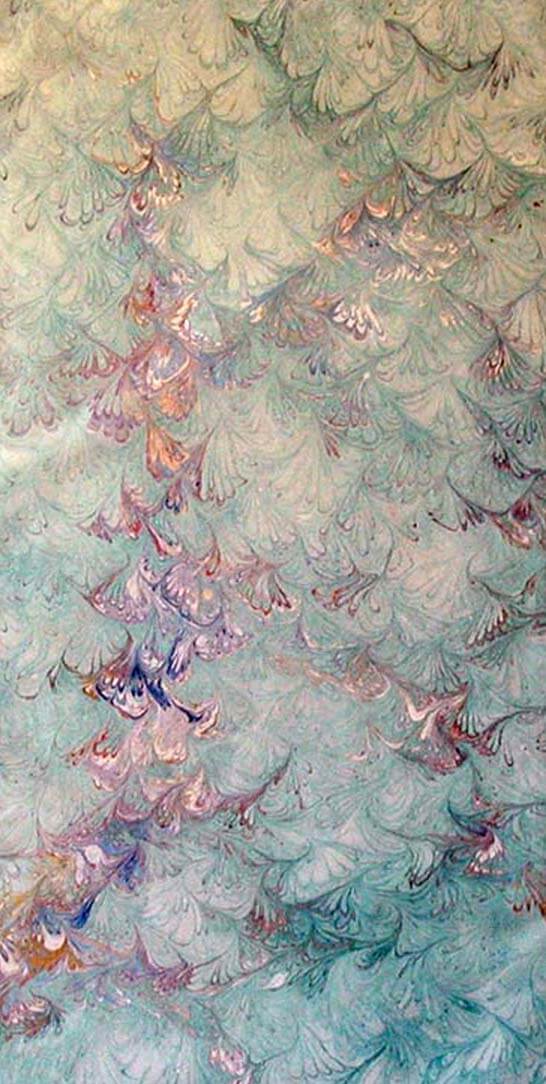 Two weeks ago I showed the start of a commission here, and I am almost to the end of it. Lots of interesting decisions to make along the way – I am really enjoying the decisions in the design process, especially as they relate to using marbled fabrics. My biggest problem is trying to photograph the colors so they are true.
The quilting of the marbled fabric went really well – I emphasized the white area with bubbles, as though it were a stream working its way through the rocks. Went through two different colors of threads before I decided which one I liked. That's different for me…in the past I would just let it go.
The first border is a very soft corduroy, and I left it a little "puffed," rather than pulled straight. I liked that it played off the roundness of the pebbles. I love the batik for the outer border, and I also used it for the backing. I realized again why I'm not fond of mitered corners (but that's what this piece needed), as I took two of them out several times. I still need to trim the outer border by an inch so that it seems better balanced, but I decided to quilt the outside first. Again, a struggle with what I wanted to use for thread, as well as how I quilted it. I wasn't happy with following the pattern of the batik, as it looked too crooked. So I opted to play off the idea of the frame, and I'm quite pleased. What faces me tomorrow is making sure the piece is completely square, which I need to worry about, as it is a commission. Thank heavens I know about the diagonal to check for a square.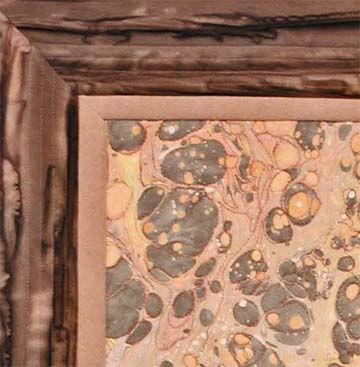 I'm going to use the Alzheimer Quilt hanging system – the little triangles in the corners, as I think this will help the quilt lay flat on the wall. I also plan a label for the back with all the information about the quilt, including care. I found a "certificate" on line to use for the new owner of the artwork with all the official details.
Here's the large shot, still untrimmed: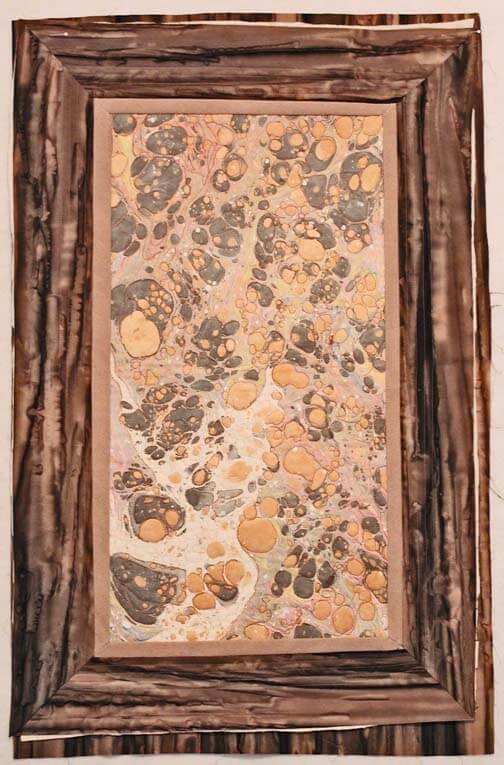 I am really loving this piece, which is actually more true brown and copper than in the picture. Still thinking about some seed beads……see what happens next week…..

You would think, based on a hubby in retail for so many years, that I would have given packaging more of a priority. Well, no…seems like I'm always rushing to get items ready for shows, and I neglect the packaging. That's not to say I don't give a lot of thought to the overall set-up of the art space…just not the packaging.
I had a bit of an epiphany with this upcoming show. I'm sitting in the meeting about the show, listening to explanations of selling, how good a show it is, and the great location. When suddenly I hear "People are gift-buying. They'll splurge for folks back home with gifts for the holidays."
Okay, seems obvious. Then hubby says, "Well, they're not going to buy pieces of fabric, so I'm not sure just what we'll bring." That made me fairly depressed. Fabric is what we do: fabric for quilts, wearables, framing – we've spent a lot of time brainstorming how folks could use our marbled fabric.
Then it hit. Buy fabric as gifts for the folks in your life who do fiber-related arts. Just package it so it looks like a gift from the heart, not just a piece of fabric in a plastic bag.
Duh. Why did this take so long? We have done so many small shows over the years, including demonstrations, and not once have we packaged ourselves for gift sales. This was definitely something to think about. How could we take a gorgeous piece of fabric that to a non-fiber person just looks like extra pieces of cloth on the table? I started thinking about how I buy small pieces of art, as well as how my local quilt shop packages your purchases. I love having the "back story" or a piece of artwork. In my hutch sits a container of all the small papers of stories collected over the years.
Okay, put together the story of the fabric, the care of the fabric, and ways to contact us (hard to believe we haven't done all of that in the past).  Wrap the fabric piece with a bow so that it looks special, with the "story" tucked into a fold of the fabric. When purchased, wrap in tissue paper before bagging it.
I played on the computer to come up with something that would have contact information as well as a story about the creation and care of the fabric. With aiming at non-fiber purchasers, I need to provide as many reasons as possible while a piece of "art cloth" would be a great gift. Here's the "story:"
"This art cloth is a blue silk crepe georgette  fabric, hand-marbled in a contemporary wave pattern, 19 inches by 21 inches. Edges are serged solely to prevent fraying of the fabric. This material has been pre-treated and heat-set, so it is ready to go for your project. If you need to clean this fabric, use warm water and a gentle soap – no Woolite or harsh cleaners, no dry cleaning. Use a dry iron and some Magic Sizing to eliminate wrinkles. Try this as a table-topper, just the way it is, quilt it, or use it in an art quilt for nature elements– lots of imaginative possibilities! This is a great pattern to quilt by itself with lots of decorative threads."
Along with this is every contact piece – Twitter, Facebook fan page, blog, email and website. Save everything to your computer, and then all you need do is add the new story for each of your pieces.
Here's the fabric and its packaging: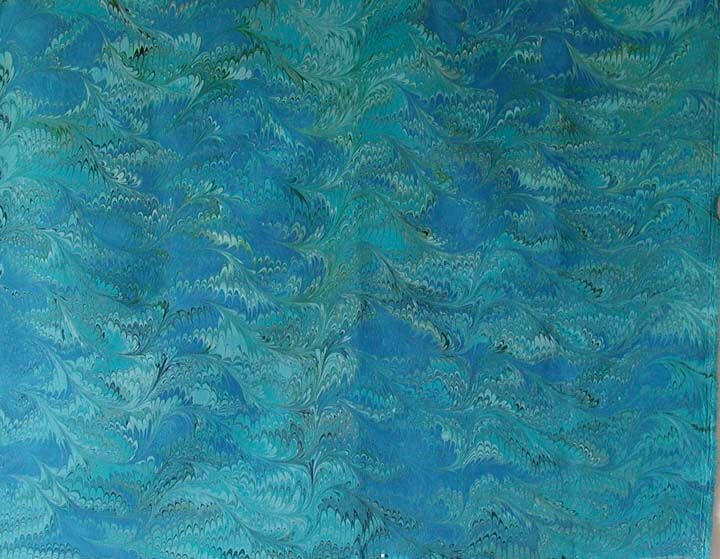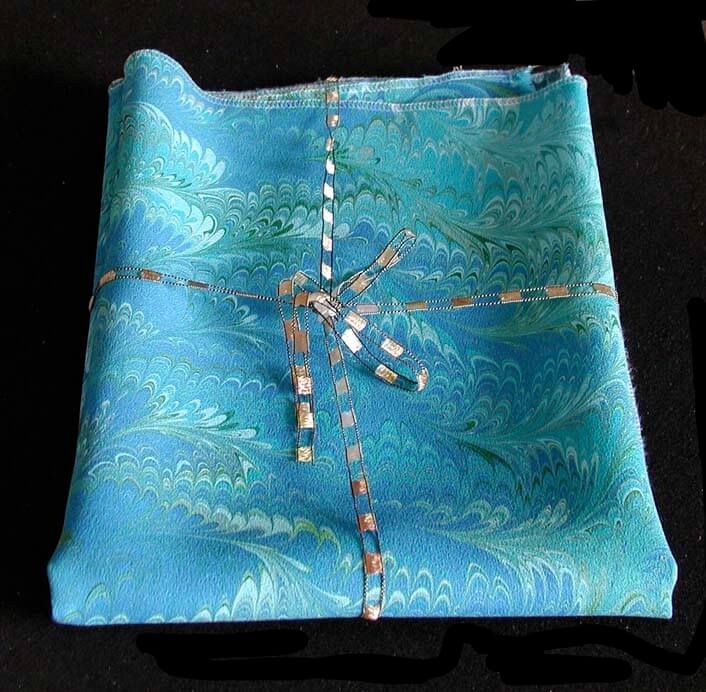 I will say the piece was up on Etsy for less than an hour before it sold, and all the new pieces of fabric packaged this way have had more views than previously in the shop.
The proof will be the show on November 20; how will people react, and will they buy? Thoughts? What have you done to package your items? Have you noticed a difference in sales?


Awright, so they're not technically WIPs. But I haven't shown all of them on here before, and I really do love them. And close observers will recognize the blog heading as the fabric in "Salmon Run."
"Salmon Run" returned from its several-month engagement in Alaska at the Cordova Historical Museum. I love having it back – I am so fond of the fabric.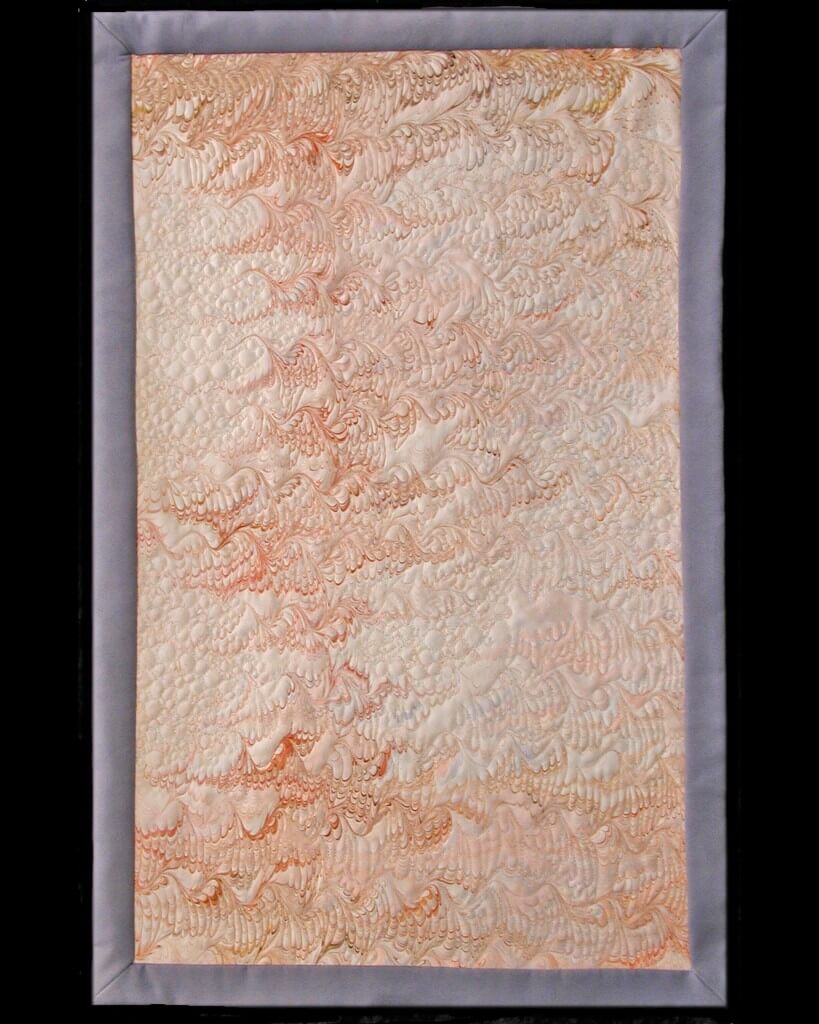 Here's a close-up of the quilting.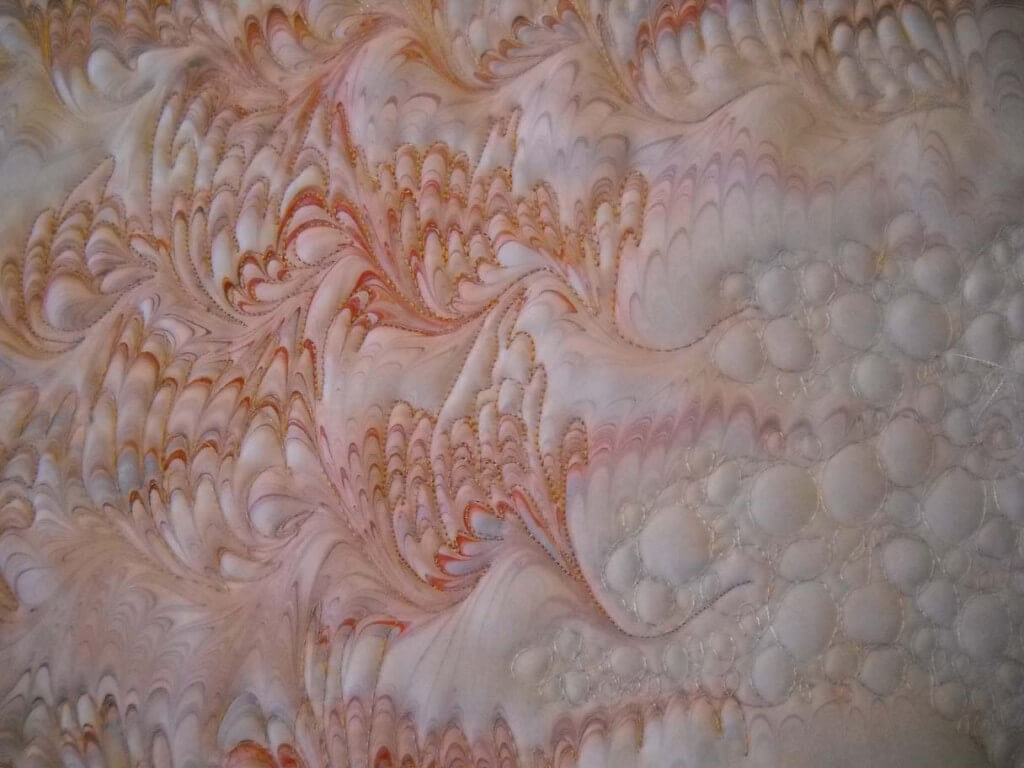 You also haven't seen my latest piece, "Bamboo Grove," in a full shot.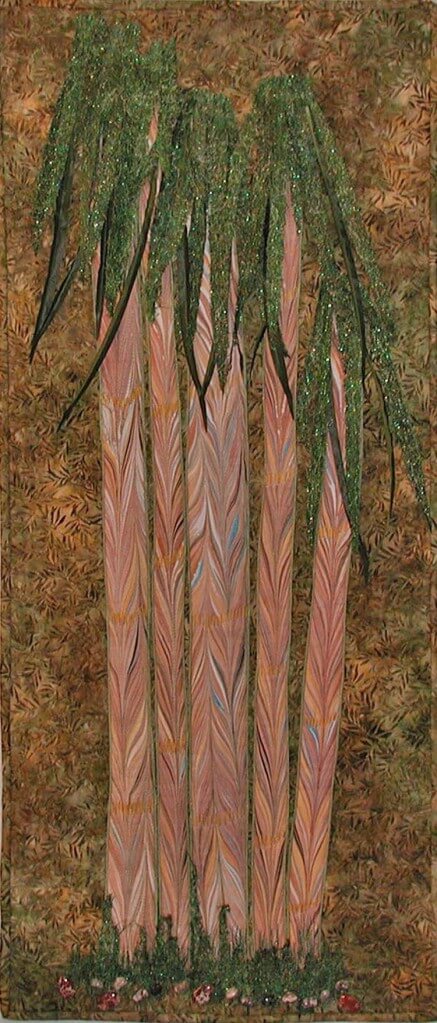 This piece had so many techniques I hadn't tried before. I am reconsidering the tops of the bamboo stalks…I may decide to take the leaves off and try another way of attaching them to increase their fullness. So I guess it still is a "work in progress."
What am I working on now? I am doing an art show on November 20 with the Tucson Art and Craft Association, so I am preparing fabric for that, as well as requilting a few small quilts. I am thinking of revising my still-unfinished "Iceberg" piece from several years ago into a series of Icicles for Road to California – I have till December 15. I can still use all the techniques I had planned, just in some different forms. I am still thinking about the next "large" piece with marbled fabric and don't quite know what it's going to be……I have some really great large pieces of fabric lying around.
But…I also have about four other quilts in various stages that I need to get to! Such decisions we all have….what's waiting on your list of to-do?

So it's been an interesting Saturday, with almost giving up at 1o this morning, thinking I would just submit one piece, rather than trying to show my overall style – which is certainly unique – any maybe too different…. My leaves are done, and my strips are done. I know how I'm going to make the grass and what stones I am going to use. But it's the actual layout….
I want a stand of bamboo. My original idea, some eight years ago, was to have it free-hanging – strips of bamboo, with some type of hanging system at the very top. Well, I figured if I did the leaves all at the top, I could put a casing behind them for a rod. When I actually had it on the design wall this morning…didn't really grab me.
Then I tried one of the jungle background fabrics, figuring I could make a background and attach the bamboo on top of it. Well…I ironed, pinned to the wall, added the strips, and then added leaves at the top….and…it was better, but certainly not a grabber. I tried shortening the strips – after all, they were at least 50 inches – nice, tall bamboo. Somewhat better.
I played around with a different leaf arrangement. Nope. Tried more strips beyond the five. Nope. While I like 8 because it's a Fibonacci number, there was too much bamboo.
Last Sunday I went to my local quilt shop, Quilter's Market (the BEST store, except for G Street….) with strips in hand to look at some other potential background fabric. I found one that was fairly "jungle-y" and worked with the browns and the greens. I pulled that out, ironed it, and cut it in half – top and bottom. I pinned the strips back on…this time I had them straight, but I had the top angled into the forest….five strips kind of angled downward from left to right….added the leaves in some different arrangements, and voila – I LIKE it! Now it's more what I had in my mind. I needed to shorten the strips and angle them – while bamboo grows straight, it ain't perfect.
I need to go buy about another third of a yard for binding. (They were almost at the end of the bolt last week…hmmm…) I've been going back and forth about a frame or not. I am thinking a simple binding, as I don't want to constrain the bamboo with a frame around the jungle, especially as I plan to have leaves out and about the edging. There is a possibility I will need to make more leaves – I have most of what I need, but they are pretty time-consuming. At this point I can see myself making the deadline, especially with another whole weekend available. And I'm pleased…so we'll see about progress tomorrow. I promise a small picture when it's a little more together.
This whole process is extremely interesting. I find myself making more and more complex decisions as I learn new techniques and expand what my sewing workhorse (Bernina 1080) and serger (Bernette) will do – or what I will make them do. I will say my serger wasn't totally happy with my choice of threads (some really fancy light-weight ones) for the edging…but except for re-threading the needle, I was in pretty good shape. I just need to remember to put the serger back into its original sewing condition for hubby to serge the new fabric for the Labor marbling…he's not real thrilled with having to thread the machine….
I have been thinking about the leaves for the bamboo piece. As I mentioned last Wednesday, I think the silk leaves would be too plain, and I didn't like how they marbled, and I think thread leaves would be too fragile for such a sturdy plant. Then it occurred to me to do what I do in the classroom – it's not an either/or, so why not combine the two.
I started by cutting a piece of Dissolve from Superior Threads and taped it to an old cutting mat – that stuff is slippery. Then I started layering some of the old yucky threads I have.
At this point it occurred to me that I could layer the silk leaves across this base of thread, after I pulled off the wire from the backing.
I turned some of them wrong side up, figuring I would be stitching on both sides of the sandwich, so I would get some additional effects front and back.
I am pleased to say it occurred to me earlier not to run the overhead fan in the studio while I was working on this….At this point I am ready to layer more thread on the top of this. Keep in mind I have no idea if this is going to work….
Now at this point I need to cut another piece of Dissolve to go over the top of this.
Now it is ready for stitching. I need to order some thread – Razzle Dazzle to use in the bobbin, and some green Lava for top and bottom. I figure I can order this week and while I'm waiting, I can finish up the bamboo strips. Once I cut everything apart, all the little slivers will become part of the base where the strips are mounted. I don't know if I will need more leaves. I am counting on the leaves at the top to hide the hanging system. I do have plenty of silk leaves – I would need to get some more cheap thread if I need to do more thread work.
Any of you try anything like this? Suggestions? Ideas? Pitfalls? Inquiring minds and all that….
(Think Horschak) Oooh, Oooh, Oooh……I have some great tree agate I have been collecting from the gem shows….they would add some interest and weight to the bottom of the piece…I knew there was a reason I was collecting them……
I have to say, I have been busy. I originally was thinking nothing was going to happen art-wise in July because of so much work on the business. I was wrong…the last week has been incredibly productive. Last Wednesday I wrote about my lava piece just telling me it really wasn't finished. Here's last week: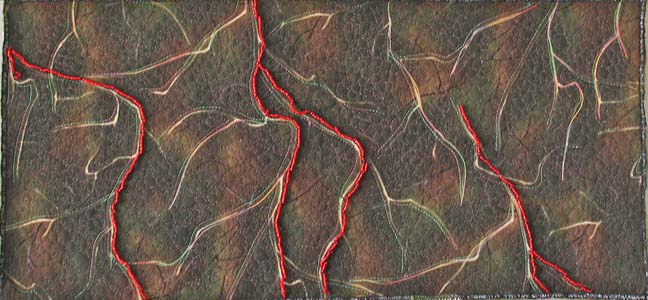 And here it is now, since it told me it was "finished:"
Turns out it needed actual lava – those little round pieces are actual chunks of lava I collected over a couple of visits to the Tucson Gem Show each February. I also added more lava flows, and nothing really interferes with the quote on the back. This is going to go up in the newly-developing Etsy store.
My "purse" didn't make it as a purse…I loved the play of the fabrics together, but I couldn't get handles to work the way I wanted them to…so now it's a nice new basket for collecting fabric scraps.
If you were reading on Sunday, you saw the finished "Desert Heat" quilt, now on the wall in our bedroom.
Now I am working on my "bamboo" quilt, started about 5 years ago with a piece of marbled fabric in the chevron pattern. One of the things I like about this quilting is that it is very zen-like, in that you can just follow the lines of the patterns. You can see the original piece of fabric here. You'll see what I mean about the lines of the pattern.
As I was quilting yesterday, it occurred to me to take pictures of the process, and then that led me to think about putting together a tutorial on quilting marbled fabric. There is an interesting story behind the quilting. Years ago I pretty much just put marbled fabrics with blacks, as I wasn't sure at all about my color sense. I did slowly branch out, but it was Quilt artist Ellen Kohen who took a piece of fabric and quilted it. I knew there was more I could do with the fabric, but I wasn't sure how to approach it. Once I saw what Ellen had done, I was hooked, but it took confidence to start the free motion needed to accent these patterns. Starting this Sunday, I'm going to introduce "Sunday Stories," and I'll take a look at the story behind each of the pieces in my gallery on the website.
For today, here's a close-up look at one of the bamboo strips (which I am aiming to finish by mid-August, as I want to enter it into an art quilt show with my "Ocean's Bounty.") You can easily see all the "lines" in the pattern and how I have followed the lines with a variety of different colored threads. The problem you might run into (as I have) is when to stop with the lines – you can get easily sucked in to quilting everything.
You can see the serged edge in this piece – which is how I usually finish these weaving pieces. I've learned over the years not to serge until I am finished with the machine quilting.
This is with my walking foot, but I'm not totally happy with the control with this foot. Because there are slight curves to these lines, I use my regular foot and am quite happy with it. I think this is probably a personal preference. I tried the free motion foot on this, but I didn't have the control and even stitches I wanted for this design.
I have four and a half "strands" of bamboo finished at this point. I can quilt for a couple of hours, listening to some John Denver and just kinda zone…as I mentioned earlier this week, I am amazed at just how much I get done when I think a project will take forever. Now what probably will take forever will be the leaves. I've tried marbling some silk leaves – not happy with them. I am thinking some thread leaves, but they may not seem "sturdy" enough for this hardy plant. I do know thread leaves would be a great use of all my lousy threads I have hanging around. I haven't broken any threads with some 6 hours of quilting – have I told you how much I love my Superior Threads?
If you would be interested in a tutorial on quilting marbled fabric, please leave me a comment and let me know. If you've got pictures of some marbled fabric that you have quilted, I would LOVE to see it.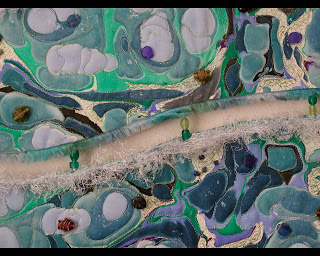 Yes, yes, yes!! The waiting game is worth it, as I got two pieces into the Fish Follies art show at the Cordova Historical Museum in Cordova, Alaska. You can view last year's entries here. Suzan Drury is my digital partner, and she won (and sold her piece) honorable mention last year. This is my third acceptance (each of the three years I have entered), and my second fiber piece. Last year Suzan and I had two pieces accepted, and this year we just did one joint piece. I do like the fact that they look seriously at fiber entries. This pic at the top of this post is a close-up of Ocean's Bounty – I'll get a full-size one posted soon.
So I could say I have a track record at this show – now if I could just sell something….but I am not going to let a heavily quilted and embellished piece sell for peanuts. Plus, I made the marbled fabric to begin with. Now I'm waiting on the Fort Collins show…all fiber – we'll see if they like "out-of-the-box" fiber!
Anne (see comments) from El Milagro Studio suggested creating a body of work and shopping it to galleries, which is what a lot of the focus will be this year. I do have a track record of getting into shows, including one rather prestigious fiber show. Some of our entries:
* Textures Gallery and Studio, Scottsdale, AZ, Fall, 2003
* "My World in Black and White," online exhibition, 2003-2004
* "My World in Black and White," Ontario Museum of Art and History, CA, 2003 – 2004
* Schullenberger Gallery, Jericho, VT. Artists' Showcase, December 2003
* Leandro Fabrics and Gallery, Tucson, AZ, May 2004, September 2004
* Expressions in Textiles, juried show, New Haven, CT, August 2004
* Fabric of Legacies, juried show, Fort Collins, CO, July 2004
* Fish Follies, juried show, Cordova, AK, August-November 2004
* Art of the Sixth Extinction, WomenKraft Gallery, Tucson, AZ. Winter 2005
* Fish Follies, juried show, Cordova, Alaska, July – November 2008
And now – Fish Follies, juried show, Cordova, Alaska, June – November 2009!
Here's hoping for more!
New to Marbled Musings? Here's a sample of what we're about!

So almost the whole month went by, as I dealt with a root canal, eye surgeries – and the latest – two blood clots. Feeling very tired and worried about getting energy back in time to start school.
I did finally work on getting the sewing area set, and I actually finished a really old piece (at least 5 years) that looks wonderful. This will be a thank-you for Sam for doing math tutoring for me.
This started out with just quilting some background for marbled flowers. Then it just got stored, as a result of one of our many moves. I found a few more marbled flowers to finish it up, and then I had some fun looking through a stash of beads for the flowers, found a lady bug for the leaves, and used some of my red agate for the corners. I may need to do a few more like this. We marbled leaves this weekend and they worked out really well.
Overall it's good to be doing some sewing again.

We spent yesterday setting up to marble (which always takes so long, with pretreating and actually setting up the liquid bath), but then today we got to play – marbled about 6 yards of fabrics, and once again everything went really well. It is so nice to be back in the large tray again – we actually feel like we are creating art again, not just little pieces to sell. Yet again today we were talking about how much of a void there was in our artistic lives when we couldn't create large pieces of fabric. When you define your art this way for over 14 years, it really is distressing to lose the skills.
Especially nice is the fact that we are working with other fabrics. Tried some larger heavy-weight silk that worked wonderfully, as well as some faux suede pieces, and the velveteen also worked. I still need to treat the velveteen to soften it up, but overall extremely pleased. Still haven't been able to do the chiffon again – those people who bought that two years ago certainly have one-of-a-kind pieces!
We want to marble more often now that things are working again. It is SO GOOD to be creating fabric again! We even are revisiting marketing and revving up the business end because we are turning out really great fabric. The disadvantage is that our bodies have changed enough that we can no longer go for six hours straight, not including clean-up. There was a time four years ago when we could do 60 fat quarters in a day. Can't do that any more, and we also discovered we don't like turning out fabric that way – we would just as soon do a smaller amount and have a chance to play on each of the pieces.
We are still looking for a particular fabric that we used for so many of our art pieces – we used a poly-satin that kind of worked, but not to the detail we would like. I found an old piece that we'll use in checking around fabric stores. All the really great pieces are from bridal fabrics, so we just have to shop around for those.
This piece that I've scanned shows the incredible detail you can get on the poly fabrics.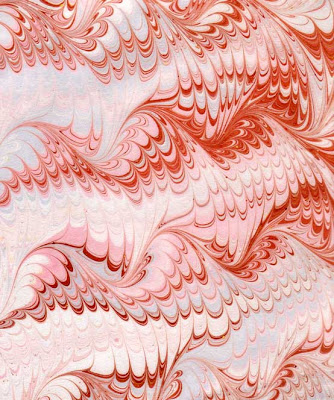 Then I started playing with some of the new tools from the Photoshop lessons. This next is with the Shadows and Highlights adjustment. I particularly like the neon effect on the orange.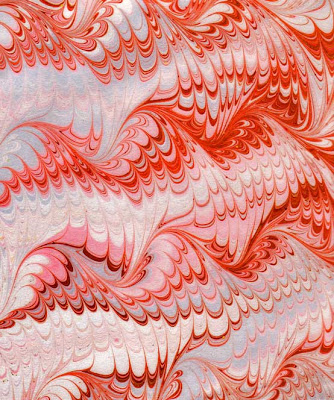 This next is playing around with the eye dropper tool and the white space. Each gives a different feel, which is why I have wanted to learn Photoshop for so long. I want to be able to take a really great piece of fabric and use it to create lots of other images, so the particular piece doesn't have a short shelf life till someone buys it.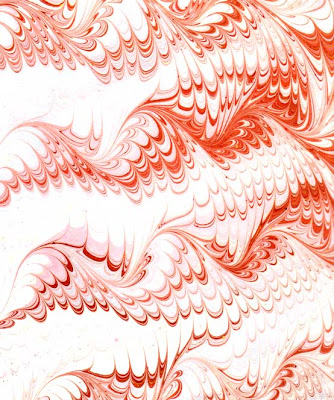 And finally – the joy of playing with filters in Photoshop! Take a look at what happens with the emboss filter with the same piece! Reminds me of maps of the Continental Shelf.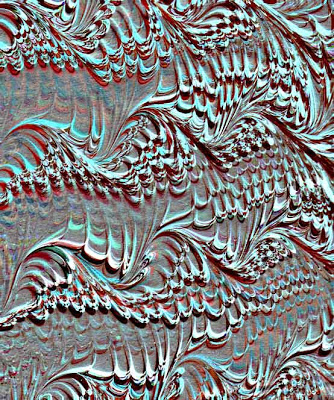 All in all, a great way to spend a day off from school (Rodeo days here in the Old Pueblo)!