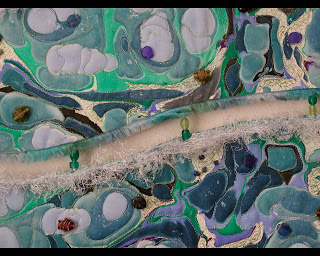 Yes, yes, yes!! The waiting game is worth it, as I got two pieces into the Fish Follies art show at the Cordova Historical Museum in Cordova, Alaska. You can view last year's entries here. Suzan Drury is my digital partner, and she won (and sold her piece) honorable mention last year. This is my third acceptance (each of the three years I have entered), and my second fiber piece. Last year Suzan and I had two pieces accepted, and this year we just did one joint piece. I do like the fact that they look seriously at fiber entries. This pic at the top of this post is a close-up of Ocean's Bounty – I'll get a full-size one posted soon.
So I could say I have a track record at this show – now if I could just sell something….but I am not going to let a heavily quilted and embellished piece sell for peanuts. Plus, I made the marbled fabric to begin with. Now I'm waiting on the Fort Collins show…all fiber – we'll see if they like "out-of-the-box" fiber!
Anne (see comments) from El Milagro Studio suggested creating a body of work and shopping it to galleries, which is what a lot of the focus will be this year. I do have a track record of getting into shows, including one rather prestigious fiber show. Some of our entries:
* Textures Gallery and Studio, Scottsdale, AZ, Fall, 2003
* "My World in Black and White," online exhibition, 2003-2004
* "My World in Black and White," Ontario Museum of Art and History, CA, 2003 – 2004
* Schullenberger Gallery, Jericho, VT. Artists' Showcase, December 2003
* Leandro Fabrics and Gallery, Tucson, AZ, May 2004, September 2004
* Expressions in Textiles, juried show, New Haven, CT, August 2004
* Fabric of Legacies, juried show, Fort Collins, CO, July 2004
* Fish Follies, juried show, Cordova, AK, August-November 2004
* Art of the Sixth Extinction, WomenKraft Gallery, Tucson, AZ. Winter 2005
* Fish Follies, juried show, Cordova, Alaska, July – November 2008
And now – Fish Follies, juried show, Cordova, Alaska, June – November 2009!
Here's hoping for more!
New to Marbled Musings? Here's a sample of what we're about!