In November I got a package of 8-inch squares from my maid of honor of many years ago. Her daughter was now pregnant, and could I take her work at put it together? I remember Shelby starting these squares the first time we made it back to Vermont in 16 years. Anything for my friend of oh-so-many years!
Kathy and I go way back – and I have promised many times to keep some of our more interesting escapades from her three children (which means a WHOLE LOT of interesting stories are sealed). But I think taking me in the Big Bird costume we built for our play stuffed in the front of my VW for Halloween dinner at KFC is probably pretty harmless. Oh, if only we had digital cameras then……a moment in history gone forever……(and that chicken wire frame did a lot of poking…..)
So on Tuesday I finished the quilt, took pictures, packed it, and shipped it off, where it should be arriving today, two weeks ahead of the baby shower. Here she be -
Shelby wanted an ocean theme, so the blue is an underwater scene, left over from another quilt project. Love this fabric, and in the light it is even more gorgeous. The border is a stencil of fish, and the two empty blocks (which is the only thing I would revisit if I were to do this again) is some free-motion quilting in a blue Fantastico from Superior Threads.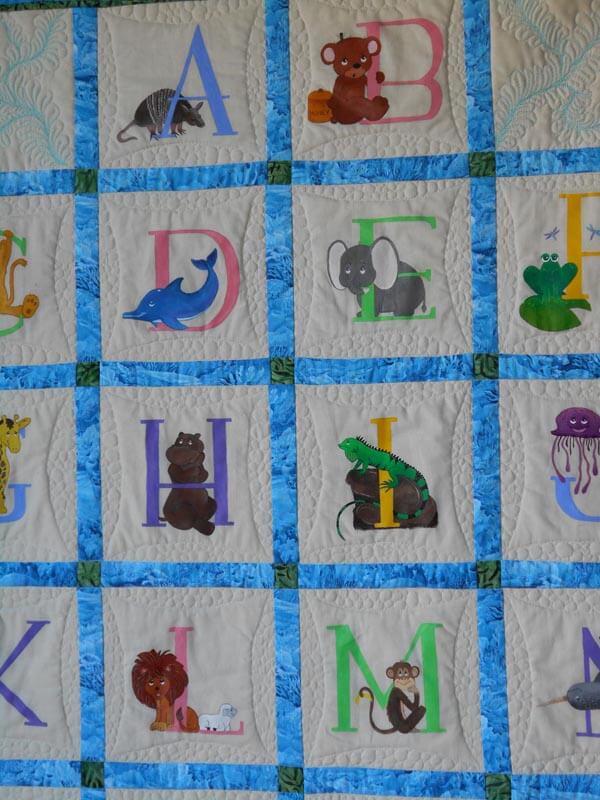 So much fun to do!! Now for the next quilt in line, for my yoga instructor…gotta get it done while it's still cold enough to use!
…and we have learned nothing. We still kill with guns, we don't deal with mental health issues. Four years ago three of us set up a website to look at the Tucson shootings. Suzan Drury, Anne Lockard (who is gone, but her indomitable spirit is with us every day), and myself to showcase healing art. You can name a hiking trail, a playground, or a new courthouse for one of the victims, but that doesn't bring them back. What happened will always hurt. I have lost customers for Marble-T Design because of my stand on gun control. I am a firm believer in the Constitution – it is a remarkable document. But I also firmly believe that the National Rifle Association has co-opted rationality concerning guns and background checks. Just because "criminals will find a way to get guns anyway" doesn't mean we don't have background checks. And we are so far away from any rational dialogue on this.
But this isn't a rant about gun control, although it very easily could be. Sarah Garrecht Gassen wrote an editorial today in the Arizona Daily Star that talks about how we refer to the victims of the shootings. They are not "lost," they are "taken." Here's an excerpt:
So let's follow Patricia Maisch's lead and be more honest with our language in how we talk about guns. She's the person who got the second clip away from the Tucson shooter before he could reload. She's fought for gun law reform and watched as politicians have failed to stand up to the gun lobby. She hasn't been shy in her disgust, and she speaks for a lot of us.
We talked on Tuesday afternoon. "Time flies whether you're having fun or not. It's always an emotional time of the year. I just think, how unforgivable it is that this could have happened," she said.
Maisch doesn't sugarcoat. She's working diligently for law reforms. But four years in, something that's fused into the sorrow and the anger gnaws at her: how we talk about gun violence.
She's on a mission to change the words. "The horrible takings," is how she talks about the people who have been killed with a gun.
"These people aren't 'lost.' They're never going to be found. They've been taken."
If you would like to see artwork focused on healing, you can visit Art from the Heart. Here's my piece, again controversial. Most of the comments I had was that the shooter was mentally ill, that it wasn't politics that caused him to kill. And thus was ended what could have been a productive dialogue about the state of mental illness and access to guns. I already know some of you will stop becoming readers and customers. Because of this wonderful Constitution of ours, I support your right to do that.
You can read about my thoughts constructing the piece here. Ultimately the processing from the shootings has led to me pondering our lack of ability to discuss issues calmly, and now I have based the first in a series of novels on what happens when we can't  – or won't – talk to each other.
Hawaiian Block of the Month from my local quilt shop, Quilter's Market – which I will SO miss when we move this spring…..
This program is a monthly get-together through our local quilt shop, Quilter's Market – one of the things I will definitely miss when we move. The theme for this year is Hawaiian Getaway. I've been keeping up generally with the blocks, but I will confess to being four  five months behind right now – it's those deadlines for other quilts…. Forgive the pics – I was in a hurry…..
I decided after my first block that it was just too intense in color, so I made one that was softer, with more light fabrics. that got me started making two blocks a month, one saturated, and one that was lighter. The shop has what they call an "Oops Pack," for when you make mistakes with the pieces of fabrics you get. I picked up both the light and dark packs, because I really liked the sherbet colors. So instead of 12 blocks at the end of the program, I will have 24. I'm planing to set them on point, with plain blocks in between that I can free-motion. For those I'm planning to use some of my adopted mom's Hawaiian designs. I also really like the work Judy Madsen does (Green Fairy Quilts) with straight-line quilting, so I'm looking forward to designing the motifs.
Amazing how it used to be enjoying making the quilt top, but now I look forward to the quilting oh so much. The goal is to have the blocks done (April is the last month) before I completely pack up the studio for our move. I know it won't get put together until the months after we are settled.
Here goes…..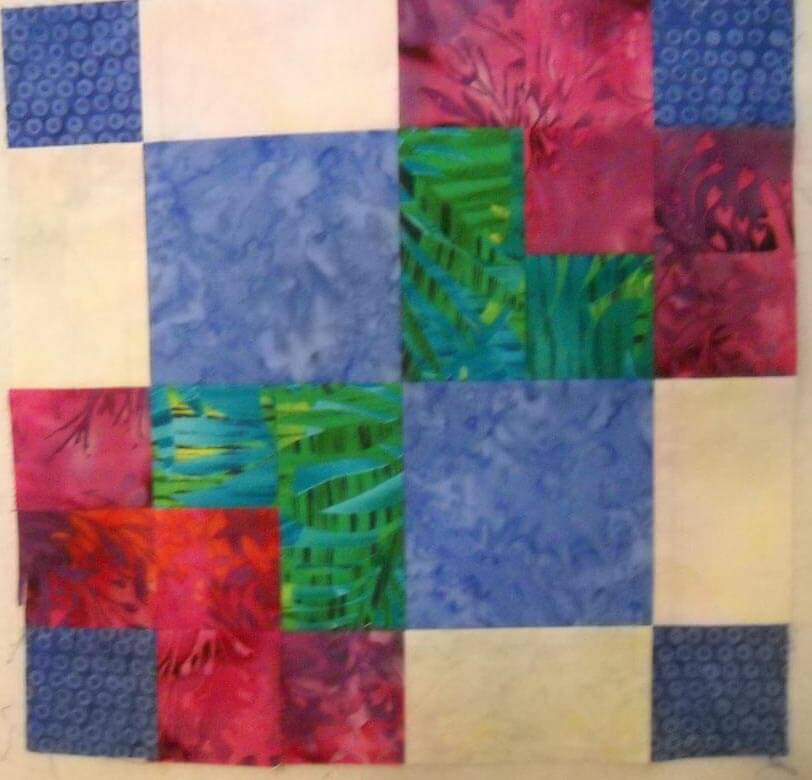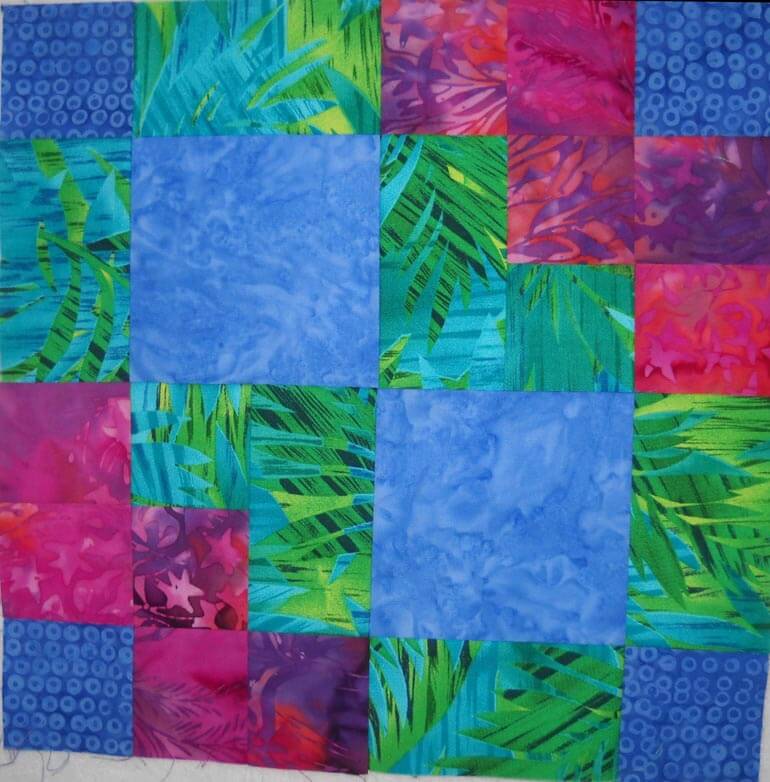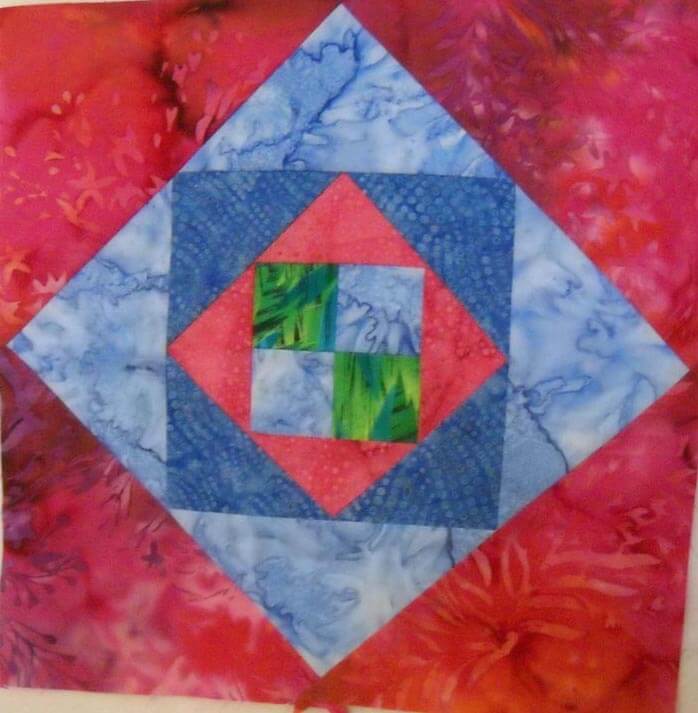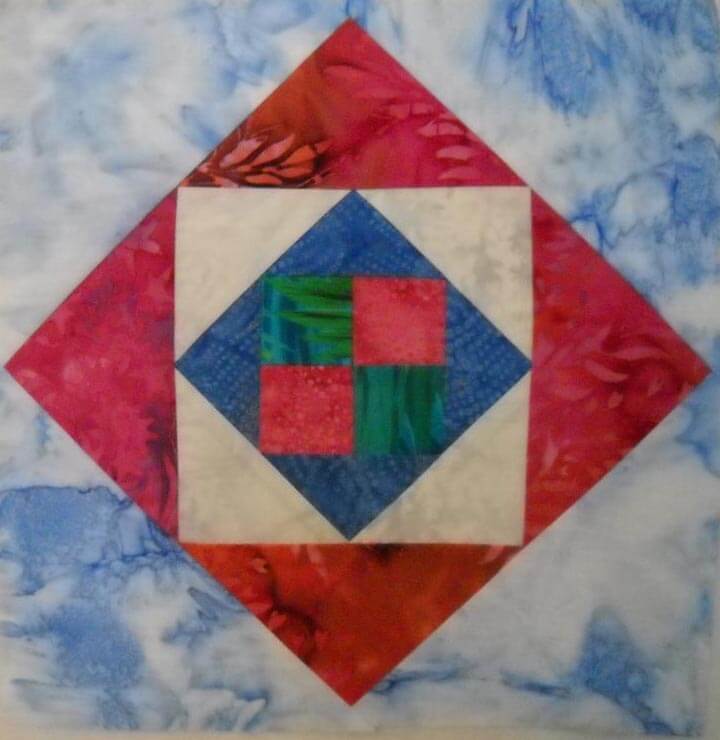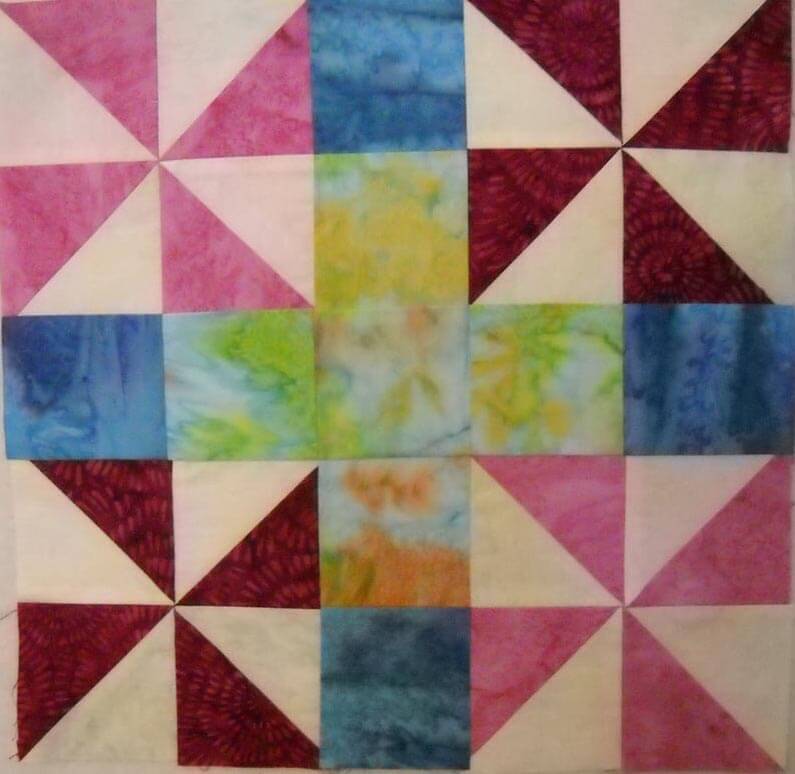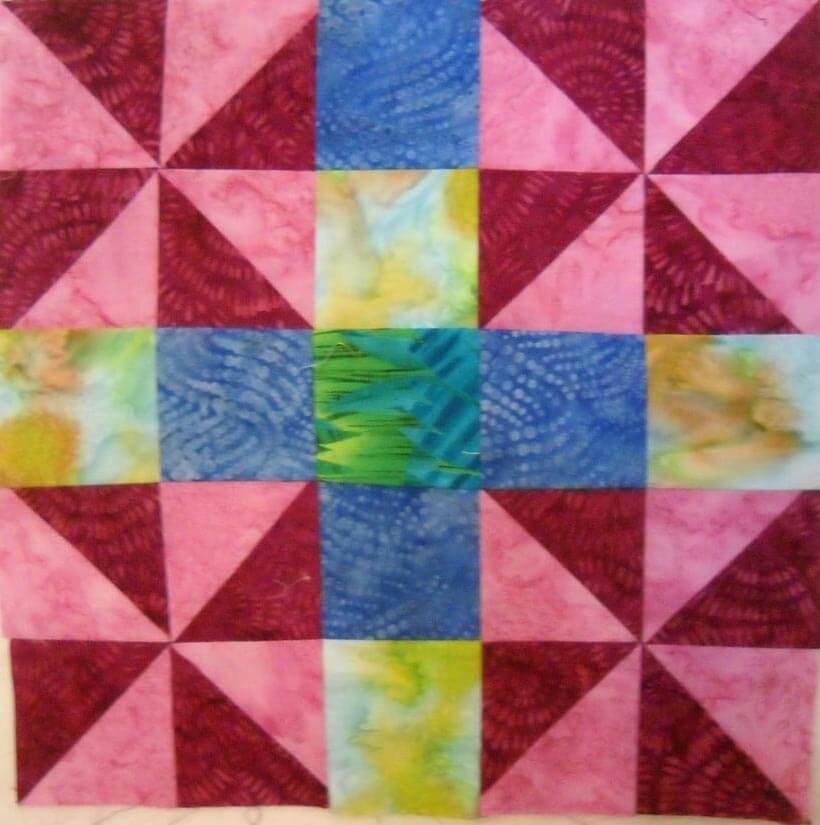 I confess to being very curious to see what I come up with for the whole quilt – I do know I am very much looking forward to quilting it!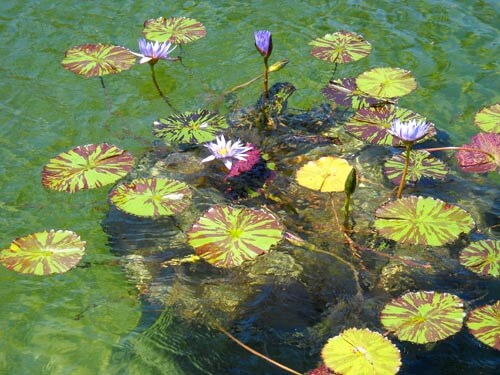 Usually this time of the year I have my goals all laid out and ready to go. But not this year. I have really slowed down over the past 12 months – some from health, some from depression, and some from just wanting to enjoy every day. That's a real change for me. I am enjoying each day tremendously, so when everyone was choosing their word for the year and posted it, I thought, "Nah, not going to do it this year. I'm content with the way life is going right now."
Last night in bed, I was thinking about "content" and realized I have my word – actually two words – right there. Content with accent on the second syllable, and content, with accent on the first. The more I thought, the more I liked it.
So first, content, with accent on the first syllable. I want content in my life. I want to contribute meaningfully to people and causes this year. I want content in what I read and watch this year. I want content in my actions. I want to create content.
Second, I am content (accent on second syllable). I realized that this past month as I saw just how much my mental and emotional health – and consequently my physical health – was improving. My days are taking on a relaxing rhythm – quilting, reading, writing, yoga, being in the moment with hubby. Appreciating that I can do what I wish in retirement, without having to worry about finances too much. I enjoyed my nap this afternoon, the brief snow in Tucson this morning, and the fact I still have 10 hours ahead of me to write and quilt.
Life is content and full of content.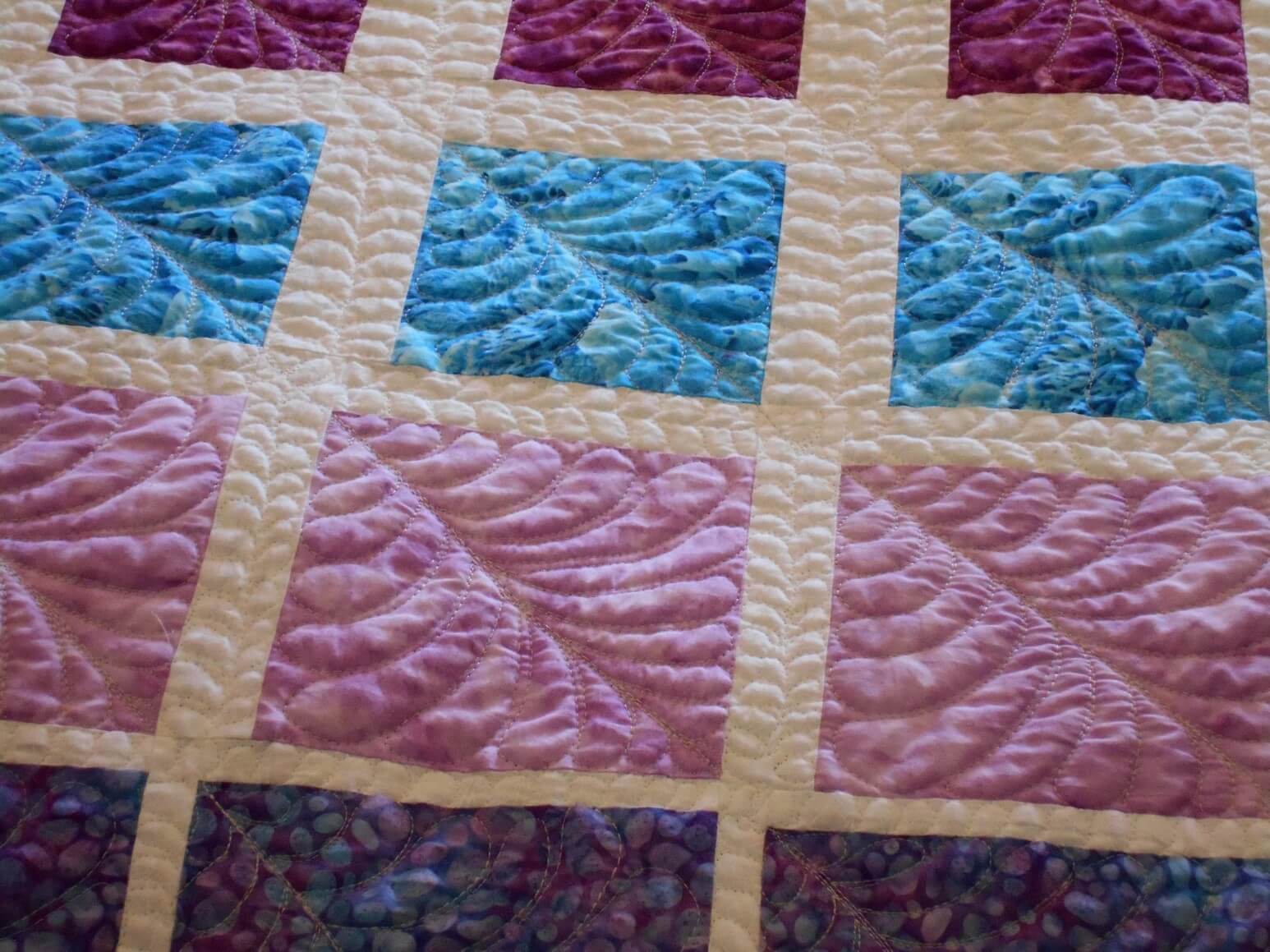 First, I have finally realized, after nearly three years of yoga, that if you seriously approach a daily practice, you will see results. After two-plus years of farting around with yoga, I started to fight through the depression this fall and discovered that I was firming up, getting stronger, and seeing progress. Now I'm doing a daily practice of movement and then trying to incorporate some restorative yoga in the evening before bed. What a difference it is making in how I feel – and the fewer number of times I need to go to the chiropractor! My yoga instructor has been a blessing.
Second, better living through chemistry. After being convinced my depression was something else, like a whacked-out thyroid, I broke down and when to the psychiatric nurse-practitioner. My OB nurse practitioner and my endocrinologist wouldn't give me a new prescription. In talking with him about the various meds I'd been on, turns out none of them were really a therapeutic dose – which is what happens when you don't use someone trained in treating depression. I cannot get over how much better I feel – physically, emotionally, mentally.
Third, I don't need lists, and I don't need to prove anything to anyone. As an obsessive list-maker, I would brain-dump on a regular basis and then try and get as much accomplished as I could. Don't sweat the small stuff, and so much of it was small stuff. What needs to get done does get done. I'm not holding myself to all kinds of goals like in the past. My days are settling into a very nice pattern of yoga, quilting, designing, and writing. I am content, which is a feeling that takes some getting used to.
Fourth, I will keep writing, whether it be the blog or essays or continuing with my series of novels. I've learned that writing fiction – and the editing process – is much different from nonfiction. I like pulling all plot pieces together, and it is my way of dealing with all the craziness in the country. Since I joined a weekly writer's group – whose sole purpose is to write for two hours – I have realized just how productive I can be. While I'm looking forward to joining a critique group in Vermont, I see the need for a "writing for the sake of writing" group.
Fifth, I did enjoy the math consulting. It still pisses me off that people running that business didn't do what needed to be done, like training new people and doing the needed marketing. I realized I don't want to do much more than the occasional part-time gig in consulting, because I miss not having my time to myself. The first 4 months of the year were tough, as my projects got put on hold (I STILL don't have the seasons pattern finished). I will look for more math tutoring in Vermont, but I won't overdo it.
Sixth, I battled with my body for control of my health. This will be a continuing battle for me, but the cosmic two-by-four finally made a dent when it comes to losing the weight – pneumonia a second time, stomach issues, bad knees, torn ligaments – and a lot of these related to what I was and wasn't eating. Health is my word for next year. Now that the mind is in better shape, the body is following behind. And the more yoga I do, the more I realize how much I need to do, if I am going to take care of my knees.
Seventh, I need to make a difference, one person at a time. So many little gestures to others this year made me realize I can influence another person's day, and hopefully I can continue to make those little gestures that will help on a global level.
Good bye 2014 – you've been interesting!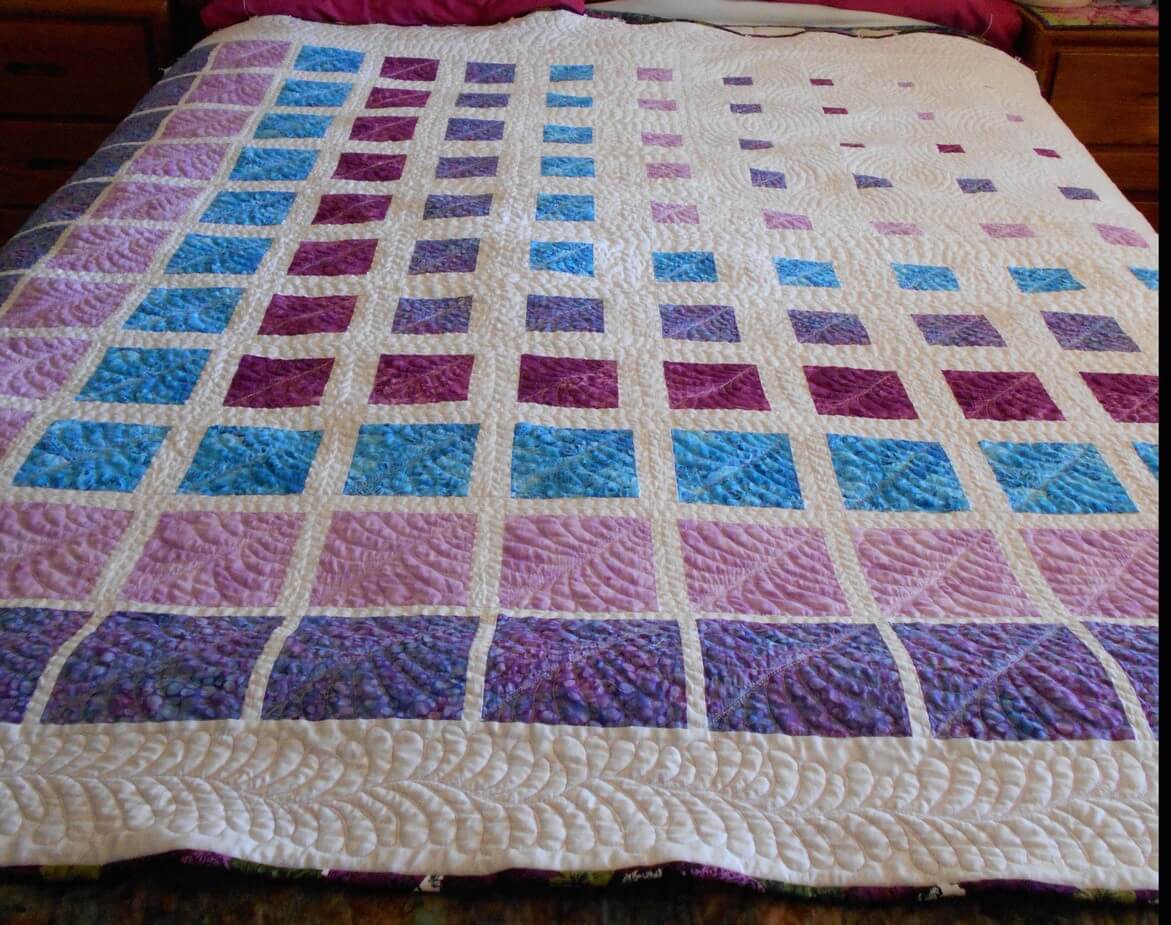 I must confess, by Tuesday evening I wasn't sure I would have the quilt for our good friend completed……We had plans for Wednesday and Thursday, so last-minute was going to be Tuesday evening…..and I still had to finish a rolled hem on a silk scarf………But I made it, hubby photographed it Wednesday morning and finished cutting off miscellaneous threads. It was a HUGE hit last night at the presentation – everyone needed to take a turn snuggling under it! Originally I was going to make another nap quilt, since the first one I made for our friend turned out to be too short to wrap herself in. This ended up queen size…..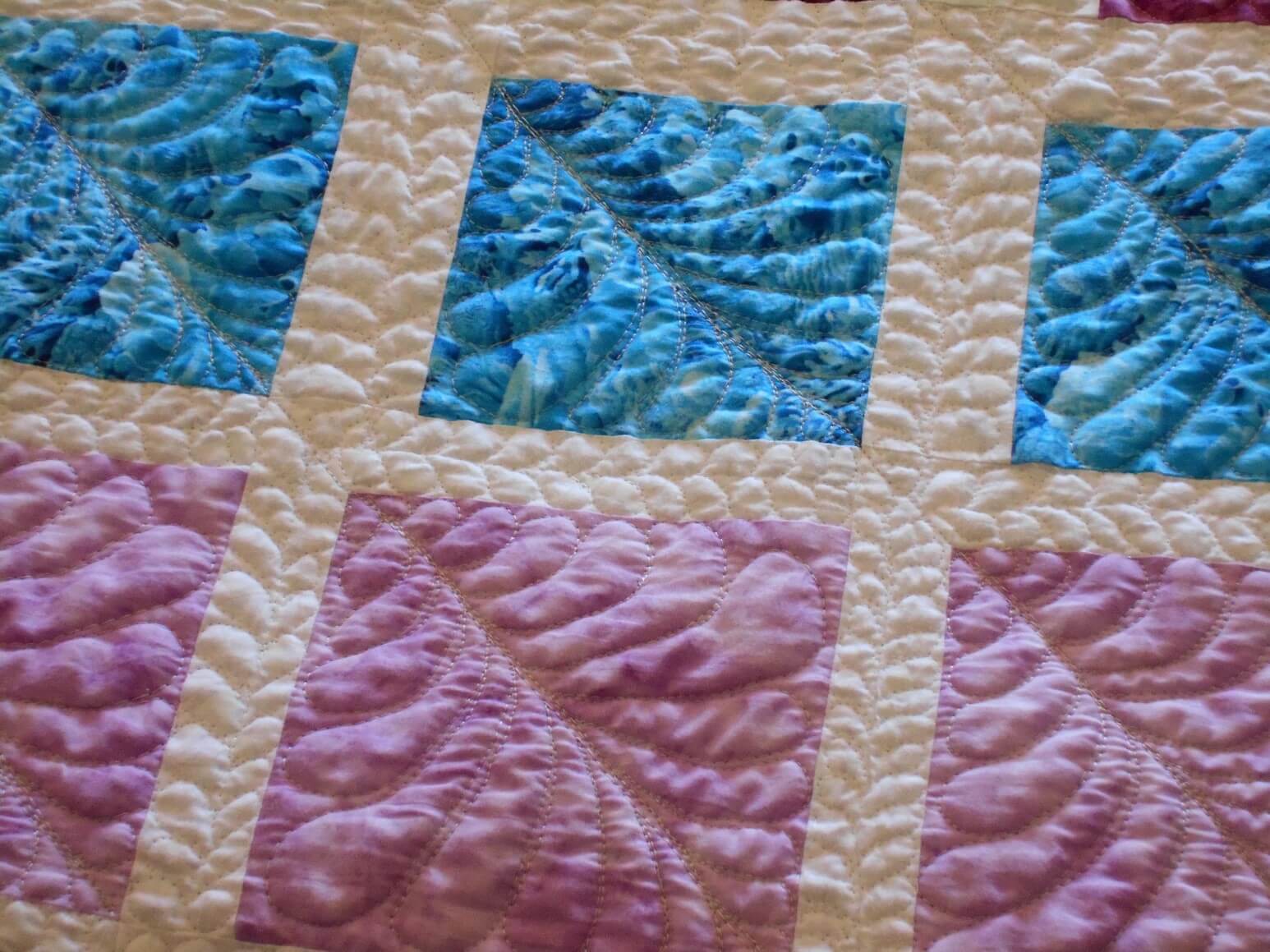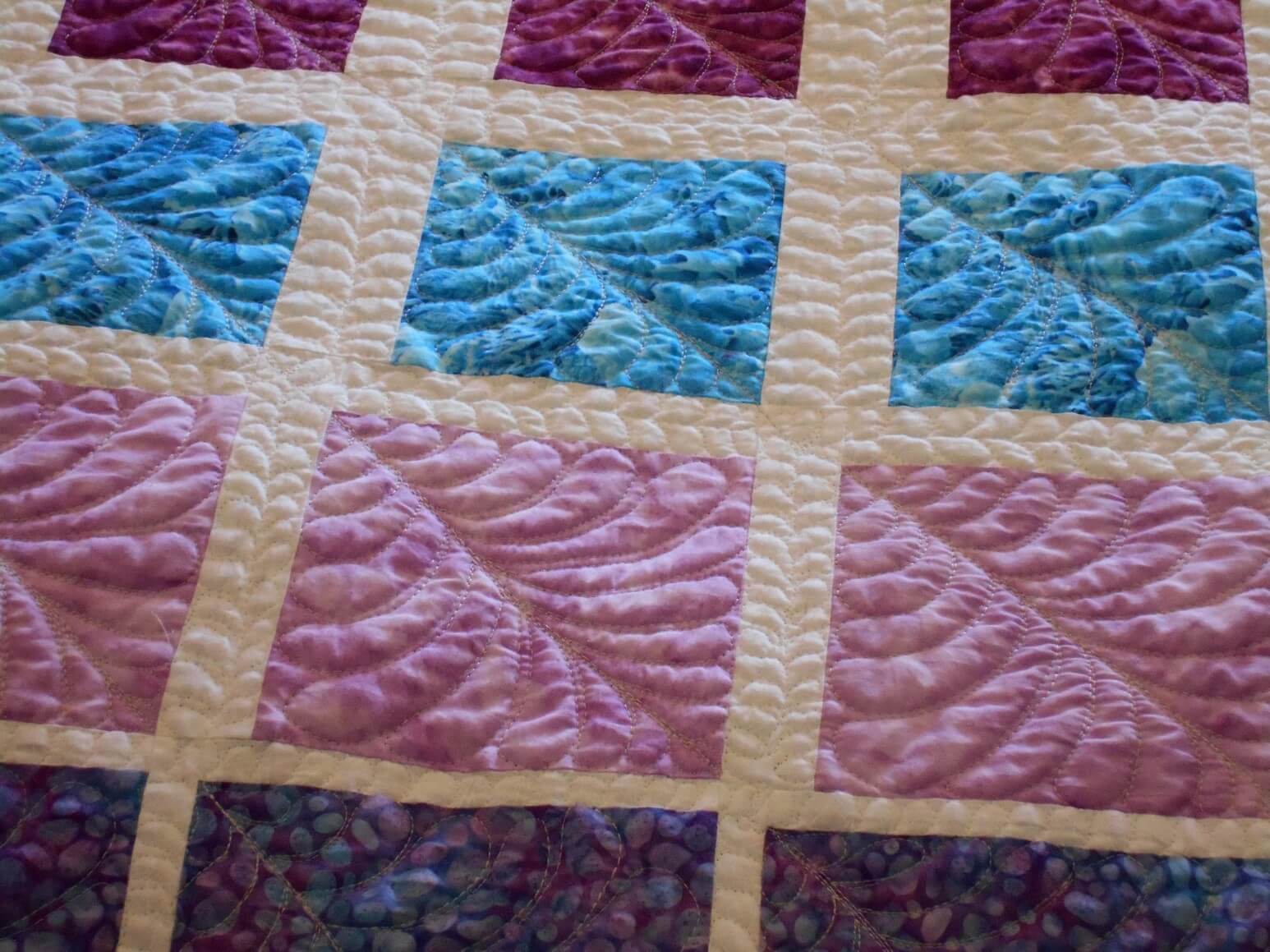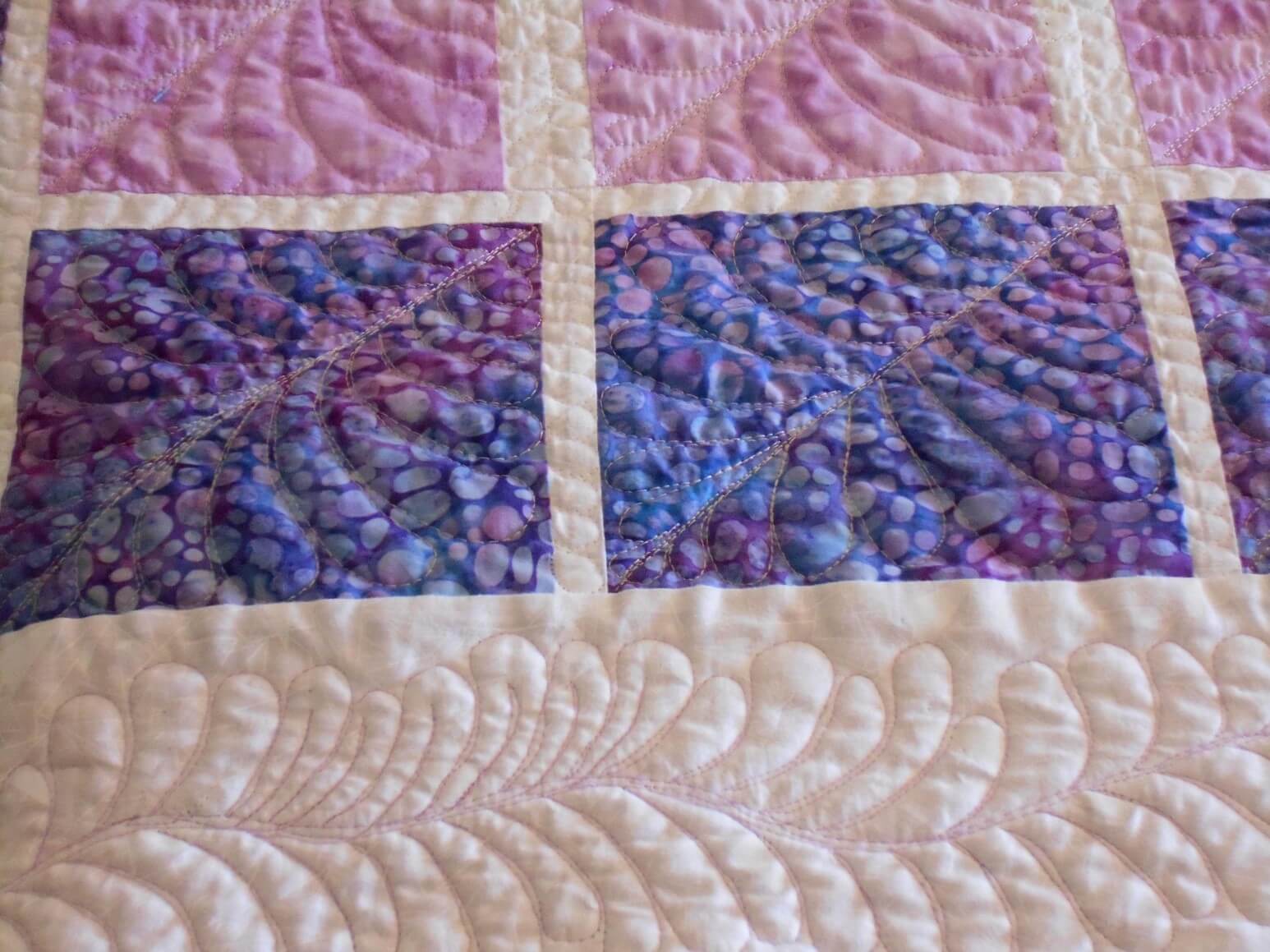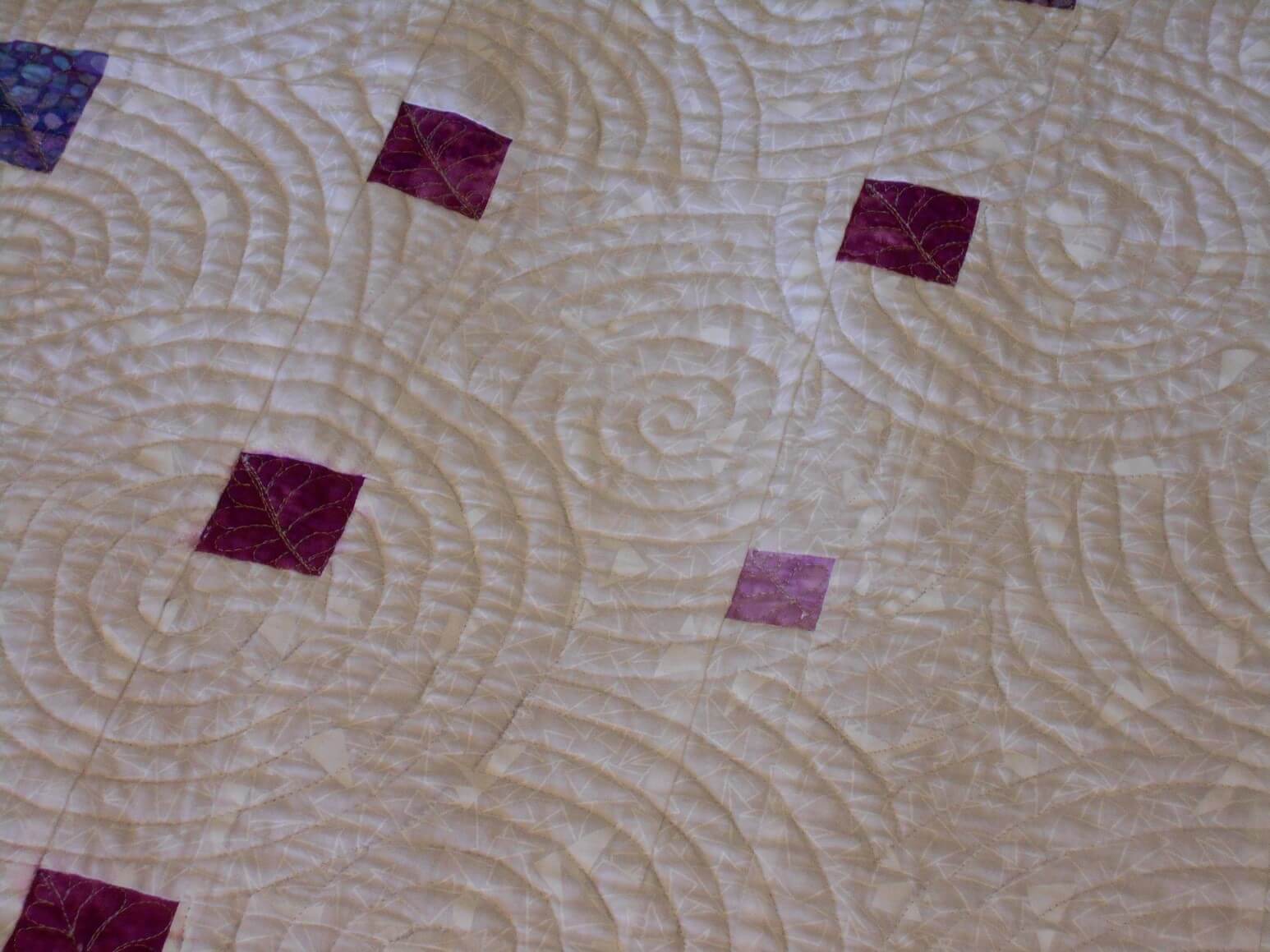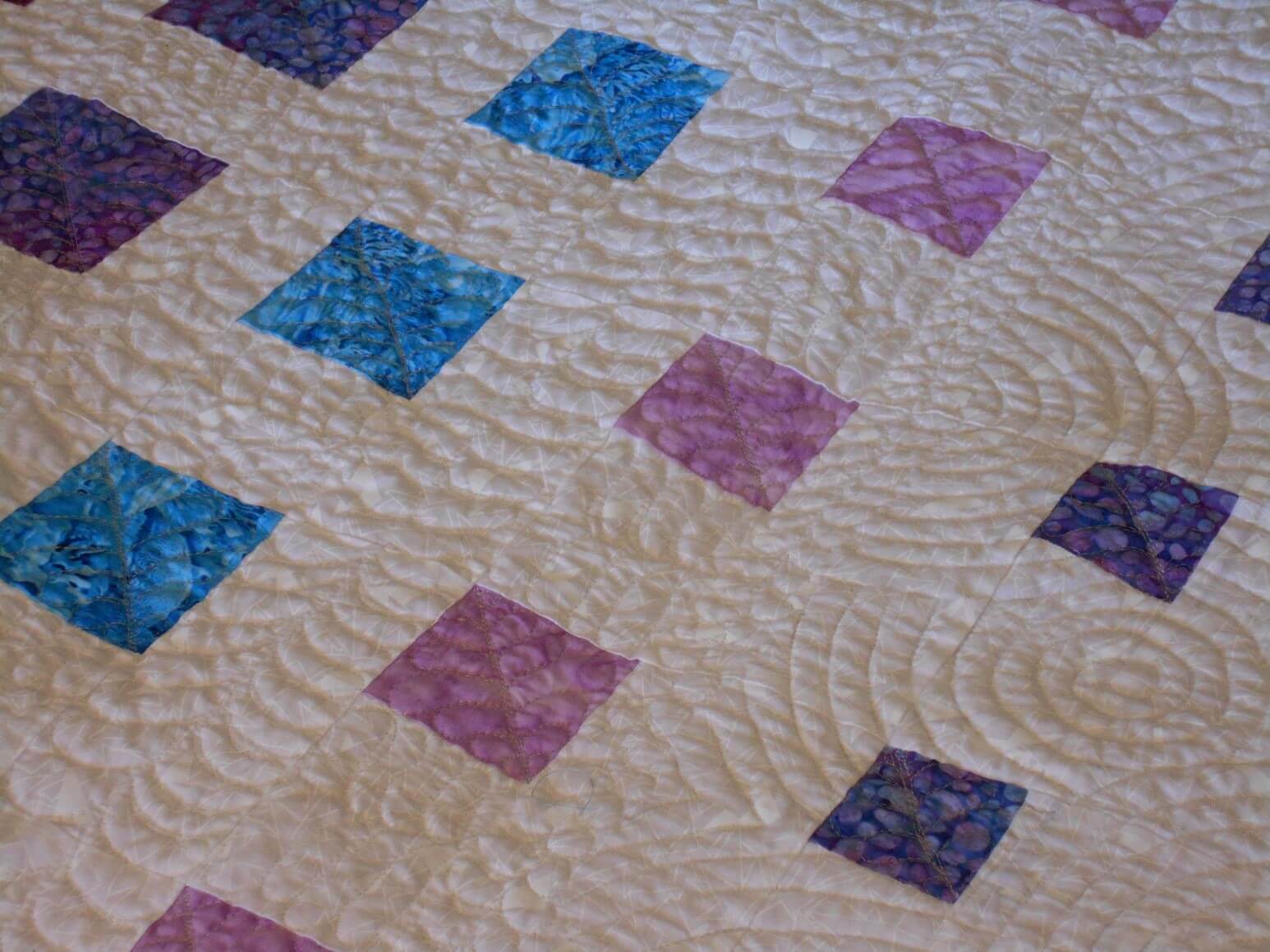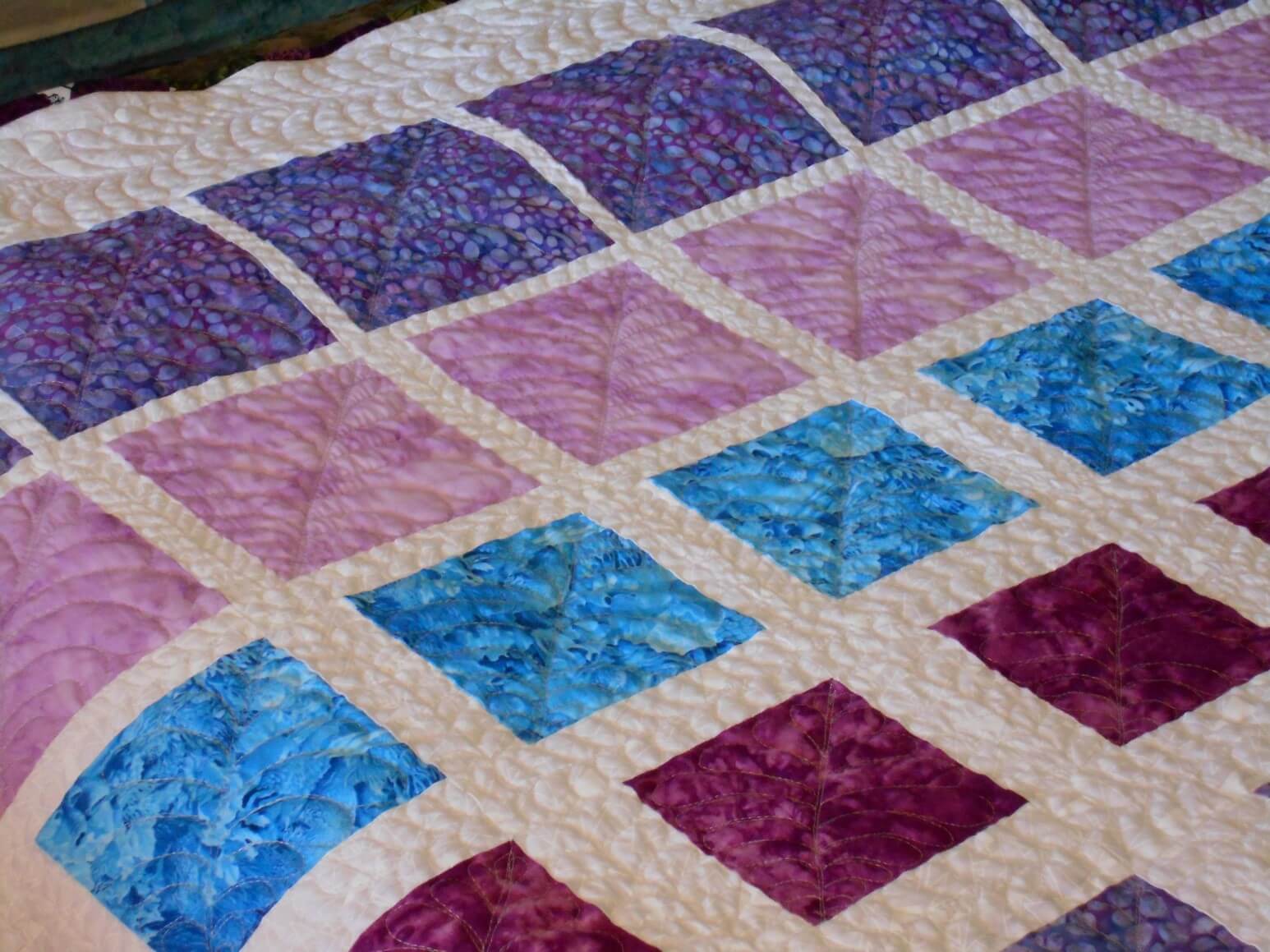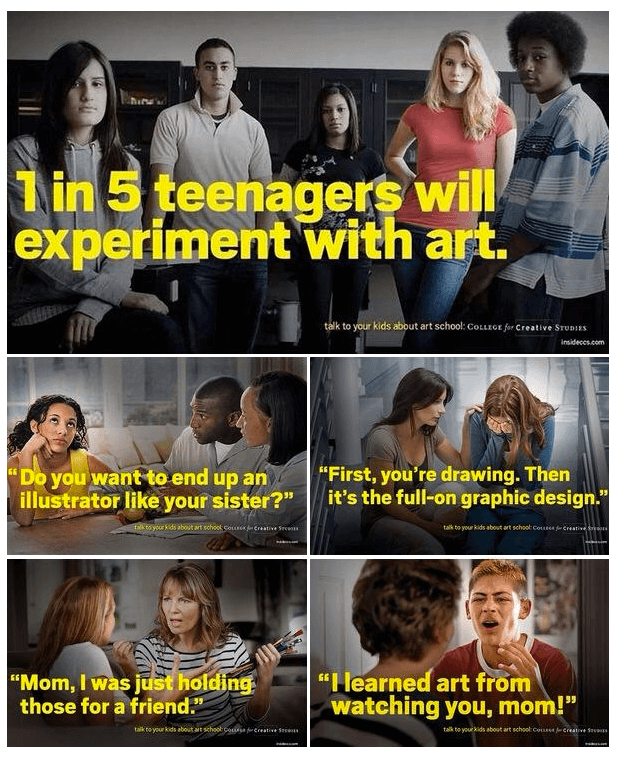 (Just because I like this poster…..)
Hubby has spent 30-plus years as a diabetic. His internist suggested in June he might be a good candidate for an insulin pump. After numerous doctor visits and learning all about carb counting, he hooked up about 6 weeks ago. This is an amazing tool – his sugar highs and lows are much better. His moods don't swing as much and he is sleeping better.
This whole process is based on carb counting, and everything is very different from when we first worked with the needle years ago. You become very aware of just how many carbohydrates are in various foods, and for me the ah-ha has been huge. No wonder losing weight has been so difficult. Four small hard candies are 30 carbs….and useless calories. I am hoping that coupled with new depression medicine, a healthier me through yoga, and this desire to watch carbs and take off weight to save my knees will work for me.
An interesting book hubby and I have been working through: Think Like a Pancreas – excellent information about diabetes research and all the changes in the last 30 years. So much we didn't know. The pump is hooked to a meter for blood sugar testing via a wi-fi signal. Test the blood, enter the carbs, the meter tells you how much insulin you need, and voila, the pump delivers it.

At this point, Medicare is paying for everything, due to the new insurance hubby switched to two years ago. He is certainly getting his money's worth. When I was doing some research on the pumps and their costs, one article said most insurances will pay all or part, but if not, then have a fund raiser with your friends on line.
Seriously? Only in this country would you need to raise money for a life-saving piece of equipment. Now that hubby has what is referred to as "durable medical equipment," his expensive insulin is free (do you want to hear about the hoops we had to jump through for this benefit??). One more worry about what will happen in our retirement, given the state of medical care in this country. Another reason for moving back to our roots in New England, where saner heads prevail.
…and there are a lot! Four quilts lined up, including the one you'll see pictures of here.
We have a really great friend here in Tucson, and several years ago I made her a lap quilt as a birthday present. Trouble was, she can't get completely covered under it when she wants to take a nap on the couch. So I decided for this year to make her a bigger one…..turns out I processed "66 inches" differently from 5 and a half feet. This is one big quilt! It should easily cover his double bed, which is exactly what she would like.
I am using a pattern I saw from Geta Gamma from Romania – I loved the design, especially the quilting, and am doing it in shades of purples and blues. It's getting quilted to within an inch of its life! Needless to say, I am getting very good at free motion quilting feathers. The stencil work has been interesting – at one point I forgot about the registration marks and turned the pattern, but I am the only one who knows that.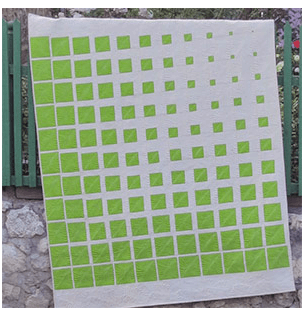 I caused some bleeding with one of the fabrics when I attempted to use a stain remover to get out the rest of the gray chalk marks. I will need to use a little paint to cover that up. I have 8 days to finish – started about three weeks ago, and I should make the Christmas deadline. It is really looking good.
It is a little tough on the shoulders, cramming that quilt around under my trusty Bernina 1008, but I am getting much better at that. Thankfully the remaining three quilts are all much smaller. After this one, though, I am taking a quick break to do some traditional blocks in a Hawaiian theme for a block of the month, making a queen size quilt for my own bed…..then back to the list!
Some progress pics of my version -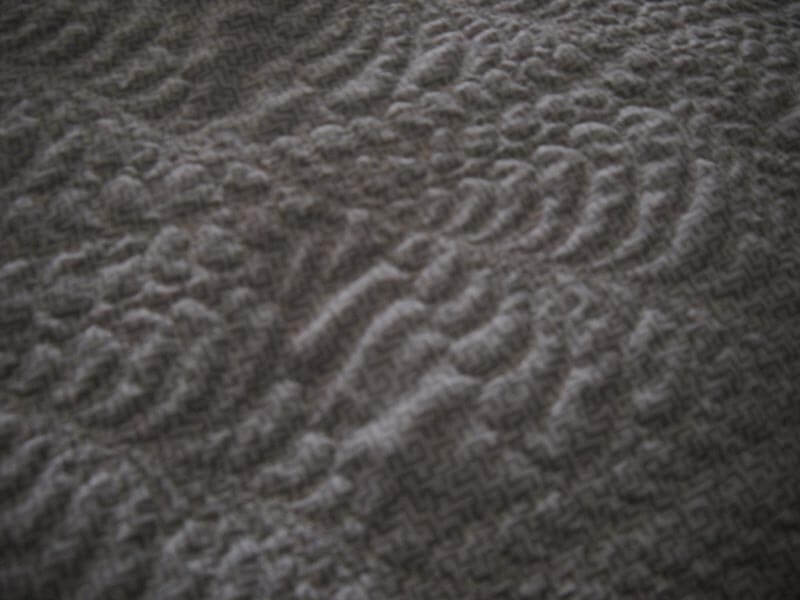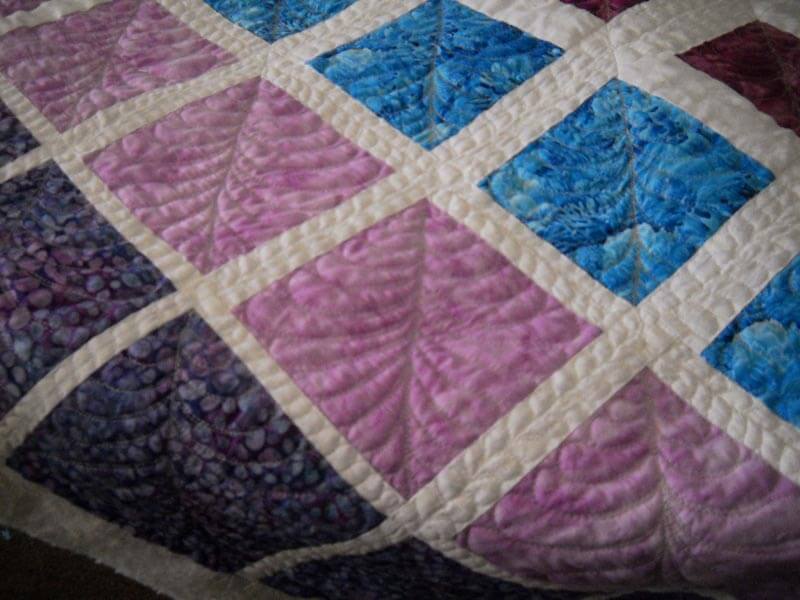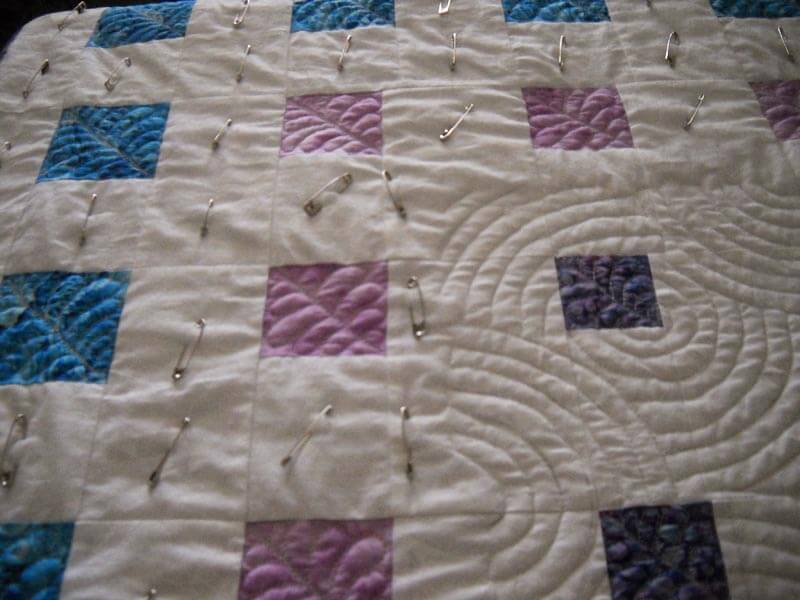 Sweet hubby helped with all the pinning…..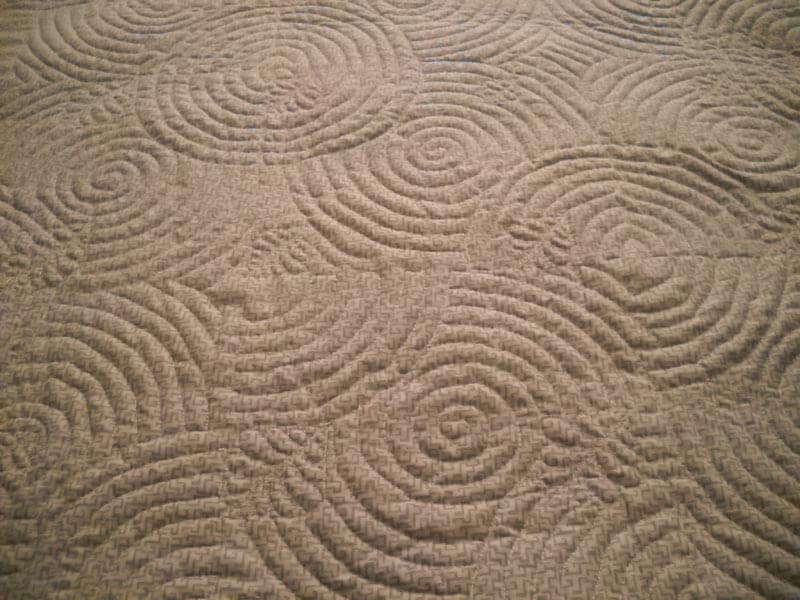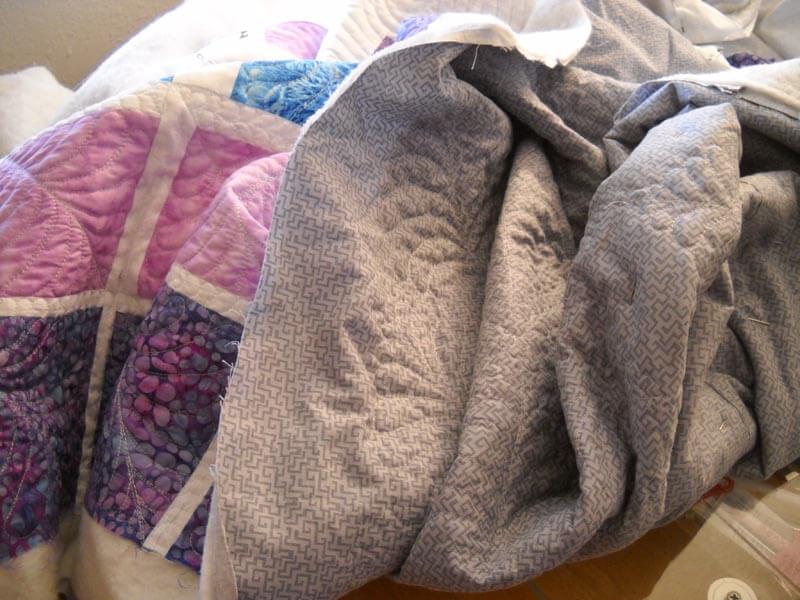 Wrestling it under the machine….it's looking gorgeous!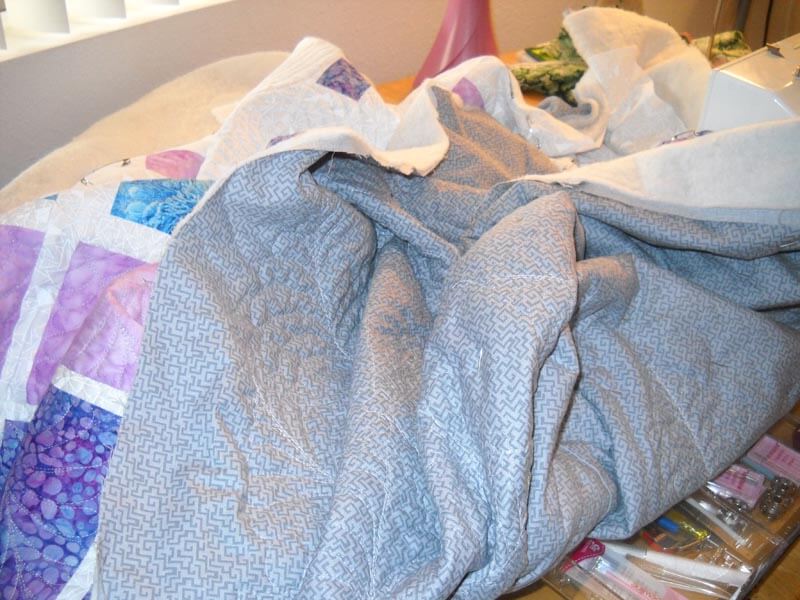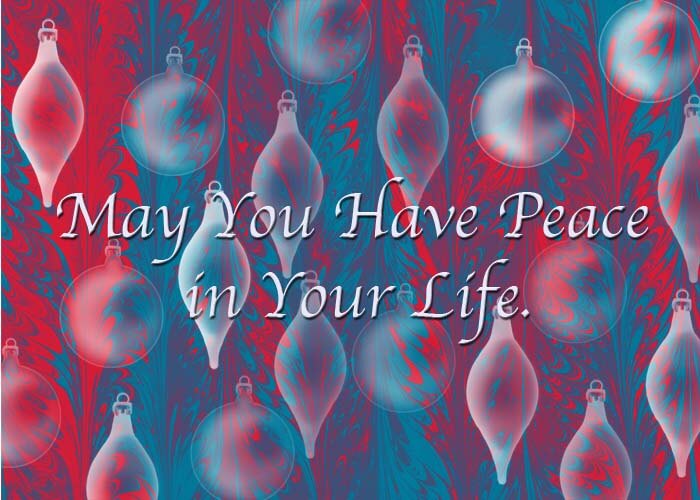 It's been an interesting year. Two years ago this time, I looked at my blog and was 200 posts away from 1000. I thought no problem, I can do that easily. Well, I am still about 185 posts away from 1000. Life really has gotten in the way, with illness, depression, and a sense of disequilibrium. It has taken a while to determine what paths I will be following.
It is also ironic that while I haven't written many blog posts, I have written 110,000 words in a novel. This has been ongoing since August of 2013. I am nearing the end of what looks to be volume one of a trilogy. It is my way of processing political events in this country and trying to deal with how this country is changing. It has meant some interesting research (what is the saying about a true friend? One who will clean out your browser history after you die?). I've delved into some pretty terrible things on human trafficking, read lots of government reports, and overall tried to get up to speed on policy that I haven't spent much time caring about in the past. It will be interesting to see if I can find a publisher….in the meantime, I have started a webpage for the book: http://the-secession-wars.webnode.com/. This is very much a work in progress, and I want to include writing tips as I finish up the novel.
I'm doing a lot of quilting. I've been slowly moving away from the marbling business, and I'm not sure how I feel about that. We still enjoy marbling, but the business end of it is tedious. I have lots of projects using the fabrics I have, but not the energy to do anything. I have been quilting other projects, and I have four commissions for quilts lined up: for a good friend, for a new baby,
for my yoga instructor, and for my great niece. I made the commitment to myself that when each of my eight great nieces and nephews turn 13, I will gift them a quilt. Gracie is the oldest, and she turns 13 this August. I want to have the quilt finished for when we move back east and stop to see them on the way. I found a great fleece in her favorite color for the backing, so that's in the queue.
I've also taken up sketching again, through a couple of Craftsy classes. I did some sketching on the road this summer, but I want to make this a regular habit. Pen and ink has always been my medium (and charcoal, too), which is probably why I took to zentangles so quickly.
I have joined a weekly writing group to make my writing more of a regular practice. We meet for two hours and just write – a brief statement of intentions from each person in the group, and then it is total silence for writing. It's been great, and I think it will get me back to blogging on a regular basis.
So this is a quick catch-up, more so for myself, as I look back on what has happened over the last years.
Till next time…..
While I haven't been posting, I have been moderately busy in the midst of still dealing with illness. I quilted a small wall hanging for my yoga instructor (whose house is now FILLED with art I have made for her). Here are some pics – she made the top and I finished it off.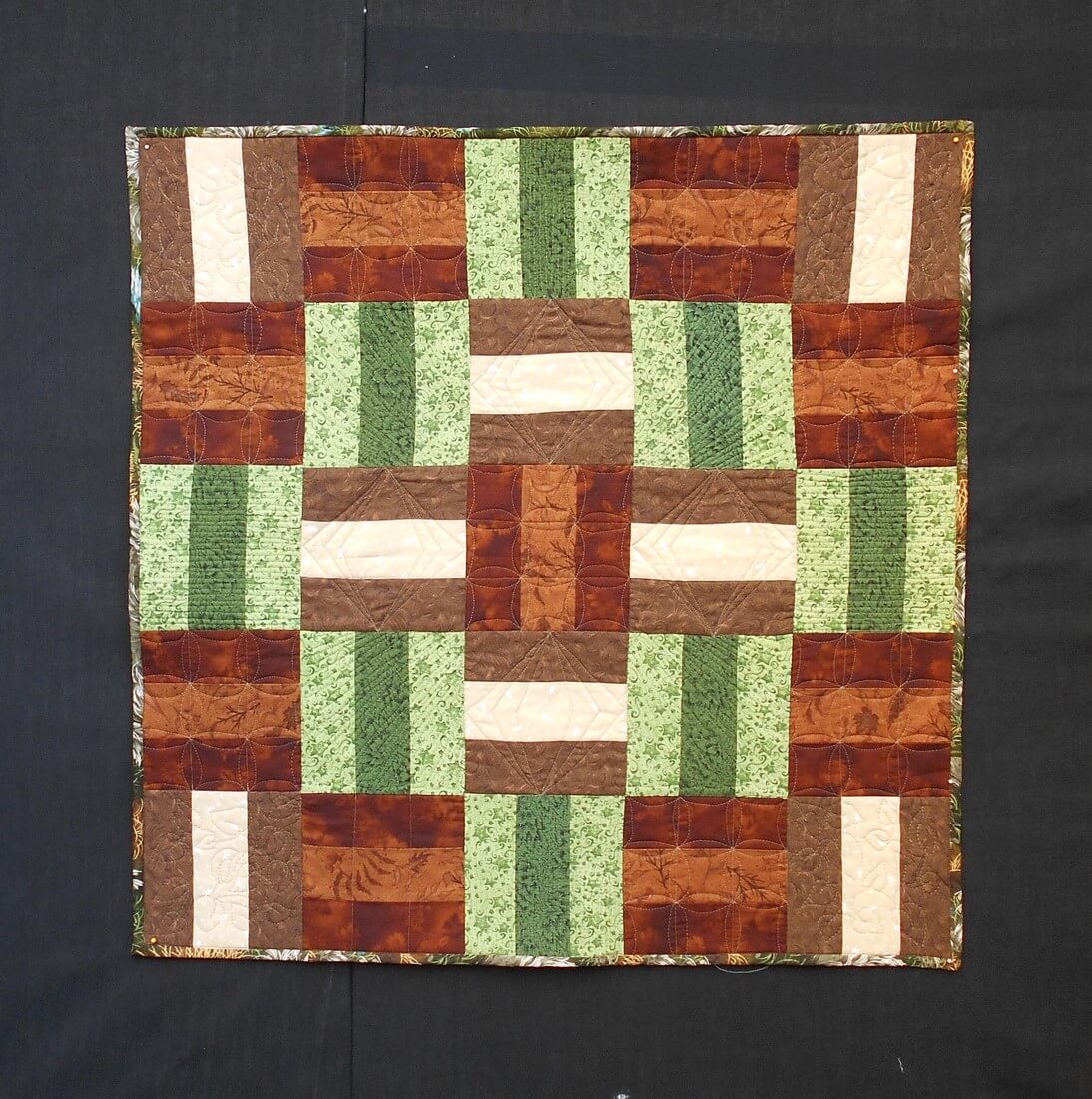 The brown blocks have a cathedral square pattern, the center brown and beige have a diamond pattern, the four corner blocks are a leaf pattern, and the green blocks are just a plain stripe.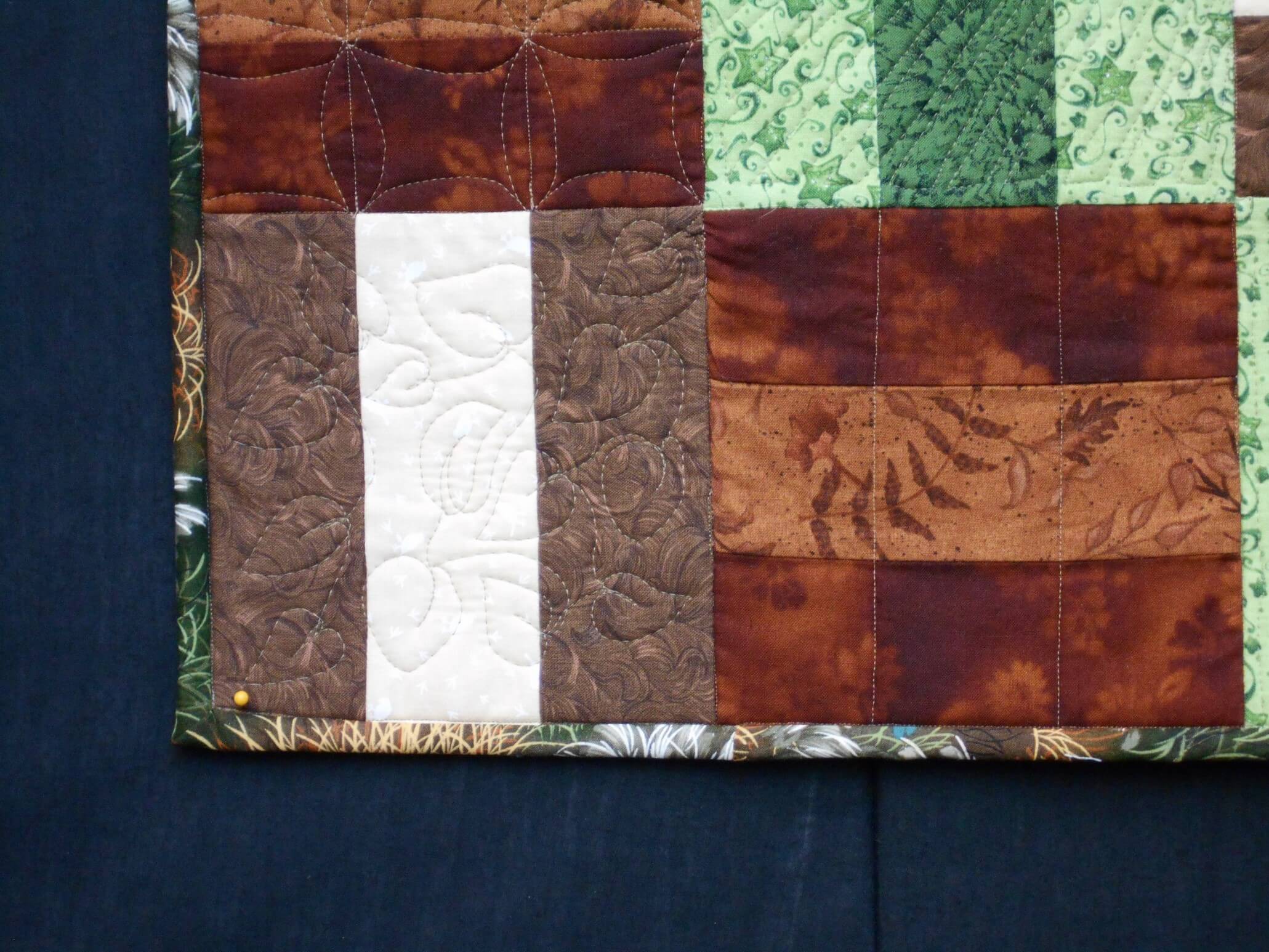 PS – this was the picture that made me realize I had forgotten to do one of the patterns……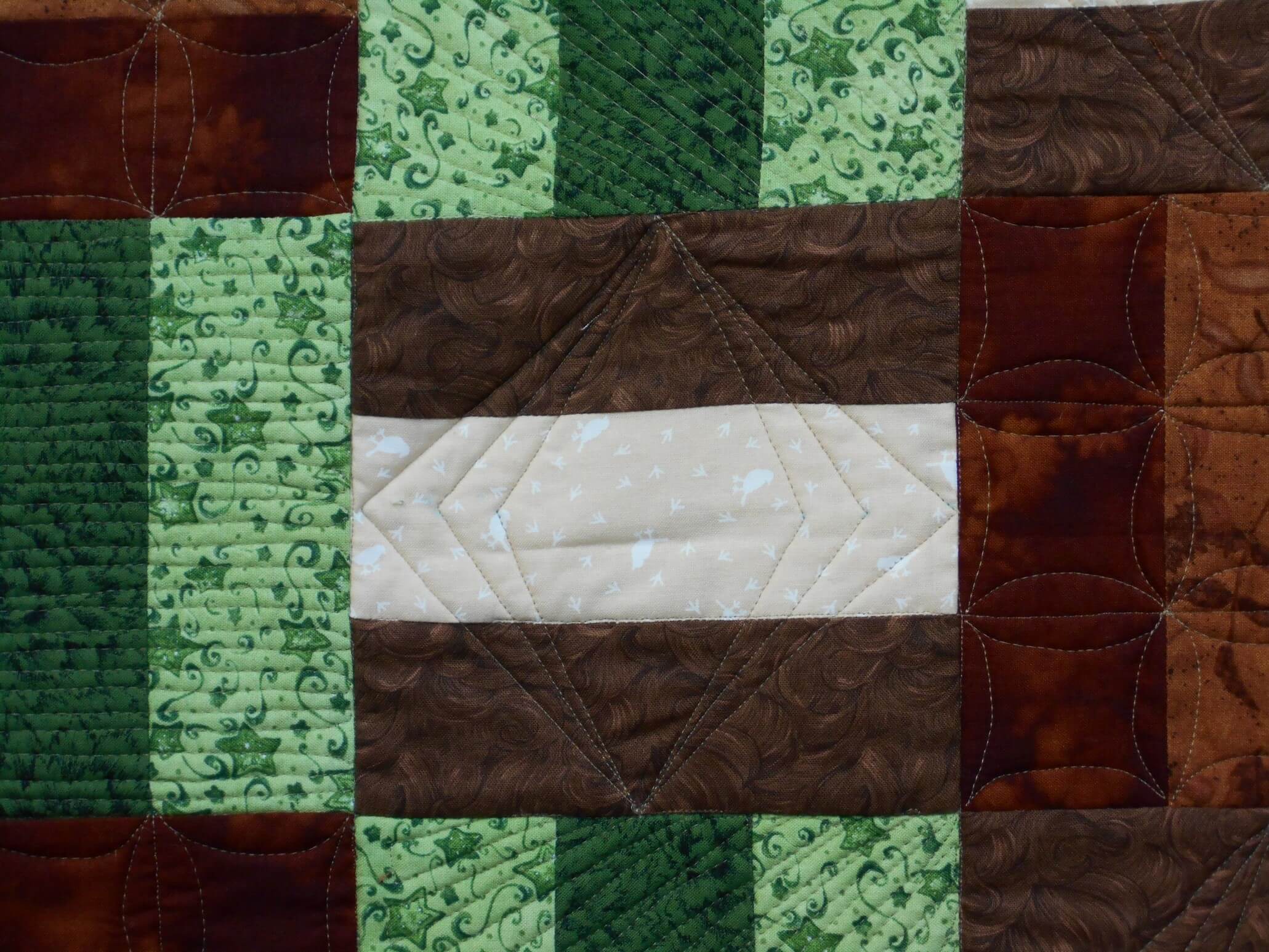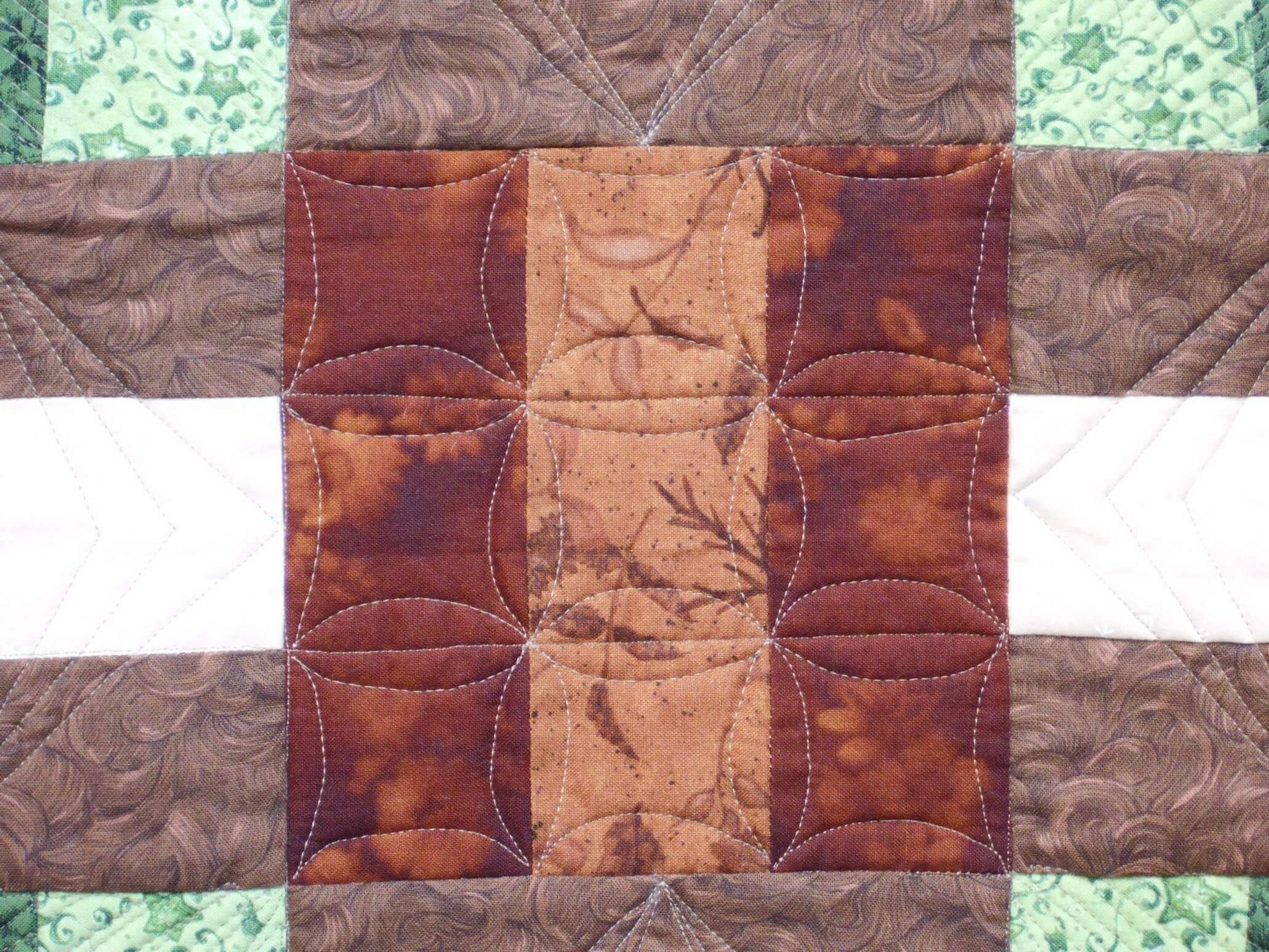 And….the back – one of my favorite pieces of fabric…..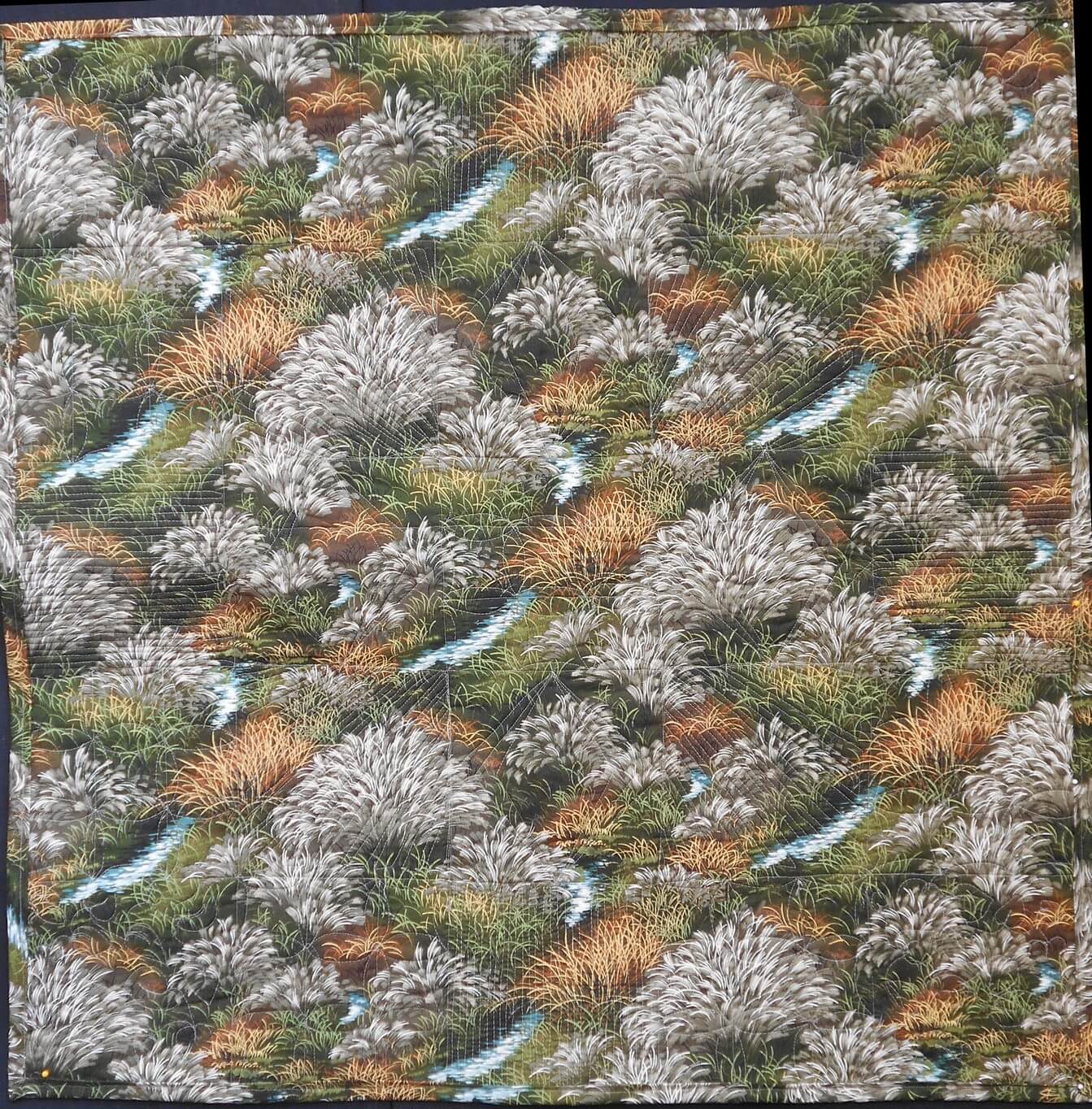 I'm still plugging away……
I have been taking courses – MOOCs (massive open online classes) from Coursera for over a year now. Some I just read the material and watch the videos – a lot for research for my novel. I have done enough for the certificates for a couple of the classes: Art History for Animators from Cal Arts (great class), Coaching Teachers from Match.com, and A Look at Historical Fiction. I learned something from every class, and my art appreciation went up considerably. I also did Post-9/11, Counterterrorism solely for the research.
Currently I am looking at The Camera Never Lies (too much lecture, not enough photos, so I won't work for a certificate), Beauty Form and Function in Symmetry – absolutely fascinating, love the videos, but the math is  beyond me (but I'm following it a little bit – I just don't want to spend the time actually studying it). The last is on Human Trafficking, which is for research, but I am also working on the certificate.
The information in this latter class is staggering – and frightening, and disgusting. We all need to be aware of the labor and sex trafficking that is happening all around is, not just outside our borders.
If you are at all interested in continuing your education, this is an easy, quick, simple way to do it – and no cost, unless you actually want credits.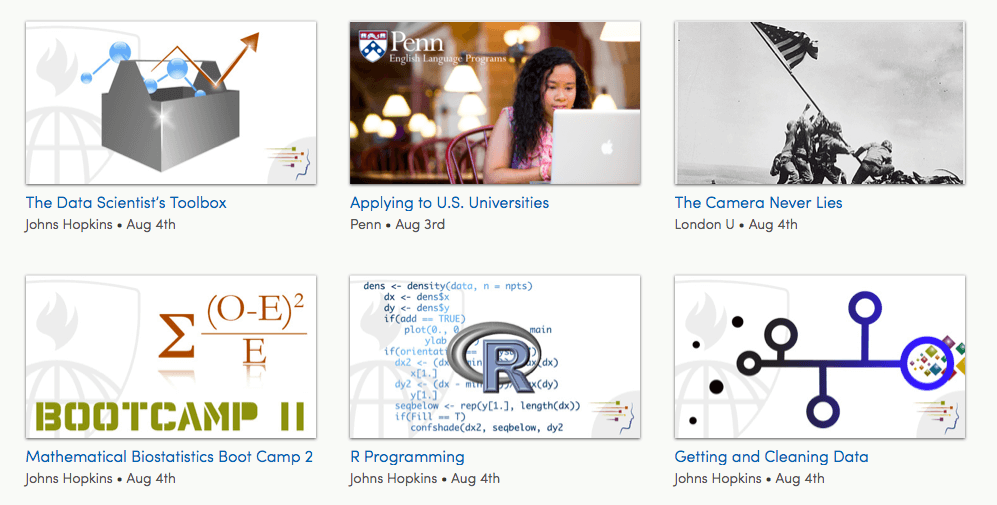 Also, I've hated the fact that I can't afford Rosetta Stone to relearn my French. I used it for a while at the high school and really liked the approach. Well, enter Duolingo – major languages at your pace, and entirely FREE. Already reviewing basics in French and I love it!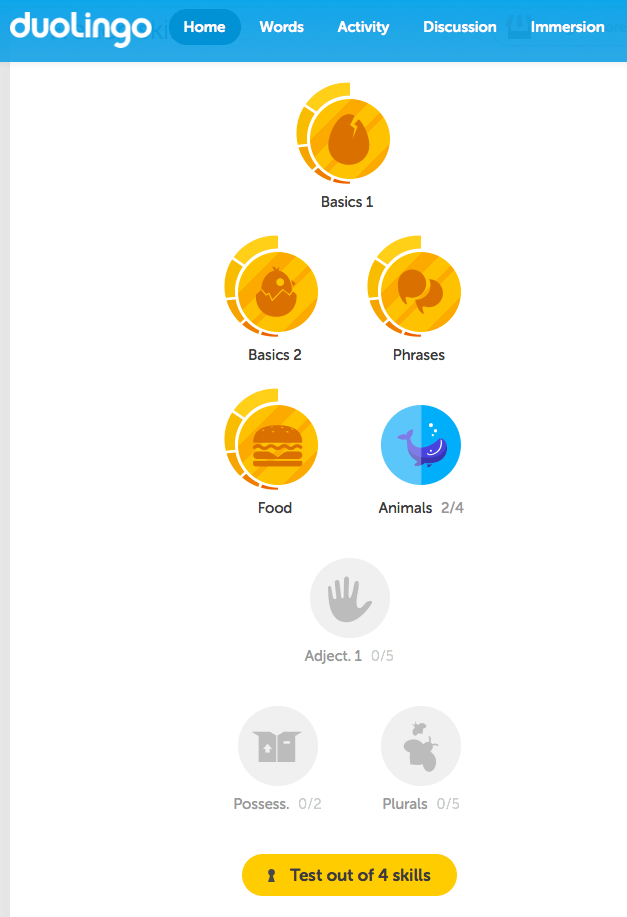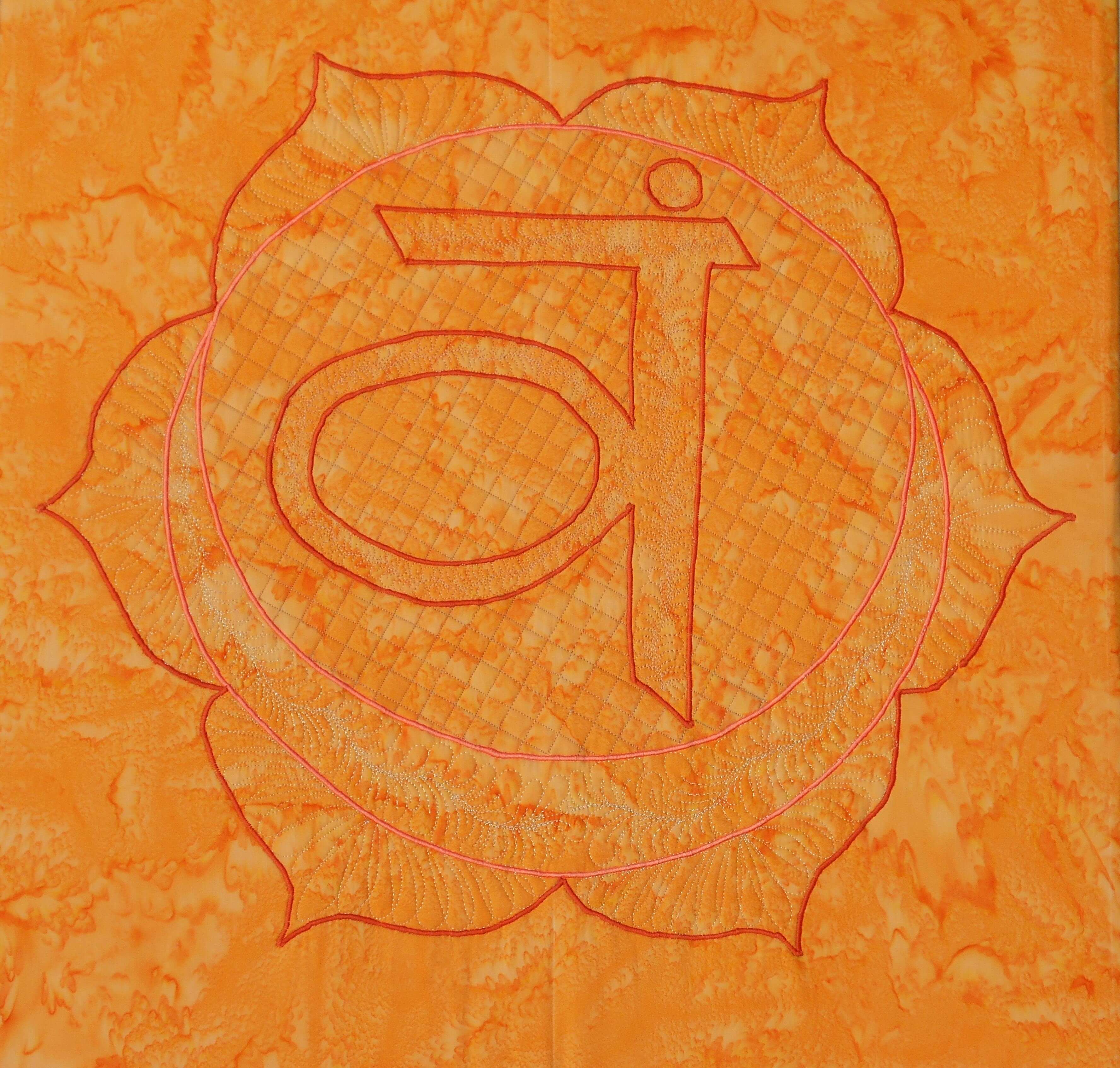 Last September my yoga instructor Susan asked me to do a series of chakras for her home, which is also her yoga studio. She had the idea to have the chakras around three sides of her "great room," so she would be surrounded by their energies. I had previously done a small 10 x 10 inch thread-painted root chakra, and that one led to this new idea.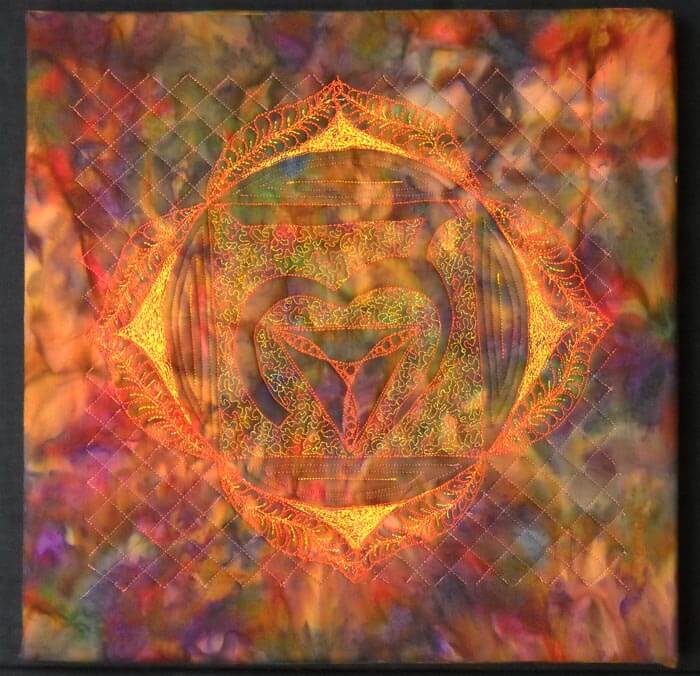 We debated about size, because the wall space is quite tall. Using the floor tiles as an estimate, we decided each would be 24 inches square – wrapped around four 12 by 12 inch canvases that we would put together.
First challenge – choosing the fabrics. I wanted to purchase them all at the same time for consistency. I had thought about the Stonehenge line of fabrics, but the LQS was out of them. Susan found some hand-dyes that were what I call true crayon colors. It was a beautiful vibrant rainbow. This was when I first realized some of the attributes of the chakras. Second challenge – creating the patterns. I wanted the thread-painted chakra to finish at 20 by 20 inches, because that would give me enough fabric for wrapping the canvas. So I worked with a set of patterns from the Net and created a master set for approval. We tweaked some changes with the edges to better increase some of the symmetry. It is now the end of October and I am ready to start – I think.
In trying to explain to the copy folks at Office Depot that I wanted my design blow up to 20 inches by 20 inches, eventually we got a 24-inch-square canvas, with a 20-inch design on it. I had copies made as patterns.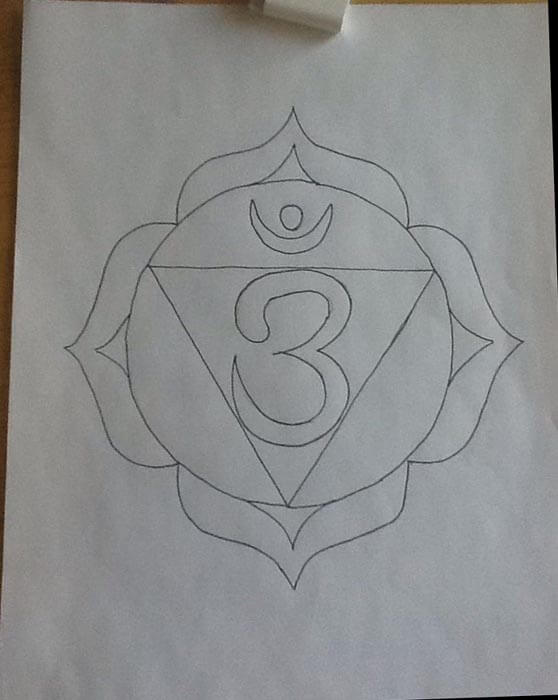 Once I had the pattern, I traced over it and then pinned the tracing paper onto the fabric sandwich. Speaking of fabric sandwiches, it too close to five hours to get seven sandwiches prepped: ironing the fabric (I cut each yard into a 30-inch square), matched it with low-loft batting, and found some unused fabrics for the backings. Then they all sat over a chair for a while.
Finally around the end of November I started the actual sewing. I pinned the tracing paper carefully to the fabric sandwich and, using washable thread, I outlined the pattern. Tearing off the tracing paper took a very long while….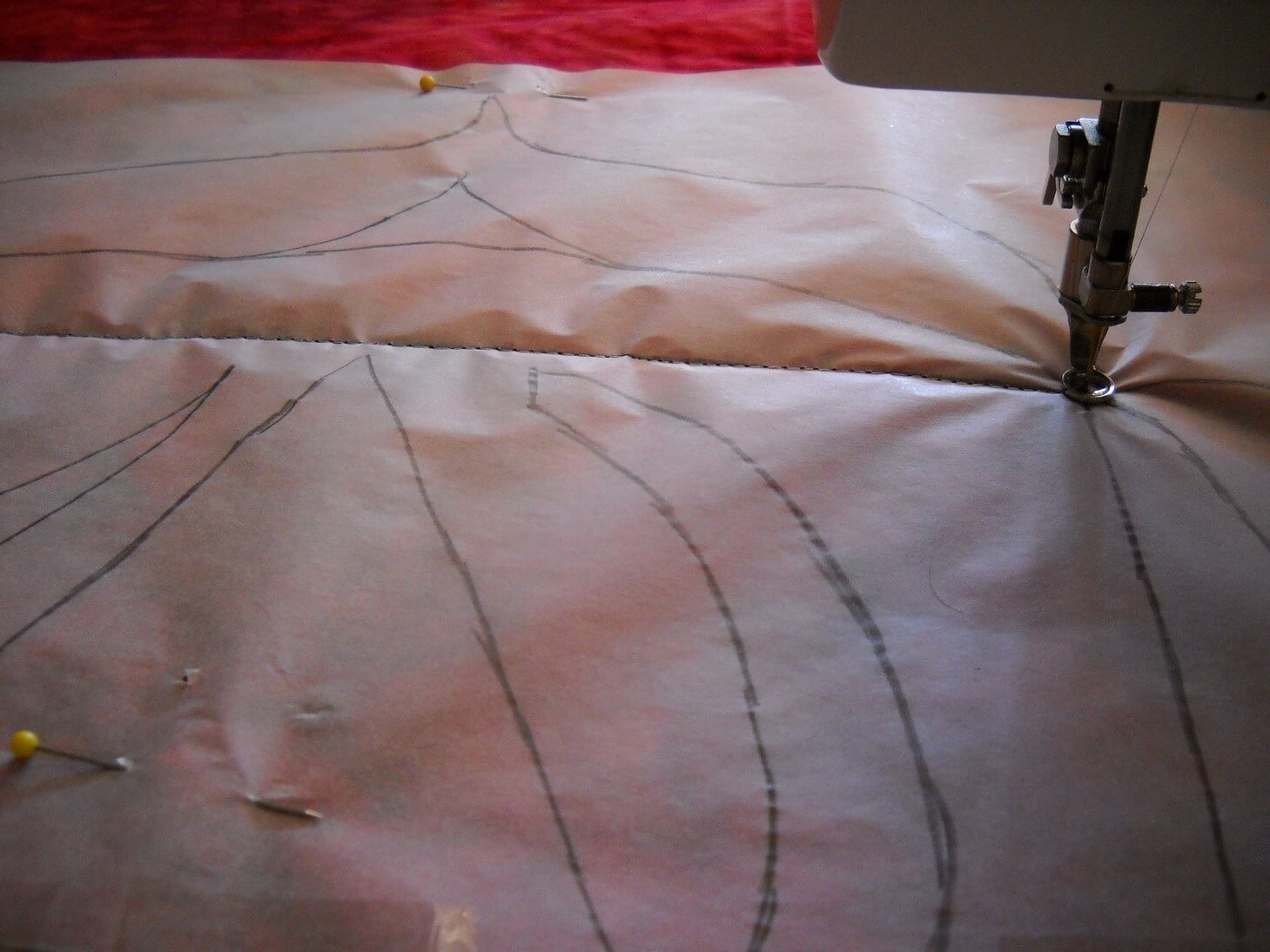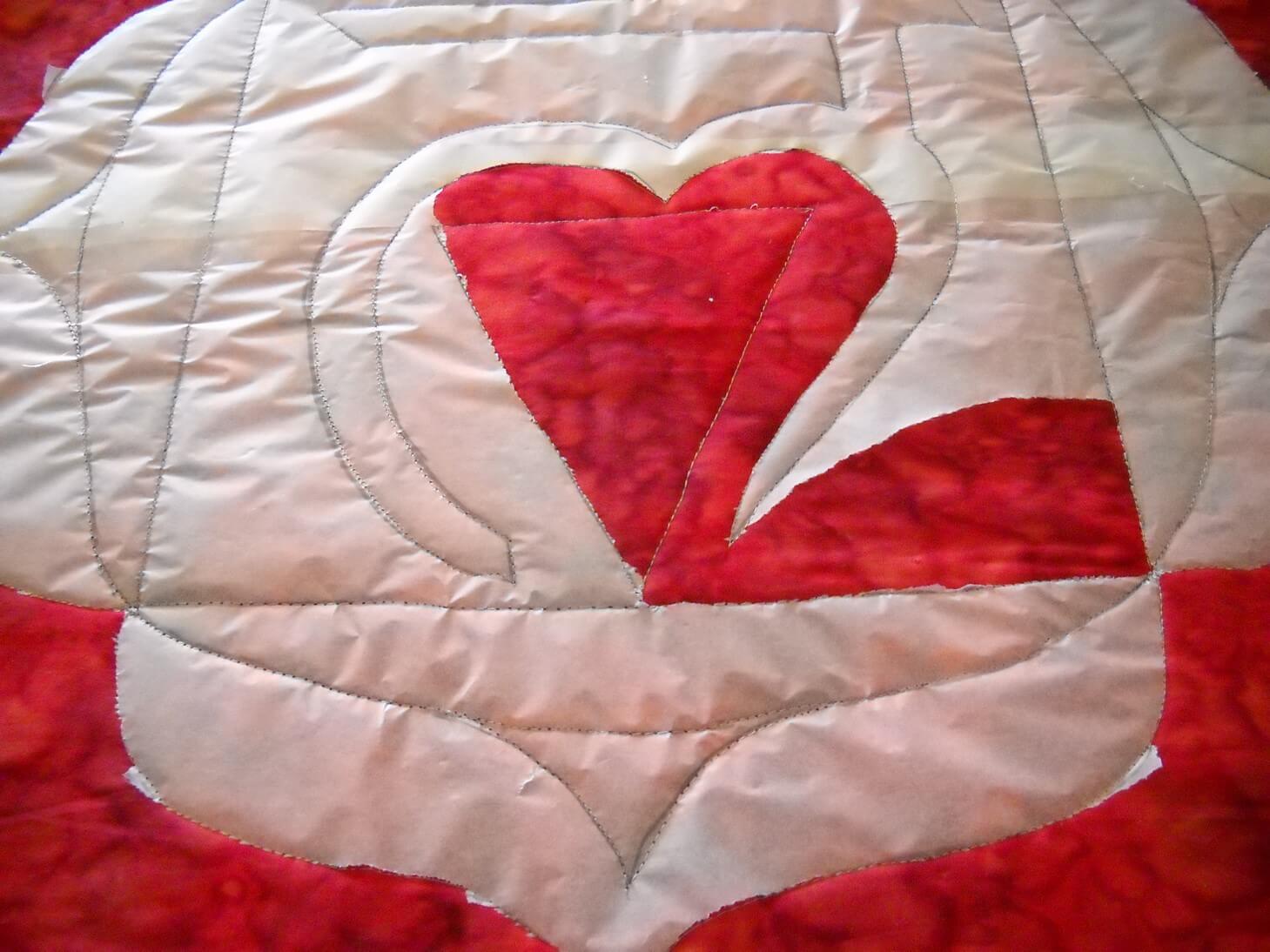 For the Root chakra, I decided to do some bobbin work with a gold thread. I was so-so pleased with the results, but not enough that I was going to continue with the bobbin work. Each of the other chakras used satin stitch on the major elements and a lot of free motion patterns for fillers. The chakras got progressively better in their sewing….until the last one – same elements but a much simpler design.
I thought about redoing the Root chakra, since it didn't seem to fit with the others. But the more Susan and I talked about how these were developing, the more I liked the first and the last. As I worked on them, I added more quilting elements that added to the design. I used colors in the same family as the background fabric, with hopefully enough contrast. Up close they were all looking gorgeous. From a distance, they faded away. That bothered me for a while, but I realized as I was working on them that everything in the design was meant to be meditative. Up close, you could lose yourself in the design. From a distance, the more you looked the more your saw.
Susan summarized it pretty well. The root chakra is our beginning, and it can be very shaky and unsure. We develop from there, with whatever impurities becoming who we truly are. The crown chakra, the seventh, is the Divine, and as such doesn't need to be ornate. The Divine in us can be very simple and beautiful.
So here they are, in order.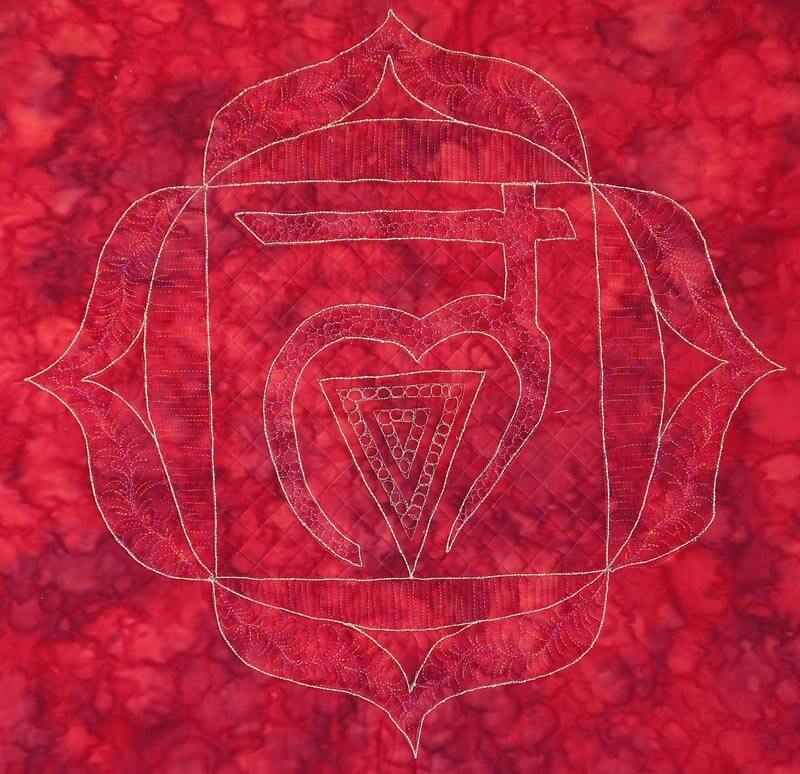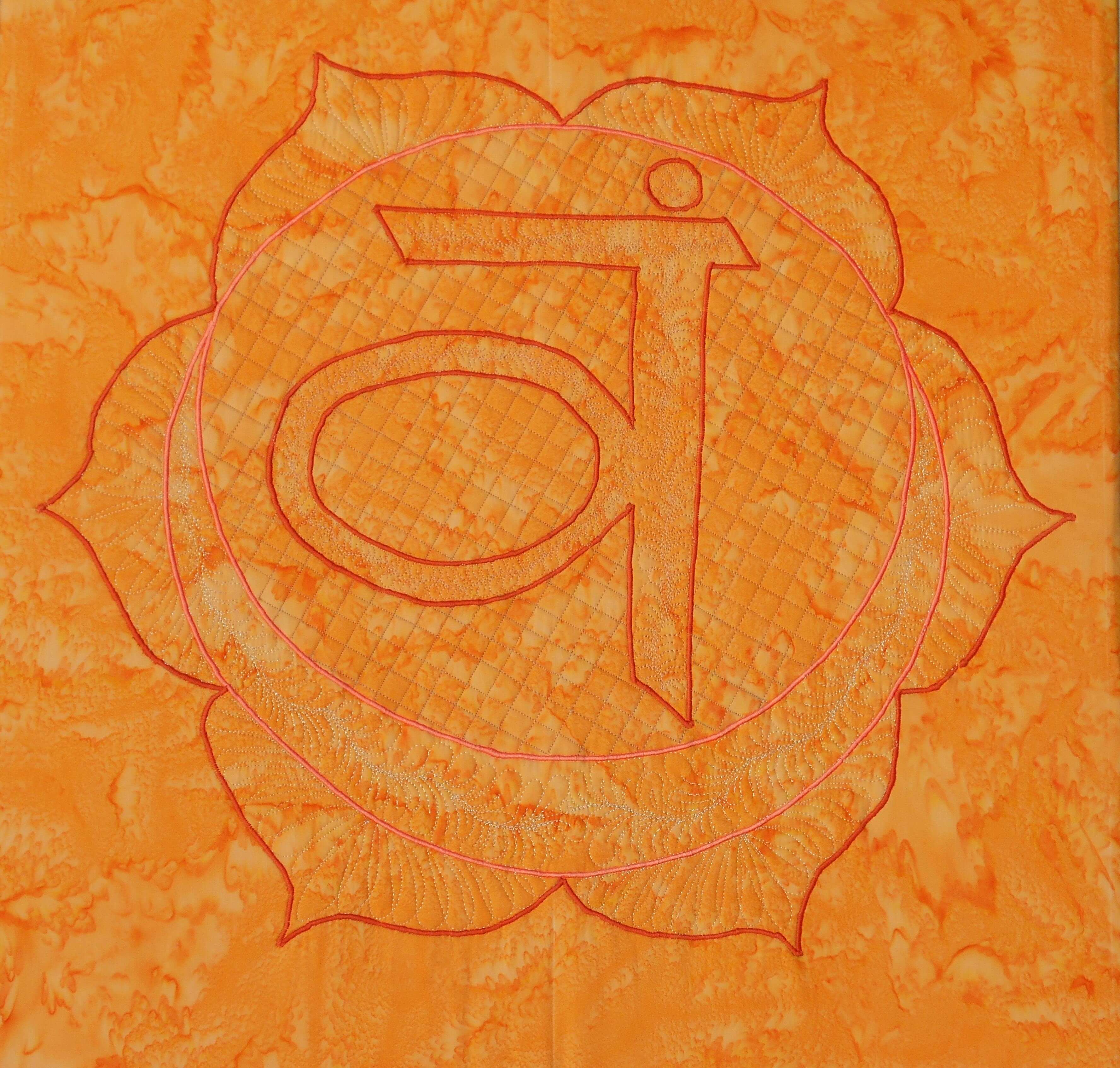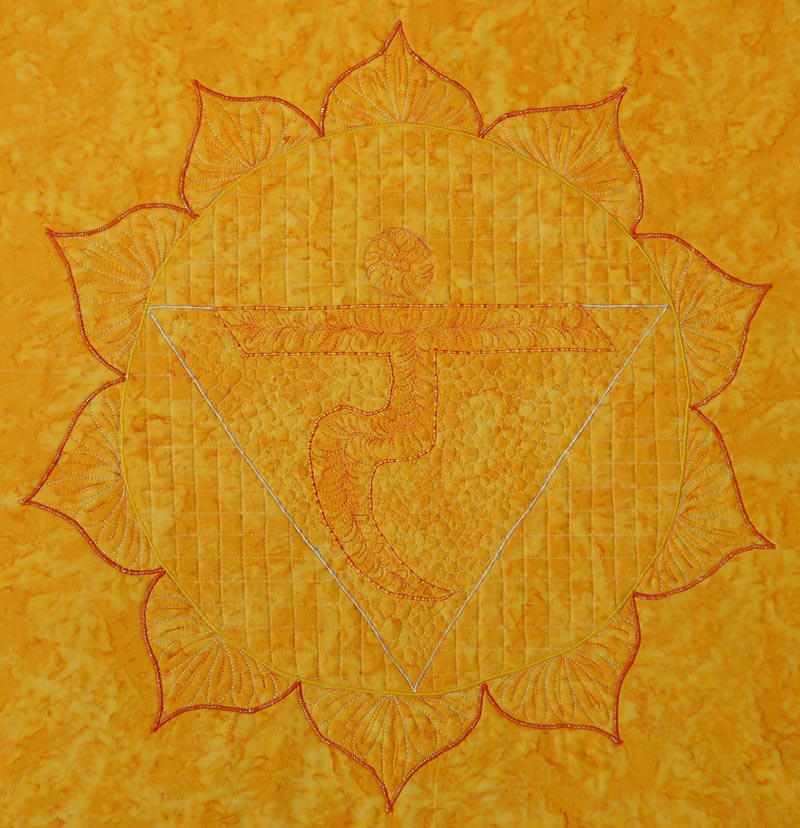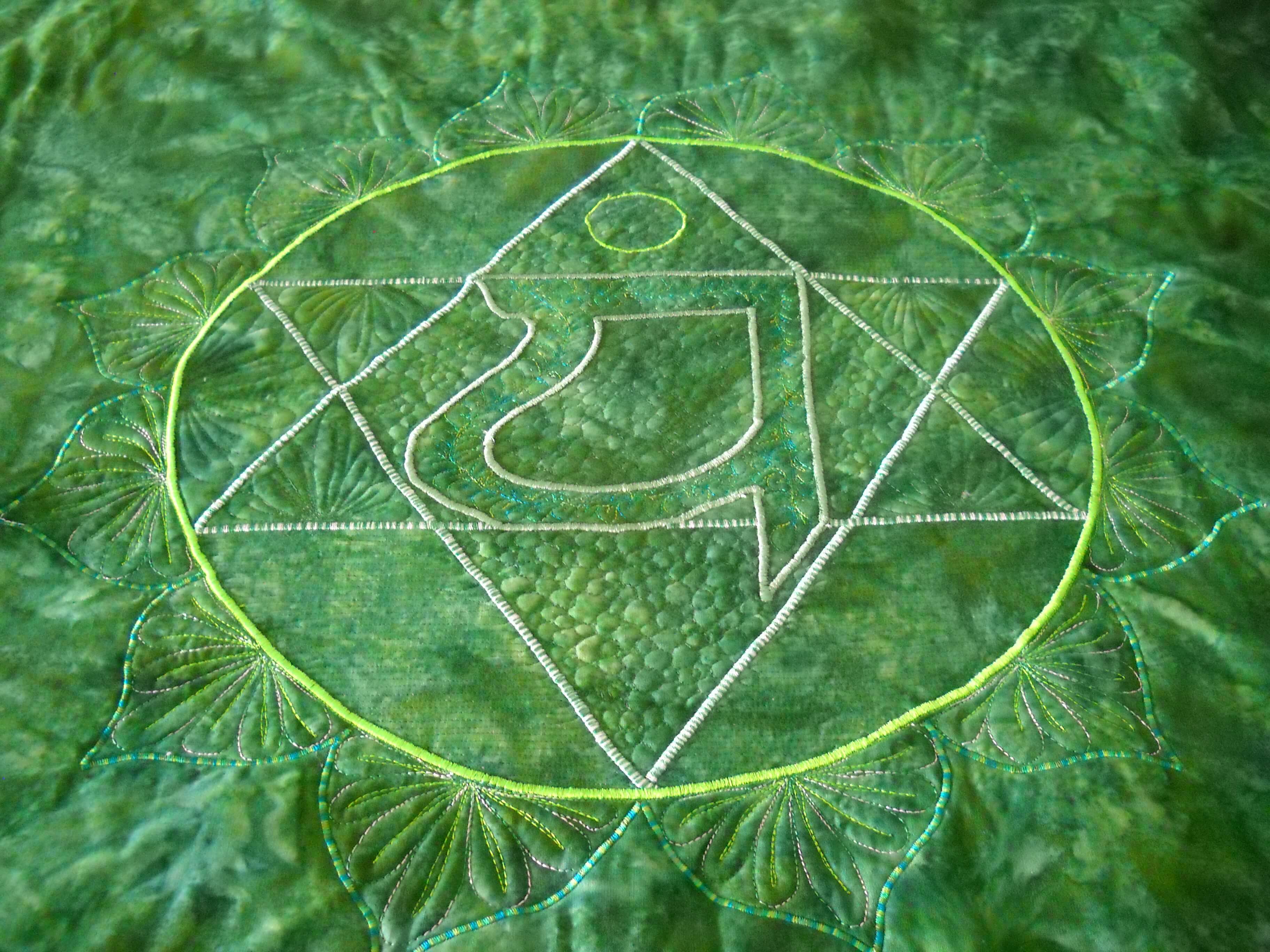 (Have to find this one – will update……)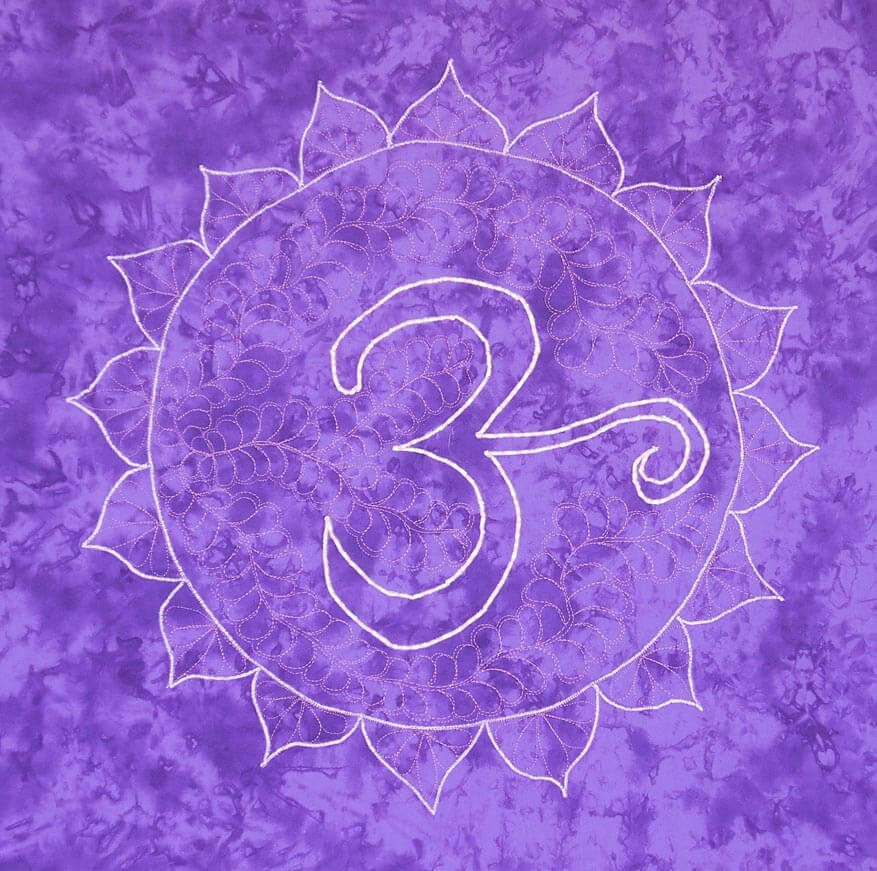 I learned a lot. There are some stitching patterns I would change. I would probably use a much lighter background fabric and have the stitching pattern show more. Yet they move in complexity, much like the chakras do. I one I am missing is the one I think is the best design, yet in viewing it, the design seems very faint. The more you look, the more you see. This is also the chakra that is my weakest, so I find that fascinating. My yoga instructor is extremely pleased. The room is surrounded by color and it just vibrates. And she says she can easily meditate on whichever one she wants or needs. A very happy conclusion.
There are some things I have been slowly trying to attempt to get myself back in the swing of marketing. Right now (as I write) I am on hold with an Adobe representative for an inline chat to see why my Contribute program (which allows me to change my web pages and the ability to upload the changes). It looks like I will need to purchase another piece of software……I hate these kinds of changes…..Now I'm awaiting pricing…….
There are so many loose ends involved in getting back into some serious marketing. We have already restocked the Etsy store and are making plans for more marbling sessions.I need to dye some Kona so we can marble on top, and I want to review the Jane Dunnewold Craftsy class before I dye again. Really enjoying the surprises that dyeing brings. EBay seems pretty stagnant – seems to happen each summer. But primarily I need to get back involved in TAFA – The Textile and Fiber Art List.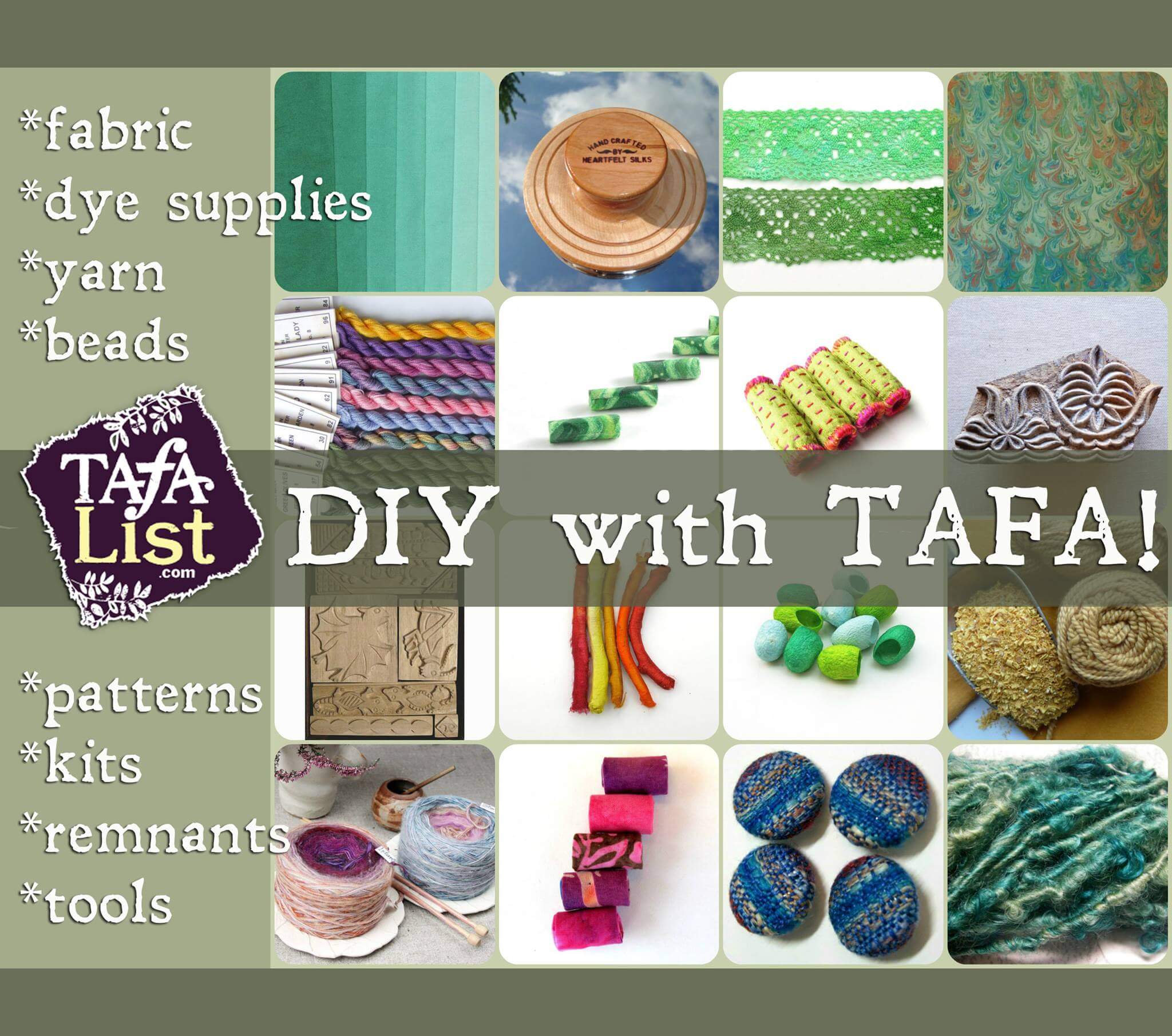 There are so many more connections I could be making.
I haven't really marketed my marketing book (am I the only one who sees the irony here?). A friend purchased the book and raved about it to me. So I think for this next week I need to see about getting the word out on the book. It is iBook platform only, and I am planning on expanding it into a more involved ebook through Amazon, for all platforms.
In the meantime, here is Marketing 101: Niche Marketing.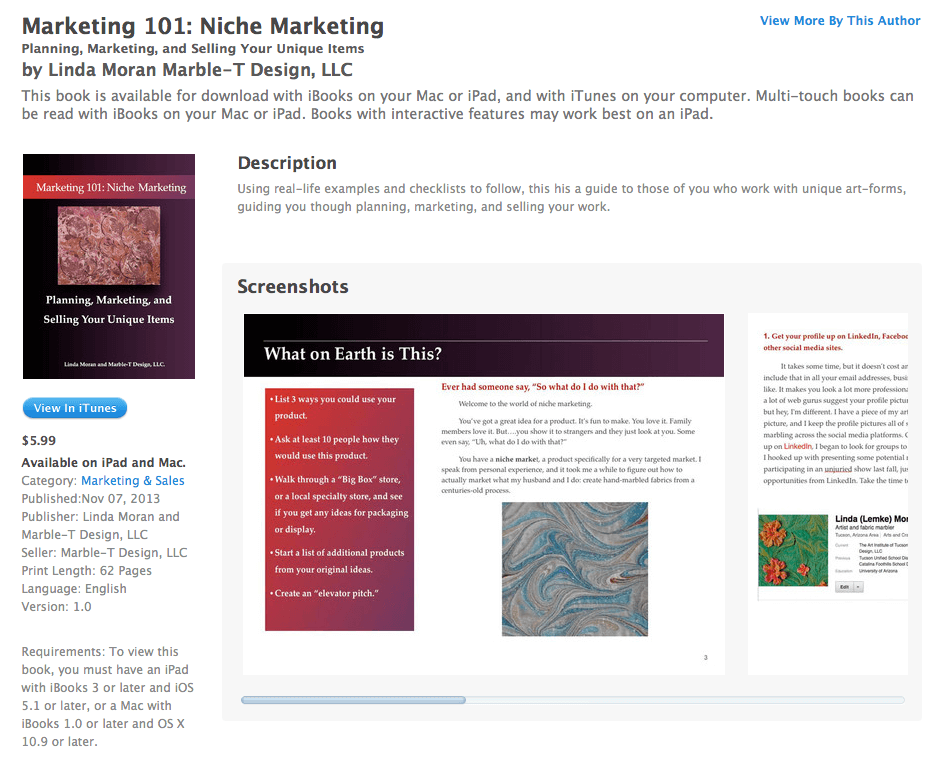 The book is a compilation of all the things I have tried (some successful and some not) to market our fabrics. I provide all the details and checklists. I definitely want to expand this into a larger book on a larger platform. Click HERE for the link to the book.
My task this coming week is to work on InDesign from Adobe Creative Suite, and I'm going to do a $25.00 subscription to lynda.com for a month of learning. I should be able to make a good dent in learning what I need to. It's CS3, but there is no way I can afford $699 or $20 a month, so I will make do. Along with learning InDesign, I need to think through what else with happen with the website.
I am trying not to make the typical long list for me…..a few things at a time…..wish me luck…………..

I've come across a few great ideas in some of the books I've been reading, and these books need to be returned. So I figure if I add them to a blog post, I will always have them accessible.
From David and Goliath by Malcolm Gladwell comes this about courage:
Courage is not something that you already have when the tough times start. Courage is what you earn when you've been through the tough times and you discover they aren't so tough after all.
The conquering of fear produces exhilaration. The contrast between the previous apprehension and the present relief and  feeling of security promotes a self-confidence that is the very father and mother of courage.
- You should read all of his works – a great mix of history, sociology, psychology, and economics, and highly readable.
From Robert Heinlein and Revolt in 2100: Master Peter was right: the man who buys the meat is brother to the butcher. It was squeamishness, not morals….like the man who favors capital punishment but who himself  is 'too good" to fit the noose or swing the axe. Like the person who regards war as inevitable and in some cases moral, but who avoids military service because he doesn't like the thought of military service. Emotional infants, ethical morons – the left hand MUST know what the right hand doeth, and the heart is responsible for both.
War is a simple matter compared with revolution. War is an applied science, with well-defined principles tested in history; analogous solutions may be found from ballista to H-bomb. But every revolution is a freak, a mutant,  a monstrosity, its conditions  never to be repeated and its operations carried out by amateurs and individualists.
- Heinlein was an acquired taste for me, but this particular book is exactly the same premise as the novel I am working on. Spooky…..
From Sheri S. Tepper The Gate to Women's Country: My art is drama, and my craft is gardening. Is your work a science, a craft, or an art…."My magic? If it has no science, it fails….If it has no craft, it bores, and if it has no art, it offends."
-Really interesting take on the role of the sexes, and quite thought-provoking. I do love the idea of our lives consisting of an art, a science, and a craft.