With all the traveling, I missed a significant anniversary – the end of World War 2 in Europe. As a history person, I read up on lots of events, and for this I found an absolutely incredible video showing the human cost of war. I consider this a "must watch," especially for those of us who advocate for peace.
This Video Illustration Showing the Scale of Human Loss From World War II Is Devastating
Other posts on World War II: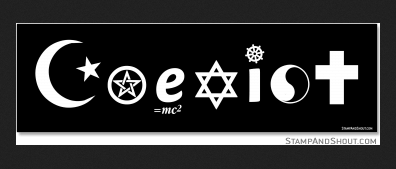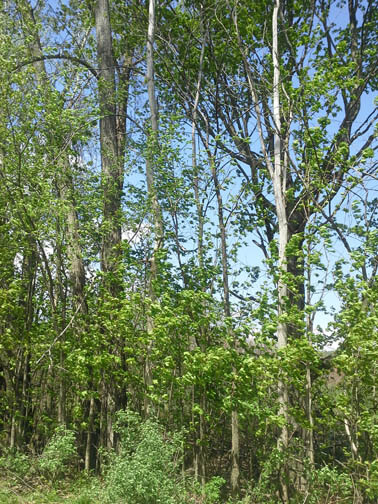 We are here, finally, after two years in the planning. We are finally at home in hubby's native state of Vermont, as well as the area his ancestors settled: Jericho, Vermont. Yup, he's a Brown. And the operative word is GREEN!!! Once we got into Arkansas, the greens of spring were really soothing, and as we headed further north, greens were sprouting, until finally in Vermont there were just a few sprinklings of beautiful spring. But two days of rain changed all that to glorious colors spreading very rapidly. We literally watched the lilacs sneak into bloom. It was a hard trip across country, and not the first time we've done this trek. I counted up and this is our fourth time back and forth across the interstates.
But we are older, and the amount of sitting really took a toll. First night from Tucson to Santa Rosa, NM east of Albuquerque. These first two days were long ones because we wanted to make it before more storms hit tornado alley. Second day to Ft. Smith, AR, and third to Nashville, TN. Then to Roanoke, VA and the fifth day to my niece in northern Virginia. That was an easier day – a wonderful glass workshop in Staunton, VA that we had been to five years ago, and then a tour of Manassas Battlefield. My great nieces and nephews are adorable, and my oldest – Gracie – is a firecracker.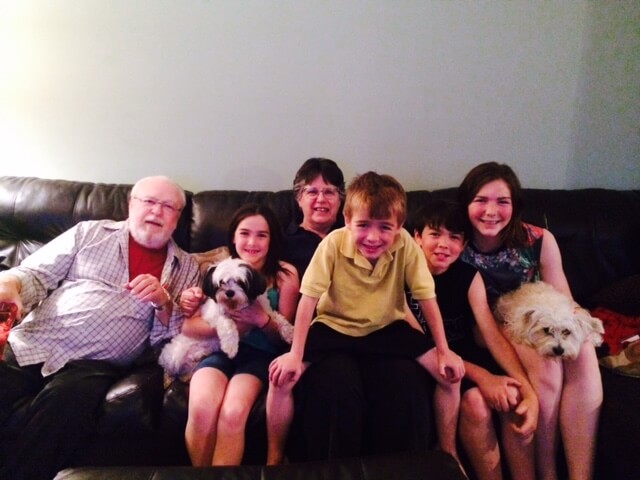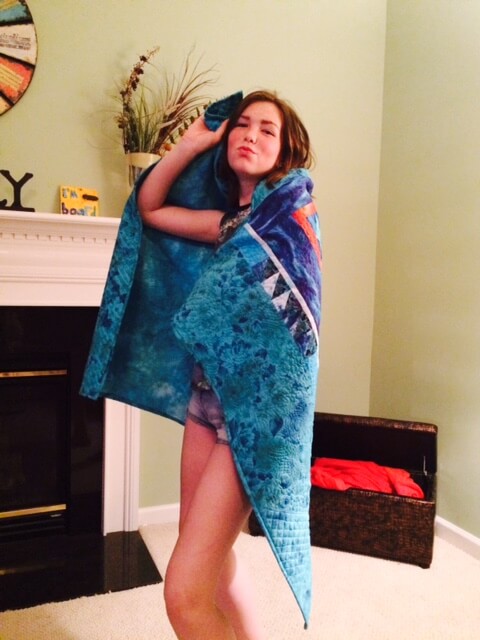 No mater how many times we stopped to stretch and do some simple yoga moves, my legs still cramped badly. A week after arriving they are finally back where they were and the aches have started to subside. But oh my, the traffic!! This country definitely runs on trucks. Arkansas infrastructure really needs work on the interstates, so I can only imagine what the state roads are like. Tennessee was better, but Pennsylvania was exactly like we remembered – cold patching flopping in the breeze.
The amazing thing about all this move is that everything has been falling so easily into place.The last two months before the move I had a lot of anxiety about whether or not we were doing the right thing…but NOTHING was a problem. Everything happened as it should, from the delivery of the truck to the packing to the unloading and storage here in Burlington. Everything was so smooth – and if you've moved any time at all, you know how stressful it can get if something goes wrong. Our only problem was a night in southern New York with the Sheraton saying it wasn't a CHOICE hotel, and the Choice saying it wasn't a Sheraton. How did they solve the really lousy night and service? By offering us a voucher for a free stay at that hotel when they were done with construction…..like we're headed back to Newburgh, NY just to stay there……..Not thinking highly of Sheraton at all.
So last Wednesday we crossed into Vermont and headed up Route 7 (after missing the turn, which we have used for some 39 years). Green Mountain state, how gorgeous. The photo at the top is by the small park in Underhill on the Browns River, and it looks like spring is in full swing, but not so – it's just started up here. There is still forsythia in bloom – which I remember from springs in Maryland was the first color to pop. There are so many blooming trees – I had forgotten just how many trees come out in color this time of year. I love birch trees, so I had to snap that. I have other pics but they're on the main camera.
The only wrinkle is our actual new home. We had been on the waiting list for some senior housing for the last nine months, but when we checked in with them, we were not at all happy at attitude – not willing to show us floor plans, talk about costs, nothing until we were at the top of the list. Well, that doesn't help us much at all. So our first day out and about was discouraging. Couldn't get a new bank account because we had nothing to show with a new address – thank you, Patriot Act. Well, Friday I left for the day with no expectations at all for what we would find. The best thing about Friday morning was the fog – we have fog in Tucson maybe twice a year. It was gorgeous.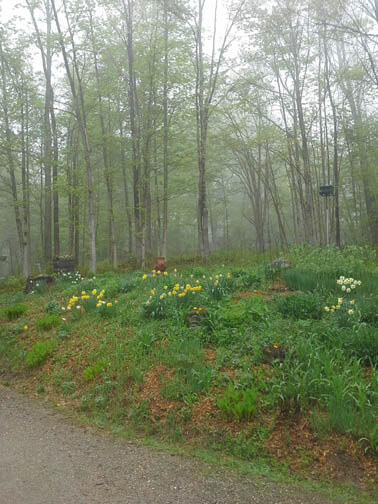 We had an appointment to look at a senior complex Friday at noon (this after I spent about 3 hours on Craigslist the night before trying to see what was available). We had talked about what we wanted in a place so we wouldn't have to move again, and we finally settled on the most important criteria – second bedroom studio space, decent light, covered parking, no stairs. This complex we looked at had all that and more: still being built, third floor, good light, spacious, new appliances, emergency pull that hooks into the local rescue, good community, and everything nearby – pharmacy next door, great bagel shop across the street, credit union within walking distance – and……UTILITIES INCLUDED! Absolutely perfect, so we signed on the dotted line. The wrinkle is we can't move in until September, so we will be doing some traveling in the meantime. No pics yet, as everything is under construction.
So – the adventure continues!
So we are a week away from being on the road….and lots of thoughts to process. This is different from many of the other moves (22 since we've been married – and we're not even military!). Social media didn't exist 21 years ago when we left Vermont, so it wasn't easy to keep track of people. That has changed, and I'm glad of it. Now I can stay in touch with teachers, students, family friends – keep up-to-date with people I may not see again. Plus it's the longest either of us have lived in any one place (state, that is….). Twenty-one years here and we've seen much of the southwest we didn't the first time around. Still a few places we missed Canyon de Chelly, Acoma Pueblo – have to save something for another trip!
Yes, winter will be hard, but at least this time neither of us has to go out for work. We can hibernate throughout the winter months – but we must buy a natural light lamp to mimic daylight to help with SAD. And there's nothing to say we can't hop Amtrak and head west – or south, for that matter – people to visit along the Atlantic coast.
We did have a bit of a good-bye celebration last weekend – teacher friends, students, our second family – lots of laughter and very few tears. The world is so much closer together.
Raquel and her teachers…..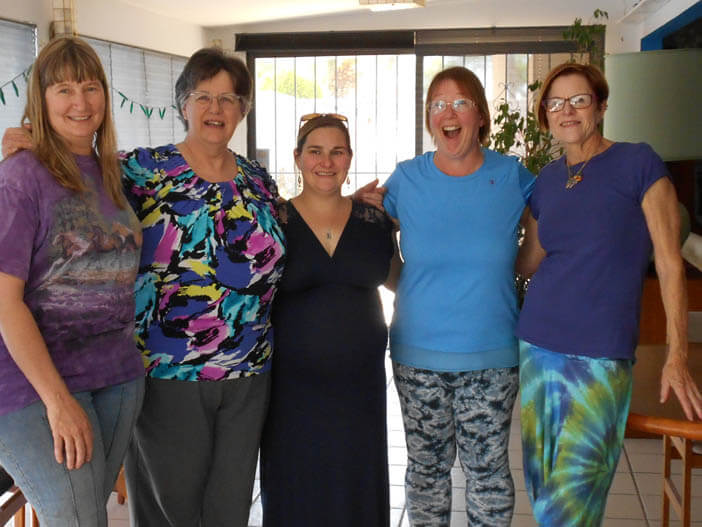 The Utterback crew……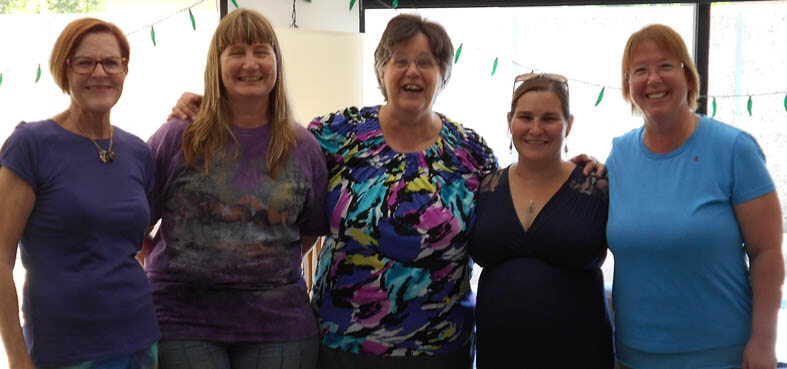 "Little brother" George – the most gentle man….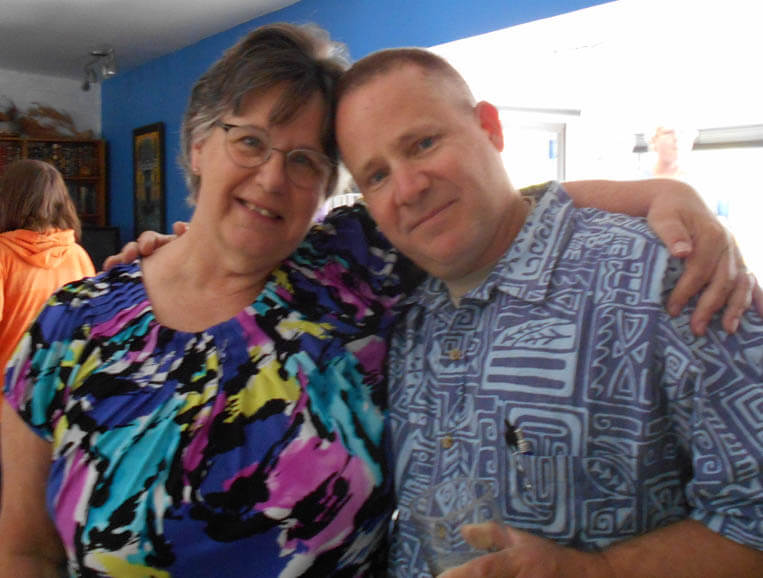 Always leave the hilarity to my sarcasm twin Michelle….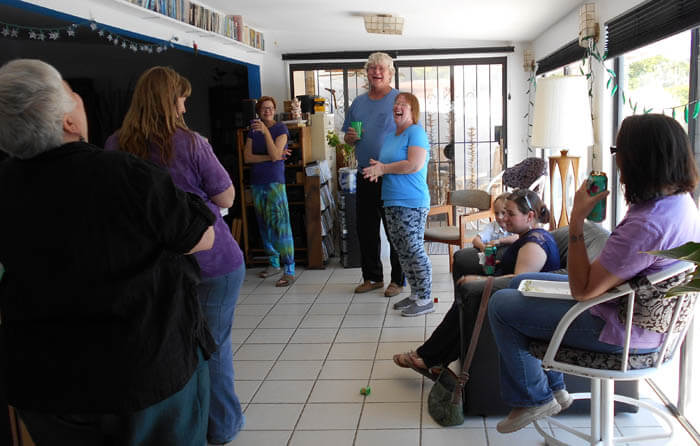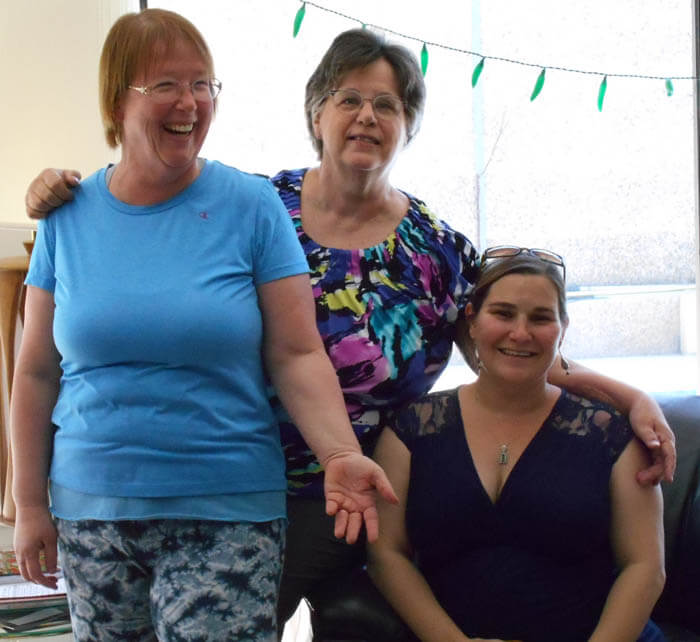 Strawberry daiquiris….. blurry then and blurry now…..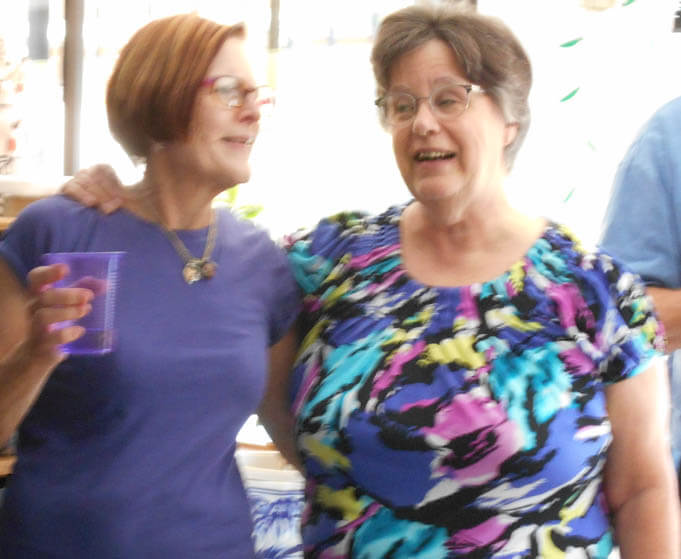 My last finished project before packing the studio for the big move to Vermont. I made a modern quilt – it didn't start out that way. I was going to do a log cabin, but then I decided I just wanted to sew half-square triangles using the paper triangles. After about 150 triangles, I realized there was no way I wanted to sew three times as many more for the whole quilt. So I made the center panel. (Needless to say, I have lots left over for another project….)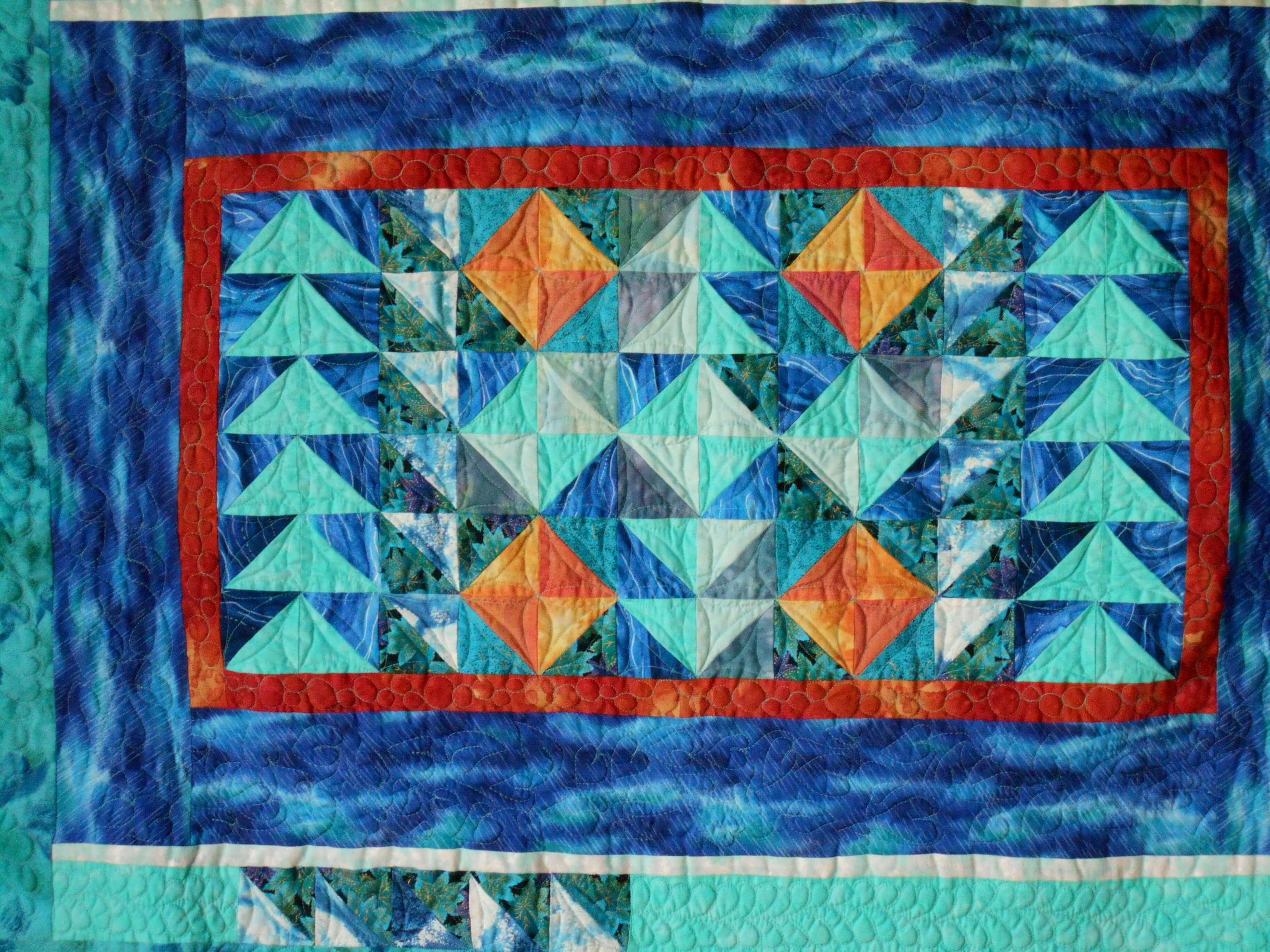 All of the colors were chosen as to whether they would play nice with the blue fleece I'd bought in November for the backing – this color is my great-niece's favorite – forgetting the fact that I've never used fleece for a backing…..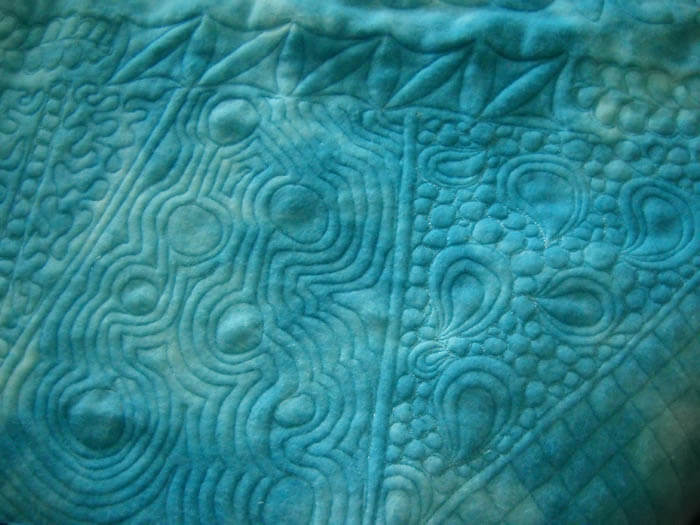 Then I started playing around with borders to the center design, trying to get it into lap-quilt size. I had plenty of triangles left, so did borders with just a few on each end – I've seen something like that in a lot of the modern quilts I've looked at. At this point things became pretty freeing – I knew I wanted lots of space for free-motion quilting, and Maria from Quilter's Market helped me pick out another fabric – she has an amazing eye.
The worst part of the whole quilt was sewing together all those triangles, lumpy intersections, and trying to quilt over them. But I LOVED how it came out. I was having serious rippling problems because of the stretch of the fleece, and Maria suggested using 505 to spray and corral it into place for the rest of the quilting – wonderful, with only a few ripples and they are not really noticeable. I ran out of my Silk Kimono blue I was using, which I loved….and if I hadn't had several rippit sessions, I might have had enough to finish the quilt. But I had to go to the Big Local Fabric Store and once again I realized HOW MUCH I LOVE Superior Threads – the stuff I bought kept shredding constantly. I used Magnifico in the bobbin and LOVED it.
So here are some shots of the free-motion on the front: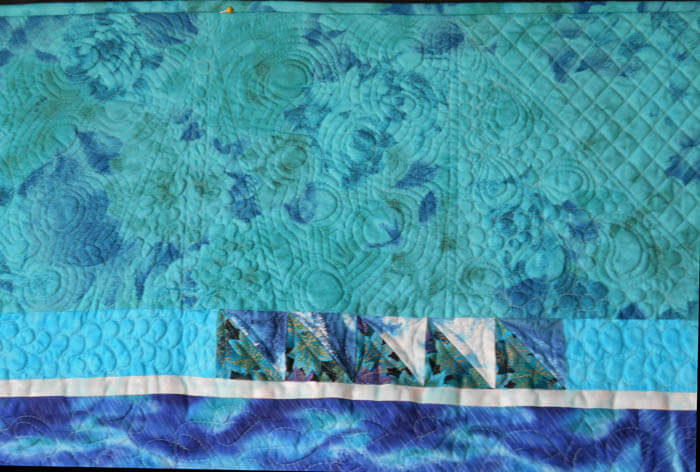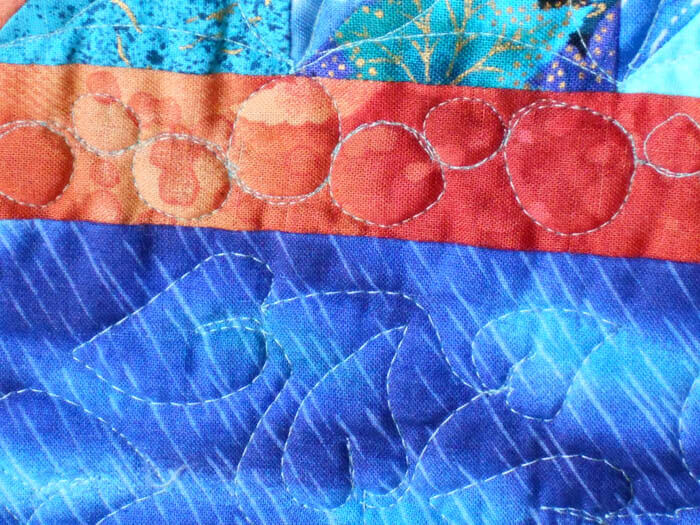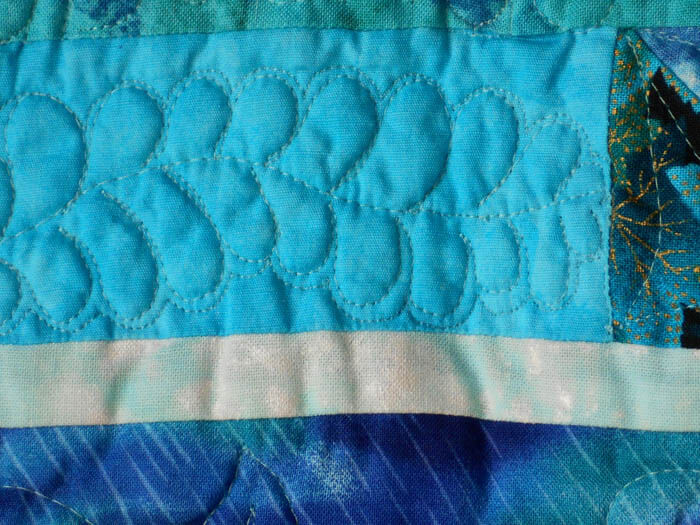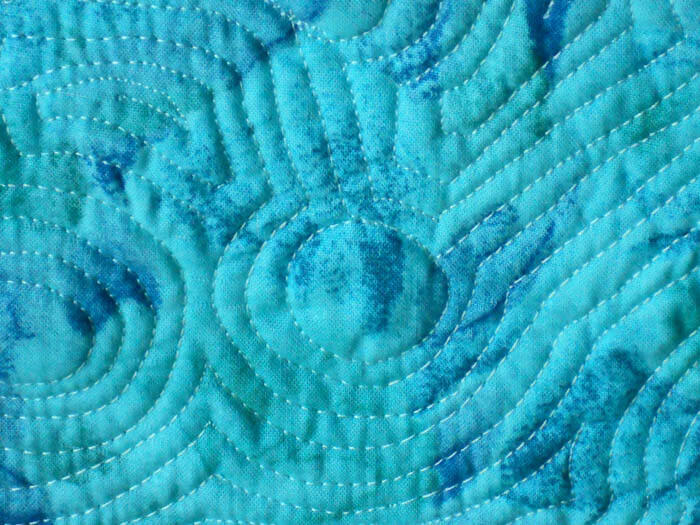 And finally, the completed lap quilt for my great-niece Gracie-Mae on turning 13. (Seven more lap quilts for the other great-nieces and nephews over the next 10 years as they turn 13…….)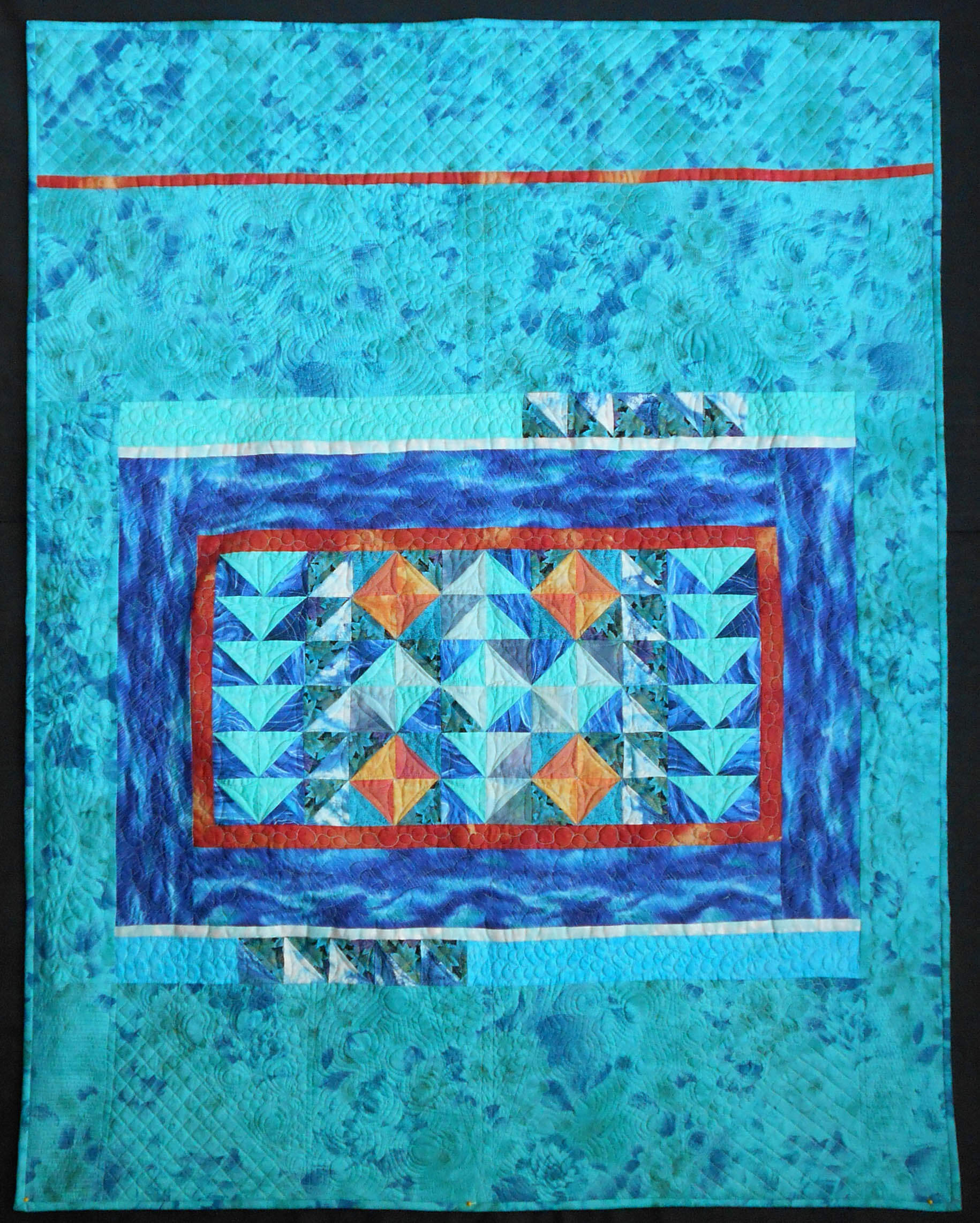 Or if you prefer this orientation….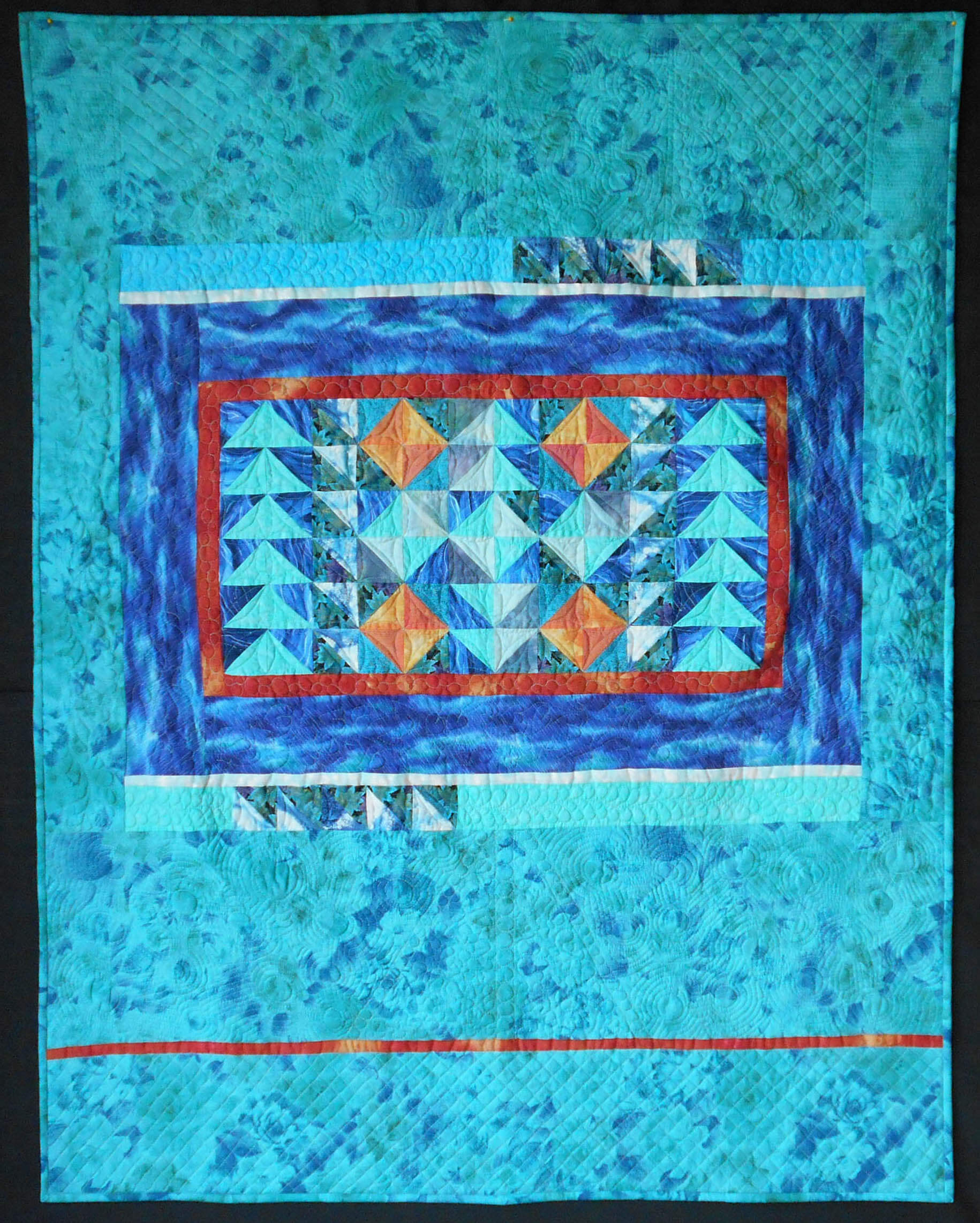 I can now understand the freedom of modern quilts. I have a lot more ideas on how to use the marbled fabrics in some new smaller wall hangings, but that will need to wait until I set up my new studio in Vermont – maybe by July!

I love me my technology, but I think I am reaching a saturation point. I say this as I am hooked on my Mahjong app and spend way more time than I should. So much has changed since I bought my first computer (Apple GS2) in 1989 – minus a hard drive because I didn't need one. Years of carrying floppy discs and then their smaller brothers. But I think I am at my limit of devices. I  don't use all the capability of a smartphone – I still want it to be a phone. I did have to get a new external drive to back up everything on the iMac. Last time I did that was three years ago on a different computer, so I had to buy a new one – a terabyte, which I'm sure 3 years ago wasn't planned.
Because of the novel and the digital work, I can't afford to lose stuff. I still don't completely understand the cloud, but I know if there's a fire, I grab the external hard drive and I have my computer files. This has led me to try and understand more about managing files and the cloud and storage and disaster preparation. Once again I can turn to the internet to see what's available and inform myself.
I'm the IT gal – I still find it interesting sales people talk to hubby when I'm the one with the questions. The Apple store Genius Bar can usually answer all my questions. So I'm not sure I need a company for IT….but I've been investigating disaster recovery, like with Calisto (http://calitso.com/).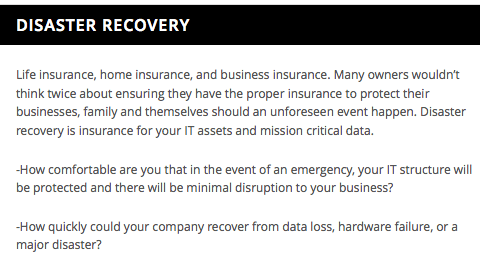 This intrigues me, because I'm of the generation that has most of those forms in paper and in a metal lock-box. But it's worth thinking about a different storage system.
Now I will never be a big player online, even though we've been selling through the internet since 1998 (makes us ancient). But that doesn't mean I can't be knowledgeable. FileCloud (http://filecloud.pro/) brought up an interesting point…..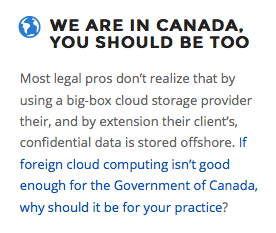 Why would I want to store information offshore? Canadian readers, you're all set. I need to do more research on storing within the US….now to pack the chargers and assorted cords for the devices as we go on the road to visit friends and family in northern Arizona….and batteries, too…..
Oy, we are in the midst of serious boxes…and packing. A little each day, sort and clean and plan ahead. Lots going into the recycling can! We do not know what we will have for accommodations on the other end, but we anticipate it will be considerably smaller space. We are looking into some of the senior living communities in Chittenden County, of which there are many,. We are on the waiting list for several – the one we would like has a two-year waiting list, and we've been on the list since this past September. Trust the universe – it worked out perfectly for our last move!
Once again I can turn to the internet to check out what accommodations are like for senior living around the country – and Canada, should we decide to go even further north and east. If nothing else, we get great ideas on possible amenities and questions to ask. For example: Wallace Living  (http://wallaceliving.ca/)- a place in Nova Scotia – an area we are seriously contemplating. Since it will be COLD next winter, it's nice to see that a lot of complexes are including all utilities.

AND NOW -  for the SALE!!
For sale: A gorgeous hutch (you can tell we are collectors, but we are getting tired of moving this large piece. 4 glass shelves with plate grooves, lighted top and bottom. Asking $200.00
Baker's Rack – 4 plexiglass shelves, great for indoors or out – asking $35  SOLD!!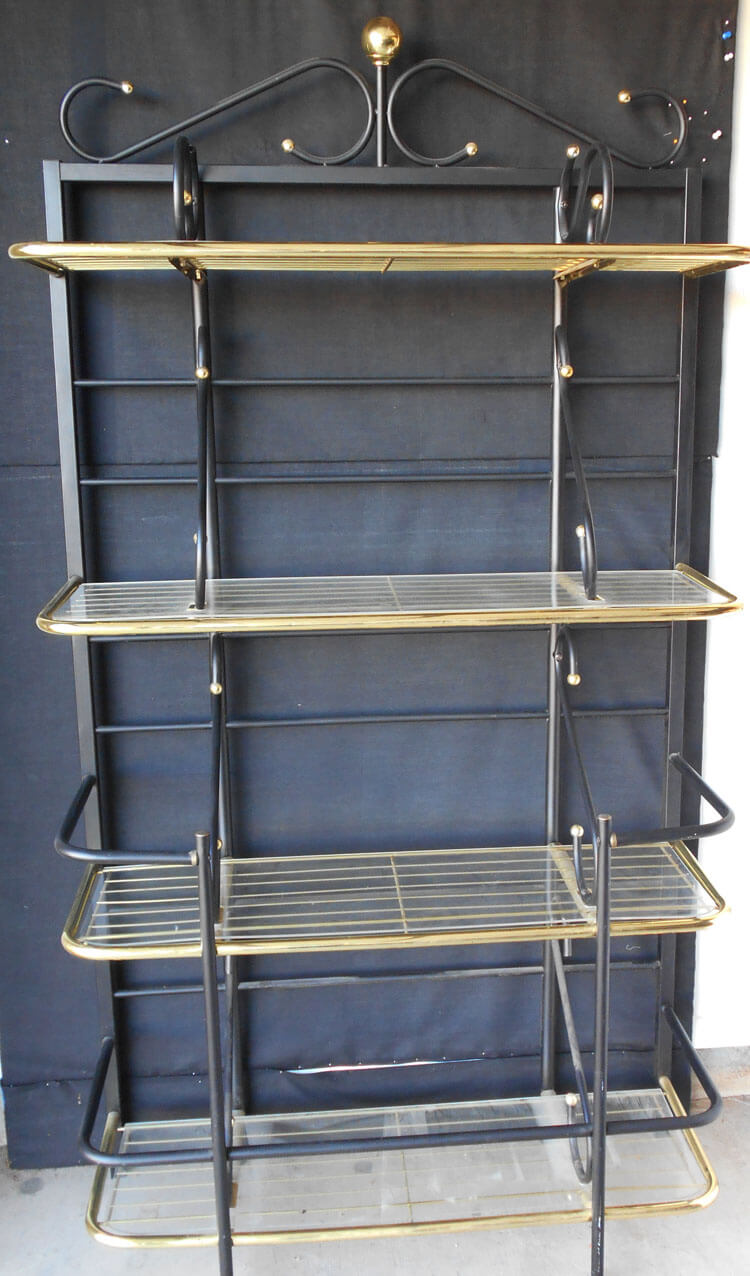 Hoover vacuum cleaner – with bags – asking $35 - SOLD!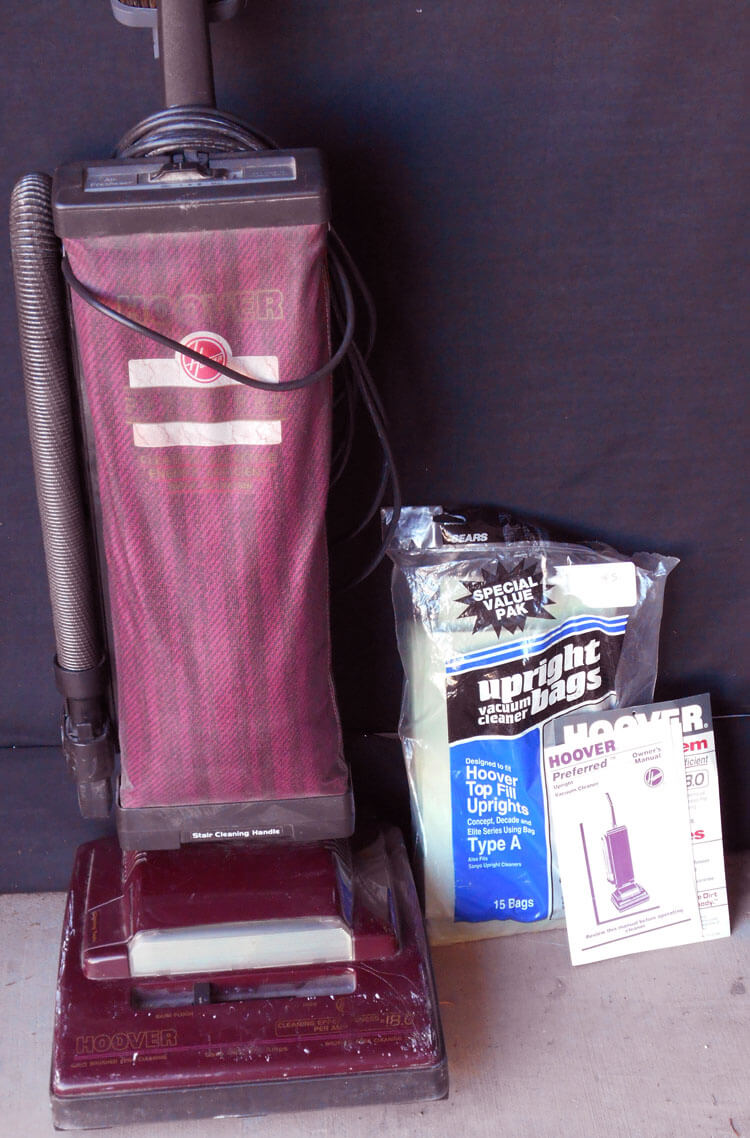 Two desks that can be re-purposed for craft tables, asking $5 for the small one and $10 for the large one.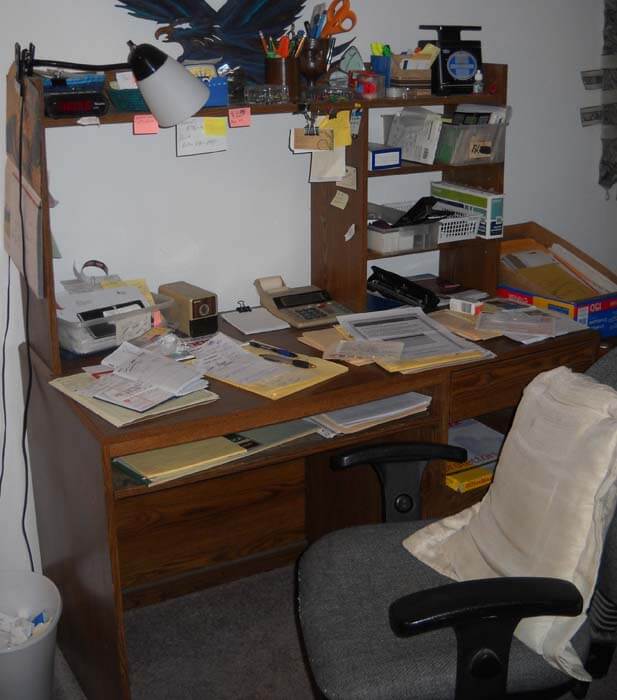 Large one SOLD!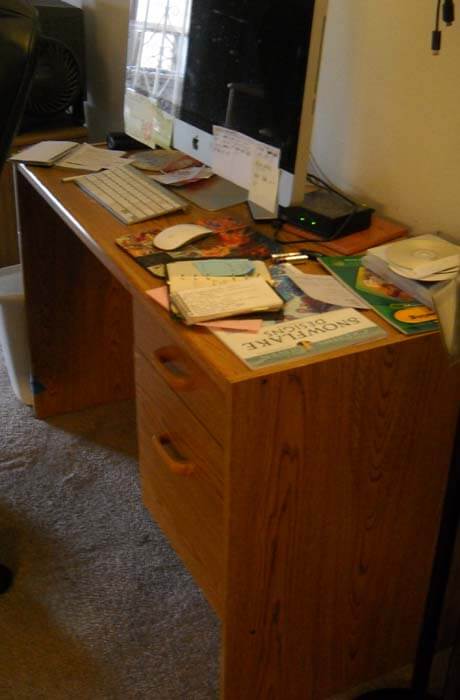 Lamps – two hand-turned wooden lamps with shades (which could stand to be replaced), asking $25 for both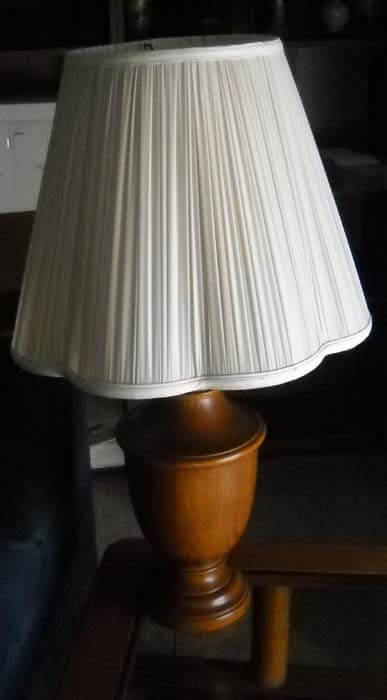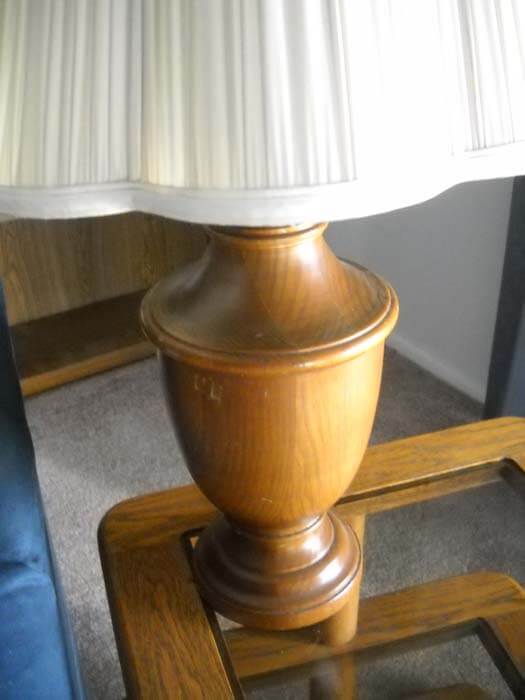 Lamps – two smaller bedstand lamps in a coral shell motif – asking $15 for both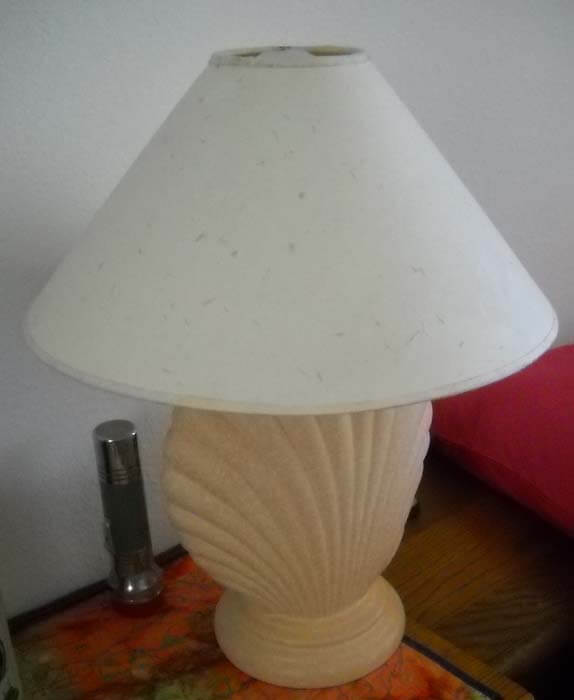 One blue loveseat, microfiber, sits two easily – comfy – asking $50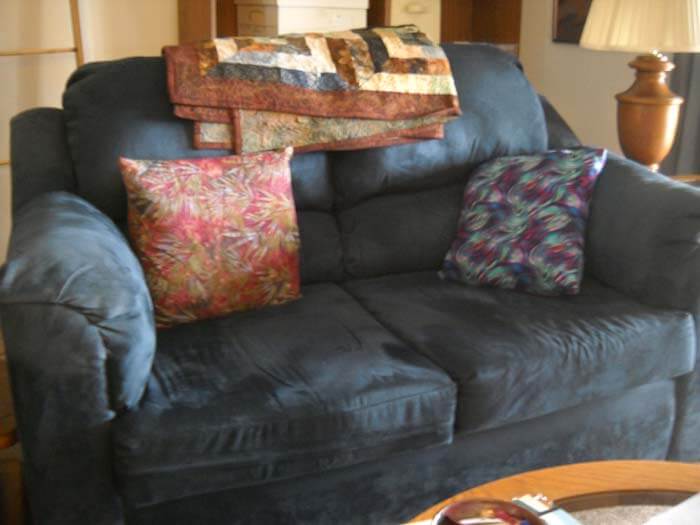 One filing cabinet – asking $5 SOLD!!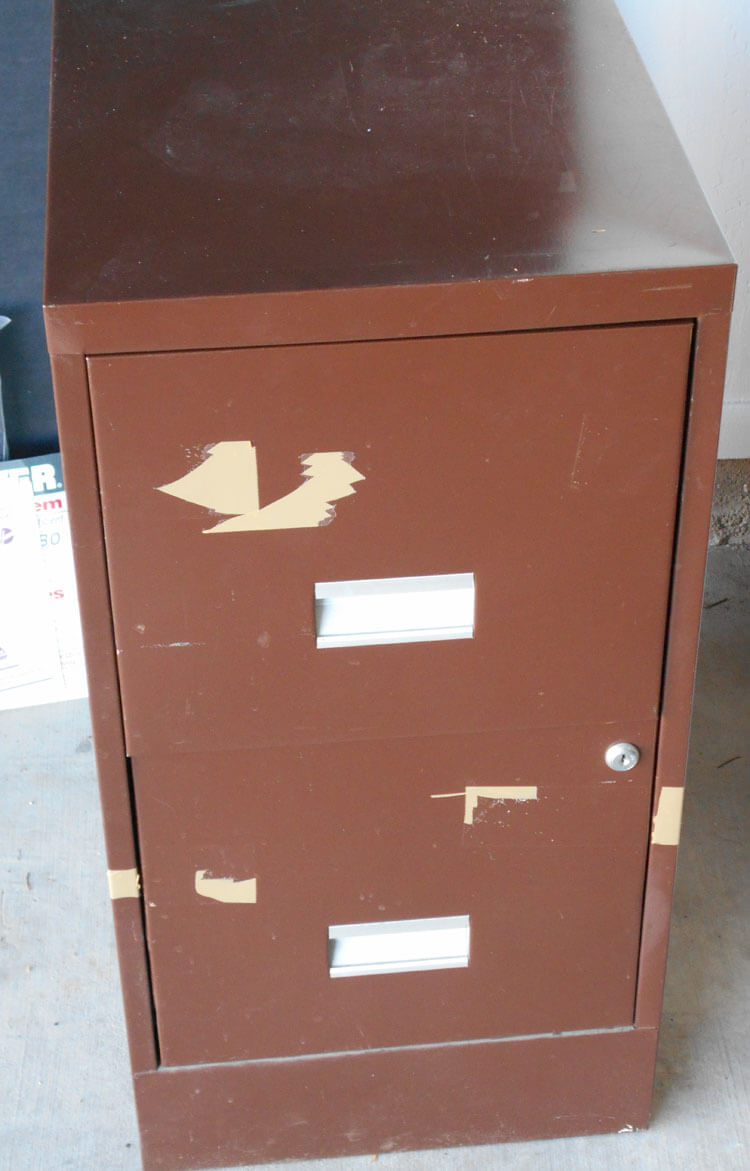 One white dresser, 4 drawers – old, painted, (would be great refinished) – asking $25.00 SOLD!!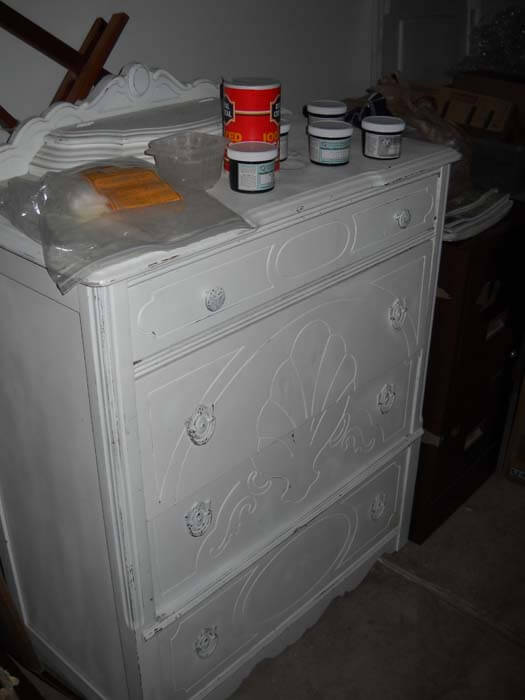 2 dining chairs, roll on the floor, lean back in them – asking $20.00 for the pair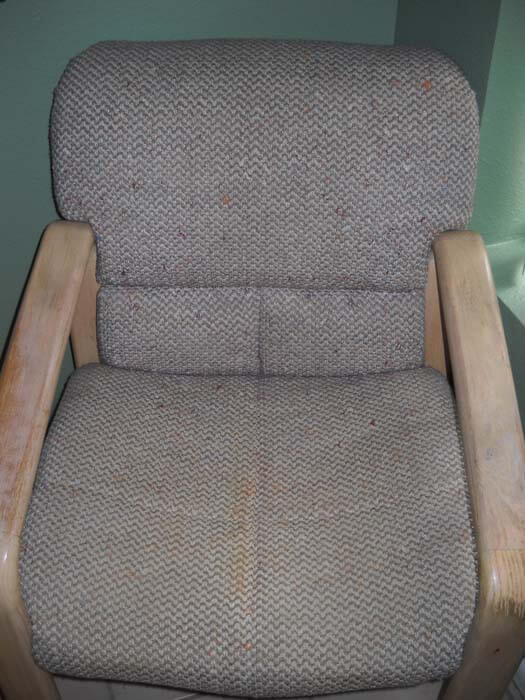 2 desk chairs – larger black chair is free, small one is $5 (see picture of large desk)
television (needs a speaker repaired) – free (Phillips model, "old-style)
2 ladderback chairs with woven seats – asking $20 for both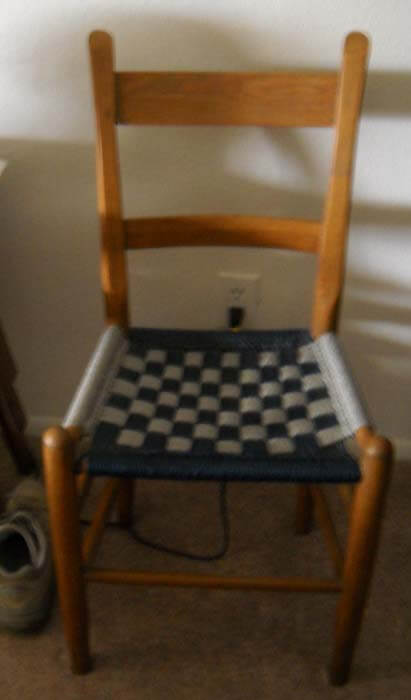 Send a message via the blog or email us at deanm at marbledfab.com.
Brief note: a time-out from art-related items to post an assignment for a Coursera class for assessment by peers.
Unit: Exponential Relationships
9th grade, but 8th graders are welcome!
Investigation 1: Exponential Growth
Welcome to our new unit in Connected Math, Exponential Relationships! We have five different investigations, and you will find yourself doing a lot of comparisons of exponential relationships with linear relationships. (Told you linear would never go away!) You can see an overview of the unit by clicking on the link above to see the parent information letter. DO NOT WAIT TO GET YOUR NEW UNIT BOOK from your district office – you don't want to get behind!!
Here are two key pieces we will focus on:
UNIT GOALS (Specific Arizona Standards for this unit at the end of this investigation):

You…have previously studied linear growth, in which a fixed amount is repeatedly added to a beginning quantity to produce a sequence of values.
Exponential growth involves patterns that are based on multiplication rather than addition. For example, in the sequence 3, 9, 27, 81, 243, …, each term is 3 times the previous term. The basic goal in Growing, Growing, Growing is for…you…to learn to recognize situations, data patterns, and graphs that are modeled by exponential expressions, and to use tables, graphs, and equations to answer questions about exponential patterns.
You will ask yourself the following questions as we go through the unit:
* Is the relationship between variables an example of exponential growth or decay? Why?
• How can this relationship be detected in a table, graph, or equation? What is the growth factor?
• What table, graph, or equation would model the data or the pattern in a graph relating the variables?
• How could I answer questions about an exponential situation by studying a table, a graph, or an equation of the exponential relationship?
• How does this exponential relationship compare to other relationships between variables I have studied?
Stuck? Email: ***************@***************
Now to the fun stuff: Investigation 1
You will need: scissors and a sheet of paper (regular paper is fine, and you might be happier with a blank sheet)
Your journal for record-keeping, notes, and solving problems
A new anchor chart for vocabulary on a separate page in your journal – use a stickie tab on the page for easy reference to it.
[Reference for peer readers on anchor charts - http://www.julieballew.com/A_Literate_Life/Photos/Pages/Anchor_Charts.html. Students will have other samples, since what I use I cannot share publicly (only in a classroom/online teaching setting) because of proprietary agreement with past employer)].
(Students have experience with anchor charts, and throughout the online lessons, I will have links to the unit anchor charts.)
1. Read on page 5, 1.1 Making Ballots and complete the short experiment.
2. Answer questions in your journal from page 6. Remember to indicate the investigation, number of the problem, and use complete sentences!
3. Upload your problem to the dropbox by ____________ for feedback from Mrs. Moran. (This should take no more than 1 day.)
4. Begin working on homework problems for this investigation: Practice problems on page 11 – 18: Everyone do #1-14, and then 3 others of your choice. Everyone do #33 – 38. (Due at the end of the week.)
Stuck? Email: ***************@***************
5. Read on page 6, 1.2 Requesting a Reward and add the new vocabulary to your anchor chart for this unit.
6. Complete the "Getting Ready" on page 6 in your journal.
7. Complete problem 1.2 on page 7 in your journal. Remember to indicate the investigation, number of the problem, and use complete sentences!
8. Upload your problem to the dropbox by ____________ for feedback from Mrs. Moran. (This should take no more than 1 day.)
9. Continue working on homework problems for this investigation: Practice problems on page 11 – 18: Everyone do #1-14, and then 3 others of your choice. Everyone do #33 – 38. (Due at the end of the week.)
Stuck? Email: ***************@***************
10. Read on page 8, 1.3 Making a New Offer and add the new vocabulary to your anchor chart for this unit.
11. Answer questions from page 9 in your journal.  Remember to indicate the investigation, number of the problem, and use complete sentences!
12. Upload your problem to the dropbox by ____________ for feedback from Mrs. Moran. (This should take no more than o1 day.)
13. Check out this
video
and try experimenting with values. Think about what you notice and try and make a connection between the video and the investigation.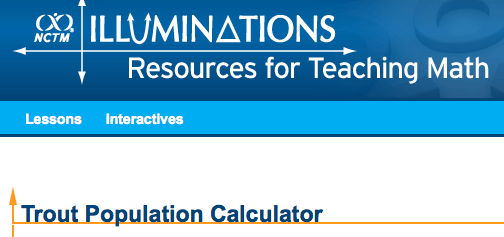 Stuck? Email: ***************@***************
14. Continue working on homework problems for this investigation: Practice problems on page 11 – 18: Everyone do #1-14, and then 3 others of your choice. Everyone do #33 – 38. (Due at the end of the week.)
15. Log onto the class discussion forum (*******************address) and complete two responses. a) What are you discovering so far about exponential growth? and b) what differences do you notice between linear and exponential growth? (Due by the end of the week.) (Rubric http://www.mtsu.edu/ltanditc/docs/Discussion_Board_Rubrics.pdf)
16. Check out this
video
and see about exponential growth in real-world examples. You might get a few ideas for your Mathematical Reflection.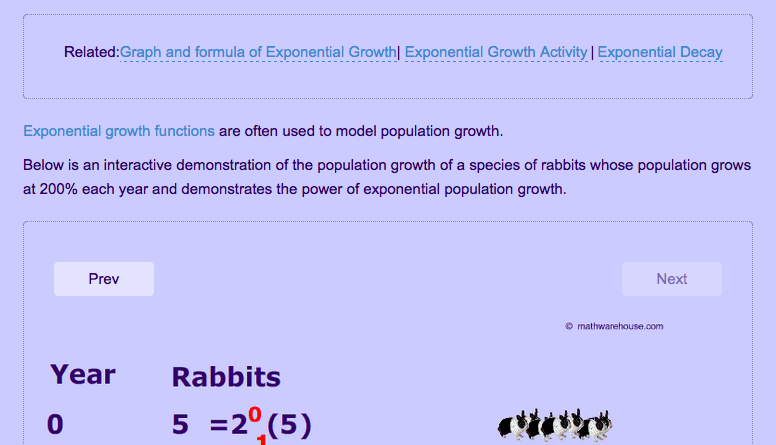 17. Start your draft of your mathematical reflection on page 19.
18. Read page 10, 1.4 Getting Costs in Line.
19. Answer questions from page 10 in your journal.  Remember to indicate the investigation, number of the problem, and use complete sentences!
20. Upload your problem to the dropbox by ____________ for feedback from Mrs. Moran. (This should take no more than 1 day.)
21. Upload your homework problems to the dropbox by ___________ for feedback from Mrs. Moran. (Due end of the week.)
Extra
video
- if you want to dig a little deeper and are interested in growth in businesses -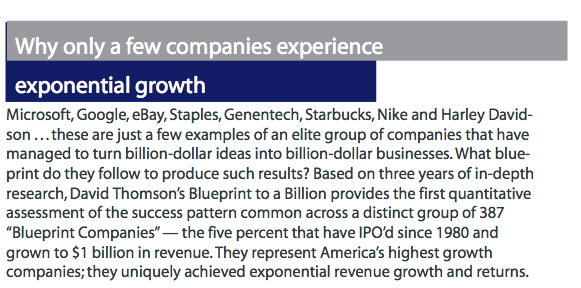 22. Complete your mathematical reflection on page 19. Use your word processor to complete the assignment. Use complete sentences – FOLLOW THE RUBRIC you already use for these! This is due by the end of the week – allow yourself two days for draft and final copy.
23. Breath Deeply and congratulations! You've made a major start in understanding a very practical application of algebra!!!!
Deadlines:
Investigation 1.1 should be completed within a day.
Investigation 1.2 should be completed within a day
Investigation 1.3 should be completed within a day.
Investigation 1.4 should be completed within a day.
Homework Problems due  end of the first week.
Discussion forum responses due the end of the first week.
Mathematical Reflection due the end of the first week.
STATE STANDARDS:
HS.F-LE.A.1a. Distinguish between situations that can be modeled with linear functions and with exponential functions.
HS.F-LE.A.1b. Prove that linear functions grow by equal differences over equal intervals, and that exponential functions grow by equal factors over equal intervals.
Mathematical Practice Standards:
1. Make sense of problems and persevere in solving them.
2. Reason abstractly and quantitatively.
3. Construct viable arguments and critique the reasoning of others.
4.Model with mathematics.
5.Use appropriate tools strategically.
6.Attend to precision.
7.Look for and make use of structure.
8.Look for and express regularity in repeated reasoning.
Copyright notice: all links are public domain and links are included by clicking on pictures. This unit is directly from Connected Math 2, published by Pearson. The conversion to an online format is the work of the instructor, Linda Moran, and cannot be reproduced without permission of the instructor.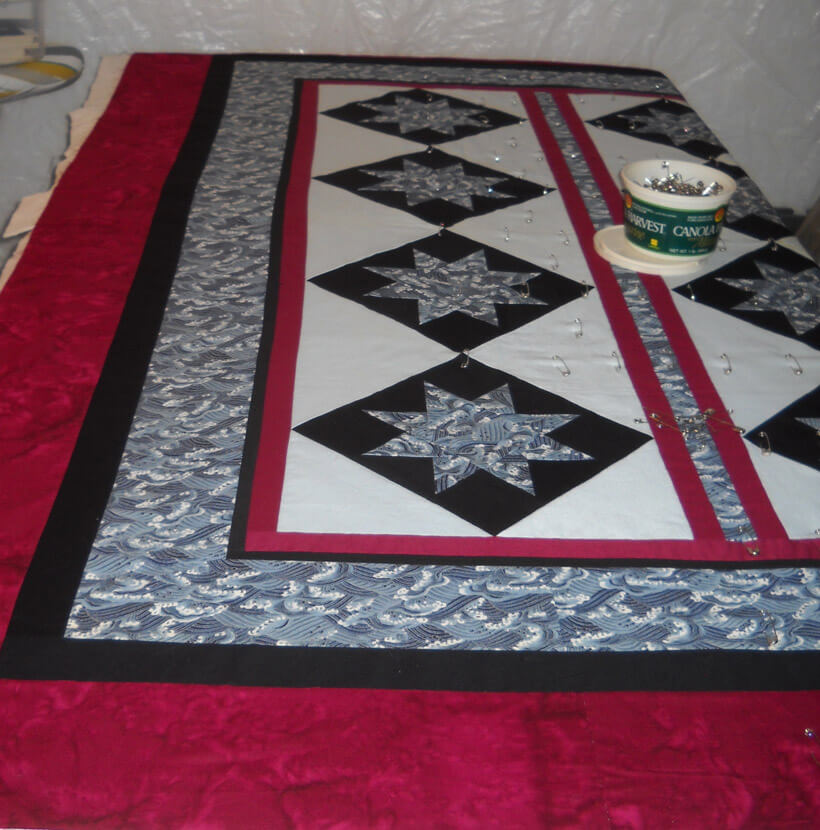 This is the "before." Nice and flat, virtually no texture. I remember when I went to Road to California a couple of years, I noticed everything was machine-quilted within an inch of itself. Both hubby and I thought, just because you can doesn't mean you should fill it up with machine quilting.
That was before I started with the 2012 free motion quilting challenge with SewCalGal and got hooked…..I'm talking seriously hooked. Now it's not about the quilt top for me, it's about the quilting. There are seven different quilted motifs in this quilt, and I LOVE IT! It is so much more interesting than if I had just done quilting in the ditch and stippling. Yes, at least 10 hours of fmq in the quilt, and a lot of bobbin thread, but did I say I LOVE IT?
So here are some of the "after" pictures. For some reason the blue wave fabric looks to be black and white, and it isn't. I used Superior Silk Kimono thread in the triangle backgrounds, the outside black border, and the final border. Magnifico by Superior for the bubbled in the corner triangles, Rainbows by Superior in the border of blue waves, and Bottom Line by Superior in the bobbin and in the black backgrounds of the stars. I guess you could say I really like Superior Threads….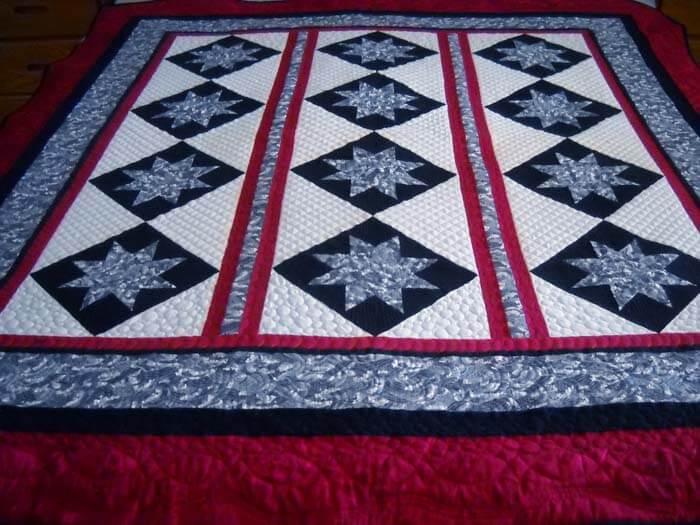 I LOVE THIS! I used the color adjustments in Photoshop to try and bring back the blues – this is pretty true to the actual colors. The maroon strips in the center are done in a cathedral square pattern. I gridded all the light blue triangles for the texture – I was only going to do the center panel but I fell in love with the effect. The bottom light blue triangles are done with a MAgnifico blue thread in bubbles – I was aiming for a stars at night over the ocean effect.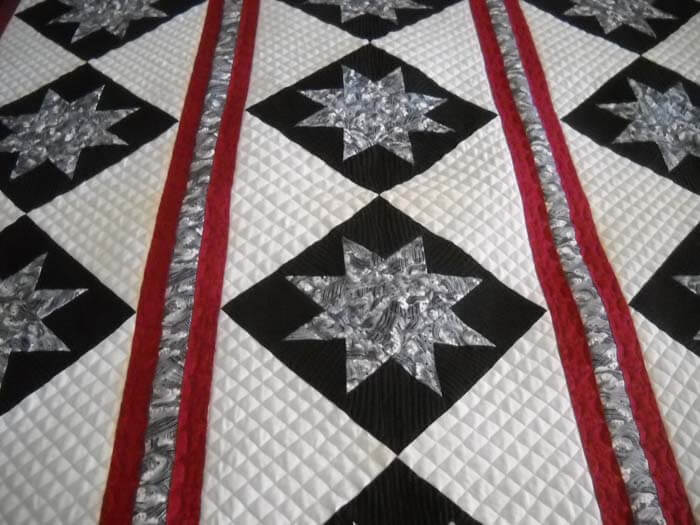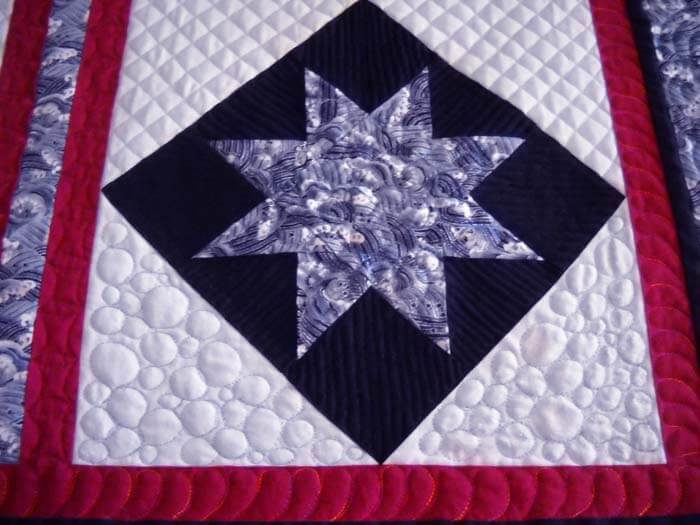 The ironic thing here in this picture is the bottom right corner is the one I picked out all the thread on – what I call the "war-zone" corner. The blue stars themselves have bubbles quilted into the with a Rainbows blue.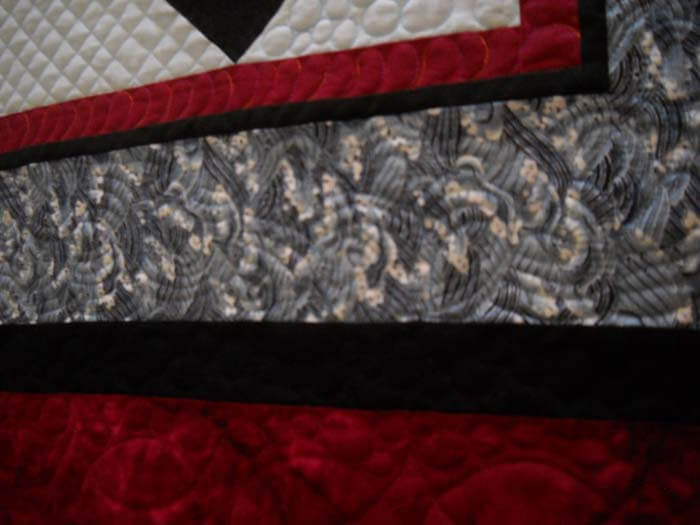 The wave fabric here has one of Leah Day's fillers in it called Ocean Currents. I happened to be on her blog one day and said yup, that's the one.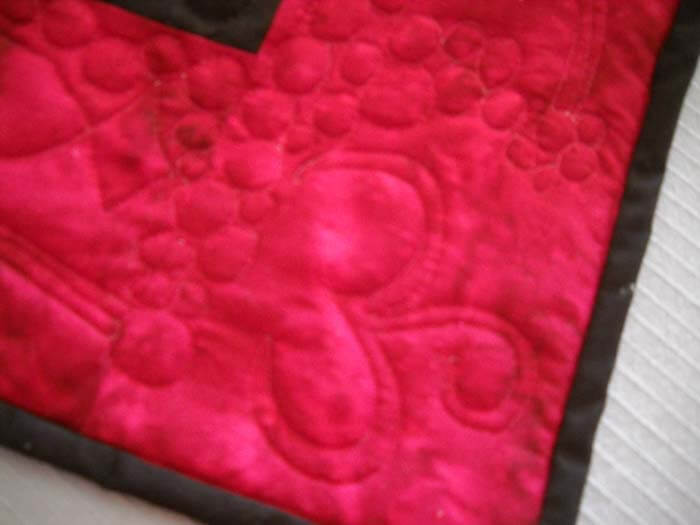 This quilt is for my yoga instructor, and so in one corner I did a free-motion "third eye" chakra symbol.
Now for the back….WHICH I LOVE LOVE LOVE – the texture is amazing!!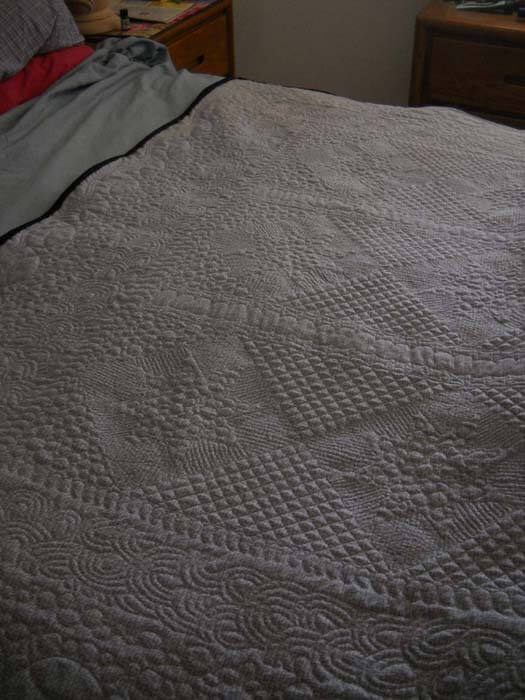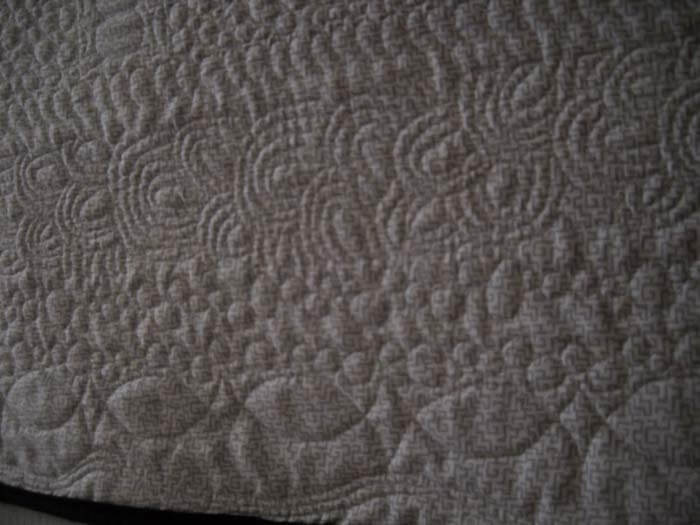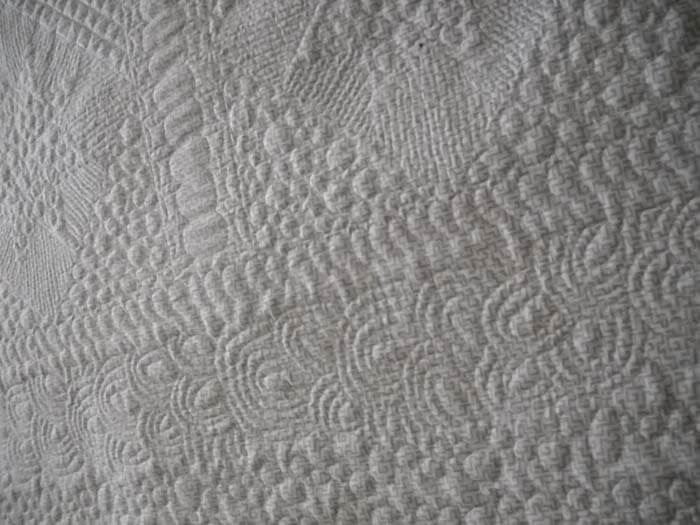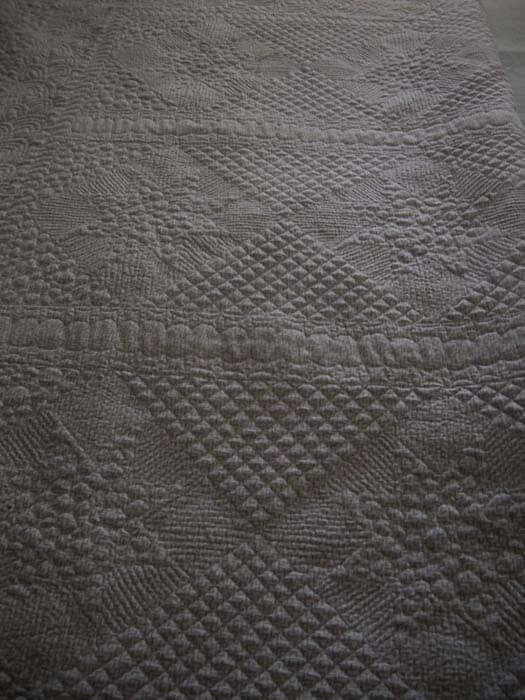 Note to self – time for some smaller quilts……….
Yes, I am anxiously awaiting spring – not so much here in the desert southwest, but as we travel back to New England in May, I'll be seeing lots of what is "spring" to me. Color and lush greens – can't wait!
In the meantime, I've been busy packing, doing photography of quilts, lots of loose ends, visiting the Saguaro National Monument to partake of cactus spring, working on some online classes about teaching online, and planning new art projects. As usual I'm finding lots of things on line for enjoyment or research.
The first is a glass artist, Jack Storms…..work is absolutely AMAZING!
Speaking of photography, because the work in that video is amazing, I peruse a lot of sites of phtographers. One I have enjoyed over the years and have come back to as a result of our trip to Yosemite, is that of Galen Rowell and Mountain Light. I bought a collection of postcards of his images during one visit to the Smithsonian and have loved his work. Enjoy!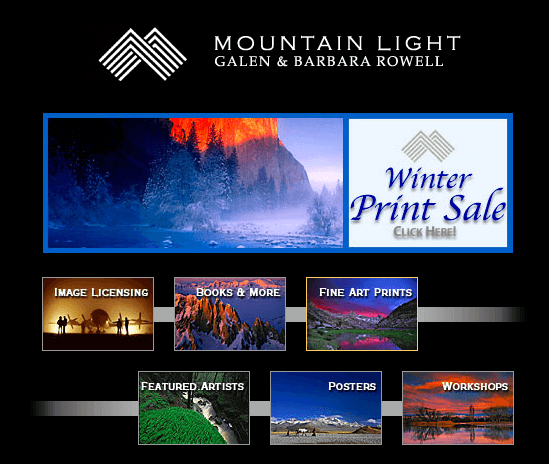 Perusing photography sites gives me lots of ideas as I do more with my little camera. After the move, one of the items on my list is a new camera, a SLR so I can get really serious, but I will say my little point and shoot has given lots of material to play with digital manipulation. So when I see a site belonging to a photographer, I tend to check it out. On The Wright House Photography site,  www.thewrighthousephotography.com/, I love that she bought her childhood home and now uses it as a studio. I am amazed at how photography sessions have taken on a specialized feel: engagements, maternity…….I'm used to someone just snapping pictures, and now I love getting new ideas!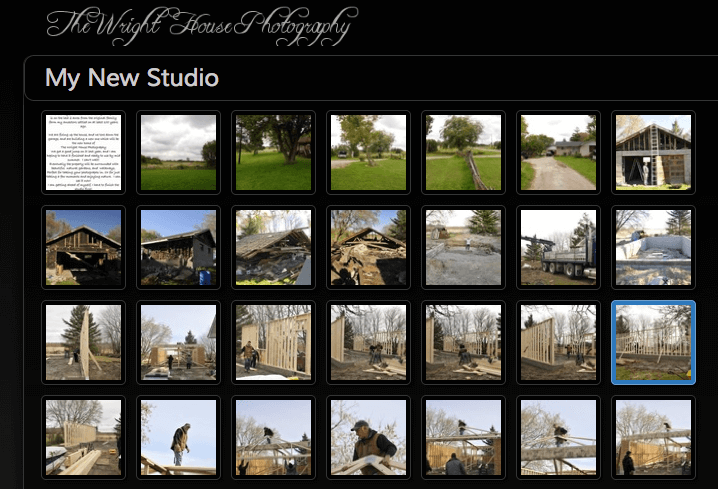 there's another photography site I found with a "digital evangelist." Interesting term……She's with Adobe, so I'm guessing she's quite skilled….

From The Millions comes a timely article for those of you who write fiction – sketching out plot lines and characters, which I had to  do with this first novel in the trilogy. I was glad to see that I intuited what had to be done.

I am a sucker when it comes to motivational education messages. Here's one from a teacher who wants his students to hear what he has to say. Powerful.

Those of you who have been following this blog for a long time know I'm interested in licensing, and I read a lot about it, more so now that I can steer people in the right direction who are thinking about licensing. As with photography, I tend to surf a lot of sites dealing with licensing. Innovative Licensing and Promotion  (http://2innovative.net/) had some ideas I hadn't thought of, and I like to think I go outside the box. This is a sample of what they offer. I'm intrigued and plan to study more.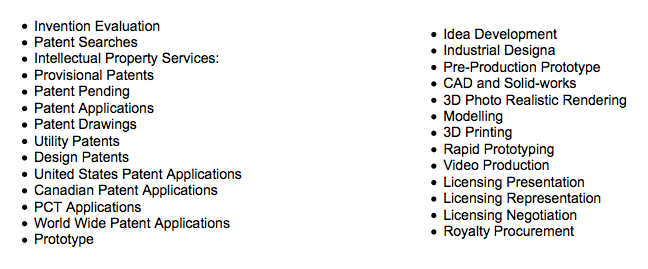 I haven't done any posting of great unusual pics in a while, so here are some from BrainJet.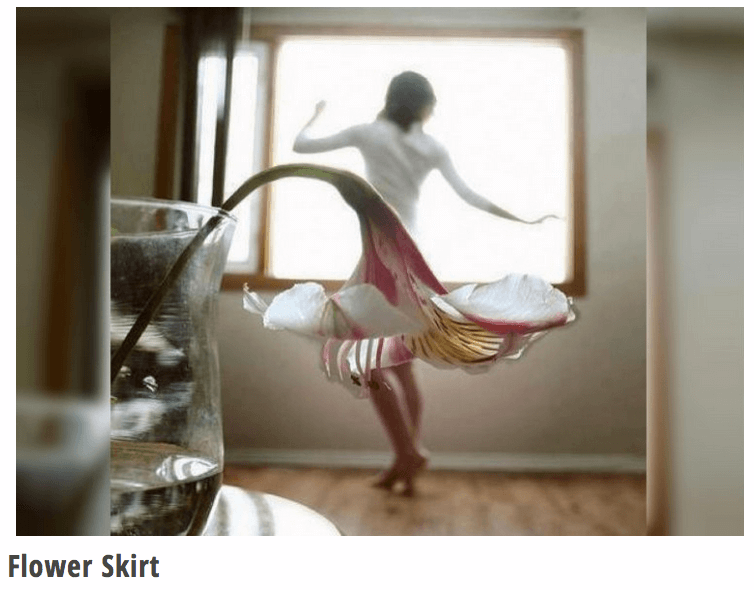 Because a move is imminent, and we don't know where we will be living, we are looking at places in the Burlington/Chittenden County are of Vermont. Hubby is hooked on Rehab Addict, and we've often thought if we were younger and had the money, we'd like to rehab a place. We've lived in a couple that would have been great for This Old House. But when we were young we didn't have the money…now we're older and still don't have the money, but now the knees are bad! Still, it's fun to consider rehabbing a place. He's surfing one day and discovers a business that does renovations. I Love Renovations  (http://iloverenovations.ca/) has a whole slew of articles on what to look for if you are undertaking renovations on your own. Found a great article from their blog on getting your place ready for fall and winter…..which we may have to do again!

(Admit it…if you're of a certain generation, you hummed along to the title……)
Ah, moving. We've been in Tucson nearly 21 years (it will be exactly 21 years the day after we leave town), and we have moved 9 times within the city. Different kind of packing as opposed to cross-country. To move here, hubby came out several months ahead of time, and I finished packing. It seemed like I would NEVER finish with boxes. This time for the major move, we have already started the packing, despite my wanting to wait until the beginning of April so I wouldn't feel like I was living in boxes…no such luck. Once the urge hit, we started – BUT I am saving the studio for the second week in April – I still have a quilt to go for my great-niece.
In 21 years moving has changed a lot going cross-country, so we set out to do our research. Age and bad backs and other assorted maladies have eliminated U Haul and most any major packing ourselves. Since the internet has just about everything on it, we decided to just shop around movers and moving companies. It cost us $4000 last cross-c0untry move, and we wanted to keep expenses in the same range, even though we know movers would be more.
So we started shopping around for pricing. Thing is, things have changed so much. we weren't really quite sure what to ask. So we checked out a couple cross-country movers, just to get an idea of what all was involved. Since we're moving back to New England, we didn't neglect Canadian movers. Titan Transline  (http://titantransline.com/) is actually in the southwest. We used them to see about questions we should ask: like full load, partial load….we just assumed we would be paying for a whole truck, and we are divesting ourselves of a lot of bulky items. We are still investigating, but we are going into this whole move with far more information than we ever had…and we've moved 22 times since we've been married (39 years).
If you want more information on places we have lived, I remember a year or so back doing a blog post, using Google Earth, to look at various places I have lived. It was cool two summers ago to actually revisit some of these places. And…some of the places no longer exit….like the teacher cottages in Paia on Maui. They have saved one as a historical museum….wonder if all the termites are still there……You can check the post out here.
So it's back to some of the many loose ends involved in a big move – changing our basic email, since Cox is not in Vermont, cleaning out old passwords – today's task is to get the code book up to date, as well as revise parts of the website – long time since I've done that. Happy Monday!!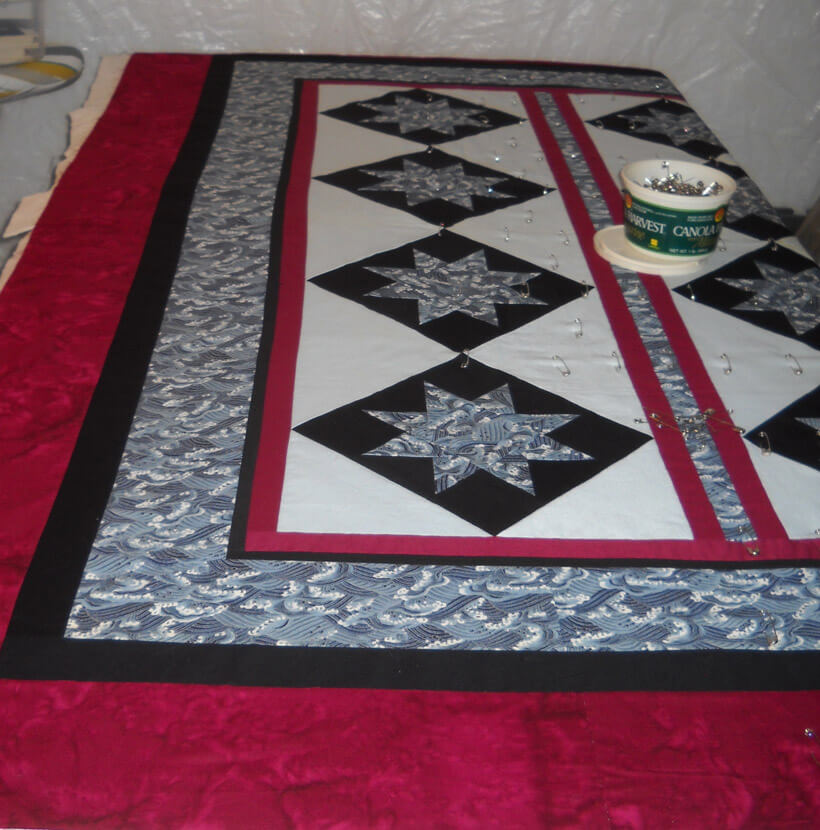 See that bottom left light blue triangle? Eight hours later, I have learned a couple of new lessons. One, there is something to be said for trying out a motif on  scrap fabric and batting. Two ripping out teeny tiny threads can actually be meditative…..
That said, those bottom triangles were going to have a different pattern along the top and bottom. I was thinking a type of lotus blossom (a variation for me on a feather) with smaller feathers inside each petal. Because at this point I wanted a little relief from all the blue. I thought it needed some more color…..I was wrong, at least with the color I chose. I should have stopped after the first petal, rather than completing the triangle…..a lot of my decisions look way better after they are finished. But I was still wrong….maybe if I had left it all in the shiny blue….but it was still wrong. So I knew I had to take it out.
Were the quilt for me, I would have just put it aside until I felt like dealing with it. But no, it's for my yoga instructor, and I want to get it finished before we have to dismantle the studio for the move. So I started with the seam ripper….three hours Wednesday night, music in the background….the petals were easy in the Magnifico thread – just slid out. NOT SO the feathers…..teeny tiny……three hours Thursday, three hours Friday (yes, a lot of tiny stitches, many on top of each other), and today after 20 minutes I was finished, with two very sore fingers for my efforts.
The fabric looks kind of like a war zone – it's 16 years old after all, and nothing like that left in my stash – or I could have ironed on a replacement triangle and then quilted that. But the bubble stitching will hold it together, as long as the cats done find a few loose threads of the fabric. And the whole bottom looks much much better. Now for the triangles along the top, and then into the borders……I have to remind myself to plan ahead and if I want to do something fancy, try it ahead of time……..even if rippit is fairly meditative…….

Lots of items bookmarked and ready to show you. I so love all the things you can learn online – and all the places you can go!
First up, The Trouble with Bright Girls – being one, as well as teaching many of them, I can relate to this article. We need to be so careful of the messages we send.
"Researchers have uncovered the reason for this difference in how difficulty is interpreted, and it is simply this: more often than not, bright girls believe that their abilities are innate and unchangeable, while bright boys believe that they can develop ability through effort and practice."
Animals playing around – gotta watch!
The art of Jim Dingilian – filling a bottle with smoke and creating art!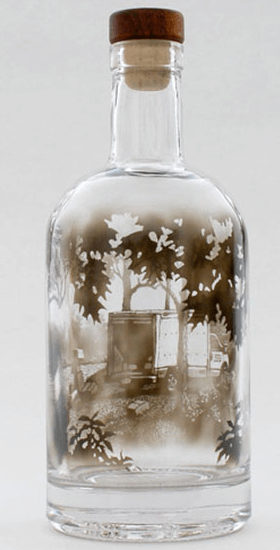 I'm always looking at business sites and mentoring opportunities for my own marketing. Came across Gary's site and am thinking about buying the book as gifts for two friends looking to start small businesses. Check out Gary Bizzo – www.garybizzo.com.

Also in marketing, a new site I found on line for printing – looks like quality work, and they're in Canada, which is great when I move to Vermont! PrintingPeach at http://printingpeach.com.

Absolutely LOVE this close-up of the creation of a Dior bag – amazing!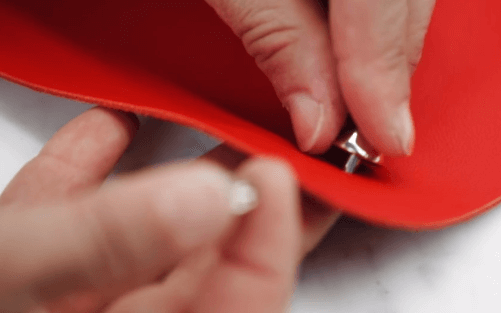 This next poster is really cool, even if you don't understand all of it! Science and art together!!

10 Mathematical Equations that Changed the World – fascinating, again even if you don't understand all the math.
You know I love math – The Magic of Fibonacci!

Once again, science, art and math – Dance on the Circle.

Till next time, enjoy the web!!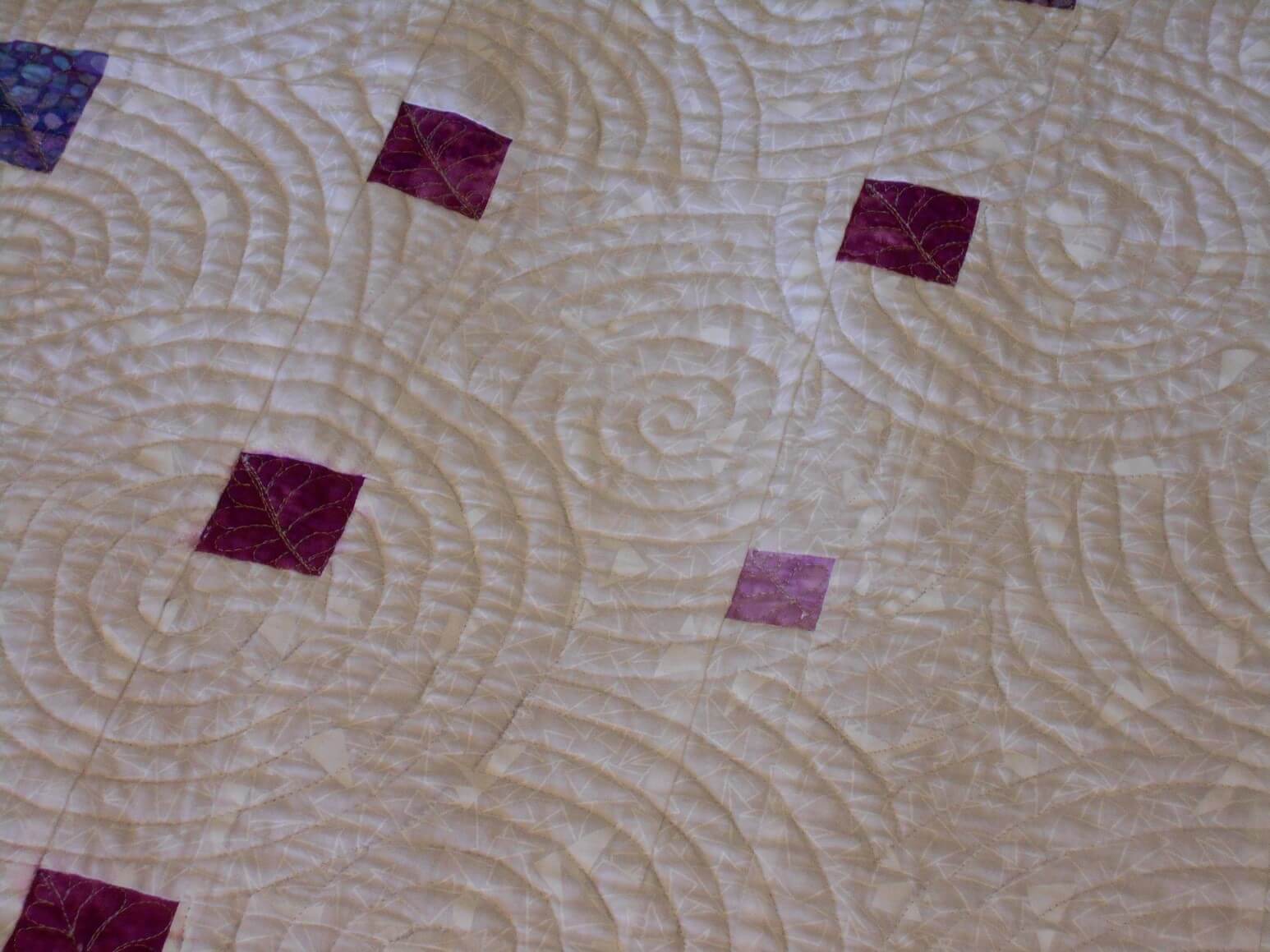 Marketing is taking on a different feel, what with the big move coming up the end of April. We are planning a large tray marbling session the end of February, for specific orders and also to load the Etsy shop for a bit. So I need to get a newsletter done and out. I am beginning to research guilds and shops in New England and the mid-Atlantic for marbled presentations – would love to work out one a quarter. That said, I need to look at marketing materials. I have a couple of places I've used, but I like to have a wide variety, especially since many of the online resources do good sales.
As a side note – I finished my NOVEL! Now it's time to activate the site for the novel and all things related to it. So this becomes a priority, as well as  my digital work initially for art, and to that end I am looking at some new ways to market. What's nice is I am planning that whatever print materials I need, I will need them for both the book and the artwork. So I've been searching the web looking for sites that offer printing. I stumbled on this one today, and I want to put it out there for you to check out. Sometimes it just helps to have back-ups and new sites to use. Printing Peach(http://printingpeach.ca/flyer-printing/) is both in the US and Canada, so that is nice, given we will be two hours from the Canadian border! Check it out and let me know what you think, especially if you've used them! Here's a sample of what they'll do: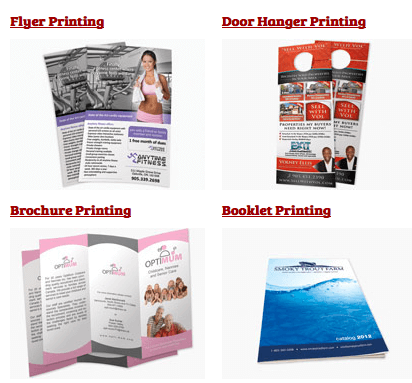 Concerning the digital work, one of the "must-do's" before we completely pack up is get a new external hard drive to back up this computer, especially since the hard drive program I had for the old computer (3 years ago….) won't work with this one. So along with have the Apple Store wipe the hard drive tomorrow, I'm picking up 1 terabyte of memory….who knew? I/m going that large because of all the digital work I've done so far, and all the photos, and all the many layers of work – you get the idea. The digital piece is going to become important, so I don't want to lose anything.
It is a glorious day today in the desert Southwest, much like June in Vermont. We are prepared for the snow and cold of January, but there are so many advantages to moving back to a more rational state. The politics of Arizona – and the dwindling water supplies – do not make this a sustainable state. Plus, we're both New Englanders at heart, and I really want to walk the Atlantic coast again. So let the packing begin!!
Lots of thoughts kind of rambling through the head these days, main one is that my novel IS DONE!!! (Insert happy dance!) I've set up a page through webnode.com to talk about various items related to the politics within the novel, as well as things I've discovered in writing fiction. I'll post it when I'm ready to reveal it for comments. In the meantime I have my last round of editing to do, and then it's query letter to literary agents. I rethought the ending at least five times, and then I said start writing and see what happens – let the characters talk to me, like they have been doing the whole time.
Another activity has been planning and packing for our move back east. I need me my four seasons! Since I'm retired, I don't have to go out in the bad weather! We will need to revise how we shop for food, as in the winter months we need to be prepared for days inside. This has all led me to thinking about places to travel in the winter. We may just hop Amtrak to come west during a cold January. I've started surfing, and I stumbled on this site on Costa Rica- a place on my bucket list! One look at this place and I'm ready to pack now! Give me the ocean, water I can admire, some unique things to do, and a great place to hang and I'm there!! Las Ventanas del Mar – the ocean view looks spectacular!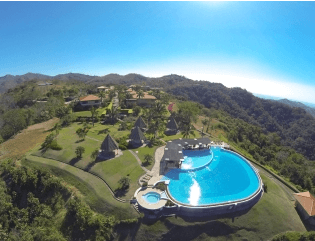 The packing for this cross-country move has been interesting. We are downsizing even more from our previous local moves, planning on replacing some furniture when we find a new apartment. I realized my hutch wasn't important, although I love it – it's the mementos inside from years of being together. Today we donated tools, stationery, and other odds and ends to Live Theater Workshop, which has provided many years of enjoyable theater experiences. The best one to date has been "The Complete Works of William Shakespeare (Abridged) Revised." Loads of laughs and great visual gags. All 39 plays in 90 minutes!
All the art stuff – books, supplies, finished pieces – that's what is really important, and they will be packed about two weeks before the move. I don't want to look at empty walls and not be near my sewing machine for too long. Which brings me to another thought – Malcolm Gladwell's 10,000 hours. If you are going to be a professional and really great at something, you need to put in 10,000 hours of practice. I am so far from that! But I will say that the past year has definitely improved my free motion quilting and design skills with the amount of time I've been spending on my art. My days have settled in to a nice routine, and I no longer worry about keeping track of what I accomplish each year during retirement. Yoga, writing, sewing/quilting, sketching with pen and ink, walks – a very nice schedule!