Archive for the 'linen' Category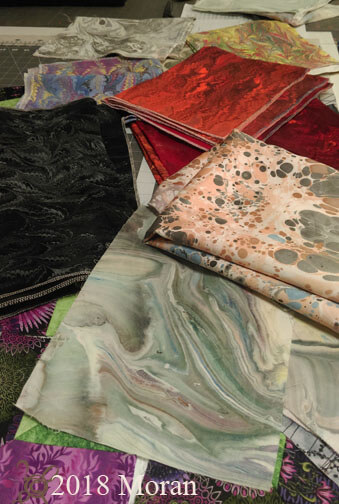 I finally decided yesterday I had to make a major list/inventory of all the "wannabees" or "in progress" art pieces. What follows is what was available in one drawer and the top of the storage table. The left has four amazing pieces of Kona cotton for a volcano series, plus the dotted brown piece is another half-yard unpolished satin for another river rock piece. Below is the current purple piece, plus some black poly-linen for art pieces and below that is a piece of silk done att he bottom of the marbling tray – it's now a very large digital piece, but this one still exists for me to do something with it….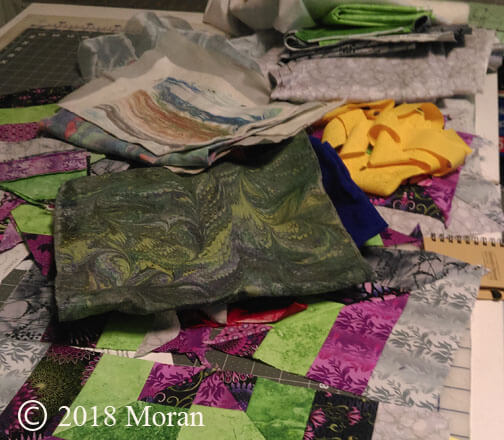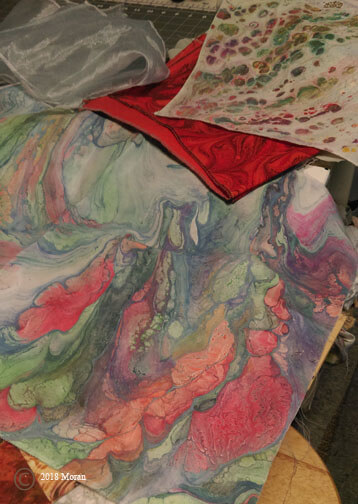 Now for the list once I had evverythingout and listed:
Mardi Gras lap quilt, silk FQ Botabical, small strata, orange cotton strip, cotton left-over pieces, black-purple poly-linen, greenish denim, clam shell black, blue ultrasuede, purple silk, green silk, 3 black linens, black chevron, brown silk, volcano (4), 3 FQ left-overs, 8 x 10 leftover, circular left-over, yellow linen, large black poly-silk wave pattern, purple-yellow silk, applique pillow top, Guilin (in progress), Wetlands 2 (in progress), wouthwestern pot hanging (in progress), iceberg hanging (in progress).
Then it was thinking about "balance" in the various shows coming up, so I decided the place to begin is with another large wall-hanging – Mardi Gras. In progress pictures…this is of the first step, arranging strips light and dark – from four sets of purple strips I bought two years ago at Keepsake Quilting, just for this.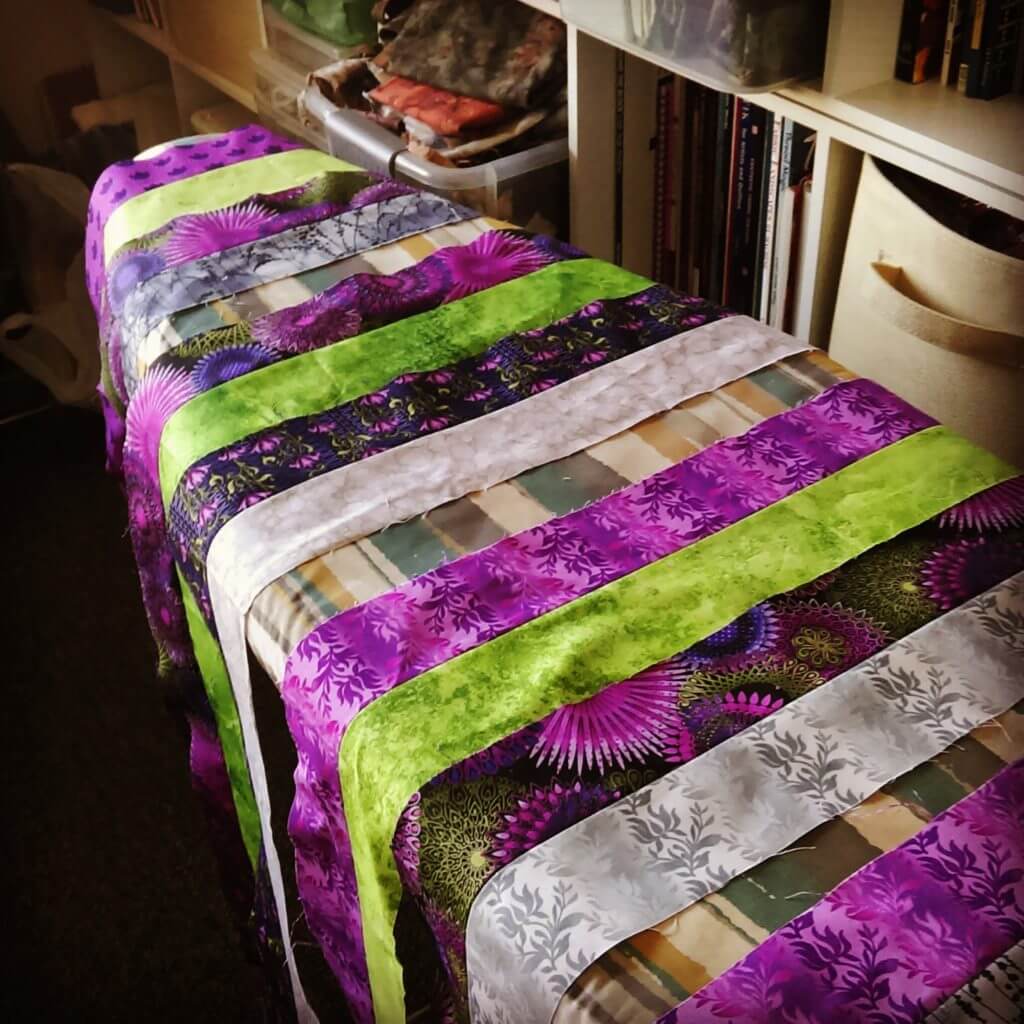 I had 25 blocks with dark on the outside, and 25 blocks with light on the outside.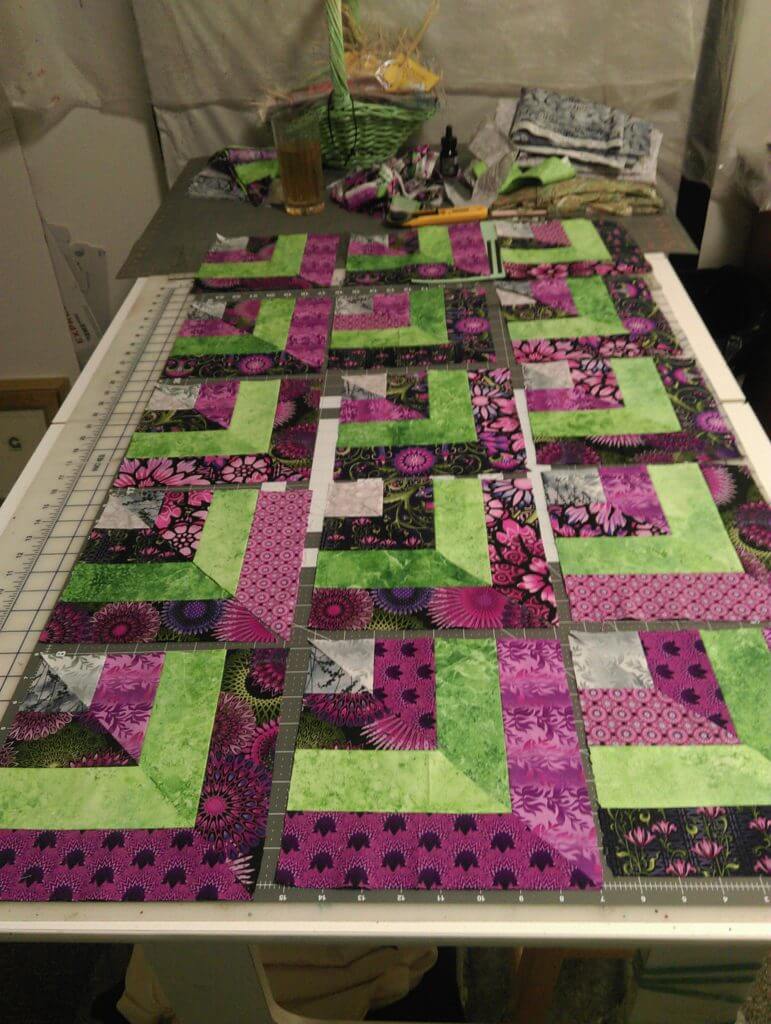 This is the center block with the purple dark as the border – I felt it emphasized the purple and decreased the brightness of the grays.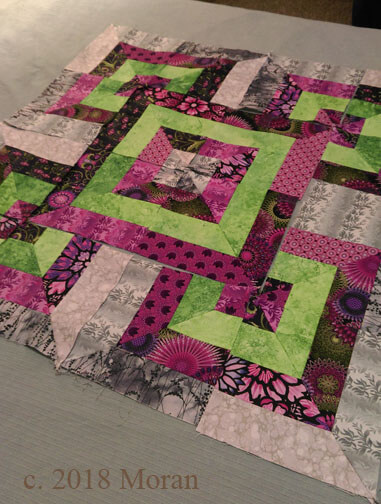 Almost the whole layout completed – blocks and rows are numbered and ready for the bext step of sewing them into a finished top, then deciding borders – I already have a quilting design in mind – lots of concentris overlapping circles to offset all the straight lines, and in gold thread for Mardi Gras.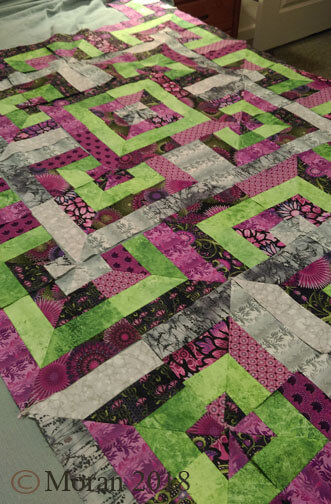 Lots to do betweennow and end of March!
PS – there are four items on the "need to do" list by fall – not for shows….

I've been sewing a LOT on the commission that needs to be done before I can move on to a couple of other projects. I am finding that setting specific number of times for sewing each day, as well as assigning specific times, is helping me make progress. Hopefully next Wednesday you'll see the finished commission.
In other work, we're experimenting with Margot Bianca, a batik artist we met at La Conner. Here's her Etsy store. We traded a batik for a marbled fabric. Margot will batik on top of cotton that has already been marbled. We are going to marble on top of a piece that is already had wax. Here's initial results. This first is the original batik and the marbled batik (we just did a small piece). I personally like the effect, and I think we could do some interesting combinations together.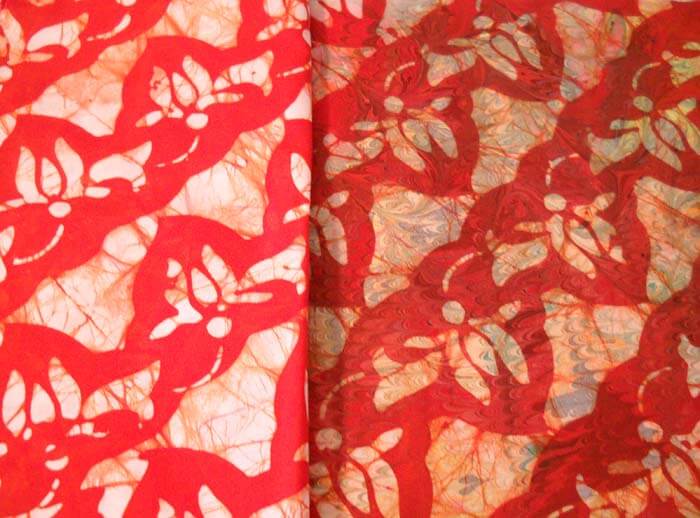 Here's a close-up of the piece after marbling.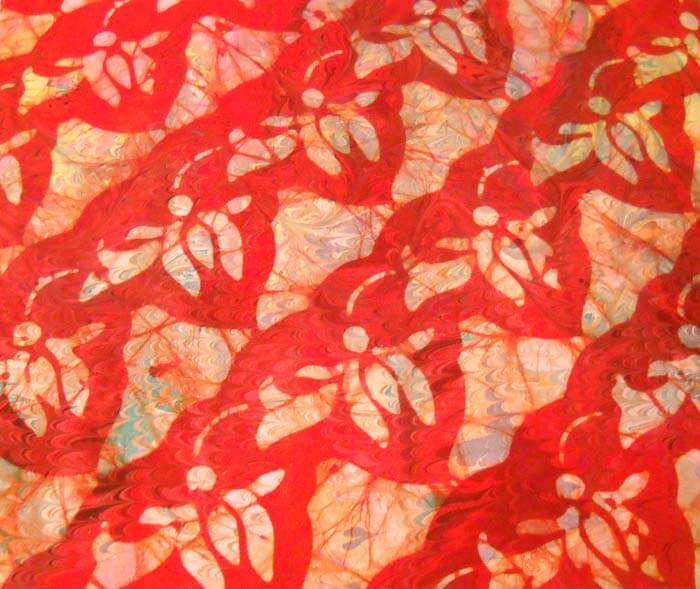 And…since I haven't been working on Photoshop lately, I just had to play around with a couple of filters – there are a lot of possibilities for art cards…..here's an inversion.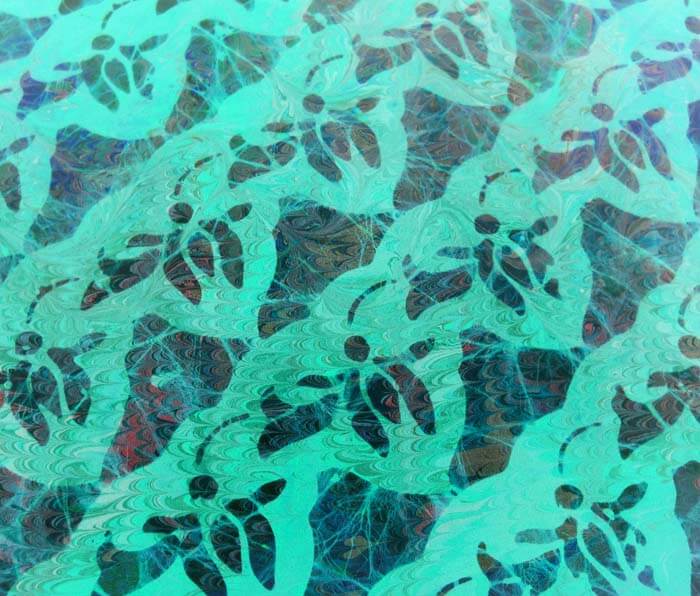 Here's a half-tone: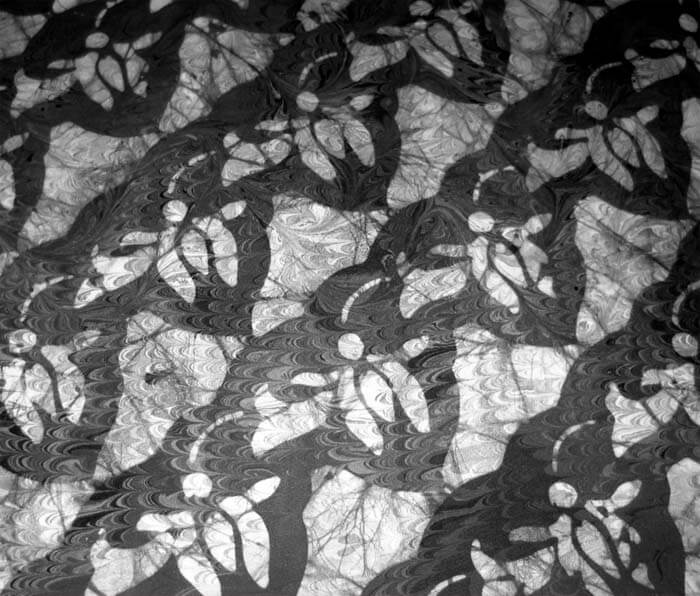 This one is poster edges.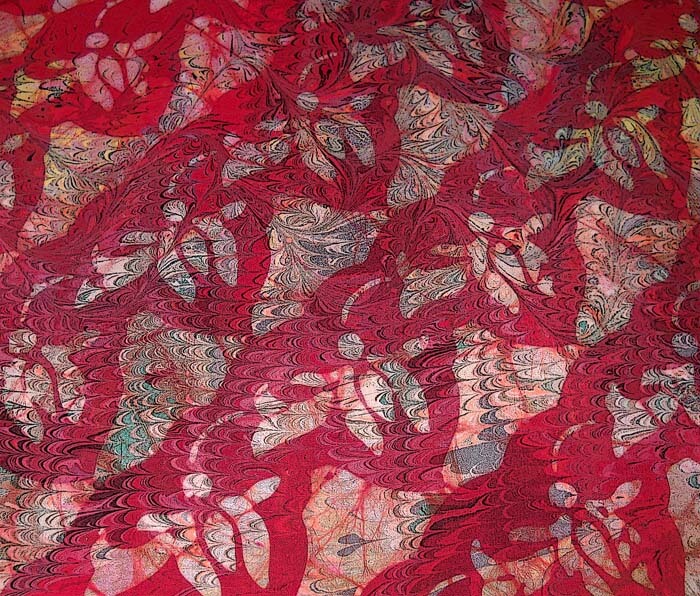 And now for the emboss: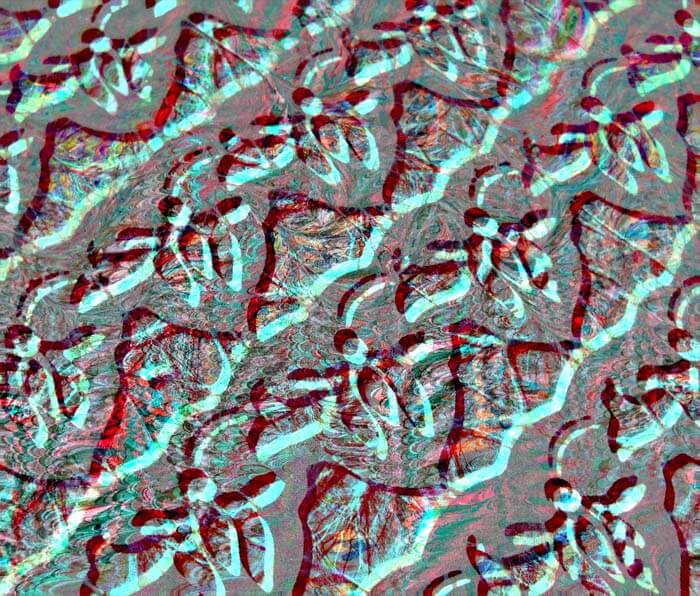 The other batik experiment is with a piece of linen that just has wax on it. I'm still working on ironing out all the wax……For this piece I think the marbling pattern needed to be more complex than just a basic stone, but again, I think there are possibilities.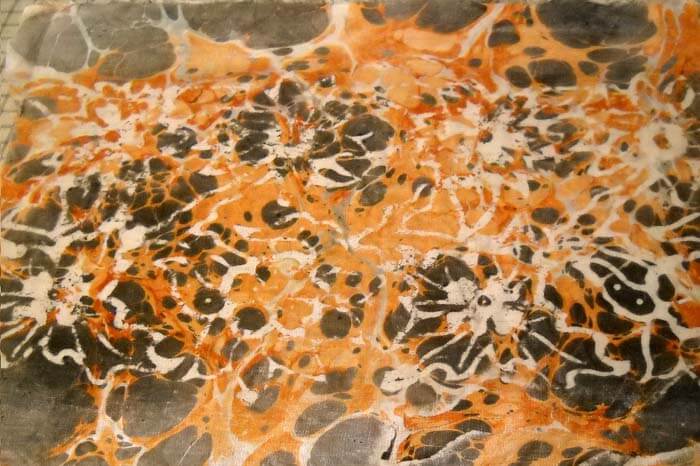 Now waiting for batting and backing is the very beginning of my "depression" piece….which has a general idea, and it will speak to me as we go along.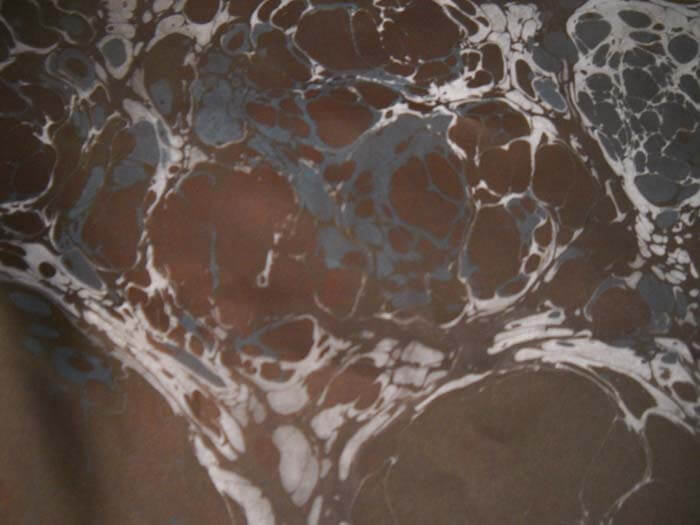 This is an unpolished black satin.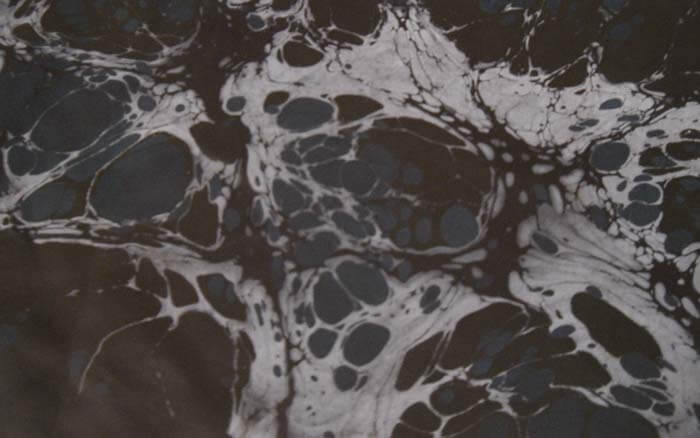 Hopefully I will have a bunch o' stuff next week!