Archive for the 'pottery' Category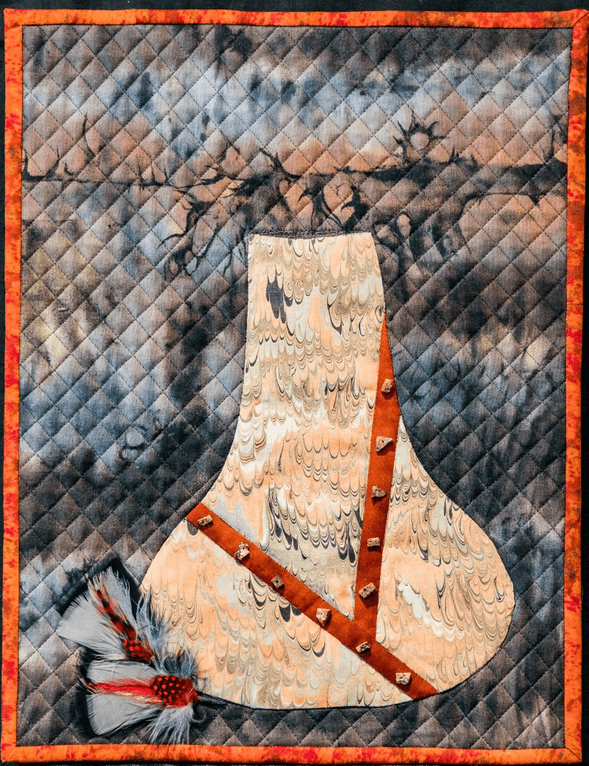 I am, not as so focused on completing stuff on my weeks' lists, since I realized I can't be a slave to getting everything done and yet not get to the important stuff – art and writing.  What I realized is that I have to revise my "self-care" list to include a minimum of two hours on art-making each day – that's what is truly important for me this year. Art during the day, writing at night – or some combination thereof….
This piece at the left is the companion to the bigger piece – my ever-present "pot quilt," started some 15 years ago. I really like how this piece came out. Simple yet elegant, just like southwestern pottery. This is "Sonoran Dreams 2." I also have a lot of the "pot" fabric left, as well as come of the original fabrics when I started this, so I see a small series coming along this year.
The pot quilt started initially because of the marbled fabric. As soon as it was out of the marbling tray, I knew I would make some southwestern pots. I started some (what has now become) improvisational piecing – just making it up as I went along. I had two panels done and together, and the pot in the above piece appliqued. I really liked how it looked all these years later. I was on to something at the time and didn't realize it. Finishing it just fell together – all my sewing/quilting skills had really improved, and it was easy to pull it all together. In progress –
This is the very beginning from 15 years ago, just beginning the piecing, and at the time absolutely no idea how to quilt it beyond stippling.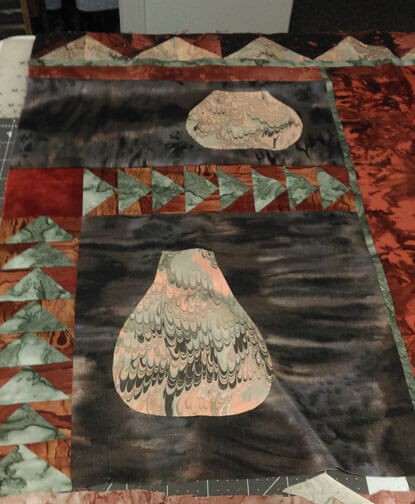 It's missing the bottom row, as originally it was going to have several more panels. I've moved away from wall hangings that just "hang" from a rod and have moved to mounting them on canvas. I saw no need to make this larger, and the extra pot would become its own piece.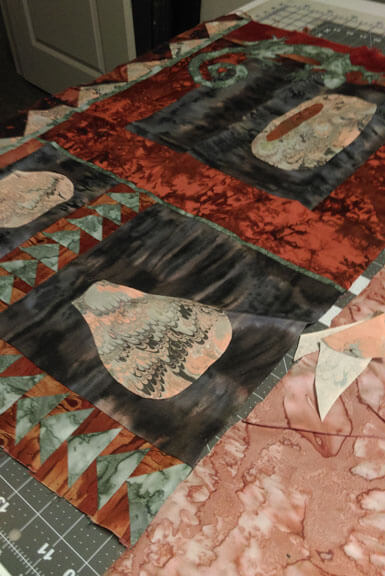 The other side – oh, how I would do the lizard differently (and I will in some other wall hangings), but I do love the "rawness" of this one.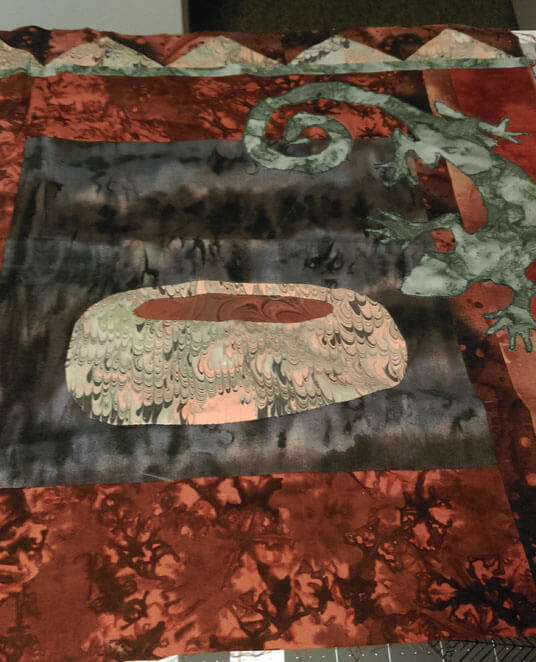 First I started with some straight-line quilting to make the triangles "pop." I really like that effect, so I decided to do the top and bottom borders that way.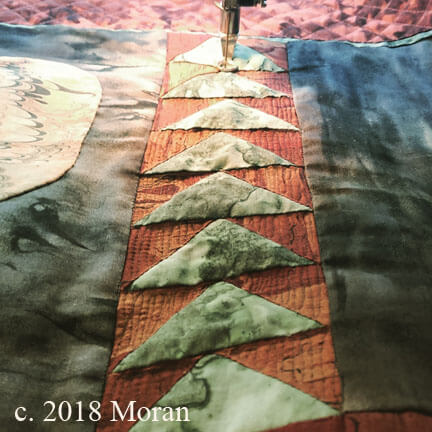 The pot with only outline quilting.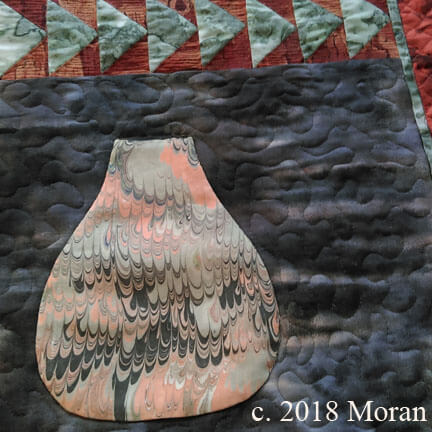 From here I did the gridlines in two places, as it reminded me of the stucco you see throughout the Southwest.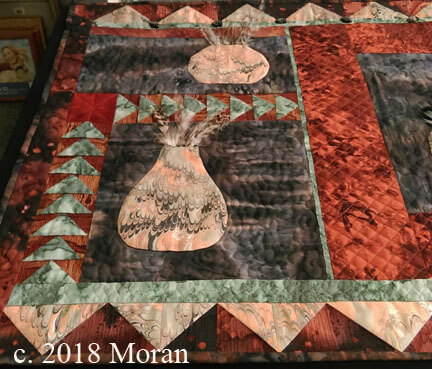 Originally I was going to quilt the lines in the pots but decided that would detract from the overall design, so I outlined the pots and stippled the background. A shiny rust thread used in the stucco, and invisible smoke thread in the stippling – I just wanted texture there.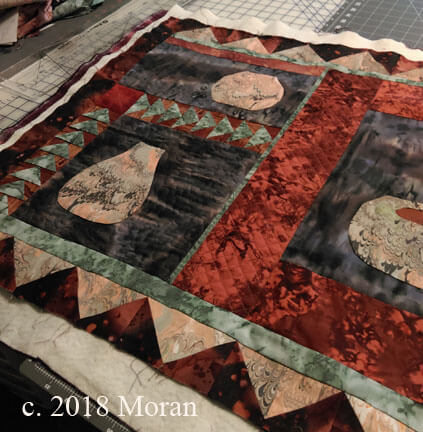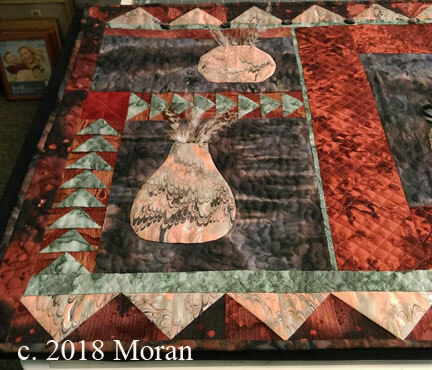 Now there was the other side…couldn't think exactly what I wanted to do for the longest time. Using invisible thread again, I outlined the lizard to make him stand out – did it twice (next time I'll try a double needle – should be much smoother).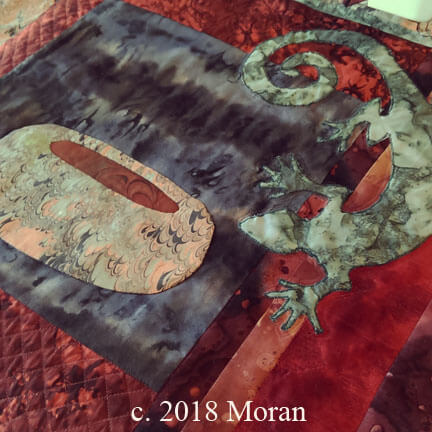 I outlined the pot and did the stippling in the background again. That just left edges – did a triangle motif in the medium brown and then attached some agates for emphasis. I LOVE my stash from the Tucson Gem Show – every year I would go with some specific types of stones in mind – mostly earth and water tones for future wall hangings.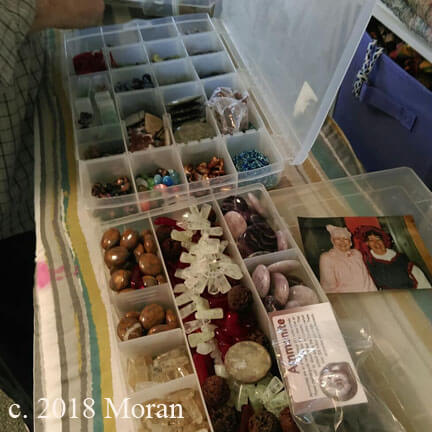 You can see the agates on the right side, and there are bear fetishes across the top green strip.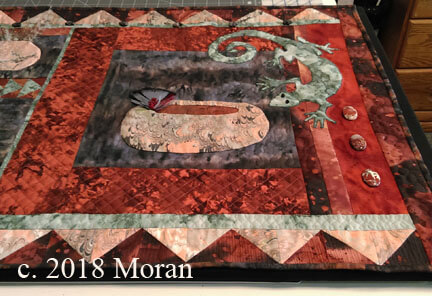 Starting the grid lines on the companion piece.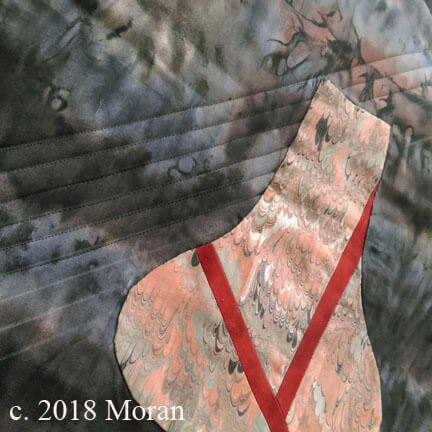 And….ta-da….."Sonoran Dreams"
Photography by Melanie Bishop



I finally remembered the digital camera today, so I could document some of the kids' work, as well as take pictures of my art room. We still have a lot of work to do, with finishing cleaning and storing, but we are making progress! You can see all the windows, with some really great northern light – this is this morning about 9 AM.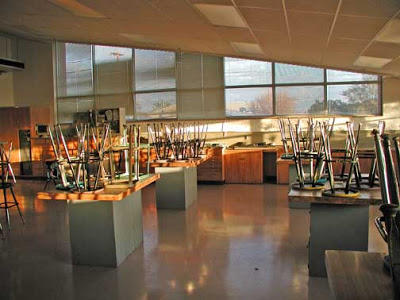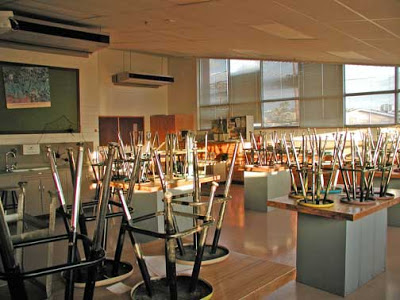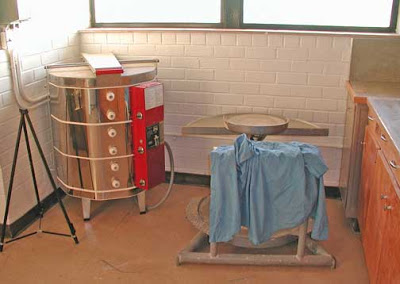 You can see the clay room, with the wheel and kiln. I don't know how to use either of them, so I have incentive to learn how to throw a pot.