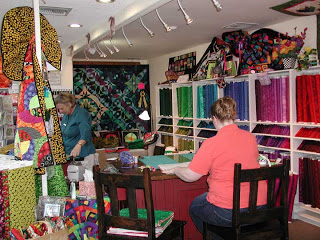 My most favorite quilt store in the country is the one right down the road from me:
Quilter's Market. The folks are great, very friendly, and love anything to do with quilts. They also are masters at marketing. They are going on four years of Stripper's Club, with a different quilt each month (except Decembers) using 2 and a half strips. I'm working on the one from September, and I just started a new class with them today – Stepping Stones from a Judy Niemeyer pattern. When you walk into the store, you are surrounded by color and incredible quilts. I walked in to see this new one today, and I immediately signed up for the class. I have wanted to do quilts like this for a long time but never had the nerve to start it completely on my own, even though most of my skills (including marbling) are self-taught.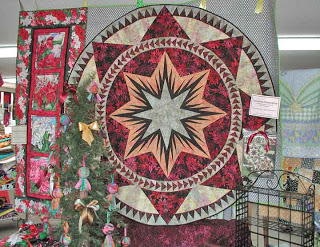 Even though I design my own quilts with our marbled fabrics, I still like taking classes. I go with my friend Michelle, and today I met another teacher friend I hadn't seen in 9 years or so. I do enjoy the energy and company, plus I like learning new techniques. I can see eventually designing a pattern to use some of the "sea" marbled fabrics I have.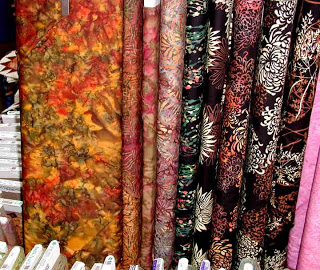 Batiks galore – even though one of the "chains" said batiks are seasonal. I could spend a small fortune on adding batiks to my stash. And everywhere you go in the store are samples – a very generous class schedule, with literally something for everyone!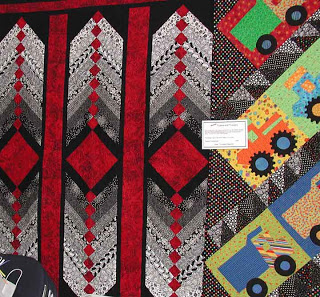 I am working on a class called Stepping Stones, a pattern by Judy Niemeyer. I browsed her website a little bit ago, as I want to buy some additional foundation papers for this quilt; I want to make a full queen for our bed, and I know if I leave it to myself to quilt, it ain't gettin' done…I'm planning to send it out for quilting.


We spent today's session sorting and determining color combinations. Since I have a bunch of unfinished quilts at this point, I really didn't want to spend more money on three sets of Bali Pops, so I decided to make the "stones" exclusively out of my stash. I discovered my color eye was kind of failing me, and I was regrouping fabrics to make them better work together. At this point I don't know if the quilt will be a subtle as I am wanting. Only sewing will tell….
I'm not sure I can get 36 blocks done for next Saturday……
I was so busy with school work last night, and it made me realize how much I was missing being in the art groove. Now that I really am committing to the practice, it is becoming tough to not do art when I get home from school, especially since I am really enjoying these zentangles. So here is day 5, but I have a whole 3 days planned with art – quilt class tomorrow, Sunday at an art fair, and Monday with our mixed media artists' group. So I should have plenty to make up for missing last night!
Here's tonight's zentangle. I really like it. I actually erased two little sections from it when I scanned it in, as it seemed too jarring to the overall effect. I had to force myself to stop, as I was liking it as it "was," and I was afraid I would go overboard and ruin the effect.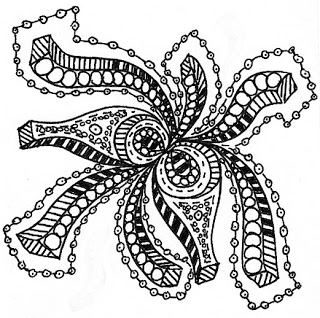 Of course, I had to see what I could do in Photoshop – I am learning a few new techniques and shortcuts. When I did the inversion, I REALLY liked the white on black.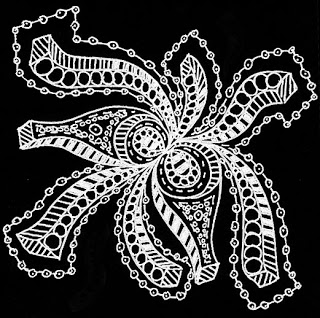 I decided to work with the inverted version and started adding colors and using both the embossing and gradient styles.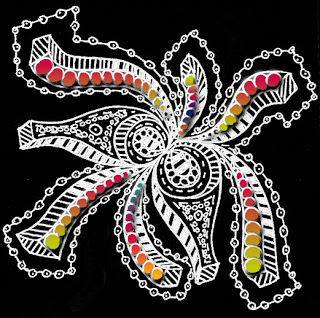 Here's what is finished so far. I will probably leave it at that, although I think I may do a little more playing around – until the new zentangle, that it!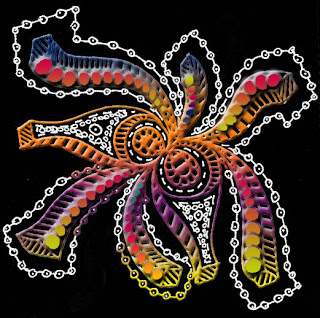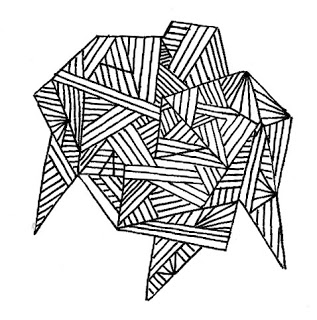 I have loads of papers to score tonight, and an observation to prepare for tomorrow. But all day all I have really wanted to do was play around with another zentangle. So I did – and am….I tried for "less dense," this time, focusing in on straight lines only. I am pleased with how it came out, as I realize I LOVE working in black and white pen and paper. But…I still couldn't resist playing with the design some more in Photoshop….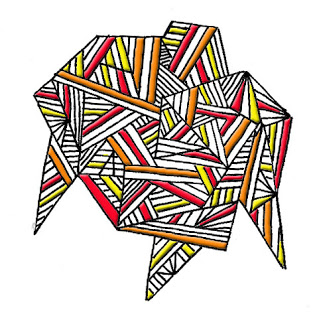 With this one I started out trying some bright colors, but I didn't want it flat, like yesterday's…so I played around with some layer styles. This first is just some embossing.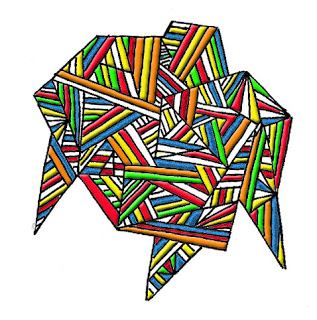 I'm adding more colors here, and several have an "inner glow" effect. Combined with the first effect, I started seeing rods of clear colored glass, almost like a mosaic. So I continued until I had everything filled…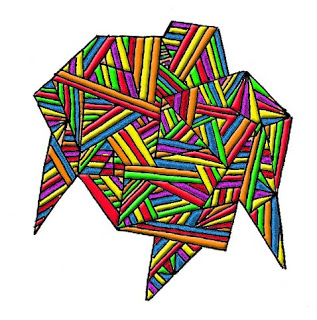 Overall I am very pleased with the result, but as I mentioned two days ago, I am truly enjoying making the original zentangles. Definitely meditative and calming, especially after a hectic day at school.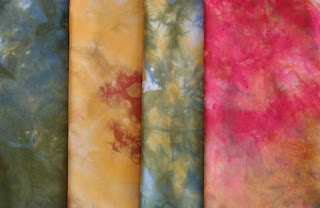 Because of the pressures of daily teaching and correcting papers, I made the decision on November 1 to THINK ART every day, so on those days/nights when I was busy with school work, I would still treat myself to viewing some art. Now, that said, most of the art I tend to look at has an interesting math connection. Herewith, some interesting things I've found on line.
Chris Jordan does some very interesting photography work. You really need to take the time and look through all his exhibits. I am particularly fond of his "Running the Numbers" series. Here's what he says about his second series, Running the Numbers 2:
"This new series looks at mass phenomena that occur on a global scale. Similarly to the first Running the Numbers series, each image portrays a specific quantity of something: the number of tuna fished from the world's oceans every fifteen minutes, for example. But this time the statistics are global in scale, rather than specifically American."
2,300,000 number of adults incarcerated in US prisons.

A Seurat masterpiece (Sunday in the Park)done entirely in soda cans.

Depicts 2.4 million pieces of plastic, equal to the estimated number of pounds of plastic pollution that enter the world's oceans every hour. All of the plastic in this image was collected from the Pacific Ocean. You have to check out the website to see the close-ups of this.


Fractals are a relatively recent development in mathematics and art, thanks to computer programs. Fractal eXtreme is available for purchase, but just check out their gallery to get an idea of how gorgeous these are! And now…I just discovered a web ring of infinite fractal loop – I know what I'll be doing when I'm not grading graphs tonight….
This is from the Number Theory Room of Linas Art Gallery. I don't even presume to understand the math involved….

Just enjoy!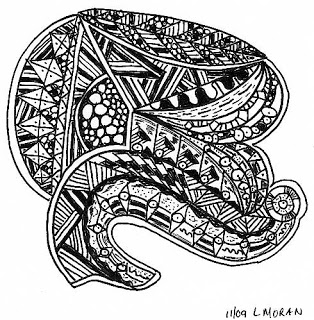 I have always been taken with black and white. When I was a teen, I did a lot of pen and ink (the kind of pen where you had to load the ink). Talk about an unforgiving medium! I am using some Pigma pens for these zentangles, and it feels like it did some many years ago. Granted, it's just another form of doodling, but I do like the formality of it, the deliberateness…..and I like being able to play with my finished square in Photoshop. This top one is my new attempt today – I obviously like very dense designs, with not a lot of white space. It will be interesting to see if I "lighten up."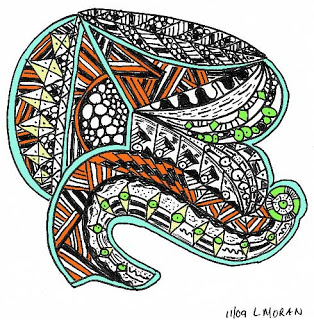 Somehow with this new one, I didn't want to try gradients – I decided to drop color. Whoa! A whole new way of working!! I could never have done this with pens….and now I am hooked again. What follows above is where I started….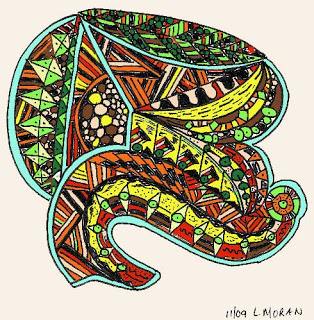 …and where I ended up. I can see all sorts of possibilities with dimension in these, but I must say I love the black and white drawings just as they are.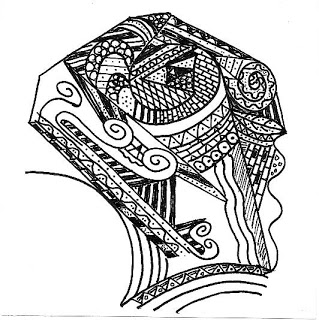 I joined Art Every Day Month, the art answer to NANOWRIMO (National Novel Writing Month), and I had been thinking of doing something like this for a while. I decided today would be a good day to start my Zentangle. This is an interesting site – very zen-like meditative doodling, and I have to agree – it is very meditative. I spent an hour with my new pens, and what you see to the left is where I stopped to take a pic before continuing.
The idea behind Zentangle is "one stroke at a time." I waited till I bought some new pigma pens, using a 3-year-old gift certificate from one of my students. I bought several widths, and I'll continue to experiment with them all. This first one is pretty dense, and I want to do some that are not nearly as detailed. But this is definitely fun!
Once I stopped to take the scan of this one in progress, I decided to try some filters and such in Photoshop. This could be an amazing way to look at new digital art. Here is the above partly-finished one with a marbled pattern behind it – looks pretty good for a start.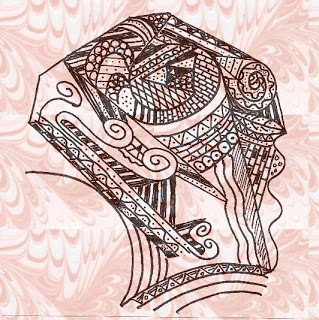 Now here's the finished Zentangle, along with a couple of adjustments – a marbled pattern behind one, an inversion to black, and a gradient to totally change the colors. I think I'm hooked!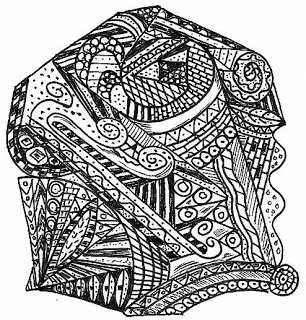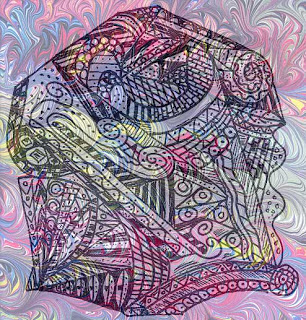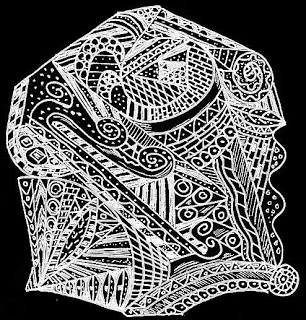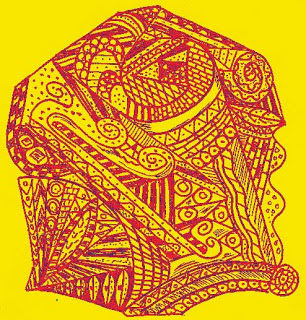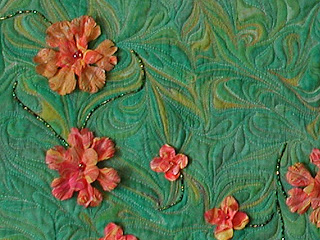 I'm looking at a really beautiful sky – dark cobalt at the top, three-quarter moon up high, a great orangey-purple at the horizon, moving up in stages to the cobalt. Didn't last long, but really gorgeous.
I've had a great week at school. I so do love my teaching now. My students went from fighting me on showing steps for simple equations to accomplishing the distributive property three-step equations today, with one student actually saying, it's a good thing you made us show our steps. Two and a half weeks on basic equations, and they are flying. It's the best feeling!
Distributive Property Day is Saturday – if you missed the post, you can click here. This whole idea of "sharing is caring" is working really well in having the students remember exactly how to do this type of equation. I've got candy corn for us during quizzes tomorrow, so we can celebrate a day early. I plan to dress as a "dryer." Lint, dryer sheets, and mismatched socks for my costume. The kids already know I'm a nerd…..
Over the last couple of weeks I've found some great eye candy on line. Here's a sample so you can go exploring yourself.
Kevin Van Aelst is an interesting digital artist. I'm particularly fond of his math images – food and math – very clever! Here's two samples of the many pics on his site.


The periodic table in gummy bears – gotta love it!

Country Channel TV has a series called Talking Threads, out of England. I've watched three episodes: interviews with an artist, and then a demo. Watched Jill Kennedy silk artist tonight, and now I gotta tell ya I HAVE to do some silk painting! She makes it look so easy (but I truly understand that to be great at something doesn't mean it's easy).
Zentangles are something new to me, but very cool. I am in the process of trying to do one. Suzan and I are going to trade at Thanksgiving. I'll post pics as I finish – right now I am looking for a couple of new pens.You really need to visit the web site and look at the samples to get a really good idea. I'm thinking there are a lot of quiltart images to be created with the zentangles. Here's a quick blurb from the site:
"Zentangle is an easy to learn method of creating beautiful images from repetitive patterns. It is a fascinating new art form that is fun and relaxing. It increases focus and creativity. Zentangle provides artistic satisfaction and an increased sense of personal well being. Zentangle is enjoyed by a wide range of skills and ages and is used in many fields of interest. We believe that life is an art form and that Zentangle is an elegant metaphor for deliberate artistry in life."
The Mannahatta Project is a look at Manhattan island as it once was, back in 1609. There are lots of images and renderings to get an idea of the changes this island has undergone. You could spend HOURS looking through this site. Great idea if you're teaching science or history. Here's a quick sketch of putting Mannahatta back together again:




A Little Imagination and a Pile of Junk is another blog I discovered – this is a tutorial on painting a paper towel. I found this interesting because I was cleaning up after myself when I was dyeing fabric and really loved the colors on the paper towel. Turns out I don't have to throw the towels away! The key is ironing – you can check out the full tutorial – it's amazing what one can find on the web!

All in all a good day, with lots of new art on the horizon, people I enjoy reading every day, a hubby I adore, and a day closer to the weekend! May you love what you do!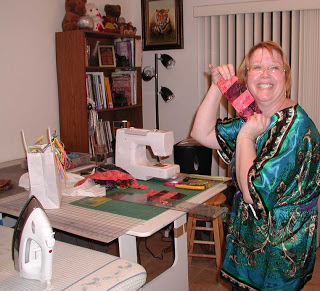 Michelle and I manage to complement each other so well – we really are the Sarcasm Twins. Every time we hit the quilt store, Michelle ends up spending money – well, so do I but a lot less…most times….except for the time I bought a whole bolt……
Anyway, after our first foray together, making fabric bowls a year ago, we decided to go to Strippers' Club, and Michelle REALLY caught the quilting bug. So Monday nights are "learn to quilt" night at my place. Learning to use the rotary cutter, she started in on her first quilt. Lots of laughter and sarcasm and helpful hints (at least I think they're helpful) – and I even got some work done.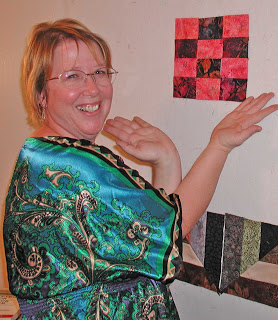 Use the design wall to see how strips are working out, and then careful lessons in pressing – not ironing…..ask me how I know the difference – this new quilt I think will not have stretched at all….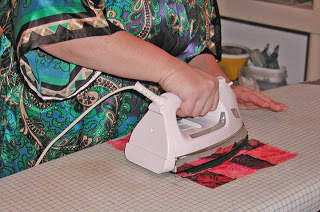 …and a finished product! One block down and 19 to go….stay tuned for more next week….another convert to the world of fabric stashes!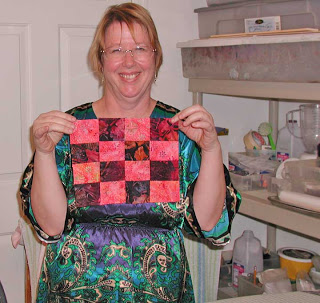 Speaking of stashes – I need 140 strips for the new quilt class in one more week, so I have been ransacking my stash for a scrappy look to this new quilt – behold the 80 strips I have cut so far….and lots more to go through……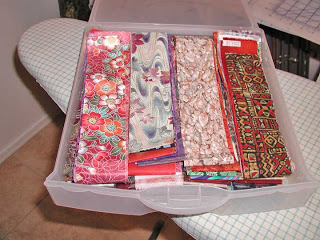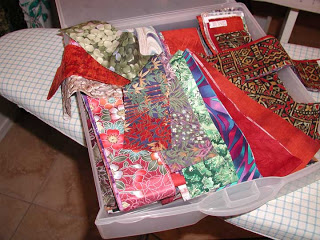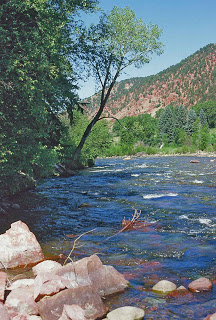 A trip down memory lane tonight…as I have been cleaning and reorganizing the studio, I am slowly taking 30-plus years-old slides to Walgreens and having them put on CD so I can actually look at them. We rotate the pics on the computer screen saver. The top is a pic of a picnic area near Aspen when we traveled through Colorado one summer. It was such a gorgeous spot.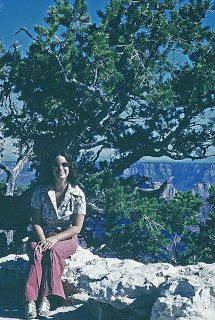 This was our first trip to the Grand Canyon – we left Phoenix one morning and drove to the North Rim – no reservations, no sweaters – figured since it was over 100 degrees in Phoenix, it would be hot at the Canyon – slight miscalculation…. This is some 30 years ago, and while we've been back to the Canyon, we haven't yet gone again to the north rim. As I look at the photos again, I am reminded about issues of pollution at the Canyon; our visit a year ago was much less "bright" and "clear," due to pollution.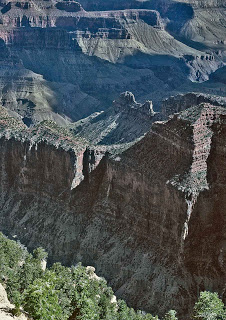 Visiting the Grand Canyon is a must for every one, and if you can go the way of the North Rim, you go through the Painted Desert, the Vermillion Cliffs, and absolutely incredible meadows. You can just watch the development of the earth through all the visible layers.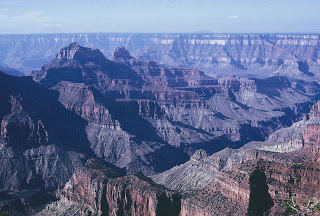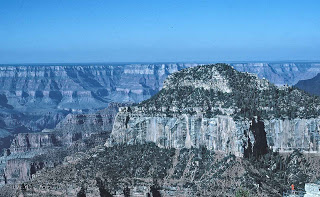 These pics were before I learned about the advantages of morning light. My shots from a year ago reflect the oranges and reds more, but the afternoon light brings its own beauty – lots of shades of blues. See the person in the bottom right? Puts the Canyon in perspective….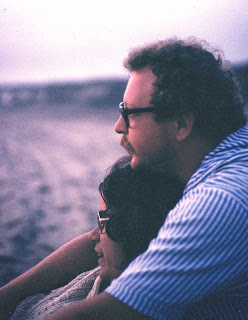 While we have never had a lot of money, we have been lucky enough to visit many places in the US, usually on a shoe strong, with the only memories our photos. This is of me and hubby on the beach at Kitty Hawk, NC, taken by friends of ours who were visiting from Vermont. We spent many weeks over the years on this beach, in the waters, taking the ferry to Ocracoke Island, and clamming/crabbing in the bay.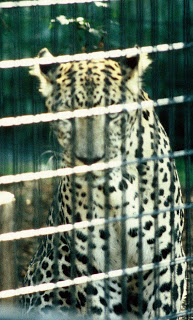 When we first moved to Phoenix after we got married, we ended up taking a short honeymoon trip to San Diego and to the zoo, where we were up close and personal with one of the tigers.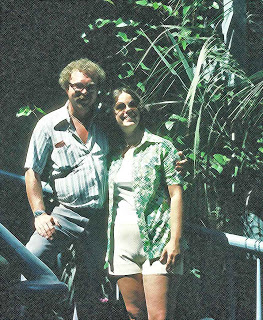 Friends snapped this of the two of us at Disneyland. We don't have a lot of pictures of the two of us – hubby with all his hair and me a much thinner person!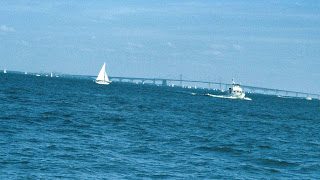 We loved out two years in Maryland – Ellicott City. We would take the bridge from Annapolis over the bay to the Eastern Shore. For my 40th birthday we took a cruise on the Chesapeake to little St. Michael's Island. You can see the bridge in the background.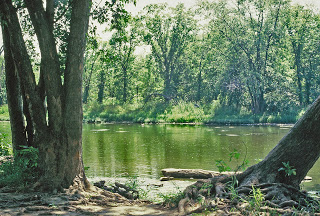 This is of the river flowing through Kankakee, Illinois, south of Chicago, when I joined Dean on one of his jobs. We picnicked here a couple of times while he was finishing that particular job.
Coming tomorrow – our very own "girls' night" quilting!

This is a different post, based on some of the reading I have been doing. It started with Michael Pollan's The Omnivore's Dilemma, all about where our food is coming from. I've started looking at farmer's markets to get truly fresh produce. What convinced me that we all could be eating so much better were two incidents in orchards. One years ago at a Maryland roadside stand, where the peach was the best ever, and the juice just dripped down my face and hands as I devoured the fruit. The second this summer at a farmer's market, where I ate a tomato – and was stunned at how good it tasted – NOTHING like what I would buy in the grocery store.
Pollan was very detailed as he described the typical meal from the grocery store, and how so much of what we eat is as a result of a corn derivative, that really isn't helping our family farms. His second "meal" looks closely at the organic farms, and it is an eye-opener. The amount of science a farmer has to know to create a working, sustainable farm is nothing short of staggering. Having this information makes you look at the grocery store in a very different light, wondering about our role in the "food chain" that we are accustomed to now.

I have been wanting to buy Barbara Kingsolver's new book Animal, Vegetable, Miracle, about a year of living off the land. Since I have become very interested in what I am eating, and where it comes from, this seemed like a good choice. I love Kingsolver and was sad to see her leave Tucson. But I certainly understand the reasons – Tucson is not a sustainable city…we're at the end of the water line from the Colorado River, all our food is imported, except for the few farmer's markets springing up, and there's no manufacturing or basic farming left (cotton isn't edible, last I checked.)
I love Kingsolver's work. I first read Small Wonders, a series of environmental essays that really pinpoint what we are losing in our natural world. From there I read High Tide in Tucson, essays particular to Southern Arizona. I cannot go down to Bisbee and Sierra Vista without looking at the San Pedro River, dry now, but a few years ago was still flowing well. We are losing our riparian areas here in Arizona at a very rapid rate.

Back to Animal, Vegetable, Miracle. While Kingsolver travels some of the same roads as Pollan, she delves more into agribusiness and corporate control of what we eat, what we plant, and what we buy for seeds. To say I was shocked would be an understatement. Corporate greed is driving the food business, to the extent that farmers are being sued if seeds developed by Monsanto and carrying their patented genes land on the farmers' fields and germinate. (The Strange Case of Percy Schmeiser, p.50) I had to reread that section to be sure I understood it completely.
"Garden seed inventories show that while about 5000 nonhybrid vegetable varieties were available from catalogs in 1981, the number in 1998 was down to 600." (p.52) And I'm only through 6 chapters, so I'm sure you'll be hearing more about this. For someone who studied history and political science, I am amazed that I continue to be as naive as I am sometimes.
In the meantime, if you're interested, here's a couple of sites from Kingsolver's book: Biotech Info, Organic Consumer's Association

Kingsolver's works are beautifully written. Each of them can be found by clicking on the Amazon button on the right. Enjoy her beautiful words and her heartfelt messages in her essays, as well as the underlying themes in her fiction. She's worth rereading lots of times.

Not a bad day for a Monday. New marking period begins, cracking down on tardies (especially for my morning class), and working on basic equations. All my class averages are over 80%. First time ever I think that has happened. I'm really proud of the work my students are doing.
Brought home one set of papers, as I want to continue with sewing tonight. I did some rearranging of furniture over the weekend, and now all my art/fiber books are sorted and close by in the studio. I think I will start cutting my 100 strips tonight, in preparation for the new class. I do have some fab fabrics – I'll take a couple of pics tonight. But I am still fighting the urge to go buy more fabric……I love bright colors!
So my kids aren't buying the "math holiday" on October 31 – Distributive Property Day. Marketers call it Halloween, but when you think about it, candy gets distributed to everyone who comes to the door – no one gets left out, which is what happens when you use the distributive property in algebra. You share what's outside the parentheses with everything inside. Sharing is caring….which all my students from last year have remembered. I will bring candy corn next Friday, the 30th, to celebrate Distributive Property, regardless of how much they tease….whatever it takes!
I didn't get to the Ansel Adams show at the Tucson Museum of Art this weekend – maybe next Saturday, along with a couple of other galleries. I need to drool over art again!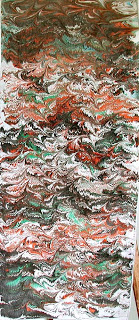 It's back into the high 90s again – I think we won't be seeing many 80s any time soon. Weather patterns sure have changed in the Southwest – by this time of the year it should be in mid-seventies and gorgeous. I was very productive these last two days – started "repurposing" some bookcases (I've obviously watched too much HGTV….) and moved one into the studio to hold all the art books plus miscellaneous supplies. Rearranged the dining room wall with just the baker's rack minus one bookcase and looks much more spacious. Loads of bags of books for the local used bookstore. I do read some weird stuff….
But the room looks better, and the bookcases near the computer are cleaned off, ready to be sold for a newer, sleeker bookcase and a new desk to replace the two oldies we are using. Just have to wait until we can afford the new furniture.
In the meantime, the photo to the left is of a piece of pima cotton, a half-yard with a Halloween appeal – the oranges are not as subtle in the pic as they actually are. This is available on Ebay this week. There are also two other half-yard pieces available. One is a pima cotton in purples, and the other is a 16 mm habotai silk – the picture just doesn't do it justice!
Stripper's Club at the quilt shop yesterday was loads of fun. Quilter's Market is just the nicest group of people, and they know how to market! The strip quilt was called Sonoma, so everything had a wine theme, including purple feet and a real live bunch of grapes! Not going to make the quilt this month, since I'm already trying to finish last month's, but I did sign up for a class in November, just to improve my piecing skills. Maybe this one will become our queen-size bed quilt……
I did try some Photoshop work today, and what follows is the completion of my lesson – using sketches to create realistic painting effects. I learned a lot – customizing brushes, blending – obviously loads to learn in this lesson, and I will be repeating it. The book is *Creative Photoshop CS4* by Derek Lea – I don't have CS4, but what I didn't realize was I could do the lessons with CS, since most of the lesson is about design. This isn't great, but there are possibilities with some of my own drawings.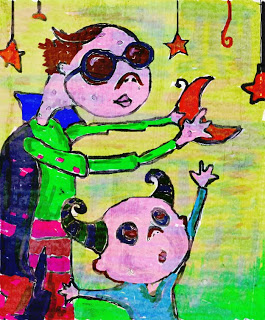 Welcome new followers! The Virtual Quilt Festival this past week was wonderful eye candy, and I hope to spotlight a couple of new quilters I found. I've only been through about 100 entries – over 500 to go!


Since today bloggers are talking about climate change, I thought it appropriate to use my sunrise piece. I don't often get up early enough (voluntarily) to see a sunrise, but this time of year I'm headed to school as the sun is coming up. We've had more dust in the air than usual, including a recent air inversion, as well as added pollution. It used to be the desert sky and air was the bluest, truest blue, but we are losing that to unchecked growth.
Our summers are changing – getting hotter and hotter (the third warmest on record this year), and our water patterns are changing. It used to be when monsoon season hit, the clouds would gather from the heat in early afternoon and then dump a ferocious thunder and lightning rainstorm around 4 PM, flood the washes and roads, and then dry out. You could count on our "monsoon season" for half the yearly rain. That just isn't happening any more. We are having summers where the cactus are so dry and parched that you can almost see through them.
As I read about climate change (Friedman's book "Hot, Flat and Crowded" is an amazing piece of research), I become very aware of my own individual impact on our environment. I try to take the bus at least twice a week, try to recycle as much as I can because we are rapidly outgrowing our landfills, and try to be very conscious of the water I am using. But I know it isn't enough.
Are we reaching the point of no return on the planet? Will we change things so significantly that we can no longer return to a balanced planet? I don't know – I DO know that we have to be conscious of our impact, each and every one of us – on our little piece of the planet.
On a happier note, here are some of our bigger pieces from our marbling session this past Saturday – all are available on Ebay this week.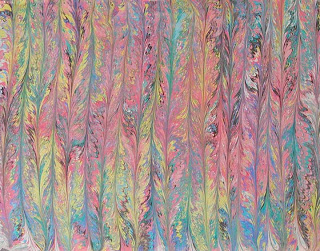 This first is a fat quarter of silk organza – gorgeous stuff to work with, now that we are having luck again with our tray. This piece is pastel, and it has a nice hand to it – soft, heat-set, and ready to go. The pattern is one we call "small feathers," and for it to be successful, it needs a lot of colors to the mix.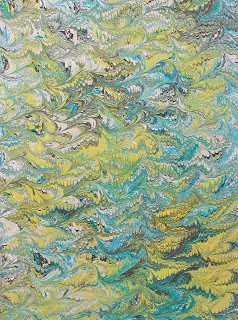 This is a fat quarter in blues and yellows, much nicer than the picture. It's pima cotton, pre-srhunk and heat-set. This is a marbled wave, giving great illusion of movement.


This last is a half yard of pima cotton, marbled with blues, blacks, and hints of purples. The pattern is a modified bouquet – looks somewhat like a waterfall, depending on its orientation. Again, heat-set and ready to go for whatever you can dream!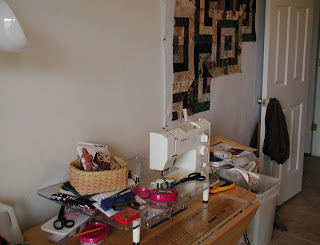 One side of the studio….before we set up for marbling. We marbled today in our big tray (5 feet by 3 feet) for the first time in 3 years – we did large pieces of fabric! If you've been following this blog, you know that we had massive marbling problems three years ago, and once we got back on track, we have just used our very small trays. But after getting a new routine down (new paints, new process), we decided it was time to go large again. It was fabulous – but a lot more work.
Because we are using our paints differently, and we rent, there is an interesting spatter problem, especially on the tile floors. Everything in the studio/second bedroom has to be covered. So all that you see in the pic at the left gets covered.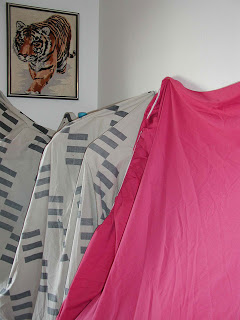 It's not pretty, but we need to keep everything clean! A great use for all those old sheets, if they're not already rags. Even the design wall gets covered, especially with a new work in progress (Into the Woods, from last month's Stripper's Club).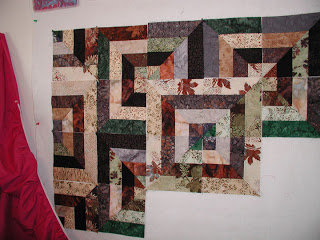 Setting up really takes a long time, before we even pull out paints and combs. Very hi-tech combs – toothpicks, and assorted other pointy things.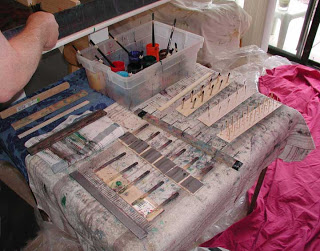 You can see the beginning of a pattern in our large tray – and the reflection from the sheets pinned to the wall! We block off part of the tray when we work, so that we can keep the paint concentrated in one area, like here where we are in the process of creating a marbled pattern for a silk scarf.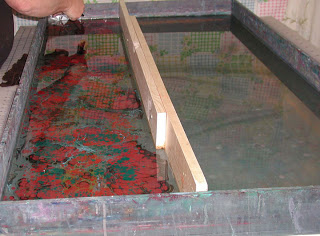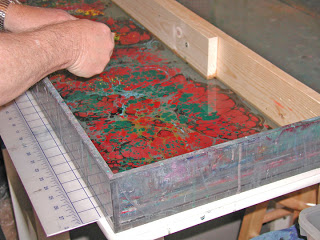 After cleanup, which sometimes takes forever – bailing the large tray, cleaning brushes, storing paints, washing out fabric not used, and on and on…then we have the haul for the day!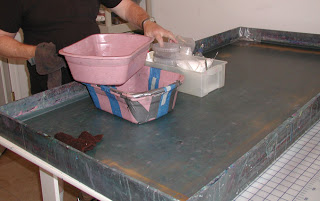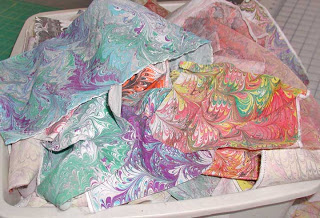 Hint: some of this will be headed for Ebay tomorrow…..stay tuned!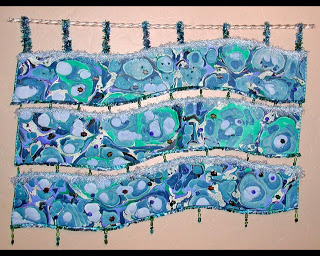 About seven years ago I had a chance to work at Quilt Market in Houston, as I wanted to explore whether or not I wanted to offer our marbled fabric at wholesale shows. I knew within three hours that it would be too much work for very little money – nothing to account for the work that goes into each piece of fabric. What I loved, however, was shopping at all the booths and seeing all the amazing quilts! I have not been able to go back to Festival, so here is a chance to see the "tour!"
This piece just returned from a four-month stay in a juried show at the Historical Museum in Cordova, Alaska, Fish Follies. Ocean's Bounty took five years from conception to completion. The background fabric is a poly-satin white that has been marbled in a traditional stone pattern. I originally wanted to weave strips together, but I wasn't happy with the result. So I cut a "wave" from one end, liked the effect, and cut two more. I knew then it would be a free-hanging fiber piece, with lots of embellishments.
The quilting is all free-motion, with Sulky variegated threads, backed with hand-dyes custom for me from DownEast Dyes. I serged the edges, and then the pieces sat for another two years. In the meantime I collected threads, beads, and some stones, with the idea to embellish. There are hand-blown glass fish from Hawaii, two kinds of yarns for waves and foam, and some smaller stones. I used one of the yarns, which seemed like kelp, as hangers for the piece. I used a plexiglass rod for hanging, with a series of cup hooks to balance the weight of the piece.
Each of the waves is connected to the other through a series of glass beads of different colors. Believe me, it was difficult getting the pieces even and hiding threads from the beads. It is heavy, but it is a stunning piece, if I say so myself! The piece is available for sale, so email me!!
And join the fun – just click the pic to the top right of this post!!