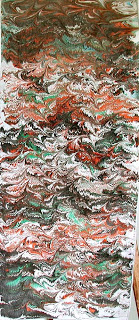 It's back into the high 90s again – I think we won't be seeing many 80s any time soon. Weather patterns sure have changed in the Southwest – by this time of the year it should be in mid-seventies and gorgeous. I was very productive these last two days – started "repurposing" some bookcases (I've obviously watched too much HGTV….) and moved one into the studio to hold all the art books plus miscellaneous supplies. Rearranged the dining room wall with just the baker's rack minus one bookcase and looks much more spacious. Loads of bags of books for the local used bookstore. I do read some weird stuff….
But the room looks better, and the bookcases near the computer are cleaned off, ready to be sold for a newer, sleeker bookcase and a new desk to replace the two oldies we are using. Just have to wait until we can afford the new furniture.
In the meantime, the photo to the left is of a piece of pima cotton, a half-yard with a Halloween appeal – the oranges are not as subtle in the pic as they actually are. This is available on Ebay this week. There are also two other half-yard pieces available. One is a pima cotton in purples, and the other is a 16 mm habotai silk – the picture just doesn't do it justice!
Stripper's Club at the quilt shop yesterday was loads of fun. Quilter's Market is just the nicest group of people, and they know how to market! The strip quilt was called Sonoma, so everything had a wine theme, including purple feet and a real live bunch of grapes! Not going to make the quilt this month, since I'm already trying to finish last month's, but I did sign up for a class in November, just to improve my piecing skills. Maybe this one will become our queen-size bed quilt……
I did try some Photoshop work today, and what follows is the completion of my lesson – using sketches to create realistic painting effects. I learned a lot – customizing brushes, blending – obviously loads to learn in this lesson, and I will be repeating it. The book is *Creative Photoshop CS4* by Derek Lea – I don't have CS4, but what I didn't realize was I could do the lessons with CS, since most of the lesson is about design. This isn't great, but there are possibilities with some of my own drawings.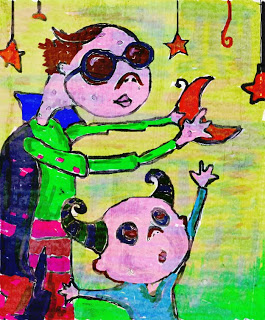 Welcome new followers! The Virtual Quilt Festival this past week was wonderful eye candy, and I hope to spotlight a couple of new quilters I found. I've only been through about 100 entries – over 500 to go!