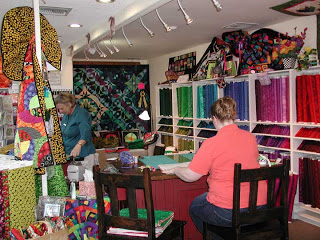 My most favorite quilt store in the country is the one right down the road from me:
Quilter's Market. The folks are great, very friendly, and love anything to do with quilts. They also are masters at marketing. They are going on four years of Stripper's Club, with a different quilt each month (except Decembers) using 2 and a half strips. I'm working on the one from September, and I just started a new class with them today – Stepping Stones from a Judy Niemeyer pattern. When you walk into the store, you are surrounded by color and incredible quilts. I walked in to see this new one today, and I immediately signed up for the class. I have wanted to do quilts like this for a long time but never had the nerve to start it completely on my own, even though most of my skills (including marbling) are self-taught.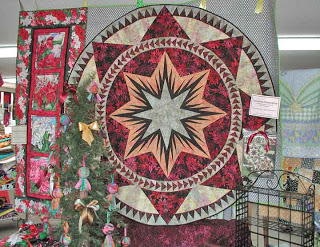 Even though I design my own quilts with our marbled fabrics, I still like taking classes. I go with my friend Michelle, and today I met another teacher friend I hadn't seen in 9 years or so. I do enjoy the energy and company, plus I like learning new techniques. I can see eventually designing a pattern to use some of the "sea" marbled fabrics I have.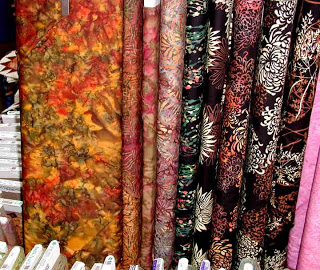 Batiks galore – even though one of the "chains" said batiks are seasonal. I could spend a small fortune on adding batiks to my stash. And everywhere you go in the store are samples – a very generous class schedule, with literally something for everyone!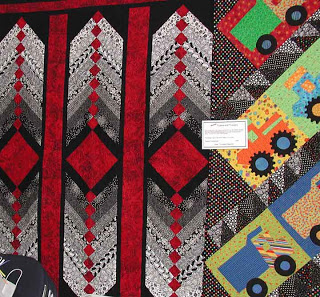 I am working on a class called Stepping Stones, a pattern by Judy Niemeyer. I browsed her website a little bit ago, as I want to buy some additional foundation papers for this quilt; I want to make a full queen for our bed, and I know if I leave it to myself to quilt, it ain't gettin' done…I'm planning to send it out for quilting.


We spent today's session sorting and determining color combinations. Since I have a bunch of unfinished quilts at this point, I really didn't want to spend more money on three sets of Bali Pops, so I decided to make the "stones" exclusively out of my stash. I discovered my color eye was kind of failing me, and I was regrouping fabrics to make them better work together. At this point I don't know if the quilt will be a subtle as I am wanting. Only sewing will tell….
I'm not sure I can get 36 blocks done for next Saturday……
One Response to "Art Every Day – Quilting!!"