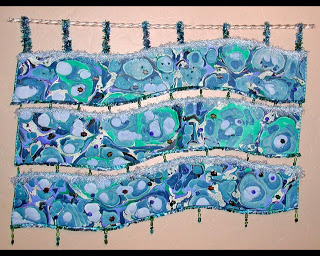 About seven years ago I had a chance to work at Quilt Market in Houston, as I wanted to explore whether or not I wanted to offer our marbled fabric at wholesale shows. I knew within three hours that it would be too much work for very little money – nothing to account for the work that goes into each piece of fabric. What I loved, however, was shopping at all the booths and seeing all the amazing quilts! I have not been able to go back to Festival, so here is a chance to see the "tour!"
This piece just returned from a four-month stay in a juried show at the Historical Museum in Cordova, Alaska, Fish Follies. Ocean's Bounty took five years from conception to completion. The background fabric is a poly-satin white that has been marbled in a traditional stone pattern. I originally wanted to weave strips together, but I wasn't happy with the result. So I cut a "wave" from one end, liked the effect, and cut two more. I knew then it would be a free-hanging fiber piece, with lots of embellishments.
The quilting is all free-motion, with Sulky variegated threads, backed with hand-dyes custom for me from DownEast Dyes. I serged the edges, and then the pieces sat for another two years. In the meantime I collected threads, beads, and some stones, with the idea to embellish. There are hand-blown glass fish from Hawaii, two kinds of yarns for waves and foam, and some smaller stones. I used one of the yarns, which seemed like kelp, as hangers for the piece. I used a plexiglass rod for hanging, with a series of cup hooks to balance the weight of the piece.
Each of the waves is connected to the other through a series of glass beads of different colors. Believe me, it was difficult getting the pieces even and hiding threads from the beads. It is heavy, but it is a stunning piece, if I say so myself! The piece is available for sale, so email me!!
And join the fun – just click the pic to the top right of this post!!