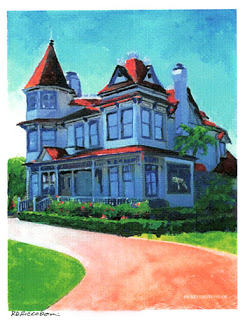 We headed for San Diego a week ago Sunday and had a fabulous 4 days. We stay near Old Town, and we had just unpacked the car, after a great trip over, and headed a block away to see what was new. The trip over had us singing along to the CDs, stopping to get pictures of unusual bark, and just generally enjoying each other's company. Once we get to Old town, we stopped in our first gallery – Beacon Artworks – loaded with water colors of San Diego. As is our practice, we struck up a conversation with the artist and learned loads of info – he licenses his images and does pretty well, we shared websites for printing, and had a great chat. The painting to the left is of the Baby Del, one of the familiar sites on Coronado. Check out Randy's site – a great site for inspiration for marketing.
When we stopped at a rest area in California (three border stops, two of them quite long – heightened terror alert the notice said…), I grabbed the camera and started the first of many photos of texture in plants, particularly bark.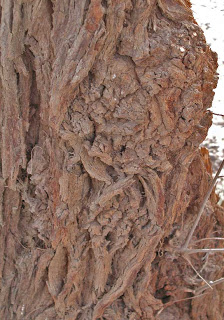 I have found that since I started focusing in on texture, I easily find it all around me. Along with the bark were some wonderful succulents I hadn't seen before – or hadn't seen in such healthy form!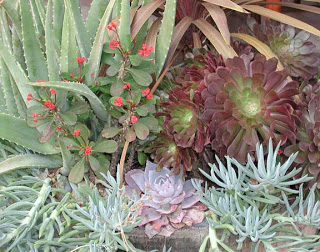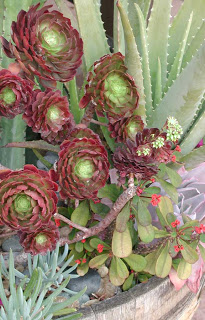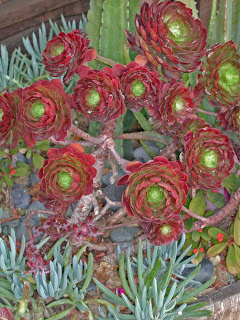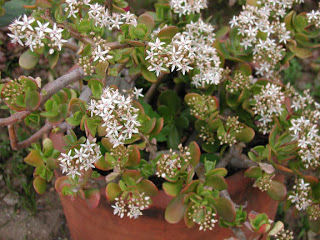 We ended the day with a great meal of Mexican food and enjoyed all the Christmas lights as we headed back. We were in time to see the fireworks announcing the beginning of the parade of boats, but we were too far away to actually see the boats all lit up – maybe next year!
I've been away from the sewing machine for a couple of weeks, and I was experiencing withdrawal…I am almost finished basting my Desert Heat quilt, but I had been thinking about my Sunrise piece, since I want to finish it for Show and Tell at our January meeting. I started work on it tonight as I got home from school early (7 teaching semesters left till retirement!!). Getting home early today was like a half-day off.
The piece to the left is similar in color and pattern to my Sunrise piece, but the piece of marbled fabric I am using has more subtle blues to it. I started out free motion quilting the waves to accent the clouds, and suddenly I found myself following the curves of the marbled patterns – rather successfully, I might add. Quilting marbled patterns can be interesting – stone is fun and easy, and freeform just is zen-like. But the more complex patterns call for lots of curves and steep turns. I just kept at it – which I really shouldn't because too often I end up having tension problems that I never check till I'm done. This time – everything seemed perfect. I pulled it out of the machine to look at and realized it was a breakthrough – I have found a way to quilt some of these curves while "staying on the lines" and accenting the curvature of the pattern.
That's the breakthrough – more fabric is getting pulled out for possibilities in quilting. In the meantime, I think the name is getting changed – to Salmon Sunrise, and I think it will become my entry for the Cordova show this spring. I think it's going to look subtle scaley – if that's even a state of being…..
Speaking of zen-like, I have my grades done, as well as my lesson plans for the frst week back – almost unheard of for me. I want to look at linear relationships a little differently, pulling in careers where being able to figure slope is important. Then it occurred to me, since these are straight lines, that we should look at some zentangles, and then have the kids do their own – straight lines only. I did a couple with just straight lines and incorporated them into my power point – here they are: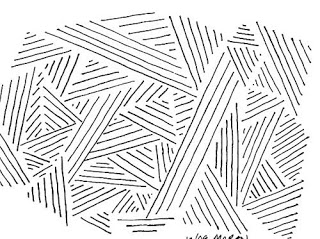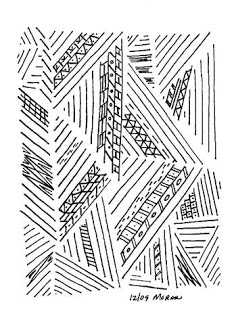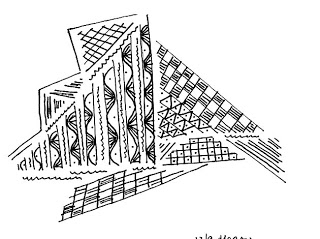 So I started cheating on the last one – just a couple of curves…..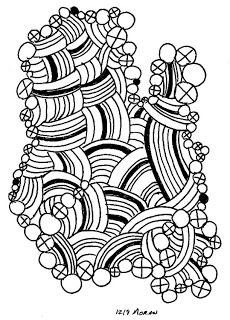 A great week was had by me! Lots of art planning, getting ready for the end of the semester and Christmas break, and lots of thinking about making art and the business of art.
First a word about being happy. I am almost medicine-free – just a small water pill for blood pressure (which seems to be down on its own…). Turns out everything else I have been taking has been making me feel worse and worse. I weaned myself off the depression medicine, and I am feeling the best I have felt – in like forever. Not to say I've never been happy – I absolutely adore my hubby. But now I seem to be happy about life in general, not just one or two specifics. I visit more people, I do more things, I have been far more productive when it comes to making art, I attend more events. It seems I might not be content any more to just sit at home. I truly like the feeling.
The pic at the top is of a new zentangle this week. The doodle actually "reads" happy to me. I tried another, thinking I could focus on a set of them using the alphabet, but while it's "okay," I found I really don't want to force what comes from the doodling. I am quite content to just let them happen. I like the ribbon effect, and I imagine I will use that more often. Everything else just seems too forced.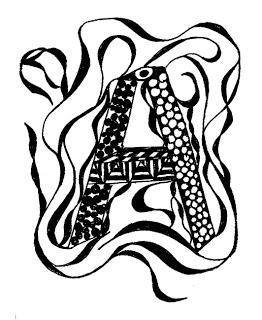 So I set up my notebook and have been busy working within the various sections. Brenda and I got together again last night to look ahead to the first show we are planning to enter. I did quite a bit of reading on licensing, and I think I am ready to send out my first set of images, as well as my first query letter. And I am thinking about attending the licensing expo in Vegas in June.
Now here's where I would like to hear from you making art as a business. I found this week that I spent plenty of time planning and reading about the business, and making plans for getting art out there. But I did very little actual art (beyond the zentangles, and making fabric fortune cookies for Christmas presents). A number of things came to mind: I have the opportunity to make and submit some pieces for two shows. Do I want to commit to that at this point, or do what needs to be done to establish some income from licensing so that I can continue to make the kind of art I want? I'm sure I'm not the only one experiencing this issue, and I would love to hear from those of you who struggle with this.
Doing some art for licensing really appeals, not just for potential streams of income, but because I am enjoying the production – working with Photoshop and doing really interesting manipulations of the marbled fabrics and patterns. So this potentially will allow me to do lots of other things, like take up painting on silk…..
I already have lots on my resume as an artist over the last 14 years. Some juried shows and articles, so part of me wonders how much I need to continue with that – which takes time to create new pieces, applying and maybe getting chosen, and then spending money to get the pieces to and from shows. Haven't sold anything via that route…yet. There's always that possibility. But I am thinking there is more possibility pursuing some of these other options at this time.
Interested in what y'all think….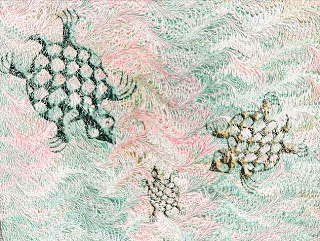 I love my turtles – definitely one of the more successful digital renderings I have done with the marbled fabrics. Need to collect some more pics of turtles to play with.
I should be marking papers to get caught up for the kids' progress reports before finals week, but I have too many other things to do right now – and the Glee finale is tonight….but I do want to report on yesterday's work. My notebook is organized, and this time it looks like it will definitely be an asset for me.
Now I HATE mission and vision statements as they apply to large organizations, like school districts. I hate all the linguistic squabbling over words. However, when I sat down to actually do them, I found it flowed pretty well. The only person I had to please was myself. So here goes:

Mission Statement for Marble-T Design, LLC:
The mission of Marble-T Design, LLC. is to promote the ancient art of marbling, particularly its adaptation to fabric and fiber art. Marble-T Design will create and present fiber and digital works of art, all based on traditional as well as contemporary patterns, to the public through a variety of artistic venues.

Vision Statement for Linda Moran:
The vision of artist Linda Moran is to explore her artistic abilities through a variety of media, with the emphasis on fiber art using marbled fabrics. She will offer to galleries and the buying public works of art created not only for her enjoyment but for increased retirement revenue.
Now I want to do a vision statement for the blog, to be sure I keep myself on track over the next year.
Comments on the above greatly appreciated!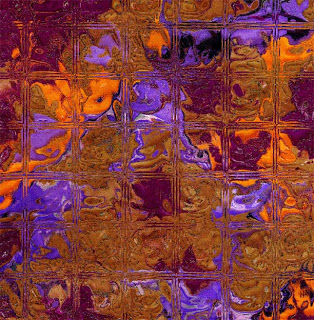 So all day today I have been thinking about working on a plan for the coming year – well, I was thinking in between lessons. I am hereby making a public commitment to my art – one year from now I will be making $500 a month from my art endeavors. As I accomplish this, I will make up the income lost by taking a regular contract next year.
It's very do-able, no question – just have to plan and do….to that end, Brenda and I got together again tonight to talk over what we have accomplished on our ideas of a small mixed media arts group. Lots of ideas – first thing I discovered is I have to be more organized at keeping track of what I decide to do. Three-ring notebook coming home with me tomorrow, as well as some tabs for sections.
Section 1 – calendar and events – we have tentatively agreed to go in on a non-juried art show in March, and we will get together December 28 to put together a "sample" booth for pictures, as well as to determine layout with potentially four artists participating. A list will no doubt be derived from what we discover then. Brenda will call to check out registration guidelines. Tucson Museum of Art show possibly next November. Fish Follies deadlines beginning of April – need to work on that.
Need a section on licensing – have loads of ideas here, and I need to make a start – what images will I put together as a package to present for licensing.
Need a section on vision and mission – I'm not usually one to participate in these "corporate" things, but I want to clarify where I want to be in a year, in 5 years, so I need to be very specific in goals. I can see the need to write these out – much like in the blogging class last spring, where we worked on our tag lines for our websites. Mine is Marbling – An Ancient Art Made Modern." I want to work with that within everything else I do.
Section on To-Do's – both immediate and longer-range. First thing is to update members of the group as to what we are planning and see who is really interested in coming along the journey. We decided that this first step is important enough to front the money just divided two ways (unless others want to join) so we can get our feet wet.
Section on trainings, etc – need to put in my School of Threadology sign-up, some web readings on marketing.
Online outlets need their own section.
As does "product." Just what exactly am I focusing on? What needs lots of intensive work and what can be done more easily and can bring in a steady stream of income.
I have already outgrown my small journal-style notebook, so there is a definite need to expand to stay organized.
Thinking and doing, thinking and doing……
PS – a thoughtful article from the Fine Art Views Art Blog on joining groups….


"And the day came when the risk it took to remain tight inside the bud was more painful than the risk it took to blossom."
~Anais Nin
…or, as my Nana would say, "Shit or get off the pot."
It's time to stop thinking about being/becoming and artist and DO IT. A couple of events this year have led to a lot of thinking about being an artist and selling my work. And I spent November as Art Every Day Month, and while I didn't work every day, I did more than I ever have, including summers when I have lots of time. I was creative and enjoying every minute.
But when I want to work on art, like today, I am either dealing with being sick, trying to get lesson plans done for a substitute, or marking papers (which I have been doing for the last 4 hours, and I'm not done yet)….
I decided this summer to retire in four years instead of three. And now I am looking to go back to a normal teaching contract next year instead of the extra money in a 6/5 contract – because I don't want to wear myself out, and I want more time for art. As I get older – which has taken a long time to come to terms with and admit – I know my time is limited. I want to be able to travel with my hubby and just enjoy not working and doing art – and maybe actually have my art help supplement my retirement.
This means a lot of decisions – and planning. Lots of places to investigate, lots of art to make, and a business plan/selling plan to make. All of which need time. So I need to use my blog time to get back to marketing and questions and planning and decisions and techniques…..
I do read a lot of marketing blogs, not as many design blogs, and lots of creativity blogs – so there are loads of ideas floating around. A couple of years (like 9) when I had my first big breakthrough with fiber and the marbling, a friend Ellen said, "Don't wait till you've mastered technique until you try what you're thinking – do it now." And I did, and evolved some very special unique ideas, like my weavings in my Gaia series. I need to reiterate that to myself right now – stop waiting to get good – start doing what I CAN do well.
I have the notebook ready and waiting to start writing. I am rolling around the idea of a regular contract next year – and I think we can make it work financially. Now it's time to get back to papers, plans for the week, and a few lists for the end of the first semester so that I can use planning day to get the first month ready of the new semester. A goal for the second semester is to squeeze out more time for art – make it happen.
And I already took a step toward enjoying the art more – signed up for the School of Threadology to gain more knowledge about ways to make all these percolating ideas to happen. Plus, I continue to do my Zentangles – gained a lot of thinking and relaxing time doing those, and I see lots of possibilities for the future.
So join up for the ride – lots if ideas and thoughts – and of course comments welcome. Let's see what I can accomplish when I actually set my mind to it!


It has been one of the nicest vacations ever. Good friends, good food, great conversation, a healthy dose of art-making – couldn't ask for more. For the last month I have been feeling really good – happy, which is not a long-term emotion for me. Perhaps it's because of going off medications, perhaps because I really like my job and my students, maybe because I don't feel like I have to wait till summer to create art. Or a combination thereof….
I know I have been clinically depressed for a lot of years, but I think it has been situational. Those situations are now gone, retirement is in sight, and my art skills and productivity are growing by leaps and bounds. Consequently, I am adjusting to what it's like to be happy – and I like it!
Also, we had an amazing experience on Friday with a trip to Kartchner Caverns, a state park in Arizona, but oh so much more than a "state park." I've visited a few caves – Colorado Springs, and my favorite – Howe Caverns in New York, but this was truly amazing and awe-inspiring. This is an active cave, first discovered in 1974 and kept secret for 14 years until ways were found to preserve and protect the cave. One hour underground in the "big Room" – closed for 6 months of the year because it serves as a bat nursery. If you visit the southwest, this has to be on your to-do list. We walked out of the last tour of the day into nightfall, with just a few lights aglow in the distance – it was so perfect.
I have two more zentangles to share, but I haven't gotten to working with them in Photoshop – I've been sewing and getting ready for basting a quilt sandwich for the next project.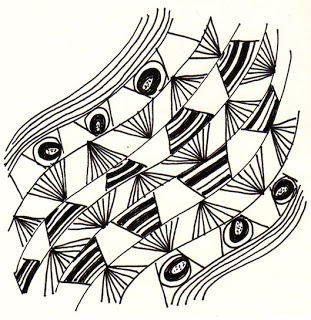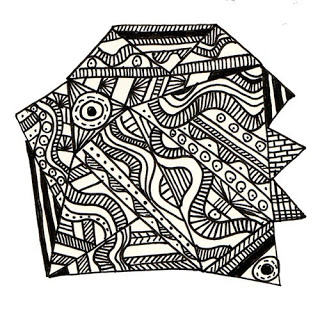 Suzan brought her zentangles to share – our styles are so different, and I think this is one of the appeals to zentangles – every one approaches doodling differently – I have a very heavy hand (literally) and like to cover the space. Suzan is much lighter and freer.
Back to school tomorrow – 12 days till finals start and a lot of work remaining to be done on linear relationships – life will be busy!


What a glorious day yesterday! It was probably one of the best Thanksgivings ever. The weather was perfect – breezy and low 70s (one of the reasons we love the desert!) and great friends around. We started with a brunch with our friends who are now coming down here from Sedona each year – yummy – and then talked business for a while – web sites, fabric lines, and the like.
Then we headed to the movies – made a last-minute change and saw Old Dogs. Hilarious!!!! 'Course, I love Robin Williams, and it was nice to see Travolta in something not incredibly intense (more Vinnie Barbarino-ish). The "king" sequence was hilarious, as was the mixed-up pills and golf game – loads of laughs.
From there we went our separate ways for a bit, me to a really nice nap, and then back together to go to our second family. This is probably our 10th year doing this – a small group this year – only 40 or so. We know most of the people now and enjoy talking and catching up with every one. We all chip in food – Dean makes his amazing crab mousse – this year people were awaiting our arrival and literally snagged the mousse out of his hands.
Betty is the matriarch, and an absolutely amazing woman. She's the lady I made the quilt for – which proudly resides on her bed. Five of Betty's six kids were in attendance, and we caught up with Colin and Julie – Colin spent the summer in Alaska as a guide, and Julie's stories about his return were priceless (and quite racey!). They are getting ready to leave for a 25-day river rafting trip on the Colorado River through the Grand Canyon on Wednesday. Julie's having computer withdrawal symptoms already – trying to make sure everything in her business is handled before she leaves connectivity for nearly a month!
Emmie is mom to Karen and Maryann, and she was telling the story of growing up in Germany during World War 2, losing her dad in battle, and eventually emigrating to this country. She still rides horses and helps as a volunteer with TROT, with handicapped children. Amazing lady.
Gary and Maryann and their two boys Nathan and Anthony were here from San Diego. The boys are so tall and absolutely gorgeous young men. We picked Maryann's brain for additional places to see in San Diego when we go. Found out Maryann lived in the Bronx – I spent two years on Staten Island, and she knows where Brewster is, where my grandparents worked as a caretaker on an estate. Then her hubby Gary was born and raised outside of Philadelphia, and I spent ten years across the river in South Joisey, so we're practically neighbors!
Lots of laughter, lots of stories, great food – sure beats the times we've been alone or some of the times growing up. Today we're headed to the quilt store (but of course…), Mexican food for lunch, and then reservations for Kartchner Caverns and the Big Room.
What an absolutely wonderful few days so far!
PS – I need to keep my camera with me all the time – I would have loved pics of our spread!


For the last 34 years, the day before Thanksgiving has been very tough, making the rest of the holiday season a rough one. In 1975 I had Wednesday off from the school district – never happened since…I was able to fly to Ohio a day early for Thanksgiving vacation. I had dinner with my dad, and on Wednesday my mom and I were out shopping and stopped for lunch – at the same restaurant my dad was eating lunch. We joked around and Dad went back to work. Two hours later he had a massive heart attack at the office and died. He was 49.
The day before Thanksgiving is always filled with him. Some years it's easier than others. He went so quickly, but I had been able to see him before he died. Along with his death is one of the additional hard things I have had to deal with – my obedience and fear of my mother. My brother was scheduled to fly in with his fiance that Wednesday night. My mother instructed me to go pick him up and not say a word about my Dad until he was home and she could talk to him.
Quite a difficult task for Daddy's girl – ignore the fact that the most important person in her life had just died so my brother would have an easier time of it. I was always obedient, so I did what I was told – plus I was afraid I wouldn't be loved any more if I disobeyed (yeah, lots of baggage to carry around, even then…).
We got back to the house and walked inside to a house full of people. My brother wanted to know what was going on. My mother then said "You didn't tell him?" I was a really lousy daughter….
For some reason this year is going to be particularly difficult. Maybe it's my own realization of mortality, maybe it's the fact that my mother died in August – don't know. But I find as I grow into more of a unique person, I miss my dad even more. There were so many things he never saw and I could never share – with a parent still alive who didn't care. I was talking one time about our upcoming gallery show in Scottsdale and her comment was "Whatever."
Whoa – didn't think there was this much in me for so early a morning. Maybe it's finally time for all this to get out of me – the "good daughter" child of an alcoholic.
Sorry for burdening everyone – but my cyber friends are very much family to me, and evidently this had to get out. I will be spending tomorrow with friends from Sedona at a 60-person gathering with our second family here in Tucson. People I really care about who make the day special, and for that I am really thankful.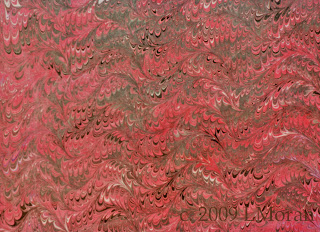 I'm playing again today – figured out somewhat of a watermark to begin protecting these images, and I am really enjoying trying out all the filters and adjusting for different effect. The pic above is of a piece of fabric from about 10 years ago. We have a small scrapbook of pics from many years ago, before we used digital. There are some great pics for playing around in there. What has to happen next is figuring out setting up quilt blocks….that's this week if there's time….
Texture Extrude – Pyramids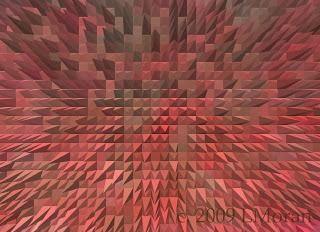 Texture craquelure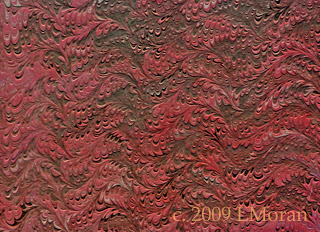 Texture craquelure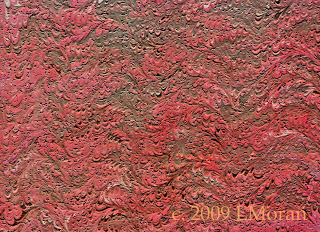 Texture mosaic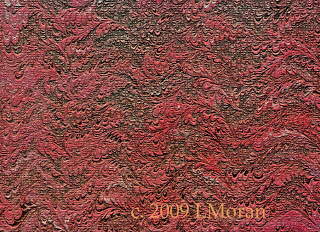 Levels – a beginning adjustment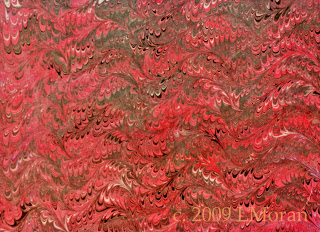 Texture grain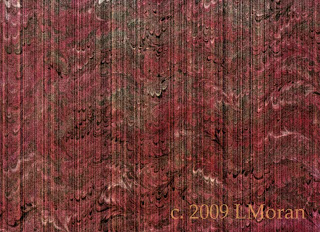 Gradient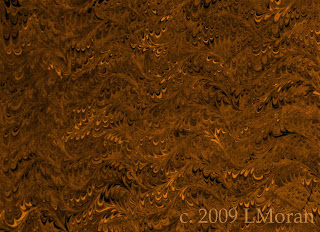 Texturizer burlap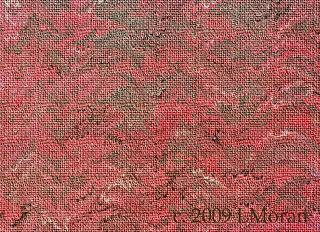 Texturizer brick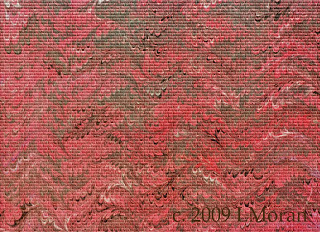 Texture posterize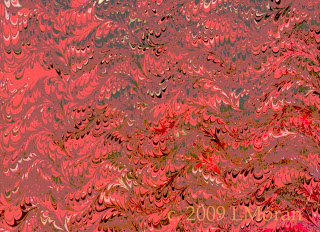 Texture patchwork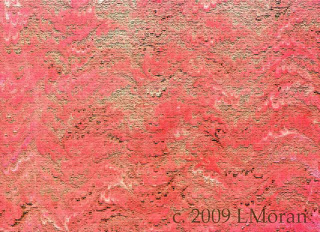 Texturizer sandstone


I'm fond of the brick and burlap. Comments?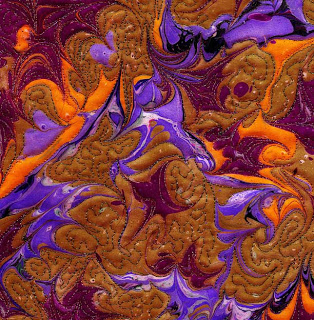 While I haven't kept up with the zentangles each day, I have managed to do something with art every day this month – mostly sewing, as I am taking an existing pattern from Judy Neimeyer and adding my own twist. It has made for a great bunch of days – I am so enjoying creating after work, and I hope it will continue.
That said, I picked up a book last weekend at the quilt shop called Piecing with Pixels. I am very intrigued with doing more with my own fabric in digital imaging. One of the chapters is on taking your own images – in my case fabric – and using Photoshop to create a texture library. Which is what I did tonight – lots of fun, and all I did was take one piece of quilted marbled fabric and try a bunch of filters.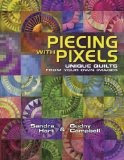 The photo above is of the original piece which I did about 6 years ago – I did some color changes through Photoshop at that time. What I discovered tonight was a totally different approach – in the past I have been trying to turn a piece of fabric into a design that will stand on its own. Now I realize what I want is lots of textures that could go together. Playing was definitely fun:
Dry Brush filter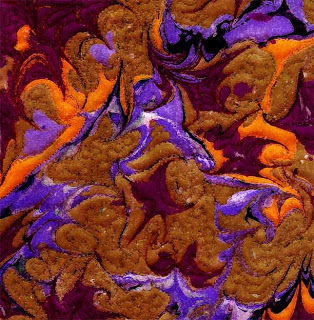 Halftones filter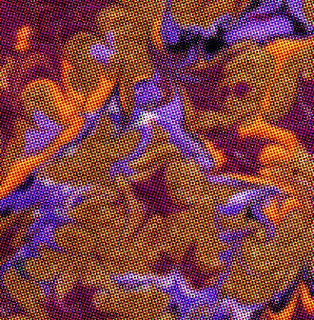 Clouds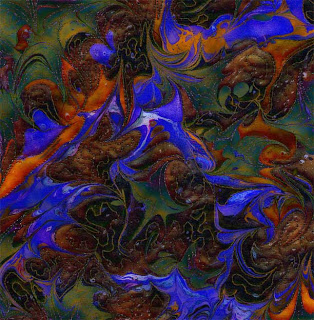 Charcoal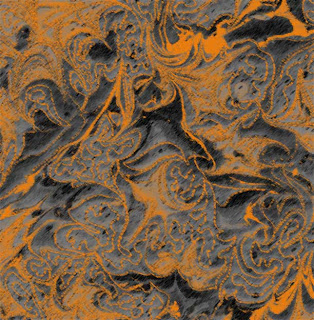 Find edges filter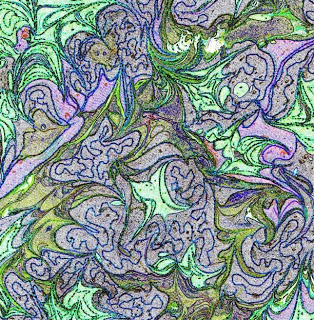 Extrude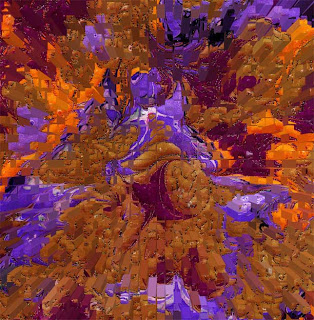 Extrude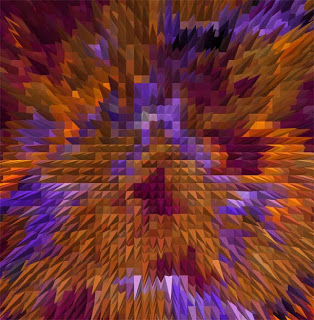 Glass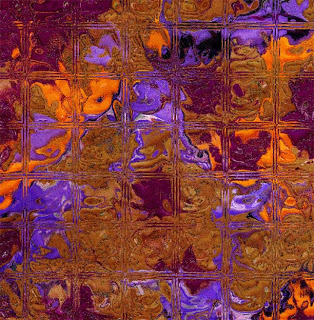 Glass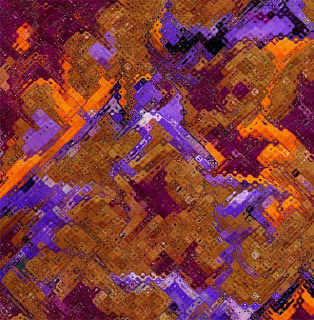 Glass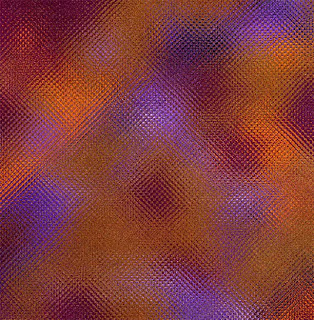 Glass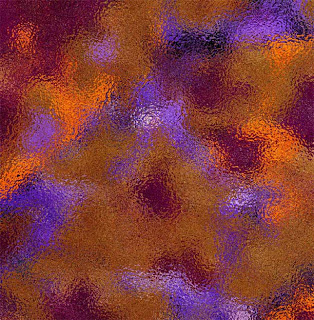 Notepaper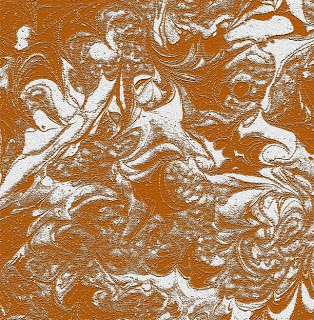 Neon glow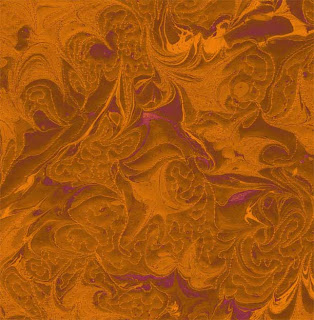 Mosaic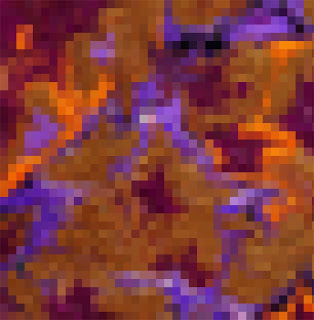 Ink Outlines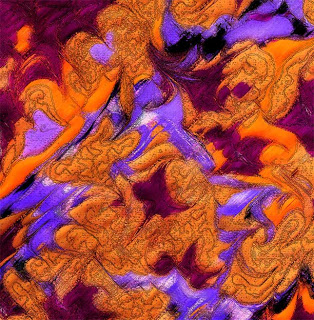 Halftone


Reticulation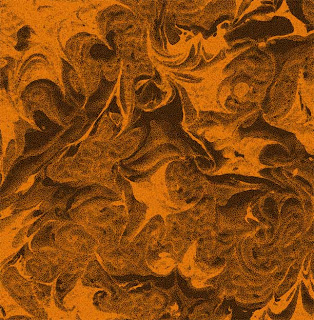 Polar coordinates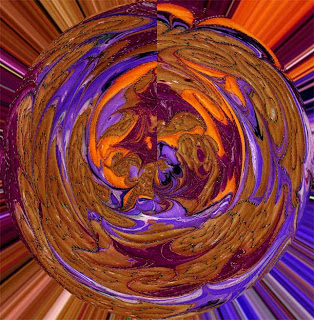 Plastic Wrap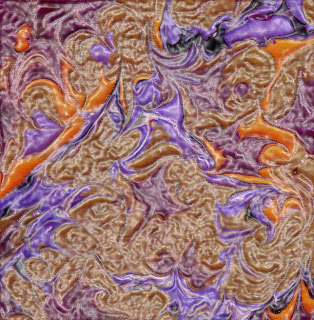 Palette knife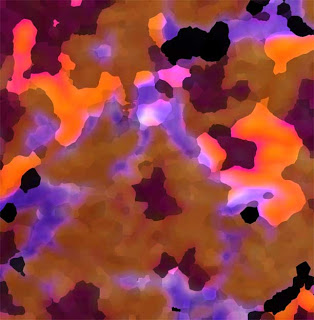 Rough pastels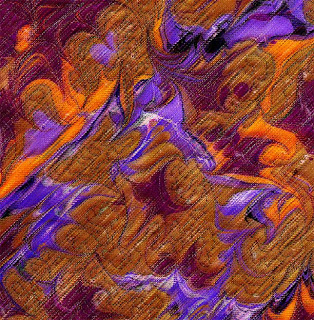 Rough pastels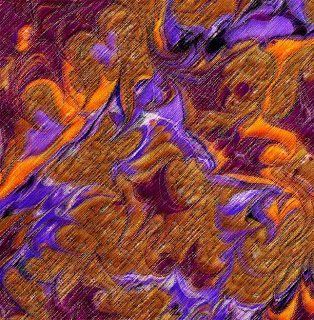 Ripples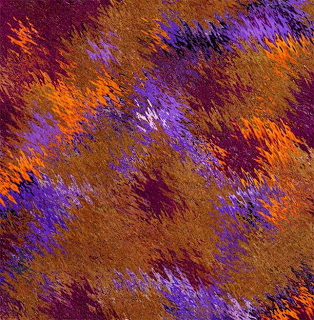 Ripples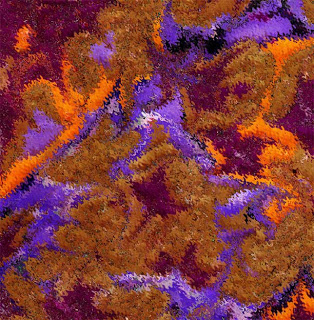 Twirl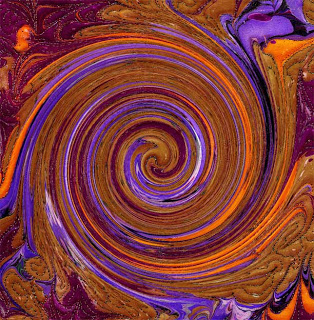 Sponge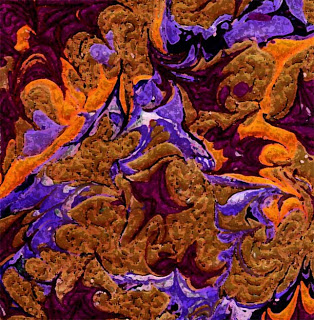 Solarize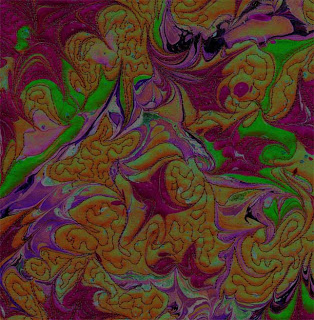 Shear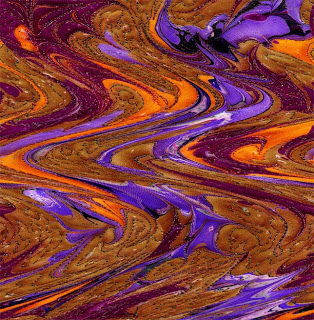 Zigzag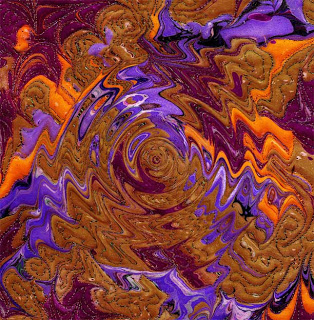 Wave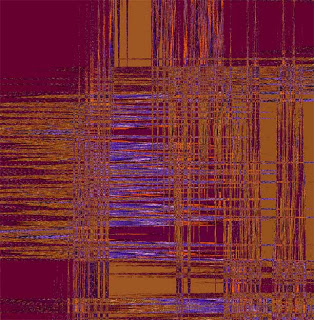 Underpainting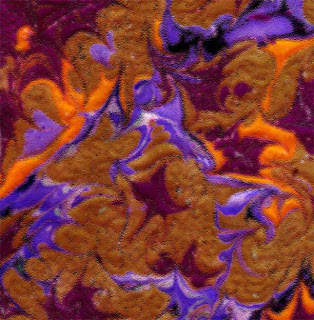 Twirl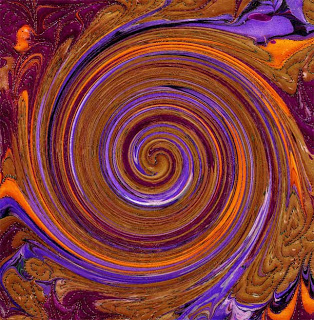 My task tomorrow is to try and actually design a couple of quilt blocks just to see what happens. I welcome your comments – which ones do you really like?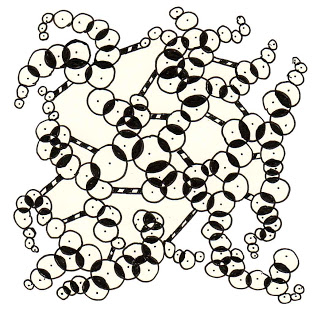 I have had a great couple of days, even if I couldn't get to all the art I wanted. Yesterday, after grading papers and getting organized, I worked on a new Zentangle. I am so hooked on these – so very relaxing. This time it was just circles, and you can see from above how it worked out. Needless to say, I had to try some effects in Photoshop, and you can see below the layer styles and gradients. Reminds me of those feathery puppets on strings that jangle all about.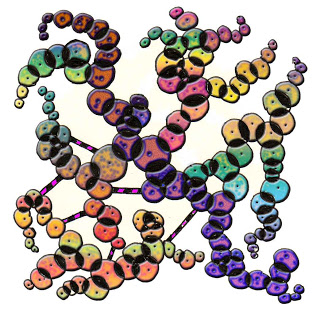 Pics from Monday's art group and our paper marbling. You can see us dropping paint and manipulating patterns, and finally a finished product. Paper is so different from fabric – I am enjoying the paper, but I need to spend a lot more time working on designs in order for the papers to look really good! But we had a great time!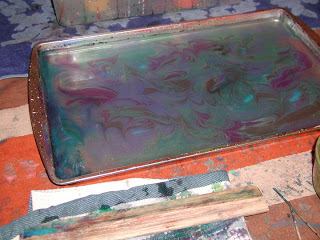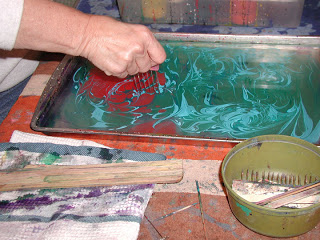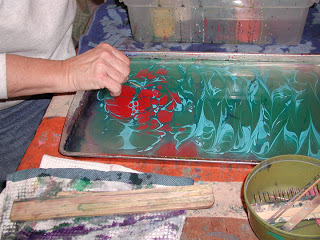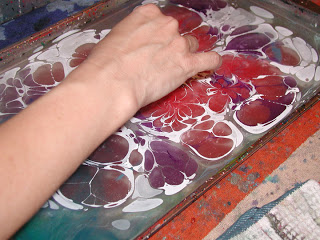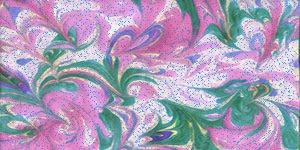 A great evening! We had to postpone from last Monday, but this evening we gathered at our place to marble paper. We pot-lucked (a new verb??) with yummy food (ahhh, Trader Joe's Tiramisu Torte!) and great conversation. Comments about the Open studio weekend and what we might look to do come March. Comments about last weekend's show up at one of the ritzy malls. Sharing coupons to Michael's and Hancock's.
Marbling paper was fun – pics to follow. We're not nearly as good at this as with our fabric – and certainly nowhere like the Turkish masters. Just go to youtube and look for videos on "ebru." You will see truly amazing work, nothing like our feeble attempts. But it's fun nevertheless, and we get a chance to share art.
This weekend is the Tucson Museum of Art annual fall show, so we're going to check it out as a possible venue, as well as looking to get things in their gift shop again. Also, the Winter Street Fair should be coming up in another couple of weeks, so another chance to see what's new (if anything) in the vendors.
A lot of talk about revitalizing our downtown – a really sad state of affairs for Tucson, and if something long-range isn't done son, we could lose a major money-maker in the gem show. We all agree that it would be nice for our downtown to be a destination for art of all kinds. But…and this is a big "but," we are surrounded by "Southwest" cowboy paintings, and most galleries in town (as well as visitors) expect to buy art of the "rough and tumble" southwest of the movies. Makes for a tough market when you do something rather eclectic.
We're taking December off, as it gets very crazy. Plus, I want to do some serious sewing and creating, since I am on a roll.
Later, gator – no school work tonight!


This weekend has been Open Studios weekend in Tucson, sponsored by the Tucson Pima Arts Council.I was busy with a quilt class yesterday, learning foundation piecing with Judy Niemeyer patterns, so we saved today to travel around town. We have an appointment next weekend to show our work for potential gallery placement, so the first stop today was very positive. Decent location, relatively new, but looks to have dedicated owners. The problem is the $100 minimum per month for your space…..
We discovered an area downtown that is old factories converted to studios. Never knew they were there. Lots of artists, mostly paintings, but really funky studios. Met Stu Jenks, whose work very much reminds me of Andy Goldsworthy. If you have not seen Rivers and Tides, then get it – absolutely fabulous! I want to own some of his books of photography of his nature sculptures. Anyway, this is one of Stu's images: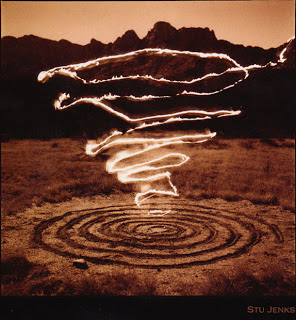 He has a new book coming out with fascinating nature photography. You need to peruse his website – great eye candy.
I have been sewing up a storm – with relatively little pulling out of stitches, which is good, since I'm working with paper. Class yesterday was kind of frustrating, as I wasn't making huge progress, but I am definitely pleased with how I decided to change around my color placement. And I discovered how I could use some fat quarters rather than half-yards to increase the fabric choices I can use.
Reading some good books – got a new book at the quilt shop on digital imaging in quilts, and I am already ahead of the game with some of the things I am doing. Lots of new ideas to work with – just need the time!
Got the lesson plans done early, two sets of papers scored, but still more papers to do. And…I have to go through my emails – loads of answers needed to friends!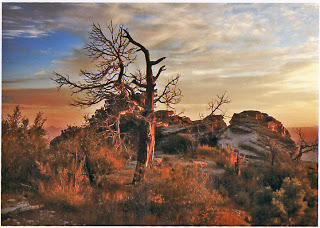 Even though I haven't written, art has been a major focus over the last few days, despite the illnesses. On Sunday hubby and I went up to La Encantada, an upscale shopping area north of us, in the Foothills. There was an art show we wanted to see. Not nearly the vendors as last year (and last year wasn't juried, this year was….). Lots of empty spaces. The rationale given was to have a closer look at vendors through the jurying process, and assure that good art was represented.
Well, they didn't come close, as far as I was concerned. Since we had looked into it, the price was high, the restrictions were many. And almost every other booth was jewelry. That said, we found a couple of interesting artists. This first is Daniels Images – they are a family of photographers. This photo to the left is of a lone tree at Windy Point Lookout on Mt. Lemon, almost in our backyard. I've never noticed that tree, but it makes for a great composition. There's lots of great eye candy on their site.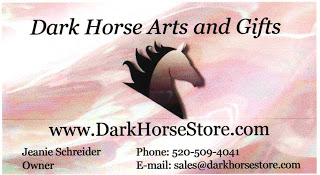 Dark Horse Arts and Gifts stopped us because of an incredible glaze on one of the ceramic pieces. The dolphins had "waves" and "bubbles" as part of the glaze. Turns out it is a common technique, but not one I had seen before. Their website doesn't do justice to some of their work.
There was some interesting paper work being done by Curly Studio, but they have no website or blog, so nothing but a business card to show you.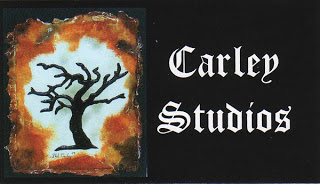 Really confirmed the need for an online presence.
Monday was a veg on the sofa kind of evening; we canceled our art meeting, as I was sick, and several others couldn't make it. I was bummed, because I look forward to that each month. Tuesday was, as usual, NCIS (I wanna be Ziva….or Abby….). Last night i got back in the sewing groove and worked on blocks for the quilt class I am taking. I think I am really going to enjoy the foundation piecing, but my big problem is going to be color combinations – working them out ahead of time for the overall look I want. I reworked some of my strips and sewed four blocks – all of which are more subtle than what i did last weekend, and one of them I REALLY like. This is an interesting experiment in using only the fabrics in my stash.
I found I really miss my doodles – I like the relaxation of the drawing. Tonight – maybe drawing, but school work is calling, and I really want to sew. Quilt class on Saturday, and Open Studios in Tucson on Sunday, so we'll be driving around to check out some new artists.