Since today bloggers are talking about climate change, I thought it appropriate to use my sunrise piece. I don't often get up early enough (voluntarily) to see a sunrise, but this time of year I'm headed to school as the sun is coming up. We've had more dust in the air than usual, including a recent air inversion, as well as added pollution. It used to be the desert sky and air was the bluest, truest blue, but we are losing that to unchecked growth.
Our summers are changing – getting hotter and hotter (the third warmest on record this year), and our water patterns are changing. It used to be when monsoon season hit, the clouds would gather from the heat in early afternoon and then dump a ferocious thunder and lightning rainstorm around 4 PM, flood the washes and roads, and then dry out. You could count on our "monsoon season" for half the yearly rain. That just isn't happening any more. We are having summers where the cactus are so dry and parched that you can almost see through them.
As I read about climate change (Friedman's book "Hot, Flat and Crowded" is an amazing piece of research), I become very aware of my own individual impact on our environment. I try to take the bus at least twice a week, try to recycle as much as I can because we are rapidly outgrowing our landfills, and try to be very conscious of the water I am using. But I know it isn't enough.
Are we reaching the point of no return on the planet? Will we change things so significantly that we can no longer return to a balanced planet? I don't know – I DO know that we have to be conscious of our impact, each and every one of us – on our little piece of the planet.
On a happier note, here are some of our bigger pieces from our marbling session this past Saturday – all are available on Ebay this week.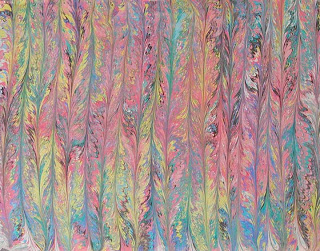 This first is a fat quarter of silk organza – gorgeous stuff to work with, now that we are having luck again with our tray. This piece is pastel, and it has a nice hand to it – soft, heat-set, and ready to go. The pattern is one we call "small feathers," and for it to be successful, it needs a lot of colors to the mix.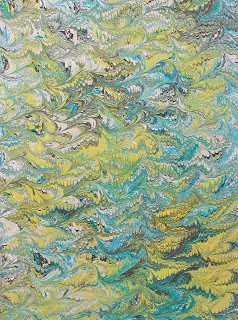 This is a fat quarter in blues and yellows, much nicer than the picture. It's pima cotton, pre-srhunk and heat-set. This is a marbled wave, giving great illusion of movement.


This last is a half yard of pima cotton, marbled with blues, blacks, and hints of purples. The pattern is a modified bouquet – looks somewhat like a waterfall, depending on its orientation. Again, heat-set and ready to go for whatever you can dream!