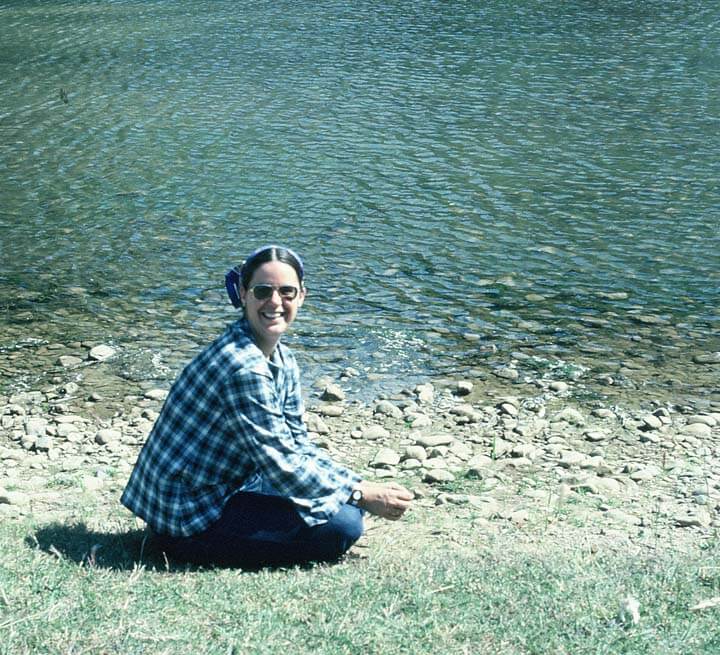 One of my projects that has been on hold these last couple of years has been making sense of all my slides and photos so I can look at them on a regular basis. I am slowly converting all of my slides to CDs, and I have started on all my China slides. There is another post here of other adventures in China. One of my goals is to print a couple of Apple books with my adventures, so I can look at pics very easily….no sorting through boxes and setting up the now ancient slide projector (which I tried to donate, and no one wants it….).
One of the most beautiful places I have ever been is Guilin, China. That's me some 33 years ago sitting on the bank of a river that runs through Guilin.  We all wore lots of dark blues and subdued colors during our month in China, as the Chinese frowned upon bright colors and dresses, anything that was "decadent" western. My trip to China coincided with the downfall of the Gang of Four, led by Mao's wife, and the reopening of China to western influence.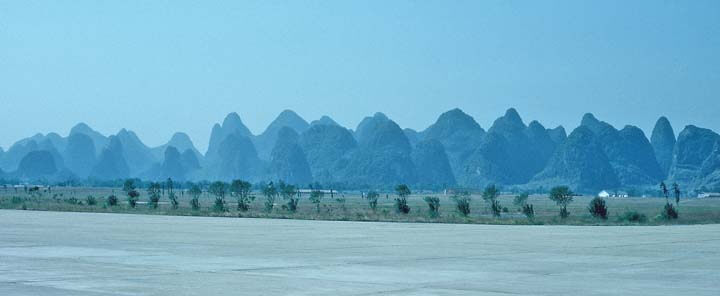 We flew into Guilin from Shanghai, and this was my introduction to the volcanic plugs in this part of China. I fell in love almost immediately, even with hearing combat fire in the distance, as China was at war with Vietnam – a little disconcerting.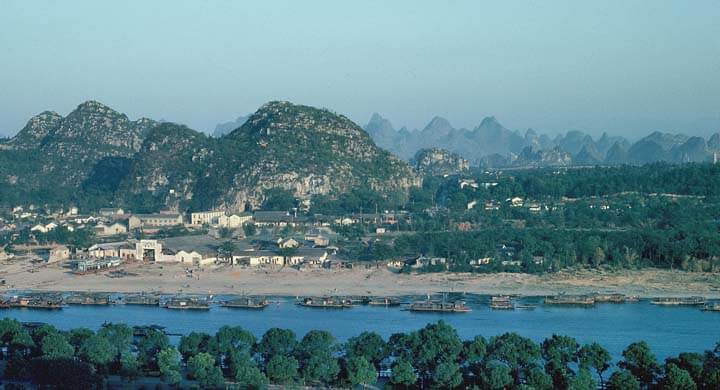 Guilin is on a river, and as you can see, the river was very low. This is one of the views from the top of our hotel. One thing about the hotels – no locks on the doors at all (some 30 years ago) until we got to Beijing, where the concern for theft was with the tourists.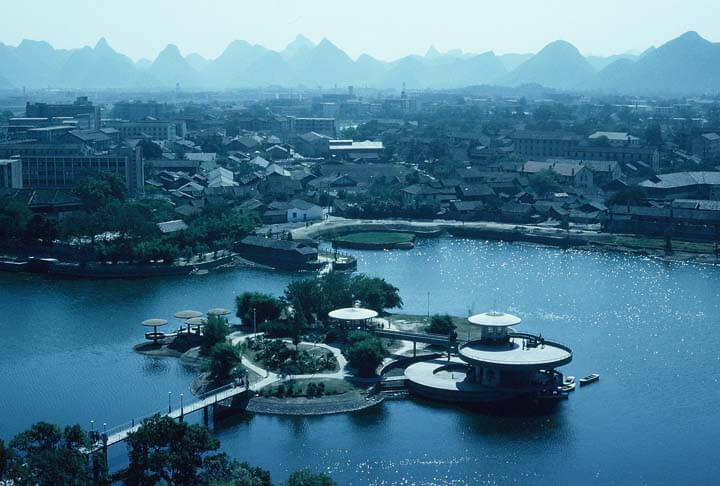 Another view of the city from the hotel in the early morning. We were getting ready to leave on a boat trip down the Li River, so we were up early.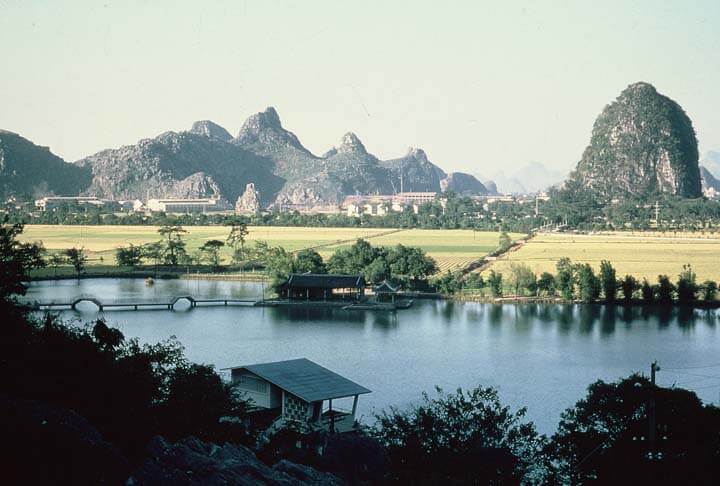 On the way to catch the river boat.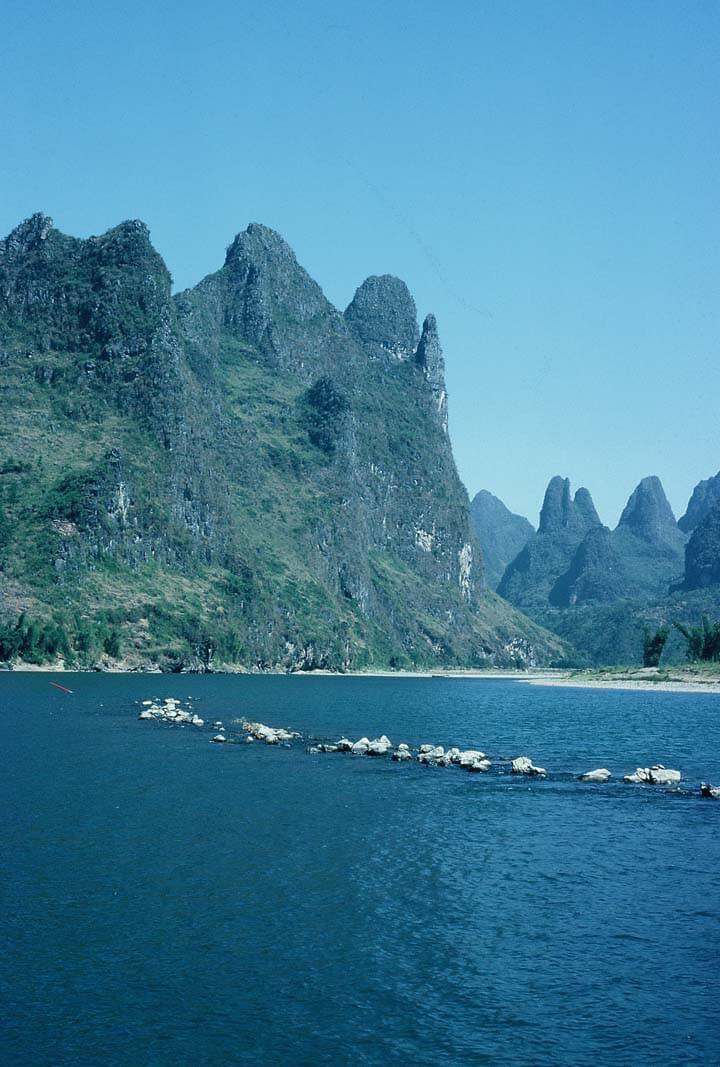 This was a nice relaxing trip through beautiful scenery. One of the guests with us was a leading opera singer, and we had the opportunity to ask questions about her life as a performer, expecially since the Cultural Revolution under Mao.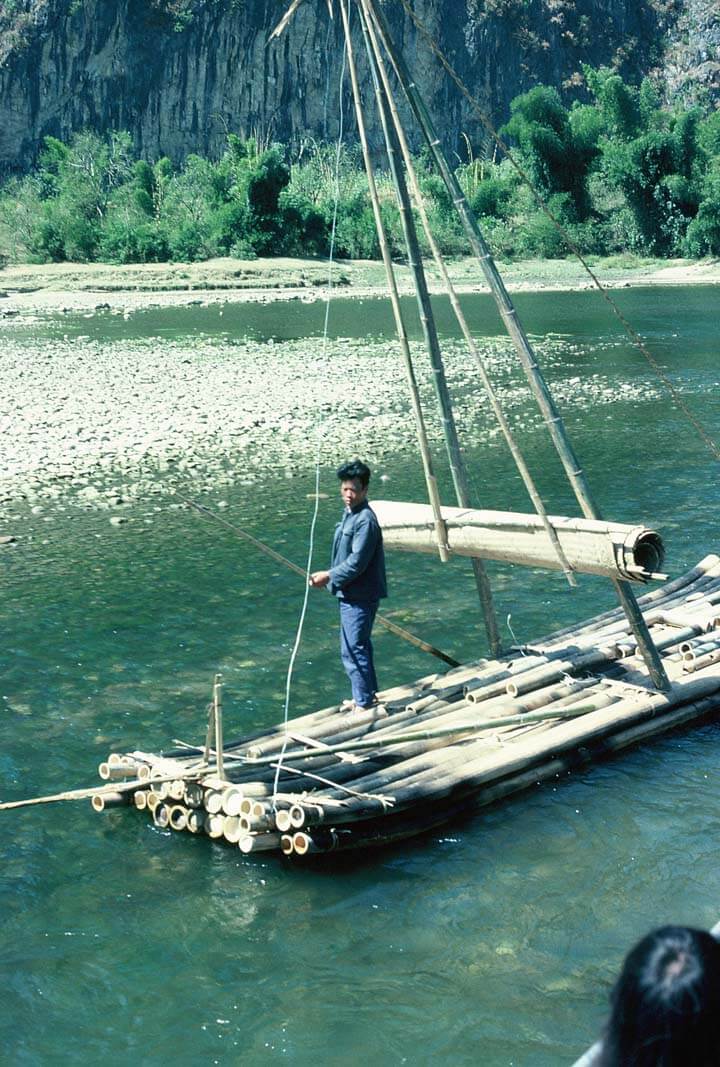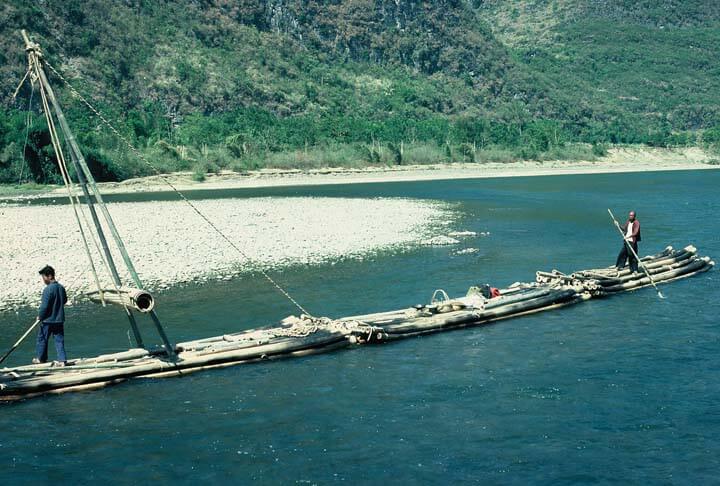 This is one of my favorite photos of this whole trip – another example of modes of transportation that get the job done.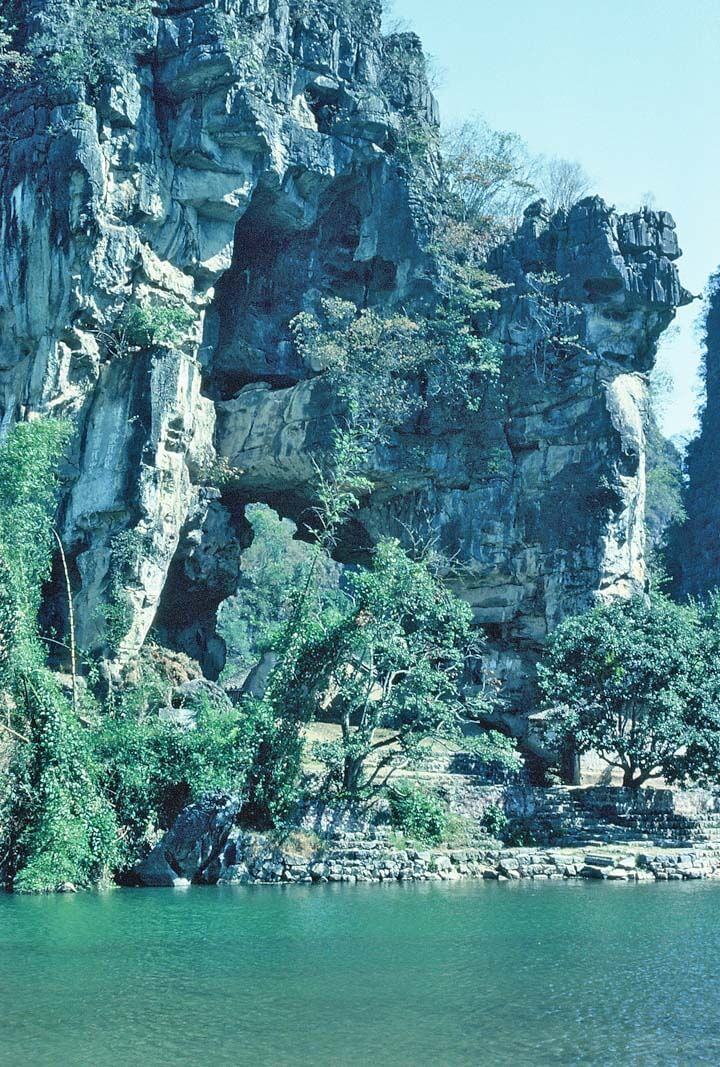 There were all kinds of spiritual spots along the river, names now lost to me.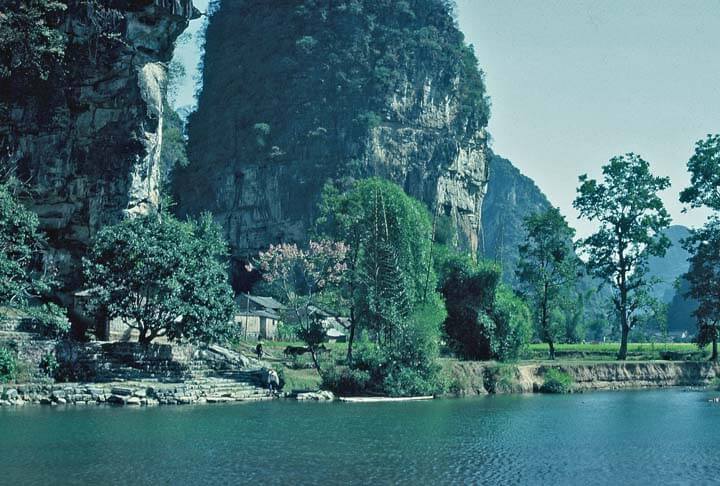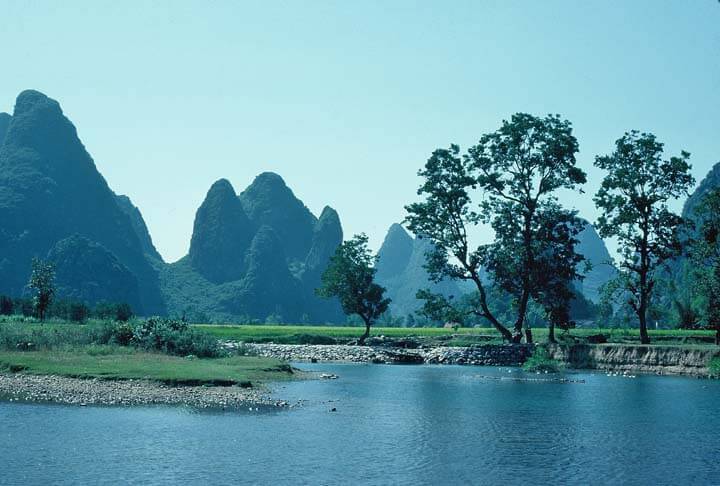 We had a lovely picnic waiting for us in this amazingly tranquil spot.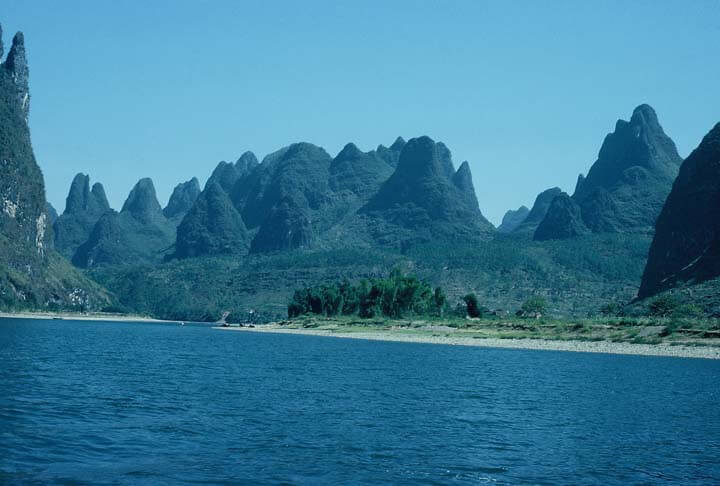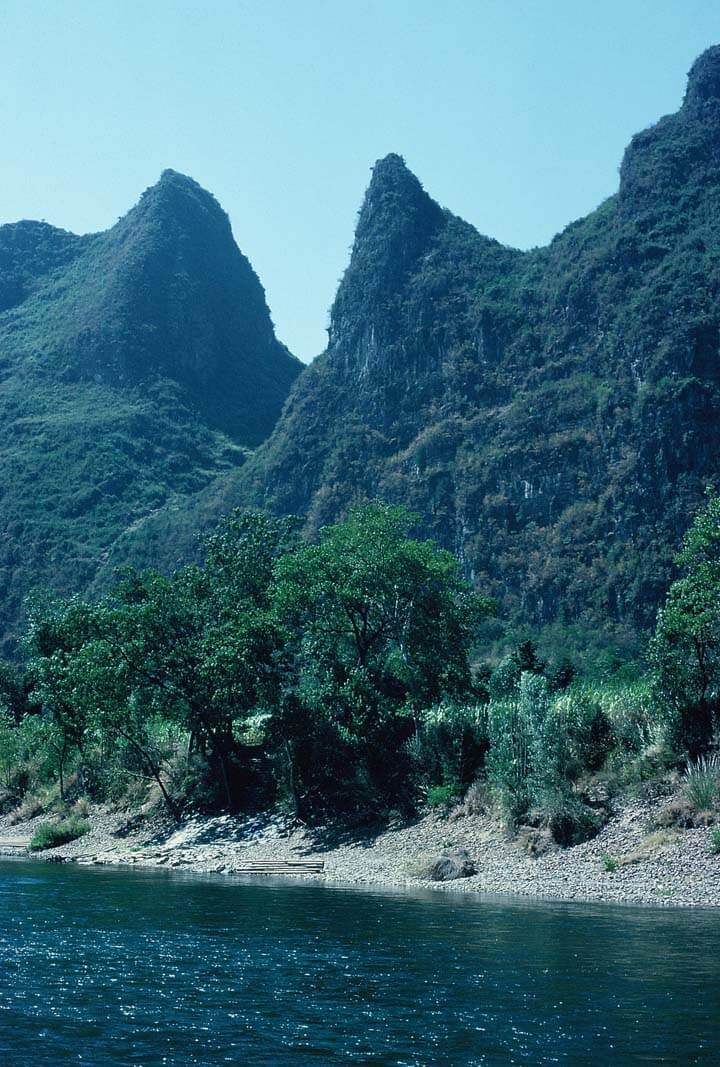 From here we were bused back to the hotel, as the river was too low for a trip back. Lots of fields and farming – countryside that didn't look much different from the Midwest – except for those glorious mountains.
2 Responses to "The Amazing Guilin"