When we started marbling, we were hooked from the very first piece. The problem was…what do we do with the fabric? Each piece was so gorgeous it was hard to cut into it. We knew we had to get over that mindset. Folks consistently asked, "What do you do with the fabric? I don't know how to use it." Confession time – I wasn't quite sure either. I saw a book and thought marbled fabric would look cool. Now it was "put up or shut up."
I was a beginning quilter with virtually no good color sense…that was hubby's field. I figured black goes with everything, so my first quilt was an attic window pattern.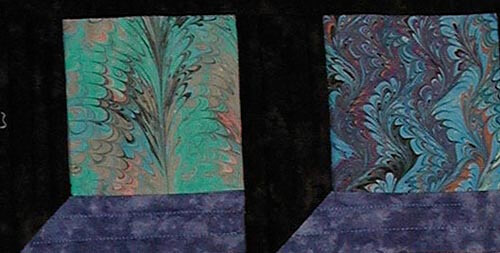 This was a nice way to show off smaller pieces of marbling, but I had to stretch further. It took a number of years before I stopped being afraid of any color except black. I started a Block of the Month, using blocks from Judy Martin. I became more daring…this time it was not black…..but other solids. I built the designs on the colors in the marbling. My January block had a definite "coolness," so I looked for solids with some texture that would work. I started to expand design ideas and felt that traditional blocks could be the key to using these fabrics.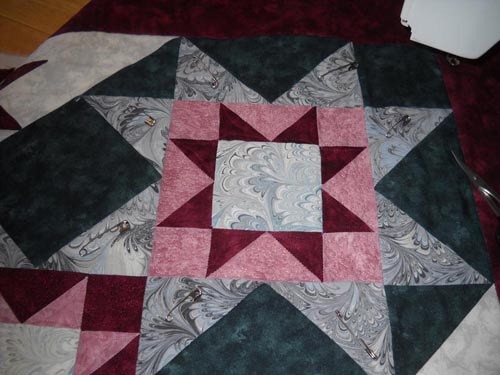 Now another confession…..when I first started doing quilting, I was pretty much "stitch in the ditch"….with metallic threads, no less. The quilt above is 12 years old, and I took it apart (oy) and used my newly acquired FMQ skills. I didn't stitch the marbled blocks, as I wanted them to stand out.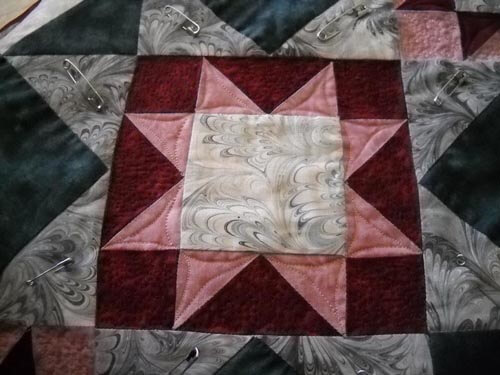 The completed quilt – marbled fabrics within traditional blocks. You can read more about the actual quilting here.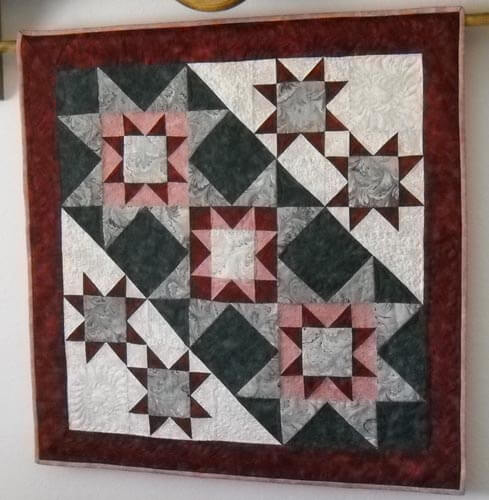 I was hooked on finding some great traditional blocks that could spotlight marbling and go together harmoniousl. Summer……..I had some great neon orange cotton, a nice piece of Moda Marbles, but I needed additional fabrics so the quilt wasn't overloaded with green. I stretched with the print fabrics I added to complement the marbled fabrics.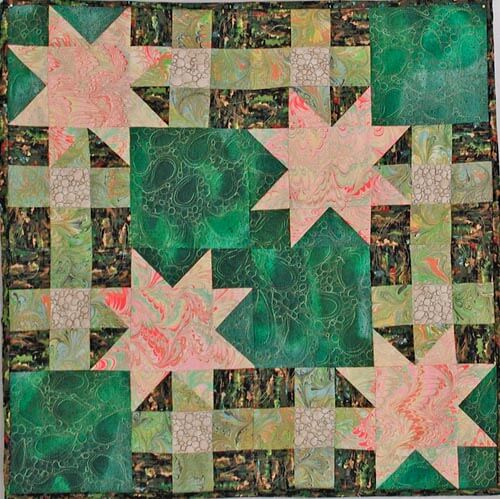 There's lots of machine quilting throughout, but the marbling has been left on its own. (I also took this quilt apart…. kind of obsessive. But as quilters, we KNOW what we want. More about the quilting here).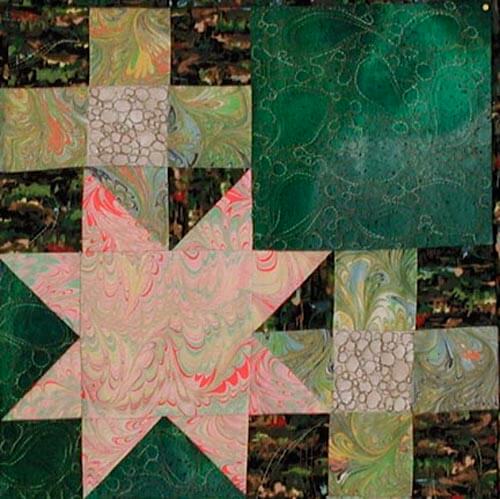 At this point, I had a great piece of marbled fabric that said "I want to be fish." I found a traditional block that could be used as fish. Thus the "fish quilt" was born (you can read about that quilting here). This time I quilted the marbled fabric by following the lines of the pattern and used stitches from my workhorse Bernina.
The completed quilt –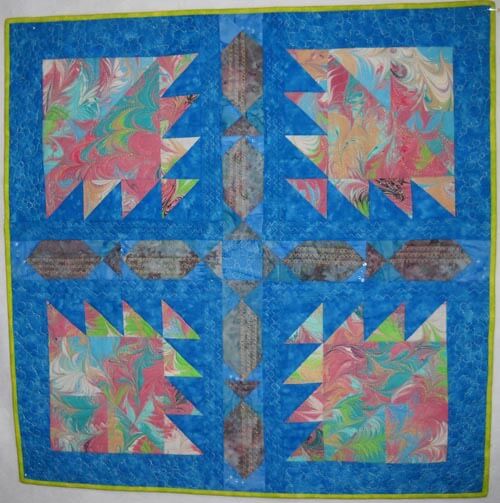 I started getting very bold – it never occurred to me to just quilt the marbled fabric itself. This was a major breakthrough. Traditional is fine, and I still work with traditional patterns, but quilting the marbled pattern gives a completely different look to a quilt. This quilt, "Nature 1: Rock Garden," became my first quilt accepted into a juried show, "Expressions in Textiles." It is very zen-like, and the quilting emphasizes the rock garden and sand.

Go traditional or go contemporary. Don't be afraid of the marbled fabrics. They can be the spark that makes your quilt.