Just when you don't think education in Arizona can get any worse, the state legislature pulls another stupid one. One of the state senators actually said education wasn't important to business – getting good business in Arizona was what was important.
Yeah, I know….but it gets worse. We are facing a 16% to 18% budget cut for next year – which will basically cripple the district. Imagine having 35-40 kids in math class, all of whom failed math in middle school. Can you imagine the nightmare? We'll have less monitors and one less assistant principal for a school of nearly 3000 students. No new texts, no supplies for next year, and 600 teachers cut district-wide.
Yeah, I know….but it gets worse. Our governor who managed to hold the legislature in line and not let them decimate education is now in charge of Homeland Security, and we have a bunch of bozos in the legislature. They insist on balancing the budget on the back of public education. At least the charter schools are facing some of the same budget cuts. Bus routes cut, support staff cut – and a new superintendent who is trying to bring this district into the 21st century – who can't believe the turf wars and unreasonableness of the state.
Yeah, I know….but it gets worse. I do have a job, but no raise again this year, and I am looking at either losing my extra 20% of my contract with a class cut, potentially losing more in my contract due to a proposed salary cut if things get worse, and watching this affect my last three years' earnings for my retirement. Yes, I have a job, but in 30-plus years of teaching I have never worked in these kinds of conditions. Vermont friends – you have no idea how wonderful it is back there!
Yeah, I know….but it gets worse. We still have to meet all of the state and federal mandates. In fact, we just had to sign on Wednesday (and the paper was due Wednesday PM – convenient for the board) that we approved the new 301 monies for the extra work we do (funded by sales tax), and without a 70% (I think) vote we wouldn't get any money at all next year – and still have to do the work (and a "I didn't vote" vote would count as a "no" anyway).
Yeah, I know….but it gets worse. Now the state is threatening to take away our "carry-over" money – savings we have worked to keep as a result of becoming more fiscally responsible. And ya know – not once has our state superintendent stepped forward to have his voice raised to support education (Well, maybe once – to tell us we were being too worried, and the cuts would only be about 2%). Better believe he ain't getting re-elected….
At least I still have a job – I don't know how effective I can be for kids who are terribly at-risk and need the best we can give them. No child left behind, huh? At least I know this year my students have learned math and now think it's okay – still hard, and they're not fond of it, but they know they CAN DO IT.


Ooohhh, it's my turn! Someone tagged me – and I've never been tagged – even when it was a game at school (always the last one picked, etc.)! That wonderful person is Anne of El Milagro Studio, who has introduced me to a new world of collage and texture – plus she's a riot to read!
Here's how this works….
A. Name & link back to the person who tagged you.
B. List sijavascript:void(0)x (un)important things that make you happy.
C. Tag six bloggers & let them know they're *it* by leaving them a comment.
Okay, things that make me happy….
1. Sitting near large bodies of water with a relaxed mind (haven't seen the ocean in 8 years…).
2. Traveling and cuddling with my hubby.
3. Seeing my kids understand math for the first time ever.
4. Making art!
5. The Hupp clan, my second family.
6. Theater – doing, attending, whatever…
Now for the bloggers:

Bliss Fork, she of many talents, winner of a free Ford Fiesta for 6 months – ask her to sing something from Peter Pan….
Mr. Teacher at LearnMeGood, former engineer turned teacher who make you laugh at all the eccentricities of teaching – and surviving….
Dr. Matt Lyon, a former student, who is a wonderful writer, and a chiropractor, and has great ideas of surviving the future!
The Caffeinated Librarian – a mile a minute! And she loved the new Star Trek movie!!
The Edge of the Sea of Cortez – wonderfully amazing book on tidepooling! You'll want to go dig up the sand….Follow their writings about this amazing environmental resource!
First time reading? Check out this overview.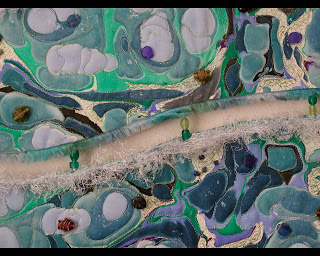 Yes, yes, yes!! The waiting game is worth it, as I got two pieces into the Fish Follies art show at the Cordova Historical Museum in Cordova, Alaska. You can view last year's entries here. Suzan Drury is my digital partner, and she won (and sold her piece) honorable mention last year. This is my third acceptance (each of the three years I have entered), and my second fiber piece. Last year Suzan and I had two pieces accepted, and this year we just did one joint piece. I do like the fact that they look seriously at fiber entries. This pic at the top of this post is a close-up of Ocean's Bounty – I'll get a full-size one posted soon.
So I could say I have a track record at this show – now if I could just sell something….but I am not going to let a heavily quilted and embellished piece sell for peanuts. Plus, I made the marbled fabric to begin with. Now I'm waiting on the Fort Collins show…all fiber – we'll see if they like "out-of-the-box" fiber!
Anne (see comments) from El Milagro Studio suggested creating a body of work and shopping it to galleries, which is what a lot of the focus will be this year. I do have a track record of getting into shows, including one rather prestigious fiber show. Some of our entries:
* Textures Gallery and Studio, Scottsdale, AZ, Fall, 2003
* "My World in Black and White," online exhibition, 2003-2004
* "My World in Black and White," Ontario Museum of Art and History, CA, 2003 – 2004
* Schullenberger Gallery, Jericho, VT. Artists' Showcase, December 2003
* Leandro Fabrics and Gallery, Tucson, AZ, May 2004, September 2004
* Expressions in Textiles, juried show, New Haven, CT, August 2004
* Fabric of Legacies, juried show, Fort Collins, CO, July 2004
* Fish Follies, juried show, Cordova, AK, August-November 2004
* Art of the Sixth Extinction, WomenKraft Gallery, Tucson, AZ. Winter 2005
* Fish Follies, juried show, Cordova, Alaska, July – November 2008
And now – Fish Follies, juried show, Cordova, Alaska, June – November 2009!
Here's hoping for more!
New to Marbled Musings? Here's a sample of what we're about!


Now it's waiting time. I have entered two shows in the last two weeks, one in Alaska and one in Colorado. There are several others that would be appropriate for my work (both fiber and digital), but too many entry fees really add up.
The Alaska show is one I've entered twice before and been accepted to, entry fee is reasonable, but I haven't sold anything yet. My digital partner has sold pieces every time she enters – just not one of "our" pieces! So at least the odds for acceptance are in my favor. My first piece was an art quilt, second pieces were digital art, and this year's entry is a very involved art quilt.
The Colorado show is also one I've entered and been accepted into, and there's no entry fee, but a 30% commission. Haven't sold anything, and haven't entered in the last couple of years. So I'm hoping my work is unusual enough to be noticed. Once I hear something, I'll post more.
I guess the questions for all of you are those of necessity. Do we need to have a juried list of acceptances to be seen as "real artists?" Do you choose which shows each year you want to enter? Do you set a budget specifically for art shows? Are there some shows you have more luck with?
Inquiring minds really want to know….and…wait for it….it's the weekend!! More time for art!
First time reading Marbled Musings? Check out the Overview.
Last days for Contest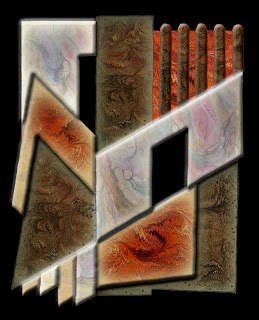 copyright 2008 by Linda A. Moran, all rights reserved
Marbling is such a fascinating process, hundreds of years old, and much of it still "hidden" to the public, given that the Guilds used to be very protective of their skills and secrets, and would put marblers to death if they shared secrets outside their guild. Not in these days – you have paper marblers involved in antique book restoration, commissions, and marbling fabric. We spent ten years learning the craft, just to consider ourselves passable at marbling. We have so much left to learn! What follows are a collection of links to this amazing art form. What I am trying to do with my blog is document how I am using the marbled fabric we create into other forms – quilting, abstract, wearable, and digital.
All of these videos are pretty good – gives you an idea of just how meditative this art form can be. Some of the videos are 7 minutes or longer – but worth the wait. Plan to spend some time, as the work is gorgeous! The websites have amazing work on them, so enjoy!
From YouTube:
Paper Marbling
Turkish Marbling
The Art of Marbling
Ebru Sanati
Ebru Sanati 2
Marbling Websites:
Marjorie Beavis
The Art of Fabric
Galen Berry
Society of Marbling – loads of links here on marbling – some amazing eye candy!
Iris Nevins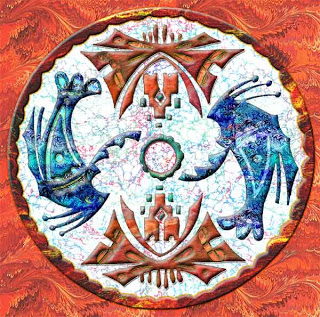 Copyright 2009 by Linda A. Moran, all rights reserved.
As I've been reading blogs lately, I'm reminded of people I really admire, living and non. The kids asked me to name my heros, and of course they didn't know any of the names. One even said "Were they around for George Washington?" Nothing like continuing to feel even older! So here goes:
* Helen Keller – actually saw her on television in the 50's, and have read about her and Anne Sullivan. Remarkable.
* Eleanor Roosevelt – "No one can make you feel inferior without your consent." A great first lady, world ambassador, and far-thinking woman.
* Albert Schweitzer – world-class humanitarian; gave up a music career to become a doctor and set up clinics in Africa.
* The Founding Fathers – this was an amazing collection of brilliant minds at one particular point in history; they did what no others have done.
* Nelson Mandela – prison for 25 years for what you believe in.
* Thomas Friedman – NY TImes columnist who makes economics make perfect sense – I actually read him regularly, and The World is Flat" is a must-read.
* Dr. Martin Luther King, Jr. and Ghandi – nonviolence should be the only answer.
* Barbara Kingsolver – her writing makes you want to become an environmentalist, she cares so for the world around her.
* Agnes Smedly – a little-known American woman who was on the Long March with Mao and worked with Margaret Sanger.
* Dorothea Dix, Margaret Sanger, Jane Adams, and Abigail Adams – just amazing women who fostered women's rights and women's causes – when it wasn't popular to do so.
Okay, so there's more than 10, but by grouping them, I could include those who have made a difference for me.
Other Top Ten's – Martha Stewart, Inspirational books
First time reader of Marbled Musings? Check out what you can find on this blog.
Wanna enter our Contest?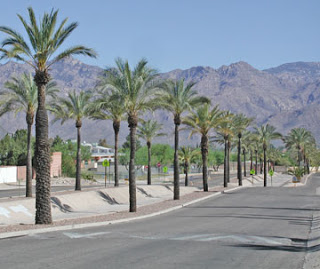 All images copyrighted by Linda A. Moran, 2009
This is a shot of my new neighborhood, minus the wonderful cul-de-sacs, where spring is blooming furiously. This morning was one of those absolutely perfect days, Josh Groban on the CD, and all's right with the world. Today, instead of concentrating on posture and breathing, I just wanted to walk for me and the music. Just glorious!
Ocotillo is spectacular this time of year. If we get enough winter rain, the trees get all fuzzy green, with great red blooms waving from the tops. Here's a few shots – note how the green "fuzzies" just surround the branches.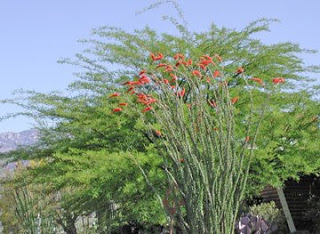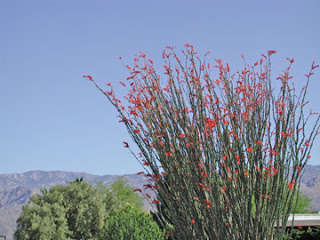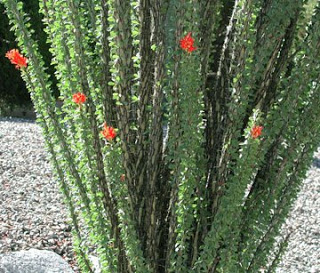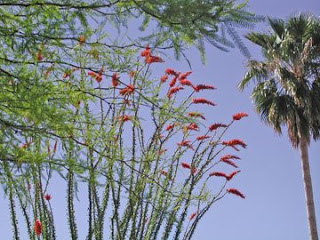 The textures amidst all this flowering really are great. Rough ark, sturdy cactus, skinny branches, delicate blooms – certainly a very different spring than the East!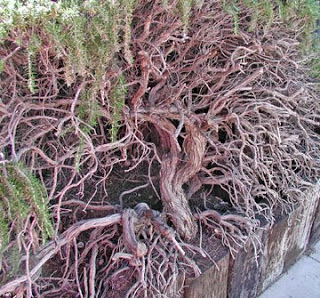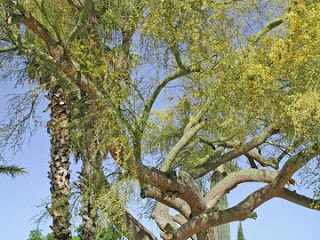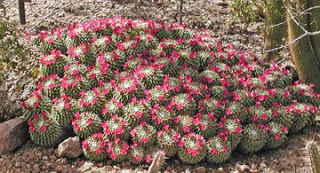 In our backyard is a slowly-blooming palo verde, with blossoms the most gorgeous true deep yellow. Depending on the light, the yellow is even deeper!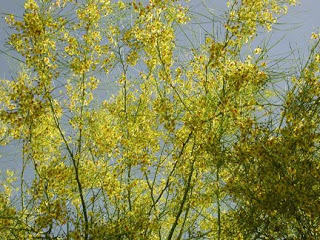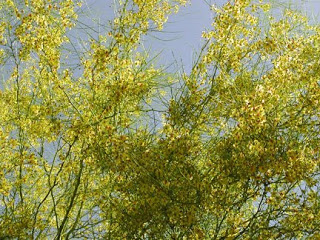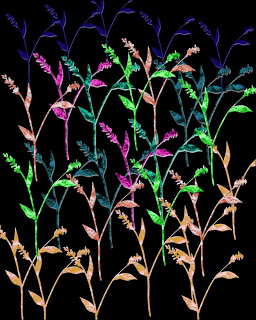 (copyright 2009 by Linda A. Moran, all rights reserved)
It is official – after almost a year of planning to do this, downloading the paperwork, actually filling it out, finally mailing it, getting it returned because I filled it out wrong, redid it, and then sent it back in, we got official confirmation of a trade name for Digital Marbling.
I've been using this in blog posts for over a year, and it describes the new direction we are taking with our fabric. Now we will scan a piece of marbled fabric (or paper), and manipulate it using Photoshop, until we have something totally unique. Today's picture is an example. I started with a stock image from Photoshop, adding a layer at a time. Then I used some patterns I had created from the marbled fabrics and "filled" them into the flowers. Once I added the black background, the piece began to glow. I went back into the various levels and tried to accent the patterns so the texture would be more obvious. As with all the pieces I am doing, the web and different monitors just don't do them justice. This piece at its original size is gorgeous – if I do say so myself!
Lately I have been trying new images and writing about the process, and I have alluded to Digital Marbling. But now it's official – I just need to figure out how to put the little graphic at the end of the name! Not only am I learning how to work with Photoshop – and being pleasantly pleased with what happens as a result, I really like the fact that I am taking myself in a new direction. This week life just got in the way ofd continuing my projects.
First time reading Marbled Musings? Get acquainted here.


Welcome to the world of marbled fabrics, creativity and Photoshop, and the occasional comments on life. Most of the posts revolve around these topics. I've broken them down into categories, along with some of the keys posts in each. Feel free to browse, and come back, for I have been really increasing my design productivity.
Photoshop:
Orange Blossoms
Photoshop Transforming
Creativity:
The Digital Generation
Artists, Creativity, and Depression
Organization Queen
The Importance of Art Education
When Art Class Works
Marbling:
Adventures in Marbling
History of Marbling
History of Marbling – Part 2
Top Ten Lists:
Boo on You, Martha Stewart!
Top Ten Inspirational Books


The kids and I were definitely on the same page today. They didn't want to work, I didn't want to work, they had lives outside of school, I have a life outside of school….so we talked about not giving up when we still have work to learn. I took them through everything they had accomplished in algebra 1:
*making a table, a graph, and an equation for a linear function;
*making a table, a graph, and an equation for an exponential function;
*making a table, a graph, and an equation for an absolute value function; and
*making a table and a graph for a quadratic function.
THe only thing we really have left to do is solve quadratic equations through factoring and the quadratic formula. I think they were pretty impressed with themselves, and we had a great class. No more whining – we were in this together!
But – I still wanted to get home and work some more on the gecko from yesterday. I still felt there were a lot of ideas to try in Photoshop. So you can go back an entry and see the original image – and then look at this new one -lots of embossing, and I learned how to change the shadows from a default black to a color within the marbled pattern. I continue to be amazed at the amount of texture the marbled fabric gives the design.This one looks like a piece of copper. Another "wow," and I foresee a series with the gecko, and maybe a few other common images of the Southwest.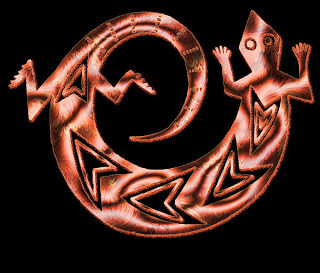 Don't forget our CONTEST!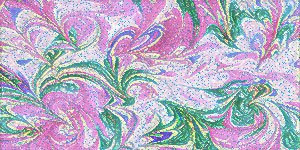 In the midst of a lot of school work, writing, and phone calls, I had time to work on another indigenous image – this one of the well-known gecko of the Southwest. We have numerous in our backyard, and they're quite fun to watch doing their "push-ups" in the sun! This first is the original image in black and white –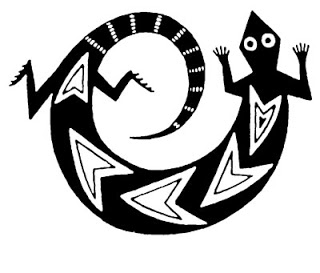 Then I looked through new patterns I created and settled on the orange marbled pattern. Lots of "heat" to match the Southwest, and the detail is so perfect – nice and small, almost like skin.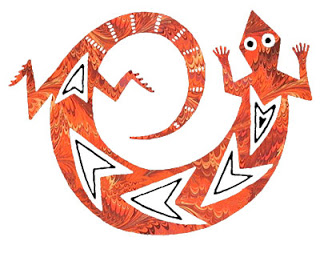 Then I started with embossing – give some life to the gecko. This was another image that fell into place; I seemed to know exactly what to do – and even more importantly, HOW to do it.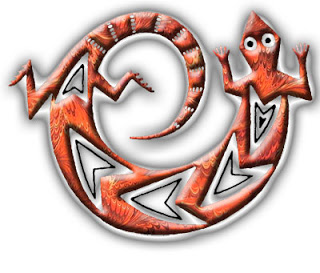 Then I went with my gradients – which I love. I have a couple of favorites – the bronze/copper one being the one on this. I tried all kinds of filters and adjustment layers, and finally the gecko said "enough."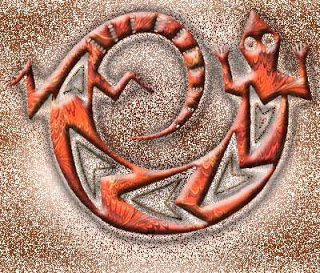 I'm very pleased with the final result.
And – I finally – last night after nearly 10 years – realized how to scan fabrics to create a quilt through Photoshop. Very cool!


I met Al Myers in the early spring of 1990. We were doing auditions for "Peter Pan" at the middle school, and Al stopped after rehearsal to ask if we needed any help. His daughter Briana would be in the play, and he wanted to help. I had no idea he knew so much about theater; I just knew he taught in one of the towns over from us.
My earlier experiences with parents "helping" had not been good ones, so I figured Al could help control kids and work on props. Little did I know I had just met someone who dreamed as big as I did. "Peter Pan" at the middle school? Well, maybe the stage isn't big enough, and you know, we could build a stage extension and platforms to increase the overall staging for the show. And we could probably modify the existing lights, bring in some new ones, and I'll show you every step of the way.
I was pulled in to doing everything. Al sketched things out, I took him through some of my blocking, and suddenly I was in the midst of helping kids build four large platforms to extend out over the stairs to the small stage in the gym. I wrote down nearly everything Al had to say, size of lumber, how many two-by-fours, size of bolts and nuts and washers. Everything could be collapsible to store for each year in our limited wing space. And sturdy? 30 kids dancing – not a problem.
Then there was the lighting – Al brought in a friend and lots of extra lights and showed me how you really light a show. Up and down the cherry picker to angle lights – boy, it was like taking a private class in stage lighting. Al knew so much!
The show was a massive hit, and afterwards I told Al I couldn't have imagined the show without all his help. He did the same thing the following year (minus the stage extension – we just put it all back together), and we had even better lighting for "Music Man." After that show my job changed, and I wasn't around to continue with the two middle school theater programs, but I carried that knowledge on – through what I learned from Al I was able to bring better experiences to another middle school theater program, and thus increase his influence.
I have been fortunate being able to say thank you to the professionals who have helped me grow along the way. After "Peter Pan" and "The Music Man" I said a great big thank-you to Al – who replied that he was just glad he could help.
When I heard the news yesterday, it was like the proverbial punch to the stomach – how could someone so young, so wonderful, just not be there any more? How could a master teacher be gone? I think every teacher hopes he or she can influence eternity. Al Myers – you will always live on in the countless people you taught, from kid to adult. Thank you, thank you, thank you. Williston, Vermont, the arts – we have lost a master teacher.
A few pics of Peter Pan – kids out on the state extension and in front of the curtain.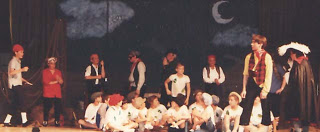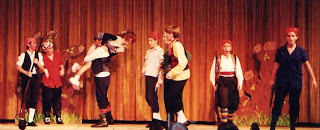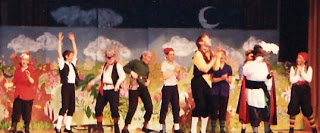 So after some errands, and a short time outside relaxing and reading (which I haven't done in months), I went back to Photoshop, and things flowed wonderfully. This image is from the Cochiti tribe of the Southwest. Once I realized I hadn't put pieces on individual layers, I was able to do a lot more with manipulation. Also, every background that you will see is marbled fabric. A few of the fabrics have been lightened, or hues changed, through Photoshop.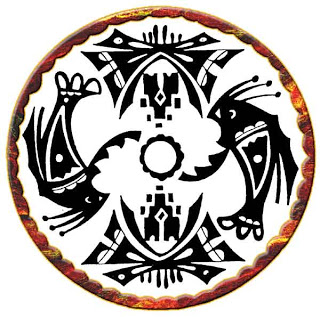 This first shows the border. I played around with embossing and a small stroke to give the border some good dimension. The stroke is done in a color sampled from the marbled fabric. It always amazes me what Photoshop can do.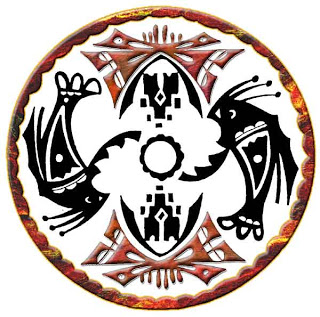 This second looks at two of the main images, done with a free-form marbled pattern. Lots of embossing, shadows, some stroking, There's a wonderful "look" to these – very earthy.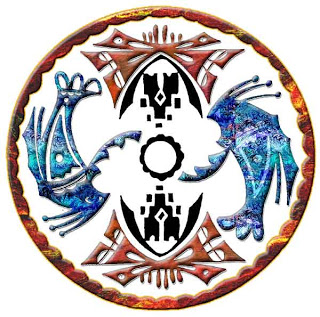 I went with a watery marbled pattern for these two, as well as some of the same layer options as above. The pattern has been lightened for the shadowing inside the figures.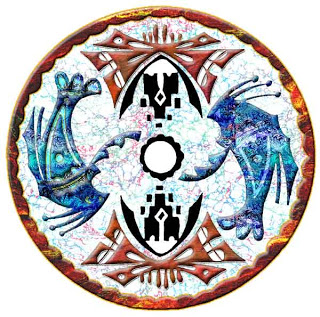 I knew when I started I wanted some marbled pattern for the center, if not the whole background. This is the Italian Vein marbled pattern lightened so it doesn't overwhelm the foreground. Once it was there, it looked perfect.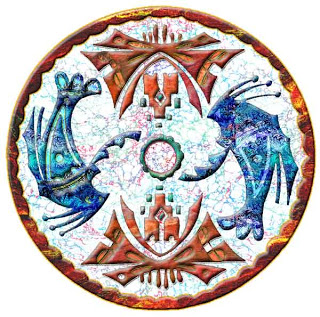 I finished off all the other little "openings," for lack of a better term. I lightened some pieces, trying to get as much depth and texture to the whole piece. Then – I played around with the overall background. I wasn't adverse to the white, but I wanted to see what else would work. Black was too dramatic – it seemed like the eye just wen to the black before the design. I chose a large orange pattern I had scanned, then lightened it a little, so the border would still be prominent.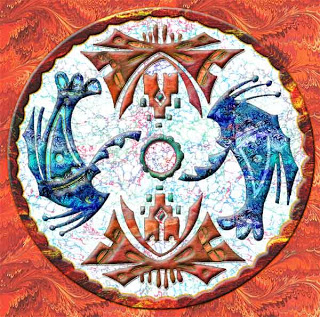 To say I'm pleased is an understatement. This meets my "wow" criteria. I tried a few other tricks in Photoshop – ready for some new ones. And – these pics don't even begin to do justice to this piece!!


It's the weekend and I want to play around some more with ideas from some indigenous images to see what happens. This is also a way for me to boost – and expand – Photoshop skills. Here's the original clip-art image, from one of the Dover books: North American Indian Motifs. I like the Dover books because they are royalty-free and they lead to some great inspiration, using the marbled fabrics.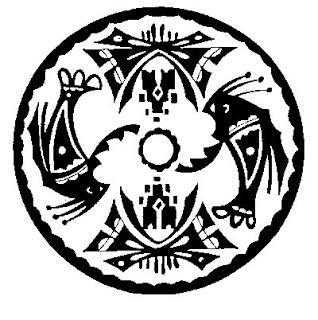 I have to learn I can't load a jpg image to start – I need to use BMP – and then convert, which is new for me, and I am getting used to it. I also am learning how to paste one image into another blank page. The other think I have discovered today is I don't have nearly enough marbled patterns in my pattern assortment. They all tend to be the same, so I need to scan more fabric and work on a new pattern collection – lights and darks, different hues, all from the same pieces.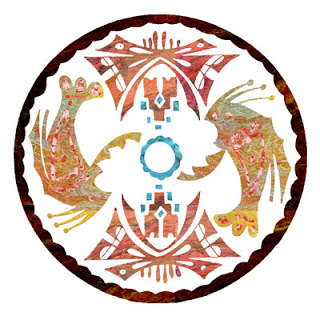 This is the first part – just important patterns. I'n not adverse to the colors, but one of the major things I discovered is when I used my magic wand, I didn't zap the areas to a new layer, so can't enhance each section like I would like. Right now I am pleased with colors, but it is oh so flat, and I don't really have a good background fabric-pattern to use at this point. So for now, I'm off to scan fabrics, play with colors and sizes, and then hopefully come back, do this over on new layers, and proceed from here.
Other Photoshop journeys you might enjoy:
New Directions – this has found its way into many of our new works.
Marbled Fabrics
Don't forget our CONTEST!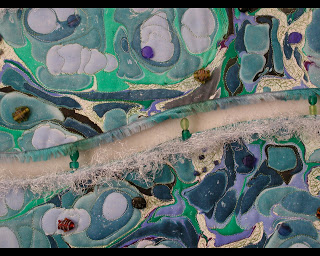 Normally I can handle just about anything that comes at me. I may freak out a bit at first, but then I usually pull it together and march right on. But this year all has fallen apart with my eyes. It started with the summer cataract surgery last June, that lef to major complications – huge eye pressures (like 57), three laser holes for an iridotomy that didn't work, massive doses of prednisone, and finally an iridectomy to surgically put holes in my left eye to relieve the pressure.
Okay, I dealt with that (blood clots and all as a complication). But in September I fell at school and whacked my head on the back of a bookcase, causing hemora – screw it – bleeding – in the bad eye, and the sight was gone – what little I had there. Neither the cataract doctor nor the retinal specialist can figure out what is going on. Now I'm told my good eye is beginning to deteriorate with borderline glaucoma.
Bleech. After all these years (trust me, a lot) of working on one eye, I am having to come to terms with what further disease might mean. And just as I am really finding my way artistically, as well as taking serious time to create. I notice so much more now that I do regular artist dates. I see textures where I never used to. So I'm not dealing well right now. I will in a couple of weeks, but right now this is throwing me badly. I can't imagine what it would be like to not quilt or sew or read or surf the web…..
Enough pity – I just needed to get it out. Tomorrow's Friday – an art weekend ahead! And –
wait for it….
I own a calculus t-shirt! Who knew? With it's own "Mathematical Advisory" of "graphic content" and "explicit functions." And I actually know what they mean!!!