So after some errands, and a short time outside relaxing and reading (which I haven't done in months), I went back to Photoshop, and things flowed wonderfully. This image is from the Cochiti tribe of the Southwest. Once I realized I hadn't put pieces on individual layers, I was able to do a lot more with manipulation. Also, every background that you will see is marbled fabric. A few of the fabrics have been lightened, or hues changed, through Photoshop.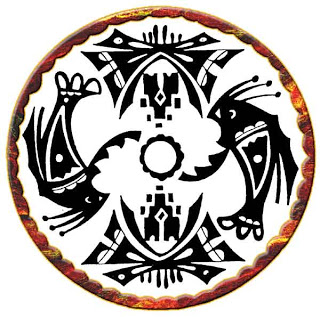 This first shows the border. I played around with embossing and a small stroke to give the border some good dimension. The stroke is done in a color sampled from the marbled fabric. It always amazes me what Photoshop can do.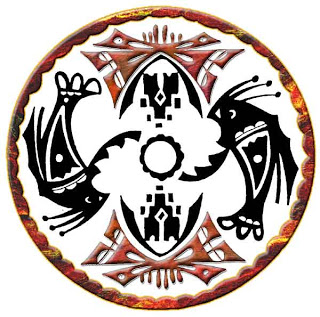 This second looks at two of the main images, done with a free-form marbled pattern. Lots of embossing, shadows, some stroking, There's a wonderful "look" to these – very earthy.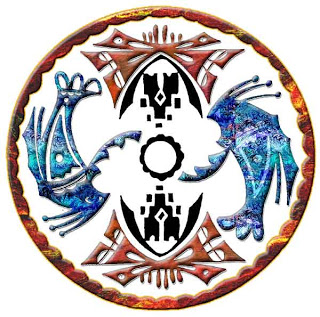 I went with a watery marbled pattern for these two, as well as some of the same layer options as above. The pattern has been lightened for the shadowing inside the figures.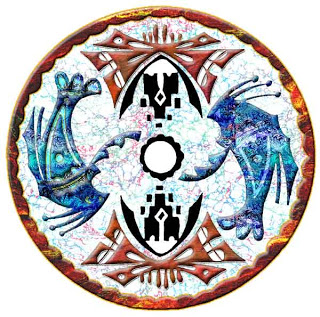 I knew when I started I wanted some marbled pattern for the center, if not the whole background. This is the Italian Vein marbled pattern lightened so it doesn't overwhelm the foreground. Once it was there, it looked perfect.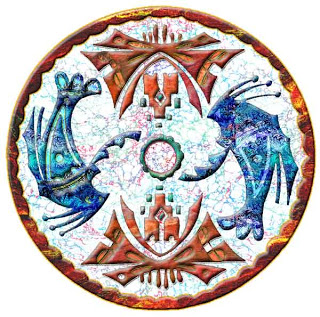 I finished off all the other little "openings," for lack of a better term. I lightened some pieces, trying to get as much depth and texture to the whole piece. Then – I played around with the overall background. I wasn't adverse to the white, but I wanted to see what else would work. Black was too dramatic – it seemed like the eye just wen to the black before the design. I chose a large orange pattern I had scanned, then lightened it a little, so the border would still be prominent.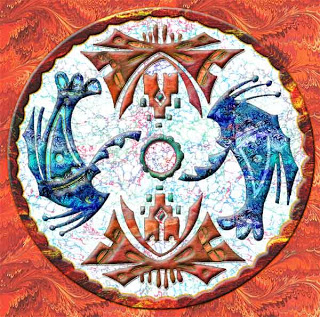 To say I'm pleased is an understatement. This meets my "wow" criteria. I tried a few other tricks in Photoshop – ready for some new ones. And – these pics don't even begin to do justice to this piece!!