I met Al Myers in the early spring of 1990. We were doing auditions for "Peter Pan" at the middle school, and Al stopped after rehearsal to ask if we needed any help. His daughter Briana would be in the play, and he wanted to help. I had no idea he knew so much about theater; I just knew he taught in one of the towns over from us.
My earlier experiences with parents "helping" had not been good ones, so I figured Al could help control kids and work on props. Little did I know I had just met someone who dreamed as big as I did. "Peter Pan" at the middle school? Well, maybe the stage isn't big enough, and you know, we could build a stage extension and platforms to increase the overall staging for the show. And we could probably modify the existing lights, bring in some new ones, and I'll show you every step of the way.
I was pulled in to doing everything. Al sketched things out, I took him through some of my blocking, and suddenly I was in the midst of helping kids build four large platforms to extend out over the stairs to the small stage in the gym. I wrote down nearly everything Al had to say, size of lumber, how many two-by-fours, size of bolts and nuts and washers. Everything could be collapsible to store for each year in our limited wing space. And sturdy? 30 kids dancing – not a problem.
Then there was the lighting – Al brought in a friend and lots of extra lights and showed me how you really light a show. Up and down the cherry picker to angle lights – boy, it was like taking a private class in stage lighting. Al knew so much!
The show was a massive hit, and afterwards I told Al I couldn't have imagined the show without all his help. He did the same thing the following year (minus the stage extension – we just put it all back together), and we had even better lighting for "Music Man." After that show my job changed, and I wasn't around to continue with the two middle school theater programs, but I carried that knowledge on – through what I learned from Al I was able to bring better experiences to another middle school theater program, and thus increase his influence.
I have been fortunate being able to say thank you to the professionals who have helped me grow along the way. After "Peter Pan" and "The Music Man" I said a great big thank-you to Al – who replied that he was just glad he could help.
When I heard the news yesterday, it was like the proverbial punch to the stomach – how could someone so young, so wonderful, just not be there any more? How could a master teacher be gone? I think every teacher hopes he or she can influence eternity. Al Myers – you will always live on in the countless people you taught, from kid to adult. Thank you, thank you, thank you. Williston, Vermont, the arts – we have lost a master teacher.
A few pics of Peter Pan – kids out on the state extension and in front of the curtain.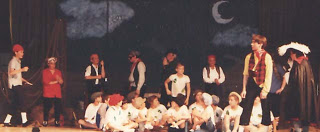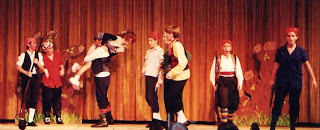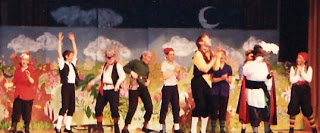 One Response to "In Memoriam – Al Myers"