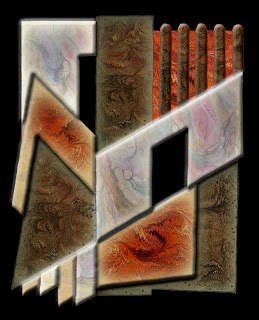 copyright 2008 by Linda A. Moran, all rights reserved
Marbling is such a fascinating process, hundreds of years old, and much of it still "hidden" to the public, given that the Guilds used to be very protective of their skills and secrets, and would put marblers to death if they shared secrets outside their guild. Not in these days – you have paper marblers involved in antique book restoration, commissions, and marbling fabric. We spent ten years learning the craft, just to consider ourselves passable at marbling. We have so much left to learn! What follows are a collection of links to this amazing art form. What I am trying to do with my blog is document how I am using the marbled fabric we create into other forms – quilting, abstract, wearable, and digital.
All of these videos are pretty good – gives you an idea of just how meditative this art form can be. Some of the videos are 7 minutes or longer – but worth the wait. Plan to spend some time, as the work is gorgeous! The websites have amazing work on them, so enjoy!
From YouTube:
Paper Marbling
Turkish Marbling
The Art of Marbling
Ebru Sanati
Ebru Sanati 2
Marbling Websites:
Marjorie Beavis
The Art of Fabric
Galen Berry
Society of Marbling – loads of links here on marbling – some amazing eye candy!
Iris Nevins