It's the weekend and I want to play around some more with ideas from some indigenous images to see what happens. This is also a way for me to boost – and expand – Photoshop skills. Here's the original clip-art image, from one of the Dover books: North American Indian Motifs. I like the Dover books because they are royalty-free and they lead to some great inspiration, using the marbled fabrics.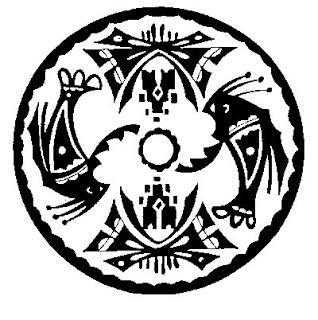 I have to learn I can't load a jpg image to start – I need to use BMP – and then convert, which is new for me, and I am getting used to it. I also am learning how to paste one image into another blank page. The other think I have discovered today is I don't have nearly enough marbled patterns in my pattern assortment. They all tend to be the same, so I need to scan more fabric and work on a new pattern collection – lights and darks, different hues, all from the same pieces.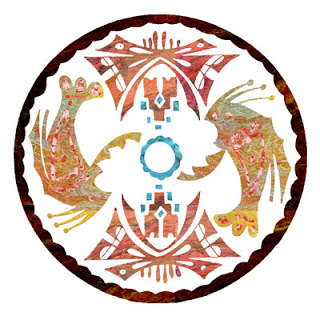 This is the first part – just important patterns. I'n not adverse to the colors, but one of the major things I discovered is when I used my magic wand, I didn't zap the areas to a new layer, so can't enhance each section like I would like. Right now I am pleased with colors, but it is oh so flat, and I don't really have a good background fabric-pattern to use at this point. So for now, I'm off to scan fabrics, play with colors and sizes, and then hopefully come back, do this over on new layers, and proceed from here.
Other Photoshop journeys you might enjoy:
New Directions – this has found its way into many of our new works.
Marbled Fabrics
Don't forget our CONTEST!