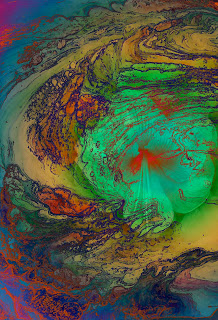 This is absolutely, positively one of my most favorite digital marbling (TN) pieces. Suzan and I stumbled on this as we were laying with a deconstructed piece of marbled fabric. Here's the process: I take a pic or scan a piece of marbled fabric and then play around in Photoshop until I'm happy with the result. With this piece, we took it down to a basic line drawing and then started playing around with gradients. We got a great background, but we knew it needed something more.
So we went through the photo library and found a great pic of a flower hubby had taken from our yard. Voila! That was exactly the focal point we needed.
This brings me to my Saturday Special. In an attempt to market myself and my art more strongly, I am investigating a variety of venues over the internet. This Saturday you can take a look at a few gifts available from Cafe Press. My "store" is quite small, and I look to change a few items on a regular basis. I've tried to price items so they would make great gifts for those who either have everything or need nothing! This photo graces a personal journal, making it somewhat mystical for your writings.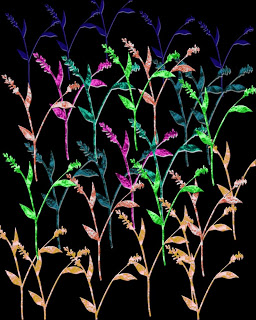 This flower image graces a small tile, a perfect gift for a housewarming. The basis of the design again is marbled fabric, this time inserted into flower images. I really like the "neon" effect of the flowers. This image will show up in a larger print down the road, because the detail in the flowers is intense.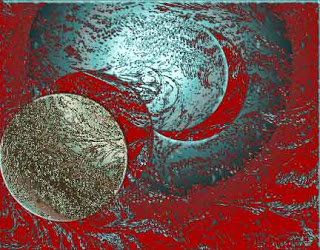 I had so much fun creating this image, one of the first I successfully completed on my own. This is part of a "moon" series, and it also started as a piece of marbled fabric, deconstructed to a basic line drawing, with a series of gradients applied. I don't think I could achieve the detail in this any other way. The piece just glows! This is available as a set of note cards, a nice way to maintain a unique social communication.
I am very interested in hearing from those of you who sell on line. Any tips or hints to share?
First time visiting Marbled Musings? Get an overview.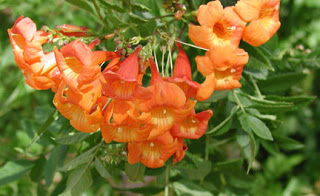 I have finally been playing around with tutorials on the Photoshop site, National Association of Photoshop Professionals. There are over 1000 tutorials, a mine of activities to try. If you can work and teach yourself, this is absolutely wonderful. This is the original from a spring photo shoot at the Botanical Gardens. It's already been cropped to emphasize the flowers. I decided to work just with gradients this time to see what would happen.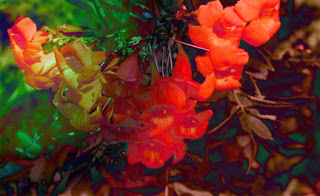 This has a nice other-worldly feel to it in the lower right corner. It has taken me a long time to get comfortable working with gradients. At first I started with a gradient on a whole image, and then I realized I could take part of an image, snap it to a new layer, and apply the gradient to that part only. With this flower image I decided to work with the whole image for a change.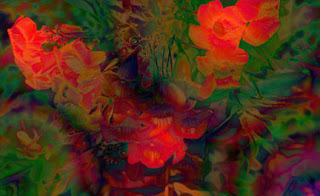 I tried an additional gradient on top of this one and am generally pleased with the result. I like the addition of a little bit of blue in there. I have discovered that I can keep copying layers and apply more gradients on top of other gradients and then eliminate what I don't like. The freedom to experiment this way is wonderful – not like the way so many of us learned art – we rarely started something over again, after all our efforts. This way, even with the effort, I don't mind eliminating what doesn't work. I realize I have still learned from the exercise.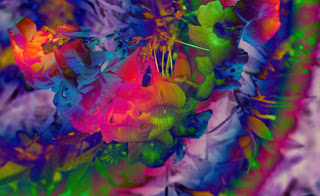 For this last one I hid the other gradient layers and tried something totally different. I don't think it's as effective as the others. I like the play of colors, but I don't care for the composition of the photo now – the emphasis on the flowers is gone. But I've learned….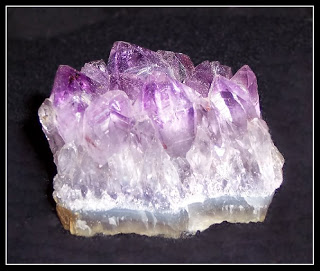 (Photo credit http://i1.treknature.com/photos/1879/ametyst.jpg)
Anne of El Milagro Studio had a post last week on her basket of pearls, which got me thinking about amethyst. I had to search for a photo, since I had given away my last chunk of the purple stuff. I had a parent about 15 years ago give me a chunk of the stuff with a story attached, which I want to share with you – it's quite meaningful.
If you look at the photo of the raw amethyst, you see a black goopy outer shell on the bottom, which is us at various points in our lives – unformed, untried, searching. The cystallized white part is us as we start to form, learn and obey rules, and start to figure out who we really are. But then there are all these imperfections in the stone that end up becoming this amazing purple at the top of the stone. Think about all your little quirks, all your background experiences. They form you into who you are now, that gorgeous purple- you couldn't be the purple without everything that came before.
And – we return to the goopy stage often – graduations, turning birthday milestones, starting new jobs….we're untried, we learn, we make mistakes, and then we emerge into something wonderful – our purple.
I love the amethyst as a metaphor for life, and I give the raw stone (not finished – loses its characteristics) to students at a milestone and explain the story to them. Every now and then I get a card telling me their purple is starting to evolve.
In the past few years I have started a love affair with stones, with no real purpose in mind for them except that they are gorgeous. The first Tucson Gem Show I went to (after living here for 6 years) I was astounded at the colors of the earth. Then I started going regularly with my friend Alison of Ambrosia Jewelry, who knows lots about semi-precious stones, and I was hooked – mostly because I found lots of stuff I knew she would like, and would end up in jewelry for me. I buy now if something speaks to me – one year it was tree agate – or if I see something that would work in a fiber piece. Both of the art quilts accepted into shows (my babies are traveling!) have numerous stone, bead, and glass embellishments. Now I'm thinking my tree agate would work for the base of the upcoming bamboo piece.
Here's my stash (I need new containers, after all there's a show in September)…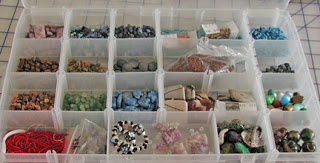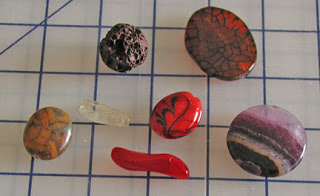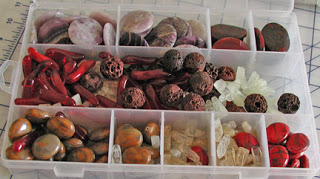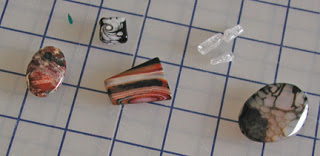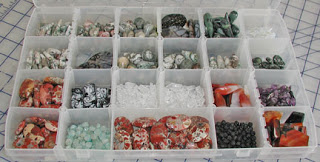 Most of what I buy is agate or jasper. The second pic shows some red glass that has marbling in it – should work really well in some of my volcano pieces. The third pic shows some reddish lava in the center. The fourth pic has crackelated quartz – which I love and is getting hard to find at the shows. I'm in love with all the stones for their colors and textures.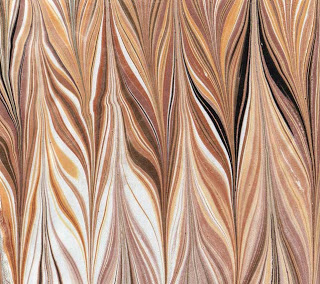 I think maybe I am on the mend. Today I actually felt normal (well, normal for me), and I wanted to accomplish some things. Picked up the commission quilt so I can finish it – did quick measurements and looks to be definitely a king-size without any problems. I hope to begin again tomorrow.
I want to get this quilt finished so I can begin again on some of my projects. I found that, except for my digital work, I don't have much new fiber – well, nothing really. I do have a few unfinished pieces, and lots of fabric ready for ideas, but no new finished pieces. The bamboo piece from 5 years ago has started to call to me, so that will be next.
What you see to the left is the marbled fabric in a really good chevron pattern. When the piece came out of the tray, for some reason bamboo spoke to me almost immediately. I have a series of works on the website that are "woven" – strips of marbled fabric that have been quilted, embellished, and woven together. My Gaia 2: Beginnings piece is one of my favorites (known to me as Pele). I stumbled into this style quite by accident, and I do want to continue in this vein. You can see the major works on this website page, and I want to do more!! I want fiber!!
So I am going to work with this "bamboo" fabric as you can see from the strip below. I want to get lots of skinny narrow silk leaves to marble to add to the bamboo as a finishing touch.



We discovered a number of years ago a great way to get the most out of our marbling sessions, since the materials are so expensive. We lay ribbon along the edges of the bath to soak up paint, and we take apart silk flowers and marble them. Here's a photo of the last bunch of flowers that went up on ebay. These are always a lot of fun to do and work as great embellishments. Ooooo, Anne – just had a thought – would these work in a collage for you? Would be happy to send some your way….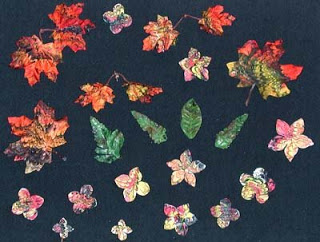 Now to get healthy all the way….


Well, it's not working out like I wanted – sick since vacation started, it's bronchitis, no it's not, yes it is, I don't know, it's an infection, it's a virus….who knows? I kinda feel like I did when I had mono, a mere decade ago. So not much is getting done, due to no energy and sleeping all the time.
But a couple of thoughts: I remembered today why I don't enter a huge amount of art shows. Once I'm accepted (which is great), then it's the shipping costs….48 bucks for shipping to and from Colorado today – and let's hope it sells. That would certainly make entering shows more worthwhile. So I think I need to limit myself to three shows a year, and try to be very selective of the shows to build the resume. Even better, arrange a couple of local shows – would at least save on shipping….Yvonna – we should approach the Gardens for a joint show….
I really miss the journaling aspect of my blog. A week without, stats have dropped, I've done a couple of things I wanted to for marketing, but then nothing else. We want to go away to the coast of California starting next Monday, so I don't have a lot of time to work. I am very conscious of just how much summer there is available to me, so I want to be as productive as possible. I have had some fun with Photoshop, and here is the original shot of coleus I used for the tutorial.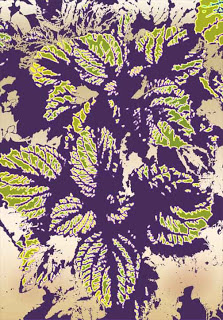 Here's a quick "stamp" of the new brush.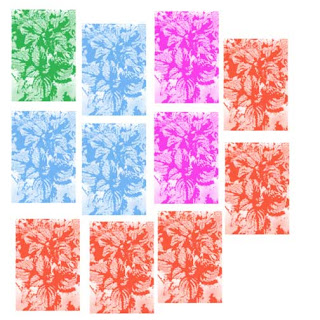 I also experimented with making a marbling stamp brush – that could be very interesting for some surface design work.
So – goals for this week: blog entries, work on commission quilt, a few new tutorials from Photoshop, call on December craft show to get scheduled, finish contest entries, and get the materials out to finish the bamboo quilt.


So the commission isn't finished yet, but half of the king-size quilt was presented on Sunday to my second mom. The quilt has been in the works since November, when I saw the perfect fabric for the author of a book on tide pools and the owner of an amazing sea shell collection. We were going to use family photos, but that didn't work out. Because of tax season this almost didn't get made. But then we decided to use the actual photos Betty had taken for her book The Edge of the Sea of Cortez on tide pooling. So every image on the quilt is hers.
I'm not one to use a pattern, but I was having trouble getting my ideas across, so I sat down with Photoshop to see if I could scan some fabric and create a pattern. After wanting to do exactly this for nearly 15 years, it finally fell into place. Here's the working draft….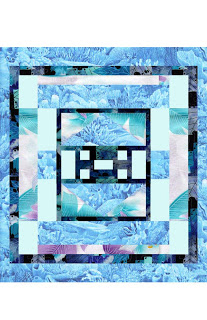 I started with some other fabric selections that would go with the base fabric. You can see in this photo that I have started the free motion quilting to accent the various sea life on the main fabric.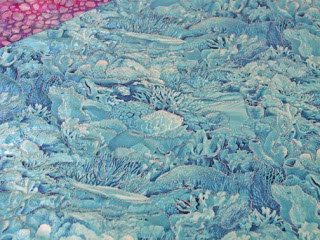 This is one of the first times I have been able to let the fabric and design guide the quilting. I knew when I saw the various fabrics what I wanted to do. We had it priced for long-arm quilting, but it was outside of our budget (it's a California king bed), and the quilting wasn't going to be nearly as complex as I wanted.
Now I don't "do" big quilts. But when I learned to quilt, I learned in sections, so I figured I could do the same with this, although the sections would be much bigger! I was thrilled with the center section – a lot of unexpected design decisions came into play, and I realized I was pretty good with making ideas happen.
This next section is the medium fabric – a touch of purple and "bubbles," which I figured I could free motion yet again.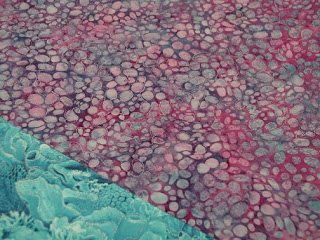 I know a quilt is about the front, but I wanted to make a "sea" statement with the back that would carry over from the front.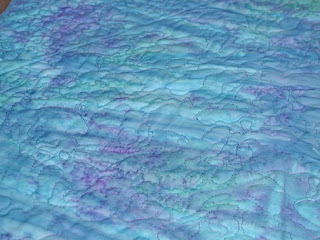 And finally – where it is at the last picture. There is more done, and these two sections are put together. Overall I am really pleased. Too bad I was sick and couldn't see the unveiling. I really could have gotten it done if I hadn't been down for the count for four days….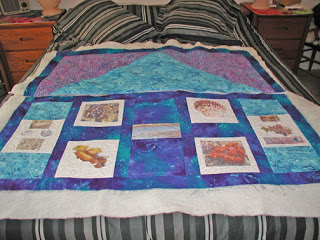 I've been giving some thought to how I've gotten to this point in my art, especially since my art is taking some different paths. How did I come to getting fiber and digital art work into juried shows?
* I did a lot of cartooning and pen and ink drawings in my early teens. As long as I could "copy" something – have a pic in front of me, I could do pretty well. My high school art class didn't do a lot for me, although I do have two pieces left from those early days.
* I started sewing my own clothes in college, thanks to a sorority sister with a sewing machine. I learned a huge amount, and thanks to invisible zippers, got over that fear left from home ec as a ninth grader. I did a huge amount of sewing during my years teaching in Hawaii – way cheaper than buying muu-muus.
* I bought a sewing machine (my second) when I returned to Vermont to teach, having donated my first purchase to the drama department at the high school. I signed up to take classes from Stretch and Sew, and that's where I got into designing with their patterns. At that point I was sewing almost everything, including a 1970's leisure suit for my husband….
* Embroidery was the next stage, and I finished a number of pieces, mastering some of the stitches. But I didn't have the amazing skills of my mother-in-law Erma, who would look at a picture of a Hopi kachina and recreate it in embroidery. I needed a pattern!
* I was also doing a lot of crochet, learning how to read patterns, new stitches, and choosing good yarns. I could never get into knitting – always seemed too complex, and I didn't have the patience. Crochet went much faster.
* From here it went into needlepoint and cross stitch. I finished a lot of framed pieces as well as pillows. But a fire wiped out all of it, and I couldn't bear to do cross stitch again.
* I took up tole painting and realized it wasn't for me. But I did learn how to recognize really good tole – it wasn't mine!
* From here I took a beginning class in hand-quilting. I had made three quilts with the Eleanor Burns Log Cabin in a Day earlier, but I wasn't happy with my fabric choices. I figured I would start with the basics.
* While in Vermont, I saw a book on marbling and wanted to try it for some quilts. Hubby really got into it, and we've been working on that since.
* While learning to marble, I also had dinner with the high school art teacher who had gotten back from Africa and put her photos into some great posters. I wanted to do that with marbled quilt patterns. It only took me 15 years….
Now I'm getting better at Photoshop, our marbling is improving, and I continue to learn from others about color and design. Just lots of fun on the journey!
How did your journey start?
PS – had lunch with my friend Yvonna – wait until you see her pottery and mosaics – OMG, unlike anything I have seen!


I'm working on week 2 of being sick…it's the usual viral thing that settles in my chest and makes me miserable. DH has already had it, and I'm hoping it doesn't go on beyond this week, as the record for this bug has been two months. So for 4 days no blog entries – and did I ever miss recording my thoughts and progress. There wasn't much except for the commission, which was due yesterday for the 80th birthday party, and it was half done – lost four whole days, and it would have been completely finished. I'm quilting as I go, and then piecing the quilted sections together. It's really looking wonderful, but I'll save photos until more is done.
Marketing Monday – Two weeks ago I posted marketing plans, and now it's time to check and see how I did. The main one was to set a calendar for the blog and continue postings….which I did – sort of….
Marketing Monday – this is my second posting, and I think it's going to keep me on track.
Top Ten Tuesday – did two posts – should be interesting, staying on topic.

Work-In-Progress Wednesday – two posts, this week I should have pics of the commissioned quilt.
Thoughts for Thursday – missed last week – too sick to move…
Photo Friday – made one of the posts, should have new pics this week.
Saturday Special – nothing yet, but I have plans…

Sunday Sampler – again, nothing yet, but there are plans….
Another accomplishment – get entry ready to mail to Alaska – went in the mail last week. And – last Friday I heard that one of the two pieces submitted made it into Ft. Collins Fabric of Legacies show, so that will go in the mail beginning of next week – and I think we will be able to make it to the artist' reception.
Nothing on the tutorials, as I've been sewing so much – nice to know I can get as much done in a short period of time – bodes well for new pieces this summer.
Haven't ordered anything from Vista Print, but that's on the agenda for this week.
In terms of Etsy and Cafe Press, nothing yet, but Kimberly Baxter Packwood had a lot of suggestions on her blog and Facebook about successful Etsy stores, so I am pondering that. I think I can have my Cafe Press up for this week's Saturday Special, with some of the digital work.
So – goals for this week:
* entries each day on the blog
* Cafe Press set up and ready to go
* Low Tide mailed to Colorado
* commission just about finished
* check for some new shows to enter for Fall
First time visiting the blog? Check out this overview.


I'm working on a commission right now – this is one I am excited about and can live with, and I basically have free reign with it. That was not always the case when we first started marbling fabric.
In earlier versions of our website, we offered custom work on silks, cottons, and several other types of fabrics. We actually had quite a good business going, and rarely has to refund an order. Then we ran into the two years where nothing we did worked – the paint literally washed right off the fabric. We had to stop the custom work, as we had no control over what we were doing.
As frustrated as we got, we eventually realized that custom work put too much pressure on us as artists, plus we rarely had time to do any pieces for ourselves. After all, it's our art, so why can't WE have some fun with it. That ultimately seemed to be a good decision, especially since we "got our groove back" and were able to marble again.
We don't marble as often, since we're not under any deadlines, and when we do, we're back to trying new designs and new fabrics, always looking for that next great piece to turn into a fiber art design.
"Ocean's Bounty" (below) is on its way to Alaska, (photo doesn't begin to do it justice!) and I'll post photos of the commissioned work next week when it's hopefully done – got a lot of sewing the next few days!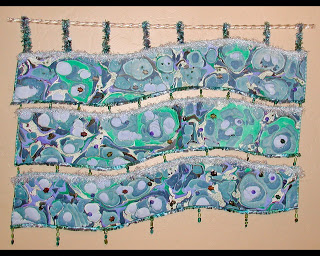 I can never be happy with just one book at a time, especially since I do more nonfiction reading now. So here's what's on my nightstand right now….
* Majestic Descending by Mitchell Graham, your basic summer trash. Blown-up cruise ship, stem cell research, and a budding romance between two lawyers. Good for the beach.
* The Green Collar Economy by Van Jones. Part way through – part of a summer book club from Ideal Bite. Interesting look at trying to get the country to go green to solve environmental and economic problems. Interesting.
* The Source by James Michener. Haven't read this since the early 70s, and it's harder going than I remember. Interesting look at the state of Israel and what it means to be a Jew, written before the 6-Day War.
* Hot, Flat and Crowded by Thomas Friedman. I'm finishing this. The beginning was pretty depressing – the planet is in serious trouble, but the second part is much more hopeful. Some really great ideas here. I love reading Friedman – he makes economics interesting – and readable.
* The Pact by Jodi Picoult. First time reading her, my niece has read most everything and it's on her GoodReads list. This is an interesting look at teenagers, and it makes me wonder – and worry – about more of my students.
* The World in Six Songs by Daniel Levitin. How the musical brain created human nature. Small doses to absorb it all.
* Boom by Tom Brokaw. Finishing this – great look at the sixties and how they formed the people who are running the country now. I've lived the years, and the retrospect is wonderful.

* Feng Shui for Your Garden by Richard Webster. Now that I have a backyard, I want to set up several relaxing areas.
* Kiss My Math by Danica McKellar (Winnie in the Wonder Years). This is her second book (Math Doesn't Suck was first) and I'm getting loads of ideas of how to present some topics in a better format for my algebra students next year.
* PhotoShop User – magazine by the National Association of PhotoShop Users. At least now I understand some of the articles I'm reading – I am so improving my skills!
What are you reading? Let me know, so I can put new titles on my list!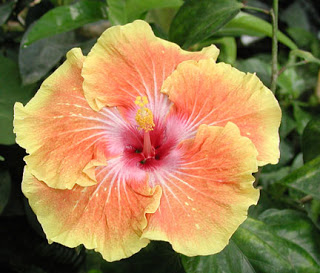 I've decided to keep myself on track and do a "Photo Friday" to stay focused on my Garden Fantasy idea. This shot of a hibiscus was in the butterfly exhibit at the Tucson Botanical Gardens this past January. I've never seen a two-tone hibiscus, and I've loved the flower since living in Hawaii. I'm amazed at the number of plants in Tucson and the desert. The detail and layers within this flower are amazing on their own. I love this photo, but I decided to try manipulating, mostly to practice with Photoshop.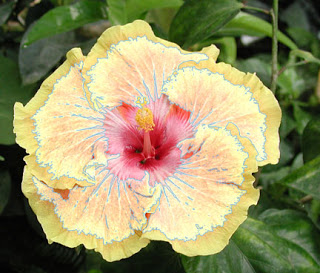 I'm getting pretty good at selecting portions of a picture to put on a new layer and just work with that. This layer makes the flower look like there are more layers to the flower than there actually are. I played around with some of the options, most of which I didn't like. But I did finally fnd a gradient I liked….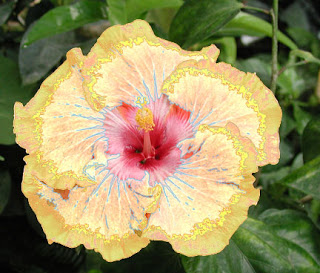 The details on this flower are just amazing. The center and the stamen are so clear – I particularly like what happened with the gradient to add the blue into the center.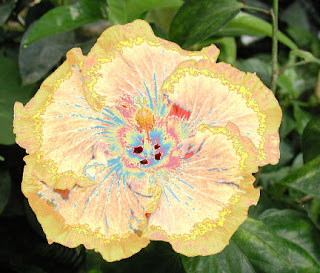 Finally I decided to look at changing the background, which I had already lightened from the mostly black original. I liked it lighter, and now that I know how to manipulate filters for a background, I am quite partial to the sponge effect.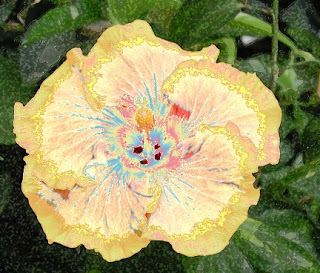 Not a wow, but I'm enjoying the practice.


This is a perfect day for my first Thursday Thoughts – the last day of the school year. I had a fabulous year, compared to the past 12 teaching in Tucson. I took on a challenging group of students and loved them – they have grown so much in their math skills, and hopefully in their work ethics. I held up the graduation robe that we started the year with and said, Three more years and you will be wearing this. Lots of hugs as the kids left.
This morning was the faculty breakfast, and I was pleasantly surprised. Administration cooked, student council served – and then the entertainment started – videos put together by a bunch of the tech guys – most of whom I don't know. Hey, after all it's a staff of 200! The films were just hysterical – spoofs of professional learning communities, our pigeon problem (neutered feral cats….), the "most interesting man on campus", and a take-off on Apocalypse Now – looking at the state of education and our budget problems in Arizona.
The doings reminded me of the send-offs at Baldwin High School on Maui, where I first started teaching. At Chittenden East in the 70s we did some serious partying – Kathy and I gave the best parties each year. Cartwright – Bingo and some good get-togethers at the local watering holes. When I went back to Vermont, we were all older, and most had kids, so we didn't get together much except for sedate dinner parties.
In the other two schools I have been at since moving to Tucson, any levity was wrung out of us over the years by stress. Last year I just wanted out of that school.
But this year has been so different – good, professional people, great teammates, needy kids, and a chance to really teach algebra concepts. This will be a great place to finish out teaching……by the way, only 20 more sets of report cards before I retire……
And now…..I'M ON VACATION!!! And…I took a nap on a rainy afternoon – doesn't get much better!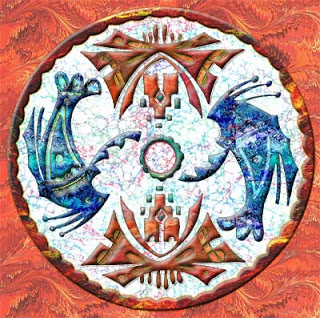 I talked about how I created this piece, and you can read about it here. But for the last two weeks I have been thinking about that light background and I haven't been really happy with it. The eye went to the light and kept going back to the light – and I didn't want that. I wanted focal points to be the interior images. So I decided to see about a darker background, and Voila! I'm not sure it's finished – I think I need to look at it on a couple of different monitors – plus I think I'm going to have it printed on a tote bag from VistaPrint.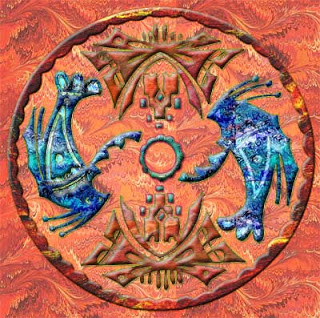 I am so enjoying working on these – some of the pieces just fall into place. I have started scanning some more marbled paper to expand the number of patterns I have. I'll post those when I have them all scanned.
In the meantime, last weekend I worked with another native image: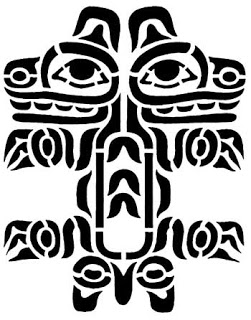 I am really taken with many of these indigenous images, and I like the use of the marbled fabrics to add a huge amount of texture. From here I started adding marbled patterns for colors. I didn't do anything with texturizing until I was happy with the colors. What you see here are the filters and blending modes after all the colors were in place.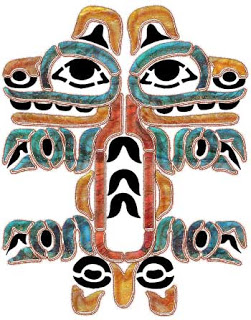 More color –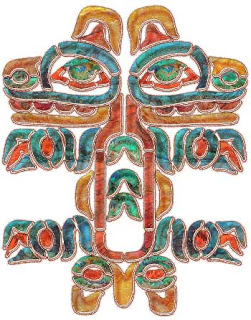 The background was where I really started to learn a few new techniques. I finally figured out how to apply filters to just the background, as opposed to elements within the design. What I particularly like about this background is how it makes the shadows (that look clear) turn dark and look like cording.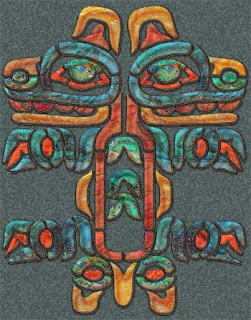 I would love to hear your views on how these are shaping up! Feel free to comment.
First time at Marbled Musings? Check out the overview.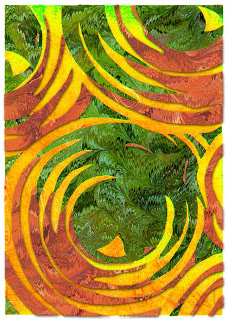 What do I listen to when I'm quilting or sewing? Over the years I've seen lists of music that quilters listen to, and most of the artists I've never heard of. So there are times when I figure I'm pretty ordinary. But I love music, and I have found it really works to get me in the mood for work. For example, when I was writing my master's thesis, almost all of it was written to the sound track of the movie Glory, a piece I had heard while walking through the mall one day. It was a year later when I saw the movie and realized some of the best, most "uplifting" music was during the bloodiest battles. I haven't used it since! I wrote my study skills book with Yanni in the background. But when I quilt?
* 1. John Denver greatest hits – all 5 CDs. Most of the songs are perfect for free-motion quilting – great rhythm – kind of get "one with the machine."
* 2. Josh Groban – No matter when "You Raise Me Up" comes on, I always stop what I'm doing and get refreshed.
* 3. Yanni – Live at the Acropolis – great for cutting and piecing and ironing – nice rhythms, even though a neighbor thought he was pretty bland. I don't care – at least he's not John Tesch.
* 4. Mozart's Eine Kleine Nachmusik (sp?) – especially when I have some difficult sewing ahead – soothes and keeps me focused.
* 5. Anything Celtic, especially when I am sewing bindings. So easy to develop a nice rhythm and keep your mind occupied on mindless sewing.
* 6. Local radio station Mix FM 94.9 in Tucson – Seventies Saturday – lots of old favorites – just makes you feel good and want to continue working.
* 7. David Lanz – New Age music – just about anything he has done. I love just piano – again soothing when the sewing or beading is complex.
* 8. Original Broadway soundtrack for Man of La Mancha – it just makes my heart soar – even the most complex sewing becomes easy to the tune of "Impossible Dream."
* 9. Original Broadway soundtrack for Funny Girl – I just want to sing like Fanny Brice….
* 10. Celine Dion – almost anything, but the duet with Streisand is fabulous.
This will be an interesting exercise for me – what are the Top Ten of various things I do? I'm hoping this will inspire me to keep creating. Gotta go play John Denver as I quilt…..


Two more days of school, and then summer vacation starts, which isn't always as productive as I would like. I usually get really ambitious right before school starts again. But this spring and summer look to be a "new leaf." Since I started in March, and then took the blogging course in April, I have been extremely productive. Let's go back to March….and then this post.
Website has been mostly updated – still need to get the new pages up and the links checked (which I've done on my school page…)
CafePress and Etsy? Way more thinking than doing, but I am getting a lot closer….
Shutterfly and iBook – not there yet.
Art shows – entered (and was accepted) at one, awaiting the results on another.
Garden Fantasy work is coming along nicely, as is general digital marbling – at least three new good pieces.
Trade name finally done and OURS!
And…we took a marbling class and have improved our production techniques. So overall these two months have been excellent. Now for my goals for next week:
Get Etsy shop operating.
Set a calendar of blog topics.
Order tote bag from Vista Print to see what it's like.
Watch at least three tutorials from Photoshop (NAPP) on blending and masking – a really weak area.
Get entry ready to be mailed to Alaska.