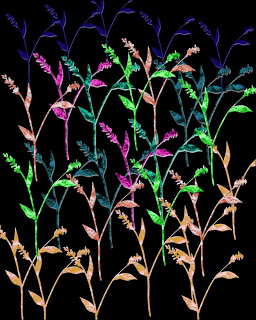 (copyright 2009 by Linda A. Moran, all rights reserved)
It is official – after almost a year of planning to do this, downloading the paperwork, actually filling it out, finally mailing it, getting it returned because I filled it out wrong, redid it, and then sent it back in, we got official confirmation of a trade name for Digital Marbling.
I've been using this in blog posts for over a year, and it describes the new direction we are taking with our fabric. Now we will scan a piece of marbled fabric (or paper), and manipulate it using Photoshop, until we have something totally unique. Today's picture is an example. I started with a stock image from Photoshop, adding a layer at a time. Then I used some patterns I had created from the marbled fabrics and "filled" them into the flowers. Once I added the black background, the piece began to glow. I went back into the various levels and tried to accent the patterns so the texture would be more obvious. As with all the pieces I am doing, the web and different monitors just don't do them justice. This piece at its original size is gorgeous – if I do say so myself!
Lately I have been trying new images and writing about the process, and I have alluded to Digital Marbling. But now it's official – I just need to figure out how to put the little graphic at the end of the name! Not only am I learning how to work with Photoshop – and being pleasantly pleased with what happens as a result, I really like the fact that I am taking myself in a new direction. This week life just got in the way ofd continuing my projects.
First time reading Marbled Musings? Get acquainted here.