I'm not sure I can capture everything about this amazing day. We are in Vermont, where my husband not only grew up, but where he is a descendant of the settlers of this area. I taught here in the early 70s and came back to teach here again for 6 years in the 90s. We are here now for my friend's retirement party from teaching. She has spent 38 years in the same school, opening the school in 1972. It would have been 41 years, but there was time off for pregnancy and broken ankles. There was an after-school retirement party on Monday afternoon, and it was a must that we be here.
She was working so we spent the day just drinking in sights of Mt. Mansfield and all the green fields. I stopped at the district office for what became a very emotional time with people I had worked with – superintendent, financial assistant, head of special ed – all of whom I had worked closely with in other capacities when I was here. They remembered me and gave me big hugs. Blythe even said she had just been thinking about me and wished I still worked in the district. I wa overwhelmed. As someone with fairly low self-esteem and who always wonders about whether or not she had done a good job, it was such magic to know I was recognized immediately and remembered for the work I had done. From here we stopped at the middle school where I taught, and again it was hugs and welcome back. Then went to the high school and same thing. The job I had left was running our learning lab for at-risk students. The woman who took it over from me has expanded the program, and the service award named in my honor is still going strong 16 years later.
Wow. In fact, today in our travels I am stopping at the high school to give a monetary donation to fund the award. This award is for a student who has demonstrated selfless work for others in the school.  Yesterday I stopped at Williston Central School to leave a donation in honor of Al Myers, the theater teacher from whom I learned an immense amount.
But it was the party Monday afternoon that was amazing. My best friend of 35-plus years retired, along with 2 other teachers. In lieu of a retirement party, the staff meeting became a pot-luck – yes, things are getting very tight in education…..Well, all the old-timers from when the school started came, including my favorite principal, and it was wonderful catching up, seeing pictures of grandbabies, and in general reminiscensing about the old days. My friend Kathy had written her speech going back to when the school was new, and the parties we threw, and all kinds of remembrances – lots and lots of fun. I was so glad I could share that with her. This was a journey home that was wonderful – but this was not a family journey – this was to where I had come of age as an adult and as a teacher, and that made all the difference. No one knew my dysfunctional family – they just knew me and the kind of teacher I was – so it was fabulous. I wouldn't have traded it for anything! Now off to party with the retiree on the Burlington waterfront for a few hours!!
There's something about places you grew up that can be unsettling. My folks moved to Glens Falls at the beginning of my junior year in high school – not a great time to have to change schools. Trying to become part of a class when the whole town is pretty class-oriented is tough. I joined lots of groups, but never really seemed to fit in. My folks bought a boat and moored it at Lake George, so we spent a lot of time on the lake.
I never liked either place. We went to Lake George and Glens Falls on the trip and felt unconfortable in both places. The school is larger, and the auditorium has  been redone. The same haunts are there but with absolutely no appeal. Even the Fribble at Friendly's was different than I remembered it. Lake George is even more touristy and crowded than it was 40 years ago. While the lake is still beautiful, I only have lousy memories. We had a nice dinner, enjoyed the fife and drum at the fort, but it wasn't enough to overcome all the younger memories.
So I'm done visiting there. I have no more need to see that area. All it brings back are lousy memories, so why bother any longer. There are many more wonderful places to visit from the past, and I want to focus on those and new jaunts. Life is too short to focus on unpleasantness in the past. Too bad it took so long to realize that!
The other thing that is becoming obvious as we hit the Northeast is that we have to stop saying "when I retire…" Neither of us wants to wait that long. We need to start doing some of these things and visiting a whole lot sooner. I don't want to let 16 years go by again until I see some old friends. We're "old friends" in every sense of the word! And if we move east in three years, well….I don't have to go out when it's snowing, so all the arguments about winter are no longer valid. And…my skin really likes the humidity!
I visited Middletown, Ohio, specifically woodside Cemetery where my dad is buried. This has been part of the summer trip agenda, and I wasn't sure on which end of the trip we would be able to do this. My dad was buried in 1975; I made a visit in 1986, and today was the first time since then. Thanks to the internet, I had the map of the cemetery, and directions to Middletown. We had stopped at the visitor's welcom center as we entered Ohio this morning, and as I looked at the map, I decided to skip the Interstate and travel a few back roads on the diagonal to get to Middletown.
It was a lovely, cool, sunny morning, not too much humidity. The roads were full of fields, large and small houses, porch swings, wrap-around porches, quaint mailboxes, and lovely small towns. One town, Eaton, had what I remembered as the typical small-town downtown. The stores were till in business, and what a variety – dry goods (don't hear that term much anymore), the ubiquitous liquor store or two, doctors' offices – wonder if any of them make house calls?
The tree that we had planted when my dad died is now very large, but it hasn't weathered well – lots of missing branches, and a shape that can only be classified as irregular. Perhaps it fits the family. There were artificial flowers on his grave – I will forever wonder about those. I need to have death years added for my Nana and mother when I can afford it, even though they are buried elsewhere. Somehow it just seems to be a piece of unfinished business.
I ended up crying a lot – extremely unusual for me. All I could think was that it had been so important not to cry some 35 years ago, and now it all came out. It's a beautiful spot and I have a few pictures for when I need to see it again. I had forgotten the inscription on the headstone: We have fair skies, calm winds, and smooth seas. My dad had been in the Merchant Marines during World War Two, and he loved his time on the various boats he owned. I have to hope he enjoys those words.
I love you, Daddy. I've never gotten over missing you.
When I travel the country, I am amazed once again at its size and at the incredible endeavor it was to settle this land. In driving through New Mexico, you can't help but think about the wagon trains making their way west across such rugged terrain. In Oklahoma you ca't help think about the land rush that took away land from the native Americans, as well as the Chisholm Trail and the cattle drives. Looking at all the green trees in Missouri, you think about the diversity of biologic species, and this trip, I was thinking about how much greener the state seemed from 30 years ago. New trees that had been planted are now tall and majestic – I was thinking about Johnny Appleseed and his legendary planting of apple trees as I looked at all the amazing shades of green, after living in the desert for so long.
We traveled around St. Louis, so I only saw the arch from a distance, but I am reminded of how St. Louis was literally the Gateway to the West. So many families crossed this Mississippi and began a trek to new and foreign lands. While on the one hand, it is an amazing story of discovery and triumph, it is also an ecological and cultural disaster. All that's left of our Native Americans in the midwest are place names, a few reservations, and come casinos – way more than I thought in both Oklahoma and Missouri.
Each exit near cities large and small reveal the "character" of American towns because of the interstate system. So much sameness where once there was individual character, a local mom-and-pop rather than WalMart, a downtown with viable stores, rather than same-ole same-ole malls. While I am grateful for the chains of motels that make traveling easier, I wonder at what we've lost over the years. How many people know – or remember – that the Interstate system was originally designed to move armament and troops in the Cold War easily from one place to another? Now it speeds traffic – and trucks….
There are so many trucks on the road. We truly are a nation dependent on oil – the trucks carry everything, and they consume barrels. Buy locally doesn't seem to work anymore – and I'm not sure it ever could again.
Just some random musings from the ole history buff that I am….
This country is massive! I haven't driven across since 1989, and much of what I remember of Oklahoma and Texas isn't accurate. I remembered flat, barren, brown. Once we were out of New Mexico, the panhandle of Texas ws flat and full of ranches, and considerably greener than my memory. No cactus, no brown, and pretty darn flat for miles. Amarillo wasn't the dump I remembered – very modern and green, and no smell of cattle – my main memory of the city from 1976.
New Mexico, Texas, and Oklahoma have gorgeous rest areas. Arizona has closed all of hers. I actually took pictures of grass and dandelions in Oklahoma – been a long time since I've seen dandelions, especially as fuzz balls. I got to drive for a while – about two hours through Texas – figures that I would hit the road construction. I found have have virtually no vision in the left eye, so I have to be hyper-careful with turning around to check oncoming traffic. It felt very good to be driving again, although I don't think I'm going to be doing much city driving.
We learned that when Oklahoma has a "turnpike," there are no services or hotels until the end of it. And "exact change" means "exact coin." There was a bit of scramble for coin….I wondered why at the end of OKCity there was this huge splash of hotels and then nothing….and we learned why. So we had to drive to Tulsa – and got caught in absolutely horrendous road construction and traffic – where the cops didn't do any directing of traffic – and when I mentioned it to the desk clerk, he commented that "that's Tulsa." Hmmmm….
But Oklahoma is so green, the Arkansas River was huge, and loads of hills and green grass. It was a beautiful drive, even if we did have to go out of our way.
Another great week of finding cool stuff on the web.
First up is Inside Out Weight Loss with Renee Stephens on Personal Life Media. Some of you have been following my online blog about getting healthy this year: THIS is the Year for Health. I've been dealing with weight issues for nearly half my life, and this podcast series seems to be helping me stay on course – after only four episodes, I am answering some interesting questions about my overeating. And…I'm open to anythng that will help me get healthy by losing fat and not muscle. If you're interested in weight loss, I've got a number of interesting articles posted on my blog, from misconceptions about The Biggest Loser to suggestions from the Mayo Clinic on daily calorie intake.
Along the same lines is this from  Dick Harrison at Sales Tips for Artists – 8 Reasons Why Your Art Isn't Selling and You Can't Lose Weight. Who knew the two would be connected? Goals, accountability, patience, planning – it's all there!
Paula Burch's All About Hand Dyeing has instructions and examples for tie-dye, batik, low water immersion dyeing, and hand painting. Paula has been very generous with all her information; there is a lot to explore and lean about on this site.
Some really fine photography here at Daniel Sroka's Open Studio. His blog shows step-by-step processes in creating his photography. His leaf series is pretty amazing. A self-taught artist, Daniel Sroka has been working as a professional artist for the past decade, specializing in abstract and semi-abstract macro photography of nature.
Think Geek is a fun site, with t-shirts galore. The one here is from the Big Bang Theory version of Rock Paper Scissors…Lizard Spock. I can spend a lot of time perusing the various geek-y shirts.
Jackie Abrams' Contemporary Basketry and Fiber Art has beautiful work. "Jackie Abrams has made a career of transforming simple materials into contemporary works of art. Abrams has spent the last 30 years stretching the term 'basketry' far beyond its traditional meaning, combining materials and techniques to create unexpected forms with rich texture and color. Abrams calls her work a progression of explorations."
The Crafts Report, April 2005
15 Awesome Tutorial Websites You Probably Didn't Know About by Dumb Little Man (who knew?). Lots of interesting things to explore here, and no doubt loads of links to other tutorials on line. I am amazed at what you can find just on YouTube. I googled "quadratic formula songs" and who knew there would be literally hundreds? And since there's 15 of them here, that makes more than Ten for this Tuesday. Enjoy!

I haven't done Monday Marketing since sometime this spring, as I have been so busy with school. Now I feel like I can get back to my Monday schedule and plan my marketing for the week. These suggestions are from Art Marketing 101, in an email a while back.
1. Continually contact people
Make it an aim to call four people a day—whether they be new prospects or current clients. It's guaranteed that not only will you become quite good and efficient on the phone, but your business will flourish. Clients are the mainstay of any business. To call four people a day could take 15 minutes. Don't make them long conversations; in fact, they should be short, with a specific aim in mind. You could ask for referrals, invite the person to visit a future opening or exhibit, invite him to your studio to see your new series of work, thank her for a recent purchase. Be creative!
Add to this list four post cards and you have eight contacts a day to get a total of 40 contacts a week! If you try this for two months, you will be amazed at how your sales increase.
So I have a four-year-old mailing list from our website, and we have decided to reactivate the site and sales off the site when we get back to business the end of June. In the meantime, I had marketing postcards made so that as we visit galleries on our trip, we can leave information. The business cards will get added to our mailing list.
2. Follow-up
Not only do successful artists follow up after they send out a portfolio, but they follow up even if they receive a rejection. This means that they send out a postcard with one of their images on it, photo print, announcement of an exhibition, whatever it is—at least every 6-12 months to all prospective clients and galleries and to former purchasers. The rule in direct marketing is: you must contact people three times before they respond! As an artist you won't have a huge mailing list; it will be quite intimate, perhaps 100-400, so the cost to do a mailing is not overwhelming.
And…we re taking our portfolio with us, along with fabric, something we have not done in the past. In this way, we can also get business cards, as well as make some potential contacts.
3. Use innovative marketing
Successful artists are always thinking of innovative ways to market. They are willing to take a risk if they feel a new idea might work. For instance, new places to exhibit—an orchid show, an interior designer show, a real estate show, a music conference, a sci-fi convention—whatever they think might work for them! Presentation is always consistent and top-notch, of course.
One of the reasons we go gallery-hopping it to get ideas for display, innovative approaches, unique ideas, as well as talk to other working artists, especially now about the economy. And I am amazed at how many times I see something that I could apply to the marbling.
4. Press coverage
Successful artists consistently receive press coverage. Although she might not get direct sales from this press coverage, a successful artist knows that in the long run it means many people see her name, artwork and progression over the years. This means a lot to potential buyers. It also means that the newspaper/magazine approves of you. Name recognition is of the greatest importance in any business.
I need to look at this in July and send some press releases. I have a couple of ideas I need to pursue. so we'll see…
5. Long-term goals
All the successful artists I know have had long-term goals. This means they did not make it overnight. They planned and strategized and suffered to get where they are today in the marketplace. They never gave up. They knew their aim, and they knew there would be down periods, as in all businesses. Aims and goals are the mainstay of any business. You are in business, and you must have a business attitude to win at marketing!
I do have several pages of goals, and even with full-time teaching, I have been able to chip away at them. I've been saying if I could have a couple of weeks and spend four-five hours a day, I could see some good success with the business. This is happening.
I'm interested in your feedback. What are you doing to increase your marketing lists and contacts? What risks are you taking? How are you managing your goals?
I pulled out an old quilt to work on – not that I don't have plenty of new projects going. This is my "deer quilt," so called because of the pieced deer at the bottom of the quilt. I found this pattern about 12 years ago when I was learning a lot about piecing. It looked like it would be fun to do – and was, until I got to the deer, which was quite the challenge. The pattern was, I believe, from Pam Bono Designs, in an old book called Rotary Cutter Quilts. I looked on her site and the book seems to be out of print. I got the top pieced in about a month, sandwiched with what I know now to be REALLY cheap batting, and I started quilting it…with invisible nylon thread.
Needless to say, I have learned my lesson with invisible thread – use the poly thread from Superior Threads. I could see the brittleness and yellowing, so I have spent several hours pulling out a lot of old quilting. I had done a lot of free motion quilting in the background, which is literally ground. I loved the fabric choice, and it still looks great 12 years later. This is just a portion of the mountains, and two layers of trees.
One thing I am noticing is that I am MUCH better at machine quilting, even though I think I have a long way to go. This quilt shows me where I started, and just how I have improved. Here's the deer:
They are done in a commercial marbled fabric because I loved the texture of the fabric. I am thinking of doing some thread painting on the deer to accent the design. We'll see….I know I'll add a little bit of cotton for the tails when I am done….
This second piece was in response to a group of us a couple of years ago (like 5) trying to do a group art piece. I had this in mind for a lava piece, and it was so-so. I serged some edging of black fabric, with the idea of tacking it into place to represent hardened lava. Didn't really work. Here's the piece without it:
The left side of this is my new approach – using So Fine black from Superior Threads – another new thread I haven't tried – and I love it! No broken needles, and just some gentle tension adjustments. This looks more like lava than the earlier version. Here's another shot:
Color is truer in the top one. I'll be curious to see when I finally consider it "done," only five years later….
I seem to be on a role with Photoshop and some of the ideas I want to try. Been playing around today with some more ideas, and I added a quote to the leaf. The original was taken at the Desert Botanical Gardens in Phoenix – it's an amazingly HUGE leaf, with white veins and crinkly edges – really gorgeous to see. I hvae been taken with it, and after the success with yesterday's, I decided to try "cutting" sections of the leaf and putting them on their own layers, then playing around with the layers. I am quite taken with the finished product.
When we were in Sedona over spring break, we took a Pink Jeep tour through the backcountry red rocks. We forded a stream, and stopped in the middle to take pictures of what the homestead probably looked like fifty years ago. I absolutely love the photos from the trip. Here's the original, with a slight light correction for the tree trunks on the right.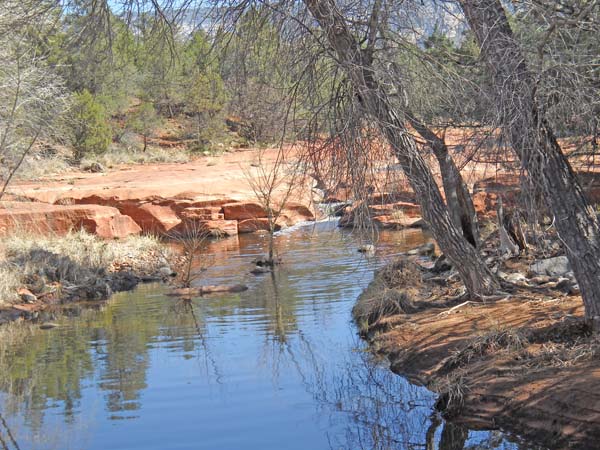 This next is with a Smart Blur filter that lends a bit of water color to the picture.
This last is with about five different adjustments, one on top of the other. I ended up cropping to just the right side of the photo because I fell in love with what was happening with the trees and the bank. I could definitely play around more with this image.
I've commented before as I have been learning Photoshop that one of the things I really enjoy is the ability to just "turn off" layers with what you thinnk are mistakes. To me it really frees up the creativity. But then every now and again you combine a coupe of layers and end up with something totally unexpected. An absolutely amazing program…
Ah, back to my regularly scheduled posts! I have started working with all the images I have been taking of the desert spring this year – really a gorgeous one, with the additional rain, and the cactus have been amazing. I have wanted to do some collage work, but I haven't known how to begin. I wnt things to seamlessly blend together, not have significant images stand out, so I guess it is just a case of experimenting. So I tried Tuesday night, and I was pleasantly surprised – and pleased. Here are the photos I started with, all taken from the Tucson Botanical Gardens: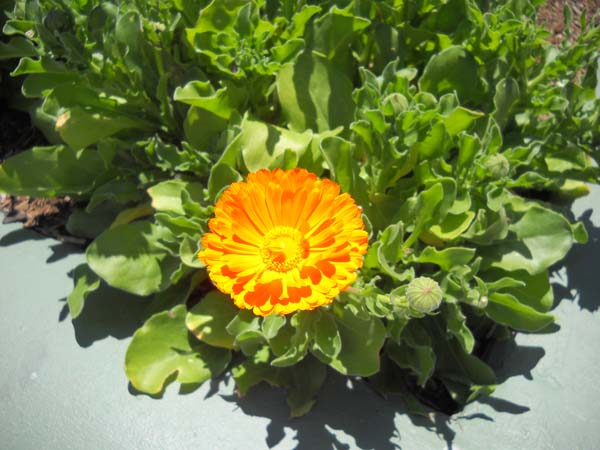 I wasn't sure what was going to happen, but I did realize I needed to use separate layers and then adjust the opacity for each one. It occurred to me I could "cut" the flower itself. So here's what happened with the mix:
I really liked how this worked – a little rotating of the flower, and the actual orange of the blossom is a perfect focal point. But – I decided to try individual layers on and off to see what happened….
I probably will end up printing them both. I am thrilled, and I learned a few more things.
So yesterday I decided to try another one. Here's the original photos, and I'm still not done…..have a few more ideas for the succulent.
You need to click on this one to see the effect of the marbling pattern within the grate.
And…without the background. I'm not totally happy with this one, but there's certainly a lot to work with….
All in all, a productive Photoshop time.
Additional Photoshop Friday posts:
Photoshop Friday – September
Sunday Sampler with Photoshop – August
Photoshop Friday – July
Photoshop Friday – stained glass
Yes, I am working, slowly, on a couple of pieces, trying to finish them up. I am inspired by what I saw at Superior Threads' School of Threadology in April. I now have a wholesale account, and I certainly need some new threads to finish a couple of projects. I am also using the "crappy" stuff to start some thread fabric for a cape pattern I saw. I find all it takes is a little inspiration looking at other quilts and I am raring to go on new projects. But – I have other things to do, like backing up photo files, cleaning out files, working on three other websites, and finishing out the school year.
So here's some eye candy from my three days at the School of Threadology – oh, to be able to do that kind of quilting! One of these days….
Heather and Bob Purcell collect quilts that 1) use their threads, and 2) showcase amazing machine quilting. You can learn so much just by viewing all the details in each quilt, front and back. One of the things I learned was that it's okay to match color thread on the back with stuff on the front. Too often quilters use threads that match the backing and then show through in ways that don't work. It's okay to use what works back and front.
This gold quilting in the next two shots needs to be seen to be believed. The quilting just shines, and there is so much of it! I like being able to fill the spaces available, and I am slowly getting more ideas on how to do this.
I'd like to be able to do this kind of feathering – nice and simple, and with variegated threads it should be gorgeous.
This is the Superior Zebra, done especially for the booth, and the zebra is completely thread painted. Amazing really doesn't cover the art and technique in this quilt.
So much to quilt, at least it's almost summer break!
Even though I haven't been blogging much lately, and not reading my usual blogs, I have still managed to accumulate some really interesting websites. When I go back through all the bookmarks, I am reminded about what an awesome thing the internet is. You can find just about anything, and then some. While I so enjoy the eye candy from fiber sites, there are still so many things that interest me. Here's a mere ten for this week. I'm going to try and get back in the habit of doing this once a week.
Cabinet Magazine – (from the website) Cabinet is an award-winning quarterly magazine of art and culture that confounds expectations of what is typically meant by the words "art," "culture," and sometimes even "magazine." Like the 17th-century cabinet of curiosities to which its name alludes, Cabinet is as interested in the margins of culture as its center. Presenting wide-ranging, multi-disciplinary content in each issue through the varied formats of regular columns, essays, interviews, and special artist projects, Cabinet's hybrid sensibility merges the popular appeal of an arts periodical, the visually engaging style of a design magazine, and the in-depth exploration of a scholarly journal.
Sounds like a potentially great look into today's art and culture!
Homework – Hand-Built Shelters – (from the website) features: homes, cabins, cottages, bungalows, homesteads,   sheds, shacks, huts, treehouses, bottle houses, yurts, hogans, tipis, tents, beach shacks, stilt houses, greenhouses, small houses designs, and MORE!
The sheer scope of different types of homes boggles the mind.
A Moment in Time – from the Lens project to document one moment of one day on the earth. As the site says, "make no plans for the rest of the day." You get to look at photos from around the world, all taken at the same time on the same day – a great look at "us."
When Graphic Artists Get Bored – a great selection of graphic art. Take a good close look – you won't be disappointed!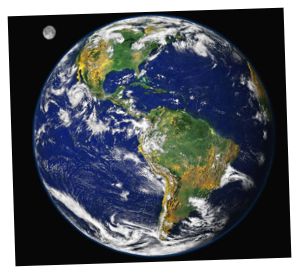 Real World Math – Using Google Earth in the Math Curriculum. Oh, to use this in the classroom – and if this had only been available when I was in school! My ideal job would be a curriculum coordinator for Google Earth. I would never be off the computer!
While I have had my own blog about teaching, I occasionally read others, like this one – A Teacher's Education. I can so relate, and if you are a teacher and any good in the classroom, you will relate, too.
Urban Homestead – since I have become very interested in sustainability and locally grown food, I found this interesting. Path to Freedom – the Original Modern Urban Homestead.
The Scribbler – be prepared to waste lots of time, because after all, you have to get good at this – scribbling, that is…who knew it could be so much fun to just doodle – no, make that scribble, and in color – and you can save them! Here's info about how it got started. You have been warned…..
Quantum Learning – Visiting Auschwitz –  interesting blog. "Help build a world where everyone is valued irrespective of wealth, origin, colour or beliefs and conflicts are solved peacefully. Here you'll learn how to do this in day to day life."
And finally, Gray Eagles , a nonprofit dedicated to preserving the stories of World War II pilots. "The Gray Eagles Foundation is a non-profit organization dedicated to keeping aviation history alive through dynamic audio-visual media created to educate and inspire those from all generations. Specifically, it is our hope that our films will encourage others to share their stories, and by doing so, build family connections, foster community, and nurture a culture of multi-generational understanding and respect." After all, the past is prologue.
Other Top Ten Website articles:
Top Ten Tuesday – Getting Here
I really can't let this amount of time go by between posts – I miss the writing, and I miss hearing from fellow bloggers. I am SO behind in reading my blogs – trying to get them all transferred over from Blogger, but there's this time element….School ends in four days, so things have been quite hectic here. I have a list of things to get finished before leaving for our trip, so I need to stay focused and busy.
I neglected to mention my Salmon Run was accepted into Fish Follies this year. The postmark deadline was April 25, and at 6 PM I was sending off the jpgs. Thank heavens for email entries!! Last Tuesday I sewed on the sleeve and packed it for its trip to Alaska.
This is some of my best quilting, and I am looking forward to finishing my Desert Heat quilt, as well as a few other projects, after the trip. Michelle, my S&B buddy, is coming over tomorrow, and we are going to work with some Texture Magic to create some new purses. Should be fun to just do some mindless sewing after such intense free motion quilting.
I have some ideas in mind for a couple of wearable garments for a potential show in October that I have been invited to. I want one of the garments to be made from thread fabric, and I have been making some piles of thread from my "bad threads" so I can start working on pieces for that. Also, when we are back from our trip, we plan on marbling in the big tray and creating some larger pieces of silk, so I have some decent yardage to work with for a floor-lenght vest I am thinking about.
In preparation for traveling, I spent some time creating a marketing postcard to take with me, as hubby and I love strolling galleries, and ya just never know….Thanks to VistaPrint , you can get things done cheaply and quickly. I have cards ready to go, and I am also working on cards for other members of our Mixed Media Arts group.

I will be taking pens and sketchpads with me on the trip – looking forward to finding some nice tree bark and sketch away. And I want to get back to some zentangles – I enjoy doing those, and it's been several months. Read their blog – these are really cool! Here's a few of my favorites from last autumn…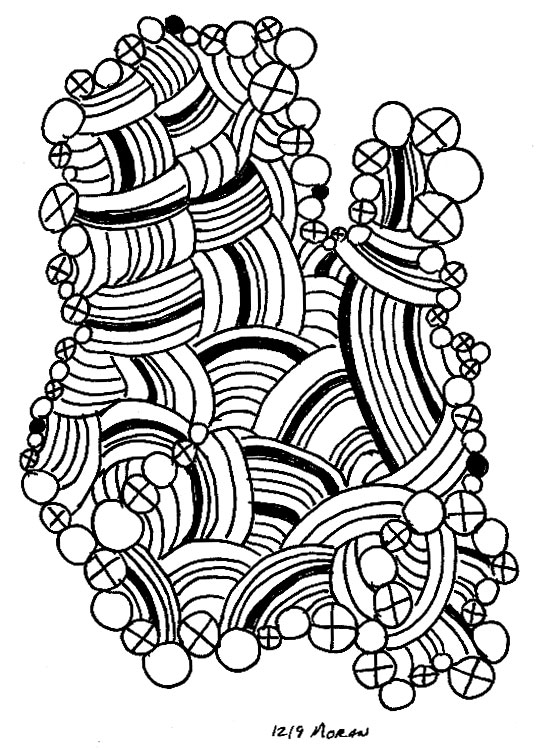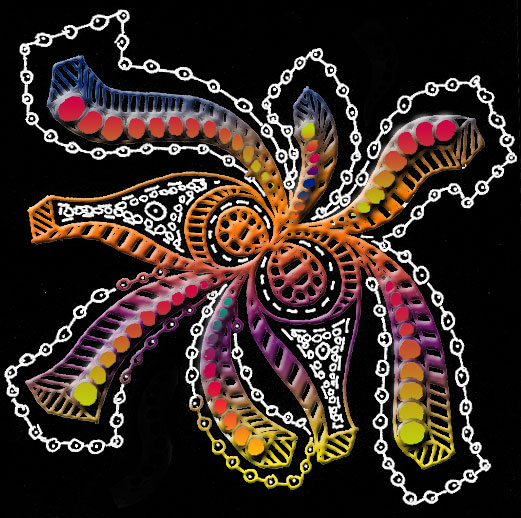 More hopefully tomorrow – there's been loads of amazing stuff on the web lately.

So I sent the jpgs off to the museum for this show. This was a strange entry and experience. In the past when I have entered this show, my entry is usually done way ahead of time, and the CD is in the mail early. This time I went right to the deadline, and I'm still not sure about the piece. In the past, I usually had a piece I'd started two or three years ago, let a year go by, added some more, let another year go by, and then inspiration hit and I finished the piece and felt "wow."
This year I spent a solid week working on this, changing the theme, flipping the orientation, and really loving the quilting. Several  months ago the art group suggested changing the border from a maroon corduroy to a blue that would pull out the blue of the marbling. Well, the blue reads as a gray, and I'm not sure it works well. But my corners are mitered beautifully – and I had to redo them a couple of times, since it's been a number of years since I did mitered corners.
I just have to wait to see if it's accepted. The close-ups should do it, as the quilting is some of the best I have ever done, and it really adds to the piece. It is photographed well, with light from the side to accent the textures in the piece.
That said, the question now becomes "what next?" I didn't think it would be a problem, as I have two other quilt tops ready to go for quilting, and I really want to play with the new threads. But it seems to be a more global question for me. Not just what's next for the next piece, but what's next in building the business? How can I have items to sell up on line, as suggested in building the blogs for business? How do I set up the subscription list? How do I keep up with writing each night? And how do I keep up with improving my skills and creating art I am happy with? I need to take some time to just think about this, but when I try that, I get incredibly overwhelmed with what has to happen to build everything. There are so many things to do, and I really  don't know where to begin.
So rather than think about things, I sat outside tonight for the first time all season and just read. I'll look at the goals tomorrow and see that I am another month closer to my deadline of adding $500 a month to the business and wonder how I'll do it. Take it a day at a time….start the new quilting tomorrow on the Desert Heat piece and just see what happens.
PS – I love the Bottom Line thread – I want more to use for the backs of the quilts. But for Desert Heat, I am using a Bryte green on the back, which is a green dyed piece, and Bryte yellow and orange on the front to accent the heat. Just need to get a marker to mark my circles and then I'm ready to go – I even hand-basted this, which I rarely do.
I woke up a few times last night, thinking about this piece – mainly, was there too much quilting? I have avoided looking at it today, as I want to wait till I have better light tomorrow to really evaluate what's going on.  I have so enjoyed quilting this – I love the Superior Threads – NOT ONCE has the thread broken, and there's a lot of it on this piece. I need to look at the threads I have again, as I think I want to use something for the sky that just gives texture but no emphasis on the stitches. Trouble is, I do not have clear invisible thread, just smoky, and that definitely won't work. And now that I understand about nylon as an invisible thread, I'm not even considering using the old stuff.
I may cut off about two inches, as I'm not sure about the puffiness at the very bottom – it is the bottom, and I do want the emphasis on the "fish," and I think the extra texture will work. The big problem is the decisions to be made on the upper part that is supposed to represent more of the sunrise. Definitely less stitching, just don't know what thread yet.
Here's link to the original piece, with almost no quilting, and a bad border. I said in the post I would be willing to take the quilting out – which I have now done twice…..I'm looking forward to quilting tomorrow…just need to be done with a border on for pics on Saturday.