Posts Tagged 'quilting hand machine'

Thank you, Cindy Needham, for talking about the hum-purr your machine makes when you are in the groove! And I have been in the groove this past month – another quilt under the presser foot, this one a  16-year-old top that I am giving to my yoga instructor. I haven't done anything with the top prior to this, because there was an area I really wanted to do feathers in, and I wasn't willing to hand-quilt them. So now that I can do feathers in free-motion, sounds about right to finish this top…..except the area I was thinking really needed something else…..so I did a grid pattern, and I LOVE IT! It makes the traditional top look much more modern.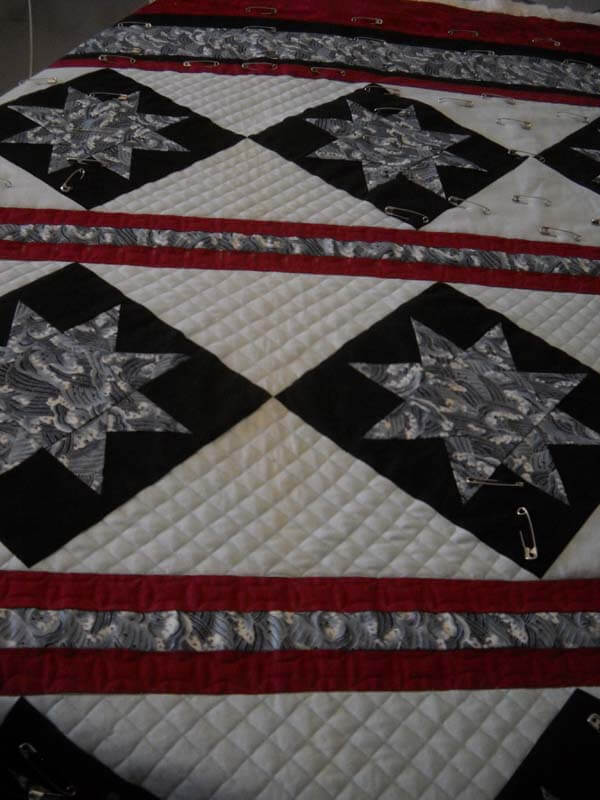 Below is the quilt being basted – my safety pins have gotten quite the workout in the last few months! The quilt top originally ended with the blue wave border, but it wasn't long enough to cover a chilly body. So I added another black and wine border – lots of ideas for quilting those – and yes, I will have feathers somewhere on this quilt!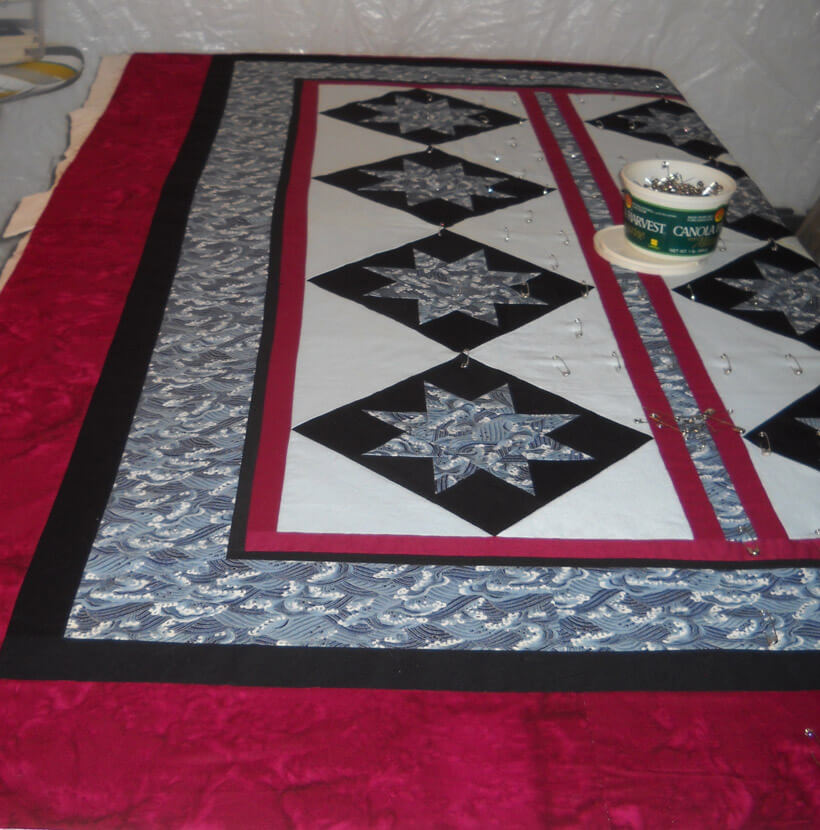 Before I started in on this, I continued with the BOM from our local quilt store, four months to catch up on, and I'm pleased with how they look. Based on progress I've made with the amount of sewing over the last couple of months, I would probably do some colors differently in the original blocks. Here's the new ones: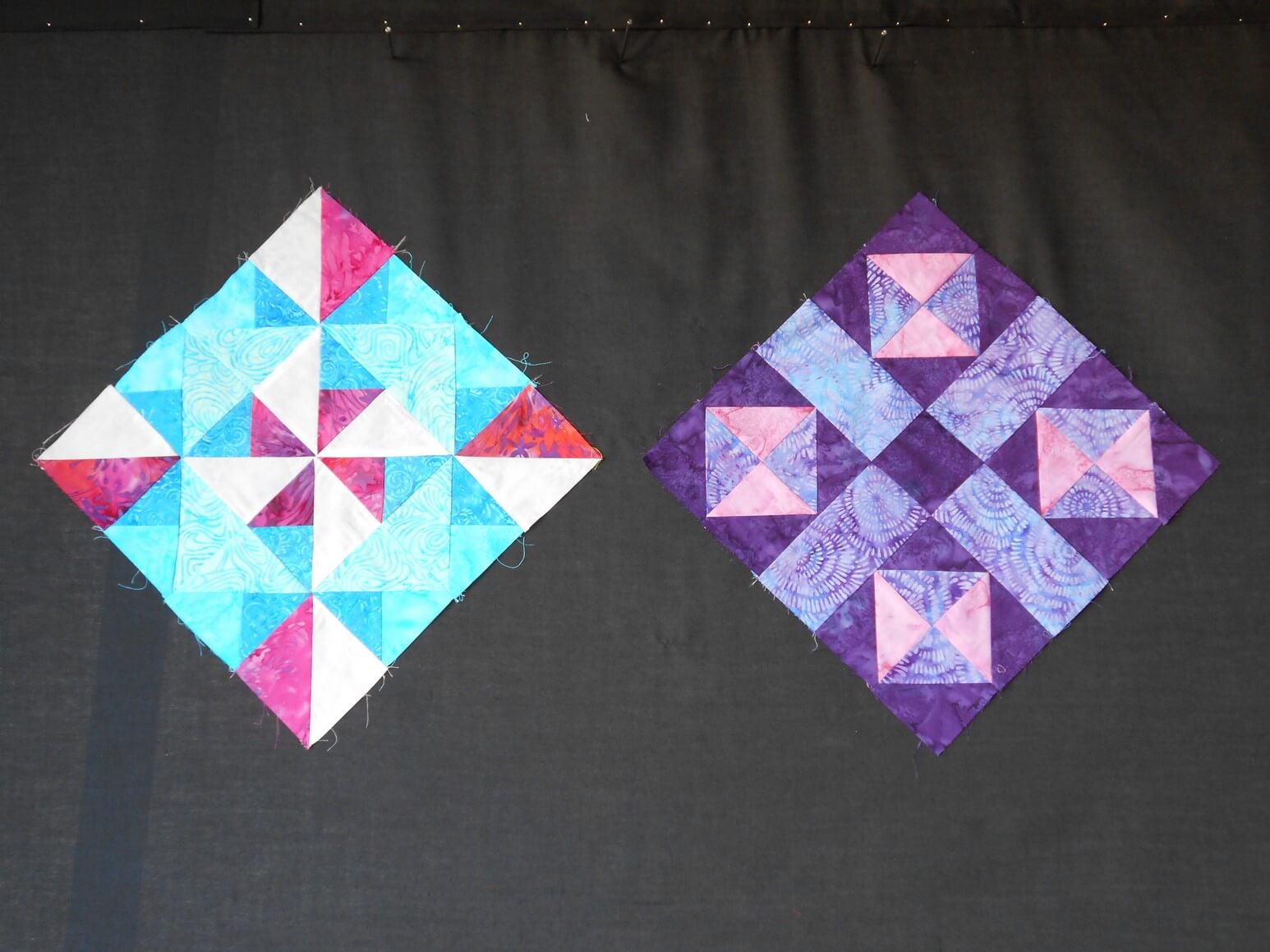 Photography really isn't doing them justice!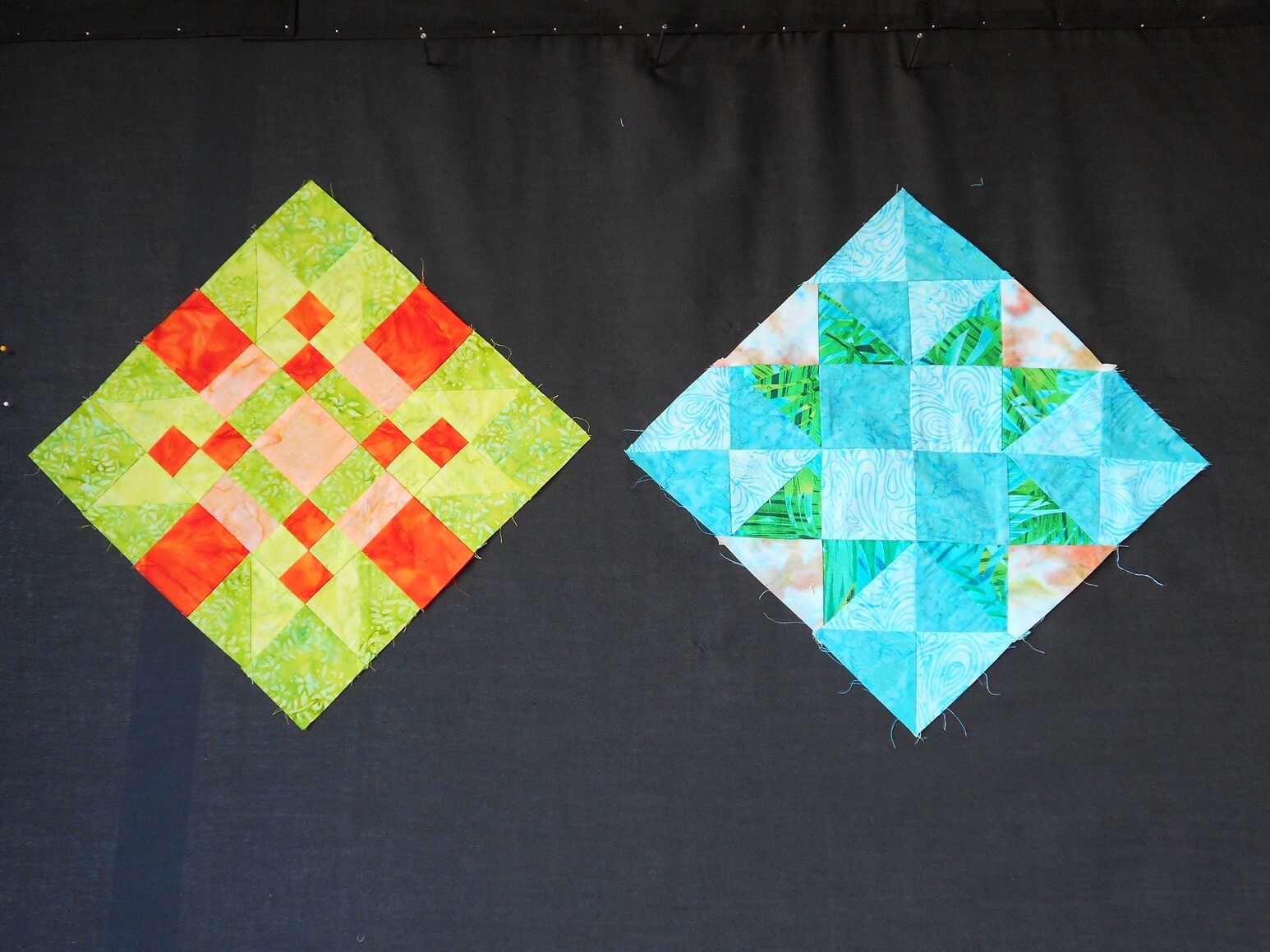 I love the green and orange one!
Up after this quilt is a lap quilt for my great-niece who turns 13 in August, and I would like to have it done for when we see them in May. I've made the commitment that all 8 of my great-nieces and great-nephews will get a lap quilt from me when they turn 13. This means lap quilts for the next 11 years…….

So I sent the jpgs off to the museum for this show. This was a strange entry and experience. In the past when I have entered this show, my entry is usually done way ahead of time, and the CD is in the mail early. This time I went right to the deadline, and I'm still not sure about the piece. In the past, I usually had a piece I'd started two or three years ago, let a year go by, added some more, let another year go by, and then inspiration hit and I finished the piece and felt "wow."
This year I spent a solid week working on this, changing the theme, flipping the orientation, and really loving the quilting. Several  months ago the art group suggested changing the border from a maroon corduroy to a blue that would pull out the blue of the marbling. Well, the blue reads as a gray, and I'm not sure it works well. But my corners are mitered beautifully – and I had to redo them a couple of times, since it's been a number of years since I did mitered corners.
I just have to wait to see if it's accepted. The close-ups should do it, as the quilting is some of the best I have ever done, and it really adds to the piece. It is photographed well, with light from the side to accent the textures in the piece.
That said, the question now becomes "what next?" I didn't think it would be a problem, as I have two other quilt tops ready to go for quilting, and I really want to play with the new threads. But it seems to be a more global question for me. Not just what's next for the next piece, but what's next in building the business? How can I have items to sell up on line, as suggested in building the blogs for business? How do I set up the subscription list? How do I keep up with writing each night? And how do I keep up with improving my skills and creating art I am happy with? I need to take some time to just think about this, but when I try that, I get incredibly overwhelmed with what has to happen to build everything. There are so many things to do, and I really  don't know where to begin.
So rather than think about things, I sat outside tonight for the first time all season and just read. I'll look at the goals tomorrow and see that I am another month closer to my deadline of adding $500 a month to the business and wonder how I'll do it. Take it a day at a time….start the new quilting tomorrow on the Desert Heat piece and just see what happens.
PS – I love the Bottom Line thread – I want more to use for the backs of the quilts. But for Desert Heat, I am using a Bryte green on the back, which is a green dyed piece, and Bryte yellow and orange on the front to accent the heat. Just need to get a marker to mark my circles and then I'm ready to go – I even hand-basted this, which I rarely do.