I seem to be on a role with Photoshop and some of the ideas I want to try. Been playing around today with some more ideas, and I added a quote to the leaf. The original was taken at the Desert Botanical Gardens in Phoenix – it's an amazingly HUGE leaf, with white veins and crinkly edges – really gorgeous to see. I hvae been taken with it, and after the success with yesterday's, I decided to try "cutting" sections of the leaf and putting them on their own layers, then playing around with the layers. I am quite taken with the finished product.
When we were in Sedona over spring break, we took a Pink Jeep tour through the backcountry red rocks. We forded a stream, and stopped in the middle to take pictures of what the homestead probably looked like fifty years ago. I absolutely love the photos from the trip. Here's the original, with a slight light correction for the tree trunks on the right.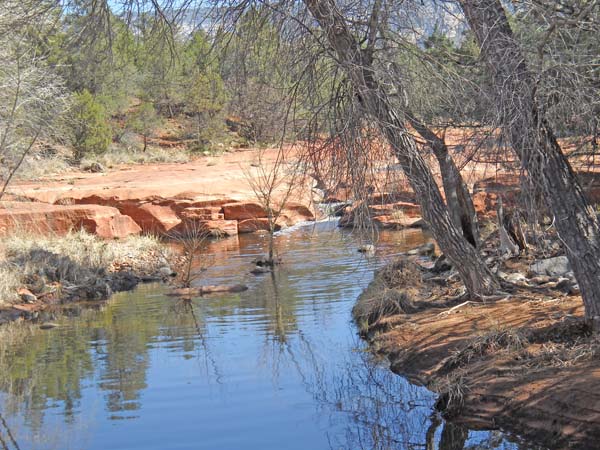 This next is with a Smart Blur filter that lends a bit of water color to the picture.
This last is with about five different adjustments, one on top of the other. I ended up cropping to just the right side of the photo because I fell in love with what was happening with the trees and the bank. I could definitely play around more with this image.
I've commented before as I have been learning Photoshop that one of the things I really enjoy is the ability to just "turn off" layers with what you thinnk are mistakes. To me it really frees up the creativity. But then every now and again you combine a coupe of layers and end up with something totally unexpected. An absolutely amazing program…