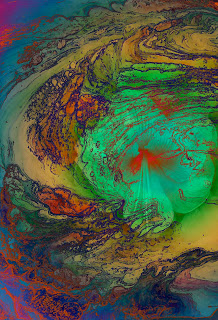 This is absolutely, positively one of my most favorite digital marbling (TN) pieces. Suzan and I stumbled on this as we were laying with a deconstructed piece of marbled fabric. Here's the process: I take a pic or scan a piece of marbled fabric and then play around in Photoshop until I'm happy with the result. With this piece, we took it down to a basic line drawing and then started playing around with gradients. We got a great background, but we knew it needed something more.
So we went through the photo library and found a great pic of a flower hubby had taken from our yard. Voila! That was exactly the focal point we needed.
This brings me to my Saturday Special. In an attempt to market myself and my art more strongly, I am investigating a variety of venues over the internet. This Saturday you can take a look at a few gifts available from Cafe Press. My "store" is quite small, and I look to change a few items on a regular basis. I've tried to price items so they would make great gifts for those who either have everything or need nothing! This photo graces a personal journal, making it somewhat mystical for your writings.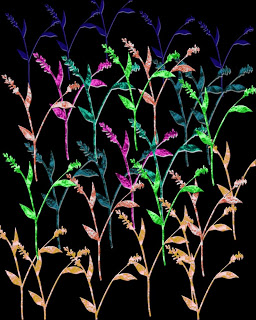 This flower image graces a small tile, a perfect gift for a housewarming. The basis of the design again is marbled fabric, this time inserted into flower images. I really like the "neon" effect of the flowers. This image will show up in a larger print down the road, because the detail in the flowers is intense.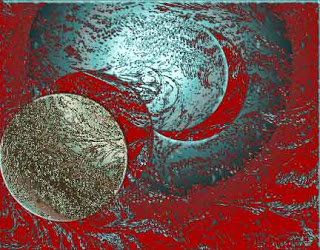 I had so much fun creating this image, one of the first I successfully completed on my own. This is part of a "moon" series, and it also started as a piece of marbled fabric, deconstructed to a basic line drawing, with a series of gradients applied. I don't think I could achieve the detail in this any other way. The piece just glows! This is available as a set of note cards, a nice way to maintain a unique social communication.
I am very interested in hearing from those of you who sell on line. Any tips or hints to share?
First time visiting Marbled Musings? Get an overview.