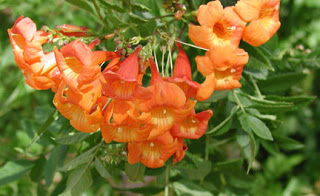 I have finally been playing around with tutorials on the Photoshop site, National Association of Photoshop Professionals. There are over 1000 tutorials, a mine of activities to try. If you can work and teach yourself, this is absolutely wonderful. This is the original from a spring photo shoot at the Botanical Gardens. It's already been cropped to emphasize the flowers. I decided to work just with gradients this time to see what would happen.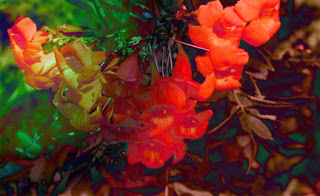 This has a nice other-worldly feel to it in the lower right corner. It has taken me a long time to get comfortable working with gradients. At first I started with a gradient on a whole image, and then I realized I could take part of an image, snap it to a new layer, and apply the gradient to that part only. With this flower image I decided to work with the whole image for a change.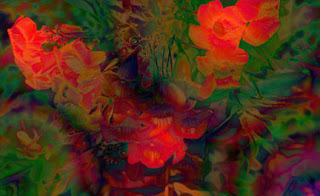 I tried an additional gradient on top of this one and am generally pleased with the result. I like the addition of a little bit of blue in there. I have discovered that I can keep copying layers and apply more gradients on top of other gradients and then eliminate what I don't like. The freedom to experiment this way is wonderful – not like the way so many of us learned art – we rarely started something over again, after all our efforts. This way, even with the effort, I don't mind eliminating what doesn't work. I realize I have still learned from the exercise.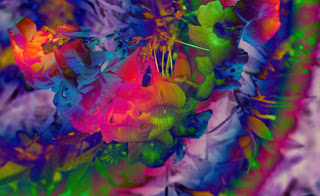 For this last one I hid the other gradient layers and tried something totally different. I don't think it's as effective as the others. I like the play of colors, but I don't care for the composition of the photo now – the emphasis on the flowers is gone. But I've learned….