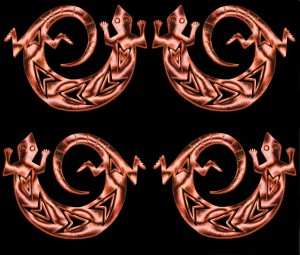 It's been interesting keeping up with the web, now that I am back at school full time. This weekend I had a chance to get caught up with my regular followers, and once again some really cool stuff. Enjoy!!
The Textile Blog had three really cool things this week….I am fond of William Morris prints, especially some of his flowers. This one just seems to have some really exceptional symmetry. I love the colors, the repetition, the geometry – everything!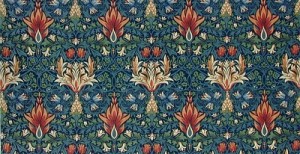 Next is Owen Jones and Horse Chestnut leaves, from The Grammar of Ornament. These are so different, simple yet complex in design. These are just visually pleasing to me.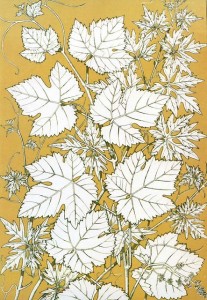 And still from The Textile Blog, some tapestry work from the 19th century that is very "quilty."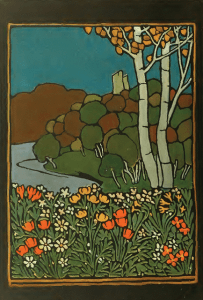 If you haven't been reading the Textile Blog, its concentration is "Among the subjects covered are printed, woven and knitted textiles, as well as rug, tapestry, quilting, embroidery, lace, and basketry design. It also includes a culturally diverse approach to the history of textile design across the globe." And there are contemporary designers also features.
I loved The Good Earth by Pearl Buck. Born in China of missionary parents, she spent a lot of later years in Vermont. When I was surfing concerning another book, I came across this one: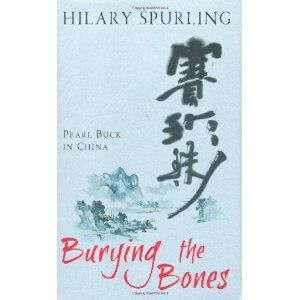 This is the story of Buck's early years in China, and her parents seem typical of missionaries at the time. I want to read this, and then revisit The Good Earth yet again. I read a lot about China, modern and ancient. A year ago I read a woman's story of her, her mother under Mao, and her grandmother as a concubine before the revolution. Really a great story by Jung Chang called Wild Swans .
I don't read a lot of education blogs much any more, but The Fugleblog caught my eye. Here's a teacher incorporating all kinds of technology into her art classes, and I would love to learn some of this! Check out how she gets the kids involved in building on an art lesson.

I am exploring Spoonflower's print-on-demand fabrics. I had designed some possible fabrics here, and then two weeks ago I took advantage of their free swatch day. I wanted to check out the quality of cotton, plus see how my design would look. Well, I liked the quality, but I learned that my design was way too intense to translate well into fabric. I need to do some more work on that. But in Fiber Focus, there's a tutorial on creating your designs to print at Spoonflower. Here's one as an example: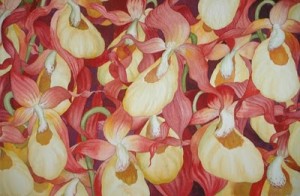 This is a complex design, and yet it's much simpler than what I had, as you can see if you check the previous blog post.
Alyson Stanfield at ArtBizBlog has yet another helpful tip: promoting your art in Slideshare. This looks to be another way to have a portfolio on line.
Well, only seven – I lied. I'm pooping out, and it's only Tuesday…gotta go mark papers……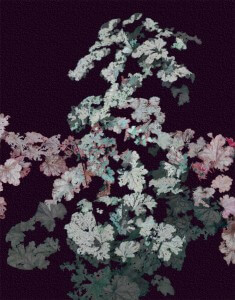 I've never read The Art of War by Sun Tzu. I suppose as a history major I should have, along with my reading of Machiavelli…but my college history department at the time didn't have much related to Asian studies, let alone economics. So when I stumbled on this from Dumb Little Man, I was interested.
Hmmmm…..Five Factors for Life-Hacking Domination. Whoa – kinda strong when you think about marketing…but maybe not. Let's explore this further. Something that has been around since the 6th century BC probably has something to teach us.
Life-Hacking – getting to the essence of life and making it work for you. Most of us struggle with this until we realize life is short and we need to get the most out of it before it's too late. On a marketing level, most of us don't know how to market our art, and we need to before we are left behind.
Teaching 1: The Moral Law
Sun Tzu said: "The Moral Law causes the people to be in complete accord with their ruler, so that they will follow him regardless of their lives, undismayed by any danger."
Whoever is our ruler, spirit, creator, God – we must live in harmony with that. For me all my decisions have been predicated on the "do no harm" and "do unto others" principles. The same has to be true for me to be successful with my art and my business. What is the best possible product that is true to who I am, that is environmentally responsible, and that will bring me and an art buyer happiness? This can only be a great morality to live by.
"Every eye forms its own fancy." from Mrs. O'Malley, Irish proverb, from "Native Wisdom for White Minds." We all see what we want to see, or what we've been trained to see, and hence we miss whatever else we've not been taught to understand. Our reality isn't the only reality…can we be open to other possibilities in our art and in our life that will serve us well?

Teaching 2: Heaven
Sun Tzu said: "Heaven signifies night and day, cold and heat, times and seasons."
To Sun Tzu, Heaven is a consistency and a variable, all at the same time, and not necessarily religious. We know where we are going, we have a plan laid out, but we need to be aware of possible changes, pitfalls, opportunities. In this current economy, how are we reacting to sales and the health of our art business? What are our contingency plans till people start buying art again? Are we still making art, planning, creating product, connecting with others, teaching ourselves new skills? Above all, we need to be flexible: study the environment and decide how we can make it work (great advice from Tim Gunn…).
Teaching 3: Earth
Sun Tzu said: "Earth comprises distances, great and small; danger and security; open ground and narrow passes; the chances of life and death."
I'm quoting Dumb Little Man here: "Those entrenched in the status quo make the obvious and socially-acceptable choices – regardless of how ineffective and/or inefficient those choices are. They don't take the time to observe the ground beneath their feet. Hence, they are incapable of seeing and feeling the optimal way forward. The life hacker thinks and acts unconventionally. She looks for the paths of least resistance, the 80/20 shortcuts, and the hidden passageways through life."
That's a huge mouthful, and one most of us will not consider. Having always been accused of "unconditional optimism," I think I am quite prepared for this one. Everything has a solution; it may be one we haven't thought of, one that is uncomfortable for us, or one that forces us to seriously change our paths. A sluggish economy is a huge problem, one that will take extreme  courage and innovation to survive. Are we ready?
Teaching 4: The Commander
Sun Tzu said: "The Commander stands for the virtues of wisdom, sincerity, benevolence, courage, and strictness."
This ties in to all morality. We must all take the higher path, and I editorialize here that in this economy – and our lives in general – I don't see this. There is so much incivility the ugliness among us that I think we've lost our courage and sincerity. Living by a moral code can only help us be better individuals, more productive citizens, and better artists. We do art not for the short-term gain but because it feeds our soul and hopefully those around us. We do art because we must, not because we have found the secret to making great riches. We can't sacrifice our virtue and integrity.
Teaching 5: Method and Discipline
Sun Tzu said: "By Method and Discipline are to be understood the marshalling of the army in its proper subdivisions, the graduations of rank among the officers, the maintenance of roads by which supplies may reach the army, and the control of military expenditure."
This is marketing. How are we building our business? How are we preparing for sales? A personal story here: we did a number of demos of our marbling in the past, to some critical success. People loved what we showed them. But we missed a CRUCIAL piece – we had no product with us to sell. We had plenty of examples of what to do with marbling but nothing for people to buy. No sample fabrics, no remnant bags, no cards, no digital work. We totally missed the "buying" piece. Needless to say, we don't make that mistake any more.
Think about everything you need to do to build your business. Do you have a plan? This is "method and discipline." I need to take my own advice and be sure that I continue with the blogging; this is discipline, and this is focus.

Well…..I didn't expect this to turn into an essay, but I guess it did. I had read the piece initially and felt it would be good for a post on marketing, but with the writing came analysis and lots to think about. Ultimately I feel validated, in that the moral life and the decisions and turmoil that come with it are the way to go. I am interested in your comments….what resonates with you? What method do you most follow? Leave me a comment below.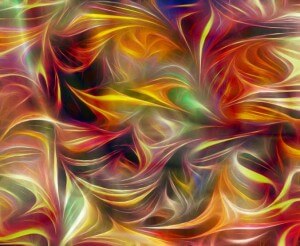 At one point I had three, with another on layaway. I guess four, counting my serger. It was the HUGE, HEAVY Singer that my mother had that first intrigued me. I sewed mostly at college on a small Singer a sorority sister had, but when I went home for holidays it was that old heavy Singer that I used – I don't think the needle was ever changed, and it only went forward and back, but it was enough for wardrobe.
My first teaching job was in Hawaii, and after buying my very first car, I bought a Singer sewing machine. When I left Maui, I donated it to the drama club for costumes – that machine had done all the holokuus we used for two musicals, plus a lot of muumuus for me over the years.
Back in Vermont I needed a new sewing machine, so I bought a fancy Singer – with stretch stitches…yup, time for polyesters and stretch knits. This was when I took every Stretch and Sew class I could, and pretty much bought out all their patterns. I learned a lot of design, and for the next decade I made all my clothes…and a leisure suit for hubby. I wanted the capability to do fancy stitches, so when the funds were there, I got a new Singer – computerized, with lots of decorative stitches. And…a bobbin that wound itslef right in the machine.
My dear mother-in-law got the older Singer, as she would sew doll cloths and bags for the grandchildren. That new Singer did wonders and got me started in quilting. When my mother-in-law died, the machine reverted back to me, along with her Featherweight. Finances were such that I had to sell the featherweight, much to my regret, but it went to a good home – a quilter friend of mine.
I discovered that using the zigzag to edge cotton before marbling wasn't really working on my old Singer. I seemed to always overheat the motor, so I went looking. Enter my serger, a Bernette. Two great ladies who had a fabric store and bought marbled fabric from us fronted a used serger for me. It's still going very strong, although I must confess a profesisonal cleaning would probably be a good idea, even though I am good to it….
Between the marbling and the quilting, my other two Singers weren't doing it for me, so I began to investigate Berninas forther, since I loved the serger. We were fortunate in that the local Bernina folks, Bruce and Mary Sue, were very supportive of our marbling. I put a hundred dollars down on a 1080 Bernina workhorse, figuring I could get it in a few months. Well, several years later I got my machine and it's been purring since then.
In order to fund some basic expenses we had a yard sale, and the two old Singers went to new homes, feet and all. I miss them, but I do love my Bernina. There are times when I wish it did more – like needle-down and stitch regulator, but my basic skills have improved tremendously. In fact, when I was at the School of Threadology I was using a new Bernina and I wasn't happy – mainly because I didn't fully understand what it could do – I knew the limits of mine and wanted it with me.
I'm still lusting for new machines – my serger is nearly 15 years old, I want an embroidery machine, I want a machine that can take designs and new stitches along with a stitch regulator, but that's in the future. For now I love my Bernina and all it's teaching me.

It doesn't look to be smooth sailing for this year at school, with an extremely difficult class of students. After a very upsetting day and a really rotten mood, I read through Facebook to find a collection of dances from movies. I watched it twice, it made me feel that good. Then I went to my guilty summer pleasure of So You Think You Can Dance and watched Alex Wong with some ballet clips and his amazing hip hop.
I feel lots better. I'm still grumbly, but the mood has broken somewhat. I can watch great dance, listen to amazing music, read a great book, and look at some amazing art and feel so much better. I think the only thing that is going to save me this year is working on fiber art as many evenings as I can. Then I can focus on the stitches and the design decisions and forget about unpleasant children who don't realize how many people in the world would give anything for a free education. (Okay, political rant done….)
That said, I finished up last night on the bamboo piece and got the jpgs sent on their way. Here's a sneak peek: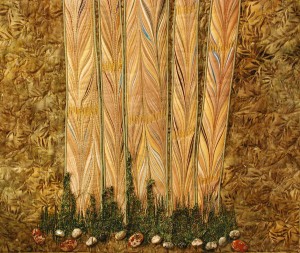 I am very pleased – now to go start something else….

It's been a busy couple of weeks back at school, and I really miss not being able to write and surf the net. But I did get a chance to catch up on some of my most favorite blogs, so here's a sampling. Enjoy!
Anne over at El Milagro Studio had an unexpected visitor at her house. You need to read the full adventures of Milo from the beginning – guaranteed to make you smile and chuckle like crazy! Start with the August 17 entry….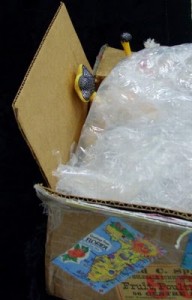 Alyson Stanfield has great advice over at ArtBiz. This time it's "always make the best art." Absolutely – that should be our goal as we struggle to combine art-making and marketing. If you're not reading her blog, hop on over and subscribe. She has great info.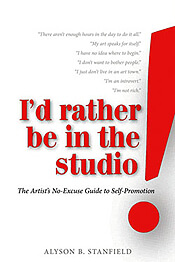 You might want to check out Artwork of the Day from the Metropolitan Museum of Art. It's fun to see what gets picked for the day, and you have a virtual tour of some great masterpieces.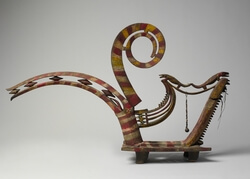 From Blurberati, "A Lesson in Fearlessness." A great entrepreneur story for us all. "How did she get from being 'an artist at heart' to one of the most successful female entrepreneurs in San Francisco generating $45million in revenue in 2009 and shipping 1.2 million books to more than 60 countries?" Plus, check out all that Blurb does…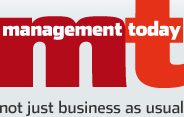 Also from Blurb –  The Secret of Perfect Page Design – very interesting, and so math – Love it!!

I just found The Daily Grommet – to find an article on recycled crayons – very cool idea and so green. Plus, the stars have 5 sharp points to them….outstanding.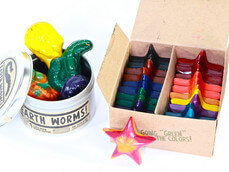 I love Cool Hunting – they find the most amazing – and ODD – things. Ya just never know what's going to come up on their radar….like frozen compost containers….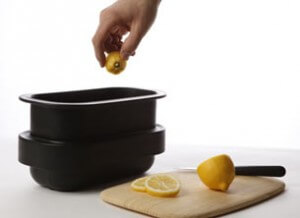 Dumb Little Man is also a fun site to follow, with loads of practical lists – like 5 Surefire Ways to Strengthen Your Willpower
I discovered some great photography at JPG Mag. Check out Defying Physics.
Over at Productivity501 is a great article on Money Myths.
What have you found on line this week? Drop my a note with some new URLs for us to check out next week.
Once again, over on Fine Art Views, Moshe Mikanovsky has a great topic. As artists, should we change our names? Interesting food for thought. Here ya go!
Visual Artists: Would You Change Your Name?
by Moshe Mikanovsky
This article is by Moshe Mikanovsky , Regular contributing writer for FineArtViews.  You should submit an article and share your views as a guest author by clicking here.
Actors have Stage Names. Authors – Pen Names. Even wrestlers are known by different name, a Ring Name. So what is it about visual artists that does not make us change our names for the trade?
Historically, throughout the Renaissance period in Italy, some artists had nicknames that stuck. Like Donatello, who was born Donato di Niccolò di Betto Bardi, Tintoretto whose real name was Jacopo Comin, or Boticelli – Alessandro di Mariano di Vanni Filipepi. Another culture that produced art names is in the East Asian countries, where Chinese, Japanese and Korean artists receives names based on their level of proficiency and experience in their trade. In the modern ages though, visual artists are not known to change their names in order to promote their brand.
Some of the reasons artists might want to change their name for could be:
·         Uniqueness – My art teacher and mentor, artists Gary Smith, told me once: "I have a very bad name for an artist. But you have a great name". Although a talented artist with unique style and an amazing art coach, Gary was worried that his name doesn't help him to become unique, above the rest. But with a name like Mikanovsky, he proclaimed that at least that will help me stands from the rest…
·         Privacy – Some artists prefers to keep their private life separate from their public life. Especially nowadays, with the Internet and data overflow, some people are anxious about putting their name out there (for different reasons that we could discuss in another post), so they might prefer using another name or a company name.
·         Different styles – one of the challenges for prolific artists that developed more than one style or artwork is to keep their artistic portfolio consistent. Authors who write in different styles usually adopt a pen name for the different style. That could be a solution for some artists, but it might create a huge marketing headache.
·         SEO (Search Engine Optimization) – as a topic close to my heart, this was the reason that triggered me to think, and write, about this topic. One of the things that artists and marketers learn about SEO is that the keyword that mostly used to find them is their name. Imagine a contemporary artist named "Picasso". Would we ever find him on the first or second page of Google? And what about my mentor Gary Smith? The combination of a common surname and given name brings many results that are not relevant for the search we are looking for. And another example, my friend, artist Myriam Levi. You might notice the spelling of her name, Myriam with "y". Everyone who looks for her usually would search for Miriam Levi (with "i"), and therefore can't find her. Would it better if she changes her name's spelling?
There are other reasons why performance artists change their names, like ethnicity, ease of use, relevance to the image they portray, ease of remembrance, family connections, and guild and association rules (read more about it in Wikipedia), but these seemed to me a bit less relevant for visual artists. But I am sure there could be other reasons that artists might want to change their names, or different ways to look at it.
So I'll leave this open to you – the visual artist – would YOU change your name?
Cheers
Moshe
———————————————-
This article appears courtesy of FineArtViews by Canvoo,
a free email newsletter about art, marketing, inspiration and fine living for artists,
collectors and galleries (and anyone else who loves art).
This article originally appeared at:
http://fineartviews.com/blog/22403/visual-artists-would-you-change-your-name
For a complimentary subscription, visit: http://www.fineartviews.com

Over the last thirteen years I have been entering fiber shows and the occasional quilt show with some success. The "Fish Follies" show each year at the Cordova Historical Museum in Cordova, Alaska has been very good to me, with acceptance both in fiber and digital categories each time I enter. I really think through the pieces I enter to be sure they fit the theme – I think I'm just not crazy enough in the "Follies" area to place.
In 2004 I took a BIG chance and entered the Expressions in Textiles show in New Haven, CT. My "Rock Garden" piece made it in, much to my delight, and when I saw the list of acceptances, I was kinda stunned. All of a sudden I was in the "big girl" league. I was thrilled. This was essentially a whole cloth quilt, a half yard of a stone marbled pattern that seemed like it was quilted to death.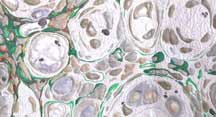 This is just a small portion, but everything in this quilt came together perfectly. I had initially bordered it in a black satin, thinking of the Japanese laquerwork, but eventually Iplicked out a smooth sand-ish fabric so the stones wouldn't seem "hemmed in."
That same time I had my "Mandala 1: Core" accepted into a quilt show, Fabric of Legacies, in Ft. Collins, CO.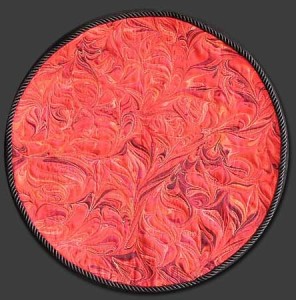 This was another whole cloth quilt, but at this point I was thinking that there were going to be a lot of venues that would look at very non-traditional fiber. I have since had my "Low Tide" piece juried into that show.
Most of my quilts were rejected over the next few years, and I pretty much stopped entering shows. I think some was due to poor slide quality, some to the whims of the juror…one piece I did for a show about changing the world's problems. I chose endangerment/extinction and did a piece on the rain forest and was told it didn't fit the theme. So I guess the learning from this was to continue, that not everyone interprets things the same way.
When we went through our "dry period" of marbling, when nothing was working, I didn't even work on pieces, like my bamboo, that had already been started. Now, though, I have started to look ahead to shows, quilt and art, and plan for new pieces, since most of what I have is too old. If my early pieces were accepted, and I've improved a hundred fold in my skills since then, then I should be on track for a few more acceptances.
We'll see…deadline for the bamboo is September 3, with notification around September 15. Time to make a list of new deadlines and what will be entered…and what will be new creations.
Yesterday I wrote about what's happening with the bamboo piece. Here's a sneak piece of it in VERY rough form: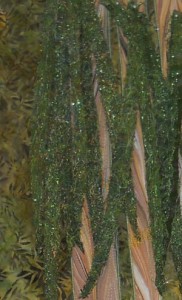 Now to today's story – my piece for "My World in Black and White," a show curated by Anne Copeland, like around 2003. This was a challenge issued on the QuiltArt list, and I decided to try something. Here's the piece: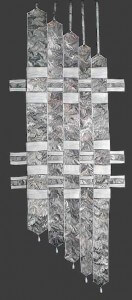 This was the first show where I realized I had to pay more attention to the theme. Mine was a more abstract look at black and white. We marbled a three-quarter-yard piece of unpolished white satin in blacks and whites. There was still a little orange left in the tray from a previous piece, so the name became "Black and White with a Hint." I cut five strips and quilted them, following the marbled patterns. You can see the hints of orange.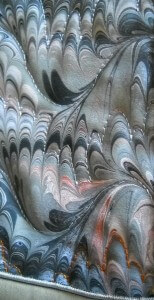 At this point, I really didn't know what form this was going to take. I decided to stagger each of the strips, but it was pretty boring with just the strips. That's when the "hidden" architect in me took over. I marbled some ribbon, serged the edges of the ribbon to carry the serging motif through, and attached it to some strips of gray cotton. I did eight strips all together, some of them plain with just a meandering quilting line, and some with the ribbon, and then I wove them through the other strips.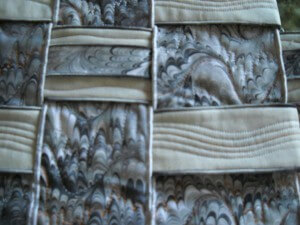 I liked how it was shaping up, and now I had to deal with a hanging system, as well as finishing the bottom. I figured I wanted some beads to hang at the bottom. I went to the local bead store and found these teardrops – have NEVER seen anything like them since then.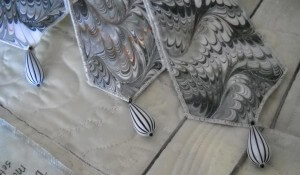 If you look closely, you can see how each strip gets hand-stitched to the ones around and underneath it. I figured I would use a plexiglass rod for the hanging system. I marbled some thinner ribbon, and with careful measurements attached the various lengths at the top, with a bead embellishment.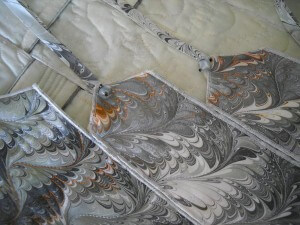 I learned a lot, as I seem to do on every piece, and this is still one of my favorites – my first piece to travel (to Ontario, CA as well as the online exhibit), my first piece that was professionally appraised, my first piece that "hung" in a very different style, and my first ribbon (for entering, but none-the-less still special!).
I am really enjoying revisiting these pieces and their stories. I hope you enjoy as well.

So it's been an interesting Saturday, with almost giving up at 1o this morning, thinking I would just submit one piece, rather than trying to show my overall style – which is certainly unique – any maybe too different…. My leaves are done, and my strips are done. I know how I'm going to make the grass and what stones I am going to use. But it's the actual layout….
I want a stand of bamboo. My original idea, some eight years ago, was to have it free-hanging – strips of bamboo, with some type of hanging system at the very top. Well, I figured if I did the leaves all at the top, I could put a casing behind them for a rod. When I actually had it on the design wall this morning…didn't really grab me.
Then I tried one of the jungle background fabrics, figuring I could make a background and attach the bamboo on top of it. Well…I ironed, pinned to the wall, added the strips, and then added leaves at the top….and…it was better, but certainly not a grabber. I tried shortening the strips – after all, they were at least 50 inches – nice, tall bamboo. Somewhat better.
I played around with a different leaf arrangement. Nope. Tried more strips beyond the five. Nope. While I like 8 because it's a Fibonacci number, there was too much bamboo.
Last Sunday I went to my local quilt shop, Quilter's Market (the BEST store, except for G Street….) with strips in hand to look at some other potential background fabric. I found one that was fairly "jungle-y" and worked with the browns and the greens. I pulled that out, ironed it, and cut it in half – top and bottom. I pinned the strips back on…this time I had them straight, but I had the top angled into the forest….five strips kind of angled downward from left to right….added the leaves in some different arrangements, and voila – I LIKE it! Now it's more what I had in my mind. I needed to shorten the strips and angle them – while bamboo grows straight, it ain't perfect.
I need to go buy about another third of a yard for binding. (They were almost at the end of the bolt last week…hmmm…) I've been going back and forth about a frame or not. I am thinking a simple binding, as I don't want to constrain the bamboo with a frame around the jungle, especially as I plan to have leaves out and about the edging. There is a possibility I will need to make more leaves – I have most of what I need, but they are pretty time-consuming. At this point I can see myself making the deadline, especially with another whole weekend available. And I'm pleased…so we'll see about progress tomorrow. I promise a small picture when it's a little more together.
This whole process is extremely interesting. I find myself making more and more complex decisions as I learn new techniques and expand what my sewing workhorse (Bernina 1080) and serger (Bernette) will do – or what I will make them do. I will say my serger wasn't totally happy with my choice of threads (some really fancy light-weight ones) for the edging…but except for re-threading the needle, I was in pretty good shape. I just need to remember to put the serger back into its original sewing condition for hubby to serge the new fabric for the Labor marbling…he's not real thrilled with having to thread the machine….
If you've been following along on my bamboo piece, you've seen these leaves in progress – all eight hours of work on them. After finishing – I hope – the stitching this Saturday, I "dissolved" the stabilizer from Superior Threads. Here it is after all the stuff washed away, before I cut apart the leaves.
It certainly hung together okay. I starting cutting apart the leaves, saving all the pieces of thread fabric to create the grasses at the bottom of the bamboo stand.
I got more and more excited as I cut, because the leaves were looking fantastic. I think I have something for the future.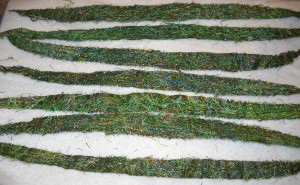 There are some problems – they aren't as stiff as I would have liked, so I am having to revise my hanging system for the bamboo. But they look great – I used some RazzleDazzle in the bobbin and got nice shiny veins. I have two shades for the leaves, as I have a front and back for the original silk leaves.
I'm trying for a close-up….(click it to see closer….)

Now i just have to put it all together…maybe it'll be done for next week Wednesday……

Another week has gone by, and I miss my time on line! I love finding great stuff, whether it be eye candy of places, people, or fiber, or marketing resources. Here's a few from this week.
We do things differently these days, thanks to the internet. The NY Times this Sunday had an article called Suddenly, The World's Their Market. Good stuff – taking advantage of the power of the internet.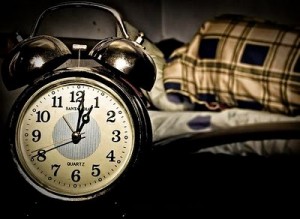 Finding time – a problem for all of us….Here's help from Dumb Little Man.

Spending more and more time shopping on line….who knew a store just of batiks?
Crescendoh – Doing Good through the power of art – another interesting outlet to pursue. Check it out.
For us arm-chair travelers…20 Spectacular Roads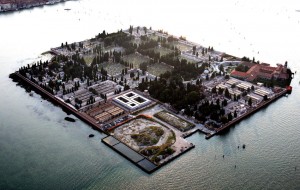 More eye candy – Venice from above.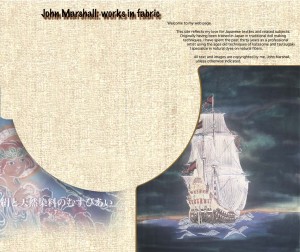 John Marshall – works in fabric. Really study these – some wonderful techniques.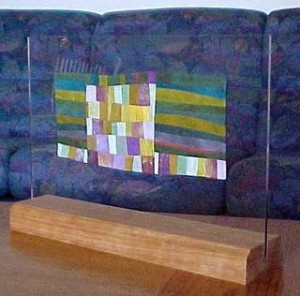 Great article from Melody Johnson that bears repeating – mounting fabric on plexiglass.

Kathyanne White – creating and printing unusual surfaces – a video on YouTube from SDA.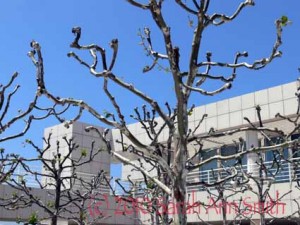 And finally, one of my favorite blogs to visit – Sarah Ann Smith from Camden, Maine. She gives great explanations of her work and her travels.
Let me know what goodies you have found on the web this week. Happy exploring…and don't forget to become a subscriber!

It has been an interesting activity, pulling together your social media efforts. Between Facebook and Twitter, a lot of time is involved in getting your brand and business out to the public. and I haven't even started with LinkedIn and any other social outlets.
Then factor in an Etsy store, Cafe Press, and Zazzle…and then there's Artwire and several other outlets. In fact, the Sunday NY Times had an article about artists using social media and online outlets to get their work before the public. Lots more places out there to explore.
Also you have your newsletter development and subscription list. You need to develop a customer base. Readers of this blog know we had some difficulties for two years with our marbling. During that time we let go of all the things we had been doing on line to market our fabric. It took us a while to realize that everything the marketing experts are saying you should be doing – well, we were doing that, and now we've gone back to it.
All of this takes time, and it takes a concentrated strategy. If you are planning to go in this direction, you will have a lot of work to do initially…and then you have to plan for all your follow-up.
Case in point: I have my personal Facebook page, as well as a Fan page for Marble-T Design. I carefully read and respond on my Facebook page each day as I see interesting things. That's not a problem. To keep a concentrated message on the Fan page takes more time. I'm listing what I want to have for each day, so I've already thought through the week.
Twitter takes a lot of time. I'm still trying to read a portion of messages every day, but with being in school, that's going to be very difficult. Thanks to TweetDeck I can schedule business messages for the week, but that takes away from the "conversation" that is Twitter. However, that's what I will need to do while I'm still teaching. And it is driving traffic: last week I scheduled tweets about various items for sale in Ebay and Etsy. I certainly had more traffic to both of those sites, and I can see the difference in visitors to the items I tweeted…but nothing is converting to sales yet, so i need to process that.
Then there are blog posts…you want to stay timely. While I can schedule my blog posts ahead of time, I enjoy writing, and since I have a schedule of topics, I want to be able to write each day when I geet home from school. And I love reading and responding to comments. My problem with the blogs is going to be staying up with Google Reader and the blogs I follow. I always find great articles and amazing eye candy…but you have to find the time. Staying up with your blog reading I think is critical; I enjoy the people I follow, they are helpful, and I learn a lot – well worth the time for your business.
I had started a business class last January, and there was some gret information there. But to do everything that was suggested made me realize within a couple of weeks that I couldn't do it all and still maintain my teaching responsibilities. That is what has been so wonderful about the concentrated time this summer: time to do all the set up and learning. Some of these things are not easy to do…like my first newsletter with Constant Contact. There was a steeper learning curve than I would have liked, but I mastered it, and now my newsletters won't take nearly as long to do.
And don't forget – we still need to create our art.
Speaking of newsletters, you should subscribe to ours (upper right corner). We do a drawing for a free sampler pack of marbled fabrics, but you can't win if you don't subscribe!

I have lived in New England, specifically Vermont and New York, for a good amount of my life. My biggest regret living in the desert is not seeing Autumn each year. A number of years ago I had a chance to put some work in a small gallery in Jericho, Vermont – the town my husband's family settled in the 1600s. The gallery is also the original home of Snowflake Bentley, the man who photographed snowflakes and proved no two snowflakes are alike. I wanted to do something that would honor autumn in New England.
We marbled a piece of polysatin in autumn colors. Now there are some purists in quilting and marbling who insist 1) everything has to be cotton, and 2) you can't marble polyester. Well, I'm a great one for breaking the rules…which is interesting, because I was such a linear, rule-follower growing up. But not where my art is concerned, evidently. We have discovered since we started marbling that polys take the marbling and paints extremely well, and almost all our art pieces are done on some type of polyester. The detail is exceptional, and the colors are consistently bright.
Once we had the great colors, then it was…hmmm, how to show this off? This would be my third piece in my Gaia series, and I knew I wanted to keep the weaving aspect. But I didn't want a square or rectangle of strips. So I looked to weave just the top part and have the lengthwise strips hang down in points.
The draft looked like it would work, but the copper thread was not cooperating. This was before I really knew much about threads and machine tension and adjustments…so I did a lot of ripping out to try and get the stitched somewhat even. The other problem was the serging. Again, I wanted to use some decorative threads, but the machine wasn't cooperating. And…I wanted to have points at the end of my strips, and I wasn't sure how to manage that.
Now the visual effect was what I wanted. I cut the length-wise strips so the pattern would not be broken. This is a traditinal marbled pattern, the reverse of the peacock/bouquet design – which we call "bat wings," because that's what it reminds us of. The vertical strips are attached until about 6 inches from the bottom, because I wanted the effect of leaves/branches in the wind. This was actually the second piece I added beads to, and they worked out quite well.
The serging is rough. I have since learned all kinds of tricks to smooth out what I want for a decorative edge, and the piece I am working on now reflects all that I have learned. This is one where I wish I had better pictures – and more of them. If you visit the website, you can enlarge the pics there for a better view. The piece sold about a year later to a quilting buddy. I still miss it, as it is so New England autumn.
Be sure to become a subscriber! We have a drawing (good ole Random Generator) before each newsletter for a free Sampler 1 package. See the form to the right. Join the family!

Intellectually I know that art can be good for the soul. Sometimes I need a brain/heart reconnect about the value of art on a daily basis. It's been a royal blue funk since Tuesday, and I could just feel myself falling deeper and deeper, to the point of just bawling my eyes out today over all sorts of things that never used to bother me, but now seem hugely magnified.
Hubby had the serger out, getting some fabric prepared for marbling this week. I figured I'd keep him company, working on finishing up my leaves. This kind of sewing is almost mindless, which can be very good therapy. I started working on the leaves and two hours later seemed to be ready to wash away the stabilizer and see what I had. I checked a small piece and liked what I saw, so I put another two hours in on adding more thread. These leaves have close to eight hours of prep and sewing, but they are looking fine. I pulled out the bamboo pieces, added some additional stitches, and then started in on the stash, trying to find some background fabric.
When I originally conceived this bamboo piece, it would hang free-form – just strips. But my leaves, while good, aren't stiff enough to support the top of the piece. So I needed a background. I was thinking a pieced background of diagonal strips, which would offset the verticals of the bamboo poles. Interesting how design decisions just kind of come about. I had been going back and forth about a possible background almost since I started this piece some five years ago. Background or not, pieced or whole cloth, vertical or diagonal…..I find it interesting that I have started to think through these decisions, and actually use the vocabulary of art – texture, form, function, and so on.
At which point I realized that if I want to have this piece done and photographed and entered by September 3, then I better get busy. Now I know when I need to I can work to deadline evenings after I get home from school, so that's what I figured I was going to have to do.
And then I was fine. Well, not completely, there are no issues settled, but I feel like I can move on, which is more than where I was this morning. I will need to be very focused over the next 10 days, with planning a new class for school and sewing at night. But right now it feels good, and I need that.
Once again, art to the rescue.
PS – gotta tell ya, reading Annie Freeman's Fabulous Traveling Funeral is not helping my depression. It's a tremendous book, but not for the fragile right now…..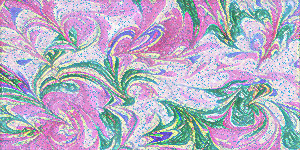 I fought the good fight today – I left for the first day back at school in a pretty good frame of mind, despite all my misgivings. Part of me had been dreading today, as it meant the end of all my art work for the summer. But I was reminded of a lot of other "first day's back" in my career. I was struck by how exactly 40 years ago today I flew out of Vermont for my very first teaching job – at Baldwin High School on Maui.
Now I haven't been teachng for 40 years – a few years off working for learning centers, but I thought back to that first job. I had a three-week methods course and 6 weeks of student teaching, with a recommendation to find another career. I was nonetheless the first person in my graduating class to have a job after college. And as my wonderful Poli Sci professor pointed out, how bad could teaching in Hawaii be?
I was fortunate to have really good mentors, because in all honesty I didn't have a clue as to what should actually happen in a classroom. I focused on relationship-building with students. I had no idea about curriculum, but I did know I didn't want to repeat mistakes my teachers had made. I didn't ridicule anyone, I listened, I got involved in their problems. I learned a lot, not the least of which was about my experiences in the teachers' lounge. After having lunch with "veteran" teachers for a couple of weeks, I started eating by myself, working on correcting papers – a habit I continue to this day. I told myself at the time I didn't want to grow up and be just like those teachers, bitching and moaning all the time about teaching.
Fast forward to today, 40 years later. My tolerance level for incompetence and stupidity is in the negative numbers. Today was all meetings, and when I did have two hours, NOTHING seemed to be working. Here we are charged with teaching digital natives (students who have grown up with all this technology) using 21st century skills and equipment.
Right. None of the printers was hooked to where they needed to be. Plus, when you tried to print, it took literally (I kid you not) 7 minutes for the printer to accept the print command. The programs continued to freeze up – just a reminded that the public voted down the technology override last year. Computers need to be reimaged, wireless is not working well, laptops need to be distributed (I don't work with a laptop at school, as the technology is so erratic, and I am tired of losing work and grades.) Pages wouldn't open on the screen, and trying to make any corrections just didn't work. The copy room is being moved Friday, so no printing of materials we might need for the start of school on Monday. A good many of us haven't had out rooms cleaned at all, due to the fact the school was completely closed for a full month due to refurbishing the air conditioning – which is a good thing, as we live in the desert.
Most of tomorrow is meetings. I have to be ready for freshmen orientation on Friday morning, and I can't get power points or documents to load up so I can work on them and be ready. Plus sometime in June my teaching assignment was changed for this year and no one bothered to email me about it….so 60 percent of my teaching schedule now is something that I haven't totally planned for – as it was only supposed to be 20 percent.
So there I am, the veteran teacher bitching and moaning about the state of education. It is ironic that even after 40 years, nothing much has changed. I am trying to continue to learn and improve my work in the classroom – just because I can – and will – retire in 3 years doesn't mean I can't improve as a teacher. But shouldn't we start to get some breaks?