It doesn't look to be smooth sailing for this year at school, with an extremely difficult class of students. After a very upsetting day and a really rotten mood, I read through Facebook to find a collection of dances from movies. I watched it twice, it made me feel that good. Then I went to my guilty summer pleasure of So You Think You Can Dance and watched Alex Wong with some ballet clips and his amazing hip hop.
I feel lots better. I'm still grumbly, but the mood has broken somewhat. I can watch great dance, listen to amazing music, read a great book, and look at some amazing art and feel so much better. I think the only thing that is going to save me this year is working on fiber art as many evenings as I can. Then I can focus on the stitches and the design decisions and forget about unpleasant children who don't realize how many people in the world would give anything for a free education. (Okay, political rant done….)
That said, I finished up last night on the bamboo piece and got the jpgs sent on their way. Here's a sneak peek: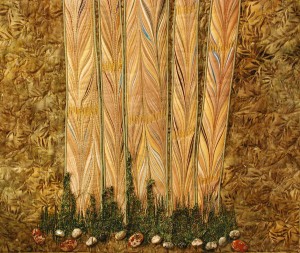 I am very pleased – now to go start something else….