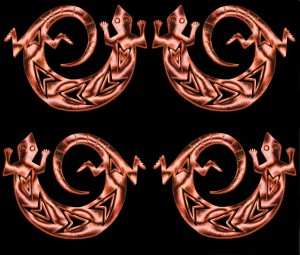 It's been interesting keeping up with the web, now that I am back at school full time. This weekend I had a chance to get caught up with my regular followers, and once again some really cool stuff. Enjoy!!
The Textile Blog had three really cool things this week….I am fond of William Morris prints, especially some of his flowers. This one just seems to have some really exceptional symmetry. I love the colors, the repetition, the geometry – everything!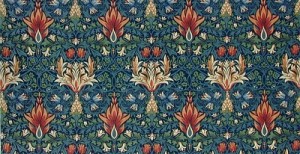 Next is Owen Jones and Horse Chestnut leaves, from The Grammar of Ornament. These are so different, simple yet complex in design. These are just visually pleasing to me.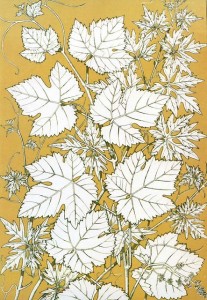 And still from The Textile Blog, some tapestry work from the 19th century that is very "quilty."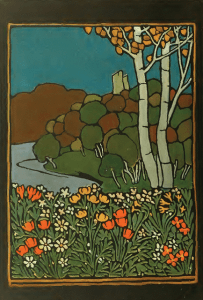 If you haven't been reading the Textile Blog, its concentration is "Among the subjects covered are printed, woven and knitted textiles, as well as rug, tapestry, quilting, embroidery, lace, and basketry design. It also includes a culturally diverse approach to the history of textile design across the globe." And there are contemporary designers also features.
I loved The Good Earth by Pearl Buck. Born in China of missionary parents, she spent a lot of later years in Vermont. When I was surfing concerning another book, I came across this one: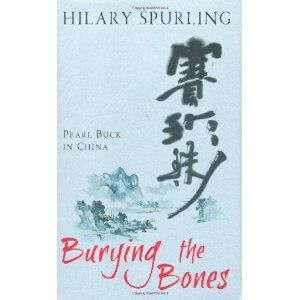 This is the story of Buck's early years in China, and her parents seem typical of missionaries at the time. I want to read this, and then revisit The Good Earth yet again. I read a lot about China, modern and ancient. A year ago I read a woman's story of her, her mother under Mao, and her grandmother as a concubine before the revolution. Really a great story by Jung Chang called Wild Swans .
I don't read a lot of education blogs much any more, but The Fugleblog caught my eye. Here's a teacher incorporating all kinds of technology into her art classes, and I would love to learn some of this! Check out how she gets the kids involved in building on an art lesson.

I am exploring Spoonflower's print-on-demand fabrics. I had designed some possible fabrics here, and then two weeks ago I took advantage of their free swatch day. I wanted to check out the quality of cotton, plus see how my design would look. Well, I liked the quality, but I learned that my design was way too intense to translate well into fabric. I need to do some more work on that. But in Fiber Focus, there's a tutorial on creating your designs to print at Spoonflower. Here's one as an example: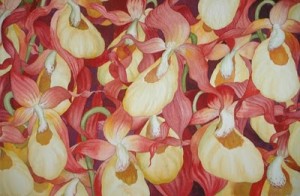 This is a complex design, and yet it's much simpler than what I had, as you can see if you check the previous blog post.
Alyson Stanfield at ArtBizBlog has yet another helpful tip: promoting your art in Slideshare. This looks to be another way to have a portfolio on line.
Well, only seven – I lied. I'm pooping out, and it's only Tuesday…gotta go mark papers……