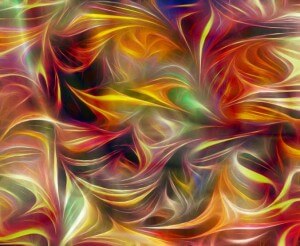 At one point I had three, with another on layaway. I guess four, counting my serger. It was the HUGE, HEAVY Singer that my mother had that first intrigued me. I sewed mostly at college on a small Singer a sorority sister had, but when I went home for holidays it was that old heavy Singer that I used – I don't think the needle was ever changed, and it only went forward and back, but it was enough for wardrobe.
My first teaching job was in Hawaii, and after buying my very first car, I bought a Singer sewing machine. When I left Maui, I donated it to the drama club for costumes – that machine had done all the holokuus we used for two musicals, plus a lot of muumuus for me over the years.
Back in Vermont I needed a new sewing machine, so I bought a fancy Singer – with stretch stitches…yup, time for polyesters and stretch knits. This was when I took every Stretch and Sew class I could, and pretty much bought out all their patterns. I learned a lot of design, and for the next decade I made all my clothes…and a leisure suit for hubby. I wanted the capability to do fancy stitches, so when the funds were there, I got a new Singer – computerized, with lots of decorative stitches. And…a bobbin that wound itslef right in the machine.
My dear mother-in-law got the older Singer, as she would sew doll cloths and bags for the grandchildren. That new Singer did wonders and got me started in quilting. When my mother-in-law died, the machine reverted back to me, along with her Featherweight. Finances were such that I had to sell the featherweight, much to my regret, but it went to a good home – a quilter friend of mine.
I discovered that using the zigzag to edge cotton before marbling wasn't really working on my old Singer. I seemed to always overheat the motor, so I went looking. Enter my serger, a Bernette. Two great ladies who had a fabric store and bought marbled fabric from us fronted a used serger for me. It's still going very strong, although I must confess a profesisonal cleaning would probably be a good idea, even though I am good to it….
Between the marbling and the quilting, my other two Singers weren't doing it for me, so I began to investigate Berninas forther, since I loved the serger. We were fortunate in that the local Bernina folks, Bruce and Mary Sue, were very supportive of our marbling. I put a hundred dollars down on a 1080 Bernina workhorse, figuring I could get it in a few months. Well, several years later I got my machine and it's been purring since then.
In order to fund some basic expenses we had a yard sale, and the two old Singers went to new homes, feet and all. I miss them, but I do love my Bernina. There are times when I wish it did more – like needle-down and stitch regulator, but my basic skills have improved tremendously. In fact, when I was at the School of Threadology I was using a new Bernina and I wasn't happy – mainly because I didn't fully understand what it could do – I knew the limits of mine and wanted it with me.
I'm still lusting for new machines – my serger is nearly 15 years old, I want an embroidery machine, I want a machine that can take designs and new stitches along with a stitch regulator, but that's in the future. For now I love my Bernina and all it's teaching me.