Over the last thirteen years I have been entering fiber shows and the occasional quilt show with some success. The "Fish Follies" show each year at the Cordova Historical Museum in Cordova, Alaska has been very good to me, with acceptance both in fiber and digital categories each time I enter. I really think through the pieces I enter to be sure they fit the theme – I think I'm just not crazy enough in the "Follies" area to place.
In 2004 I took a BIG chance and entered the Expressions in Textiles show in New Haven, CT. My "Rock Garden" piece made it in, much to my delight, and when I saw the list of acceptances, I was kinda stunned. All of a sudden I was in the "big girl" league. I was thrilled. This was essentially a whole cloth quilt, a half yard of a stone marbled pattern that seemed like it was quilted to death.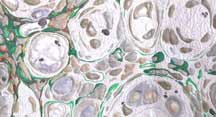 This is just a small portion, but everything in this quilt came together perfectly. I had initially bordered it in a black satin, thinking of the Japanese laquerwork, but eventually Iplicked out a smooth sand-ish fabric so the stones wouldn't seem "hemmed in."
That same time I had my "Mandala 1: Core" accepted into a quilt show, Fabric of Legacies, in Ft. Collins, CO.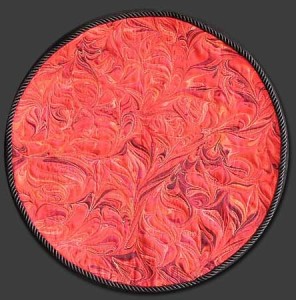 This was another whole cloth quilt, but at this point I was thinking that there were going to be a lot of venues that would look at very non-traditional fiber. I have since had my "Low Tide" piece juried into that show.
Most of my quilts were rejected over the next few years, and I pretty much stopped entering shows. I think some was due to poor slide quality, some to the whims of the juror…one piece I did for a show about changing the world's problems. I chose endangerment/extinction and did a piece on the rain forest and was told it didn't fit the theme. So I guess the learning from this was to continue, that not everyone interprets things the same way.
When we went through our "dry period" of marbling, when nothing was working, I didn't even work on pieces, like my bamboo, that had already been started. Now, though, I have started to look ahead to shows, quilt and art, and plan for new pieces, since most of what I have is too old. If my early pieces were accepted, and I've improved a hundred fold in my skills since then, then I should be on track for a few more acceptances.
We'll see…deadline for the bamboo is September 3, with notification around September 15. Time to make a list of new deadlines and what will be entered…and what will be new creations.