That's design repeats, not repeat columns…..I think I finally got this figured out. Readers of the blog know I'm interested in getting more mileage out of my marbled fabrics. I've been trying to see what would happen in Photoshop, and I end up with some great ideas. But for me to pursue licensing, I need to be able to create repeats…..so I think I'm on my way. Now, these are all copyright, so if you're thinking about "borrowing," don't think any further….Nope.
I don't know that I even have the original quilted piece of this fabric, but I have played around with it a lot. But here's the deal…I'm posting these and then I want you to go to our Facebook fan page (link on the right) and tell me which one you like the best, and what you might do with it. Let's see just how creative everyone is!
Here it is in its first incarnation…looks pretty springy to me. Version A:
Here's Version B: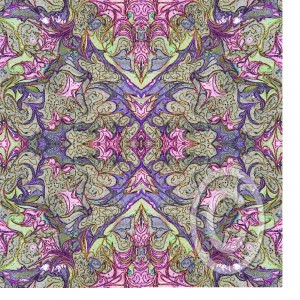 Version C: (Wouldn't this look great with gold?
Version D:
Version E:
Version F:
Version G:
Can you tell I had a lot of fun? I have learned that if I get stuck on a project, to just put it away to "ferment," and eventually I solve the problem. Now get over to Facebook and Vote!!!
One Response to "Photoshop Friday – Repeats!"