Posts Tagged 'art studio'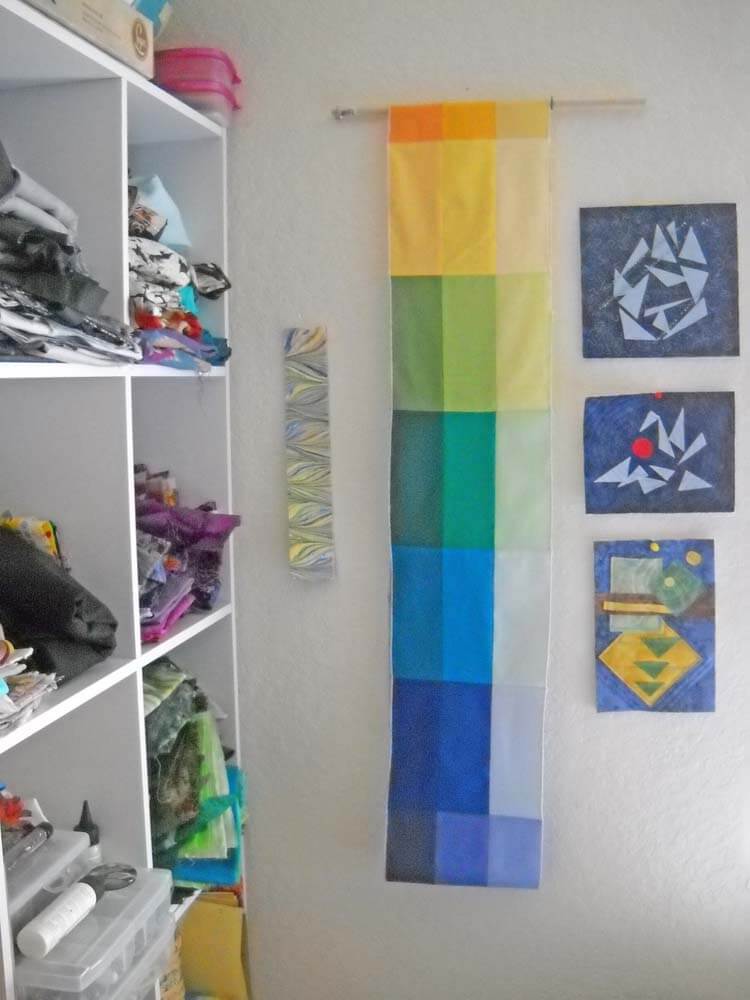 Busy week in the studio! I've been slowly adding little goodies to the wall, as I want to feel like this is a real working studio every time I walk in to it. This wall is some samples, my color wheel, and some of the fabric cubbies. This is of the poster for the Tikkun Olam show, and other goodies, like the holiday gift list….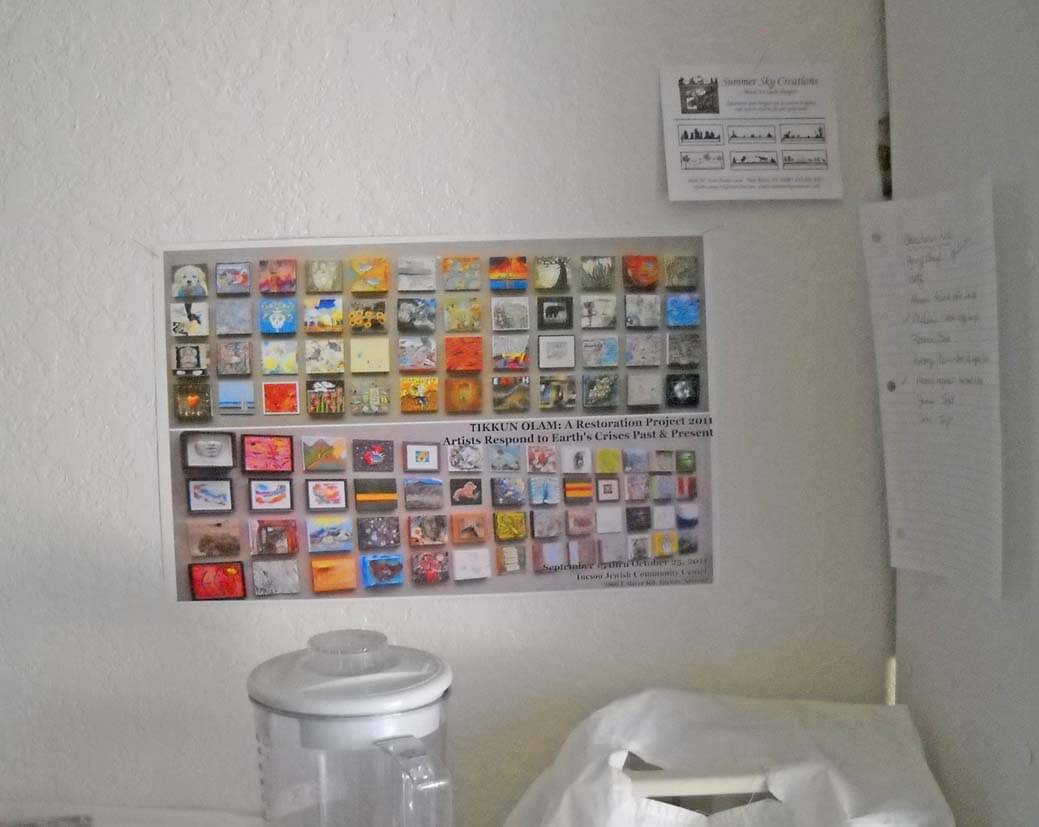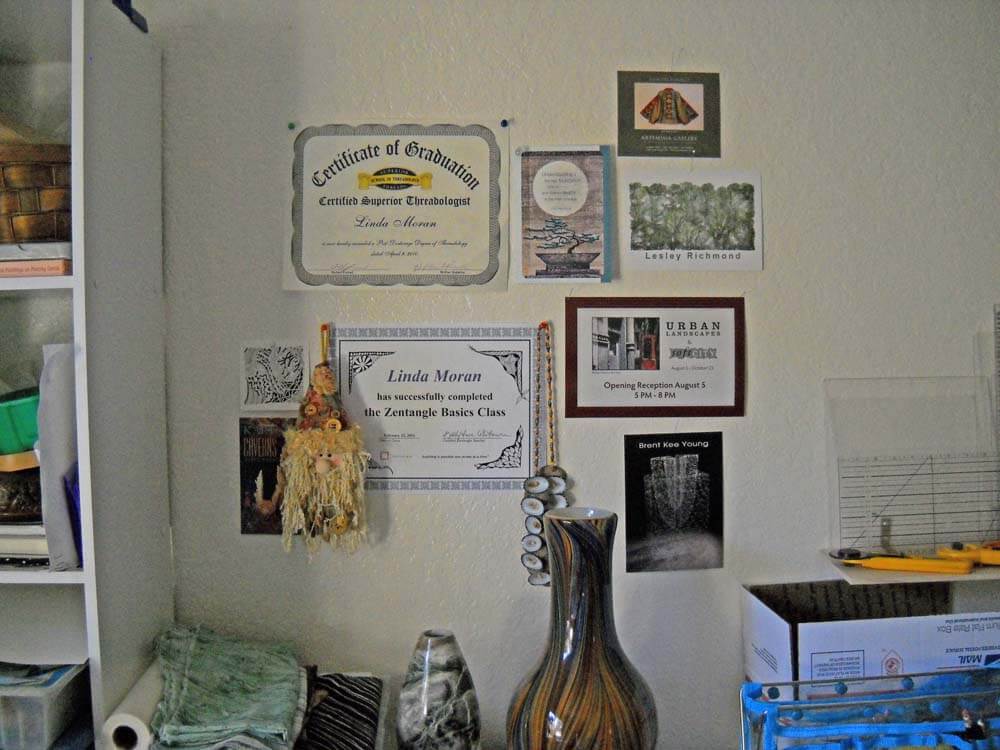 Some of the certificates and exhibits we've attended. I really enjoy looking at all of them. In the past we usually just tuck things away and never have a chance to revisit them often enough. That is definitely changing.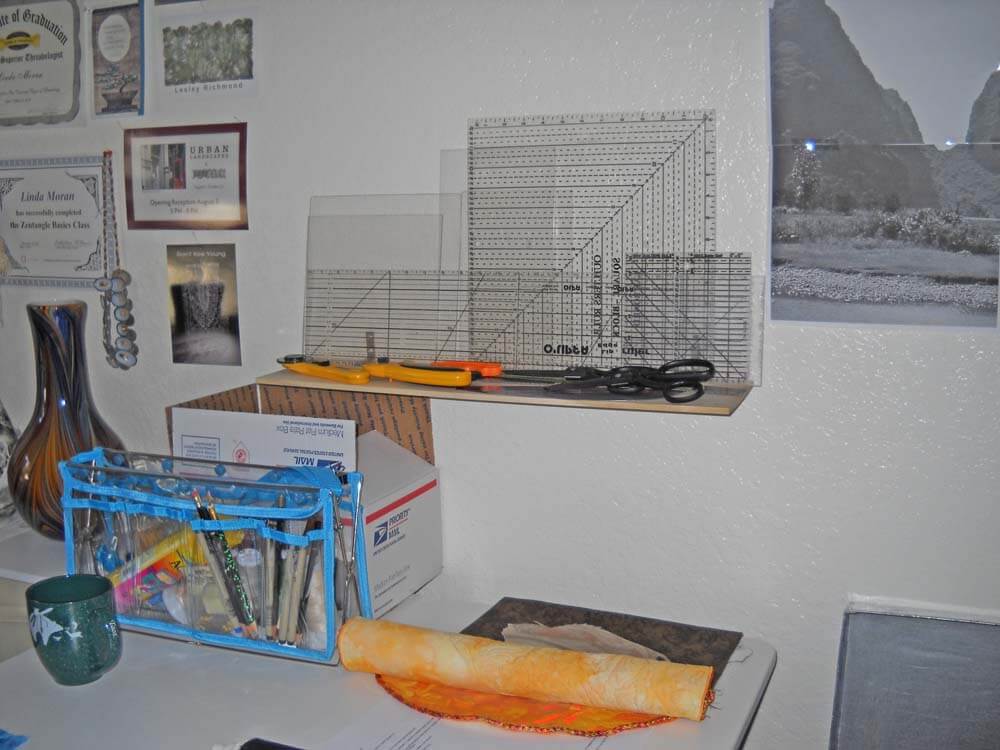 New shelf hubby put up to keep all the notions from getting in the way and having to be moved each time we marble – or I lay out a quilt to sandwich. Don't know why we didn't think of that sooner….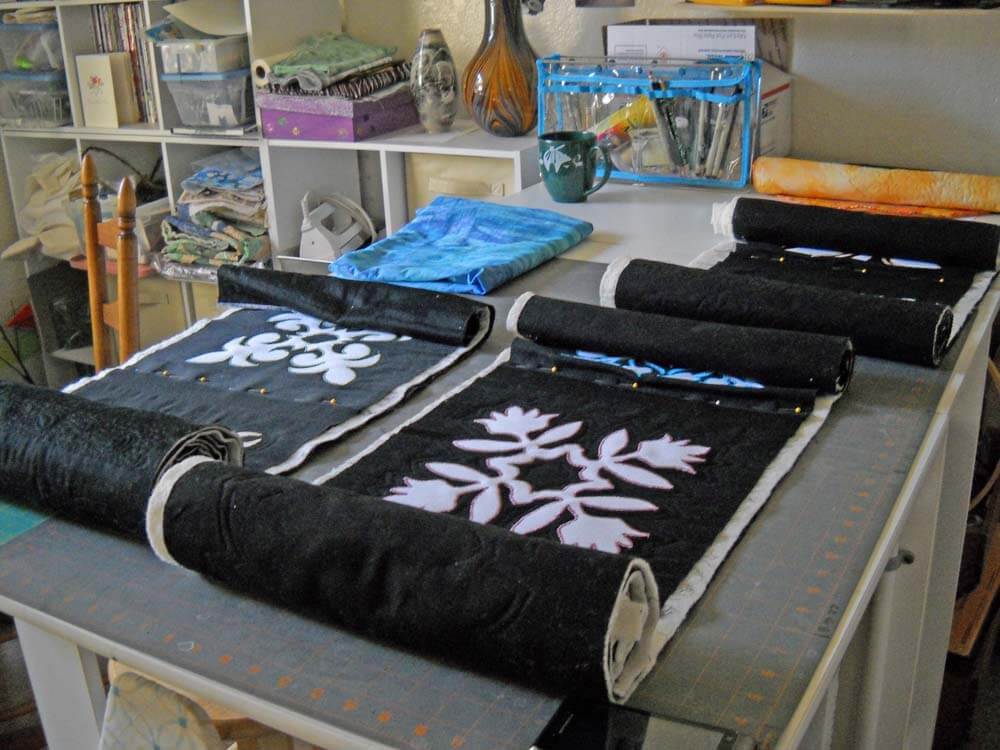 The three large table runners in progress. There is a HUGE amount of work in finishing these up. First, I have 17 Hawaiian motifs, all of which have had satin stitch done around them. The black and white is the predominant color, with just hints of color in the satin stitching. I am now in the process of echo-quilting each motif around the outside, like is traditional in Hawaiian quilting. This is a lot of start, stop, raise the presser foot, lift and turn, and repeat. I'm having to take a lot of breaks because it's rough on the shoulders.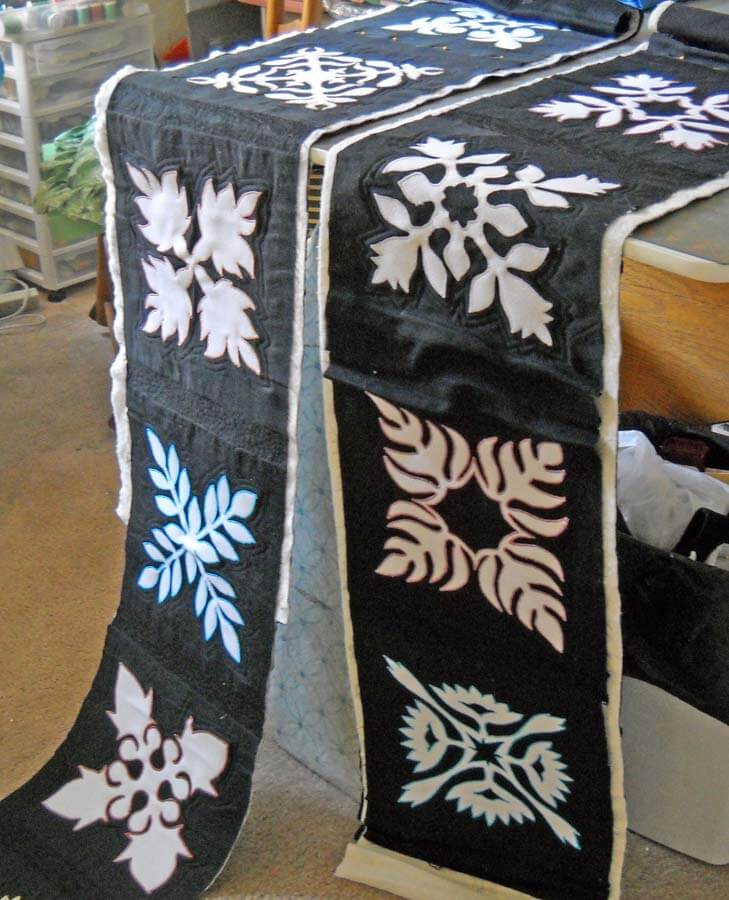 Each of the joining pieces has free motion quilting, black on black. I'm trying out some new motifs on each of those two-inch strips.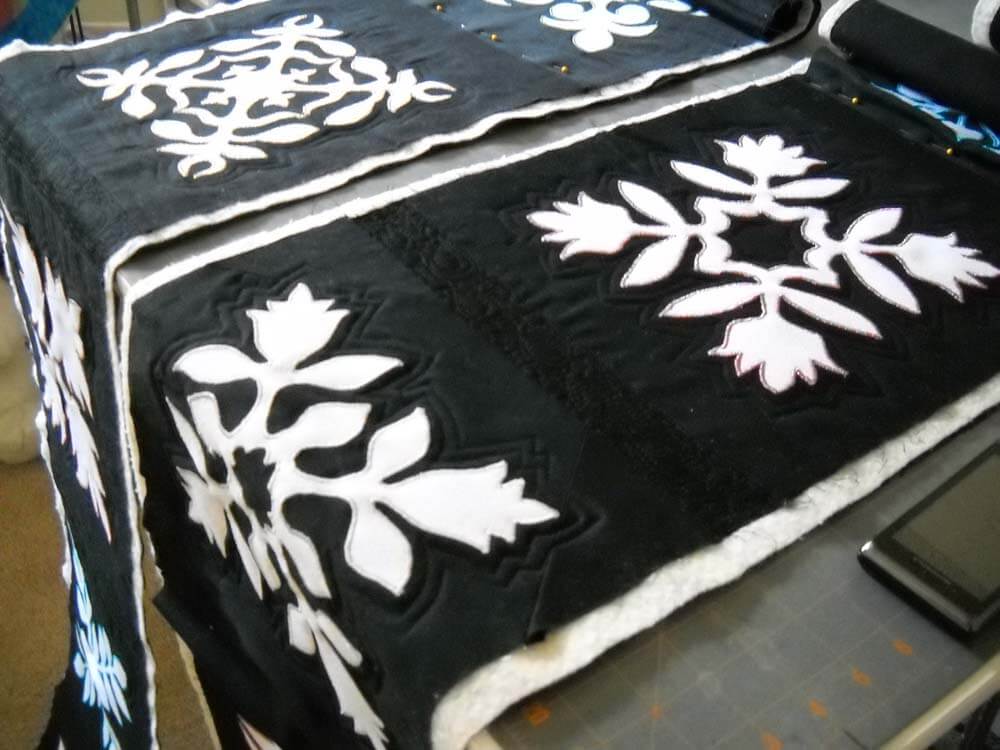 Now about a year ago I asked for suggestions for changing the quilting on a "fish quilt" I had done MANY years ago. I took all the quilting out, and there it sat, along with other "needing to be finished" projects. Well, I'm at a point where I need a serious break from the table runners, plus I want to have a couple of "basic" quilts ready for the guild presentation the beginning of November. It seems that all this time I have been percolating possible quilting ideas.
The thing about this quilt that is so great is the marbled fabric that makes up each of the "fish." This is a case of when the fabric came out of the tray, it said "fish" to me. I always knew I would like something that accented the fish. I started with the borders of fish, and I ended up using one of the decorative stitches on my workhorse Bernina. Then I used another decorative stitch for the first of the waves, and I added some "bubbles" in free motion to the center block.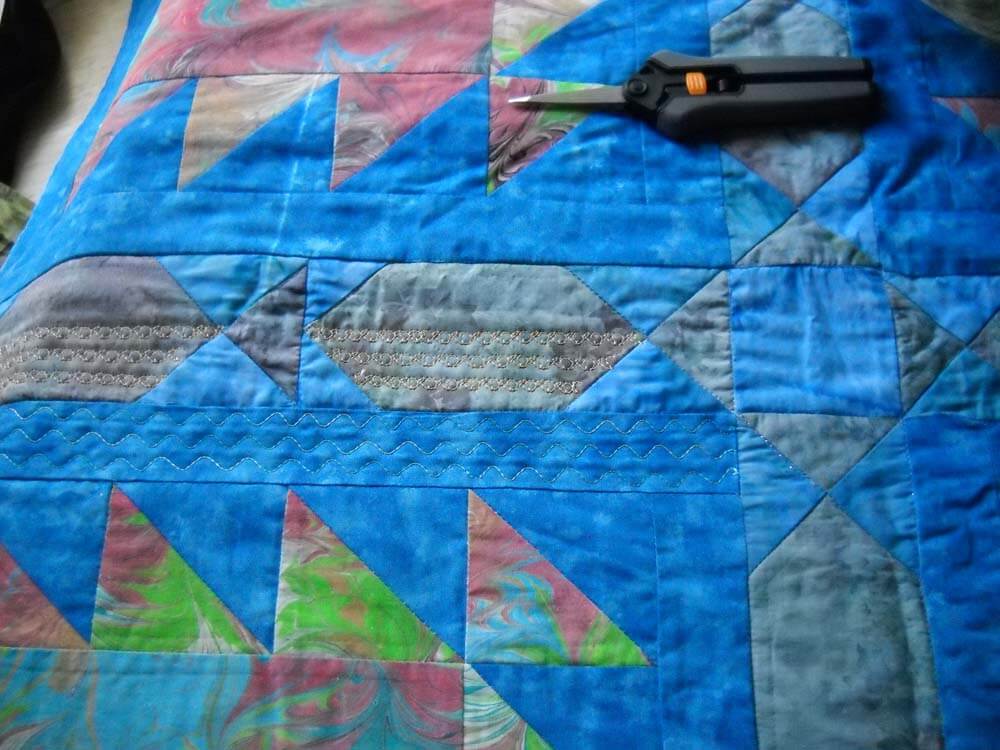 Then it was change the foot, change the thread, and start in on the fish.
It's perfect. It is exactly as I wanted and what I had envisioned before I even knew I could do it.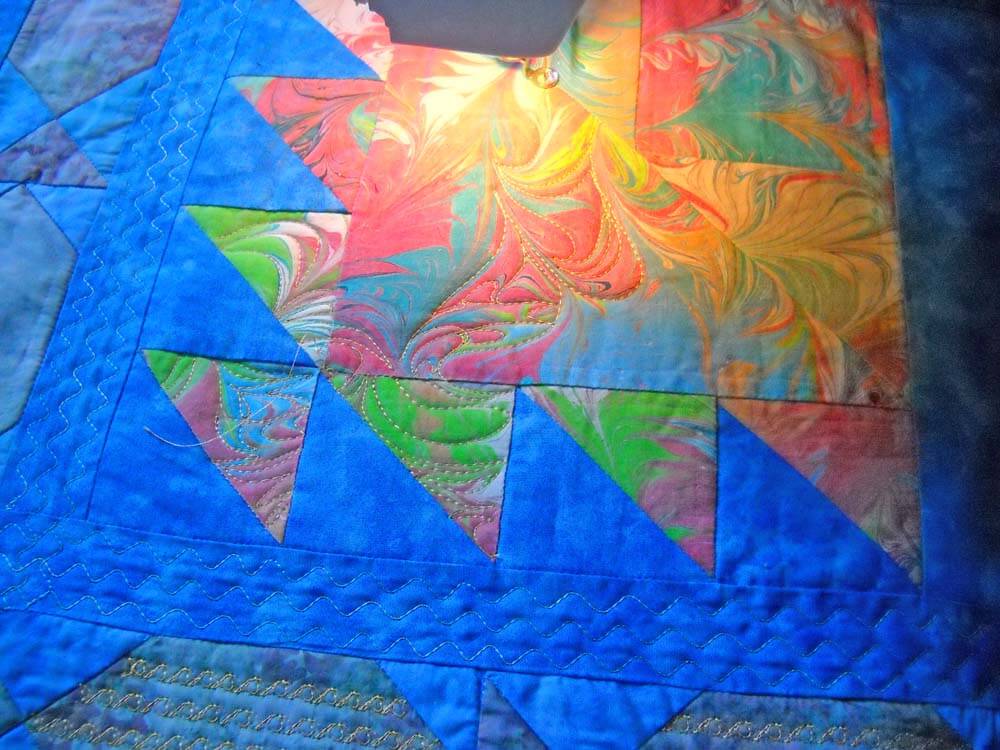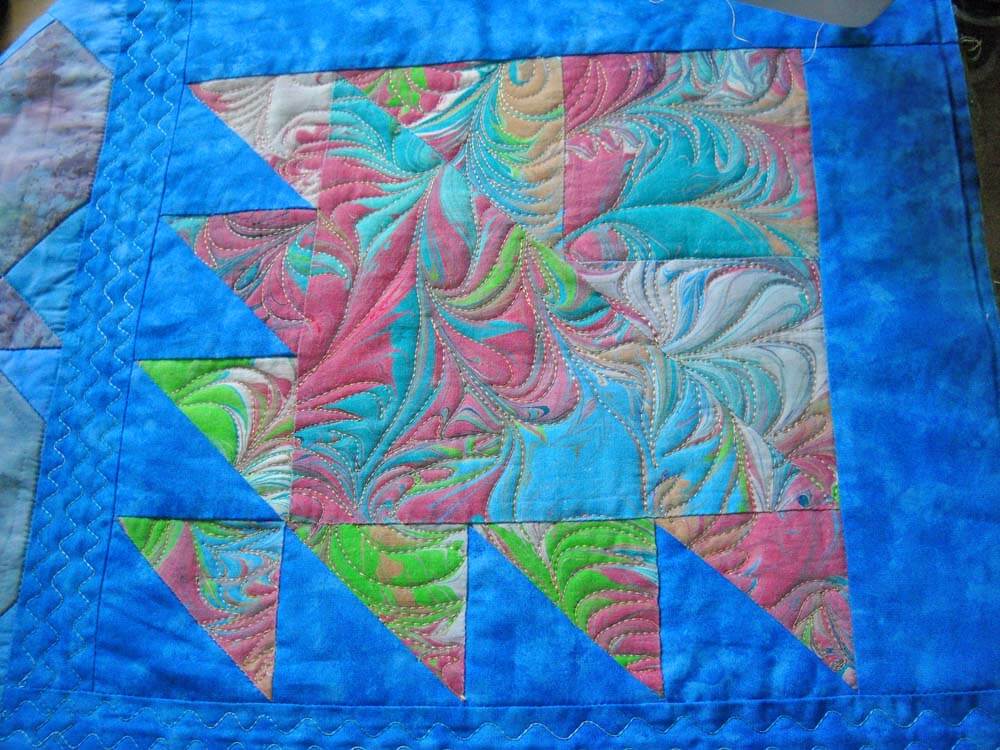 Oh yeah,that's what I'm talkin' about! And my quilting stitch is getting MUCH better!