Work in progress Wednesday was marbling, so it makes sense to show pictures of the process….I never seem to get my camera ready to capture the creativity! Hubby sets up the day before, alums all the fabric, and covers the studio (AKA the second room) with sheets to protect all the sewing projects), and then all the fun happens the next day. He also has cut, serged, and pretreated the fabric, in addition to all of the above. So there's a lot that goes into the process before we can have any "fun."
Here's our new metal tray, which allows us to do fat quarters a whole lot easier than having to set up the big plexiglass tray. Who knew we just needed to visit a feed store and could get what we wanted? There for the longest time I was trying restaurant supply stores, looking for the largest cookie tray I could find…….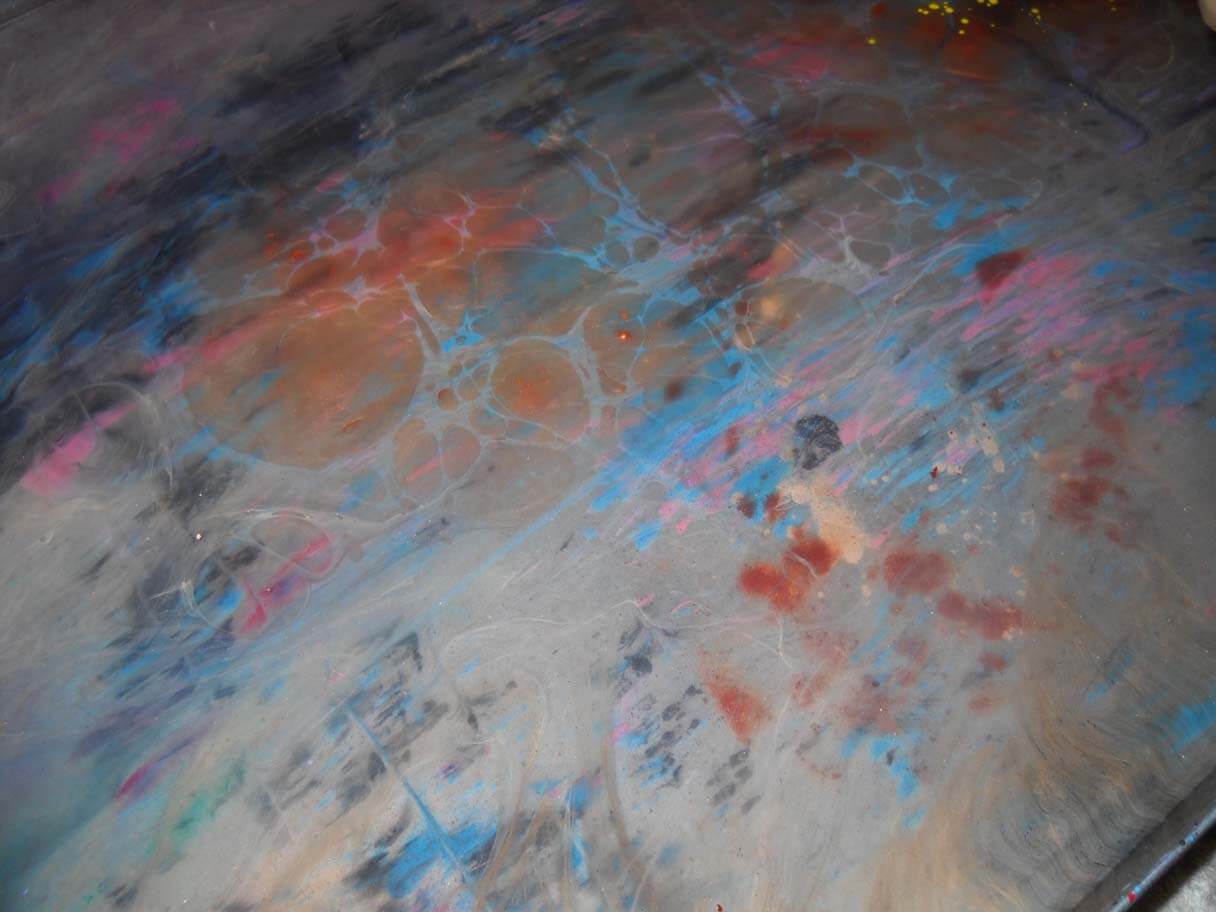 We've already marbled two pieces, and hubby is just starting to lay the paint for the next piece. The paint you see is on the bottom of th e tray and won't affect the new pieces.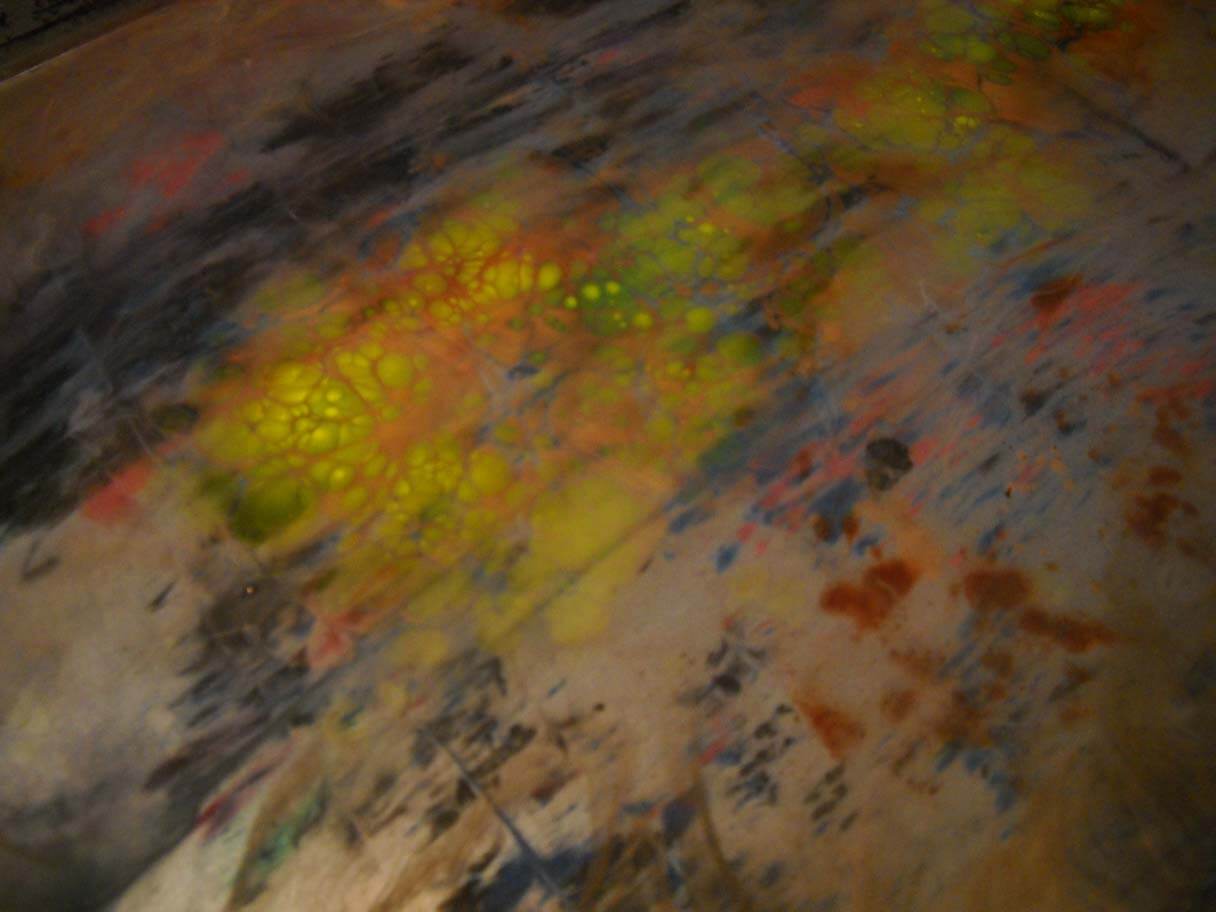 More paint – you can see the initial concentration of the drops and then how it spreads.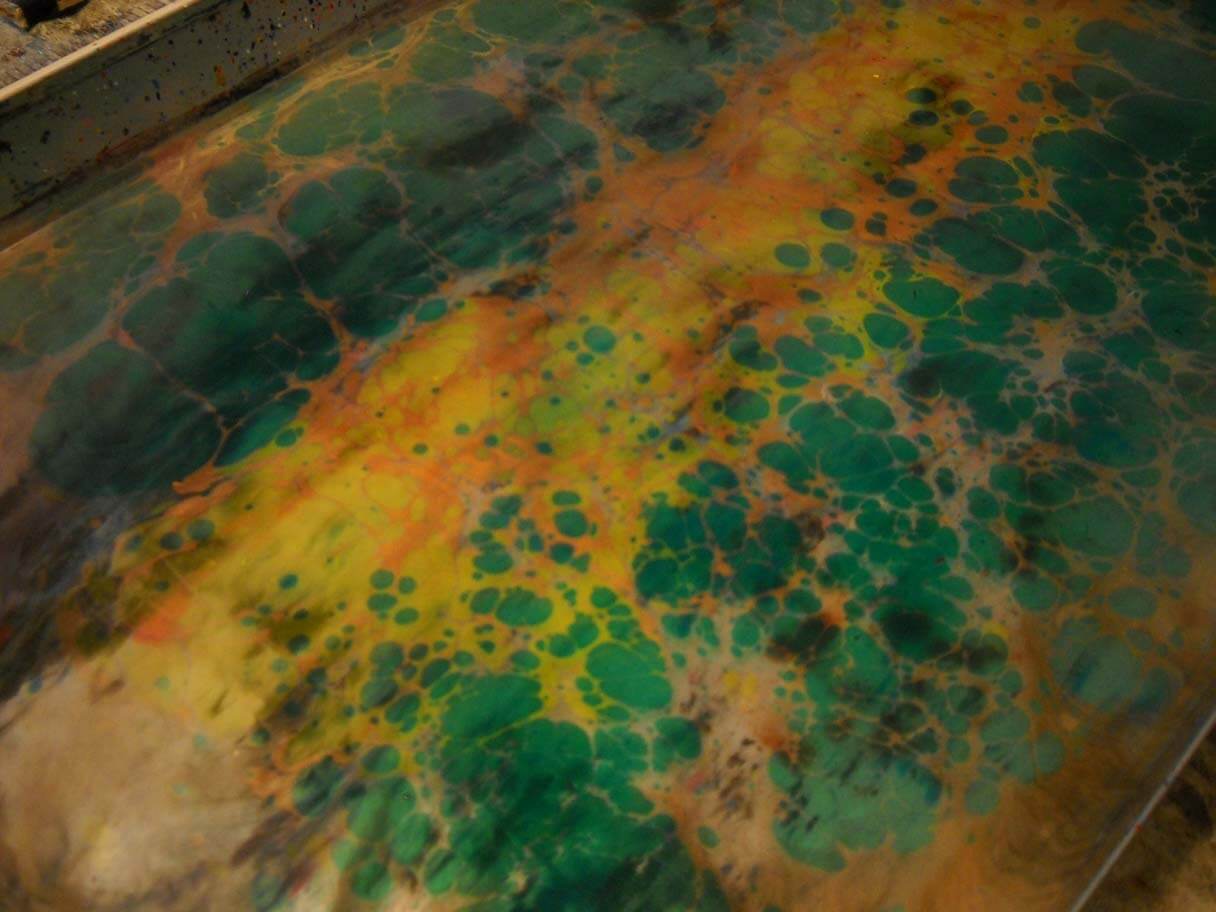 The green is going on either side of the yellow and copper – hubby is experimenting with some new ideas.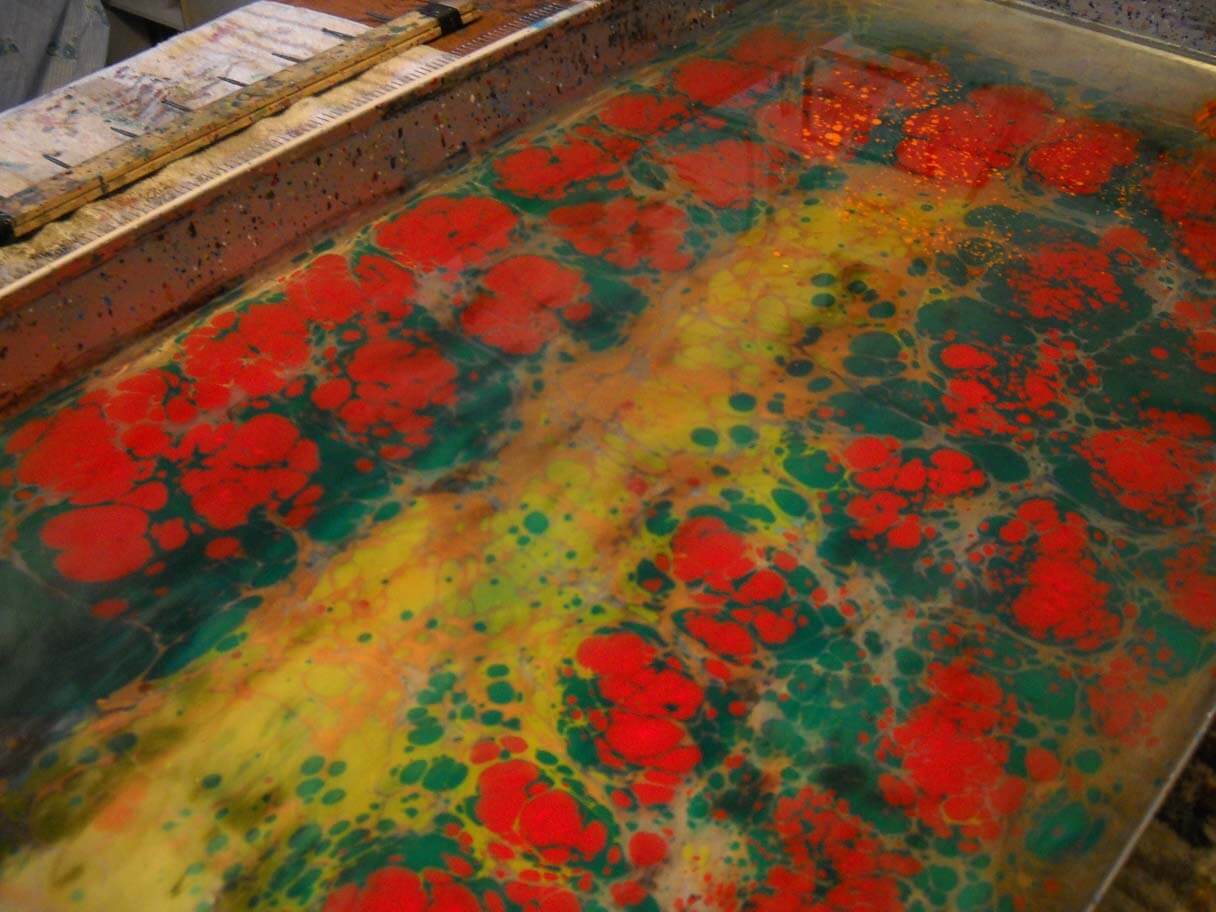 More layers of color. Notice how the new colors are making the initial paint "condense" as it spreads and moves closer together. Hubby has what I call an "innate color sense." He just picks colors and goes ahead. I'm the "planner," and my stuff always comes out looking "muddy."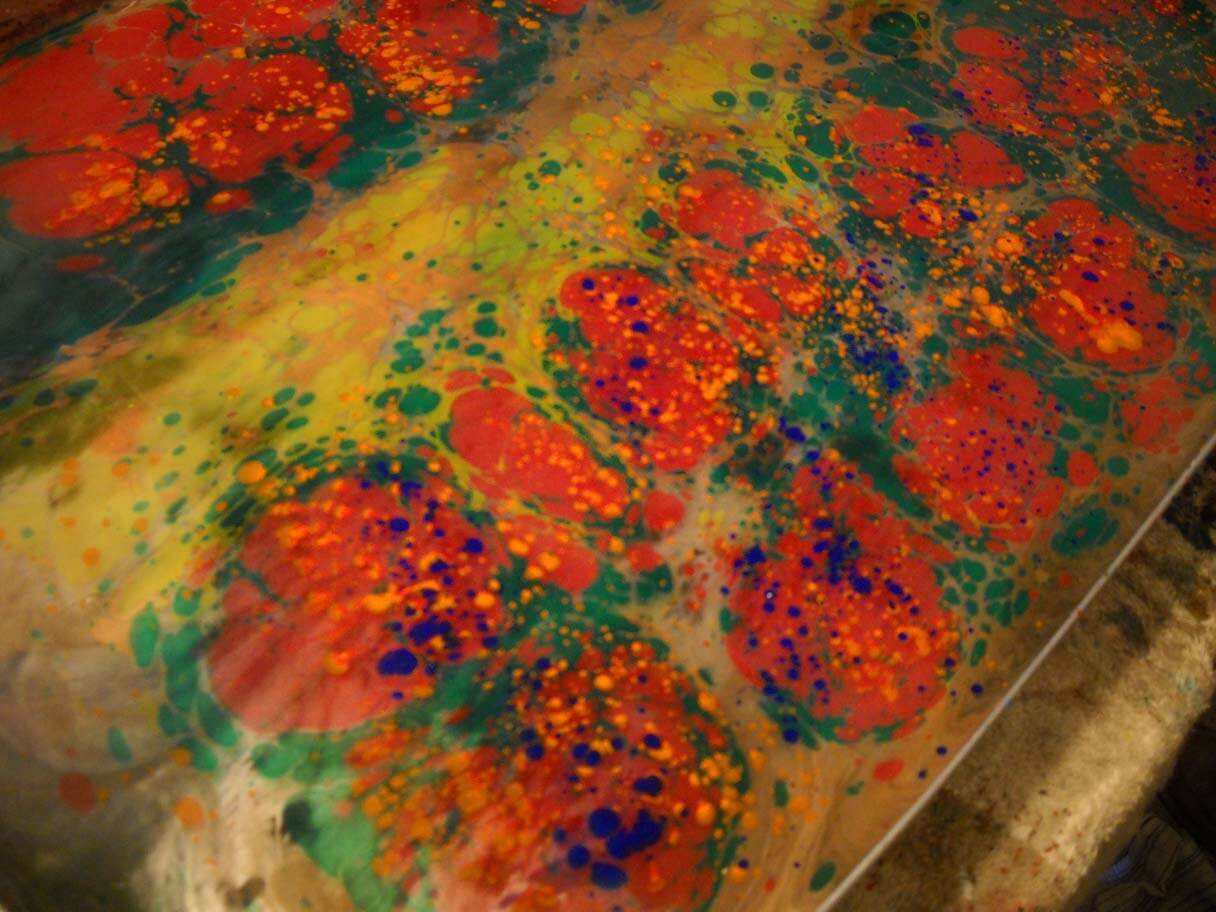 A few more drops of new colors.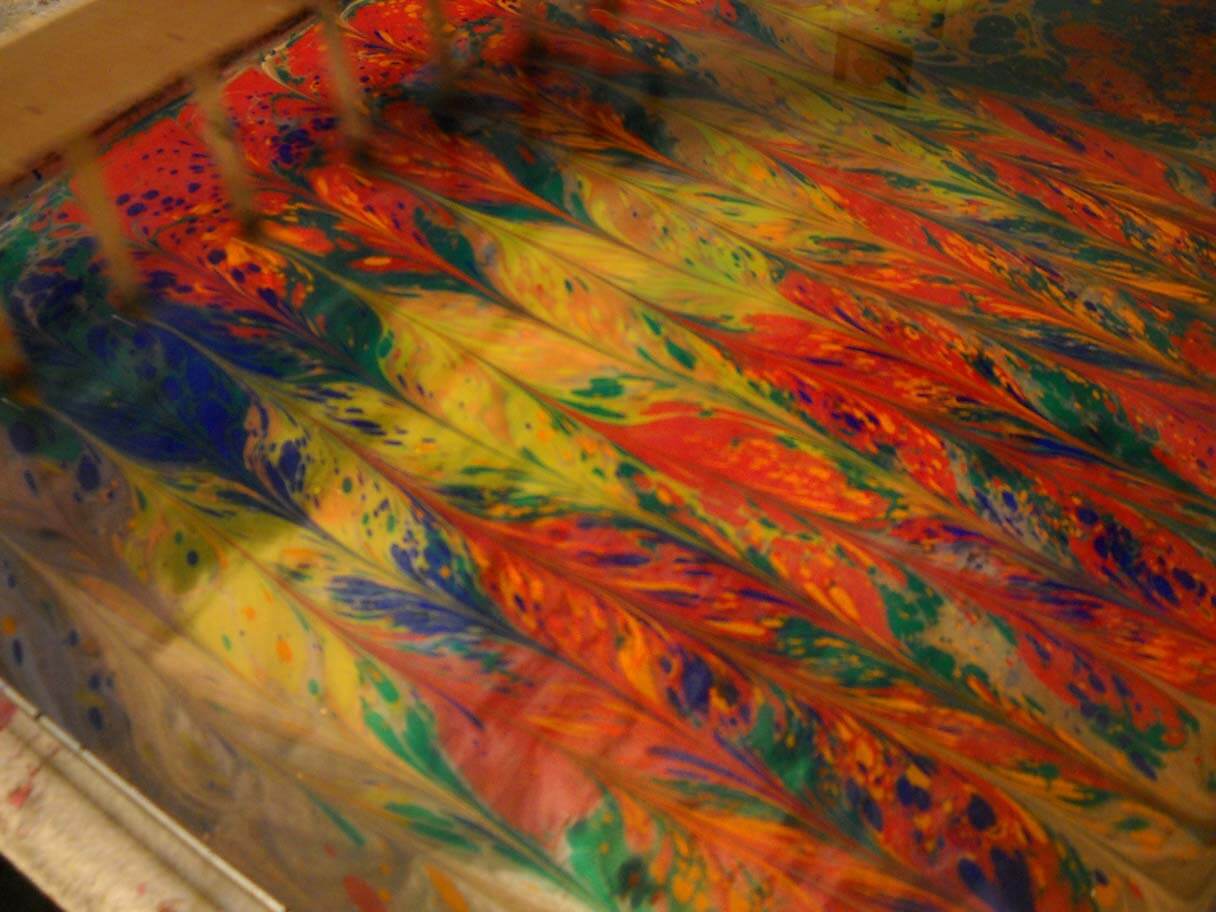 Starting the combing. This is the first "comb through" with the popsicle rake we use. You can see how the pattern is beginning to take shape over the next few process pictures.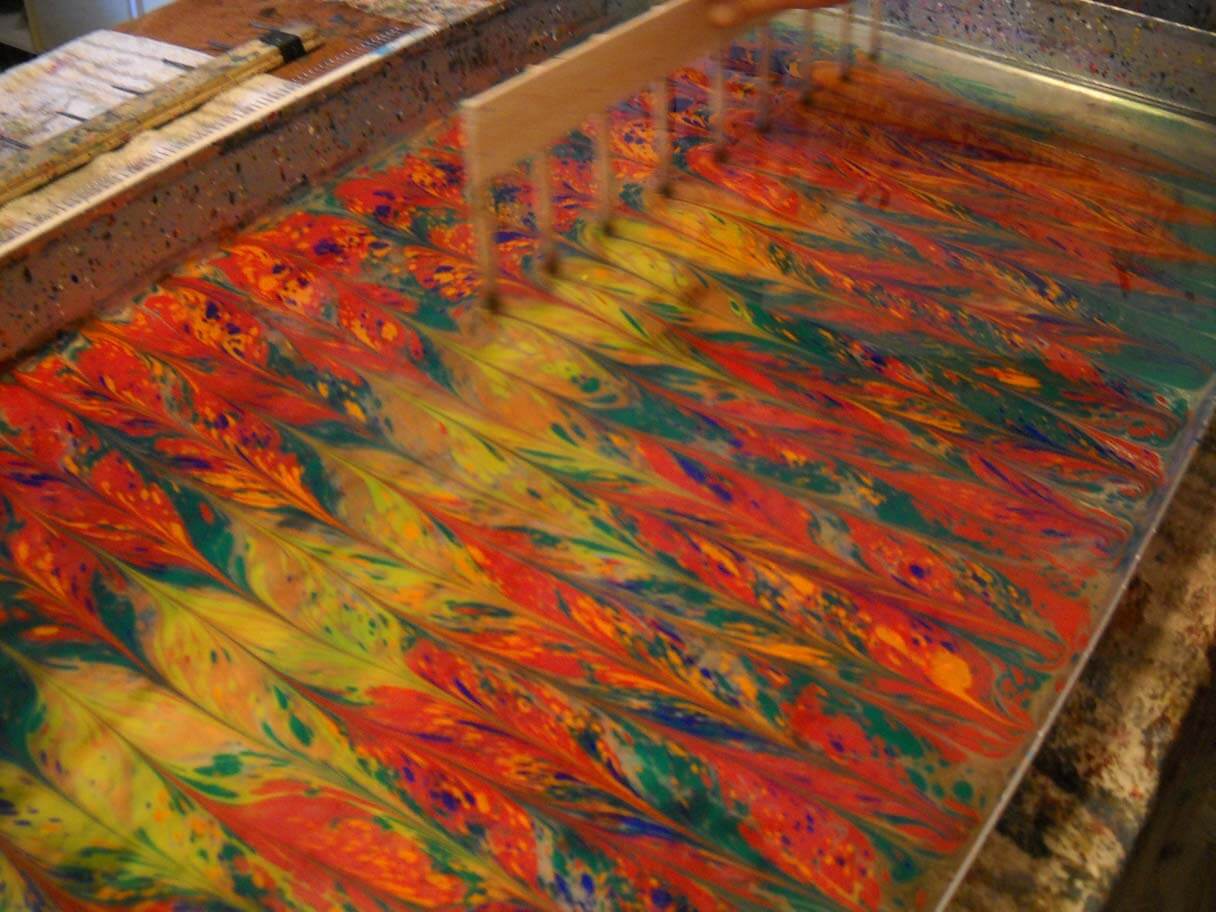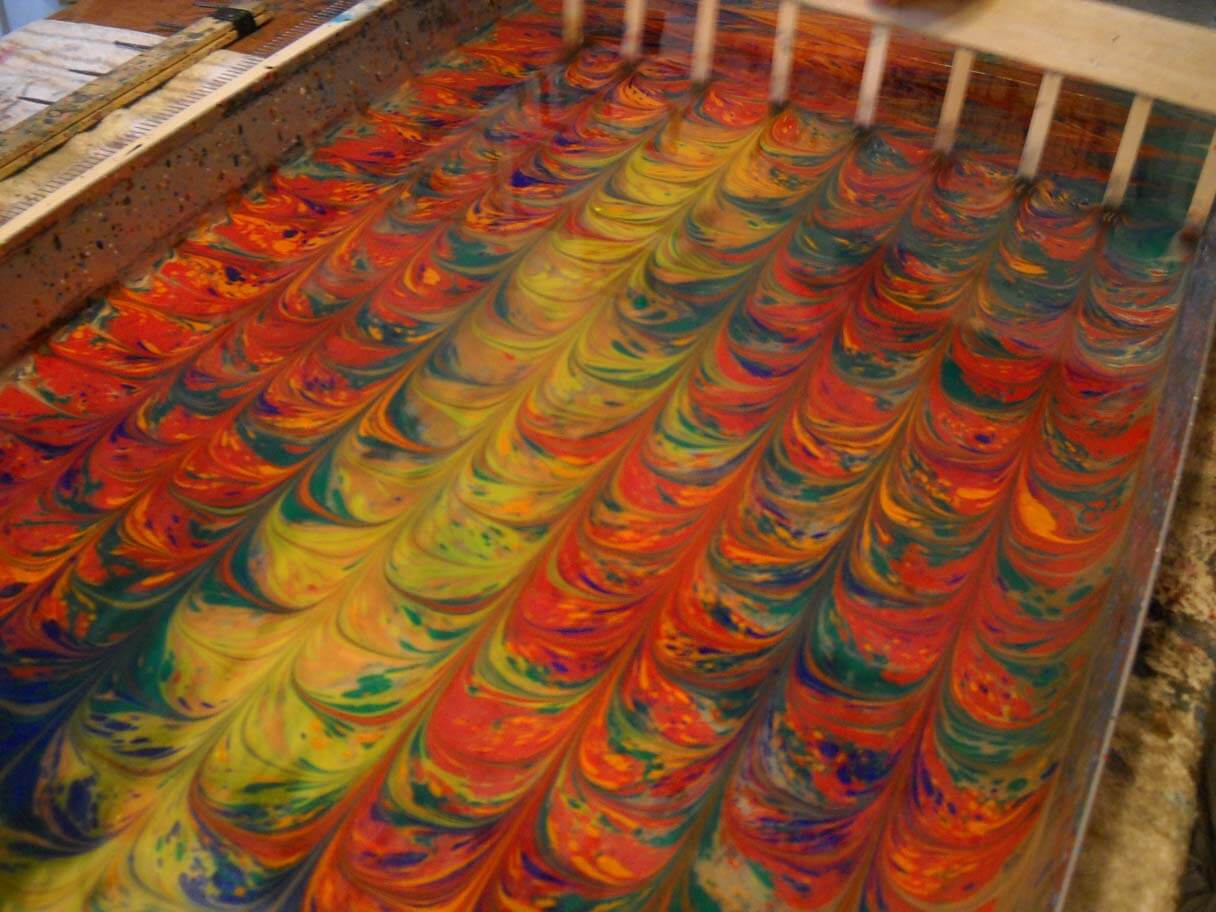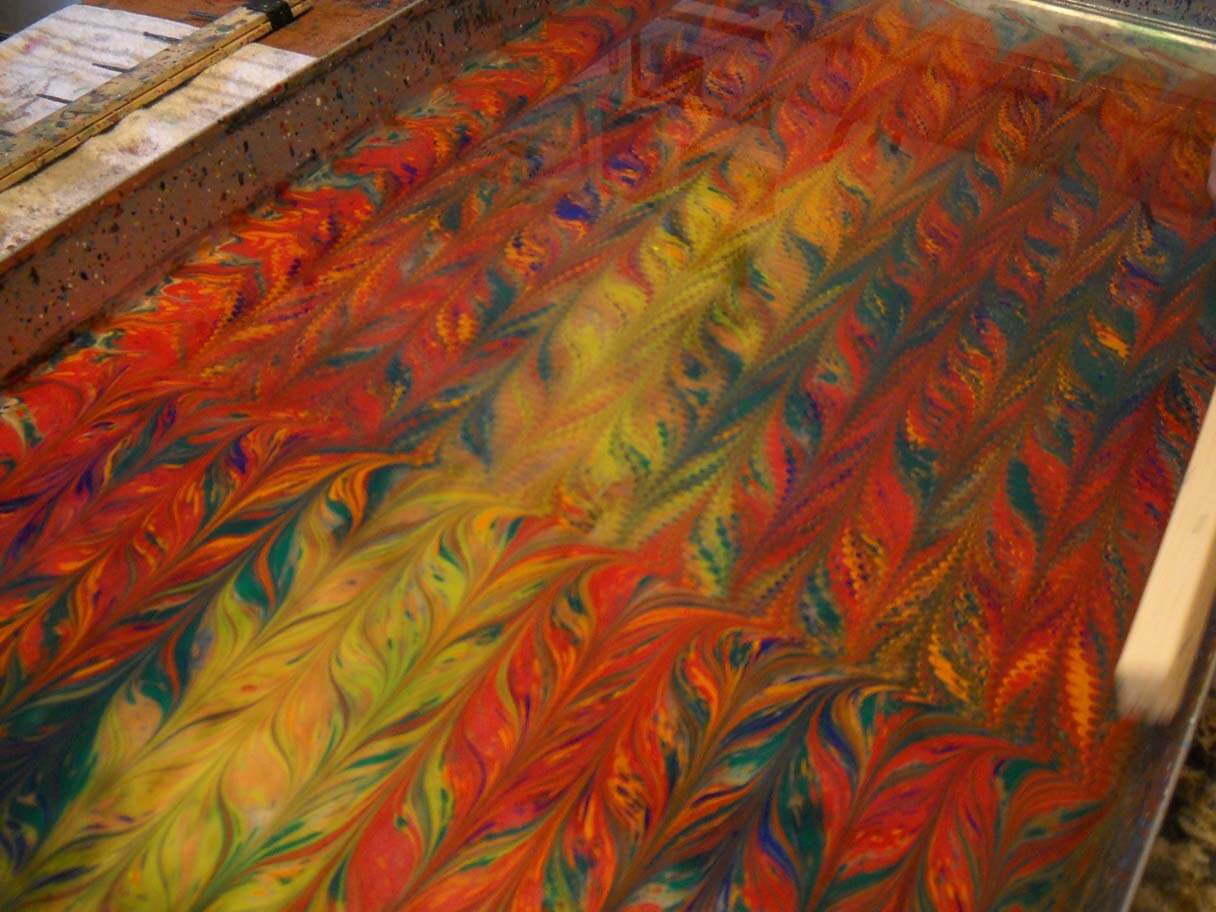 Notice the pattern moving from "chevron" to a "nonpareil," one of the most traditional patterns in marbling.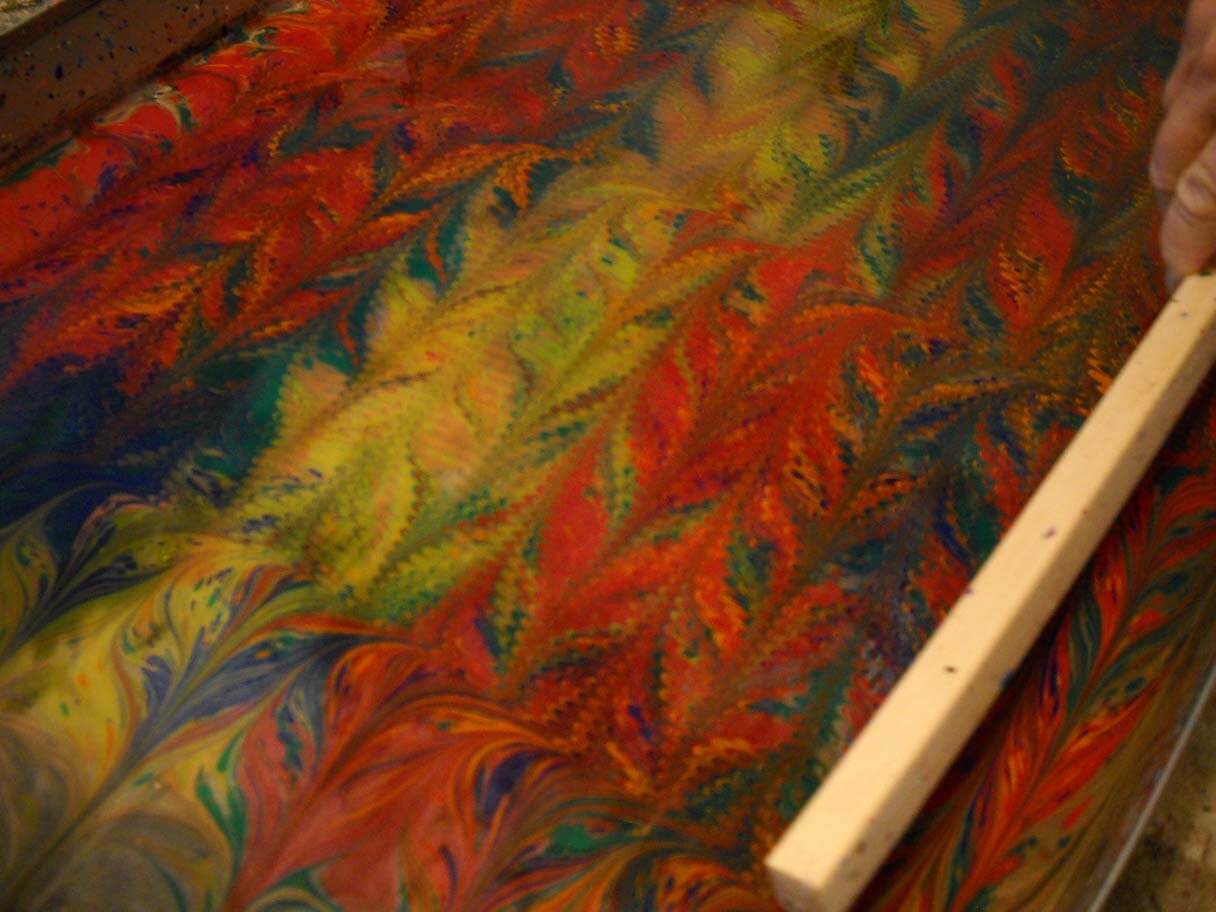 Sorry for the fuzzies….movement got in the way.
And now….some of the new creations drying in the wind before heat-setting and packaging….expect to see some of these babies up on eBay this week! This time's session was just Kaufman cotton – silk and chiffon and broadcloth coming in the next session early next week.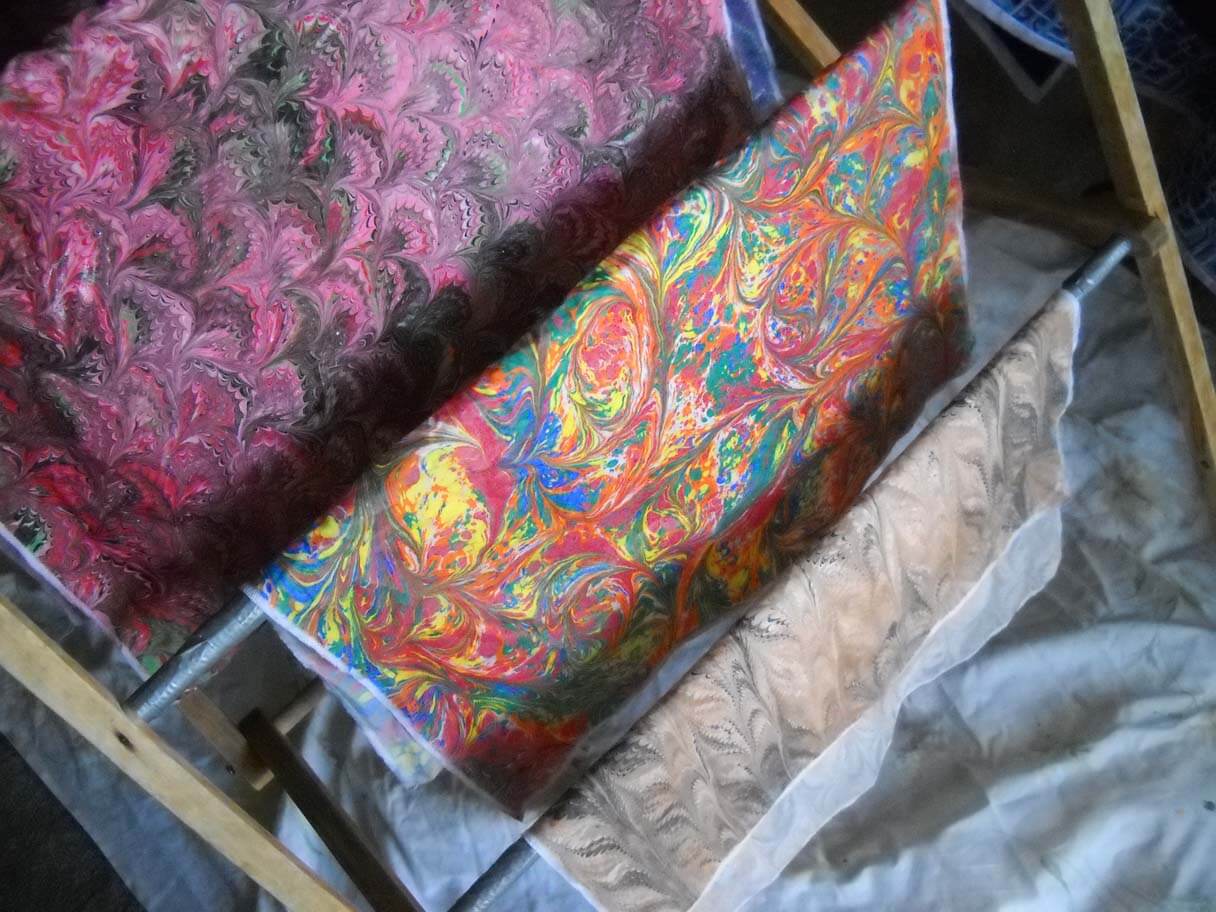 I SO LOVE this art form! It's a lot of "what you see isn't necessarily what you get," but the results are always gorgeous! Who among you has tried this, and what have you noticed?