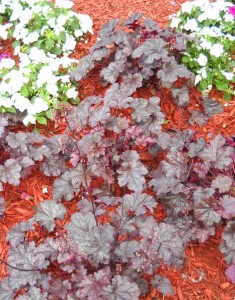 This is the original of a photo I snapped on vacation while at the Boston water front. Since it's been 16 years since I saw east coast flowers (and trees and water…) I was snapping pictures of everything. I loved the purples in these flowers, and it is my desktop wallpaper now.
But – I knew when I took the picture that I would be playing with it in Photoshop. I haven't done much playing around just for me, as I have been working on a licensing presentation and the issue of repeats, so my work has been focused in that direction. But it's Friday night and I want to have a bit of fun. As I usually do, I applied a bunch of adjustments and filters just to see what would happen.
One of the tricks I have learned is to make a selection of various parts of a picture and jump it to a new layer. I get a very rough edge, raw kind of look that I really like. Here's where I went next: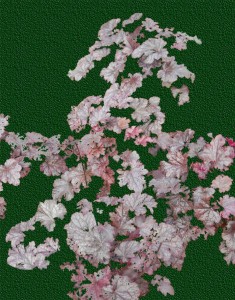 I cropped the photo, tried to look at  a heavier bottom, and changed the background with a couple of filters. You should be able to click to see this larger. The darker green (after trying about 8 other colors) has three filters to it, including the sponge.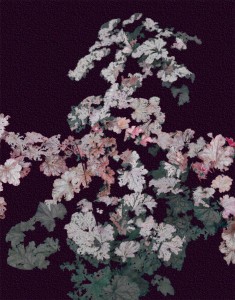 I was playing with hue and saturation for each of the sections of the plants. I'm thinking this looks pretty ethereal, which is how I like a lot of my plants (especially cactus…).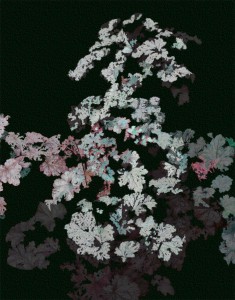 This is continuing to play with the hue on other levels. I like the additional green in this and the fact that there is a more distinct background and foreground.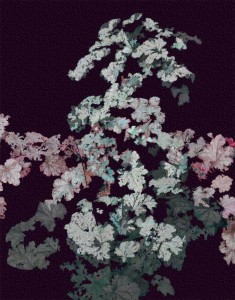 Another variation, but i think I like the one before this better, although this is not bad.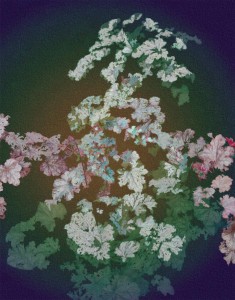 This is with a radial gradient, which givs it a very different feel – emphasizes the pink and to me gives it a distinct Asian feel.
There's something to be said for each manipulated shot. Which one speaks to you? Which one would you like to see as a piece of stationery or a print? And…ideas for a title?
DON'T FORGET – You have till July 13 to sign up for our newsletter (link at the right) and be entered for our drawing of marbled goodies:
* A remnant package of 100% pima cotton, hand-marbled with assorted colors and patterns – 6 pieces.
* Three postcards for mixed media collage of digital marbling (TN).
* A few pieces of marbled papers, again for collage.
* A 10% Off coupon for anything on our website.
* A Polynomial Quilt Pattern, which would make a great present for the math teacher in your life, if not for you!
* 14 small pieces (about 2 x 5 inches) of some heavy-weight colored (not marbled) silk, again for collage or some crazy quilting or piecing – it's all for your imagination!
* A set of digital marbled notecards (four cards, with envelopes)
SO SIGN UP!!!!