I've been away from the sewing machine for a couple of weeks, and I was experiencing withdrawal…I am almost finished basting my Desert Heat quilt, but I had been thinking about my Sunrise piece, since I want to finish it for Show and Tell at our January meeting. I started work on it tonight as I got home from school early (7 teaching semesters left till retirement!!). Getting home early today was like a half-day off.
The piece to the left is similar in color and pattern to my Sunrise piece, but the piece of marbled fabric I am using has more subtle blues to it. I started out free motion quilting the waves to accent the clouds, and suddenly I found myself following the curves of the marbled patterns – rather successfully, I might add. Quilting marbled patterns can be interesting – stone is fun and easy, and freeform just is zen-like. But the more complex patterns call for lots of curves and steep turns. I just kept at it – which I really shouldn't because too often I end up having tension problems that I never check till I'm done. This time – everything seemed perfect. I pulled it out of the machine to look at and realized it was a breakthrough – I have found a way to quilt some of these curves while "staying on the lines" and accenting the curvature of the pattern.
That's the breakthrough – more fabric is getting pulled out for possibilities in quilting. In the meantime, I think the name is getting changed – to Salmon Sunrise, and I think it will become my entry for the Cordova show this spring. I think it's going to look subtle scaley – if that's even a state of being…..
Speaking of zen-like, I have my grades done, as well as my lesson plans for the frst week back – almost unheard of for me. I want to look at linear relationships a little differently, pulling in careers where being able to figure slope is important. Then it occurred to me, since these are straight lines, that we should look at some zentangles, and then have the kids do their own – straight lines only. I did a couple with just straight lines and incorporated them into my power point – here they are: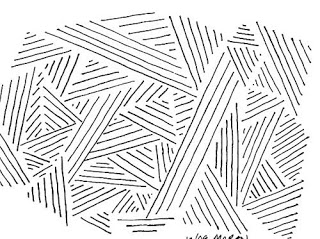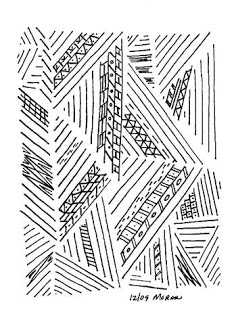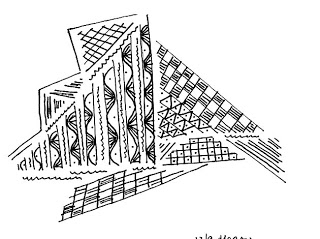 So I started cheating on the last one – just a couple of curves…..