What a perfect ending to the year – we started at 7:30 this morning getting ready for a photo shoot for our small group of mixed media artists. Got the table set up, brought out the easel, found the black velour bought 8 years ago to make pants to cover the table, and we began the first round of photos. We needed to take individual photos of work, plus a group photo that would represent what our group booth might look like as we prepare the paperwork for a show entry in March. Three hours later, after our combined efforts, we had some great shots. It was such fun, taking everyone's input, rearranging our work, commenting, making suggestions. Our pictures are better for the group effort – once everyone got comfortable, each jumped in with suggestions, leading to some nice arrangements of textures to show off all our work. While on the one hand we are hoping to become business-like, on the other we don't want to lose the camaraderie and encouragement we give each other.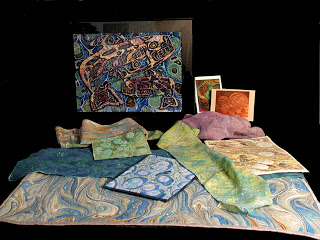 This is a sample of the work we will bring – marbled fabrics, stationery, marbled papers, fiber art, marbled scarves, and digital marbling (TN) with Suzan.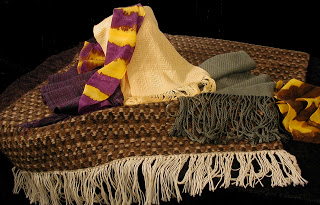 Brenda is a weaver and just getting into silk painting. Her scarves are so incredibly soft.

Karin is our water colorist, and we fell in love with her fairies. Those should definitely sell.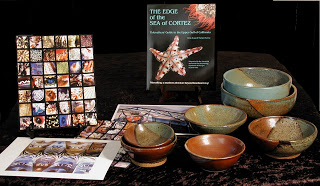 Betty is our author and digital artist, and Suzan is one of our potters and another digital artist.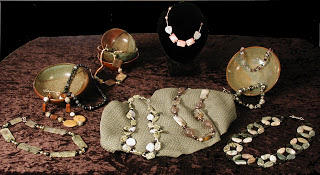 Alison is our jeweler, and she works almost exclusively with semi-precious stones. Her work is really unique.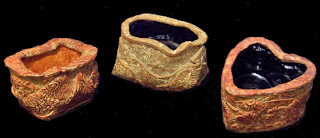 Yvonna is our other clay artist, with a very unique style.
And finally, the group of us….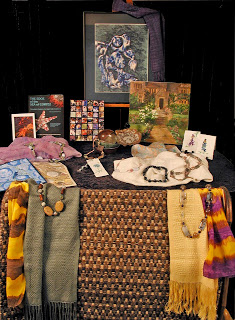 We then went out to lunch and saw "It's Complicated" – and laughed till our sides hurt. I wonder if Apple realized all the details about their "product placement"….
And on the way out of the theater, we were treated to a spectalular moonrise – sunset turning the sky orange to the west, and the moon slowly peaking over the Santa Catalina Mountains, a beautiful yellow-orange – took our breath away!
Happy New Year everyone!!