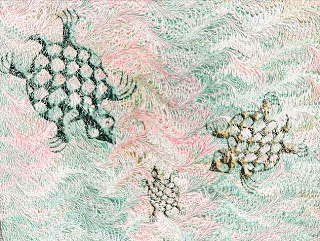 I love my turtles – definitely one of the more successful digital renderings I have done with the marbled fabrics. Need to collect some more pics of turtles to play with.
I should be marking papers to get caught up for the kids' progress reports before finals week, but I have too many other things to do right now – and the Glee finale is tonight….but I do want to report on yesterday's work. My notebook is organized, and this time it looks like it will definitely be an asset for me.
Now I HATE mission and vision statements as they apply to large organizations, like school districts. I hate all the linguistic squabbling over words. However, when I sat down to actually do them, I found it flowed pretty well. The only person I had to please was myself. So here goes:

Mission Statement for Marble-T Design, LLC:
The mission of Marble-T Design, LLC. is to promote the ancient art of marbling, particularly its adaptation to fabric and fiber art. Marble-T Design will create and present fiber and digital works of art, all based on traditional as well as contemporary patterns, to the public through a variety of artistic venues.

Vision Statement for Linda Moran:
The vision of artist Linda Moran is to explore her artistic abilities through a variety of media, with the emphasis on fiber art using marbled fabrics. She will offer to galleries and the buying public works of art created not only for her enjoyment but for increased retirement revenue.
Now I want to do a vision statement for the blog, to be sure I keep myself on track over the next year.
Comments on the above greatly appreciated!