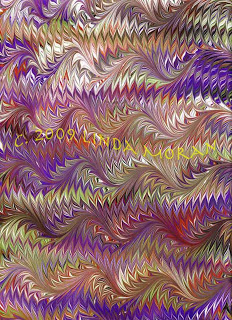 So we have officially decided as a mixed media group to participate in our first art/craft show in March to get a feel for what it takes. Monday was a great time as we determined some basics about our operating together. We decided to all have our own individual business licenses, rather than trying to create a new entity entirely. I'm thankful our jewelry-maker is a great accountant!
Now the work begins for the next two months, as we determine what product goes, and what we still need to produce. Talked to Brenda tonight, and she is weaving up a storm. Alison already has a great inventory of jewelry, and Betty has started some really exciting digital work with architectural images she has taken over the years.
We're looking at some small, medium, and large fiber art pieces already finished. We have some digital images already framed, and I want to start planning for some smaller digital ones that will be mounted on foam core and simply wrapped. We're going to take a dozen or so hand-marbled silk scarves, smaller pieces of silk, remnant packages, marbled papers, and stationery. I'm sure a few other things will crop up as we start seriously planning.
This I think will provide us all with good momentum. One of the things we all emphasized on Monday is that we don't want our group to be solely a business group; we like the fact that we motivate each other to create new work for each of our meetings. Karin is going in some interesting directions with her water colors, and Suzan is absolutely amazing as a digital artist, quilter, and potter. We should get some good photos to share as we get closer.
It has been a sparse week creatively for me personally. I think it's because I'm getting back into the swing of school after two weeks to do whatever I want. I don't want to waste time sitting in front of the TV – too much I want to do! Brenda dropped off our order of crepe silk scarves – some for marbling, but I want to try dye painting on them. I need to find something for my hands to stay busy so I don't eat!! And I want to continue quilting the salmon sunrise piece to get it finished up.
Tomorrow is Friday, planning to see Fantastic Mr. Fox after school, with dinner out. Haircut and a power walk on Saturday, and another walk with the trainer on Sunday. Got to make time for art!