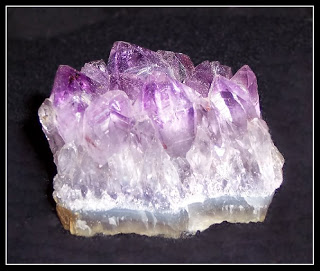 (Photo credit http://i1.treknature.com/photos/1879/ametyst.jpg)
Anne of El Milagro Studio had a post last week on her basket of pearls, which got me thinking about amethyst. I had to search for a photo, since I had given away my last chunk of the purple stuff. I had a parent about 15 years ago give me a chunk of the stuff with a story attached, which I want to share with you – it's quite meaningful.
If you look at the photo of the raw amethyst, you see a black goopy outer shell on the bottom, which is us at various points in our lives – unformed, untried, searching. The cystallized white part is us as we start to form, learn and obey rules, and start to figure out who we really are. But then there are all these imperfections in the stone that end up becoming this amazing purple at the top of the stone. Think about all your little quirks, all your background experiences. They form you into who you are now, that gorgeous purple- you couldn't be the purple without everything that came before.
And – we return to the goopy stage often – graduations, turning birthday milestones, starting new jobs….we're untried, we learn, we make mistakes, and then we emerge into something wonderful – our purple.
I love the amethyst as a metaphor for life, and I give the raw stone (not finished – loses its characteristics) to students at a milestone and explain the story to them. Every now and then I get a card telling me their purple is starting to evolve.
In the past few years I have started a love affair with stones, with no real purpose in mind for them except that they are gorgeous. The first Tucson Gem Show I went to (after living here for 6 years) I was astounded at the colors of the earth. Then I started going regularly with my friend Alison of Ambrosia Jewelry, who knows lots about semi-precious stones, and I was hooked – mostly because I found lots of stuff I knew she would like, and would end up in jewelry for me. I buy now if something speaks to me – one year it was tree agate – or if I see something that would work in a fiber piece. Both of the art quilts accepted into shows (my babies are traveling!) have numerous stone, bead, and glass embellishments. Now I'm thinking my tree agate would work for the base of the upcoming bamboo piece.
Here's my stash (I need new containers, after all there's a show in September)…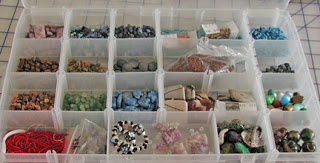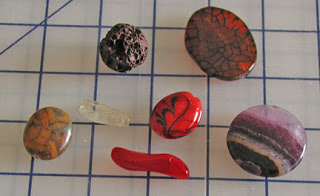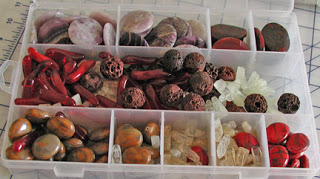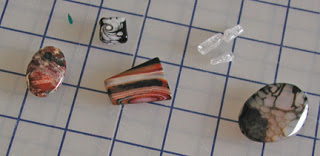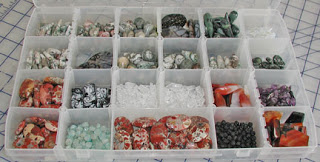 Most of what I buy is agate or jasper. The second pic shows some red glass that has marbling in it – should work really well in some of my volcano pieces. The third pic shows some reddish lava in the center. The fourth pic has crackelated quartz – which I love and is getting hard to find at the shows. I'm in love with all the stones for their colors and textures.