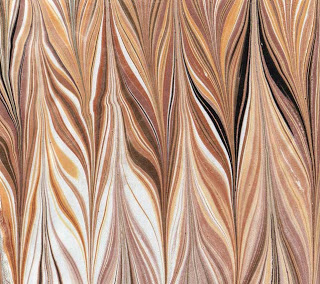 I think maybe I am on the mend. Today I actually felt normal (well, normal for me), and I wanted to accomplish some things. Picked up the commission quilt so I can finish it – did quick measurements and looks to be definitely a king-size without any problems. I hope to begin again tomorrow.
I want to get this quilt finished so I can begin again on some of my projects. I found that, except for my digital work, I don't have much new fiber – well, nothing really. I do have a few unfinished pieces, and lots of fabric ready for ideas, but no new finished pieces. The bamboo piece from 5 years ago has started to call to me, so that will be next.
What you see to the left is the marbled fabric in a really good chevron pattern. When the piece came out of the tray, for some reason bamboo spoke to me almost immediately. I have a series of works on the website that are "woven" – strips of marbled fabric that have been quilted, embellished, and woven together. My Gaia 2: Beginnings piece is one of my favorites (known to me as Pele). I stumbled into this style quite by accident, and I do want to continue in this vein. You can see the major works on this website page, and I want to do more!! I want fiber!!
So I am going to work with this "bamboo" fabric as you can see from the strip below. I want to get lots of skinny narrow silk leaves to marble to add to the bamboo as a finishing touch.



We discovered a number of years ago a great way to get the most out of our marbling sessions, since the materials are so expensive. We lay ribbon along the edges of the bath to soak up paint, and we take apart silk flowers and marble them. Here's a photo of the last bunch of flowers that went up on ebay. These are always a lot of fun to do and work as great embellishments. Ooooo, Anne – just had a thought – would these work in a collage for you? Would be happy to send some your way….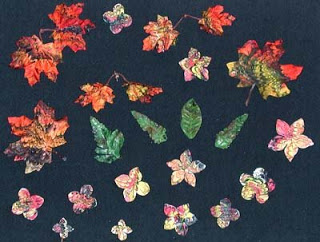 Now to get healthy all the way….
3 Responses to "Work-In-Progress Wednesday"