So the commission isn't finished yet, but half of the king-size quilt was presented on Sunday to my second mom. The quilt has been in the works since November, when I saw the perfect fabric for the author of a book on tide pools and the owner of an amazing sea shell collection. We were going to use family photos, but that didn't work out. Because of tax season this almost didn't get made. But then we decided to use the actual photos Betty had taken for her book The Edge of the Sea of Cortez on tide pooling. So every image on the quilt is hers.
I'm not one to use a pattern, but I was having trouble getting my ideas across, so I sat down with Photoshop to see if I could scan some fabric and create a pattern. After wanting to do exactly this for nearly 15 years, it finally fell into place. Here's the working draft….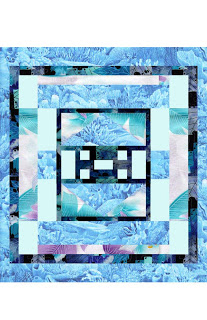 I started with some other fabric selections that would go with the base fabric. You can see in this photo that I have started the free motion quilting to accent the various sea life on the main fabric.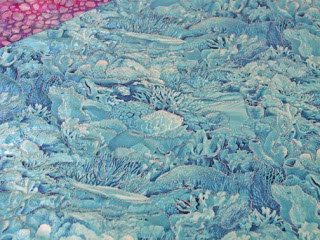 This is one of the first times I have been able to let the fabric and design guide the quilting. I knew when I saw the various fabrics what I wanted to do. We had it priced for long-arm quilting, but it was outside of our budget (it's a California king bed), and the quilting wasn't going to be nearly as complex as I wanted.
Now I don't "do" big quilts. But when I learned to quilt, I learned in sections, so I figured I could do the same with this, although the sections would be much bigger! I was thrilled with the center section – a lot of unexpected design decisions came into play, and I realized I was pretty good with making ideas happen.
This next section is the medium fabric – a touch of purple and "bubbles," which I figured I could free motion yet again.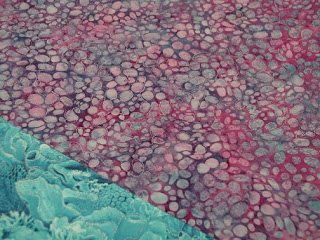 I know a quilt is about the front, but I wanted to make a "sea" statement with the back that would carry over from the front.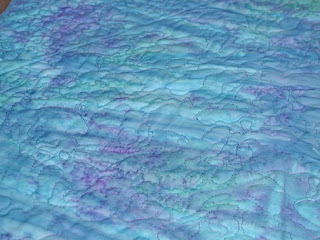 And finally – where it is at the last picture. There is more done, and these two sections are put together. Overall I am really pleased. Too bad I was sick and couldn't see the unveiling. I really could have gotten it done if I hadn't been down for the count for four days….