Oh my goodness, life is busy! We returned on Monday from StashFest, a benefit for the La Conner Quilt and Textile Museum, with lots of new momentum and ideas for the business. I'll be addressing some of the marketing issues and challenges in a later post. For right now, there are lots of new things in the works, as well as some current projects to finish.
We have two commissioned orders awaiting us. One has gone in the mail today to England, and the other is awaiting fabric and paint to arrive. On my walk this morning, I set myself the task to come up with what my "spring" and "summer" designs would look like for my seasons quilts. The marbled fabric is all ready to go, and I now have two specific designs in mind. This was a little trickier than fall and winter, because I still wanted to keep the log cabin basis for the new quilts. I'm hoping by the end of May to have the two new quilts finished and the pattern pretty much ready to go. Then I can consider the marketing for the kits.
I have a commissioned piece – a three-part triptych – that will pay for my yoga lessons, so I want to get that completed by this weekend. I have several small quilts that I am going to take apart and requilt, based on what I am learning with this year's free motion quilting challenge. April's lesson, about creating your own stencil, will solve my problem about wanting to do snowflakes for an old holiday quilt. I'm looking forward to trying this. The three quilts that I have requilted were all big hits at StashFest, as they were god examples of how marbled fabric can be used in traditional blocks. And I had LOADS of great feedback on how wonderful my quilting was. Yay me!
Now that I have installed Quilt Album software, I need to start putting in my quilts, especially since as I am traveling more, I can create an album to show at any time. This ties in to the portfolio we took with us to StashFest. We were able to show the article about us and the actual process through pictures, examples of Bernina garments that used our fabric, and other interesting patterns we had. The portfolio needs some updating….need to get that on the to-do list.
I really want to get to the DVD on quilting various marbling patterns. I need to perhaps start with just a couple of tutorials, and then let that determine where I go from there. As my quilting skills increase and improve, it will be interesting to see how that transfers to the marbled fabric.
Mainly I want to do a lot of sewing, designing, and quilting. So many ideas in my head! Hopefully next week there will be actual pictures to show……
Ooooh, yeah, a great time was had by all on our trip to Seattle and back. 4000 miles on the car, loads of pictures, great friends, and lots of new connections. So here's our top ten, in no particular order….
1. The Redwood coastal range. Majestic just doesn't completely describe it. And driving through a tree…..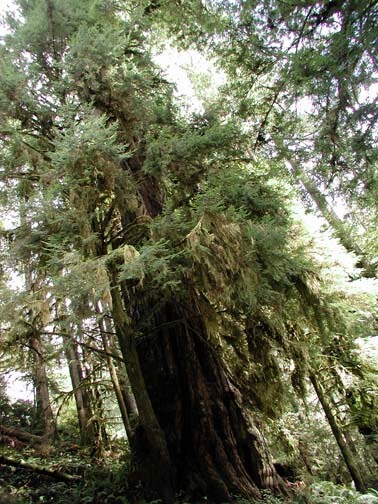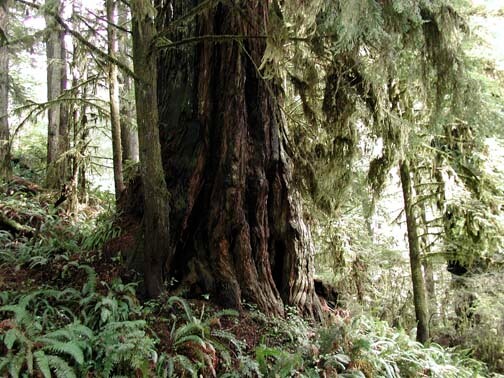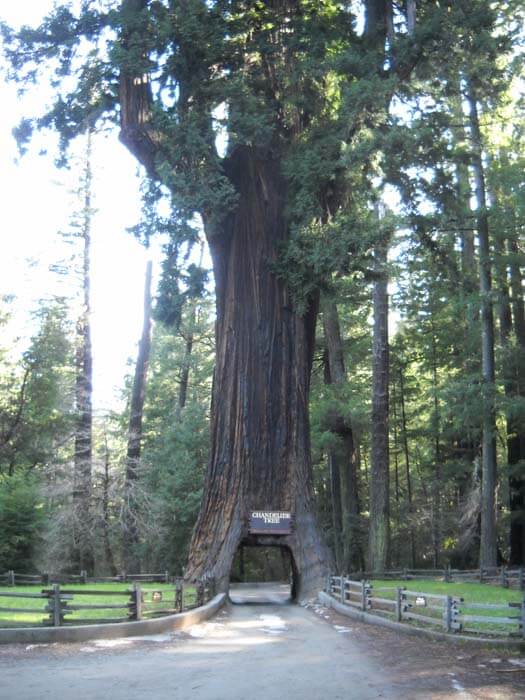 2. Alki Beach in Seattle. You have walking and bike paths around the whole peninsula tip.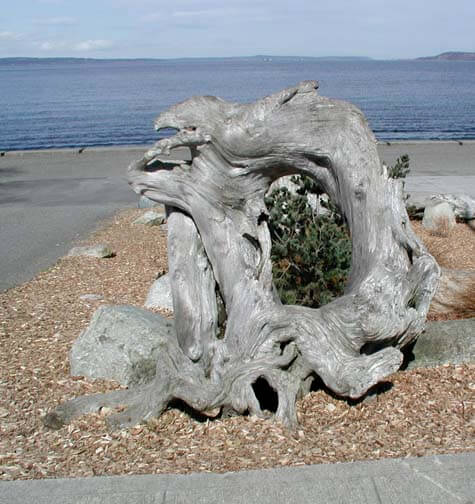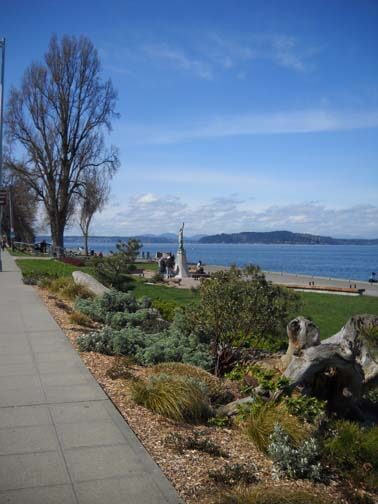 3. Ferry rides – to Whidbey Island and Vashon Island. Great mode of transportation. The workers had to wake up one commuter. I can see where you could easily fall asleep! Loved Coupeville and talking with the guy running the coffee shop on the wharf. Having the sun come out and see Mt. Rainier.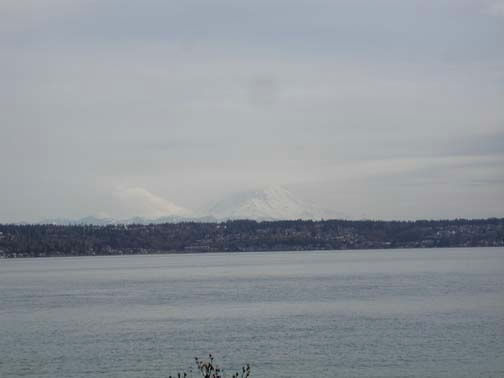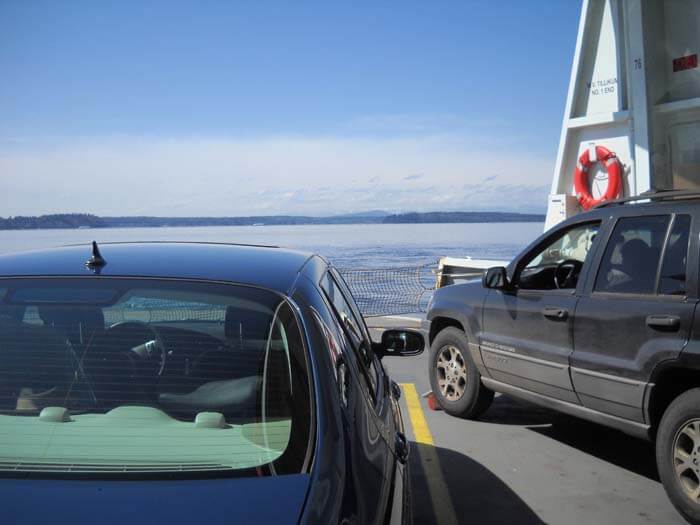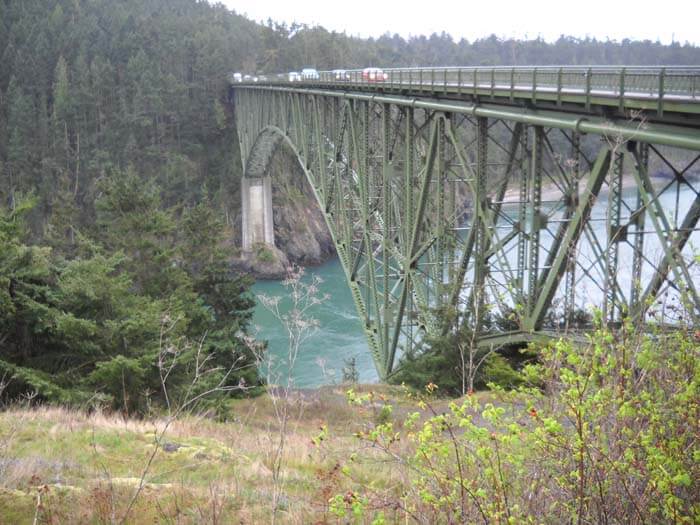 4. Oregon Dunes coastline. Hey, the east coast has dunes, too, but NOTHING that big!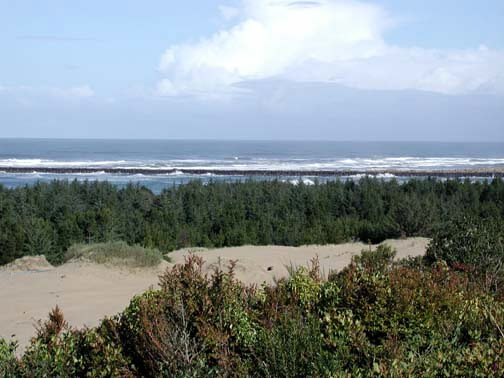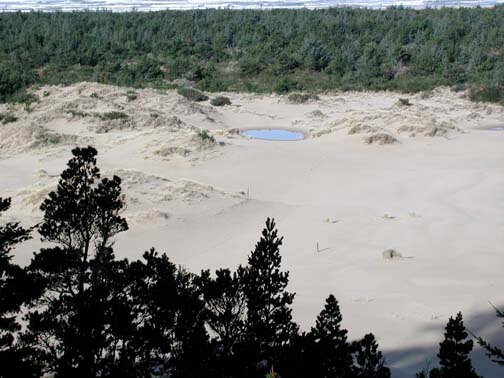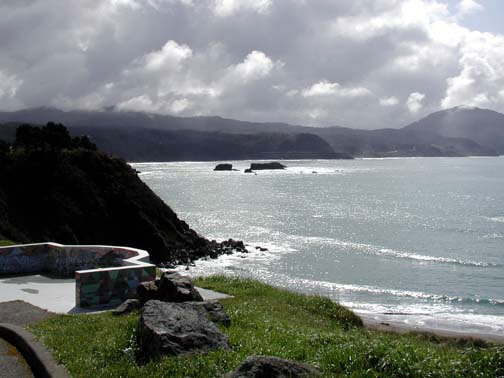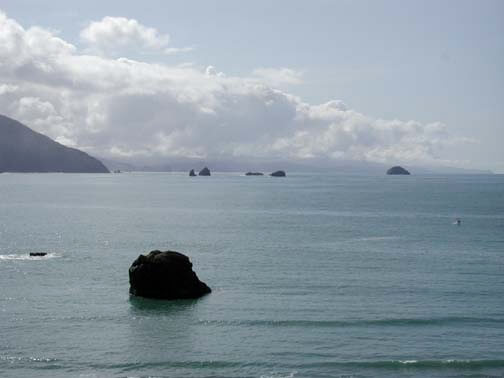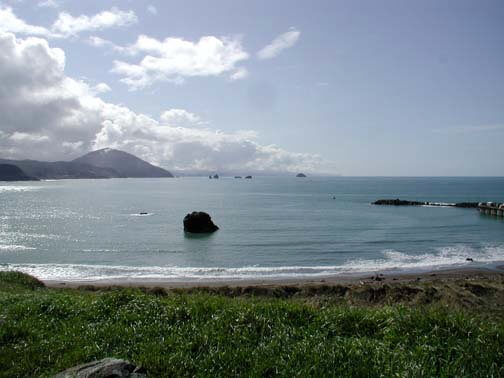 5. StashFest was a huge amount of fun, and the La Conner Quilt and Textile Museum is spectacular!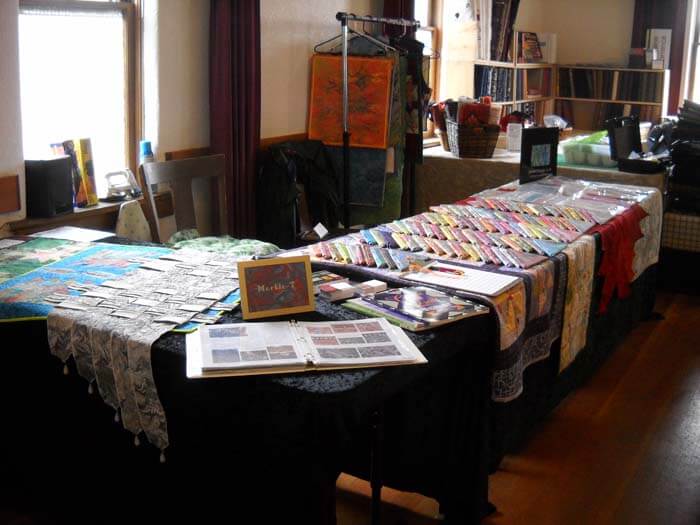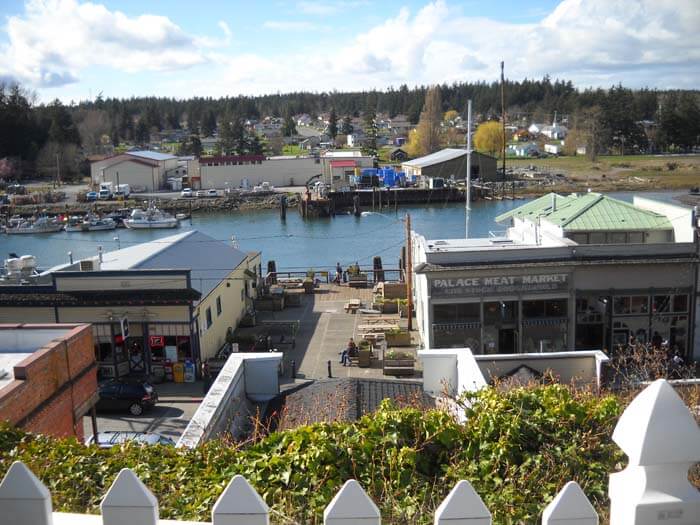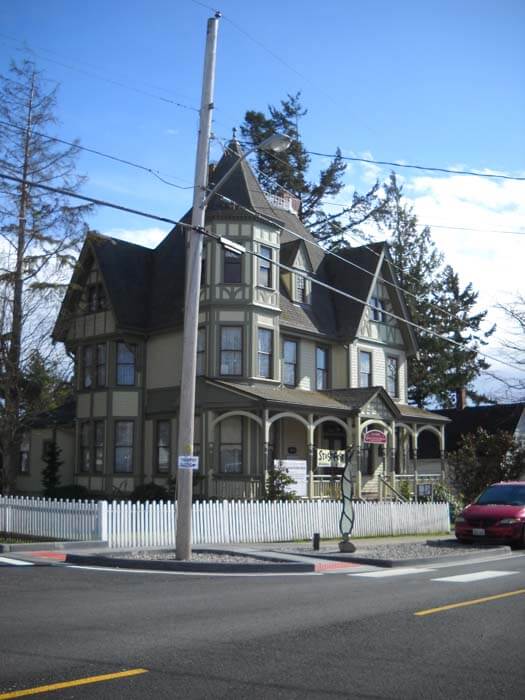 6. Driftwood! So much, all over the place, and great textures.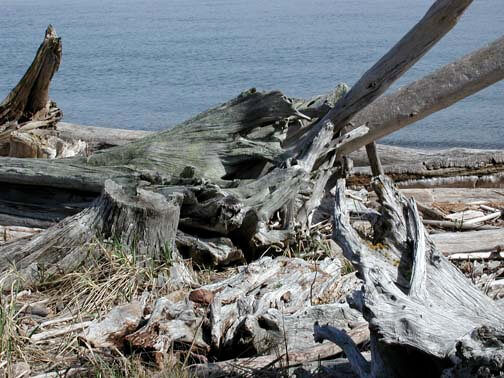 7. The Seattle Aquarium…and the sea otters, and colorful coral, and a diver feeding the fish…..wonderful place.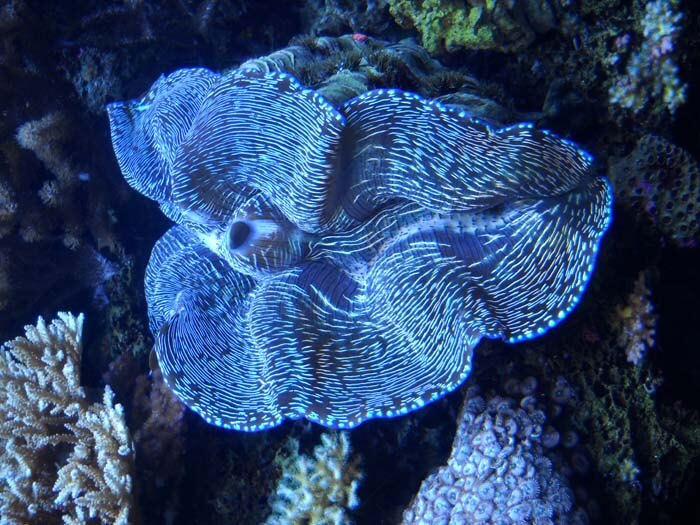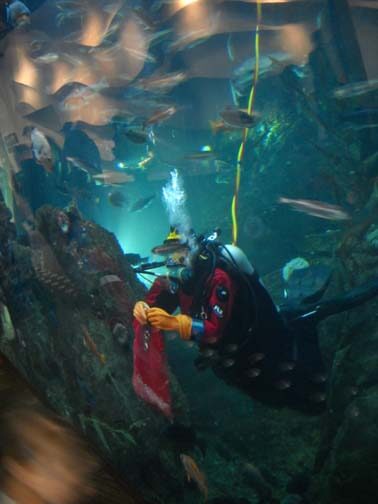 8. Pike Market – so much fresh food! So this is what a farmer's market should look like, not the anemic ones in Tucson.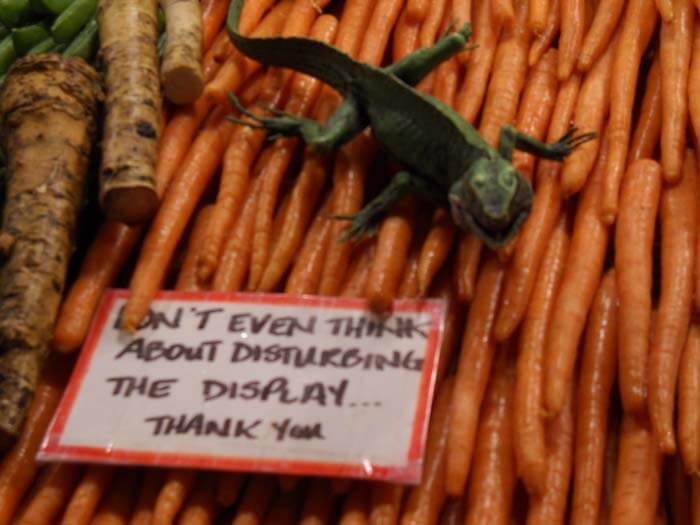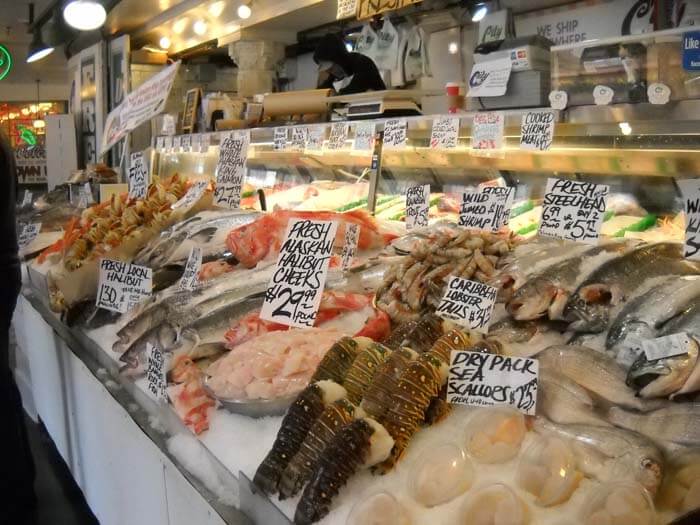 9. Seeing friends.
10. Crocker Art Museum in Sacramento. Judy Chicago, studio glass, an interesting take on the Terra Cotta warriors, and great prints. What an amazing Victorian setting.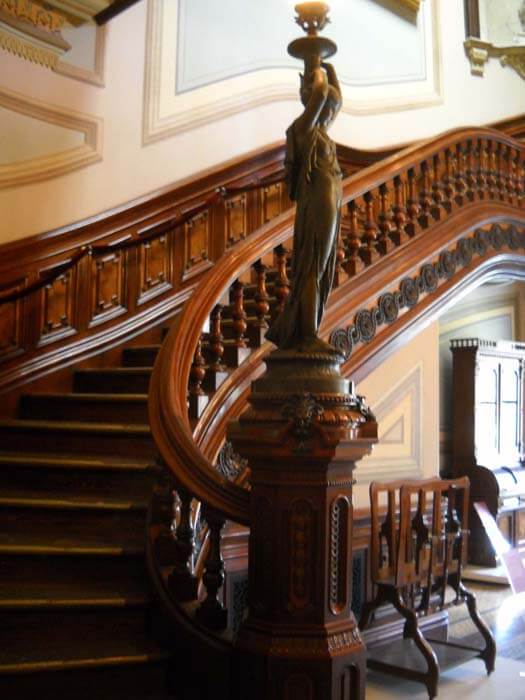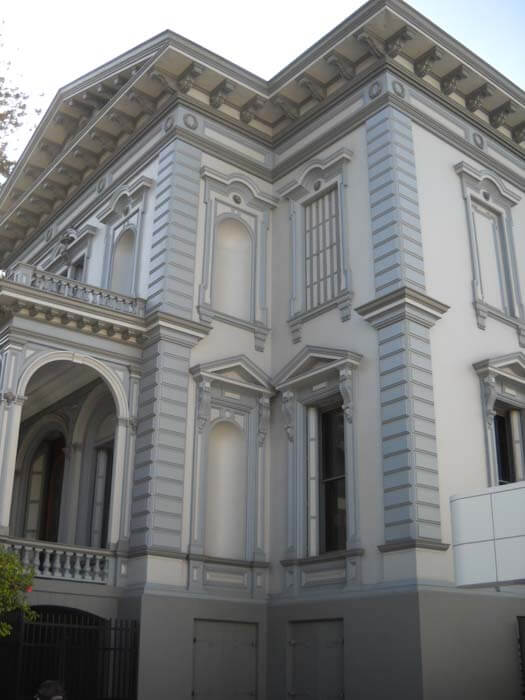 Loads and loads of pictures, and I really enjoyed taking video of some of our adventures….have to figure those out, though, but on the iPad the trip is a joy to view.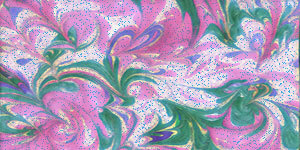 Wow, I am so far behind in reading blogs….and I know I will no sooner get caught up then it will be time to leave for our trip. Ah, well, I've installed Google Reader on the iPad so I can follow along on the trip – I just haven't quite figured out how to copy and paste URLs…..So how am I approaching this surplus of back blogs? I started with all the blogs with two or less entries. Got caught up on those and found some great eye candy. Next up will be purging the political blogs that have 50 entries or so….all they will do is make me irritated………
Anyway, from the 365 Project, more stunning photography – this site is always a delight! I love this pic:
A clever take on technology not working…this time at a TED talk. Be sure to follow the link for the story behind the story.

And if you liked that, here's "Gotta Share – The Musical," again breaking out at a conference.
From Sarah Ann Smith  and Art and Quilting in Camden comes a FABULOUS resource of EYE CANDY….NGA Images – thousands of images from the National Gallery of Art. And Sarah is right – MAJOR timesuck here!! And along with that comes The Art Project powered by Google….even more from the best museums in the world! Oh my! Here's just a snippet of a screen shot….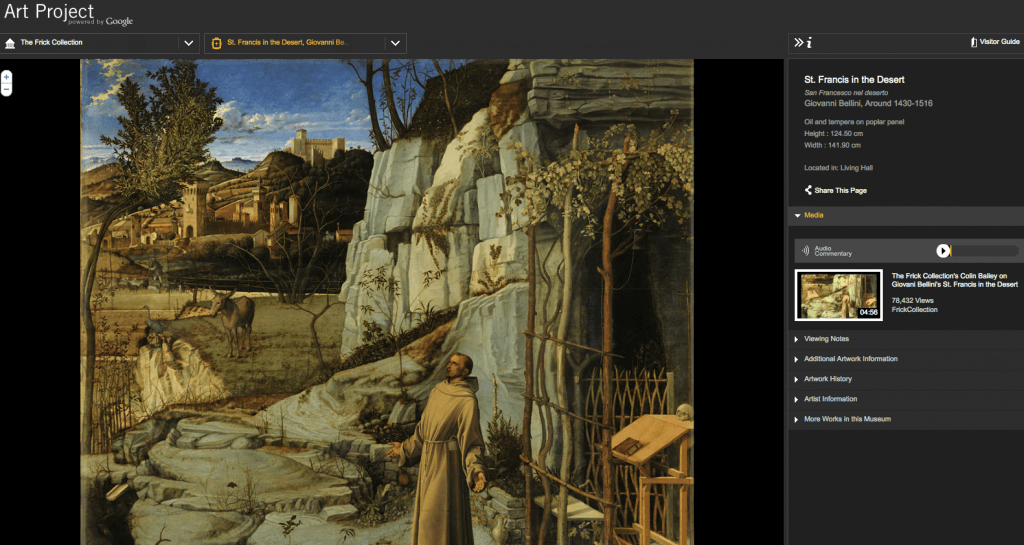 …and you can set up your own collections…..Impressionists, here I come!
From Alyson Stanfield and the Art Biz Blog, comes some help on dealing with the new Timeline feature on Facebook – an opportunity for artists. "Tell the story of your art career on Facebook."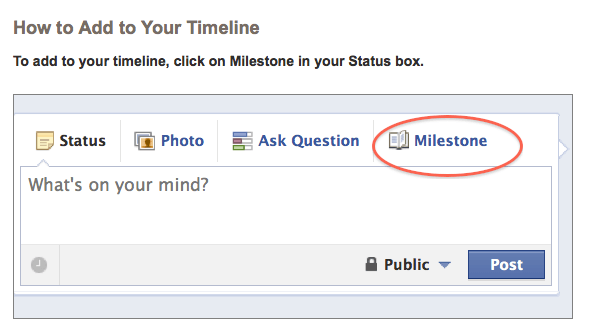 I have missed not following Cool Hunting each day – they always have really interesting things. Here's Metamorphabets.
"Viktor Koen takes pictures of renaissance rapiers in museum corridors. He hordes images of salmon steaks, microscopes, beheaded dolls and nautilus shells. From the thousands of archived shots, the Greek typographical artist composes unique alphabets from layers of objects." Doesn't that sound so cool?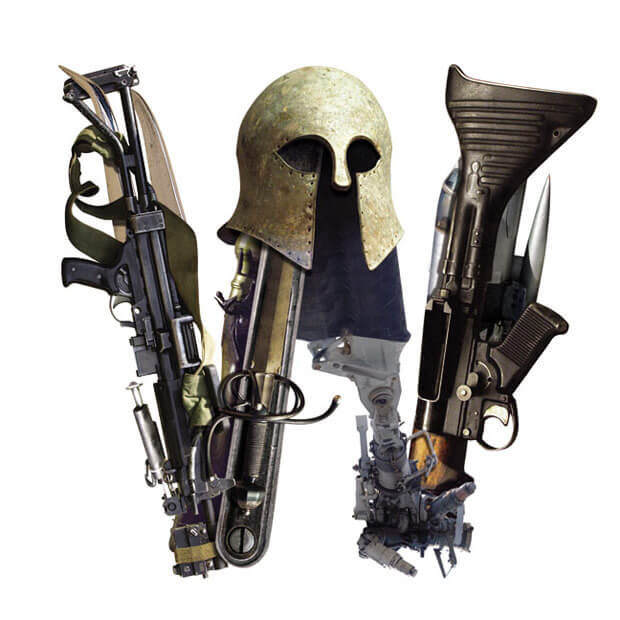 And this last image led me to another blog, one that is political, but with a great message: You Don't Make Peace with Your Friends from the Daily Beast. I encourage you, regardless of your political leanings, to look beyond to the message of peace.

Also by Emily Hauser, and closer to home: What is White Privilege? Let there be an arrest in the Trayvon martin murder.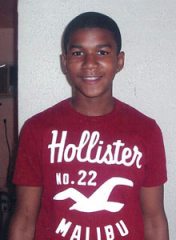 Need some help designing a badge for your blog? SewCalGal – the amazing woman hosting the year-long free motion quilting challenge – has great instructions up on her blog. I'm headed to them when I'm back from Seattle.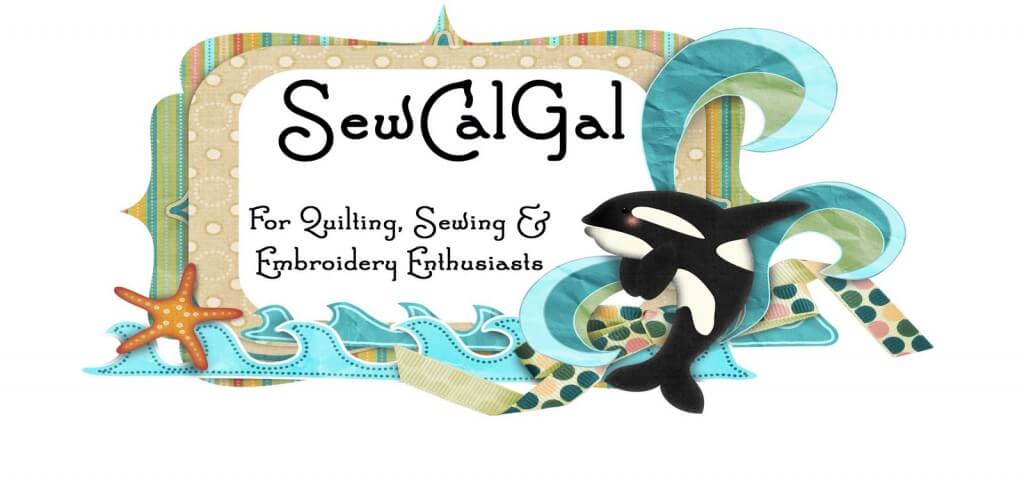 And finally, from The Best Article Every Day comes 58 OMG Facts.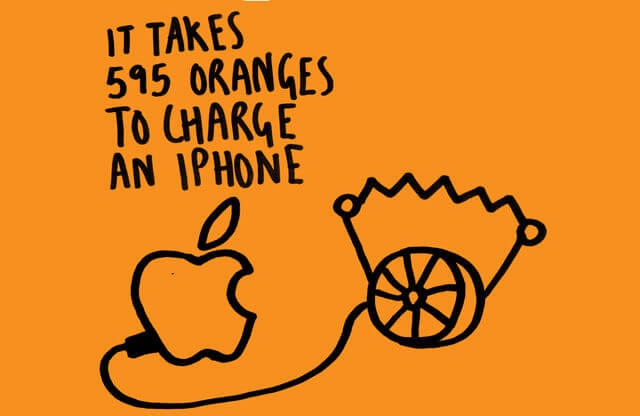 Have a great week!

Interesting post concerning a shopkeeper who had her Etsy store taken down unexpectedly. I too got a similar survey saying I had potentially violated some of the principles of Etsy. I answered their questions and emailed it right back, and I never heard anything else. I don't even remember at this point what it was about. After reading this article, I'm glad I took the time to search through policies and look at the fine print.
Our Etsy shop is inactive right now, as we are involved in a major fiber presentation (StashFest) and all our product is with us, not in the shop. I plan to rebuild the shop with lots of new fabrics once we are back and done with special orders (we have three commissions awaiting our return).  We've had a domain name since 1997 – in fact, when it comes to e-commerce, we are really "old-timers." There are a lot of good points in this article about understanding and handling your own business.
Our problem has been a problem with our email connected to our web address. Evidently we get blackballed every now and then….our email address is considered spam periodically. We usually stumble on the problem after not too much time has gone by and can arrange through our host to get the problem taken care of. I find it interesting that this happens. We were hit one time with a major spam attack, at least a decade ago (seems like it was the cube iMac we were on when it happened…). Cox has blocked our domain a number of times, and we have had to work around their services. They can't give us a reason why they have blocked out address, and after it happens a couple of times, we have to find a way around it, which we have done, so there are usually no problems.
But I think the major point in the article was not to rely on only one outlet for selling your wares. Interesting, because there are times when I am convinced we are just spread too thin, and yet there are places we can expand. Interesting conundrum. As I've mentioned a number of time sin the Monday blogs, you can spend a lot of time doing your marketing; it is key to find your niche, understand the marketing/business strategies you are using, and still find time to make your art – do what drives you creatively.
All that said, I am ready to hit the bed (it's Saturday night as I type this) and hopefully not dream about all the things that can go wrong with this show that we've been working so hard on for the last four months (not including the unexpected move we had to make). Hopefully we made enough lists that we haven't forgotten anything critical. In fact, the first thing packed in the car was all the marbled fabric and the quilts. If you're in the Seattle area, StashFest is a fund raiser for the La Conner Quilt Museum, the weekend of March 31 and April 1. Stop by and say hi to me and hubby and Marble-T Design.
We just finished a fabulous dinner and conversation with an old friend we had lost touch with some 15 or so years ago. Ann and I both taught in Phoenix in the late 70s and early 80s. We called hereafter her wedding to tell her a math job was waiting for her. We saw her first chIld, Ryan, at a few weeks old. Then there was Tyler and Evan, and finally Kate. She moved to Maryland, and we shortly followed.  We worked together for a commercial learning center, and then she headed west and we went back to Vermont.
Tonight we reconnected and ended up sharing math stories. Turns out we became exactly the same kind of  math teacher….crazy, willing to do weird things, sing….in short, whatever it took to help kids learn math. Ann ordered a gift basket a few months back, and I was thrilled to realize it was my old friend….after trying to google anything I could remember about her family to try and find her again.
Ann got me first interested in quilting back in Maryland, and maybe next year we'll be able to meet up at Road2 California. All I do know is that this evening was magical, seeing grown kids and grandchildren and having great conversation. Ann, thanks for a great evening,my friend!

I finished the quilt remake in time to get the suitcase packed full of quilts to take to StashFest. Of course, it couldn't be quite that easy to pack the suitcase….ended up packing it three times, as I went to photograph the quilts for a new book, and the first set wasn't high enough resolution. So we set up again, and this time there was too much light. So third time was the charm….setting up the room again, and unpacking/repacking the suitcase. But the photos are on there way now….and my new little quilt looks great!
When I left off, I was working around the various quilting motifs. The larger triangles had a zentangle-like stippling, and the area around the stars was much smaller stippling. I will definitely need to practice that so the stitches are really consistent. But I really like how the rosettes worked out.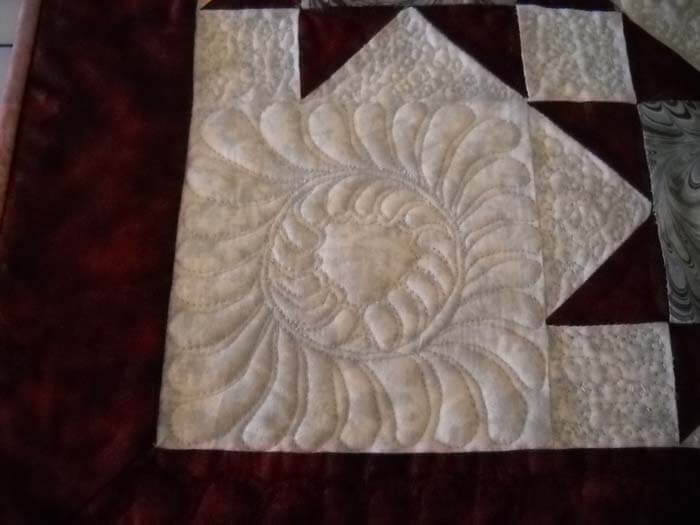 I wanted to do feathers on the border and ran into tension problems…the background thread (Bottom Line) kept peeking through, and I finally decided I didn't want o keep taking the feather out. So I changed the thread in the bottom to be the same as on the top – problem solved for the time being. The feathers go up half of each side. They're pretty subtle, but I like them.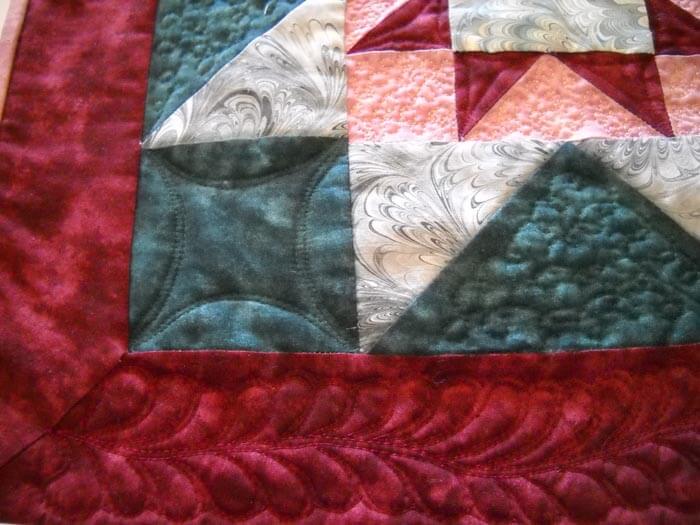 You can also see the corner squares. I actually marked those lines for consistency. I must say it was the first time I marked anything, and I will probably do it again. I liked the effect, but I need to consider what I'm going to use for marking, so it's easy to get out.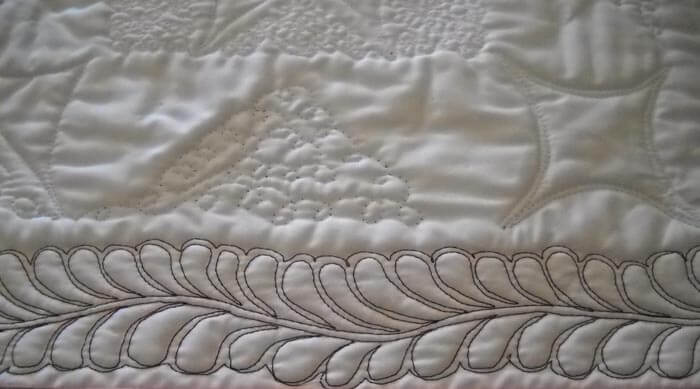 I absolutely love the back! Yeah, there are some tension problems, but I am making SO MUCH progress.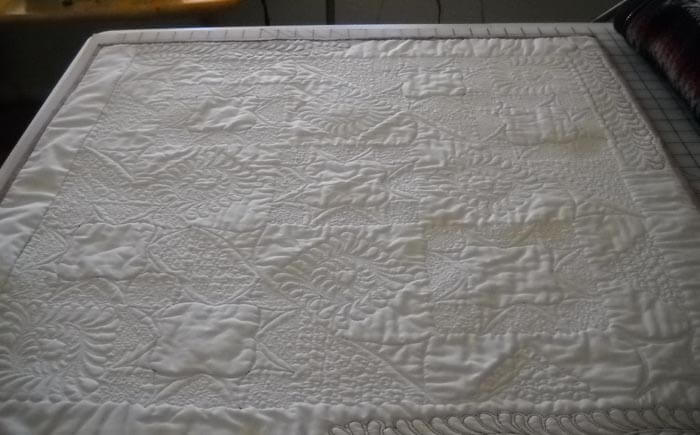 I can certainly see the appeal of white whole cloth quilts. I feel the same about the backing quilting on my whole cloth marbled quilts.
And finally, hanging briefly on the wall before being packed:
Tomorrow I will be so ready to leave, and no doubt all the loose ends will be done by noon, so I am going to start taking apart another older quilt in preparation for some brand new quilting!

From The Huffington Post, statistics on water. Every time we drink from a plastic bottle, we are depleting resources. Most of us in this country never give a thought to the problem of fresh water on this planet,  not just where we live. Becoming conscious of the problem is the first step to becoming active.
According to Water.org, every 20 seconds a child dies from a water-related disease. That's a pretty frightening statistic.
Visit the Free Water Project to see what you can do.

Be the change you want to see in the world.

So I am totally enjoying the free motion quilting challenge, with a new pattern each month for the year. I LOVE doing feathers – never EVER thought I would be able to do them on my own. Now since I have these new skills, I have all these old quilts that look pretty blah…..and I'm going to take them all apart and use them for practice of all my new patterns. I started with a BOM (with Judy Martin blocks) I did in probably 2000, when we were selling marbled fabric in kits, as it seemed like so many people loved the fabric but didn't really know what to do with it. I had a new block every two months (I had six small quilts, but I ended up selling two of them. I redid one of them last summer, after I looked at some videos from Sharon Schamber. This was originally all stitch-in-the-ditch quilting. Here's my Monet's Marbled Garden: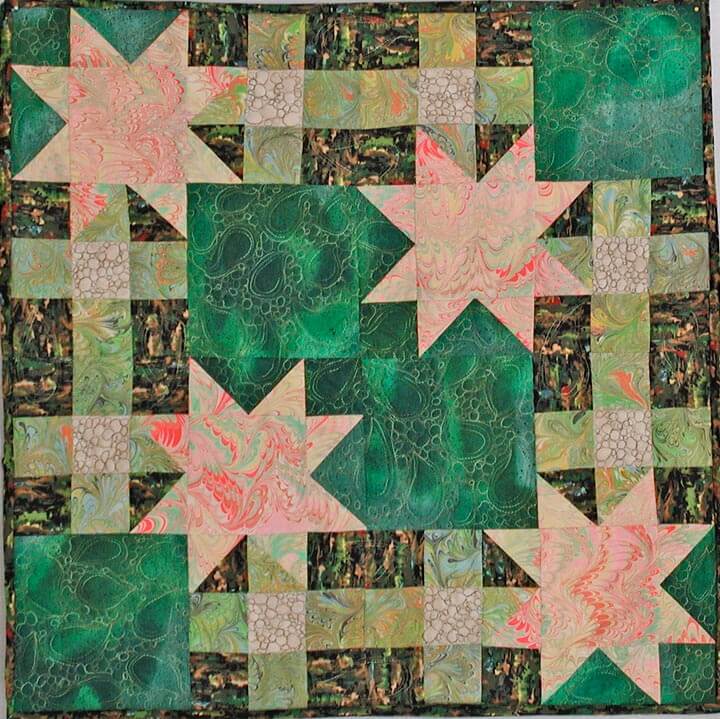 Next one I took apart was my fish quilt, with fabric marbled probably in the late 1990s. Again, just stitch in the ditch. With this one, I realized I could use a couple of decorative stitched on my machine, along with fmq. This time I actually quilted in the marbled fabric, following the lines of the pattern.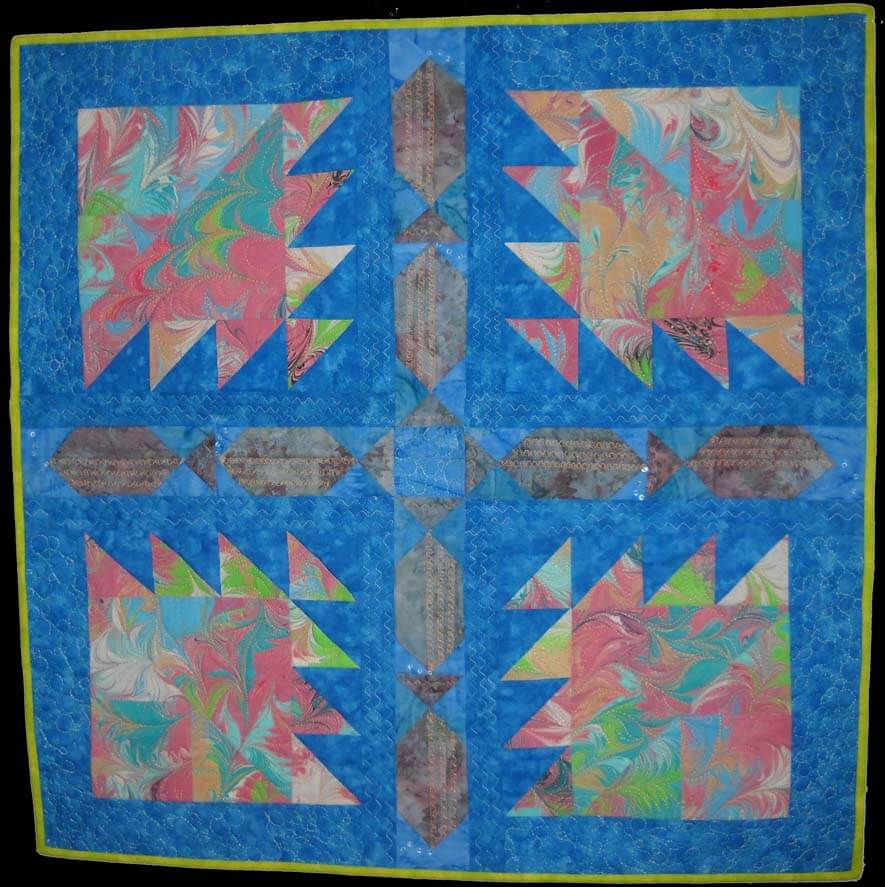 Then I decided to get another little one ready to take to the Seattle show, so I spent a weekend taking out all the stitch-in-the-ditch. No picture of "before," but here's the backing fabric: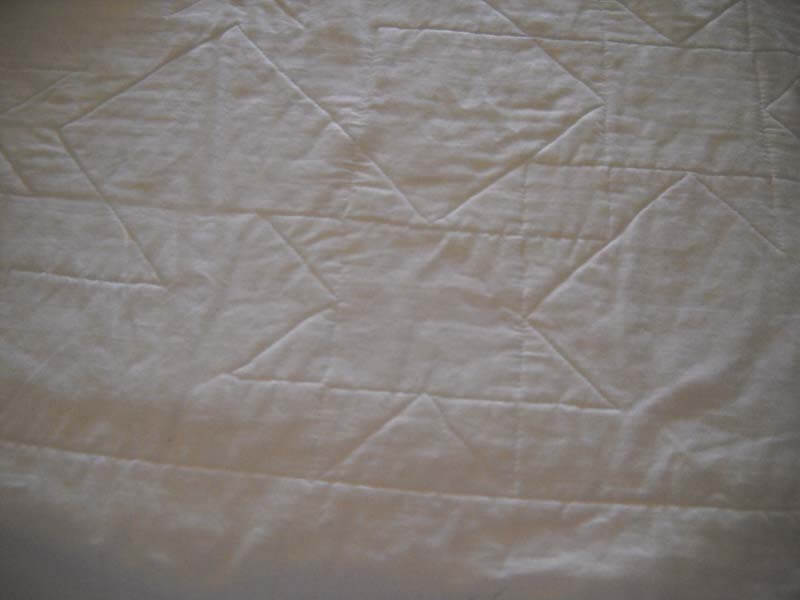 Part of what was so much fun with this quilt was looking at each of the various sections and deciding what I wanted in each place. I happened to have four different Superior Threads that would blend perfectly, as the purpose with these small quilts was to show off the marbled fabrics. I used the Superior silk thread for the first time in the green sections and loved it. You can see in the stars I did some loops (more like zentangles) in the backgrounds of the stars, and did some free motion curves in the points. Everything is very subtle.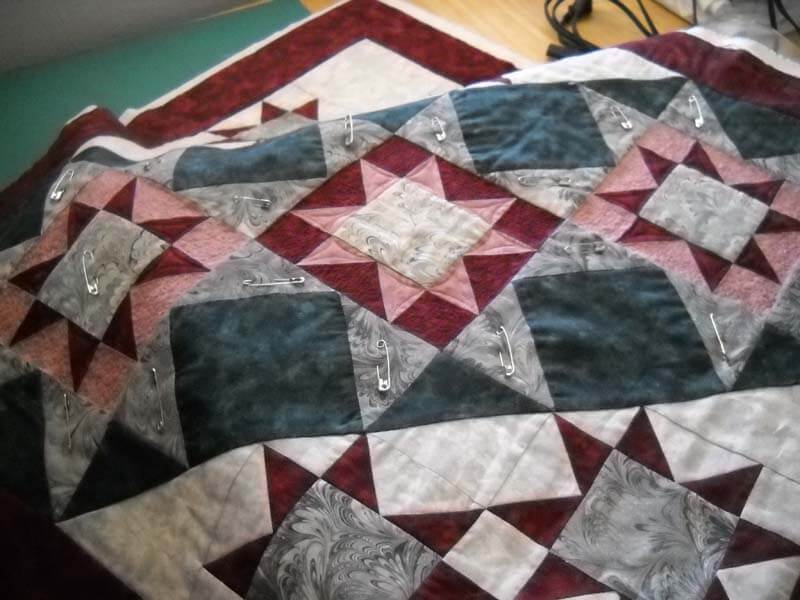 My free motion loops need work here. I think it's a combination of speeding up the machine, as I do move my hands and the fabric pretty quickly with these loops. I'm not happy with the stitch size – very inconsistent, so I know I need more practice.
Now while I don't subscribe to the quilt police, I really do like to have a ice back to the quilt. While I had some tensions problems, overall I am THRILLED with the back of the quilt. The whole thing finished is going to be gorgeous!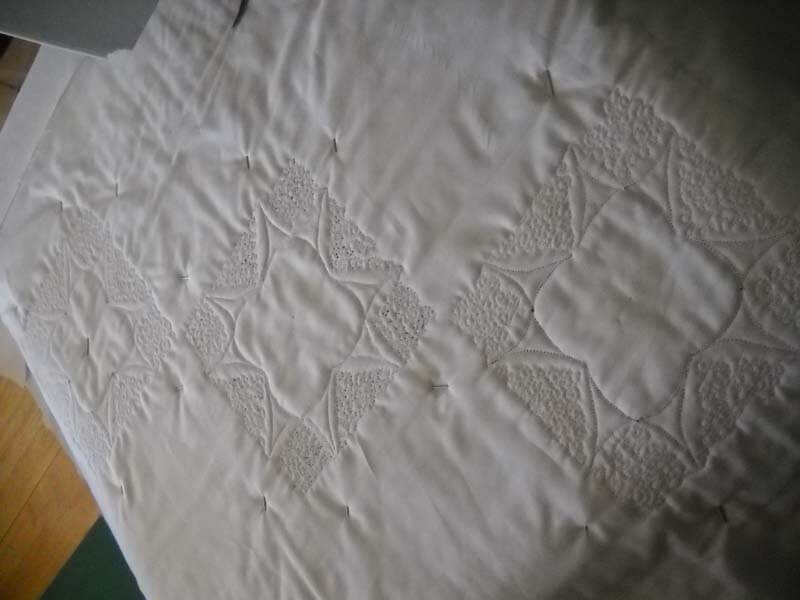 Of course I had to include some feathers, so each of the green squares has a circle of feathers – more like a rosette. Love them!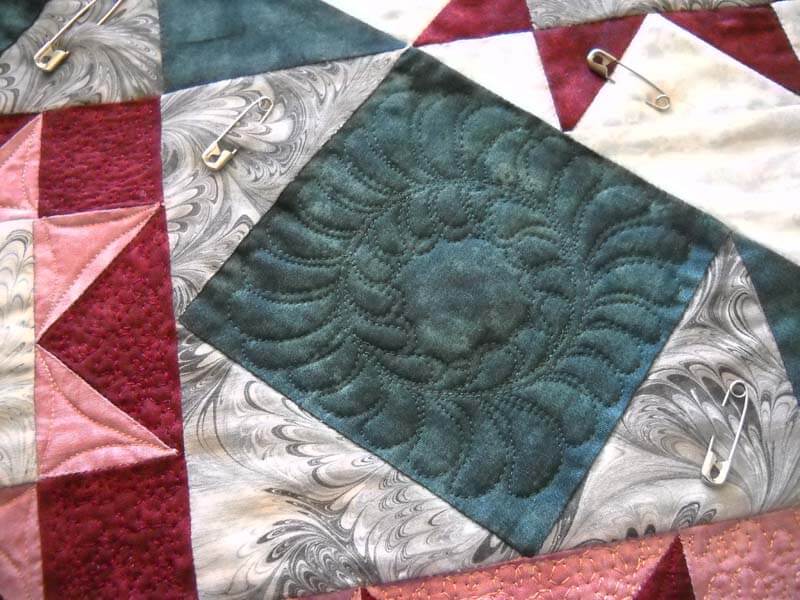 I thought I had more pictures, but evidently not. Tomorrow is a picture-taking day, so hopefully I'll get the rest up. I need the feather borders, the white squares, and the back.
Later – packing for the trip!

Those of you in the Seattle area hopefully know about StashFest – a fund raiser for the La Conner Quilt Museum. It will be Saturday, March 31 and Sunday, April 1. We're headed up with LOTS of marbled fat quarters to sell and add to the funds for the museum. We spent all of January and a week in February making fabric – hubby turned out great pieces and experimented with a lot of new patterns. You can read more here.
So this week is finishing up a few loose ends and starting to pack. I won't take quilts off the wall just yet, as we just put them up, and I don't want too many days of bare walls! The quilts we're taking are of two kinds: some fairly traditional patterns that show off the marbled fabrics, and some art quilts that are more "whole cloth." We've learned over the years that too many people think the fabric is wonderful but don't know what to do with it. Hence the two types of quilts.
Special order forms, newsletter sign-up forms (yes, I know, I still need to do a newsletter…..just wait till we return and I get back in gear), quilts, care codes, velour to cover the tables….lots of little things to think through. But we are organized as ever…we could actually leave tomorrow, we are that ready. But I still have tutoring and some end-of-term grades to finish for Art Institute. Plus, I want to see if I can squeeze in some photography of two quilts before we leave. All the marketing lately has been in preparation for this show.
We also want to incorporate a longer vacation, as we have never been to the northwest. We're reading the guides and making plans. I plan on posting when we're gone….I just don't know how successful I'll be incorporating photos from the iPad. Now about gas prices…..a gallon of gas was a lot cheaper when we committed back in December. But we'll be able to take a lot of public transportation in Seattle and POrtland, so we should save money – and frustration – that way.
We will be coming back to a large commissioned order of fat quarters, as well as two show deadlines….and three more table runners to complete (but I've figured out a shorter way of putting them together).
Life is good!

So I spent a good chunk of today working on some new machine quilting. As part of the Machine Quilting Challenge, I have been really exploring these new techniques. I have decided to take apart all my older quilts and requilt them, as a great way of practicing these new patterns. I truly thought I never would be able to do feathers without doing them by hand. Thanks to Diane Gaudynski's tutorial, I can now do them, and I am enjoying all the variations.
In preparation for StashFest in Seattle, we will be packing all our quilts that use marbled fabric. I have a couple of early block-of-the-month quilts, and I spent three hours last week taking all the original stitch-in-the-ditch stitching out, as it looked pretty lame – but at the time it was the best that I could do. Now as I'm working on this, I am really enjoying the process of decided what to do for the quilting. It used to be stitch-in-the-ditch or stipple. Way more choices now.
What is also really nice to see is that I can get a lot of quilting done in a lot less time than I had originally thought. With about two hours of quilting over the last three days, I have everything done except for the borders. And I have really quilted this little quilt.
Expect pictures on Work-in-Progress Wednesday, as I should have the borders finished. All that will be left is the binding (need to find some of that border fabric (from ten years ago…I still have some) and repair a few boo-boos from taking it apart, and then add the sleeve for hanging. My to-do list grew a lot this weekend, as I have a LOT of quilts to now requilt and practice on1MQ, free motion quilting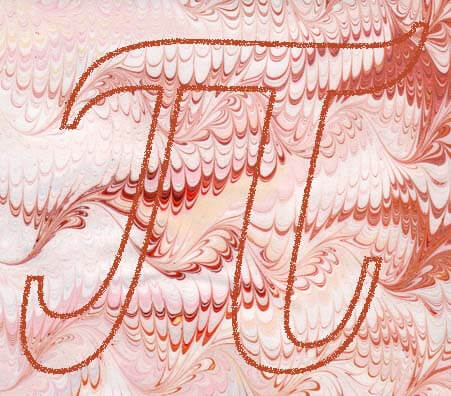 Happy Pi Day! It's the math nerd in me celebrating……no more having to plan special activities. Now back to regular blogging….(I started this on the iPad….)
Hmmmmm…..not sure if this is going to get any better….took me forever to log in, but I think I figured out what I was doing wrong…..now to get the pictures I want…..
That said, it has been pretty productive when it comes to fabric, even amidst the move. I finished my iPad cover with the feathers from the February free motion quilting challenge, and I'm really happy with it. In fact, at a birthday party last night, three of my friends want one and suggested I put them in my Etsy store. Something to consider idea when we return, as the Etsy store is disabled right now, as we are taking some of the product, with us to Seattle.
The front is a great big feather. I love the ideas people are posting, so I went with some Superior Rainbow and added some extra spines.
I added a small facing, and then added velcro to the inside in three different places to hold the cover closed.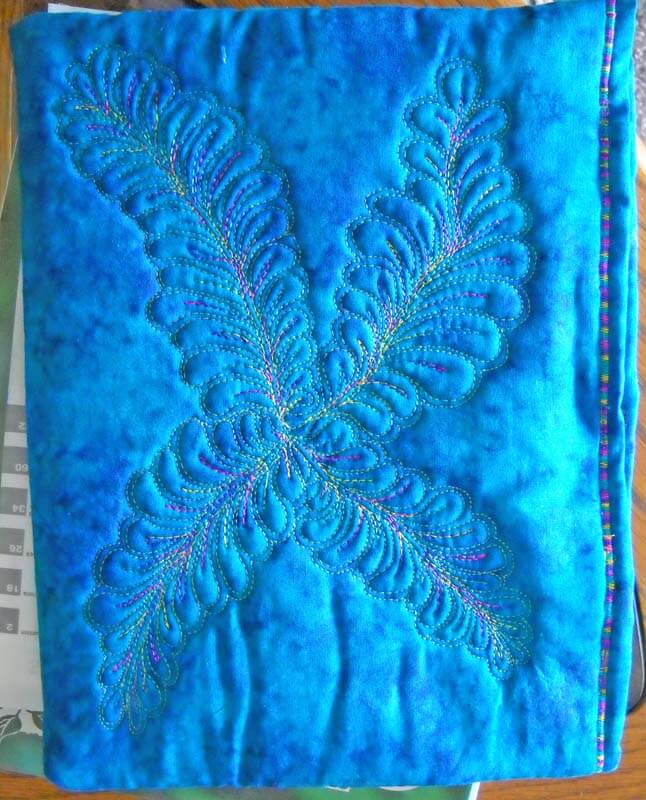 Some things i would definitely change next time around, but overall, I LOVE it….never thought I would be able to do machine feathers!
Now for an update on Visions……I didn't get in. Plain and simple. But….I'm okay with it, despite the fact that the very first show I ever got into was a fairly prestigious one. I know that the work is excellent; it's some of the best I've done. And I have more ideas just ready to go. It just seems like the only way you get validation for your work is to get it in to major shows. I will keep making work, because that's what I want to do.
If it weren't too old (2003), this is what I would have entered: my absolute, favorite piece ever. I won't sell this, because I'll never be able to make another one. It is now on the wall in our new home, as we actually have wall space for it. This is part of the Gaia series, where I do weavings with strips of marbled fabric. This is Gaia 2: Beginnings, affectionately know around here as my Pele quilt.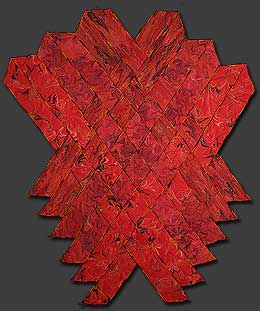 My machine quilting skills have come along tremendously since that piece. The fabric of "The Shallows" was created about the same time, but it has just been in a drawer, waiting for the right time, which I figured was now.
Here's the fabric at the beginning – it looks pretty bland.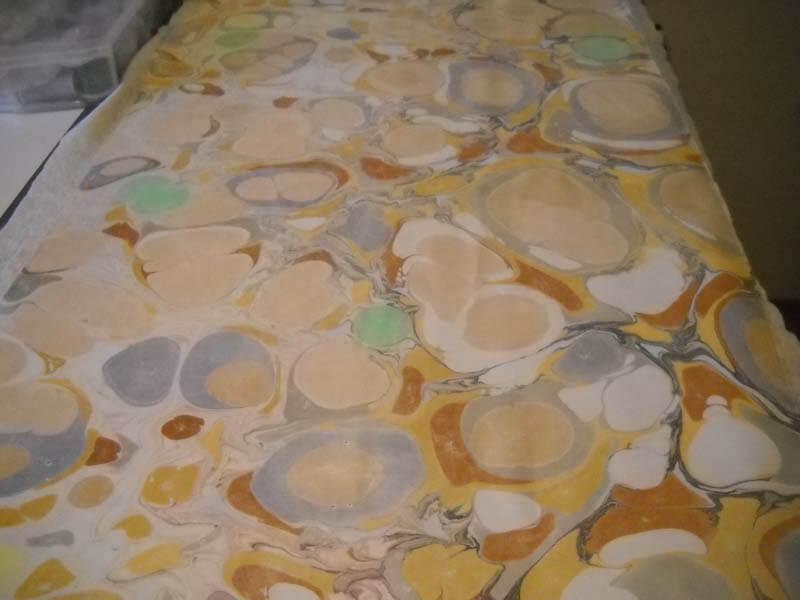 It's a pretty large piece of marbled fabric.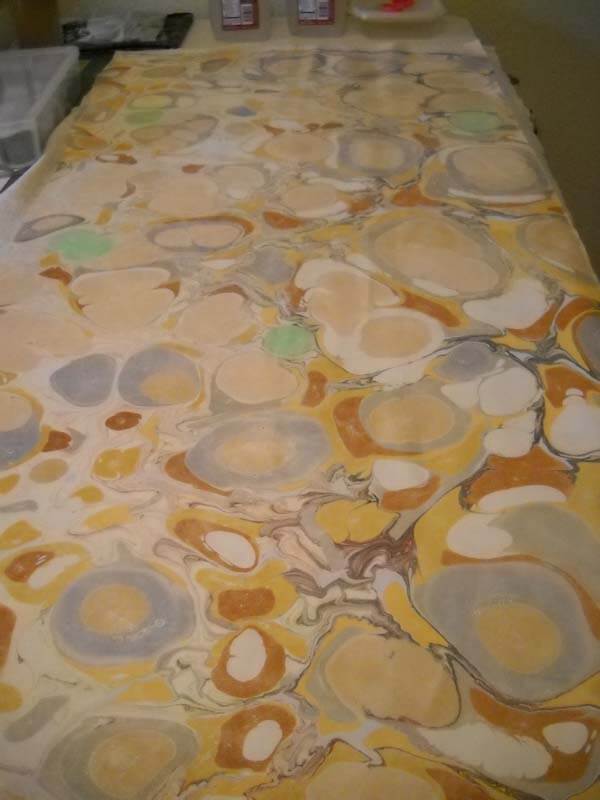 Making some early decisions on thread and backing. Everything was done with Superior Thread – Bottom Line in the bobbin, a mixture of King Tut and Rainbows and Art Studio for all the rocks and shading. (I never did take a pic of the back…..)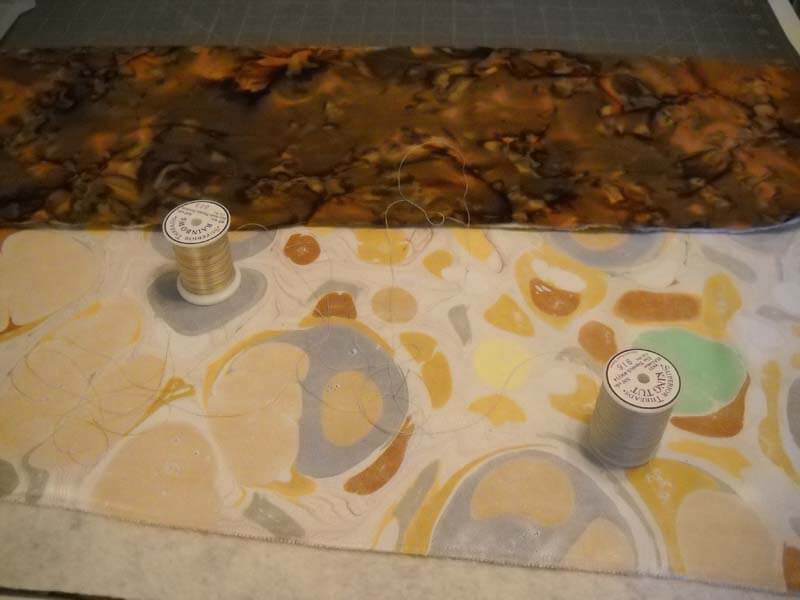 I knew how I wanted to start, but I wasn't thrilled with how the fabric looked, after not seeing it for so many years. I thought in my mind it looked far more interesting. But I started anyway.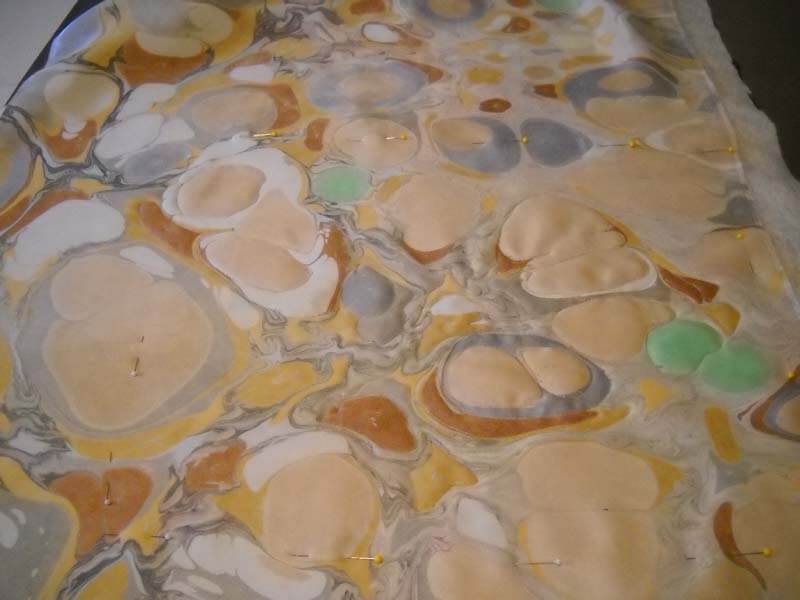 Already I could see improvement in texture, so I figured I would be okay. But I was worried about the green spots, which were originally designed to be some kind of leaf….now I was thinking lichen. I also wasn't happy with the amount of white showing…needed to do something with that.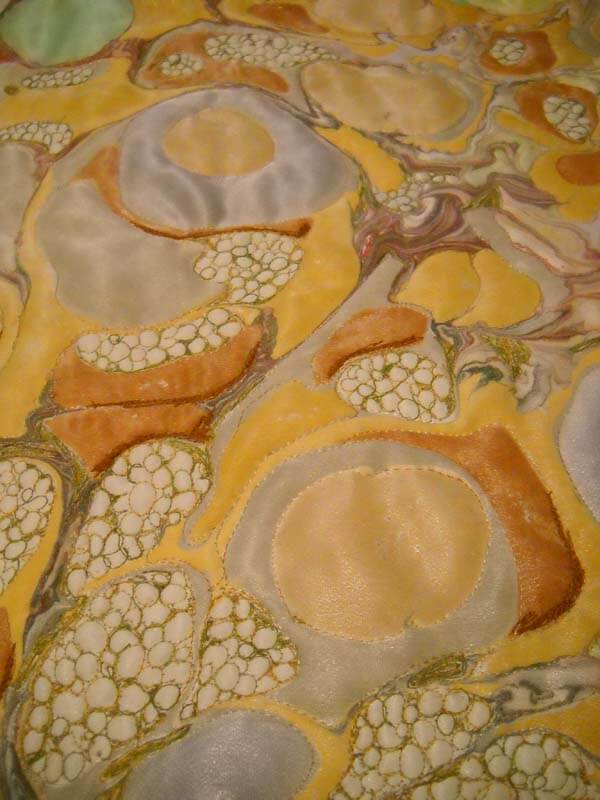 At this point I am becoming quite enthused with how things are shaping up…..but that's a LOT of pebbles, and it took most of December to get the pebbles where I wanted them, without affecting the "veining" left from the marbling.
I was also starting to think about shading, which I guess is more thread painting than free motion. I consulted with my art mom to get advice on scientific shading, in which the light source always comes from the northwest. So I needed to start thinking about shading all those rocks…..at this point I became very aware that there are a LOT of rocks. YOu can see some of the beginning shading here.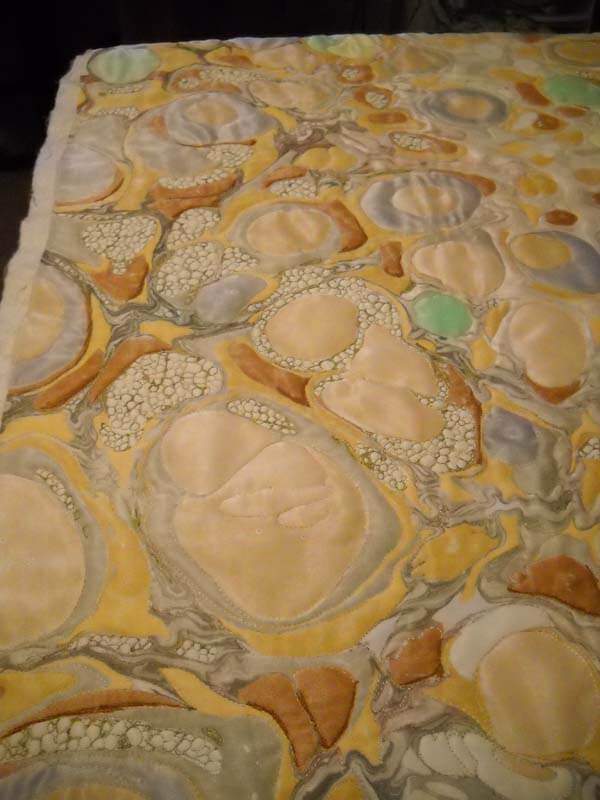 So January hits and I'm aware of my deadline, knowing I need to leave time for photography. I'm shading, and doing pebbles, and thinking about trimming. About one-fourth of the right side is cut off, as the proportions seemed much better without it – and a lot fewer pebbles that had to be completed…. I needed to think through the lichen, and if you look closely at the detail, it's shredded money – perfect texture!
And finally: The Shallows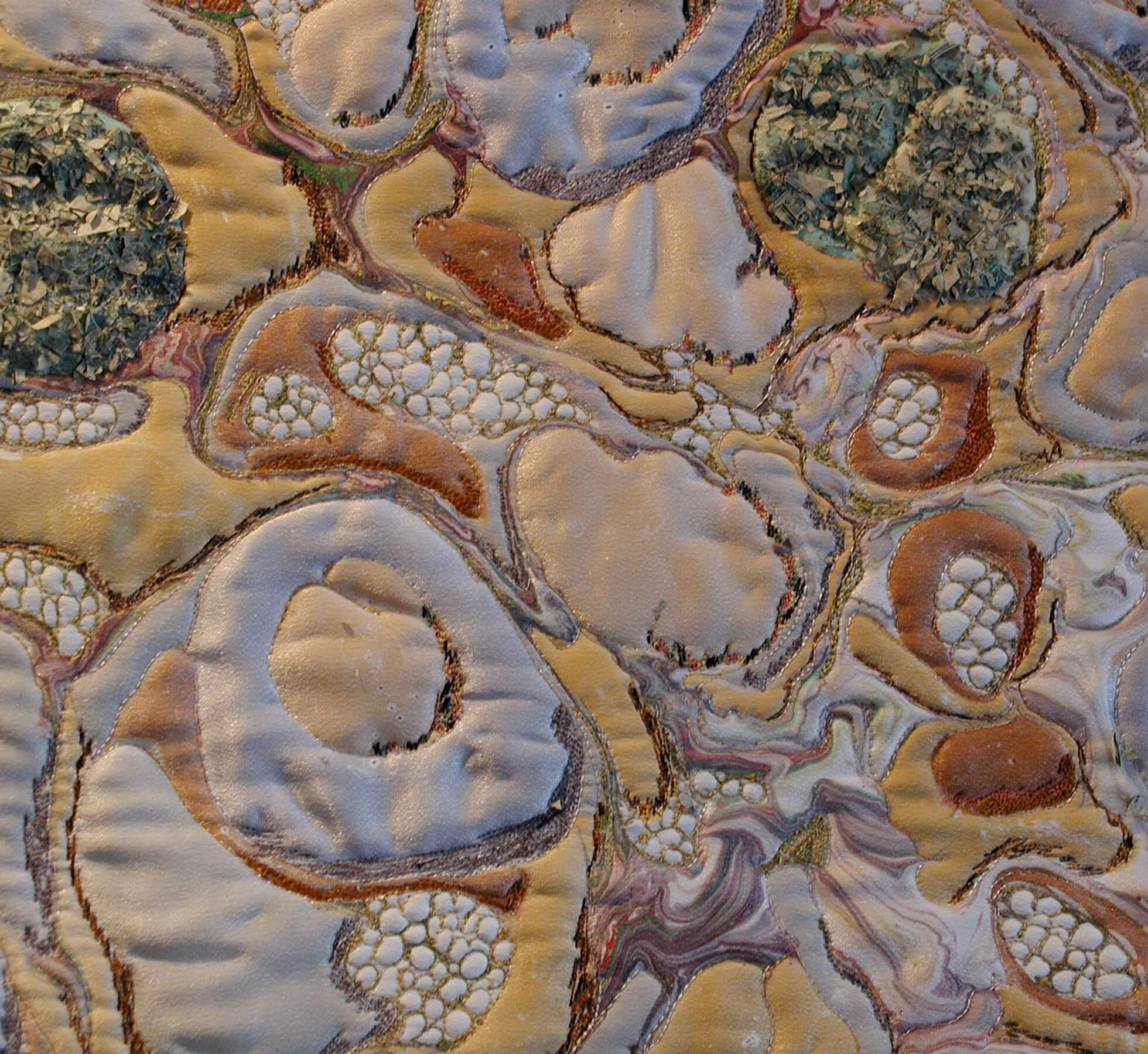 It's a far cry from the original fabric, and it is now proudly hanging in our new home.
Water, water everywhere…..from Cool Hunting this week comes a look at a public art project about water . and just how much really is drinkable on this planet. Called The Water Tank Project:
To draw attention to the urgency of water conservation, the not-for-profit Word Above The Street will work with an elite roster of artists to wrap 300 of NYC's beloved water towers in a museum-in-the-sky mission aptly dubbed The Water Tank Project. (from the website)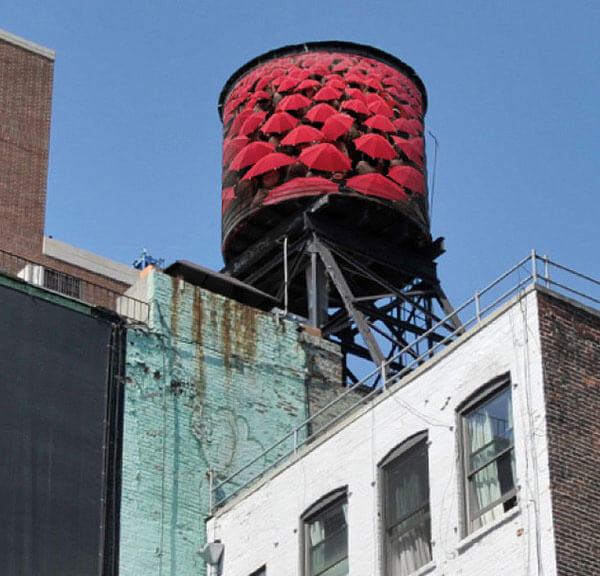 Again from Cool Hunting, an interesting new art exhibit. Take a look at this bird and the nails created to it.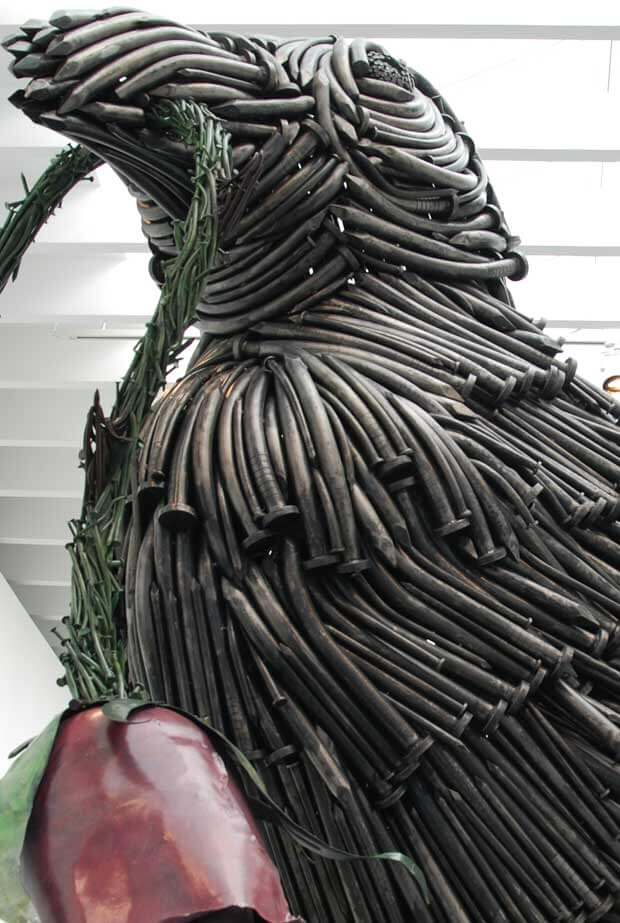 Quilts from street signs? A new installation in Memphis by Greeley Matt.
Letters from Note is a blog I stumbled upon about a month ago, and the letters on there have been truly amazing, heartfelt, and depressing. Herewith, in my attempt to keep the fires of history alive, the latest – this literate gem from Frederick Douglass.  :I am your fellow man, but not your slave."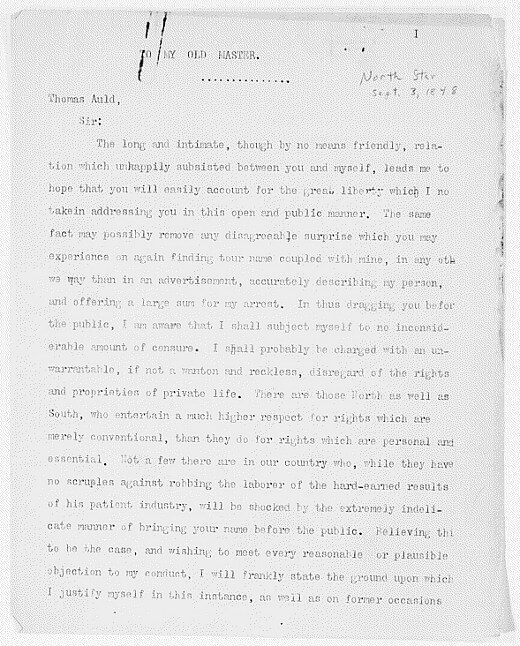 Things like this next video really make me miss snow!
Snow Circles from Beauregard, Steamboat Aerials on Vimeo.
Saw this on Kathy Nida's great blog last week. Here's the original video "Love is Making Its Way Back Home," made completely from construction paper. And this link tells you how the video was made.

An interesting piece of world history that most people don't know…unless you're Norwegian. Another chapter in nonviolent resistance.

From the 365 Project – again, pretty amazing photography.
More amazing photos from 365 Project:
And finally, from Dumb Little Man: Time to Kill Your Mental Boundaries. Stop limiting yourselves, people!
http://www.dumblittleman.com/2012/03/time-to-kill-your-mental-boundaries.html
P.S . I am finishing this post on my iPad in preparation for blogging while on the road. It may be a challenge, but I'm totally up to it! (so maybe adding links in going to be a challenge….) I enjoy writing too much to let a couple weeks go by…plus, theree's a book in the works that needs tocome out, so I can woriron the road……well, maybe not literally……
PPS – just found this one as I was going back through old emails…..really funny.

   One would think that once you are in your 60s you would stop having mid-life crises…..evidently not……..Seems I am once again concerned with the direction my artistic life will take, now that I'm retired. This thinking has kind of evolved over the last two-three months, as I realized I had over-scheduled my retirement on a weekly basis. College algebra on Monday (which takes 6 hours on Monday, plus a good chunk of Sunday for preparation), tutoring on Tuesday afternoon, yoga on Wednesday, tutoring on Thursday afternoon, yoga on Friday……add in an unexpected move, and there's been virtually no sewing time these last six weeks. Not a happy camper……
So what to do? I have one Monday after today to finish the term, and then I am putting this teaching on a long-term hold. One of the reasons I retired was because I didn't want this grind any more. I know I could teach more classes, but aside from screwing up SSI, I really don't want to get back into the teaching focus. Yoga is a constant; I will keep my two mornings a week. I feel good and I am making weight progress. I'm going to keep the tutoring, as it is more rewarding, doing the one-on-one work. I picked up an additional client short-term, and both clients now will be a total of 6 hours a week, spread out, over several months at a time. That's fine, because I can adjust travel schedules as needed pretty easily.
All that said, nothing much has gotten done on marketing. It took me forever to find the time to get new business cards made for the Seattle trip. February just flew by in a blur. This week are are attempting to finish the last of the marbling for StashFest, and we have already started to put things aside for packing. Two weeks from today we will be somewhere in California, headed north. I decided to redo a smaller quilt from about 12 years ago, to take along another example of the marbled fabrics with more free motion quilting. Spent about five hours over the weekend ripping out stitches. Surprisingly calming, not that I need another project…..
The rest of the marketing for the quarter is on the back burner. Visions got completed and entered…and I learned last week that the piece didn't get in. Oh, well….this time at least I am philosophical and not pissed. It's still a great piece. But I am rethinking the entering-shows-again route. I will keep making art, regardless. I do work well with deadlines, however, so I need to keep that in mind. And I do want to get back to taking some classes on line, once we are  back from Seattle.
Still no newsletter, and blogging took a big hit for about three weeks……just when I was getting so close to 3000 visitors. How important is all that? At my age, being retired, just how much of the marketing/business work do I really want to do? I find that if I don't have one or two days a week to just sit outside, read, and generally veg, I'm not happy. So it's time for some rethinking. And time to enjoy this new trip that's coming….never been to Seattle and Portland, so we're saving our pennies, given gas prices and the fact that the tax refund was virtually non-existent, so we can have some fun…and  possibly buy some new art!

  So we've been in our new place for nearly two weeks, sleeping through the night, and hubby is about to start cutting back on his insulin, since his sugars are coming more under control. What is it about a place to live that appeals? I think I can kind of speak from experience, as I've lived a lot of places. When we bought our first home, that's what young people did. The American Dream – you own a home. We were not employed regularly – I was substituting, and hubby was working on commission for an employment agency, but we qualified, and our first house payment for $325. Ten yeas later we were trying to sell in a depressed market….we've done that twice, now.
This home was about 1500 square feet. We couldn't afford furniture for the whole place. We had three bedrooms…because that's what everyone did. One was an office, and one was a spare room, even though we rarely had visitors. But it was a great open floor plan, and something we have looked for ever since. Of course we also had the autumn harvest gold appliances and green sculptured carpet…….
Our town home in Maryland also had a nice layout, open, good kitchen. We had a downstairs that we used for caning and sewing, as I was just getting in to quilting. The only thing we wished we had was an outdoor patio. We like sitting outside. Plus, nice walking in the area. One of the things we will always treasure about that place is that my in-laws spent six weeks with us there, with my father-in-law walking around most of Ellicott City.
The house we bought in Tucson also had an open floor plan, nearly 1300 square feet. We had a small backyard, and we were actually able to do some nice landscaping. Turned out quite lush, and with the spa, we really enjoyed being outside. But again, the neighborhood went down, and we were stuck in a slow market trying to sell.
After this house, we kind of got out of owning a home. Too much work and upkeep, so we looked at renting. We rented a house  that was HUGE – space for a wet marbling studio, a dyeing area, and a separate sewing room, plus a designated office. Old house in need of a lot of work. The rent was beyond us, for just having left the learning center and going back to teaching full time. That pretty much told us we needed to look at rents that were around $750, maybe a little more as my salary increased. Back yard here was worthless; pool had been filled in, no trees left, and just not comfortable.
What makes this new place so nice is what we decided we actually needed to be comfortable: a good studio space, in a second bedroom. We don't have company a lot, and if our good Vermont friends come out, we'll close up the cutting table and rent a double fold-away. Good light is critical, especially since we both have some decreasing vision issues. A kitchen that we can work in together: we just came from a galley kitchen where one person couldn't get past the other. Open floor space, and a good outside area. We don't need the upkeep of a yard, just a nice place to sit out. And – good wall space for our variety of art work. We actually have some space left over right now, and now we can look to buy some larger art work when we're traveling.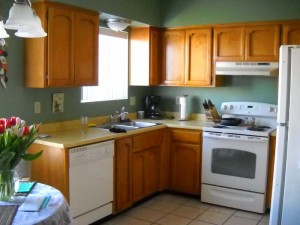 The energy feels just great – lots of light, good nights' sleep, and room to move around. I'm going to start some vegetables when we get back from Seattle in our backyard, and if it works, we've got room for a compost container. Love this place!!

Maybe it was always the new sense of adventure, but we have moved a lot since we got married. Of course, the biggest move was Vermont to Phoenix….in retrospect we probably should have gone to California, but we thought housing was too much. 36 years later, hmmmm….. So we loaded the U-Haul truck the last day of school, got married that night, and headed to Phoenix in the morning. We spent a few months in an apartment on Camelback – seemed the height of luxury, with a pool and spa. We had a fun time looking through all the home developments. Seems like we could always tell when a house was over $50,000….
Oh my goodness. I just looked on Google Maps….you definitely can't go home again on this one…..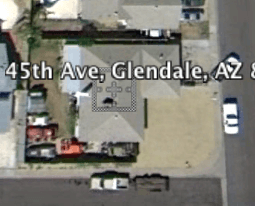 We spent HOURS on the landscaping for this house. All desert, lots of trees. Look at the junk cars, and that seems to be a police car out front……We lived here for nearly 10 years, poor as church mice, but we had a really nice front yard and two beautiful cottonwoods in the back. We were close to Metro Center, and we watched the west side of Phoenix develop over the years. For a few  years we could still smell the orange blossoms until all the orchards became housing developments. )shivers….)
From here we moved to Maryland, and we had a fabulous townhome, with lots of room, and about the same rent we are paying now……right across the street from the local library. We really enjoyed Ellicott City. We got there just before Christmas, and on Christmas Eve we drove into "downtown" historic Ellicott City during a snowfall – it was a fairy land.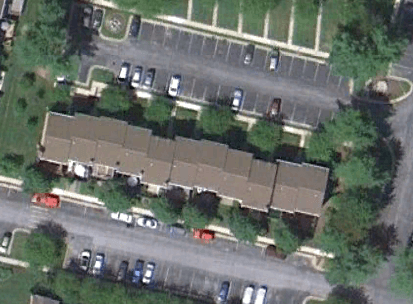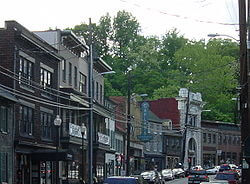 There was a lot we loved about Maryland, including Sunday drives, which in Arizona……not so much……We were there for two years before heading back to Vermont. Then we really started moving around: Pine Street apartment for a few months till a fire, the Brown Motel for a few months because of the fire, and then down on Lake Champlain….a townhome about a quarter mile from the lake. Great bike paths, and one summer spent swimming a few times in the lake.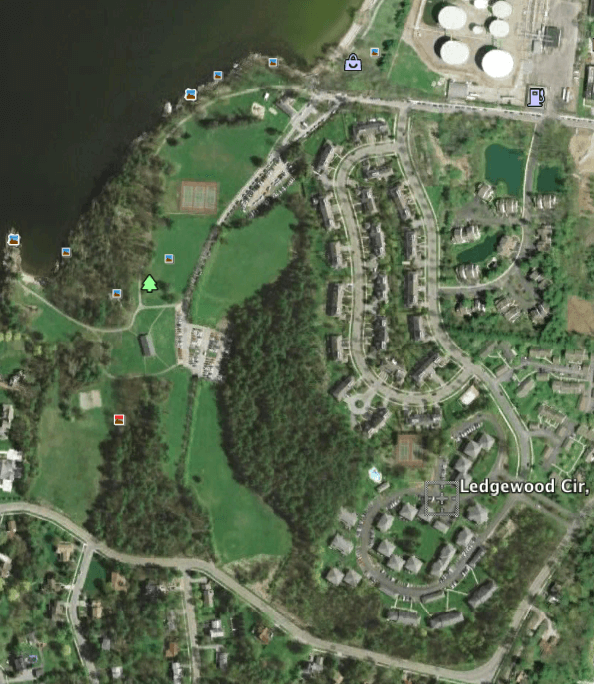 From there it was a townhome in Underhill (lease ran out) for two years, and then a small basement apartment in a house in the back woods, as we were planning on moving back to Arizona.
We're in the lower left for the townhome. I loved walking the road along the Brown's River, named for hubby's family.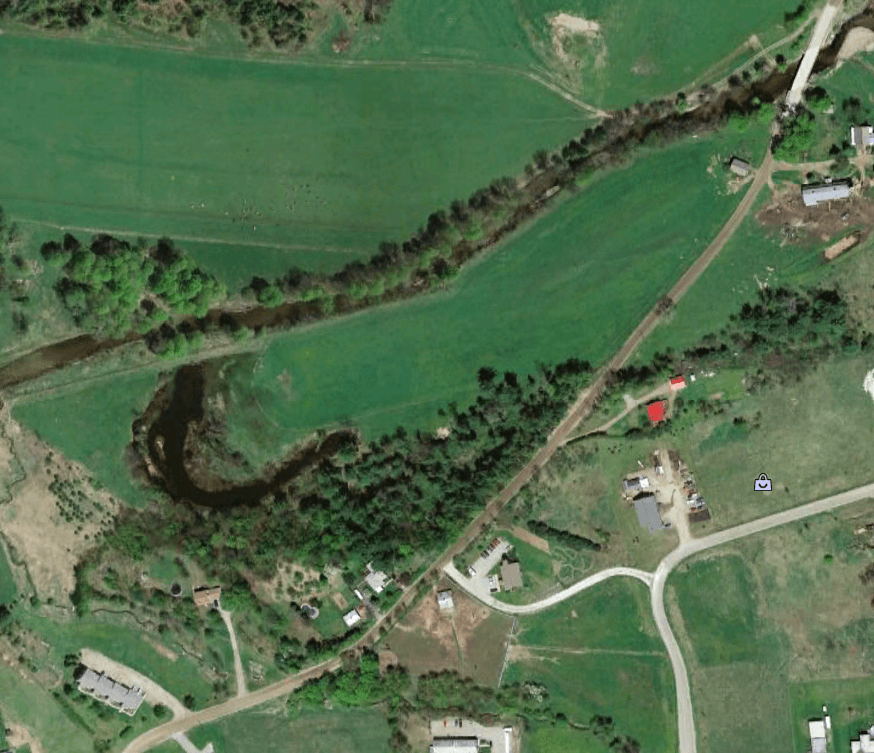 Loved being in the boonies, except for the year before we left and our first true mud season…..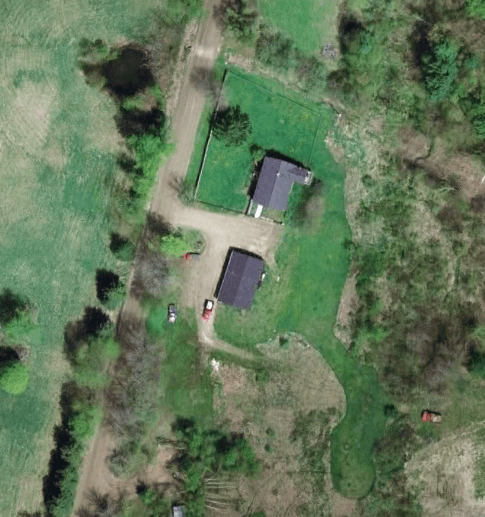 Then it was back to Arizona, Tucson this time. We've been here almost 18 years: Mona Lisa apartment (limo parked below us that had a car alarm that went off ALL the time, especially at 2 AM), Wilmot North apartment (the first time until we bought our house), our house on Nastar (for 5 years, until the neighborhood started really deteriorating), the rental on Paseo (which we loved because of all the space, especially for a studio, but way too expensive), Wilmot North again (until the major drug deals and Section 8 housing), Pantano apartment (obnoxious children upstairs), townhome on Esperanza (barking dogs and drug deals across the street), Carondelet apartment (NOISE!), and now finally this townhome. I think we can safely say no more apartment living for us. And…no more moves for us. We see some place around the country that we like, we'll just visit and keep Tucson as our base.
However, I can pack and unpack a house in no time. Those are some definite skills, but this last move was a killer in terms of physicality. We are too old for all this packing up and moving around……