So we've been in our new place for nearly two weeks, sleeping through the night, and hubby is about to start cutting back on his insulin, since his sugars are coming more under control. What is it about a place to live that appeals? I think I can kind of speak from experience, as I've lived a lot of places. When we bought our first home, that's what young people did. The American Dream – you own a home. We were not employed regularly – I was substituting, and hubby was working on commission for an employment agency, but we qualified, and our first house payment for $325. Ten yeas later we were trying to sell in a depressed market….we've done that twice, now.
This home was about 1500 square feet. We couldn't afford furniture for the whole place. We had three bedrooms…because that's what everyone did. One was an office, and one was a spare room, even though we rarely had visitors. But it was a great open floor plan, and something we have looked for ever since. Of course we also had the autumn harvest gold appliances and green sculptured carpet…….
Our town home in Maryland also had a nice layout, open, good kitchen. We had a downstairs that we used for caning and sewing, as I was just getting in to quilting. The only thing we wished we had was an outdoor patio. We like sitting outside. Plus, nice walking in the area. One of the things we will always treasure about that place is that my in-laws spent six weeks with us there, with my father-in-law walking around most of Ellicott City.
The house we bought in Tucson also had an open floor plan, nearly 1300 square feet. We had a small backyard, and we were actually able to do some nice landscaping. Turned out quite lush, and with the spa, we really enjoyed being outside. But again, the neighborhood went down, and we were stuck in a slow market trying to sell.
After this house, we kind of got out of owning a home. Too much work and upkeep, so we looked at renting. We rented a house  that was HUGE – space for a wet marbling studio, a dyeing area, and a separate sewing room, plus a designated office. Old house in need of a lot of work. The rent was beyond us, for just having left the learning center and going back to teaching full time. That pretty much told us we needed to look at rents that were around $750, maybe a little more as my salary increased. Back yard here was worthless; pool had been filled in, no trees left, and just not comfortable.
What makes this new place so nice is what we decided we actually needed to be comfortable: a good studio space, in a second bedroom. We don't have company a lot, and if our good Vermont friends come out, we'll close up the cutting table and rent a double fold-away. Good light is critical, especially since we both have some decreasing vision issues. A kitchen that we can work in together: we just came from a galley kitchen where one person couldn't get past the other. Open floor space, and a good outside area. We don't need the upkeep of a yard, just a nice place to sit out. And – good wall space for our variety of art work. We actually have some space left over right now, and now we can look to buy some larger art work when we're traveling.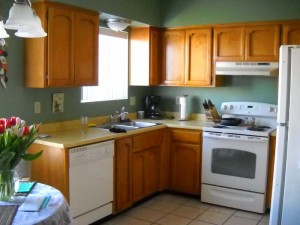 The energy feels just great – lots of light, good nights' sleep, and room to move around. I'm going to start some vegetables when we get back from Seattle in our backyard, and if it works, we've got room for a compost container. Love this place!!