I write regularly for Handmadeology, a blog about all things handmade, and the blog is strongly connected to Etsy sellers. As I am trying to REALLY work at having a good holiday season this year, rather than letting it fly by me, I took all the advice I found in these sites!
It's almost October, and if you're an artist of handmade, you are gearing up for the holiday buying season. It seems early…but it isn't. I thought it might be helpful to see what else others have written about the holiday shopping season. I scoured Handmadeology to collect a set of articles relevant to holiday buying. Some good stuff in here!
Preparation H – H is for "Holidays!"  Packing materials, your mail carrier/s, feeding your family – all things to keep in mind as you get very busy and start to run out of time.
The Holiday Rush Etsy Marketing Formula – this is a free 5-day course. I just read through Day 1, and even though I consider myself pretty savvy about online marketing, there are definitely a couple of things I can do to improve visibility. I'm headed out to look at Digg and Kaboodle today.
25 Things to Do on Your Lunch Break to Further Your Handmade Business – while not directly holidays, there are some good ideas for when we are pressed and thinking there is ot enough time. I really like this one: make lists of your key words – that definitely saves you from writer's block when you are doing your descriptions.
Etsy Sellers Can't Afford to Ignore Pinterest – true, true, true. I started pinning a month ago and have seen a definite increase both in traffic and sales. This is a really interesting stat: American users spend an average of 1 hour and 17 minutes on Pinterest compared to Twitter at 36 minutes, LinkedIn at 17 minutes, and Google+ at 6 minutes. In terms of the holidays, set up a Pinterest account and start pinning your holiday items.
Your Blog Post Promotion Checklist – for those of you who write a regular blog, here are some great ideas for getting the most out of a post, plus a listing of additional articles on promoting your blog. One of the best tips? Comment on other blogs. I need to get back to doing this regularly. And….REPLY to every comment you get!
Promotesy: this is a new app from Handmadeology to help your organize and maximize your online presence for your Etsy shop. It's easy to sign up for, and at $5.00 a month, it's a deal. I've just started using it (as of yesterday), so I will keep you posted on how it's working.
Three Steps to Freshen Up Your Etsy Shop and Be Found Again – wasn't aware of the "Trending Now," and this is definitely something I will be checking out.  Also, change some of your descriptions to match the coming holiday season…..good idea, and I'm off to do that!
As I've been doing the research for this post, I realize that even if we think we know a lot about marketing on line, there is always more to learn!! I'd love to hear your insights, so feel free to leave a comment: what's been working for you?

There is a really wonderful online gathering of artists involved in fiber – worldwide. It's The Textile and Fiber Arts List – TAFA, for short. I am trying to get to know more of our 400-plus members, and I thought I would share what I'm learning with you, on a more regularly basis. There is such an amazing wealth of talent on this list, and I'm pleased to be a member. Please enjoy these profiles, and don't hesitate to visit their websites and immerse yourselves in wonderful textile art.

"Always looking for something new and different. Doris Florig has now discovered the plant used for Indigo dye in the Caribbean and will now add this color to her next tapestry. She uses a combination of both natural and synethic dyes to get the exact color needed for each fiber work of art. She weaves day and night, none stop. Currently she is working on a 5′ x 5′ commission piece of the Wind River Range in Wyoming. At the same time she is preparing large body of work to be exhibited by the Yellowstone to Yukon Conservation Initiative. She is accomplished creating both contemporary and traditional tapestries, fiber mobiles and sculptures. This summer she will be the guest artist at the National Wildlife Museum in Jackson Hole, Wyoming. She will be exhibiting her wildlife fiber sculptures and presenting and interactive demonstration. Doris loves to make connections through fiber art and would welcome your email comments and questions. " 2dmagic

"We are predominently a textile, fibre, quilt, art school, plus other mediums like mixed media and altered books, etc. The aim of the school, is to not only share this beautiful region of Italy with students and tutors, but for you to participate in the unique Abruzzi culture." Don'tcha just want to fly away? Abruzzo School of Creative Art.

"Affaires Nomades, is a textile brand that transcends cultures, stimulates dreams, and gives you a taste of the nomadic spirit. The inspiration of the "Fragments" collection comes from the nature, the space and the depth, which evokes a sense of travel in the daily life. I want a home that feels organic; it changes as the person who lives in it changes. " Affaires Nomades

"Afghan Tribal Arts specializes in hand carved natural beads made from semi-precious stones (jade, carnelian, lapis lazuli, etc.). As stated above, we also carry textiles and other crafts, mostly vintage. We have worked hard at getting our Etsy shop stocked with samples of our inventory and will continue to grow the shop there. We also have a website which has examples of past products. As almost everything is one-of-a-kind, it's a challenge to keep current inventory on the site. We have found that the Etsy shop is the best solution for this right now. I have a bead show route between Wisconsin and Florida and can have textiles on hand for those who are interested. But, as the travel and show costs increase, I would like to do less traveling. I am open to trunk shows and events so get in touch with me if you would like to set something up. Afghan Tribal Arts is basically a wholesale operation. We are selling our products on Etsy just above wholesale. We also have a gallery in South Carolina." Afghan Tribal Arts

"I've been a textile artist for since I was 20. Quilting is my passion and I've taught internationally, written 2 books on landscape quilts and exhibited my quilts from Houston to Tokyo. My recent passion has been to develop a fair trade business importing textiles,beads,baskets and dolls from my homeland of South Africa. I'm focused on creating income for women in sewing and craft collectives. I love the work and being connected to Africa through this work." African Threads

This is an important election, not like some I remember when it really didn't seem to make any difference who was elected. Voting is our right and our privilege. Women have not had the vote for 100 years yet. And the picture I have in my mind is of the purple thumbs of the people in the Middle East and Africa who are voting for the first time.
Speaking of the first time, I went to register to vote while I was still in college, but I couldn't prove I graduated from high school. I had to take a literacy test. This is 1968, with the Voting Rights Act still new. I was incensed, but I had a much better understanding of the struggle to vote. The only time I missed voting was in 1994 when we moved to Tucson, and we just didn't get registered in time. Enter Fife Symington in Arizona. Hey, we left Arizona a week after Evan Mecham was elected, and we come back to Symington.
There are a lot of articles and innuendo floating around about being denied the right to vote this year. I'm not sure what's true and what isn't. I do know that NOW is the time to make sure you are registered and have everything you need to vote. The days are gone when all you had to do was give your name at the polling place. I made sure my license has our current address, so I can't be denied my ballot. You are running out of time to register before deadlines. Check. Re-check. Verify. Get your ID ready. Do what you need to.
I had my tutoring student, who is 19, tell me he wasn't sure he was going to vote. It didn't seem worth it, he said. I went politely ballistic, with a brief lesson on the struggles for suffrage. I said I didn't care who he voted for, but he had to vote.
Here's an interesting article: Voting as a Responsibility: How Hard Should It Be. Do your part and be ready.
And…as part of my own personal attempt to support and practice civil discourse, here's an editorial by Captain Mark Kelly on this problem.


I keep getting behind in my surfing!
The 365 Project always has great photography, and here's another great set of examples.
And some more photography – this time taking pictures with smoke. The Art of Smoke Photography. Kinda cool – would like to try this.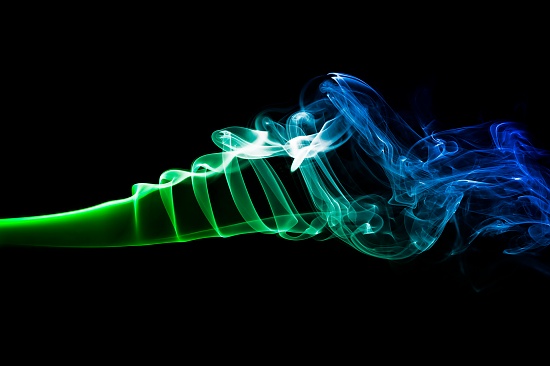 Here's a cool app for photography called DScan from Cool Hunting – let's you shift reality – methinks I need to get this for my iPad…….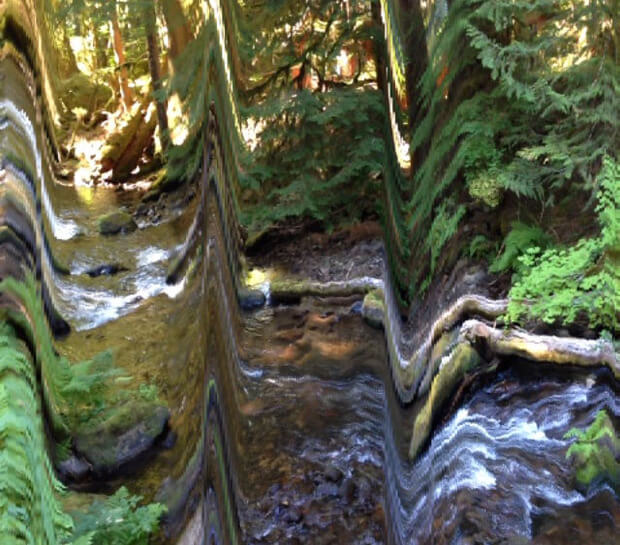 From The Best Article Every Day comes this wonderful graphic that puts another slant on a recent political controversy: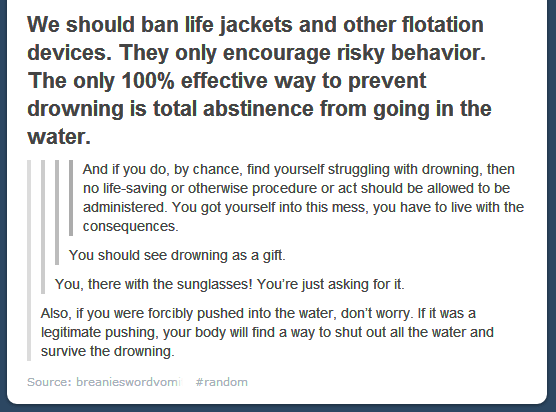 Here are some really cool ideas for around the house, again from The Best Article Every Day.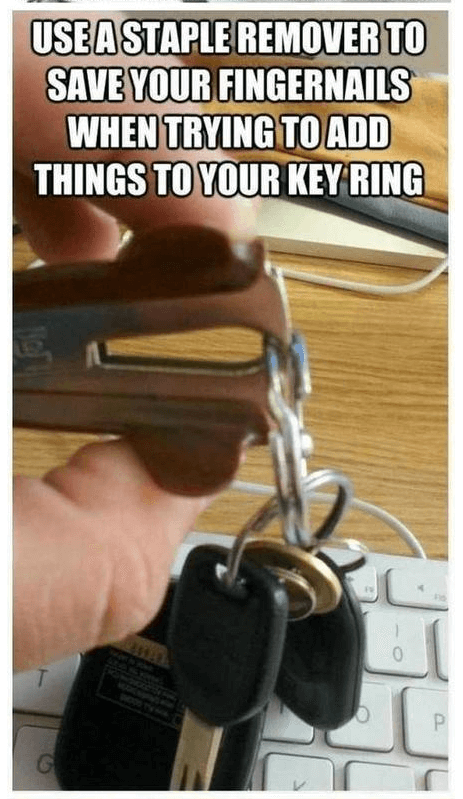 This next is just a feel-good video….

And…for those of you wishing we were still following Neil Armstrong to the moon, here's a great look at what it takes to get to Mars….amazing what we can do……

I very much admire Leah Day and everything she has done for the quilting community when it comes to free motion quilting. Her Sunday posts are un finishing UFOs – unfinished quilts and the like, and her photos of two pieces she completed are just spectacular, and they are motivating! Every time I look at something she has quilted, I am inspired. I too am finishing up projects – three in fact that just haven't made it on line, and it is certainly freeing. Take a look at her amazing work. You need to go to the link and see this stitching up close and personal.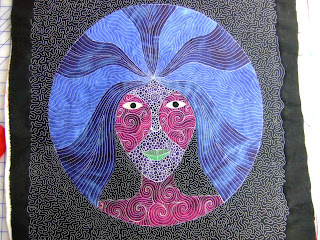 This next is a letter from a mother to her 16-year-old daughter on the day before her execution in Prague in 1950. It is incredibly moving, especially given the political circumstances. Letters of Note always has something of interest, and this is heart-wrenching.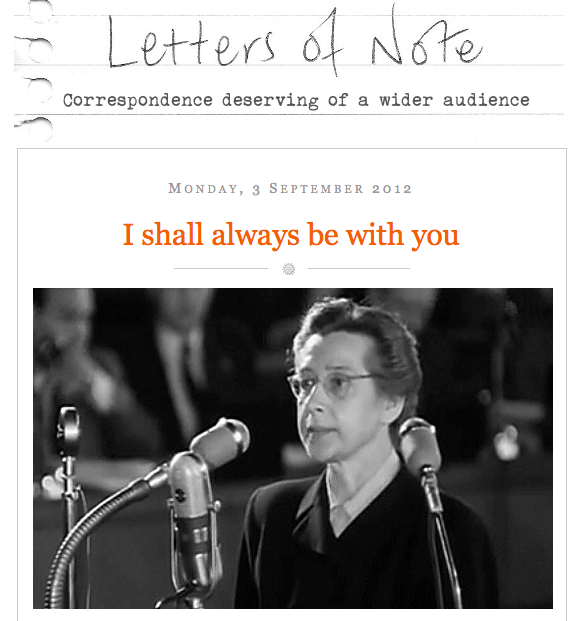 And finally, are you stuck creatively and can't seem to get moving? Lyric Kinard has a great series on her blog called Baby Steps, little things to do that can just get you started moving ahead. Try one or two and see what it does for you.

Have a great week – let me know what you find online that's cool, unique, weird, different……….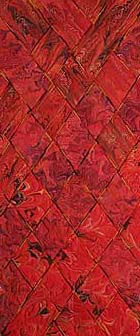 In keeping with my plan to actually write about what I did for marketing on Mondays, I made my list yesterday, as I had a lot of loose ends floating around in my head. Beside each heading is what I actually got accomplished today.
* marbling – 12 fat quarters, including some for the new set of Seasons patterns, plus more for the Etsy shop. I'm glad hubby is doing all the Etsy work of listing items. I then go in and promote them through Facebook, Twitter, and Pinterest. Got a really gorgeous new one that I'm trying for a quilted piece of driftwood. I'll post a pic when the fabric is ironed.
* update Facebook business page, go back through some previous likes, make comments – I had been doing pretty well about a month ago with posting regularly and commenting on other's art, but the month got away from me. So now I'm back.
* check on SAQA entry -read through the call to artists, and I decided this would not be right for me.
* email Anne about SOCAL Fiber Arts show and getting some appraisals done on recent quilts – done; need to know if I am qualified as legitimately disabled. I qualify, I'm making arrangements for appraisals in January for some of the newest art quilts, and now I can put together the packet for this show.
* Handmadeology blog – done and sent along the way. In researching a couple of blogs to boost holiday sales, I discovered a couple of venues I need to check on, so I'll be busy with Digg, SumbleUpon, and Kaboodle this week, finding out all about them. I'm not sure about StumbleUpon – I don't usually do that kind of surfing…..we'll have to see. Same for Kaboodle – don't know that it will be productive, and I have enough time-wasters as it is.
* TAFA request for community groups – sent out the request for information about the various communities we network with, as part of a blog post for Handmadeology.
* Craftsy class with Cindy Needham – the reality is that with the holidays coming up, and the number of unfinished projects, I really don't have time for this class. I do want to wait and take another Elizabeth Barton class in October, since I got so much from the first class – and I'm not done with that one yet…….
* Promotesy – did my month sign-up yesterday, and I've started using it. I can schedule ahead of time, and things automatically post to Facebook, LinkedIn, and Twitter. Looks to be easier to use than Hootsuite – which never did seem to publish my scheduled tweets.
* pin ebay – done…..it usually drives some traffic to the site, but it doesn't seem to be converting to sales. Maybe when October rolls around….
* AZ SAQA info – emailed two jpgs off to the group. These are the two quilts that have been chosen to be in Linda Seward's book The Complete Book of Art Quilt Techniques. We'll see what happens. At least there's no entry fee….
* Phoenix Public Library call for submissions – deadline October 10, $15.00, CD with 10 images. Images need to be from the last two years, but because of teaching full time, I am only now getting a lot more new work completed. Need to think this through.
* start newsletter for the month, at least outline what will be in it. I know what will be in the newsletter, I just need to get started on it, for it to go out a week from tomorrow.
* email stencil lady – go through website on stencils. I went through two sites that carry stencils, looking at ways of constructing some designs. I think I have a couple of really cool ideas, and I have emailed about pursuing this idea further. Over the next two weeks I want to see about doing actual designs for possible approval. This could be another source of passive income.
Okay, I was very productive getting all this stuff done today. This seems to be the way to go, rather than just writing about it and not necessarily doing it…..go figure……

About three years ago (I date time from where I remember living while making this piece) I started what I called my "forest quilt," as a result of Stripper's Club, at my local quilt shop. The quilt looked masculine, so I figured it would be good for hubby. I got the top done in about a month of working on it school nights…and then it sat, because I just didn't know how to quilt it. Didn't want to do stitch-in-the-ditch," and I just couldn't imagine stippling the whole thing.
This past January I started the Free Motion Quilting Challenge with SewCalGal. I have learned SO much! From the very first pattern of leaves, my skills have grown by leaps and bounds. When I made my list of unfinished projects, this was on it. When I finished the last table runner for my second mom, I decided to work on this, because now I had a bunch of ideas for what to do in a quilt with a lot of straight lines and ninety-degree angles.
Before I actually started the quilting, I read Karen McTavish's book of McTavishing, which I got for my birthday. I really liked what she said about adding texture to the quilt by using threads that are thin and blend in with the background. So….Bottom Line by Superior Thread in the bottom, and a light and dark Bottom Line for the top. I decided on a rosette (a variation of a feather) for each of the centers, and partial rosettes for the partial blocks. Along the way of quilting this large quilt, I got very used to moving it through and around the machine. One of the best lessons in free motion came early on, with the advice to learn how to do your pattern sideways and upside down. The only place I had to wrestle and turn the quilt was with the straight lines in each block.
Frances Moore leaves, Angela Waters swirls, Diane Gaudynski feathers/rosettes, and about 15 hours later the quilting was done.
The back looks amazing, if I say so myself. And….my border is to die for! Love the feathers, done with a Rainbow thread also from Superior. The quilt overall was a lot of fun to do, as I had a lot of variety within the quilting designs. The safety pins worked for basting, and I think I only had two tucks in the whole backing. I used a thin batting, and I'm so glad, because the quilt is actually pretty heave. It's hanging on the wall right now, because since it's still 90-plus degrees, I'm still weeks away from needing it to stay warm.
Here it is. For no blocking, it hangs pretty straight.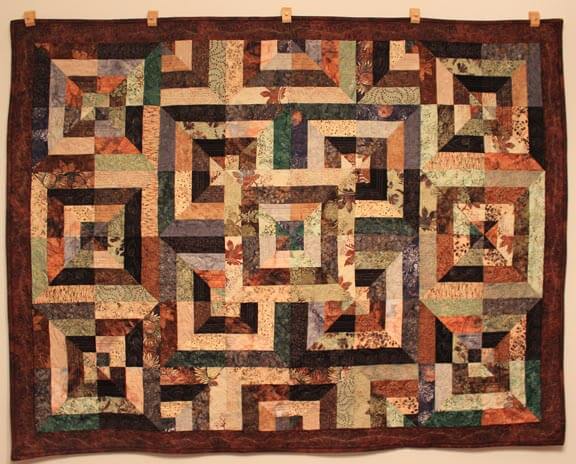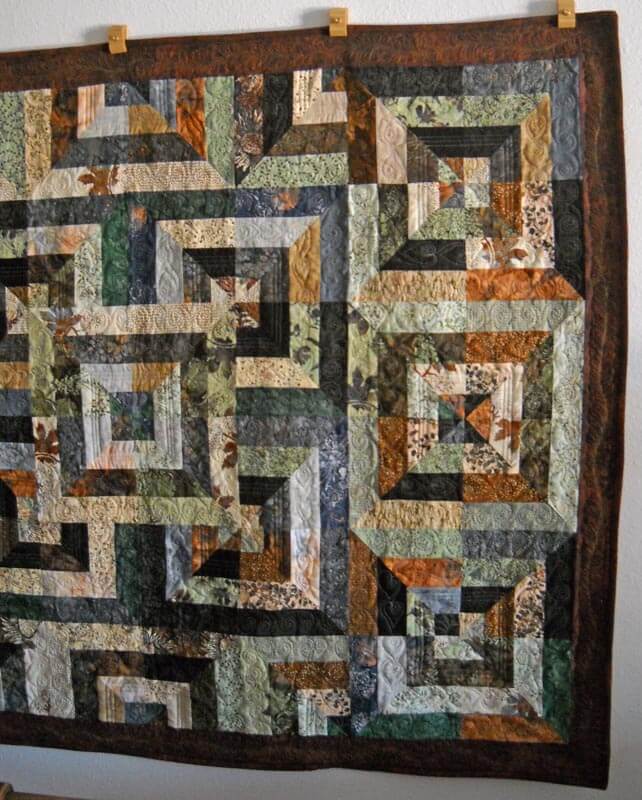 You can see the texture from this angle. I was looking at it the morning after we photographed it in the dining room, and with the natural light coming from the right, I could see the quilting. Lesson learned for the photography in the future.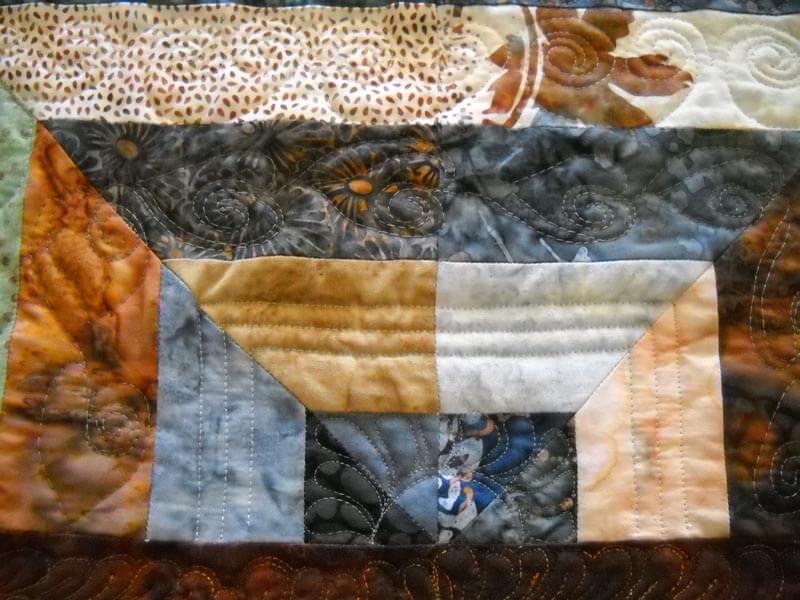 Close-up of one of the edges. You can see the partial rosette.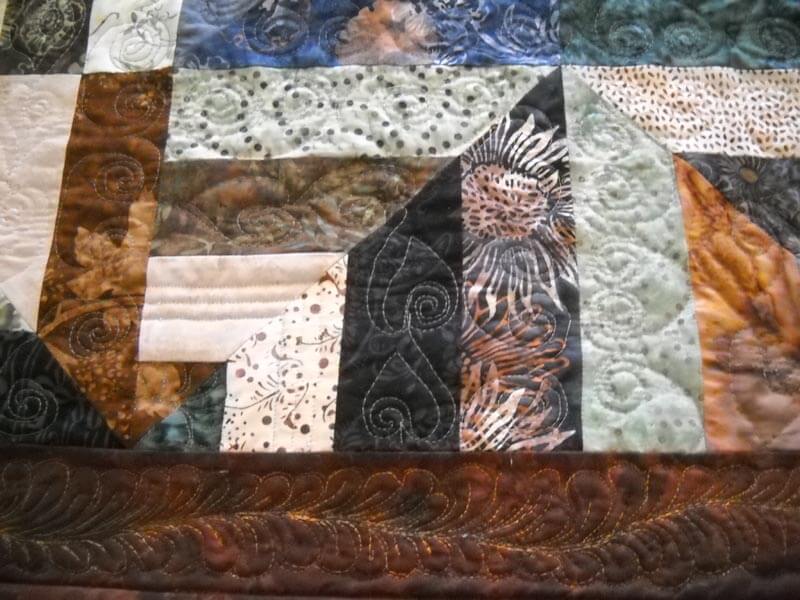 The border – all the way around – and it really didn't take that long. I LOVE LOVE LOVE the border!! NEVER thought I would be able to do feathers!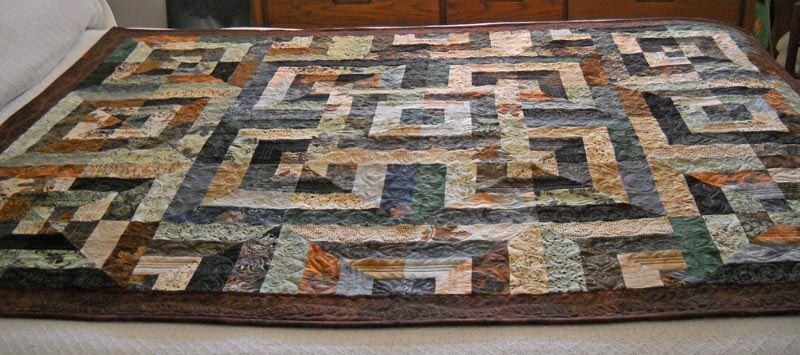 On the bed – another look at texture.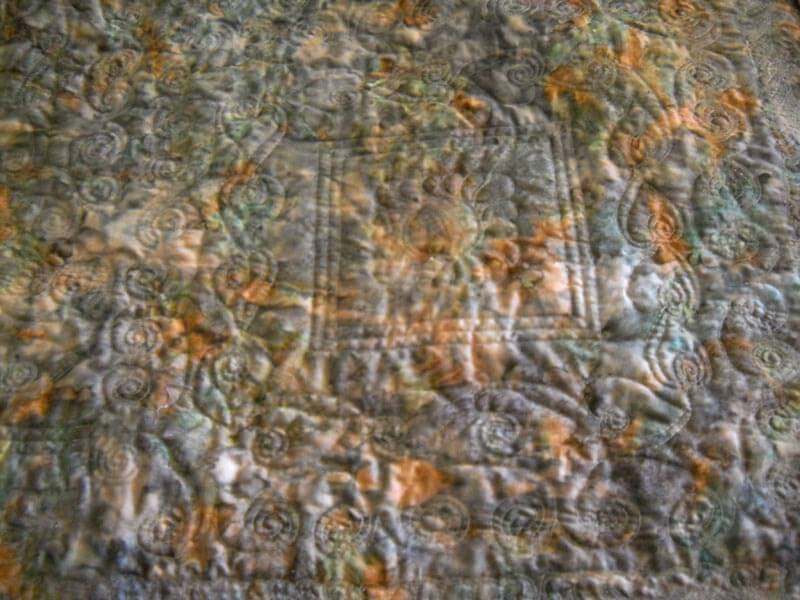 The back….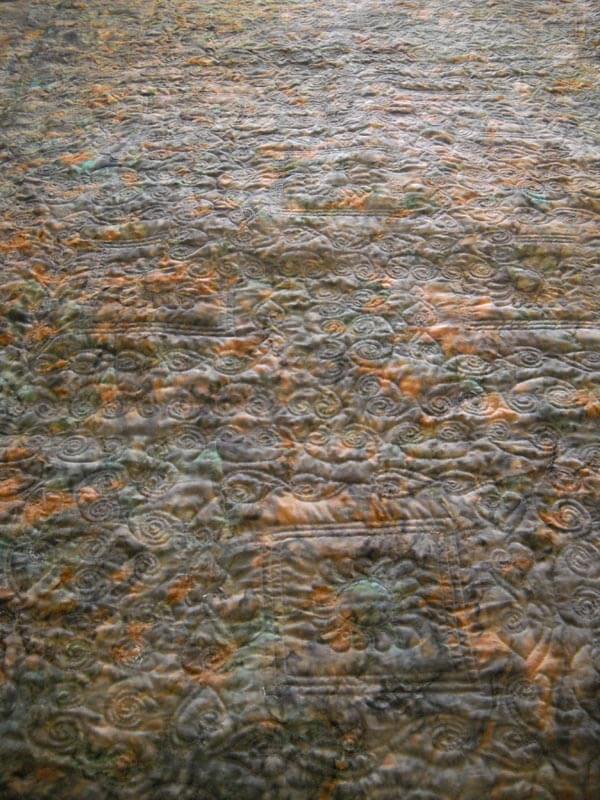 …and the back again…..
Learned so much! Thanks SewCalGal for this amazing year of challenges!

I first heard about passive income about three years ago when I was reading a lot about monetizing my blog and making money without having to do a whole lot of work. Sounds great, but not as easy in reality. I got turned down by a group to host ads, as I didn't have enough traffic, and they didn't see quilters as a big draw – despite the fact that I had done my research and talked about a 4 billion dollar industry.
Rather than spend the time trying to get everything up and running to make money, I was still stuck working in the classroom, and I just didn't have the energy after work. I started doing what I could. And now…I find I actually am getting some passive income three years later, with more possibilities in the works.
First, I receive a commission when someone buys materials from licensing expert Tara Reed. I've bought a number of things from her, and I love her work – all the detail and information is exceptional. Every time I mention her in a blog post, I usually make a sale, and consequently I get a few pennies.


I just uploaded my first pattern to PatternSpot.com, and hopefully I will begin to sell patterns there, through Etsy, and on our website. Every little penny helps! I have digital marbling images on Fine Art America. The work there is to figure out the site and get the photos uploaded. Once work sells, they do everything else.
Amazon and Google Adsense are two other outlets for monies. At one time I was getting regular checks from Amazon for books I recommended, and I need to do more of that. Google Adsense is about to send a check, as the clicks on the site are getting up to the minimum for a payout.Part of my issue with Google Adsense is making sure the ads that show are applicable to the site – Jockey underwear isn't going to exactly get click-through's….
Surfing Amazon!
So, it takes a while, but getting notices from Paypal about money in your account are very nice. You just have to be patient!


I figured I would DO my Monday marketing and THEN write about it, rather than the other way around. So I've had a productive hour on line taking care of some loose ends. New goodies up ion the Etsy shop, including our first pattern in a VERY long while.
If you have a small table that needs protection – or just some colorful decoration, then these table runners could be just what you need to add some excitement to a room! You have a variety of choices in design, as well as unlimited fabric choices: use that special hand-dye or marbled fabric, or sort through your stash. You have lots of design possibilities in fabric, batting, and thread choices, so don't feel limited with these samples. I had some great pattern testers help with the finishing of this; their contributions are also featured.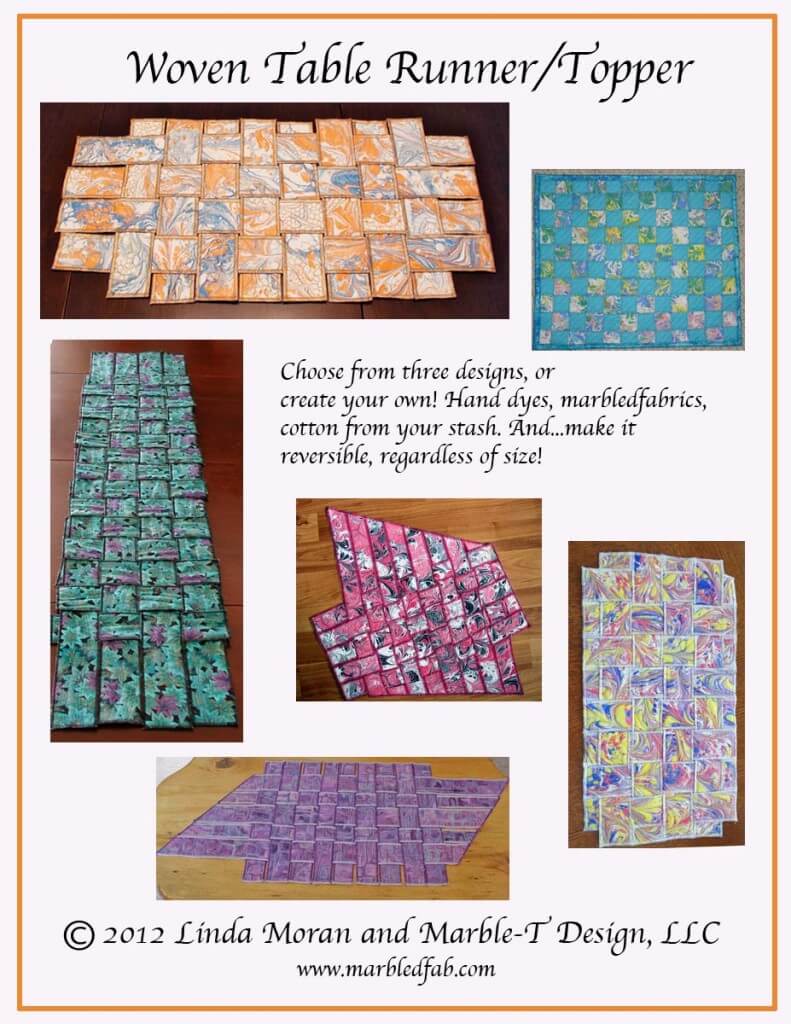 This pattern is available in our Etsy shop, as well as on PatternSpot.com. The pattern is $9.00 and comes as a PDF file, complete with color photos on construction and layout. Eventually I will figure out the coding and get it on the website.
I must confess I am enjoying Pinterest. I thought it would be a waste of time, and actually it is, but it gives me a place to pin pictures that I really like. I am seeing a lot of marbled fabric getting repinned, so I guess people are really looking.
I've got another pattern in the works – Spring, part of the Marbled Seasons series. This is really starting to look good, as I was originally wondering if my fabric choices were going to work. I was hoping to have it finished for testing before the next newsletter, but it isn't going to happen. But as I did my planning for the holiday season, next month will be custom baskets, as it will give us time to marble the fabric and put baskets together….got a new small art quilt up in Etsy, some new fabrics, a major order to Taiwan, so now we wil be ordering more fabric and paints….and threads – I am so out of threads!
Little by little I am getting things accomplished. Not the fifth gear I was in in May, June, and some of July, but at least it feels like getting into second gear.

So I am not a video gamer. Couldn't even master Pac-Man, and I hurt my wrist trying Frogger. Plus, I hate the amount of violence in video games. This week I discovered an article about a gun-free video game. Who knew? Called the Unfinished Swan, it has lots of elements of art within it. Fascinating.
"Ian Dallas was a comedy writer who cut his teeth at the Yale Record, then The Onion, before moving into TV and working on Comedy Central's Drawn Together. But his plan was always to make video games. So he went to grad school and created a prototype for an unusual game wherein players are confronted with a white void of a world to which they give form by splattering paint around to reveal the objects and environment around them. "
I'm finally working through all the cool things from Cool Hunting. Here's a neat item from Vermont: Battenkill Brittle, gluten-free energy bars, and they look yummy.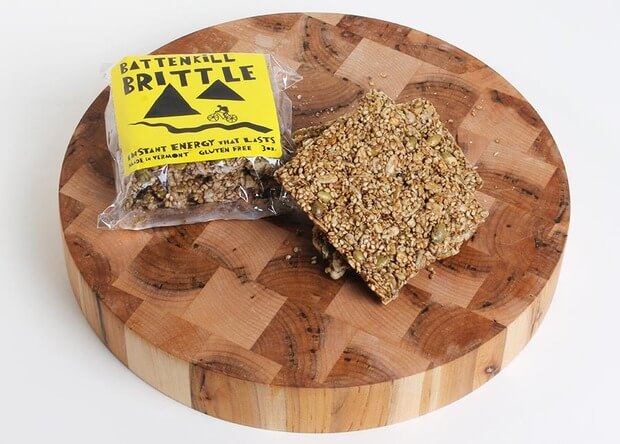 Here's a wonder of the world a lot of people don't know about: The amazing Bay of Fundy in time-lapse.

Have trouble with deciding what colors look good together? Check out Design Seeds – a collection of pictures that have identified the color palette within. Lots of inspiration here.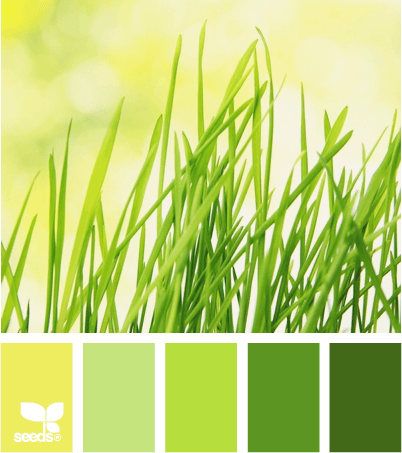 From Origami Joel comes another very interesting paper artist, Matt Shlian. Absolutely beautiful!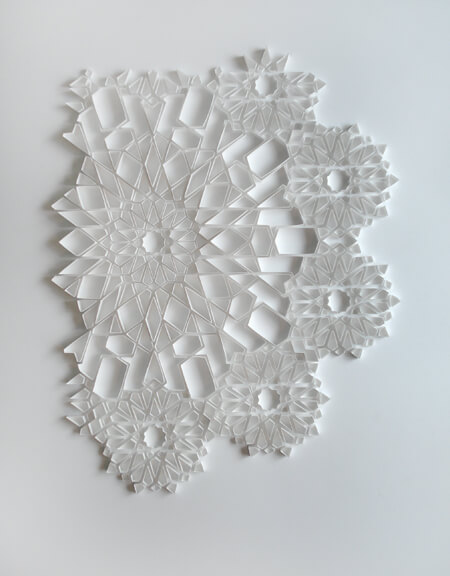 The Biological Advantage of Being Awestruck – beautiful video from my friend Amethyst, who minored in the philosophy of science. It sounds like she did some incredibly interesting reading in those classes! I could take those classes now…..
This is an interesting blog from the Surface Design Association on feng shui for your studio. I need to reread this at lenght, and I also think I will investigate the books she mentions efore I look at repurposing the garage into a wet dye studio.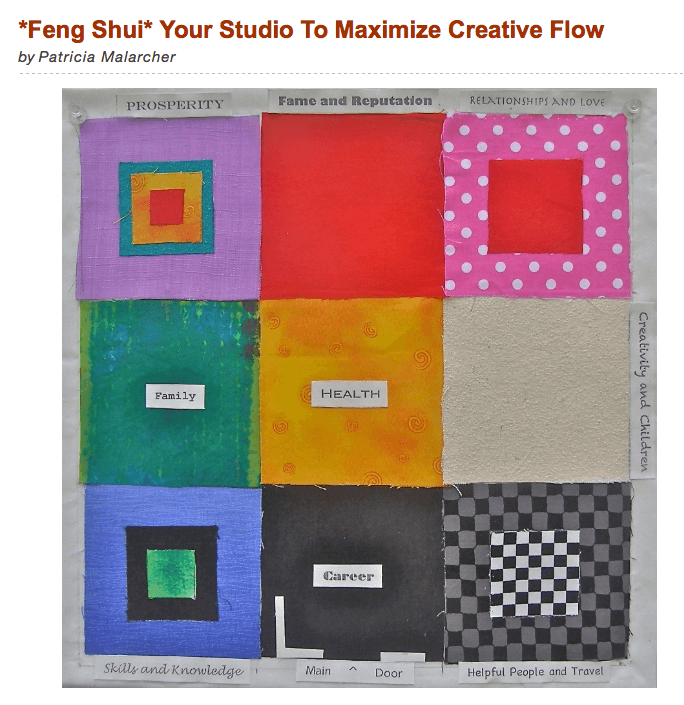 Jamie Ridler guides artists to authentic creative living. Here's a post about learning from the Olympics that has some really good thoughts in it. Olympic Lessons for Non-Athletes – Or What I Learned from the Olympic Games.

If you are running a small business, hopefully you know about Handmadeology – an online collection of articles on all aspects of marketing. Some really great stuff here….and I say that even though I write a regular blog for them!

Finally, for all my math friends – Prime Number Patterns. I can SO see a bunch of quilts from this!!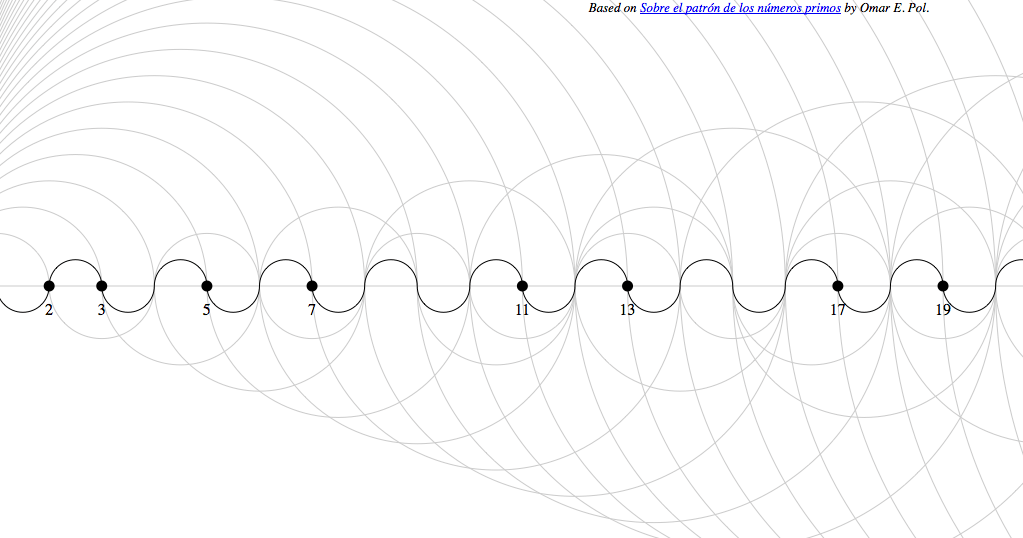 Have a great week! Let me know what cool things you find on line.

I just did the following post for Handmadeology, as I am doing a series on niche marketing. And…in the 24 hours since it was completed, I have sold a basket and done a $100 order on Etsy. I can't emphasize enough the need to plan ahead for this buying season. I was freaking out because I hadn't done any planning, so I used the blog post as my think tank. It worked really well. Hopefully you will find some use for this post, and you can read the previous posts in niche marketing.
Marketing 101: Niche Markets Part 7
Can the Holidays Be Far Behind?
Part 2: What is your wackiest marketing idea?
Part 4:  Have you done your newsletter?
Part 5: Your Newsletter Revisited
Part 6: Packaging and Displays – Field Trip Time!
I am sitting here on September, nearly panicking because I don't have my plans done for this coming holiday season. Actually, this is good, because for the last few years I have missed the holiday season completely. Teaching always got in the way, and the next thing I know, it's a week after Cyber Monday. I am bound and determined not to let that happen this year.
I'm using this post to think through my plan, so you can see exactly where I'm going with ideas, and I sure hope you join in with additional ideas. As you read through these, you'll probably notice these are basic marketing tasks, not just for a niche market.
* I need to set goals for this holiday shopping season, so I can start the actual planning.
– My newsletter will have specials each month with a holiday theme. The newsletter that went out last week advertised a new pattern for a table runner that would make an easy gift for     a  holiday hostess.
– The Etsy shop will be stocked to the brim with a variety of items: small quilts,   large quilts, patterns, pattern kits, marbled fabrics, ribbons, gift baskets. We are  up to almost 40 items at this point, with another 10 to be added in this weekend.
– I will sell at least 10 gift baskets of marbled fabric goodies (I aimed for 5 last year  and actually made it). I need to get supplies for these and begin the handcrafted bowls – perfect task for watching television at night.
– I will determine a nonprofit to receive a percentage of sales for this holiday  season. This involves looking locally, deciding on a percentage, before/after      shipping, and how to advertise this.
–  I will create a marketing plan that includes website, blog, Facebook business page, newsletter, personal email contacts, and anything else that comes to mind.
* Thoughts on actual marketing:
– I will determine coupon/discount specials for the newsletter, the FB page, and the Etsy store for each month, starting now.
– I will create long-term coupons to go in all mailings and gift baskets.
– I will sketch out what needs to be accomplished during each month, prior to Thanksgiving Black Friday.
– I will continue to create product for the Etsy store so that I do not run out before the beginning of December.
– I will check for all packaging/mailing supplies and stock up during sales.
– I will investigate the new Promotesy as a way of increasing my visibility during the holiday season by connecting all my social media profiles together. Certainly  the price is right, and I want to track how it does for me in bringing more traffic to my store.
* Each month:
– September: clothesline for fabric bowls, create at least 3; marble fabric for gift    baskets; complete Etsy inventory for this month; start listing what still needs to be marbled for other goodies; newsletter special.
– October: three new fabric bowls; check on nonprofit and determine accounting   for discounts; marbling for new products; new pattern up on Etsy; newsletter  special.
– November: plan for Black Friday and Cyber Monday; three more fabric bowls; marbling new fabric; new pattern up on Etsy; newsletter specials and reminders about Black Friday and Cyber Monday sales; determine last day to ship in December to be sure items arrive.
– December: last sale newsletters; last fabric bowls; complete last-minute marbling; last shipments.
So that's thoughts to get us started. I would love to hear what you would like to add to these ideas. I'll share everything that comes in, and let's keep each other on track for a good holiday season!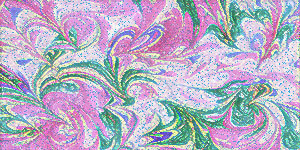 Oh my, have I learned some new stuff! The Free Motion Quilting challenge, hosted by SewCalGal, had a bonus tutorial by Susan Brubaker Knapp that piqued my interest. Basically you can create your own quilting design from your pictures. Well, I kinda figured you could, but once I read through this, I knew exactly how to do it. Bingo! I had loads of pictures that I would be able to use. I was having trouble with the drawing of the pattern for the August challenge; I planned to use that design on one of our bed stand runners. Now I had a new idea.
Concurrently, I am working on my Quilt University class, Inspired to Design, with Elizabeth Barton. I was looking at one of the photos I had morphed into a new design and suddenly realized I had a free motion quilting pattern right in front of me. Here's the original picture: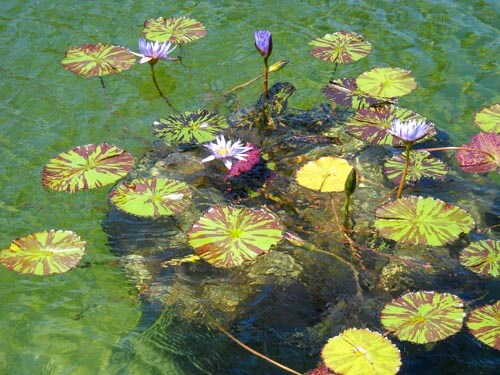 Here's the design element I developed a little further: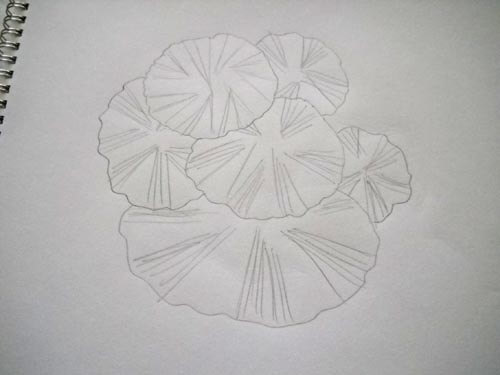 I added more pads to the design, made my pattern, and traced parts of it to the cotton. I realized, after my arms started to ache from tracing, that this was very free-flowing, so I really didn't need to trace any more. I went with a brighter green for the outlines of the pads. Sometime in July I watched The Quilt Show episode on Stupendous Stitches, and after that I took a serious look at the other stitches on my Bernina workhorse 1008. Not many to work with, but I had one that I thought would work to give the idea of a ragged edge to the lily pad. Then I used a variegated green to do the stitching in each pad. I used a monofilament to create water waves on the rest of the background. Here it is: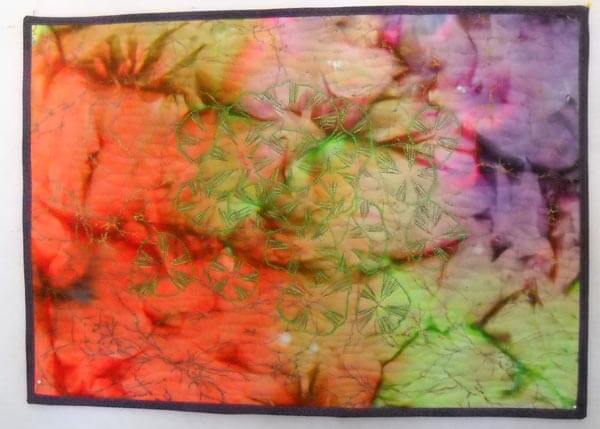 Lessons Learned:
The background fabric actually worked pretty well, as did the thread colors. I wouldn't stack the lily pads as much the next time. The most important lesson for me was going back and studying the original photo and realizing I could do much more with the interior lines. I became much more aware of that element in the original picture. I also did my binding a little differently, since I managed to cut it a half inch too thin. I used one of the stitches of a wave on the machine and made it very small. I tacked the binding down by maching, and you can't really tell unless you're looking at it close up.
And speaking of close-ups, here is one of the pads: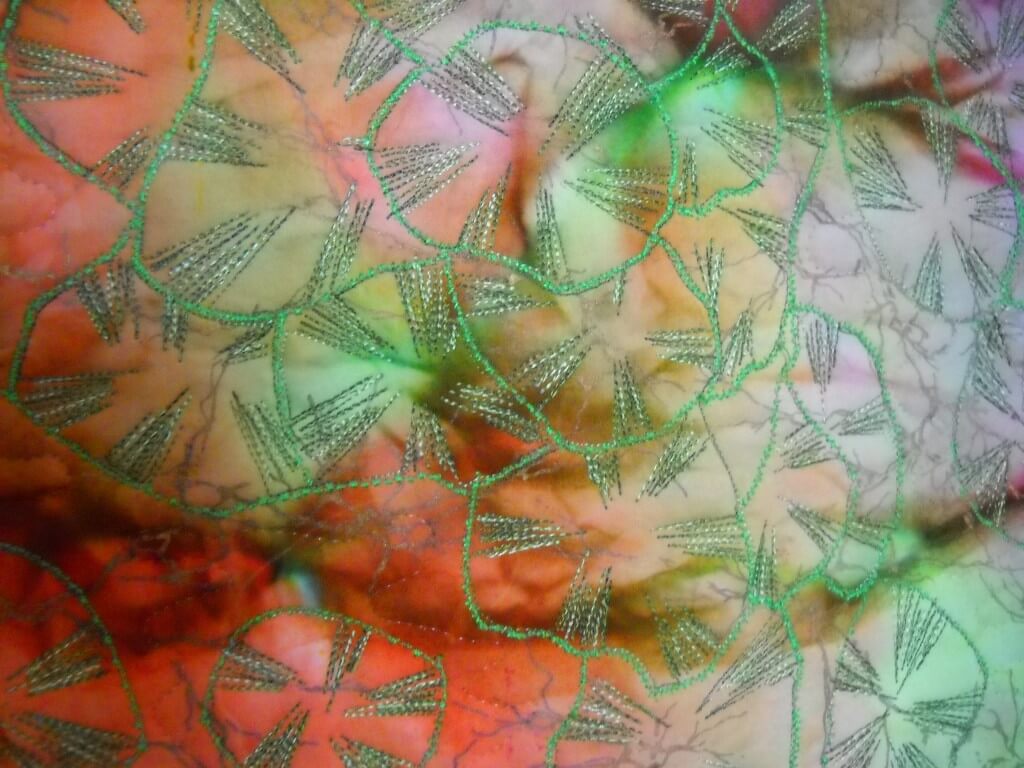 For the purposes of the table runner and the learning, I'm done. Next time I would use more color within the pads, spread the pads out more, and probably add stems. Overall, I love it! Thank you, Susan and SewCalGal!!

Some nice marketing help from two of the gurus out there: Alyson Stanfield and Tara Reed. These four articles resonated with me, as their topics have been on my mind. First up, thinking about a catalog? Alyson has two articles on catalogs. "Peek Inside a Catalog of Your Art" has fabulous tips. This past spring I put together a "quickie" book from Shutterfly to showcase our work, but I would definitely do things differently next time. I lacked a good artist statement, credit lines, prices….oh so many mistakes. It did look gorgeous, all nice and big, but it could have been so much more. With the availability of print-on-demand and good software that makes designing books and catalogs easy, this is something we should all look at.
"Where to Distribute Catalogs of Your Art"  by Alyson follows up on your design and printing. Again, thanks to print-on-demand, pricing might now be so bad. Catalogs can be pricey, so think carefully about who gets a catalog. Optimize your audience.
I love this next: "Thirteen Truths About Marketing Your Art." Oy, I need to review these every couple of weeks! Number 13 is my absolute weakness…..
Be sure to check out Alyson's blog – loads of great advice!

 The last marketing gem is from Tara Reed of the Art Licensing Blog. Titled "The Rules of My Treehouse," six great rules to help you continue creating art. I love "Don't dwell on the negative." Keep those folks out of your treehouse – and your life!

 If you are at all interested in checking out licensing your artwork, click below. I've used Tara's books as I develop my own licensing plans, and they are really excellent. (Disclosure: I get a commission if you buy any of her materials off this website.) And…if you would rather be in the studio creating art, then check out Alyson's book, I'd Rather Be in the Studio!


Make something happen this week! My newsletter is set to go out (almost written), so sign up at the top right if you're not a subscriber – a chance to win free marbled fabric!

Part of Lesson 2 is to look at designs in terms of basic elements of art. I chose Jacob Lawrence, as I have always been drawn to his paintings,  both for story and simplicity. I saw a retrospective of his work at the Museum of Art in Houston the year I went to Quilt Market. All of his WWII paintings were grouped together, so you really got the narrative of that work.
I am very much a novice at doing this kind of critique – I always feel hampered by the lack of any formal art training, but I am curious to know why something appeals to me. So here goes. These paintings are a selection from a blog post on The Ragged Cloth Cafe, by Jane Davila.
Such a simple task and so lovely in composition. The vertical lines of the figures unify the painting, as do the irons. The lines of the irons are different, indicating the various stages of pressing. You can see the tension in each woman as she goes about her task, possibly as a result of the angles of the irons and the bent/angled heads in concentration. Balance and proportion: the irons seem very large, but they may be because I am looking at them from a modern perspective. I've never had to use heavy irons, and perhaps they were that big. The women dominate the painting, but I like that. This is "women's work," and that domination shows that. There is a lot of repetition in the postures, as well as in the background. I can almost get a "sweatshop" feel, and I get an image of the women from the movie The Help working and talking together. Perhaps the repetition helps to show community. Economy: again a simple task and a simple composition, but the focus is on the main idea. I can see the blue of the upper right pulling the eye to two of the ironed pieces; same for the orange and red in the upper left. The women themselves are dressed similarly, perhaps to indicate the uniform of the job. The more I look at this the more I see the strength and movement in the women, in their arms, the irons, their heads.
Now this next painting is one that doesn't particularly appeal to me.
I find the colors very jarring, not at all harmonious. So many diagonals that my eye doesn't want to rest at all. Again, a simple task at the barber shop, but there doesn't seem to be the rhythm to the task as in the above painting. Unity/harmony: seems to be only in the main idea, that of a busy barbershop. Skin color is a unifying element. The faces seem to be the last thing you notice, just a few lighter lines. Interesting, in that may be a comment on the invisibility of the black community or the black man. Please note I am making that comment strictly from a white historical perspective. In terms of variety/tension, there certainly is a lot going on in this painting, indicating to me a very busy barber shop, and yet, now that I've noticed it, one man is smoking – that little bit of white draws your eye to the center of the painting. Balance/proportion: the piece seems very heavy on the bottom, big heavy dark triangles. The shampoo capes (for lack of a better term) are too many colors for my taste, and I think that's what throws everything off for me.
Interesting exercise. I like having a selection of terms to work with, and I found I saw more in the painting the more I looked at it. But nothing beats seeing the work in person! What else can you add to the analyses? Comments welcome!
I've fallen a bit behind in my class through Quilt University, but I got myself somewhat back on track these past two nights, and I am learning some fascinating things through these exercises. First, I would never have attempted going beyond a basic picture or design like this on my own. It's a case of "I don't know what I don't know." These exercises are really stretching me, and what's coming out is definitely intriguing.
So here are the three basic pictures/sketches I have been working with and what has happened with them.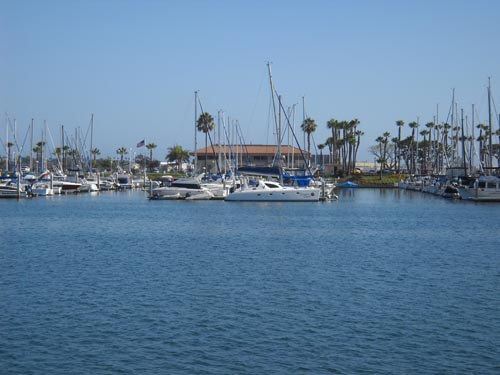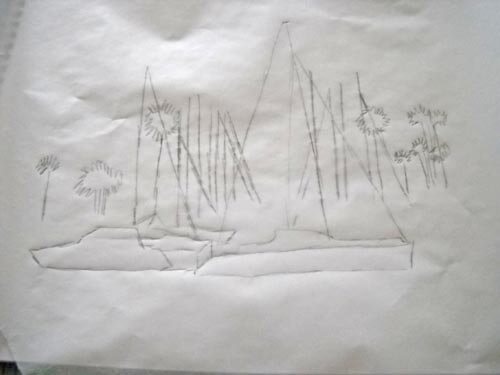 For this week I needed to take a basic design element and create a pattern with it on a grid. I chose a triangle for a sail, with a longer rectangle for a type of mast. As I was adding the pattern to the grid, I decided to flip the pattern, make some of different sizes, and make some small ones for depth in the distance.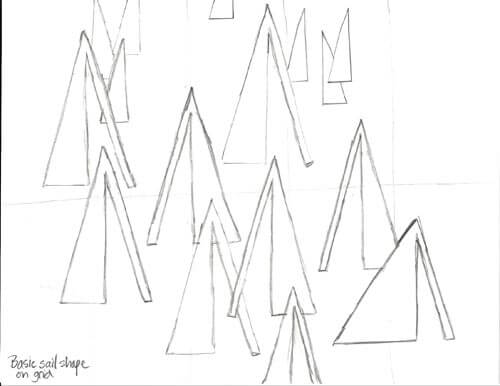 It may not seem like much, but it was quite the departure from how I work, and I can definitely see possibilities with this sketch. From this point, we took a basic shape (again the triangle) and just worked on creating triangles. At one point I decided to fill in one of the triangles with a favorite zentangle, Paradox. It looked so cool, I decided to see what the sail pattern would look like. Again, definite possibilities.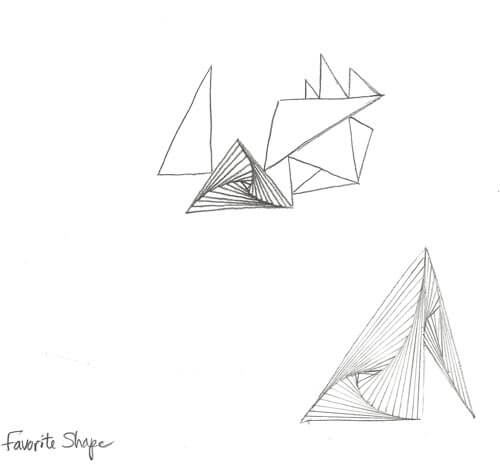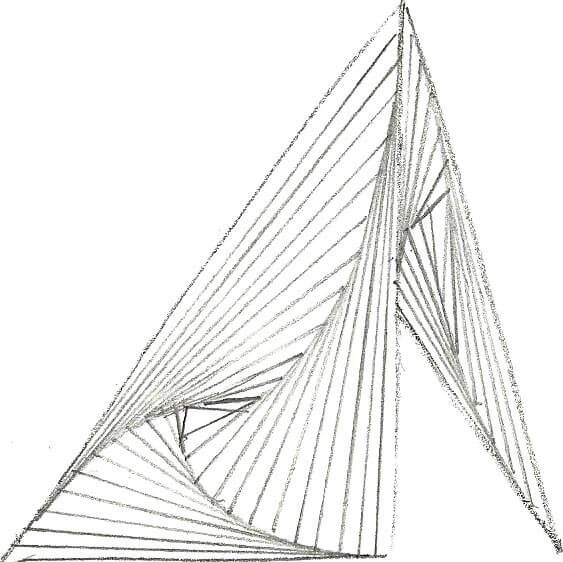 I think there's huge potential here.
Now here's the second picture and sketch, a tree from Spanish Landing Park in San Diego.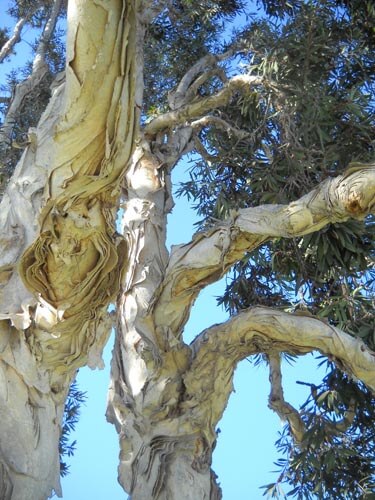 I worked with three different weights of pencils, and I really like this, plus as I work more with it, it is giving me some ideas for the driftwood piece. From here I sliced the piece in to strips and then wove them back into a new design. Very interesting activity.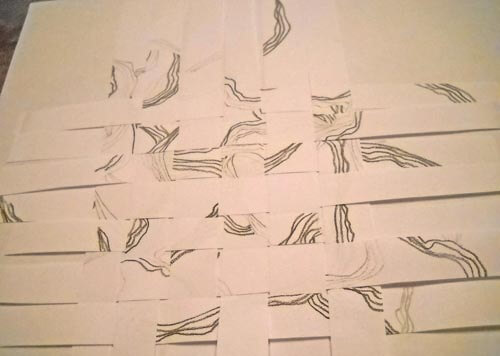 I didn't really care for this one, as I felt there was too much negative space.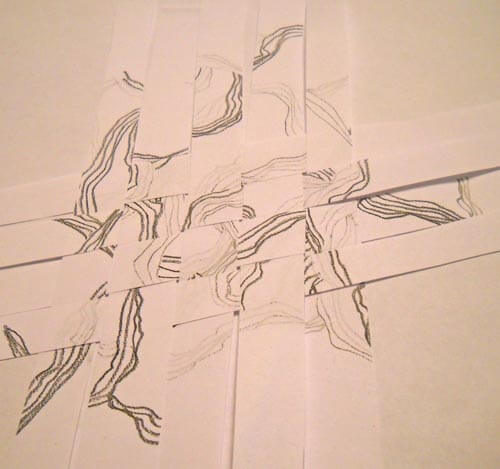 This seemed better, and while I know I am supposed to concentrate just on creating designs, I find myself thinking about moving into fabric, and I have a hard time imagining how this would happen with this design.
Here;s the sketch and the picture for the third one.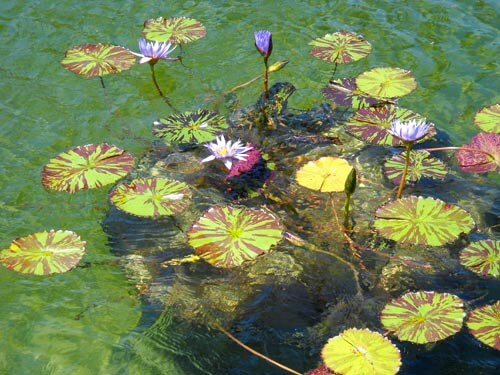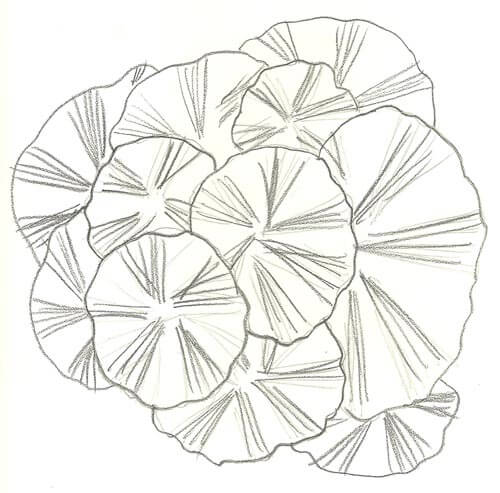 This time I tried a different technique: I sliced the sketch and then put it back together, with each slice up or down of the other pieces.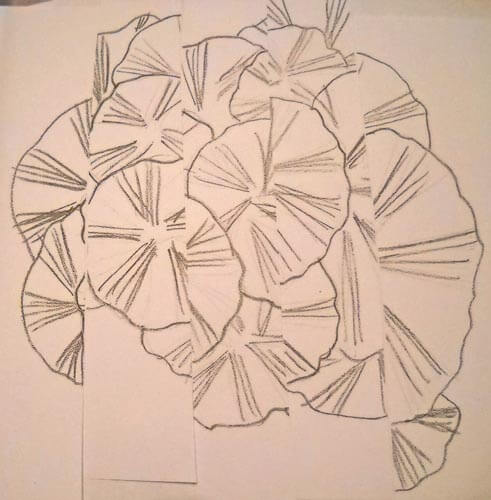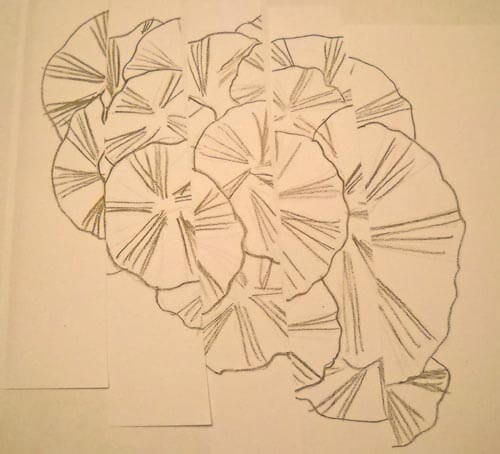 With this one I could definitely see the idea of reflecting water.
There is a lot more to this lesson, and I think tomorrow I am going to look at more of the photos I shot in San Diego and evaluate them according to the principles of art. Then maybe I will feel like I have a better idea of the terminology and can try some new sketches.

Slowly getting caught up on blogs, as well as working on a class at Quilt University. If you are interested in online learning in quilting and other fiber art techniques, check out QU. This is my 5th class with them, and I have been very pleased with every single class. I mostly focus on the design classes, and right now I'm doing a class on design with Elizabeth Barton, whose work I really like. Pretty great stats, wouldn't you say?

I discovered a new photography blog, Sun Gazing. Great list of resources. Actually this is more a New Age site, and a lot of Buddha images, but the photography is amazing.

Look at this amazing photo!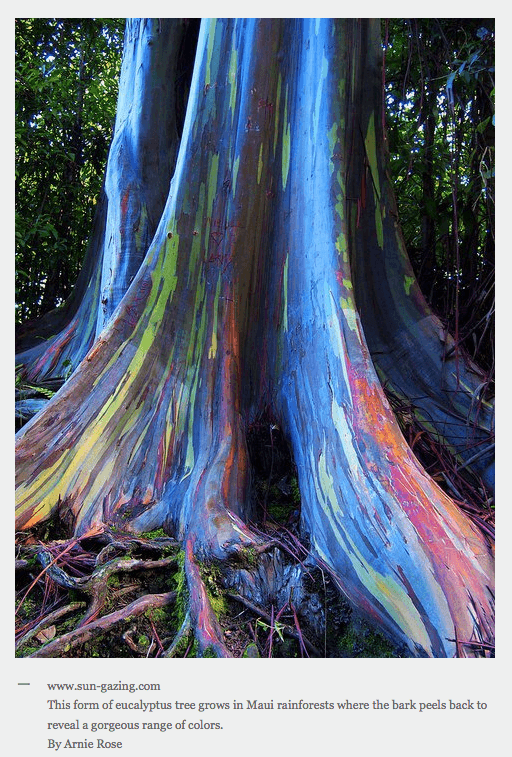 Once again from the 365 Project, some glorious photography.
I've just discovered Alison Schwabe's blog, and this post on making samples was very good. One other blog has talked about stitching things out ahead in samples, and I think I'm looking at a new piece of my process. Should at least keep me from pulling out several inches of thread……

Readers of this blog know I love TED talks, and on the TED blog today is a list of the top 20 TED talks. There are a bunch here I haven't seen, so I have some fun stuff to watch this week!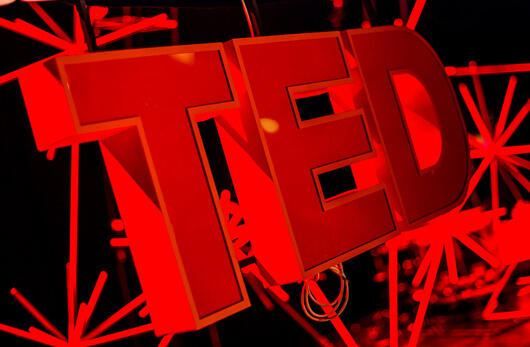 Discovered a new quilting blog this morning, with examples of some of the motifs being used for the 2014 Olympics in Sochi, Russia. Inspired patchwork! The blog is With Heart and Hands by Michele Bilyeu.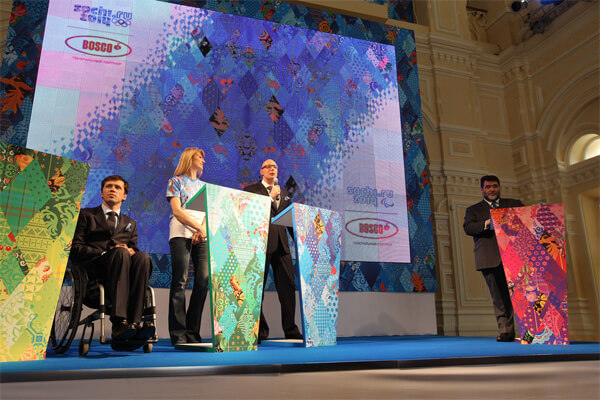 Animals Talking All in Caps is exactly what it says. Folks send in a picture with animals in it, and our moderator does a caption. Some are hysterical – well, most of them are. And some are very poignant.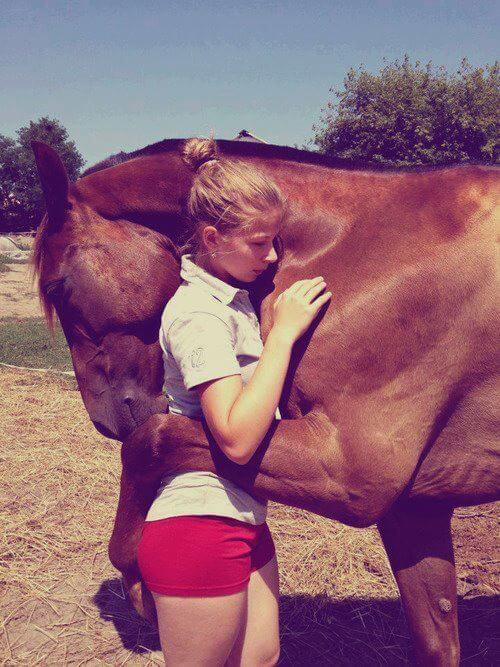 I'M SORRY I KICKED DARREN IN THE FACE FOR CHEATING ON YOU.
I'm sorry I yelled at you for doing it. I was just startled.
HOOF TO GOD, I THINK HE DESERVED IT. YOU'RE A PRINCESS.
I love you, Shelly.
I LOVE YOU TOO.
Not every parent appreciates the pursuing of a liberal arts education, especially if it involves the classics. From Letters of Note is this letter to Ted Turner from his father, questioning his stupid quest to study Greek.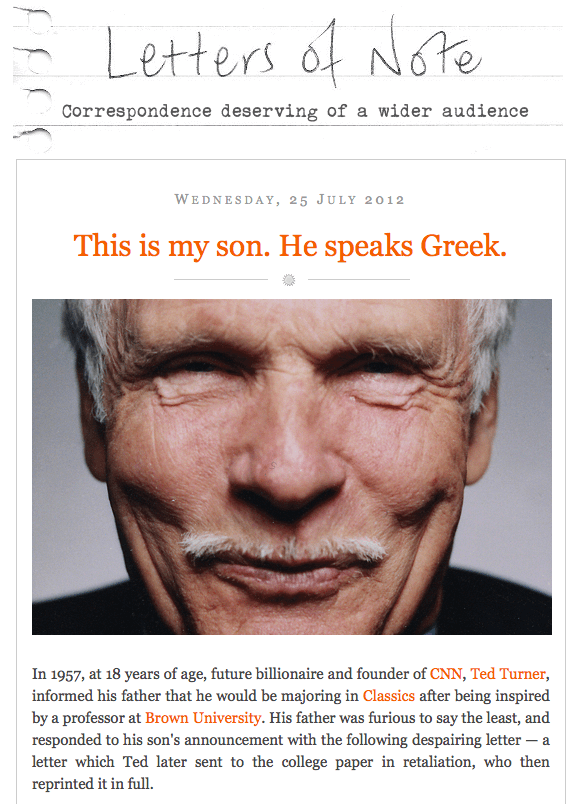 I love Vi Hart. She's a recreational mathematician, and she teaches you stuff about math that is fun, simply through doodling. Here's her latest video….warning – you need to concentrate!
And we'll end with an interesting tidbit of history: Who Stole Helen Keller? How has history rewritten her story?
"Helen Keller worked throughout her long life to achieve social justice; she was an integral part of many social movements in the 20th century. Yet today, she is remembered chiefly as a child who overcame the obstacles of being deaf and blind largely through the efforts of her teacher, Annie Sullivan. While she may be hailed as a "hero" in lesson plans for today's children, the books recount only a fraction of what makes Helen Keller heroic."
Have a great week – let me know what you find on line that's interesting!