Posts Tagged 'PatternSpot'

I first heard about passive income about three years ago when I was reading a lot about monetizing my blog and making money without having to do a whole lot of work. Sounds great, but not as easy in reality. I got turned down by a group to host ads, as I didn't have enough traffic, and they didn't see quilters as a big draw – despite the fact that I had done my research and talked about a 4 billion dollar industry.
Rather than spend the time trying to get everything up and running to make money, I was still stuck working in the classroom, and I just didn't have the energy after work. I started doing what I could. And now…I find I actually am getting some passive income three years later, with more possibilities in the works.
First, I receive a commission when someone buys materials from licensing expert Tara Reed. I've bought a number of things from her, and I love her work – all the detail and information is exceptional. Every time I mention her in a blog post, I usually make a sale, and consequently I get a few pennies.


I just uploaded my first pattern to PatternSpot.com, and hopefully I will begin to sell patterns there, through Etsy, and on our website. Every little penny helps! I have digital marbling images on Fine Art America. The work there is to figure out the site and get the photos uploaded. Once work sells, they do everything else.
Amazon and Google Adsense are two other outlets for monies. At one time I was getting regular checks from Amazon for books I recommended, and I need to do more of that. Google Adsense is about to send a check, as the clicks on the site are getting up to the minimum for a payout.Part of my issue with Google Adsense is making sure the ads that show are applicable to the site – Jockey underwear isn't going to exactly get click-through's….
Surfing Amazon!
So, it takes a while, but getting notices from Paypal about money in your account are very nice. You just have to be patient!


I figured I would DO my Monday marketing and THEN write about it, rather than the other way around. So I've had a productive hour on line taking care of some loose ends. New goodies up ion the Etsy shop, including our first pattern in a VERY long while.
If you have a small table that needs protection – or just some colorful decoration, then these table runners could be just what you need to add some excitement to a room! You have a variety of choices in design, as well as unlimited fabric choices: use that special hand-dye or marbled fabric, or sort through your stash. You have lots of design possibilities in fabric, batting, and thread choices, so don't feel limited with these samples. I had some great pattern testers help with the finishing of this; their contributions are also featured.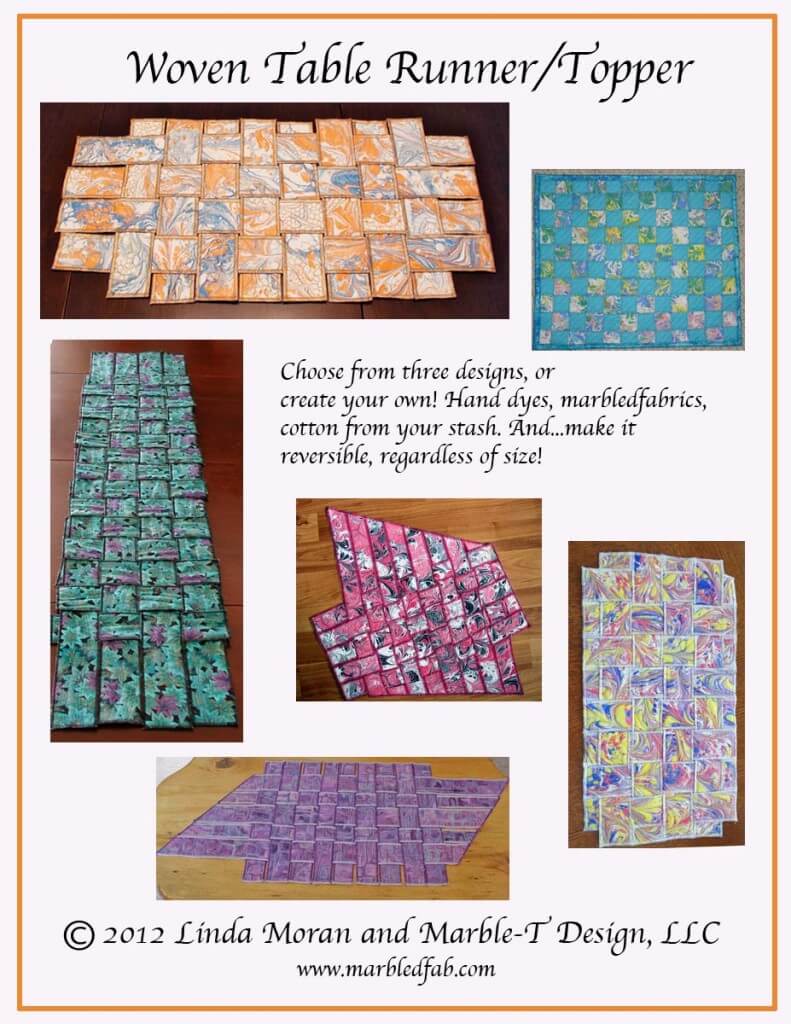 This pattern is available in our Etsy shop, as well as on PatternSpot.com. The pattern is $9.00 and comes as a PDF file, complete with color photos on construction and layout. Eventually I will figure out the coding and get it on the website.
I must confess I am enjoying Pinterest. I thought it would be a waste of time, and actually it is, but it gives me a place to pin pictures that I really like. I am seeing a lot of marbled fabric getting repinned, so I guess people are really looking.
I've got another pattern in the works – Spring, part of the Marbled Seasons series. This is really starting to look good, as I was originally wondering if my fabric choices were going to work. I was hoping to have it finished for testing before the next newsletter, but it isn't going to happen. But as I did my planning for the holiday season, next month will be custom baskets, as it will give us time to marble the fabric and put baskets together….got a new small art quilt up in Etsy, some new fabrics, a major order to Taiwan, so now we wil be ordering more fabric and paints….and threads – I am so out of threads!
Little by little I am getting things accomplished. Not the fifth gear I was in in May, June, and some of July, but at least it feels like getting into second gear.