I figured I would DO my Monday marketing and THEN write about it, rather than the other way around. So I've had a productive hour on line taking care of some loose ends. New goodies up ion the Etsy shop, including our first pattern in a VERY long while.
If you have a small table that needs protection – or just some colorful decoration, then these table runners could be just what you need to add some excitement to a room! You have a variety of choices in design, as well as unlimited fabric choices: use that special hand-dye or marbled fabric, or sort through your stash. You have lots of design possibilities in fabric, batting, and thread choices, so don't feel limited with these samples. I had some great pattern testers help with the finishing of this; their contributions are also featured.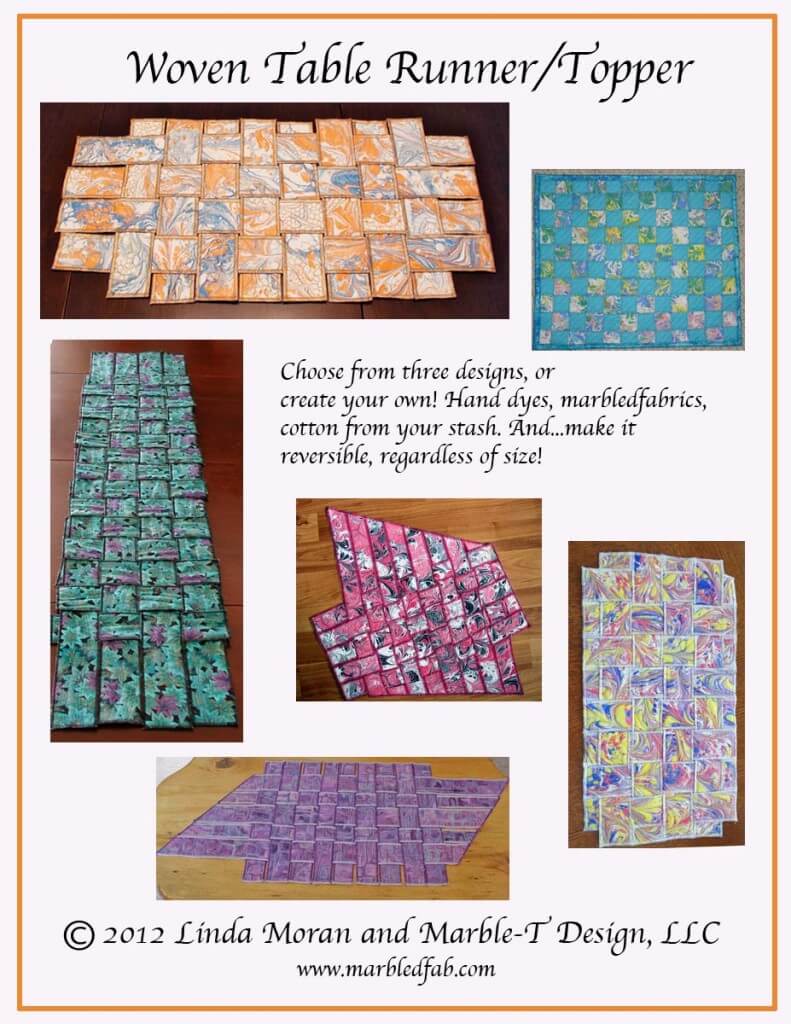 This pattern is available in our Etsy shop, as well as on PatternSpot.com. The pattern is $9.00 and comes as a PDF file, complete with color photos on construction and layout. Eventually I will figure out the coding and get it on the website.
I must confess I am enjoying Pinterest. I thought it would be a waste of time, and actually it is, but it gives me a place to pin pictures that I really like. I am seeing a lot of marbled fabric getting repinned, so I guess people are really looking.
I've got another pattern in the works – Spring, part of the Marbled Seasons series. This is really starting to look good, as I was originally wondering if my fabric choices were going to work. I was hoping to have it finished for testing before the next newsletter, but it isn't going to happen. But as I did my planning for the holiday season, next month will be custom baskets, as it will give us time to marble the fabric and put baskets together….got a new small art quilt up in Etsy, some new fabrics, a major order to Taiwan, so now we wil be ordering more fabric and paints….and threads – I am so out of threads!
Little by little I am getting things accomplished. Not the fifth gear I was in in May, June, and some of July, but at least it feels like getting into second gear.