It has been one of the nicest vacations ever. Good friends, good food, great conversation, a healthy dose of art-making – couldn't ask for more. For the last month I have been feeling really good – happy, which is not a long-term emotion for me. Perhaps it's because of going off medications, perhaps because I really like my job and my students, maybe because I don't feel like I have to wait till summer to create art. Or a combination thereof….
I know I have been clinically depressed for a lot of years, but I think it has been situational. Those situations are now gone, retirement is in sight, and my art skills and productivity are growing by leaps and bounds. Consequently, I am adjusting to what it's like to be happy – and I like it!
Also, we had an amazing experience on Friday with a trip to Kartchner Caverns, a state park in Arizona, but oh so much more than a "state park." I've visited a few caves – Colorado Springs, and my favorite – Howe Caverns in New York, but this was truly amazing and awe-inspiring. This is an active cave, first discovered in 1974 and kept secret for 14 years until ways were found to preserve and protect the cave. One hour underground in the "big Room" – closed for 6 months of the year because it serves as a bat nursery. If you visit the southwest, this has to be on your to-do list. We walked out of the last tour of the day into nightfall, with just a few lights aglow in the distance – it was so perfect.
I have two more zentangles to share, but I haven't gotten to working with them in Photoshop – I've been sewing and getting ready for basting a quilt sandwich for the next project.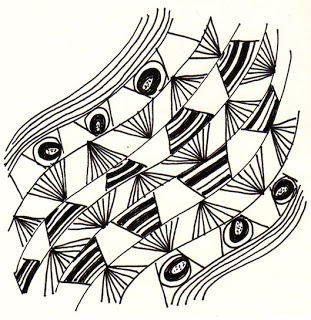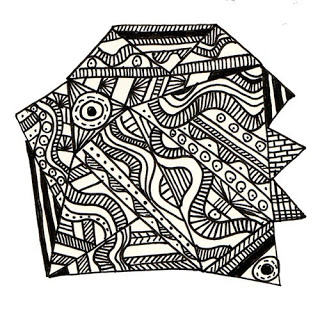 Suzan brought her zentangles to share – our styles are so different, and I think this is one of the appeals to zentangles – every one approaches doodling differently – I have a very heavy hand (literally) and like to cover the space. Suzan is much lighter and freer.
Back to school tomorrow – 12 days till finals start and a lot of work remaining to be done on linear relationships – life will be busy!