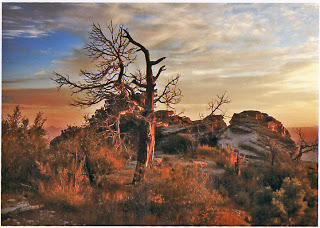 Even though I haven't written, art has been a major focus over the last few days, despite the illnesses. On Sunday hubby and I went up to La Encantada, an upscale shopping area north of us, in the Foothills. There was an art show we wanted to see. Not nearly the vendors as last year (and last year wasn't juried, this year was….). Lots of empty spaces. The rationale given was to have a closer look at vendors through the jurying process, and assure that good art was represented.
Well, they didn't come close, as far as I was concerned. Since we had looked into it, the price was high, the restrictions were many. And almost every other booth was jewelry. That said, we found a couple of interesting artists. This first is Daniels Images – they are a family of photographers. This photo to the left is of a lone tree at Windy Point Lookout on Mt. Lemon, almost in our backyard. I've never noticed that tree, but it makes for a great composition. There's lots of great eye candy on their site.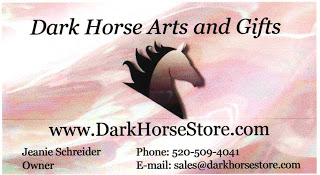 Dark Horse Arts and Gifts stopped us because of an incredible glaze on one of the ceramic pieces. The dolphins had "waves" and "bubbles" as part of the glaze. Turns out it is a common technique, but not one I had seen before. Their website doesn't do justice to some of their work.
There was some interesting paper work being done by Curly Studio, but they have no website or blog, so nothing but a business card to show you.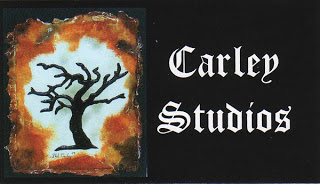 Really confirmed the need for an online presence.
Monday was a veg on the sofa kind of evening; we canceled our art meeting, as I was sick, and several others couldn't make it. I was bummed, because I look forward to that each month. Tuesday was, as usual, NCIS (I wanna be Ziva….or Abby….). Last night i got back in the sewing groove and worked on blocks for the quilt class I am taking. I think I am really going to enjoy the foundation piecing, but my big problem is going to be color combinations – working them out ahead of time for the overall look I want. I reworked some of my strips and sewed four blocks – all of which are more subtle than what i did last weekend, and one of them I REALLY like. This is an interesting experiment in using only the fabrics in my stash.
I found I really miss my doodles – I like the relaxation of the drawing. Tonight – maybe drawing, but school work is calling, and I really want to sew. Quilt class on Saturday, and Open Studios in Tucson on Sunday, so we'll be driving around to check out some new artists.