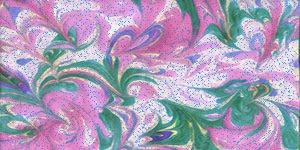 A great evening! We had to postpone from last Monday, but this evening we gathered at our place to marble paper. We pot-lucked (a new verb??) with yummy food (ahhh, Trader Joe's Tiramisu Torte!) and great conversation. Comments about the Open studio weekend and what we might look to do come March. Comments about last weekend's show up at one of the ritzy malls. Sharing coupons to Michael's and Hancock's.
Marbling paper was fun – pics to follow. We're not nearly as good at this as with our fabric – and certainly nowhere like the Turkish masters. Just go to youtube and look for videos on "ebru." You will see truly amazing work, nothing like our feeble attempts. But it's fun nevertheless, and we get a chance to share art.
This weekend is the Tucson Museum of Art annual fall show, so we're going to check it out as a possible venue, as well as looking to get things in their gift shop again. Also, the Winter Street Fair should be coming up in another couple of weeks, so another chance to see what's new (if anything) in the vendors.
A lot of talk about revitalizing our downtown – a really sad state of affairs for Tucson, and if something long-range isn't done son, we could lose a major money-maker in the gem show. We all agree that it would be nice for our downtown to be a destination for art of all kinds. But…and this is a big "but," we are surrounded by "Southwest" cowboy paintings, and most galleries in town (as well as visitors) expect to buy art of the "rough and tumble" southwest of the movies. Makes for a tough market when you do something rather eclectic.
We're taking December off, as it gets very crazy. Plus, I want to do some serious sewing and creating, since I am on a roll.
Later, gator – no school work tonight!