Archive for the 'FMQ' Category

Ack…..where did the week go? For the first time in three weeks, my list has sat unopened on the table. This started last Saturday night, I think as a result of staring at the computer for my first Tophatter auction, and consequently really wrenching my neck. Two chiropractic visits later on Monday, life was better, but it wasn't until Wednesday after yoga that I really started to feel better. Three days of no work on my deadlines for fiber pieces, and I was beginning to panic.
Yet at the same time, I wasn't worried about everything else on my full-page list, because there was really only one deadline that had to be made. And thanks to a lot of concentration on Wednesday afternoon and all day yesterday, my depression piece, "Misfiring Synapses," is ready for photography and submission.
Am I pleased? Yes. It pretty much came out as I was picturing it in my mind. It has good depth, lots of layers, and definitely tells a story.  Here's a close-up, with no full reveal until I know something about acceptance or not. I took a leap of faith with my entry to Visions. This one, however, is HUGE for me – very unlike anything I've done yet, and the whole process was very different. And…I'm looking to play with the "big girls" now, so we shall see what happens.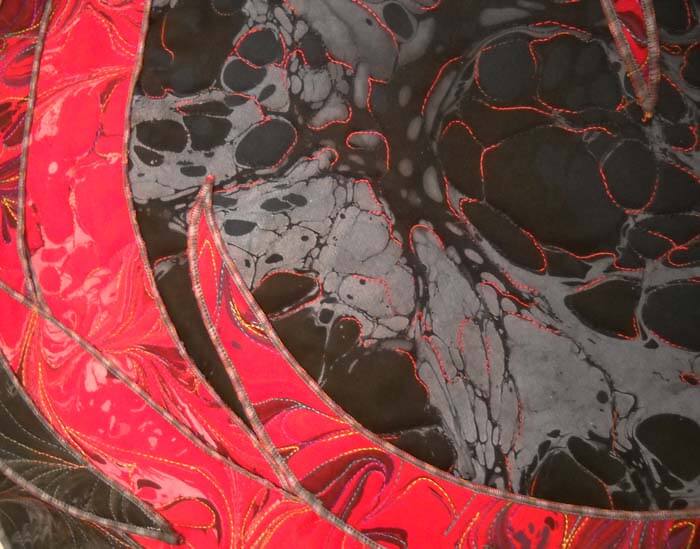 Lots of layers, lots of decisions as to thread. If you look at the center of the close-up, the red thread looks like it just breaks off – the idea of a misfired synapse in the brain. This is actually a Rainbow thread from Superior Threads. It has red, black, and purple, which works perfectly for this center neuron. I stayed with red unpolished satin for the rings, wanting the interior inflammation of the brain as we struggle with depression. The red fabrics are slightly different shades, with different patterns and quilting within them. I cut and layered each piece, finishing each edge with serging – again with a Superior Thread, this time a King Tut, as I didn't want a shiny effect. I gotta tell ya, I never really paid much attention before to the effect thread would have on a fiber piece. The multi-toned gray was to look at the outer layer of the brain, with all its folds and ripples.
This probably should have been next Wednesday's entry, for my work-in-progress, but it's on my mind today as I think about photography and submission.
I have a couple of other self-imposed deadlines. I was going to enter another show, but I've decided to wait and see about these two current pieces making the rounds. One, I want to know where I stand, and two, entering shows is expensive, especially with shipping. So I will continue with the next mandala, and then that piece will be finished and in "the wings," so to speak, if something else later summer looks good. Two, I want to do some simpler sewing/designing for myself, especially practicing the free motion quilting lessons. Two weekends ago I took apart one of the first quilts I actually finished and machine-quilted so that I can practice this month's patterns. I don't have to worry about hubby missing his quilt right now because it's in the low 100s for temps already – and it's not even summer in the desert.
I'm reading Dune by Frank Herbert. Never read it, and I am enjoying it. Then I have two Robin Hobbs to read, plus an ebook and a tutoring book to work on. My scheduling still seems overall to be working, as I am making progress on the many projects I have (not accounting for the lost days this week).
And…we're in the midst of a local election in Tucson to replace Gabrielle Giffords' seat, since she resigned. It's ugly and annoying, with misleading adds on both sides. I've read about the "Fair Tax," and I think in it's purest form, it's a good idea. But that's not what is being presented by the Democrats. And the Republican challenger is trying to back away furiously from everything he said in 2010 in that nasty election. I'm at the point where protecting Social Security and Medicare are crucial to me. Saying you'll protect them after you've called them "the biggest ponzi scheme in history" really makes me nervous.
Even on line it's getting hard to get unbiased, well-researched and reported news. I keep looking back at various points in our history and wonder about the directions we are moving. A someone who is a baby boomer, who loves history and reads about it all the time, has been a union member for protection (and walked a picket line), and has a sense of service to this nation, I am appalled by what is happening in this country. We are Americans, and as such, we should be a leader in all things – health, welfare of our citizens, concern for the planet, and true proponents of the Bill of Rights for all. We should be better than water boarding, regardless of the claims of national security. We should be better than cutting education. We need to look at our programs systemically. If there's medicare fraud, then go after the ones defrauding the system. Don't do away, willy nilly, with the program.
So….my thoughts for the day…..from sewing to politics. Quite the rambling mind……
Have a great weekend!

I finished the quilt remake in time to get the suitcase packed full of quilts to take to StashFest. Of course, it couldn't be quite that easy to pack the suitcase….ended up packing it three times, as I went to photograph the quilts for a new book, and the first set wasn't high enough resolution. So we set up again, and this time there was too much light. So third time was the charm….setting up the room again, and unpacking/repacking the suitcase. But the photos are on there way now….and my new little quilt looks great!
When I left off, I was working around the various quilting motifs. The larger triangles had a zentangle-like stippling, and the area around the stars was much smaller stippling. I will definitely need to practice that so the stitches are really consistent. But I really like how the rosettes worked out.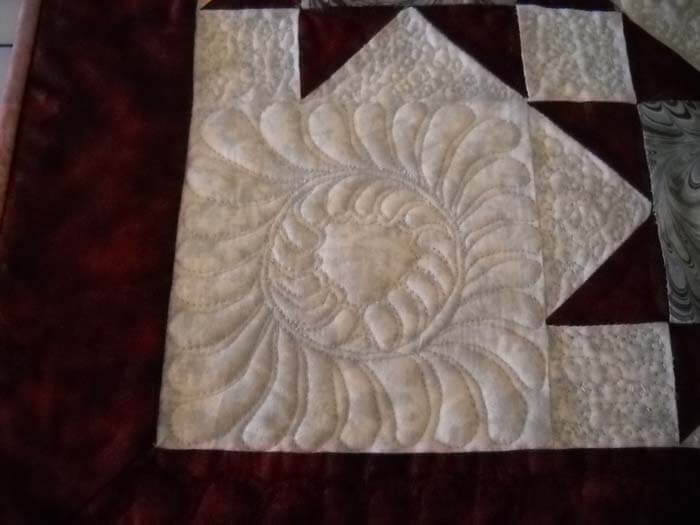 I wanted to do feathers on the border and ran into tension problems…the background thread (Bottom Line) kept peeking through, and I finally decided I didn't want o keep taking the feather out. So I changed the thread in the bottom to be the same as on the top – problem solved for the time being. The feathers go up half of each side. They're pretty subtle, but I like them.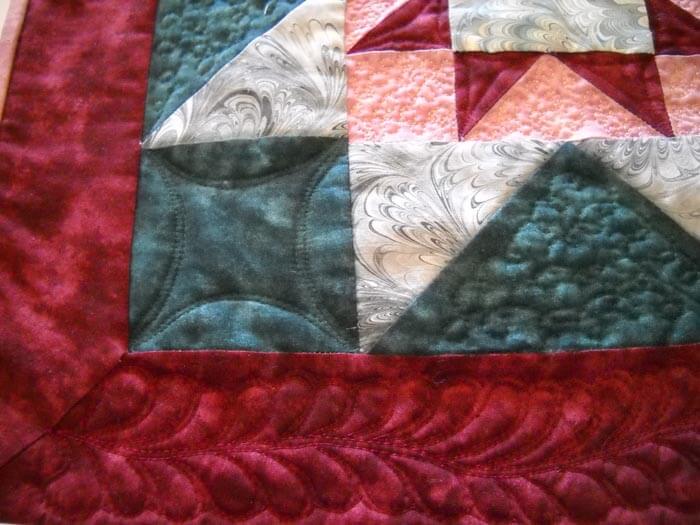 You can also see the corner squares. I actually marked those lines for consistency. I must say it was the first time I marked anything, and I will probably do it again. I liked the effect, but I need to consider what I'm going to use for marking, so it's easy to get out.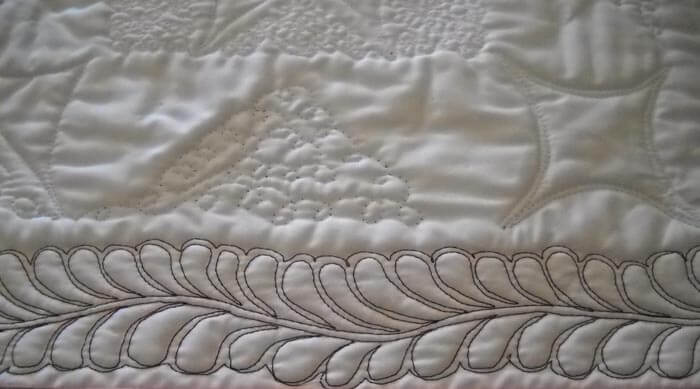 I absolutely love the back! Yeah, there are some tension problems, but I am making SO MUCH progress.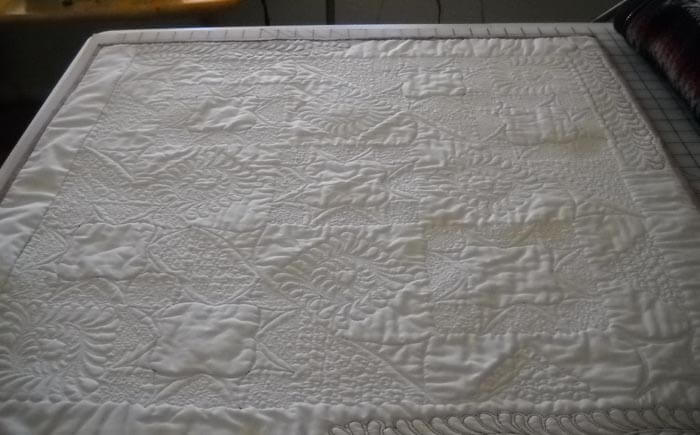 I can certainly see the appeal of white whole cloth quilts. I feel the same about the backing quilting on my whole cloth marbled quilts.
And finally, hanging briefly on the wall before being packed:
Tomorrow I will be so ready to leave, and no doubt all the loose ends will be done by noon, so I am going to start taking apart another older quilt in preparation for some brand new quilting!

So I am totally enjoying the free motion quilting challenge, with a new pattern each month for the year. I LOVE doing feathers – never EVER thought I would be able to do them on my own. Now since I have these new skills, I have all these old quilts that look pretty blah…..and I'm going to take them all apart and use them for practice of all my new patterns. I started with a BOM (with Judy Martin blocks) I did in probably 2000, when we were selling marbled fabric in kits, as it seemed like so many people loved the fabric but didn't really know what to do with it. I had a new block every two months (I had six small quilts, but I ended up selling two of them. I redid one of them last summer, after I looked at some videos from Sharon Schamber. This was originally all stitch-in-the-ditch quilting. Here's my Monet's Marbled Garden: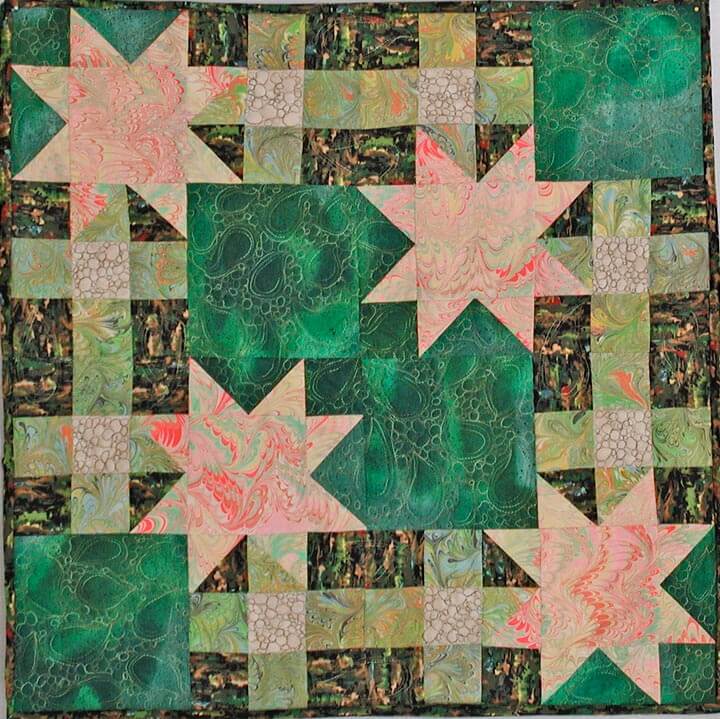 Next one I took apart was my fish quilt, with fabric marbled probably in the late 1990s. Again, just stitch in the ditch. With this one, I realized I could use a couple of decorative stitched on my machine, along with fmq. This time I actually quilted in the marbled fabric, following the lines of the pattern.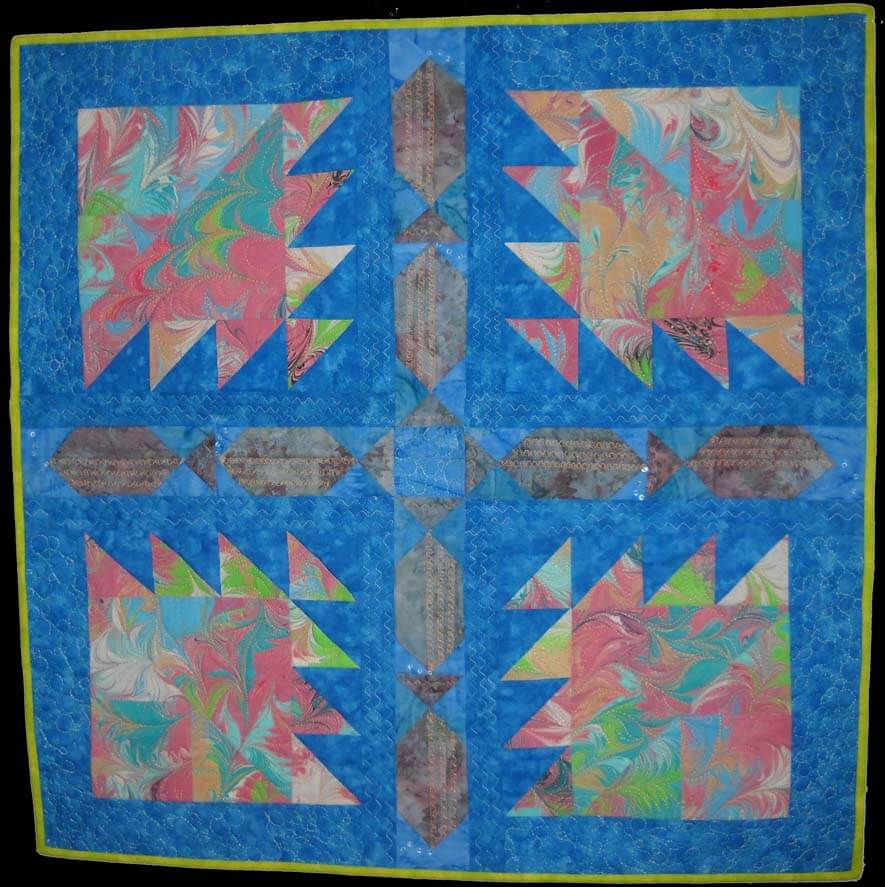 Then I decided to get another little one ready to take to the Seattle show, so I spent a weekend taking out all the stitch-in-the-ditch. No picture of "before," but here's the backing fabric: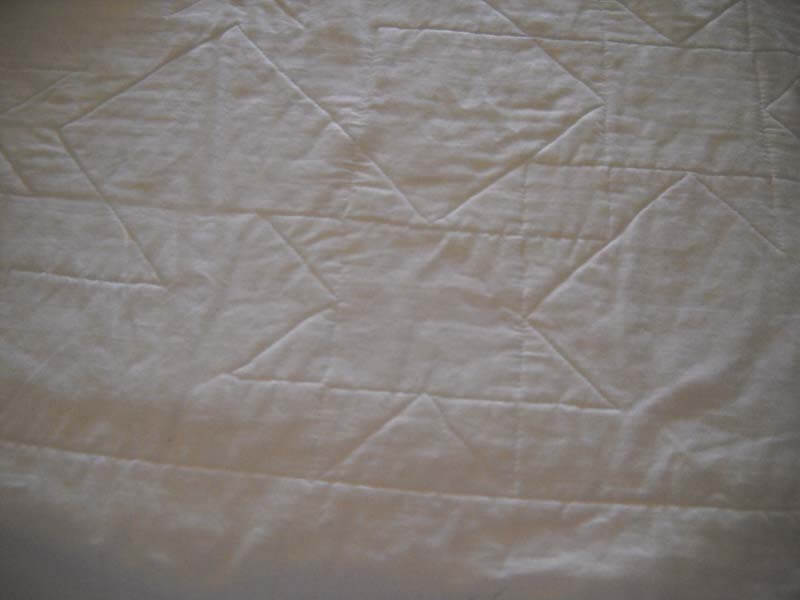 Part of what was so much fun with this quilt was looking at each of the various sections and deciding what I wanted in each place. I happened to have four different Superior Threads that would blend perfectly, as the purpose with these small quilts was to show off the marbled fabrics. I used the Superior silk thread for the first time in the green sections and loved it. You can see in the stars I did some loops (more like zentangles) in the backgrounds of the stars, and did some free motion curves in the points. Everything is very subtle.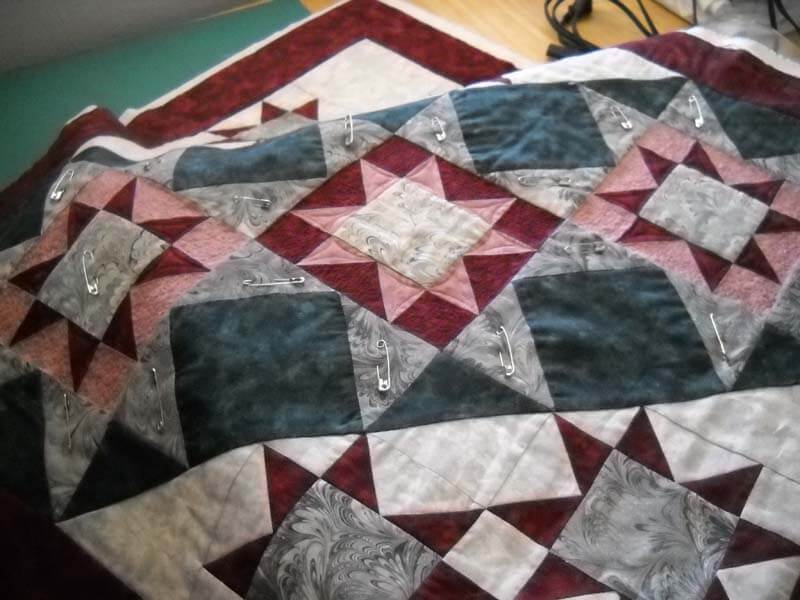 My free motion loops need work here. I think it's a combination of speeding up the machine, as I do move my hands and the fabric pretty quickly with these loops. I'm not happy with the stitch size – very inconsistent, so I know I need more practice.
Now while I don't subscribe to the quilt police, I really do like to have a ice back to the quilt. While I had some tensions problems, overall I am THRILLED with the back of the quilt. The whole thing finished is going to be gorgeous!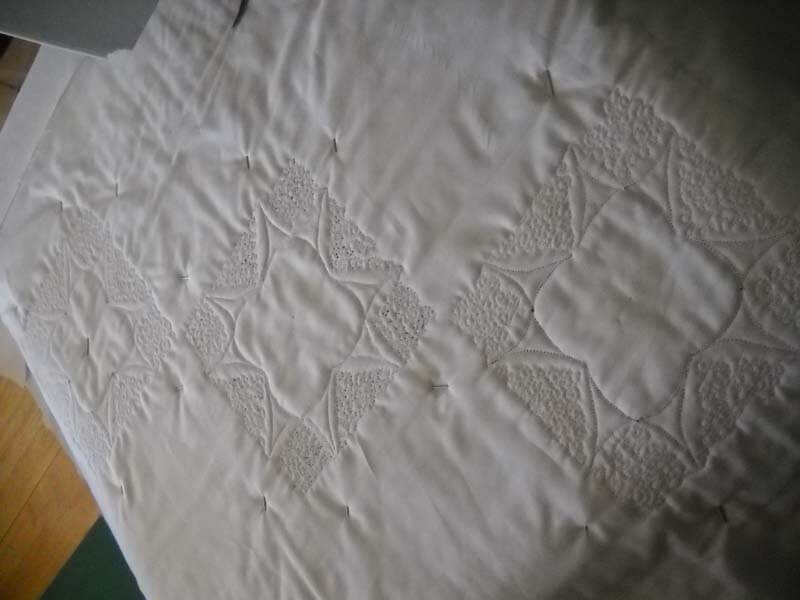 Of course I had to include some feathers, so each of the green squares has a circle of feathers – more like a rosette. Love them!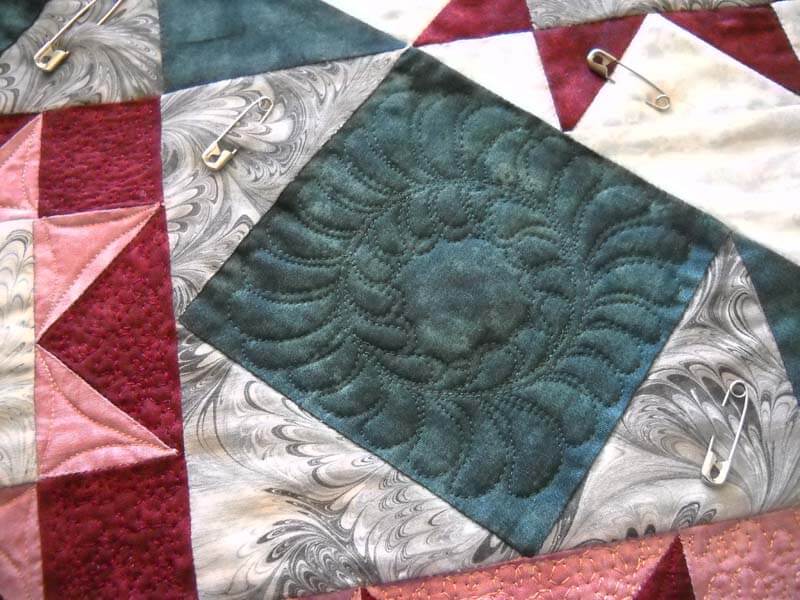 I thought I had more pictures, but evidently not. Tomorrow is a picture-taking day, so hopefully I'll get the rest up. I need the feather borders, the white squares, and the back.
Later – packing for the trip!

So I spent a good chunk of today working on some new machine quilting. As part of the Machine Quilting Challenge, I have been really exploring these new techniques. I have decided to take apart all my older quilts and requilt them, as a great way of practicing these new patterns. I truly thought I never would be able to do feathers without doing them by hand. Thanks to Diane Gaudynski's tutorial, I can now do them, and I am enjoying all the variations.
In preparation for StashFest in Seattle, we will be packing all our quilts that use marbled fabric. I have a couple of early block-of-the-month quilts, and I spent three hours last week taking all the original stitch-in-the-ditch stitching out, as it looked pretty lame – but at the time it was the best that I could do. Now as I'm working on this, I am really enjoying the process of decided what to do for the quilting. It used to be stitch-in-the-ditch or stipple. Way more choices now.
What is also really nice to see is that I can get a lot of quilting done in a lot less time than I had originally thought. With about two hours of quilting over the last three days, I have everything done except for the borders. And I have really quilted this little quilt.
Expect pictures on Work-in-Progress Wednesday, as I should have the borders finished. All that will be left is the binding (need to find some of that border fabric (from ten years ago…I still have some) and repair a few boo-boos from taking it apart, and then add the sleeve for hanging. My to-do list grew a lot this weekend, as I have a LOT of quilts to now requilt and practice on1MQ, free motion quilting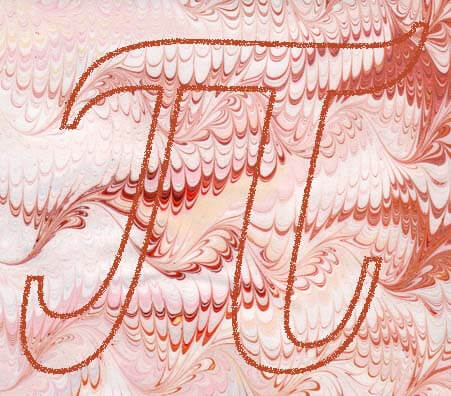 Happy Pi Day! It's the math nerd in me celebrating……no more having to plan special activities. Now back to regular blogging….(I started this on the iPad….)
Hmmmmm…..not sure if this is going to get any better….took me forever to log in, but I think I figured out what I was doing wrong…..now to get the pictures I want…..
That said, it has been pretty productive when it comes to fabric, even amidst the move. I finished my iPad cover with the feathers from the February free motion quilting challenge, and I'm really happy with it. In fact, at a birthday party last night, three of my friends want one and suggested I put them in my Etsy store. Something to consider idea when we return, as the Etsy store is disabled right now, as we are taking some of the product, with us to Seattle.
The front is a great big feather. I love the ideas people are posting, so I went with some Superior Rainbow and added some extra spines.
I added a small facing, and then added velcro to the inside in three different places to hold the cover closed.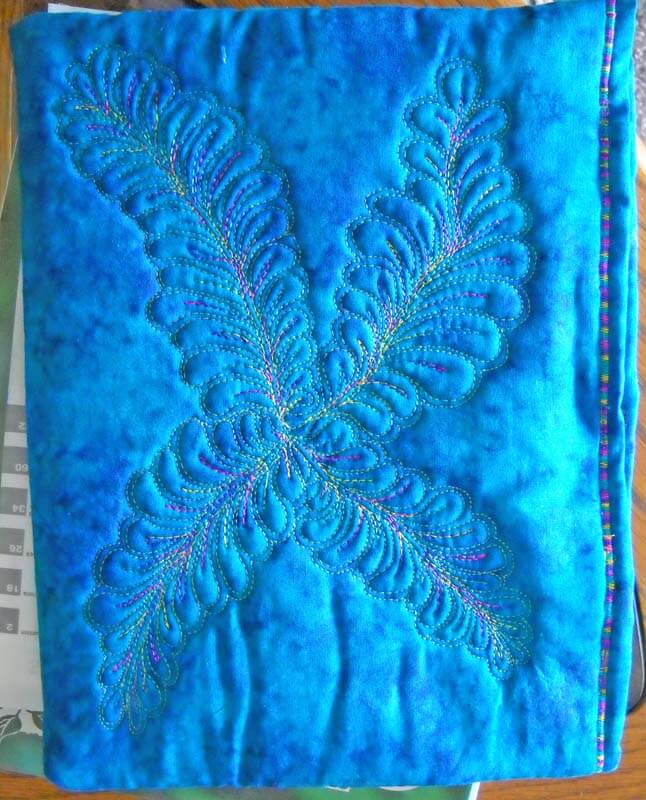 Some things i would definitely change next time around, but overall, I LOVE it….never thought I would be able to do machine feathers!
Now for an update on Visions……I didn't get in. Plain and simple. But….I'm okay with it, despite the fact that the very first show I ever got into was a fairly prestigious one. I know that the work is excellent; it's some of the best I've done. And I have more ideas just ready to go. It just seems like the only way you get validation for your work is to get it in to major shows. I will keep making work, because that's what I want to do.
If it weren't too old (2003), this is what I would have entered: my absolute, favorite piece ever. I won't sell this, because I'll never be able to make another one. It is now on the wall in our new home, as we actually have wall space for it. This is part of the Gaia series, where I do weavings with strips of marbled fabric. This is Gaia 2: Beginnings, affectionately know around here as my Pele quilt.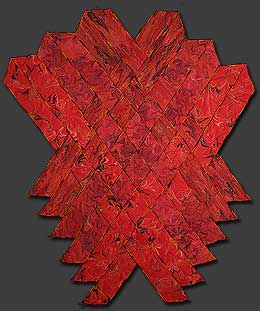 My machine quilting skills have come along tremendously since that piece. The fabric of "The Shallows" was created about the same time, but it has just been in a drawer, waiting for the right time, which I figured was now.
Here's the fabric at the beginning – it looks pretty bland.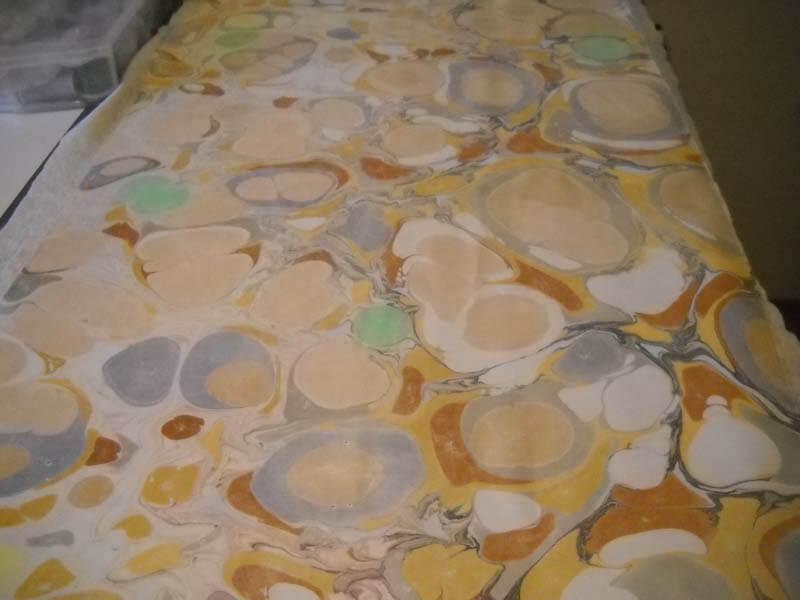 It's a pretty large piece of marbled fabric.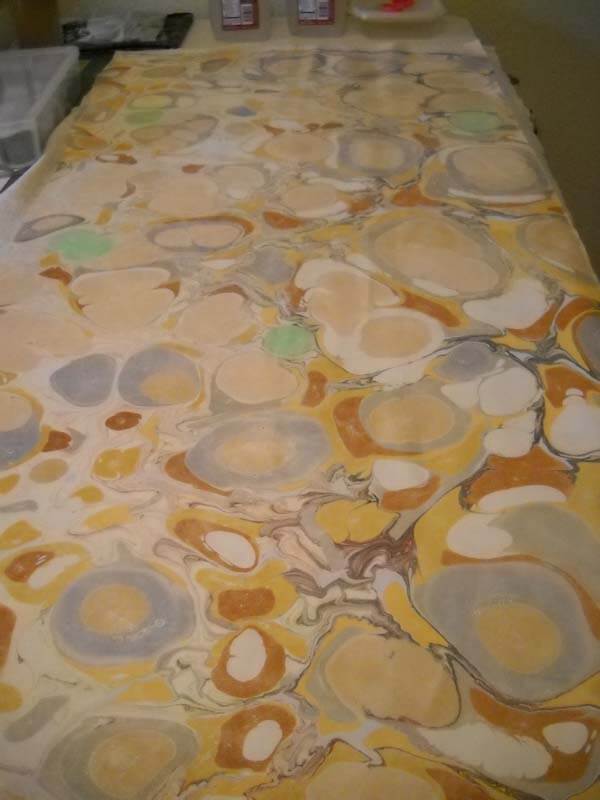 Making some early decisions on thread and backing. Everything was done with Superior Thread – Bottom Line in the bobbin, a mixture of King Tut and Rainbows and Art Studio for all the rocks and shading. (I never did take a pic of the back…..)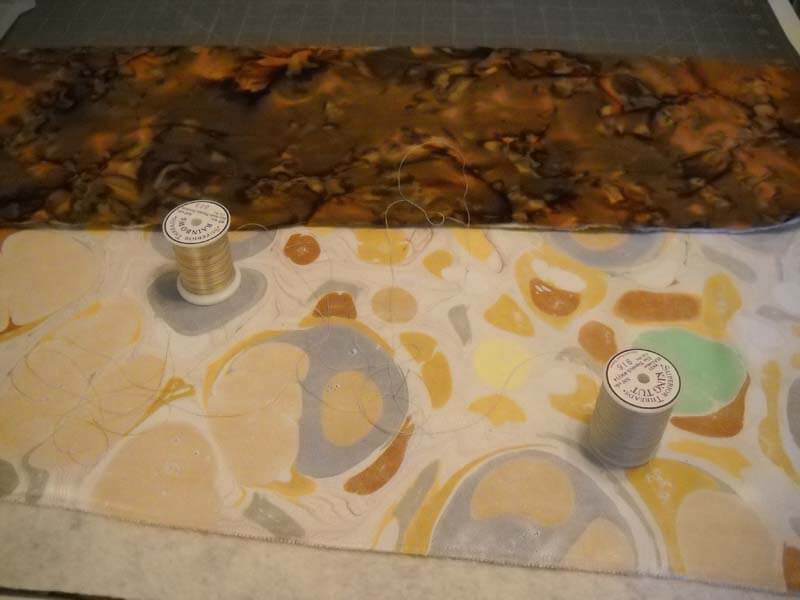 I knew how I wanted to start, but I wasn't thrilled with how the fabric looked, after not seeing it for so many years. I thought in my mind it looked far more interesting. But I started anyway.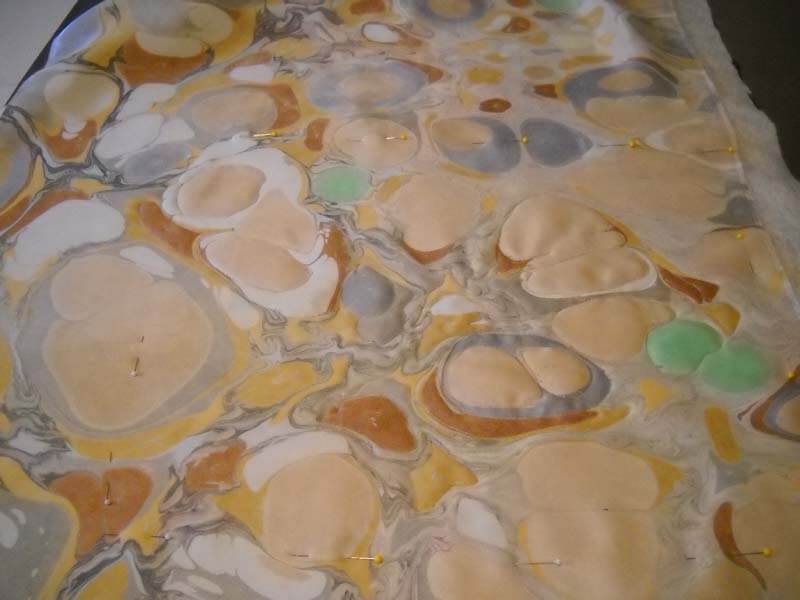 Already I could see improvement in texture, so I figured I would be okay. But I was worried about the green spots, which were originally designed to be some kind of leaf….now I was thinking lichen. I also wasn't happy with the amount of white showing…needed to do something with that.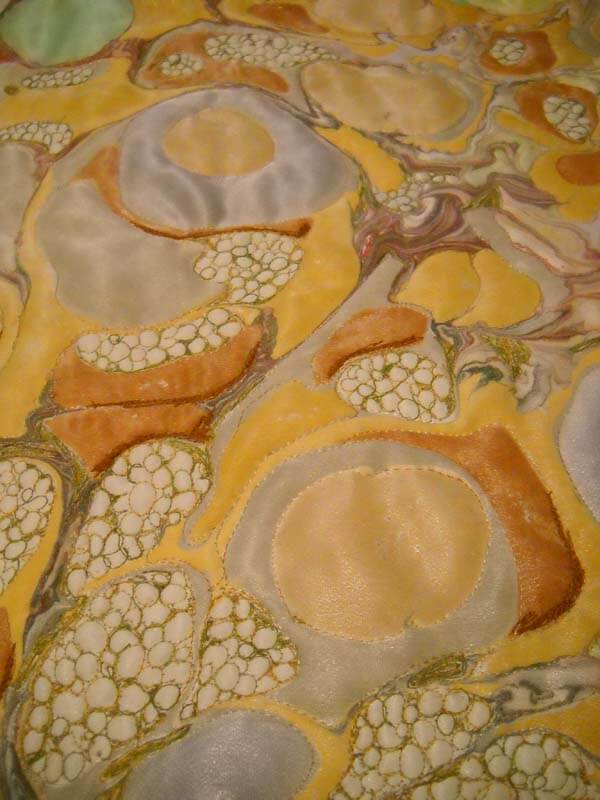 At this point I am becoming quite enthused with how things are shaping up…..but that's a LOT of pebbles, and it took most of December to get the pebbles where I wanted them, without affecting the "veining" left from the marbling.
I was also starting to think about shading, which I guess is more thread painting than free motion. I consulted with my art mom to get advice on scientific shading, in which the light source always comes from the northwest. So I needed to start thinking about shading all those rocks…..at this point I became very aware that there are a LOT of rocks. YOu can see some of the beginning shading here.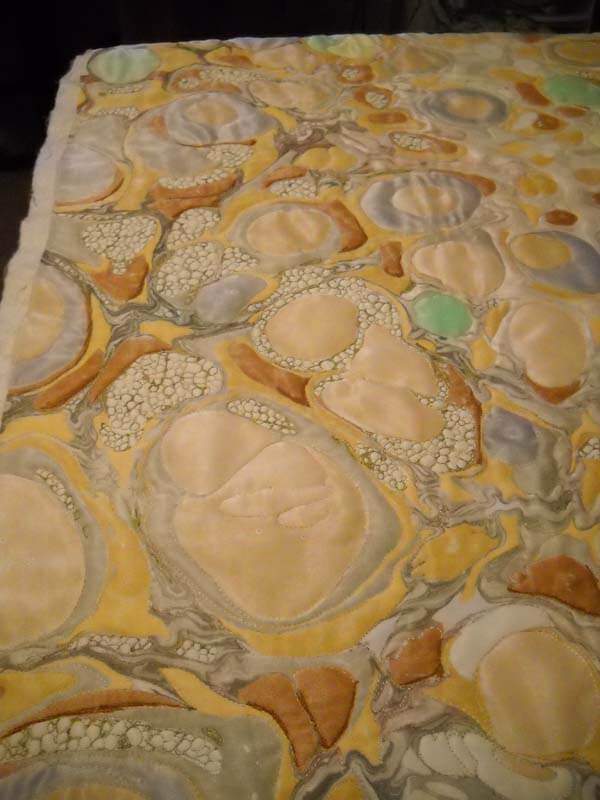 So January hits and I'm aware of my deadline, knowing I need to leave time for photography. I'm shading, and doing pebbles, and thinking about trimming. About one-fourth of the right side is cut off, as the proportions seemed much better without it – and a lot fewer pebbles that had to be completed…. I needed to think through the lichen, and if you look closely at the detail, it's shredded money – perfect texture!
And finally: The Shallows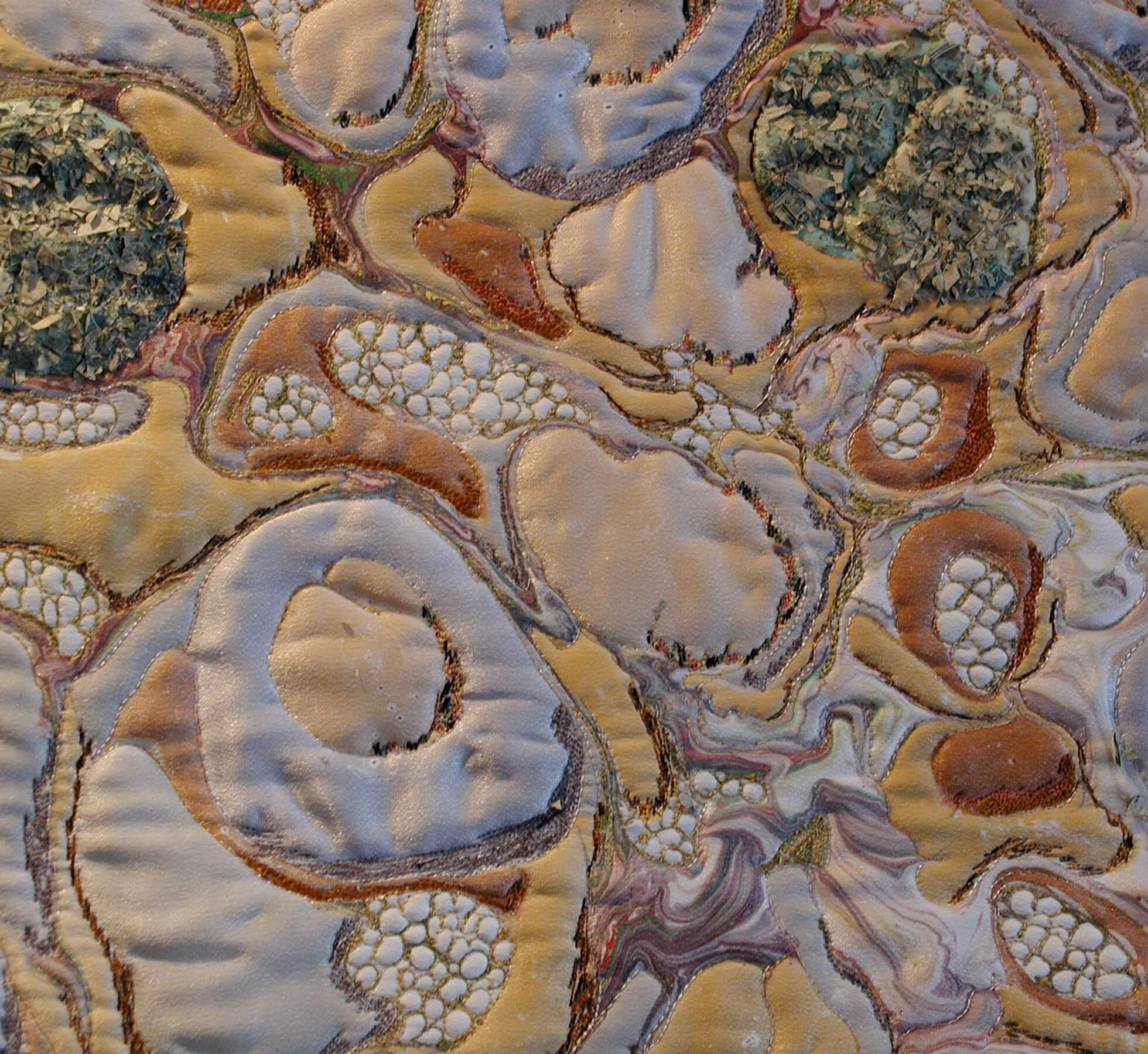 It's a far cry from the original fabric, and it is now proudly hanging in our new home.

Where is the first quarter going? We are leaving March 25 for Seattle and still have fabric to make. Life is taking a few twists and turns that are unexpected. The upstairs noise finally got to us, so we are moving – a week from today. So lots of packing, and still trying to make fabric and sew. Not a great combination.
Most marketing is on hold. I will need to put the Etsy store on inactive until we return. There's just too much to do to keep it active, as well as bring the additional stuff with us in case we sell something. Need new business cards and new postcards as a marketing tool. Plus lots more fabric. And hardly anything for a tax return, so funding the trip up is going to be an interesting proposition.
Still no newsletter, but I am getting regular with the blog again. Numbers are up on the blog, and I hope to keep them growing. I made my first major deadline, but the other one for the beginning of March won't happen, and I'm not sure the Fish Follies entry will happen – due the day we get back home from Seattle, which means it has to be done before we leave…..maybe, if the move goes well.
Can't keep up with either Google Reader and the blogs – deleted some that aren't strongly art-related.  Can't keep up with updating the Facebook fan page. Don't even ask about Twitter. I see that Pinterest is really catching on, but because of copyright issues, I am avoiding it right now – mainly because I can't keep up with what I'm already trying to do.
But…..there is another potential commission in the works for end of April, Ebay is still going strong, and I have so many ideas for art pieces I'll never get them all made. Right now I need to free up my schedule, which now has something every day. I'm tutoring a great kid, and the=at will continue, as will my yoga lessons. The new teaching gig will end in mid-March, and I probably won't teach again for them. Too much like what I just retired from: worried about who's passing, who needs more work, and the like.
So it's hectic, but here is an interesting article from Fine Art Views, about what to say to a customer who wants to know if "you're as good as so-and-so." Enjoy! Hopefully you'll have productive and not especially crazy weeks!
PS – I'm working on my iPad cover and practicing my free motion at the same time. Very soothing – I love this lesson on feathers!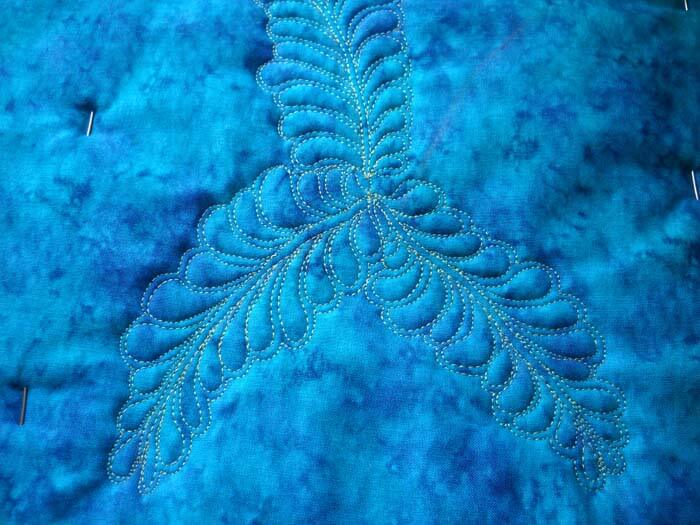 Cotton fat quarter trimmed to fit the iPad, a thick left-over batting, I'm thinking a fusible batting, kona cotton for the back, and Superior Thread Art Studio green, and a #90 titanium needle.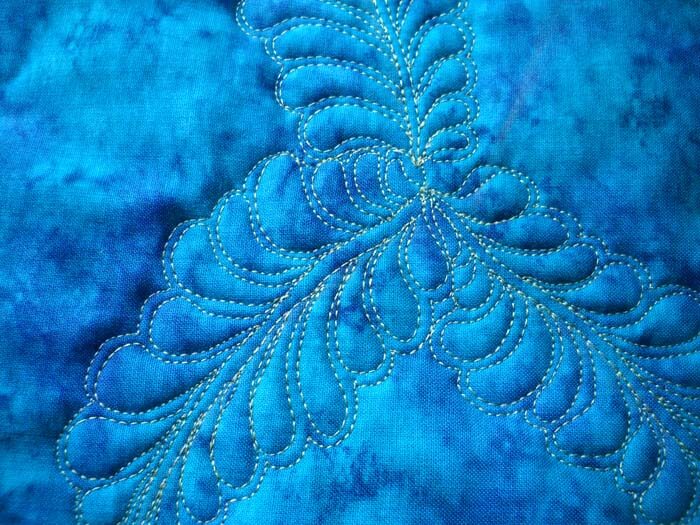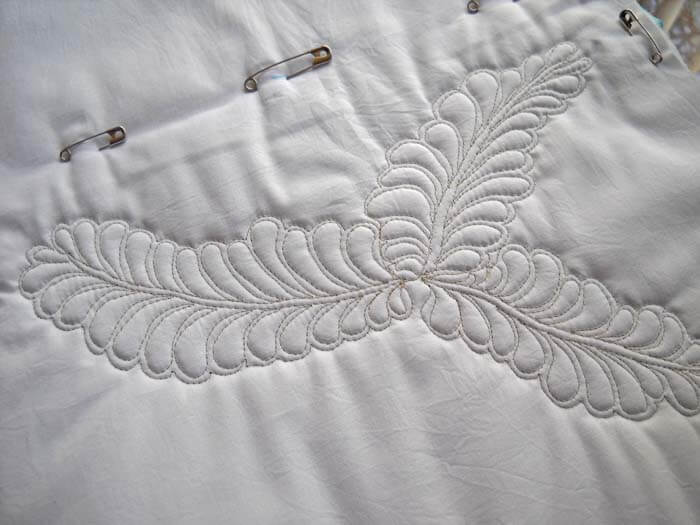 Tension was workin' good!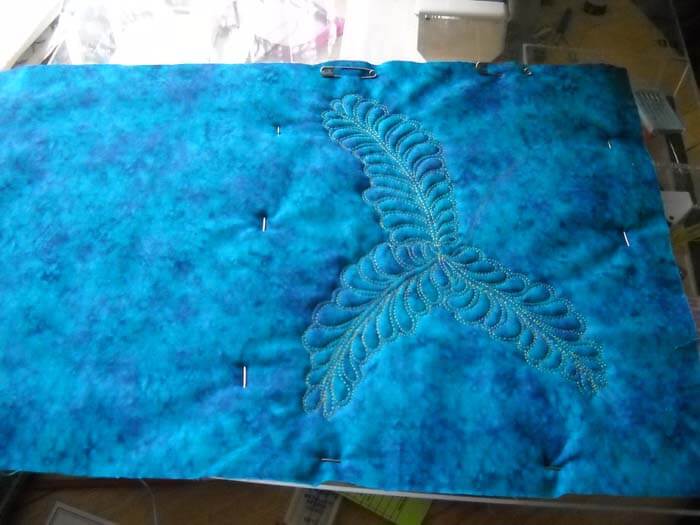 Overall  pleased with the stitch length.

I have been practicing machine quilting along the with FMQ challenge hosted by SewCalGal, with a guest machine quilter each month. Practice is definitely the key, and I can see lots of improvement. But even more important to me is my ability to go beyond the linear. For so long I would need to do something exactly as it was, and master it just that way. Evidently over this last decade I have become a LOT more free with trying something and expanding on it. And one of the great things about the FMQ project is how gracious everyone is with their sharing – I am seeing SO MANY different ways of seeing this one design!
I've finished my first practice sandwich for this month, but it won't be my last! I am still practicing the basic stippling from Leah Day's Free Motion Quilting Project – interesting that it is easier for me with the leaf pattern than one of the most basic free motion quilting patterns. So here goes: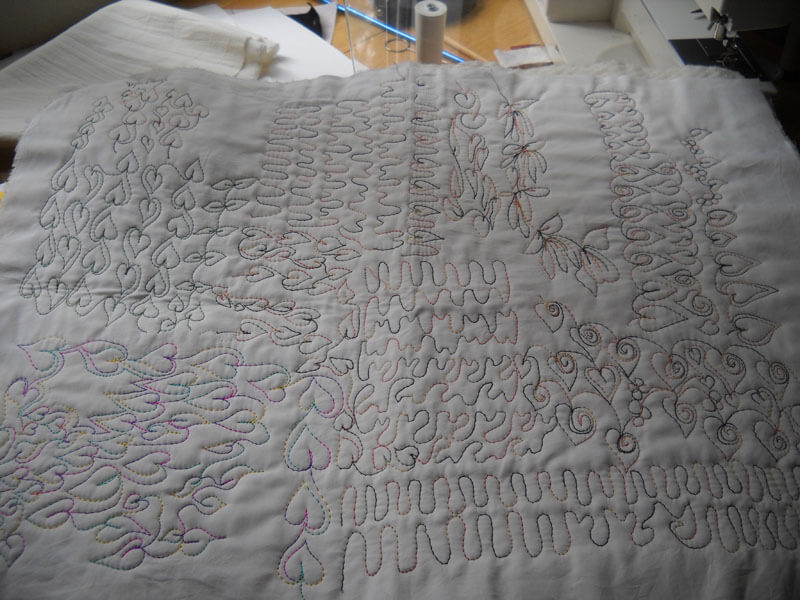 This is the whole fat quarter. Some space still left, but as you can see I tried a whole bunch of things. I am planning on choosing another fat from the stash to make a couple of placements and practice the leaf some more. Within this fat quarter I did a number of things. This was my very first "pedal to the fabric" attempt at the leaves.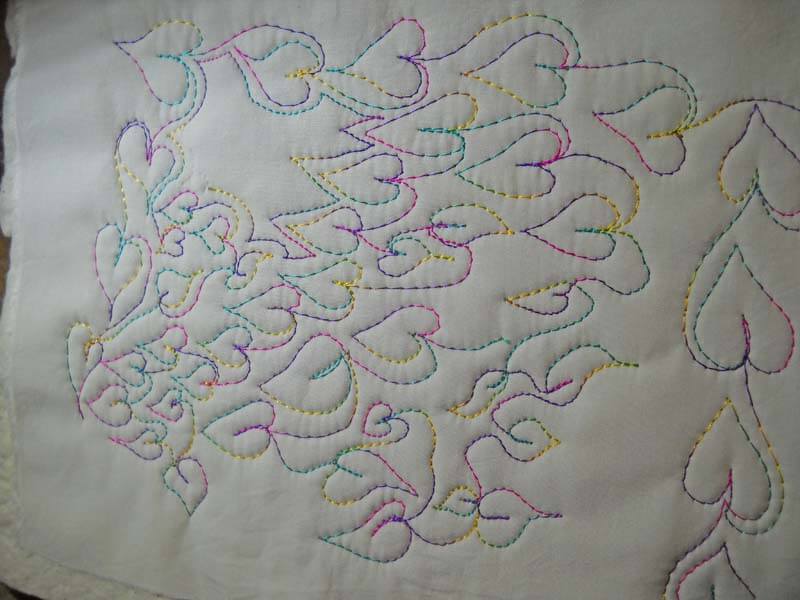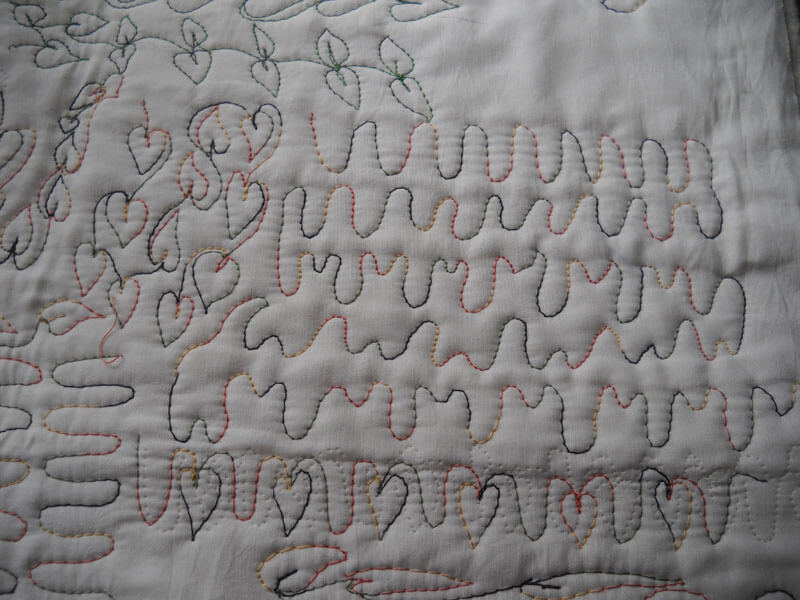 This is some of my practice with Leah's basic u-shape and variations. As I said, lots still left to practice with this pattern. You can see my variation at the bottom, and you can also see where I obsessively took out stitches SEVERAL times because I couldn't get the tension correct……
One person on line began to make her shapes a little more narrow, and to my ind they looked like chili peppers…..so I had to try and see what I could do. I cna definitely see this as a border design.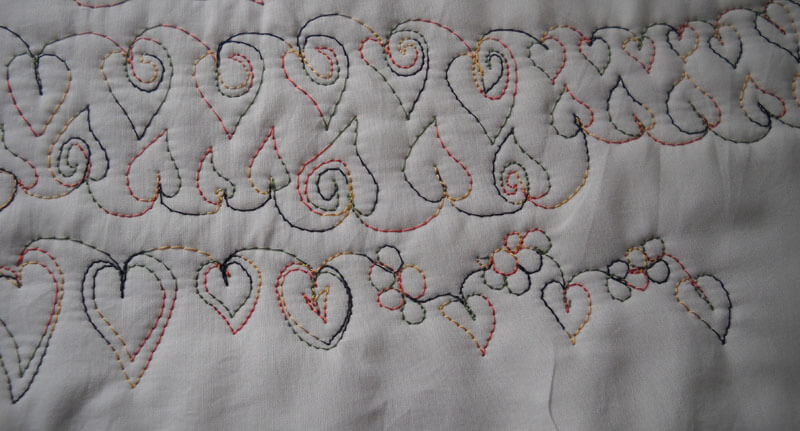 More practice, trying to add the little swirl. I can do it if the leaves/hearts are large enough, especially to one side. I also tried going left to right and then back again, as Leah had suggestions, as well as upside down. At the very bottom I decided to add some grape bunches and see what happened.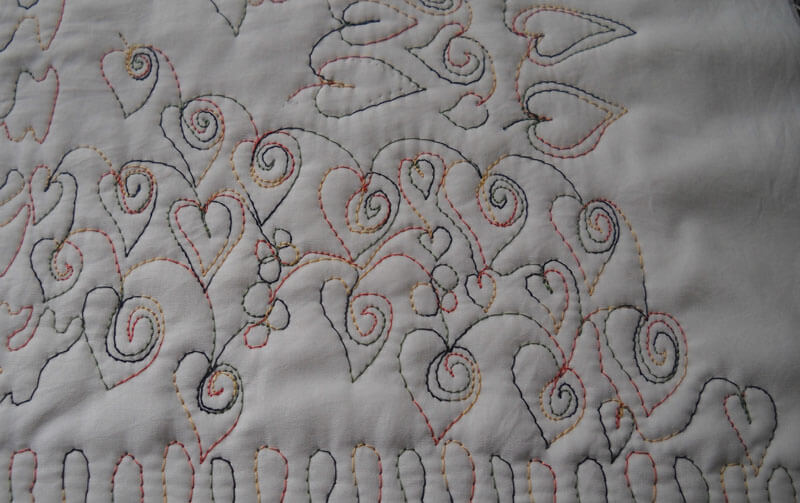 More practice, with lots more to come! WHat a treat to have the time – and the online lessons and encouragement – to get better at this!! Thanks Leah, Frances, and SewCalGal!!
I've been working on improving my free motion quilting since June, when I took apart an old quilt and redid all the quilting. I am doing a HUGE amount of quilting right now on a piece I'm working on, but with the start of Sew Cal gal's free-motion challenge for the year, I am plunging right in. We got our first lesson on Sunday, and I started on Tuesday with some practicing. This is a lot of fun. Here's my first attempt: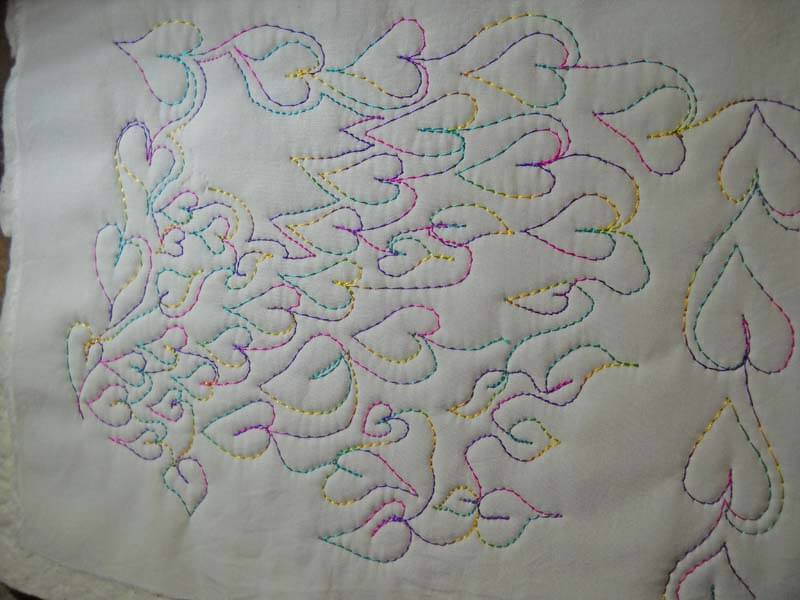 Bottom Line by Superior Threads in the bottom, with a Superior Rainbow in the top, feed dogs down. Overall pleased with the stitch length, as it seems pretty even. However, I keep feeling like my stitches need to be smaller. But the pattern is easy to follow, and I like the effect.
Along with this challenge, Leah Day is continuing her pattern-a-day with a Wednesday Quilt-along. Several of her blog posts have talked about getting ready to free motion, and she posted her "wiggle" practice.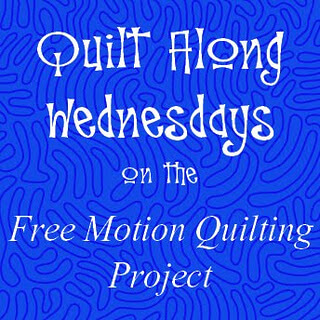 So here's the word on the additional practice. I used Superior LAVA Thread, with some Bottom Line in the bobbin. I was pleased with the design. I even tried a variation on the left side – leaves next to each other.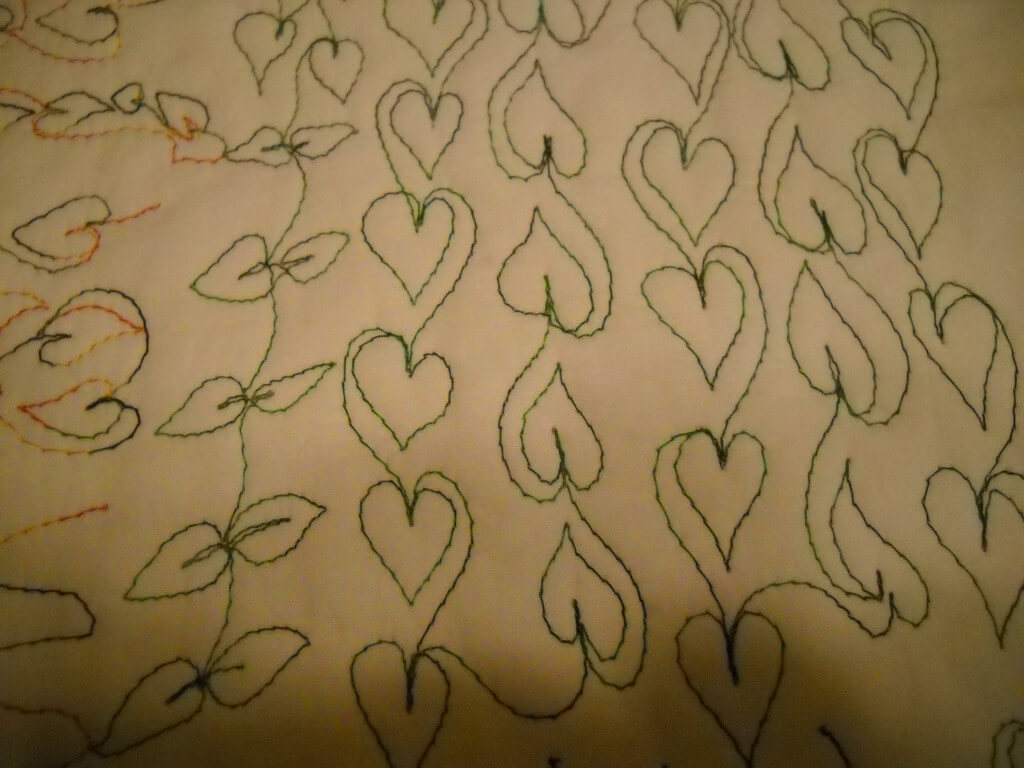 This was intriguing for me. Normally with something like this, I try to be exact in the practice, but I found I really wanted to take off and try a few variations. The only reason I think I did this is that I've been doing some practice since June, so I felt more confident.
Someone suggested trying to quilt with leaving the feed dogs up. So I tried that today as I was practicing Leah's wiggle. If you look closely you can see where I removed stitches because the tension on the back was off badly. In fact I removed stitches three times.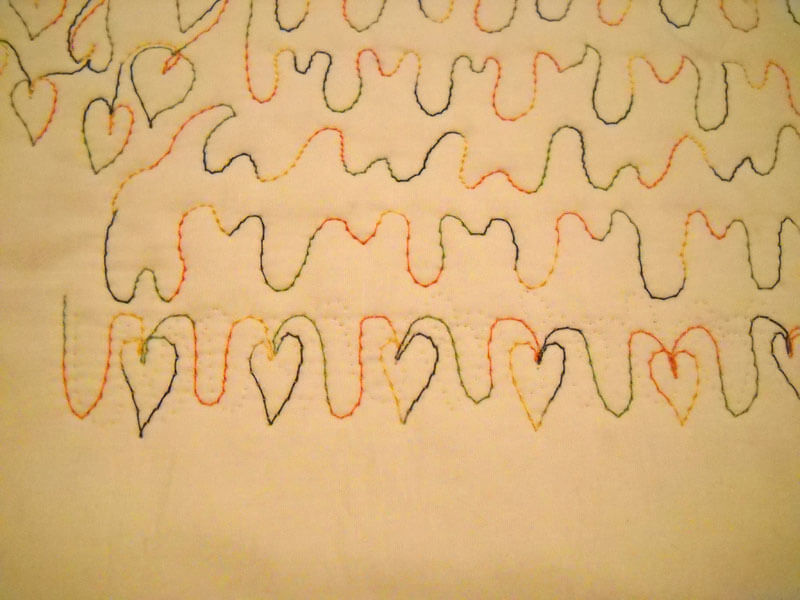 Now I wasn't having any problems moving the sandwich around with the feed dogs down, and I adjusted tension on the top. Bottom Line in the bobbin, King Tut in the top. It finally occurred to me that maybe for my machine I needed to have the feed dogs down. Yup, that was it. Fixed the feed dogs and everything was fine. You can see that once again I was trying a variation of the two patterns.
I also tried to see how small I could get the leaves.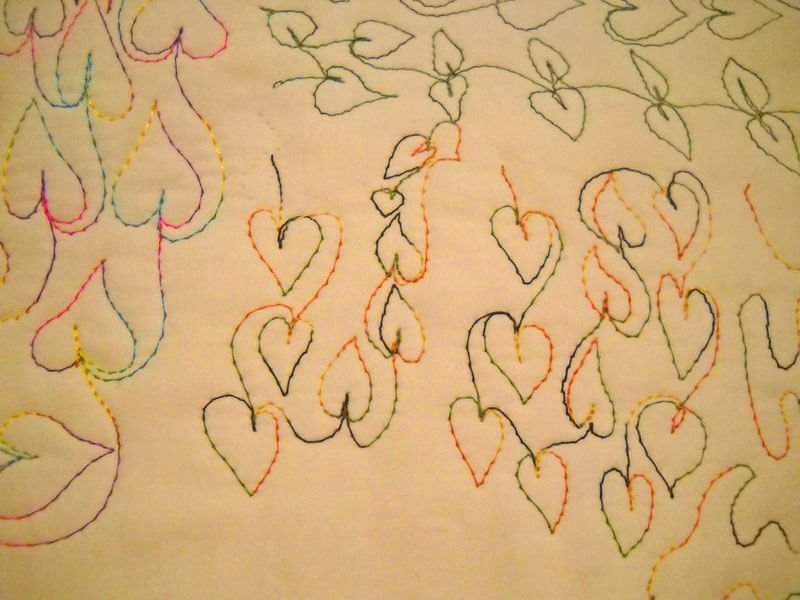 Again, overall pleased. I do need to practice going backwards. I like changing the direction of the vines with each leaf. That's something I will probably keep. One other thing I tried was speeding up the machine, and keeping the hand speed the same. The stitches were smaller and fairly consistent, but I must say I like the somewhat longer stitch length. I think it shows the thread more.
I think this is going to be an excellent way to practice. A lot of my previous free motion practice has been on marbled fabric, where the line of the pattern helps guide you. Some marbled patterns lend themselves to a regular foot (like the chevron), and some need a free motion foot (like the nonpareil and its variations).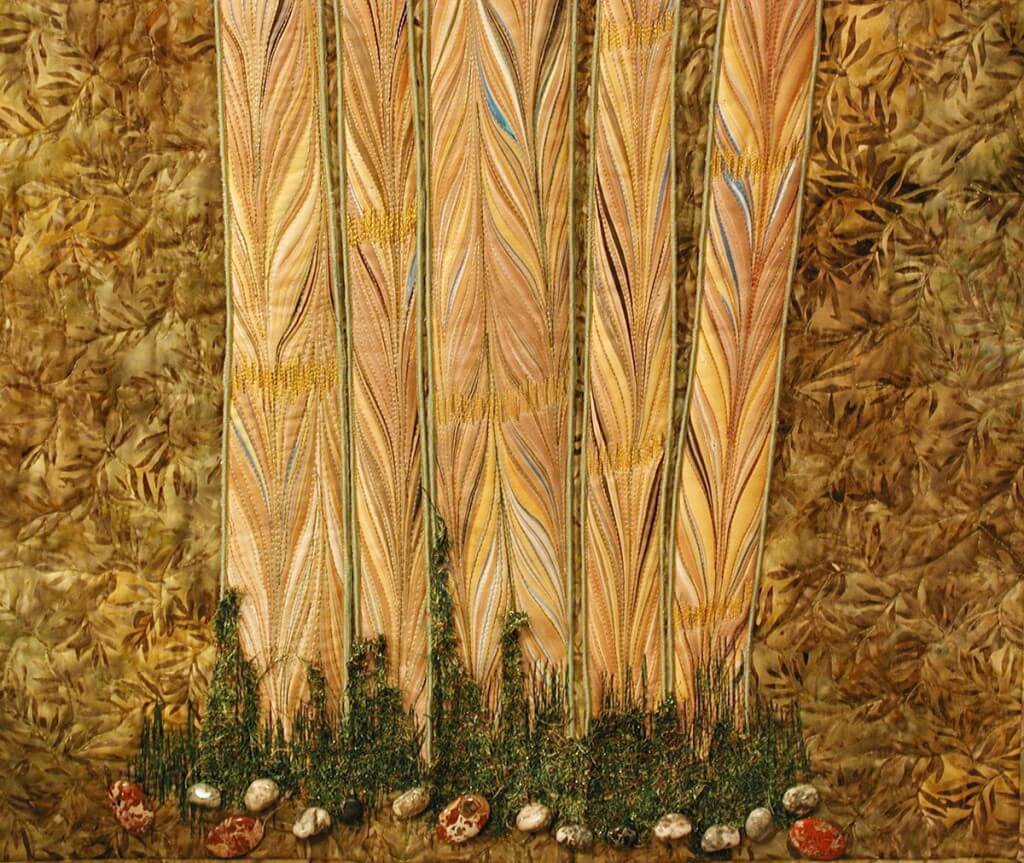 The bamboo stalks are quilted using a regular foot, just following the line of the pattern. The quilting really adds dimension.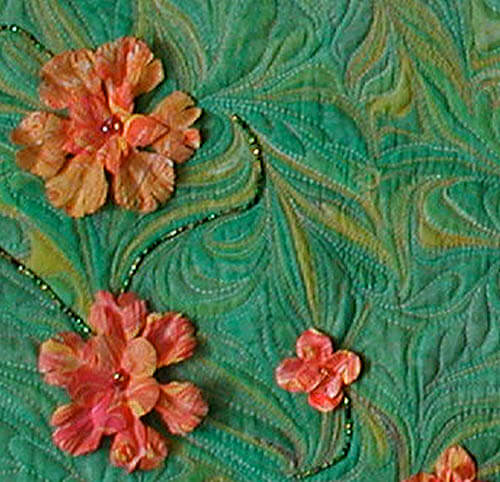 In the avatar I use on line, Rainforest, I used the free motion foot and just followed the line of the pattern This particular pattern, which we call free form, is a lot of fun to quilt. You get in a kind of zen-like mode when quilting this.
In this closeup of "Ocean's Bounty," the traditional stone pattern lends itself really well to free motion quilting. You can see the whole piece with all the free motion quilting after this small shot.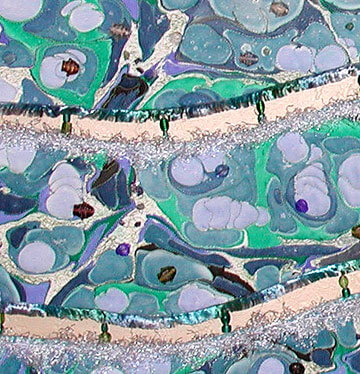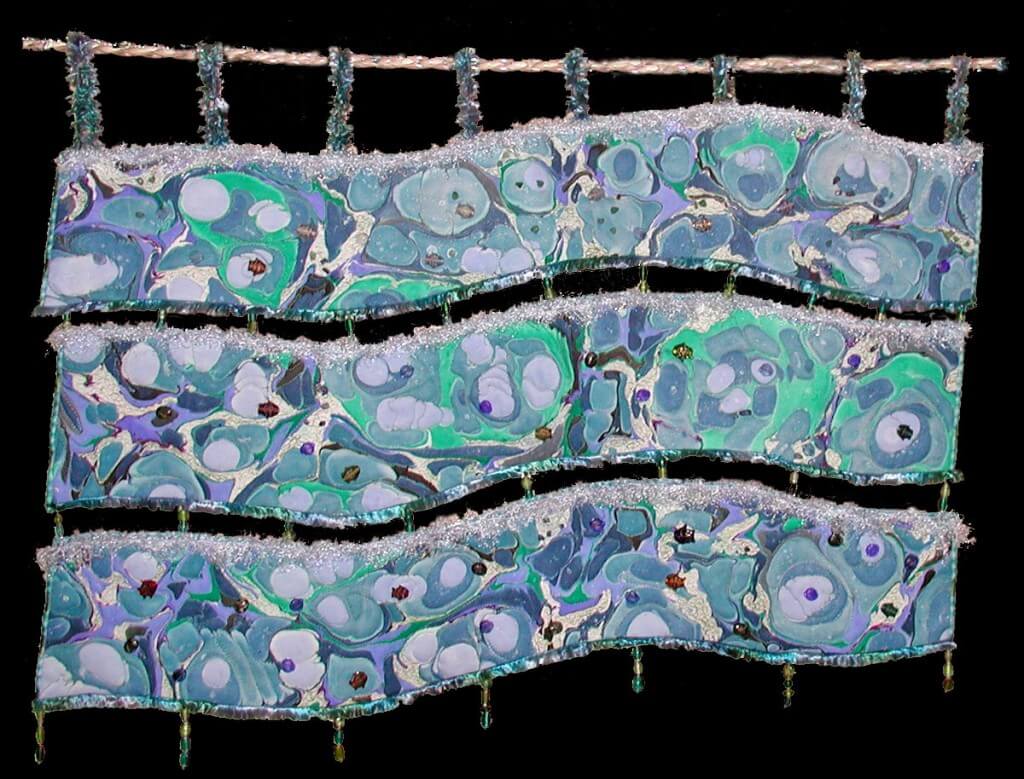 This is a small piece of turquoise silk that has free motion quilting along the pattern to accent it. Complex pattern to quilt in free motion, but it gives some great effects.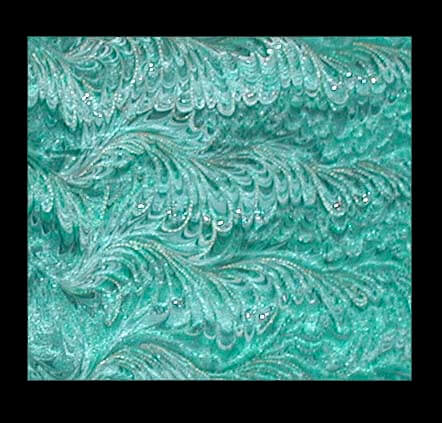 Here's a closeup of "salmon Run," accepted into an art show in Alaska. The free motion quilting follows the nonpareil wave pattern.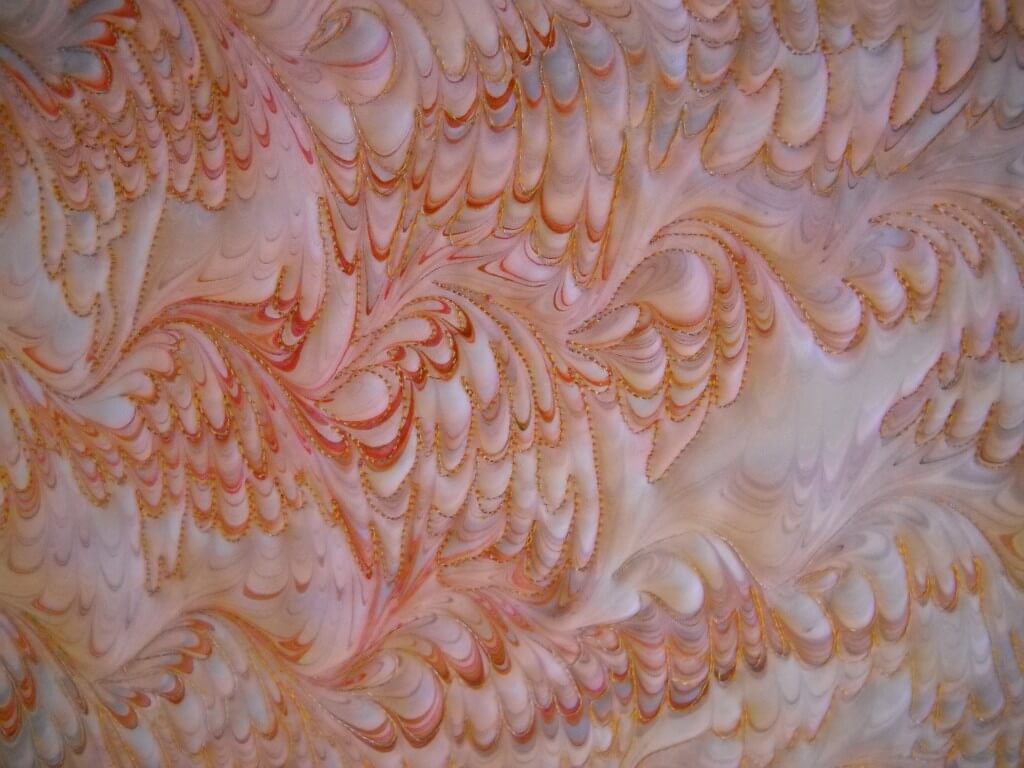 You can see more of the art quilts at our website.
And….along with everything else today, we marbled 20 fat quarters in preparation for a show in Seattle in March. They are gorgeous. Here they are, folded and ready for packing.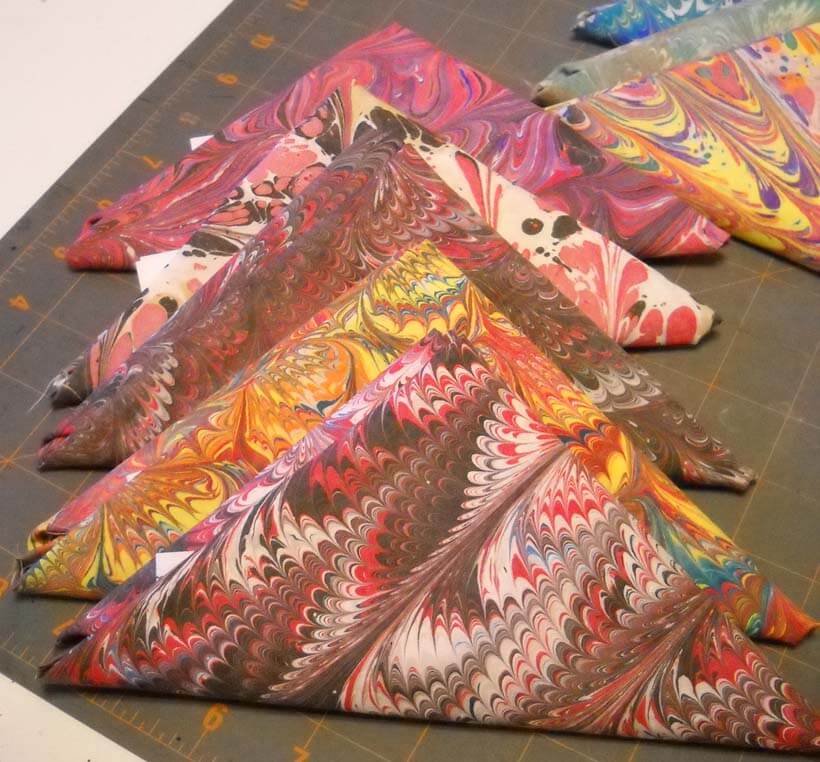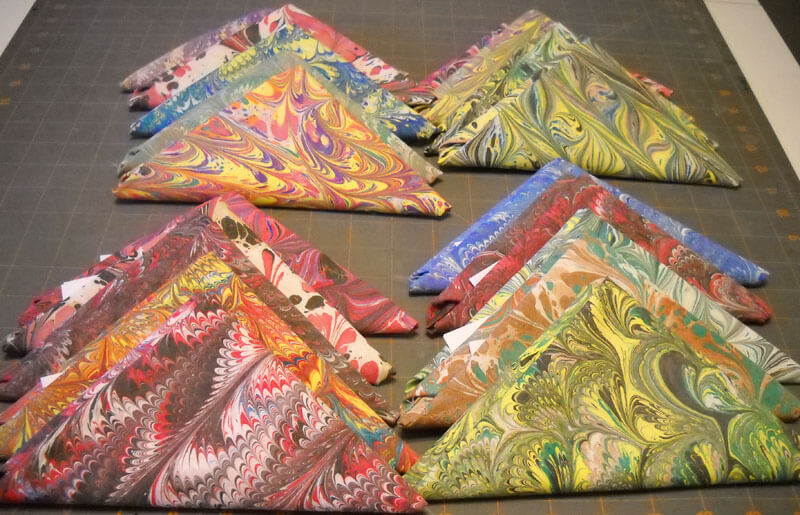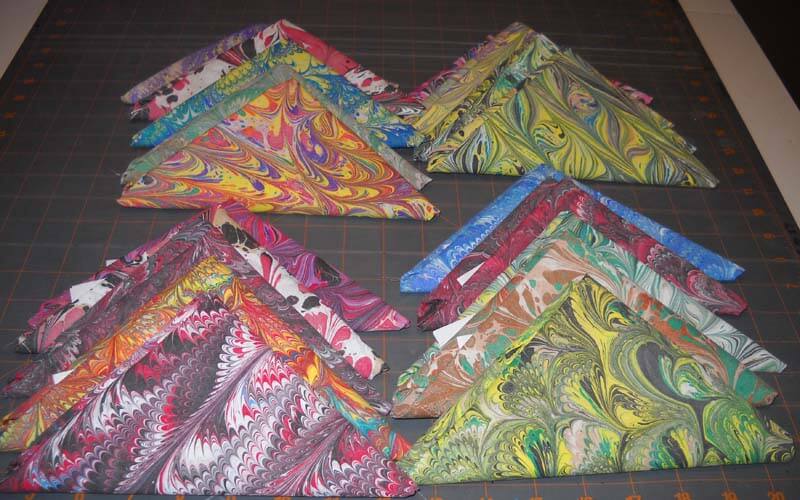 And then this afternoon, we cut another 10 yards for another 40 fat quarters, along with the 15 we still have, for the next three marbling sessions. Pretreat one day, alum the next, and then marble the next. It's going to be a busy two months, but oh, are we having a good time!